Fork tender pork served on a bun with coleslaw! This mouth watering Instant Pot Pulled Pork recipe is perfect for weeknight dinners or holiday parties!
The Instant Pot is perfect for taking a large cut of meat and tenderizing it in no time. We love cooking our pot roast in the Instant Pot as well as making juicy shredded beef.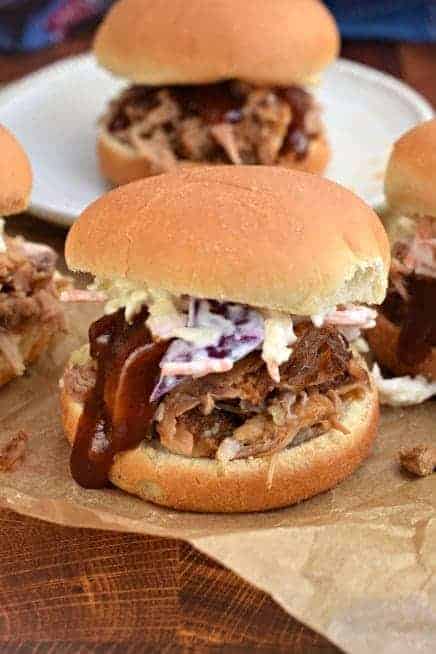 Pulled Pork
One of my family's favorite dinners is pulled pork. It's versatile with flavors, and the leftovers are amazing too!
Today's pulled pork recipe is made in the Instant Pot, which cuts down the cooking time while still resulting in a tender bite of pork.
The flavor of the pork is delicious, while it cooks in the Instant Pot, the extra barbecue sauce is completely optional!
Tools and Ingredients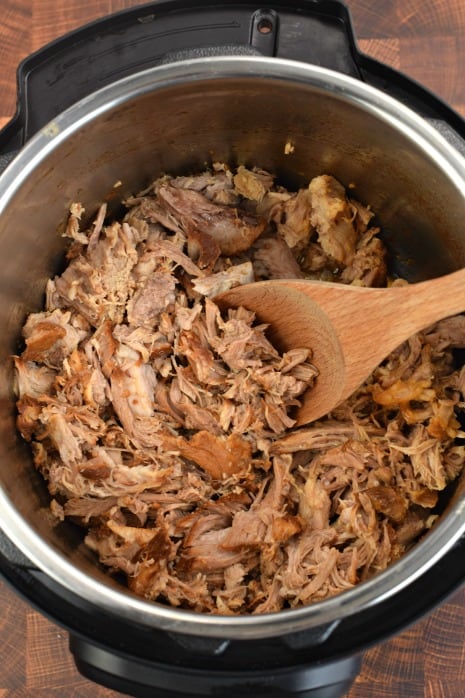 Instant Pot. I use a 6qt Instant Pot for all my recipes. It's the perfect size for my family of 6.
Pork. You'll want to find a 4-5 lb pork shoulder or pork butt for pulled pork.
A pork loin or pork tenderloin will dry out, while the pork roast stays moist and tender! Perfect for shredded pork recipes.
Whether you cut your roast into chunks or keep it whole depends on the size of the roast! I had a 4 lb roast that I kept whole. Cutting into chunks would create an even more tender shredded pork.
BBQ Sauce. The flavor of this pulled pork is NOT overly bbq flavored. The combination of bbq sauce, apple cider vinegar, and all the seasonings creates a delicious base.
After the pork is done, you'll drain off most of the excess liquid (which has already infused flavor into the meat).
I love topping my pulled pork with extra bbq sauce, but my husband is a purist who thinks the flavor of the meat is better without extra sauce on top!

How to Make Pulled Pork in the Instant Pot
STEP 1. Ingredients.
Cut roast in half or chunks if desired. In bottom of pressure cooker, add beef broth, bbq sauce, apple cider vinegar, brown sugar, paprika, onion powder, salt, pepper, cumin, red pepper flakes, and garlic.
Whisk every thing together, then add the pork to the Instant Pot.
STEP 2. Pressure Cook.
Secure the lid in place and make sure the valve on top is set to "SEALING."
Select "HIGH PRESSURE" for a cook time of 90 minutes. Once cook time ends, allow to naturally release pressure for 15 minutes.
STEP 3. Shred Pork.
Remove the pork from the Instant Pot to a cutting board and shred the meat. Discard the juices in the pot.
STEP 4. SERVE.
Serve shredded pork with extra barbecue sauce, if desired. ENJOY.

What to serve with Shredded Pork
Regardless of the time of year, shredded pork is delicious with a variety of potluck style salads!
Serve your pork on a bun or on a plate with extra bbq sauce.
We also love ours topped with homemade cole slaw!
Can Pulled Pork be made in the Slow Cooker
Absolutely.
Combine all the ingredients (minus the broth) in a large slow cooker. Add the whole pork butt or pork shoulder.
Cover and cook on low for 8 hours. Remove from crockpot and shred meat. Discard juices and serve.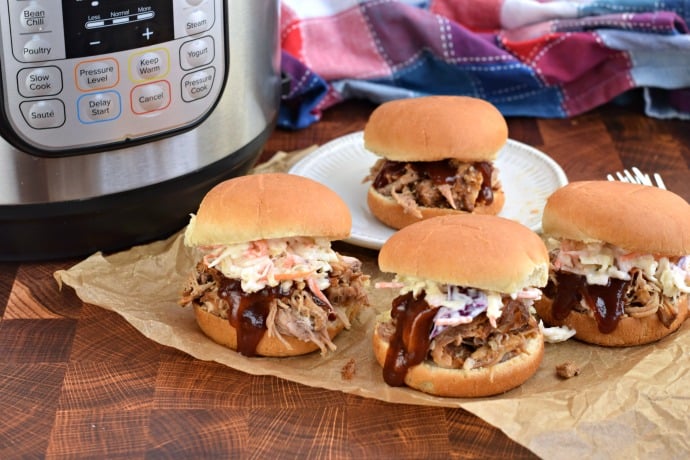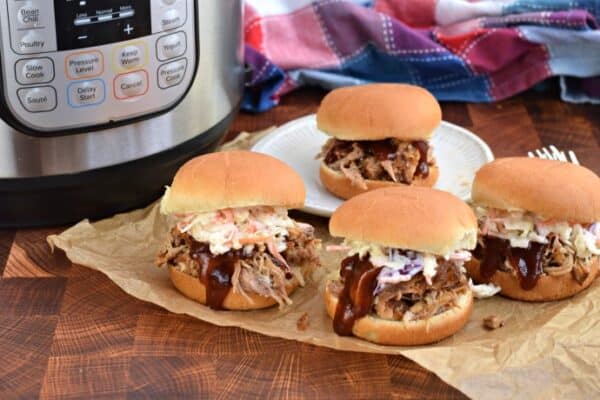 Leftover Pulled Pork
Our family loves to eat the leftovers for a few days, on buns with sauce and kfc coleslaw.
However, you can also freeze leftover pulled pork. Place pork in a ziploc freezer bag and freeze for up to 3 months. Thaw in refrigerator overnight.
To heat, add pork to a sauce pan with beef broth. Cook on medium heat until meat is heated throughout. Serve and enjoy.
Leftover pulled pork can also be used on quesadillas, tacos, tostadas, and nachos!
Instant Pot Pulled Pork is the perfect weeknight recipe. Tender and flavorful the whole family will love this shredded pork!