Tender sliced beef in a savory rich sauce. This Instant Pot Beef Broccoli recipe beats Chinese takeout any day of the week. So easy to make at home!
We're obsessed with Chinese "fake out" dinners. From Orange Chicken (in the Instant Pot) to easy Chicken Fried Rice. What's your favorite?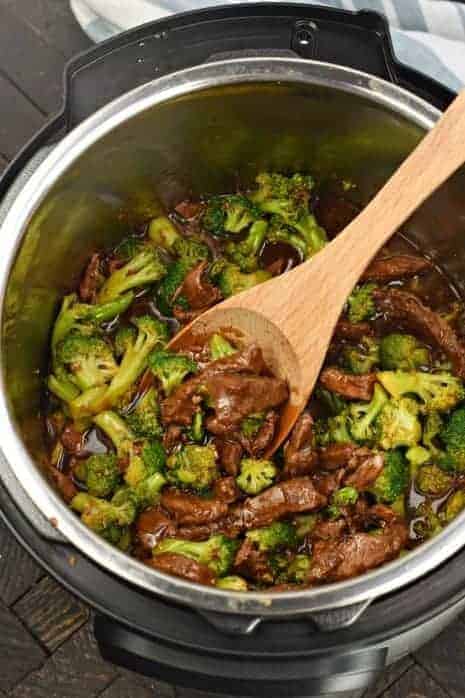 Why this Recipe is Best
There are very few take out places that my whole family can agree upon, but Chinese takeout appeals to everyone. Thanks to the variety of dishes available, we all find something we love.
Sometimes we find a meal and share it, and sometimes we each get our own little white cartons of dinner.
In addition to Orange Chicken, one thing we all love is Beef Broccoli!
This year I've been trying to make more dinners at home, and less takeout. Which sounds easy, but with teens who can drive they tend to just "pick up" food.
Creating dinners I know 100% they will love makes it easy to convince them to eat at the family table with us.
And making those dinners in the Instant Pot is quick and easy for me too!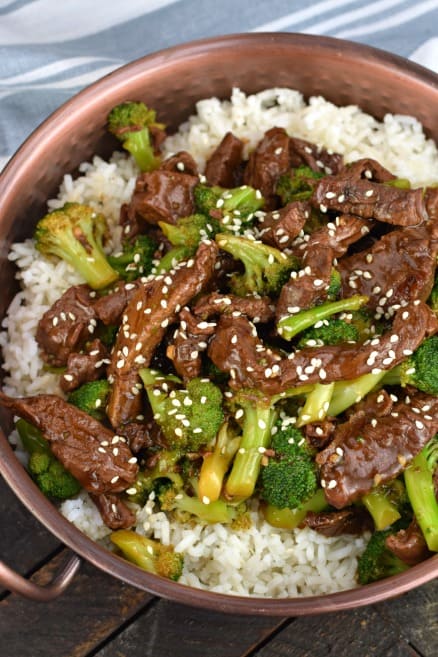 What You'll Need
Instant Pot- I get questions all the time about which one I have and use regularly. I own the 6qt Instant Pot and find that it is plenty big for my family of 6.
All the recipes created on my website are made and tested using the 6qt Instant Pot.
Beef. A walk through the grocery store and you'll notice there are many different cuts of beef. Here are my favorites:
Chuck Roast – you can have the butcher cut this into thin strips for you, or do it yourself.
Flank Steak
Stir Fry Beef– already sliced and packaged
When slicing the beef, whether you are using the chuck roast or a flank steak, slice against the grain of the meat.
If you're having difficulty, freeze the beef for about 20 minutes, this will help stabilize the meat while you slice.
Broccoli. Fresh OR frozen broccoli will work in this recipe.
Frozen broccoli. Make sure to choose "florets" otherwise you'll find they load the bags with the stems!
Fresh broccoli. So you don't wind up with soggy broccoli, I suggest steaming fresh broccoli for a few minutes in the microwave or on the stovetop. Putting it in with the beef will overcook it.
Soy Sauce and Sesame Oil. Both ingredients infuse so much flavor into this dish. However, I would choose a low sodium soy sauce if possible.
I know the recipe only calls for less than 2 Tablespoons of sesame oil, but trust me when I say it's important!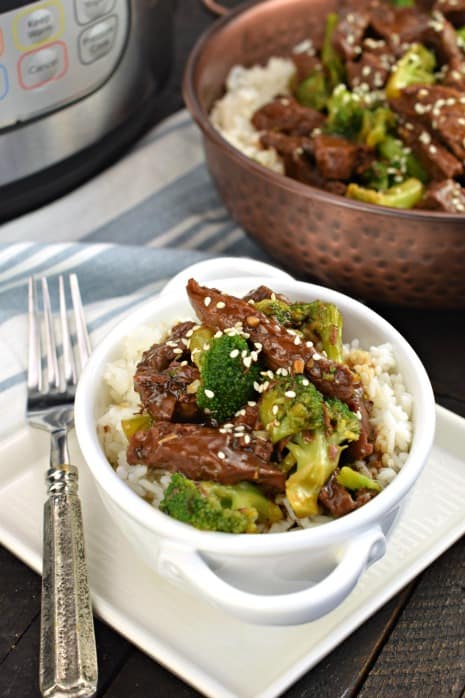 How to Make Broccoli Beef in the Instant Pot
STEP 1. Select "SAUTE" on the instant pot and add olive oil to the pot. Add the sliced beef and brown on each side for about 2 minutes.
Transfer browned beef to a plate. Add pressed garlic to the pot and cook for about one minute. Pour in the beef broth and scrape up the browned bits on the bottom of the pot.
Adding the broth while the pot is still on "saute" helps release the cooked meat from the bottom of the pot. This will prevent the "burn" notice from appearing.
STEP 2. Pressure Cook.
To the broth, add the brown sugar, sesame oil, and soy sauce. Whisk together. Add in the beef.
Lock the lid in place and make sure the valve is set to "SEALING."
Select "HIGH PRESSURE" and a cook time of 15 minutes. When the cook time ends, allow the pot to naturally release for 10 minutes.
After the ten minute natural release, move the valve to "VENTING" and allow the remaining pressure to release.
STEP 3. Thicken the sauce.
Remove the lid. Stir the beef in the sauce. Turn the Instant Pot back on "SAUTE." In a small bowl, whisk together the cornstarch with cold water. Pour into the pot.
Cook for about 3 minutes, stirring constantly. When the sauce is thickened, add in the FROZEN broccoli. Allow the broccoli to cook, which will take about 2-3 minutes. Turn off Instant Pot.
STEP 4. SERVE.
To serve, spoon broccoli beef over rice or noodles (ramen is really tasty)! Sprinkle with sesame seeds, if desired. ENJOY.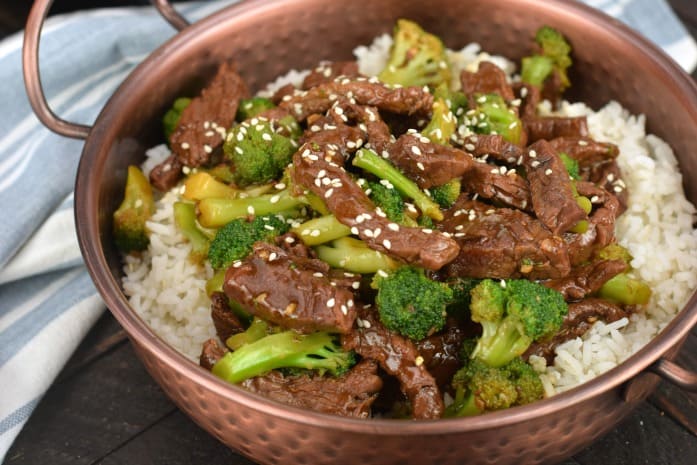 Can you Make Beef Broccoli on the Stove top
Yes!
In a large skillet (or stir fry pan), heat olive oil and garlic together over medium high heat. Add sliced beef and cook for several minutes until browned on both sides. Remove beef to a plate.
Remove beef and add broth, brown sugar, sesame oil, and soy sauce. Simmer for about 10 minutes.
In a small bowl, whisk together the cornstarch with cold water. Add to sauce and increase heat to medium. Whisk until sauce is thickened. Add in frozen broccoli and beef.
Cook for several minutes until broccoli is heated through. Garnish with sesame seeds.
Instant Pot Broccoli Beef
One of the reasons I love this recipe is that I can make it in advance and enjoy a few days of lunches.
Broccoli Beef is great for meal prep! Add the beef broccoli to an airtight container with a side of rice (or noodles). Refrigerate and use within 4 days.
What to Serve with Beef Broccoli
You can serve this with a side of rice, or cauliflower rice.
Or, create a Chinese Takeout meal!
Instant Pot Beef Broccoli is better than takeout and is the perfect weeknight dinner recipe! You'll love the tender beef with tangy sauce.