Looking for a meatless dinner idea that doesn't leave you hungry? These vegetarian Butternut Squash and Black Bean Enchiladas are your answer for a delicious, filling weeknight dinner.
We're no stranger to vegetarian cooking around here. These Easy Vegetarian Zucchini Meatballs are always a hit too. Or try our delicious zucchini roll ups! Pure comfort food.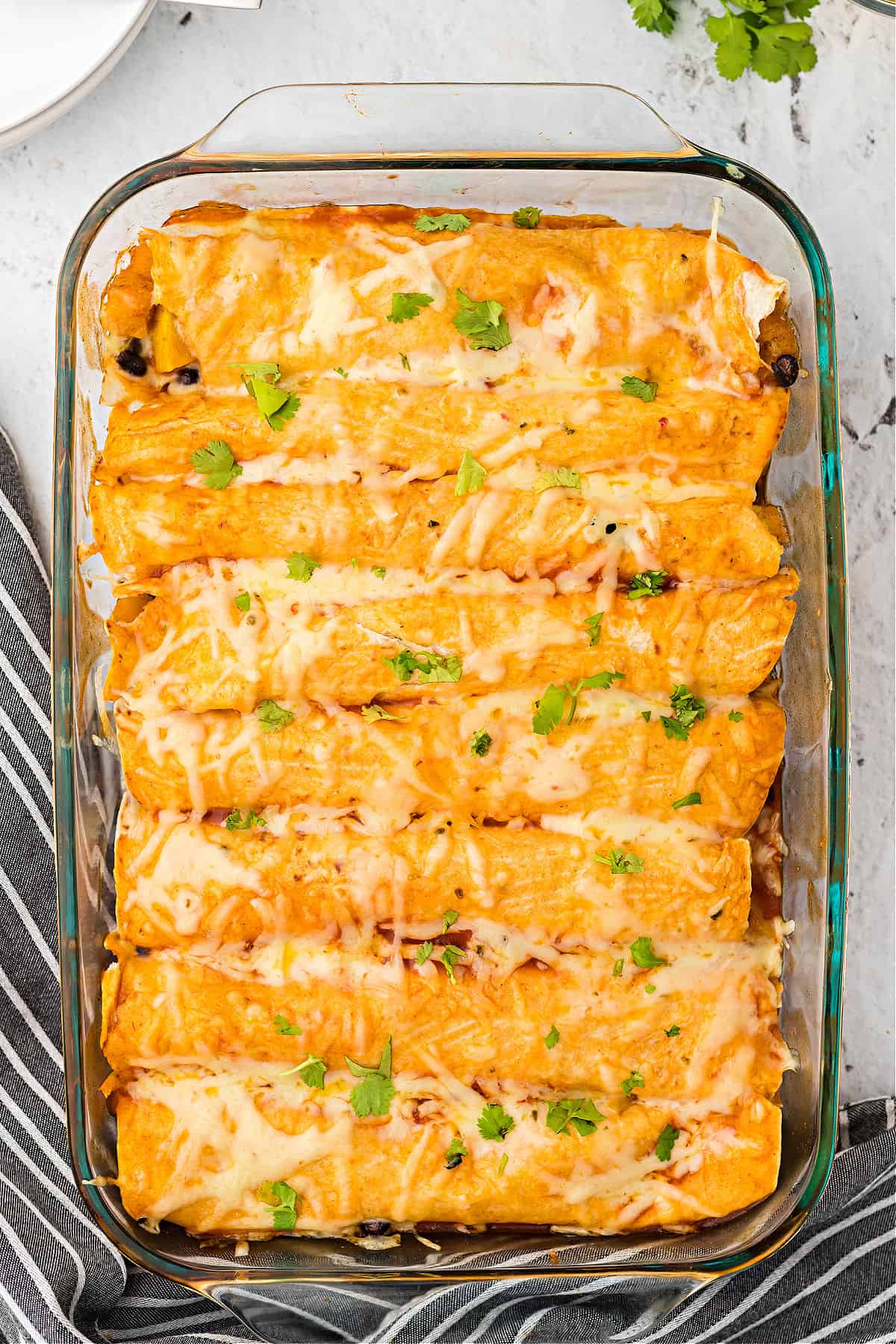 Why this Recipe Works
You don't need meat to make satisfying, flavorful enchiladas. In this recipe, protein-rich black beans combine with roasted vegetables for a dinner that's as hearty as it is delicious.
We use flour tortillas (instead of the traditional corn) for easier rolling. These enchiladas don't fall apart when you serve them!
You'll love the zesty enchilada sauce, sweet butternut squash and melty cheese baked on top.
Best of all, these black bean enchiladas are easy to make and kid approved.
For another meatless meal, add our lentil soup to your recipe rotation!
Ingredient Notes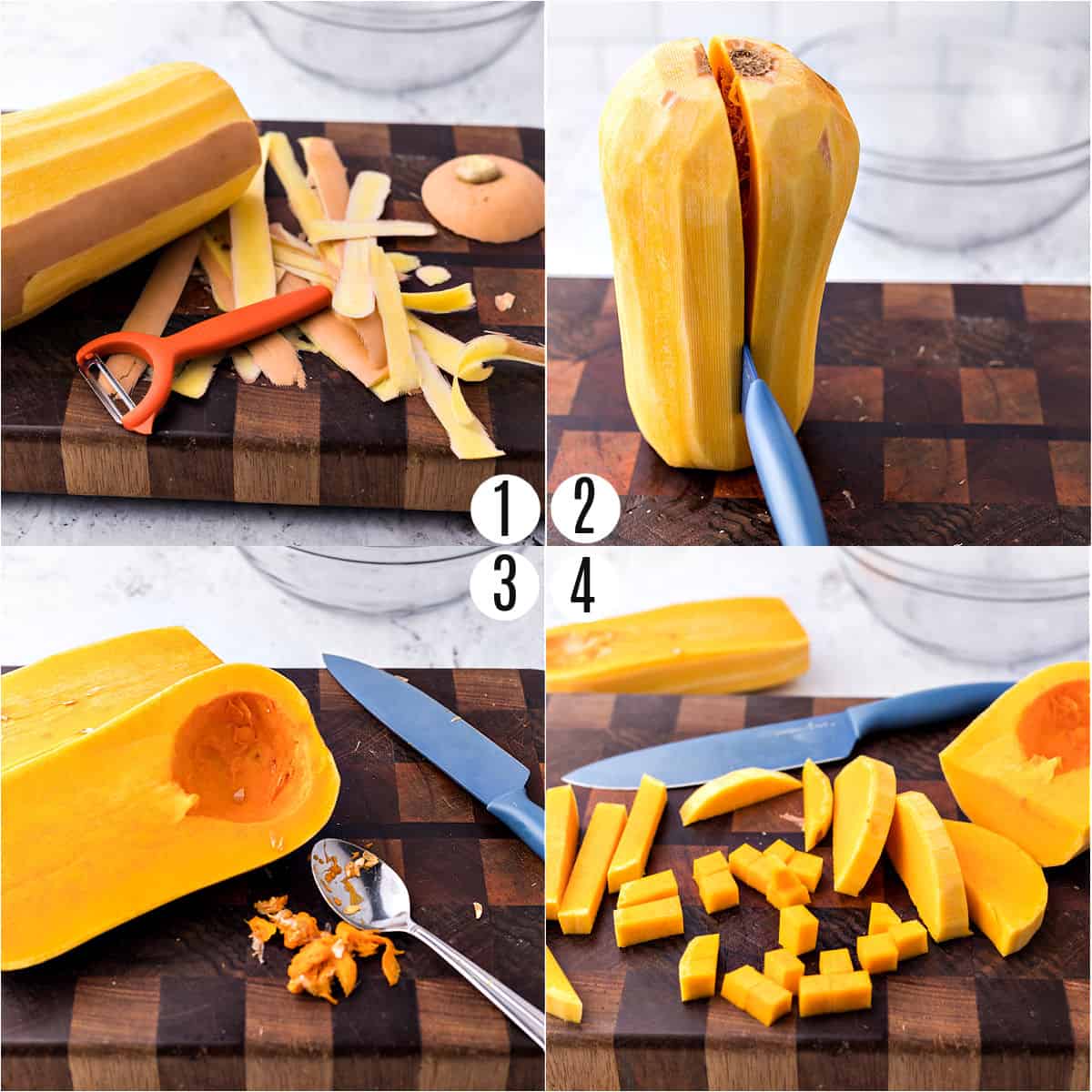 Butternut squash. Peel and dice a whole squash. You can also buy your squash pre-peeled and cubed for easy preparation. Frozen butternut squash can also be used, be sure to thaw before roasting.
Tortillas. I like to use flour tortillas for homemade enchiladas because they tear less easily than corn. That said, you can totally swap them our for flour
Enchilada sauce. You can use a can of store bought green enchilada (chile) sauce OR make your own favorite homemade enchilada sauce.
Easy Instructions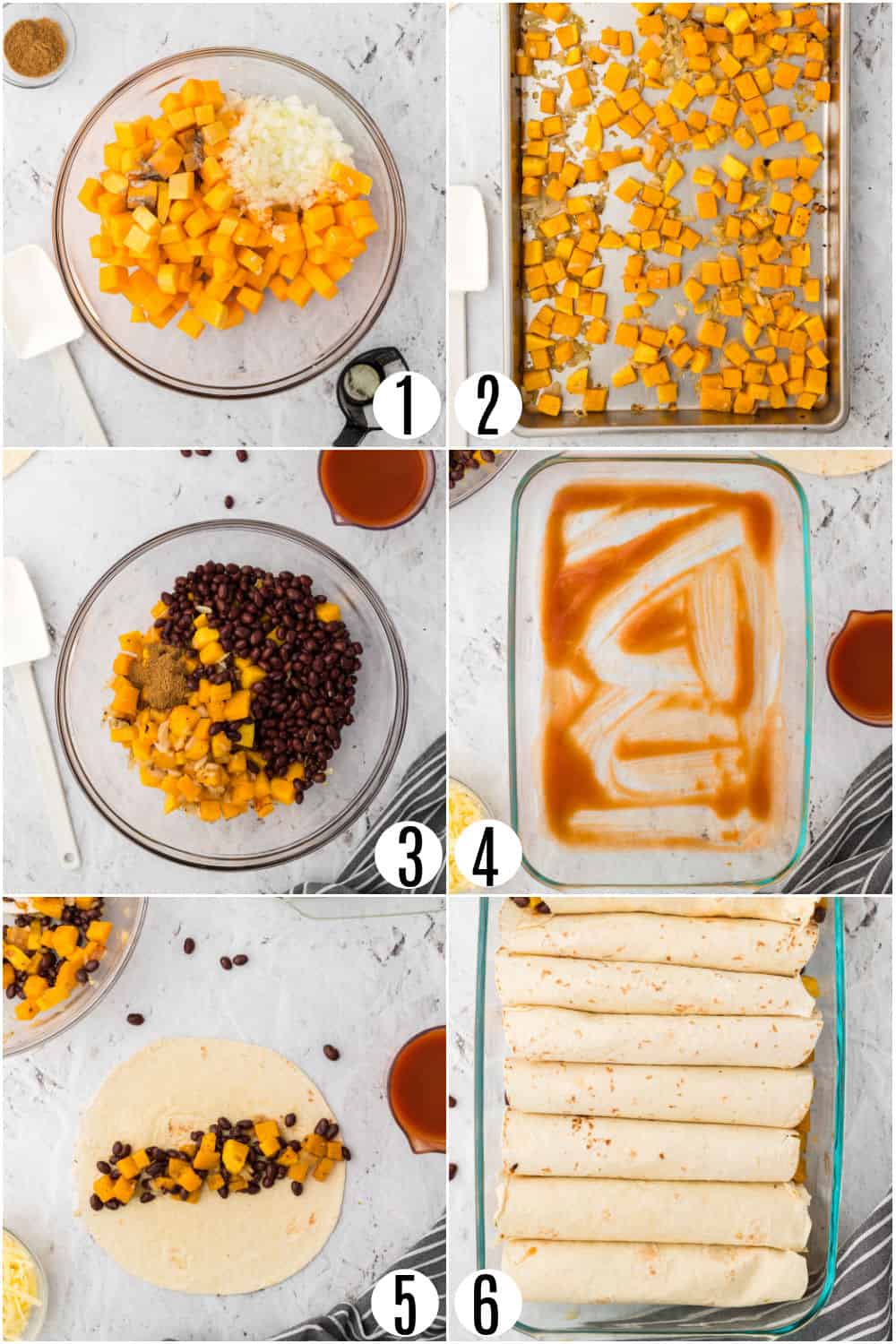 STEP 1. Roast the vegetables
Combine cubed squash with olive oil, onion, garlic, kosher salt and pepper in a bowl. Roast on a baking sheet in the oven for about 20 minutes.
STEP 2. Assemble the enchiladas
Toss the roasted vegetables with black beans and cumin. Pour some enchilada sauce on the bottom of a rimmed baking pan.
Fill each tortilla with filling and roll. Place rolled tortillas in a layer over the sauce. Add the remaining enchilada sauce on top.
Sprinkle with shredded cheese.
STEP 3. Bake
Cover the pan and bake for 30 minutes. Remove the cover and bake for another 10 minutes.
Serve hot!
Tips and Tricks
Top enchiladas with fresh chopped lettuce and diced tomato. Or make some fresh Pico de Gallo to spoon on top before you dig in!
For a spicier enchilada, add a bit of seeded, chopped jalapeno to the filling or a sprinkle of crushed red pepper flakes.
Swap out the Jack cheese for sharp cheddar or your favorite Mexican cheese.
Buy cheese in blocks and shred it fresh just before adding to the recipe. Freshly shredded cheese melts (and tastes) so much better than store bought!
Serve with guacamole, cilantro lime rice, and avocado salsa for a delicious meal.
Don't forget dessert! Try our easy cinnamon tortilla chips or churros.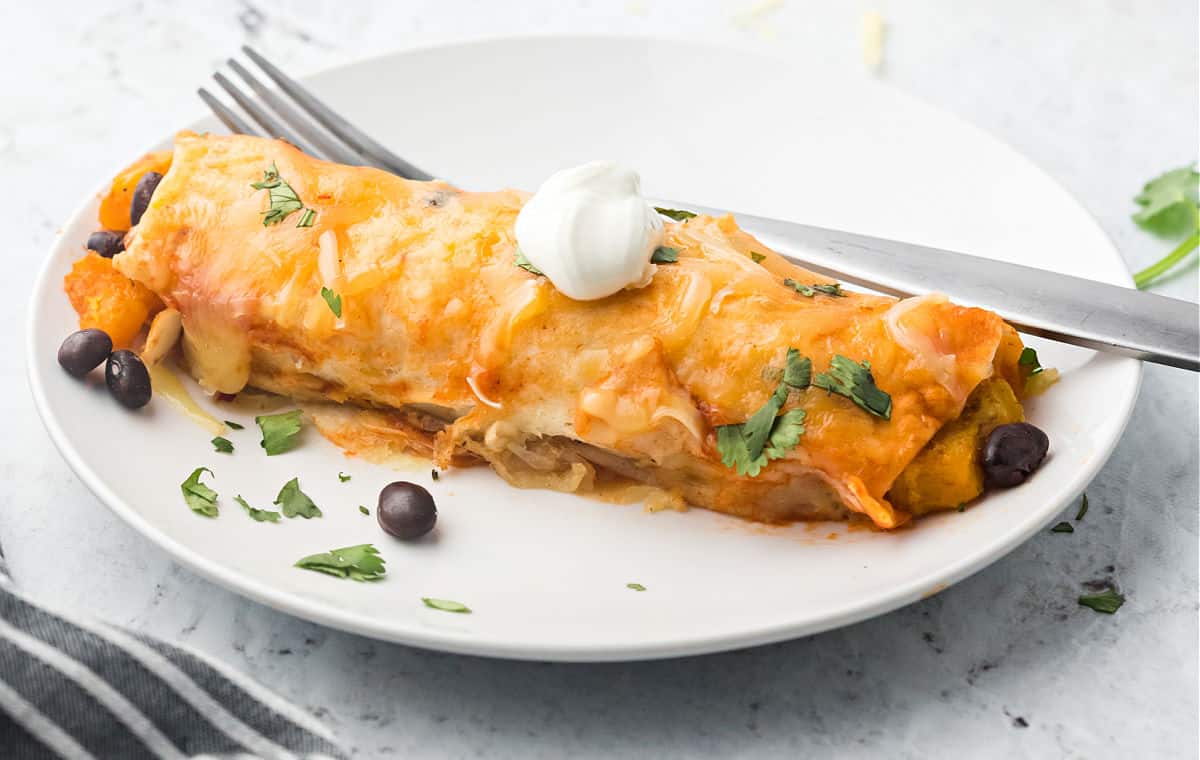 Recipe FAQs
How can I make these enchiladas vegan?
To make these enchiladas vegan, you can omit the cheese or replace it with a vegan shredded cheese. (I haven't tested it with vegan cheese so can't recommend a brand or vouch for the results.)
How can I make this gluten free?
For gluten free enchiladas, use corn tortillas. Just make sure they're certified gluten free, as some brands of corn tortillas may contain small amounts of wheat. You should also make sure to use a gluten free enchilada sauce, if you're aiming for a fully gluten free version!
What's the best way to store homemade enchiladas?
I store leftovers right in the baking dish. Cover the pan with foil tightly and refrigerate. You can reheat enchiladas in the oven to re-melt the cheese, or transfer them to a plate to heat in the microwave.
More Easy Dinner Recipes
These Butternut Squash Black Bean Enchiladas are so delicious, you'll want to have "meatless Monday" every night of the week!