Classic Meatloaf recipe with a sweet and tangy bbq glaze. This Perfect Meatloaf is tender, flavorful, and better than you remember from childhood, give it a try tonight!
Whip up this familky favorite and add a side of corn casserole with baked sweet potatoes (made in the Instant Pot). Don't forget the side of Pistachio Fluff. The perfect midwest meal.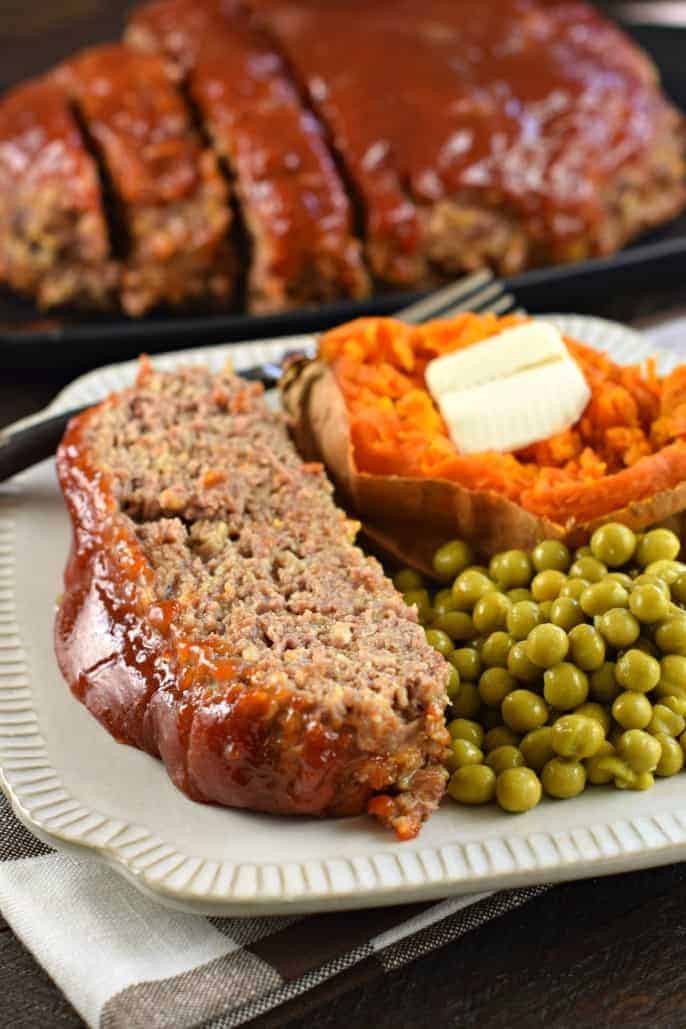 Why this Recipe Works
Growing up as a child of the 70's, meatloaf was a staple on our family dinner table. I grew up eating this dinner, and to this day I still serve this classic meal to my family.
Only, now I've changed up the flavor.
Or I should say, I've added MORE flavor.
I've taken the traditional meat loaf recipe of childhood and added a tangy glaze of homemade bbq sauce. It's so good! Especially when served with a side of au gratin potatoes!
When you hear people talk about mom's meatloaf, this is why. Put away all your misconceptions about what makes a great meatloaf, and give this delicious dinner a try!
Favorite Beef Recipes: Swedish Meatballs | Beef Taco Skillet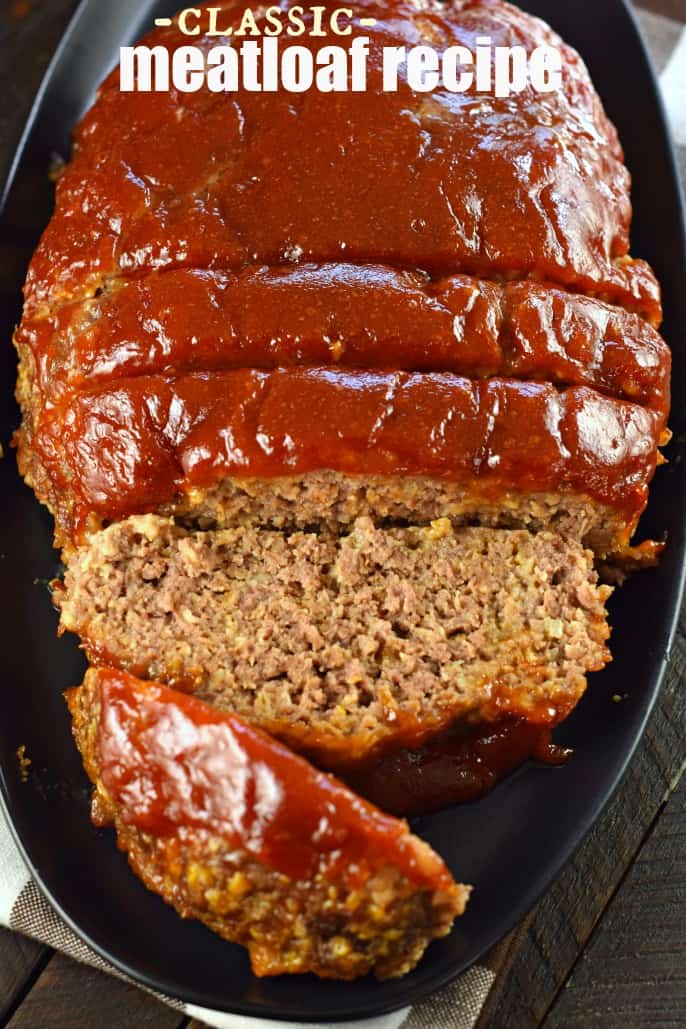 How to make The Best Classic Meatloaf Recipe
STEP 1: Start with ground beef.
PRO TIP: Having extra fat in the beef, and not opting for the leanest beef will result in a tender slice of meatloaf!
Preheat oven to 350 degrees F.
STEP 2: Combine your ground in a bowl with minced onion, garlic powder, quick cook oats, cheddar cheese, milk, eggs, kosher salt and pepper. Adding the milk and cheese helps create a MOIST meatloaf, that will slice perfectly. Mix by hand or with a wooden spoon until combined.
STEP 3: Line a large baking sheet or shallow baking pan (make sure it has at least a 1″ side to collect any moisture or glaze) with aluminum foil. Shape your meat mixture into a loaf. Some people will use an actual loaf pan or bread pan, but I prefer the way it cooks on a baking sheet.
Next make your meatloaf glaze recipe.
STEP 4: In a small bowl, whisk together 1/2 cup ketchup, light brown sugar, and yellow mustard. Spoon glaze over the top of your meatloaf.
STEP 5: Bake in a preheated oven for about 55 minutes. Serve hot and enjoy!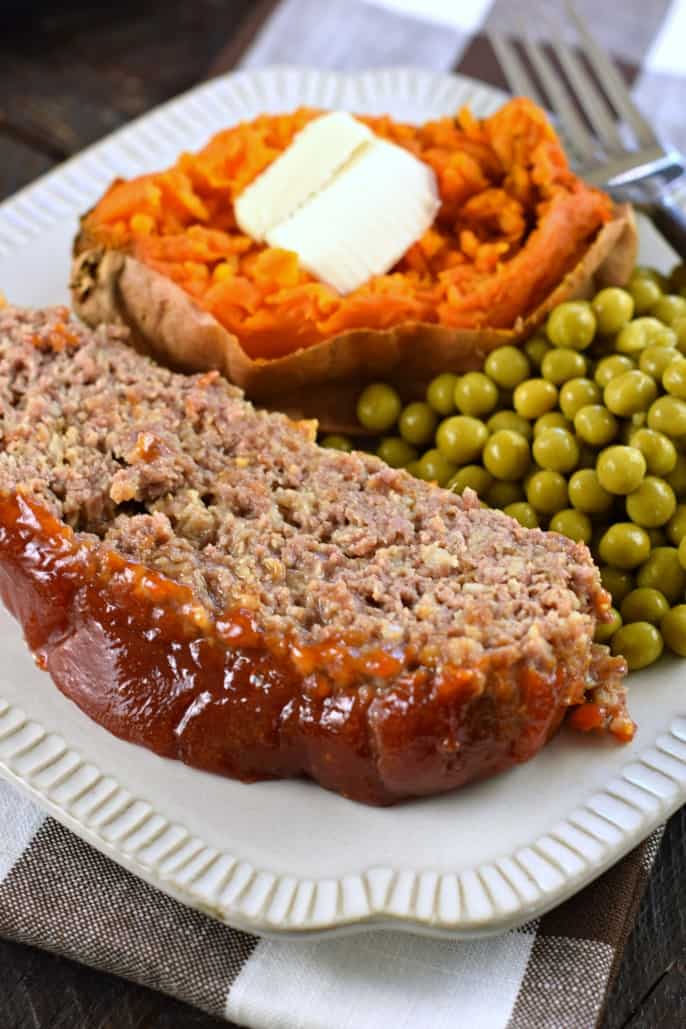 Recipe FAQs
Can I bake my meatloaf in a loaf pan?
YES! absolutely! You may want to line the pan with foil or parchment paper for easy release. I would use a 9-inch loaf pan, and use a meat thermometer to check doneness.
How long do I cook meatloaf?
My classic meatloaf recipe will cook in a 350 degree oven for about 55 minutes. The key is to check the internal temperature, and remove from oven when it reaches 160 degrees F.
Can you freeze Meatloaf?
Yes. Wrap uncooked meatloaf in plastic wrap then wrap in foil. Freeze for up to two months. When ready to cook, thaw in refrigerator overnight. Bake according to recipe directions.
Why does my meatloaf fall apart?
Meatloaf can fall apart if you don't have anything to bind it together. Don't skip adding the egg and milk to this recipe. It helps bind the beef together and keep it from crumbling.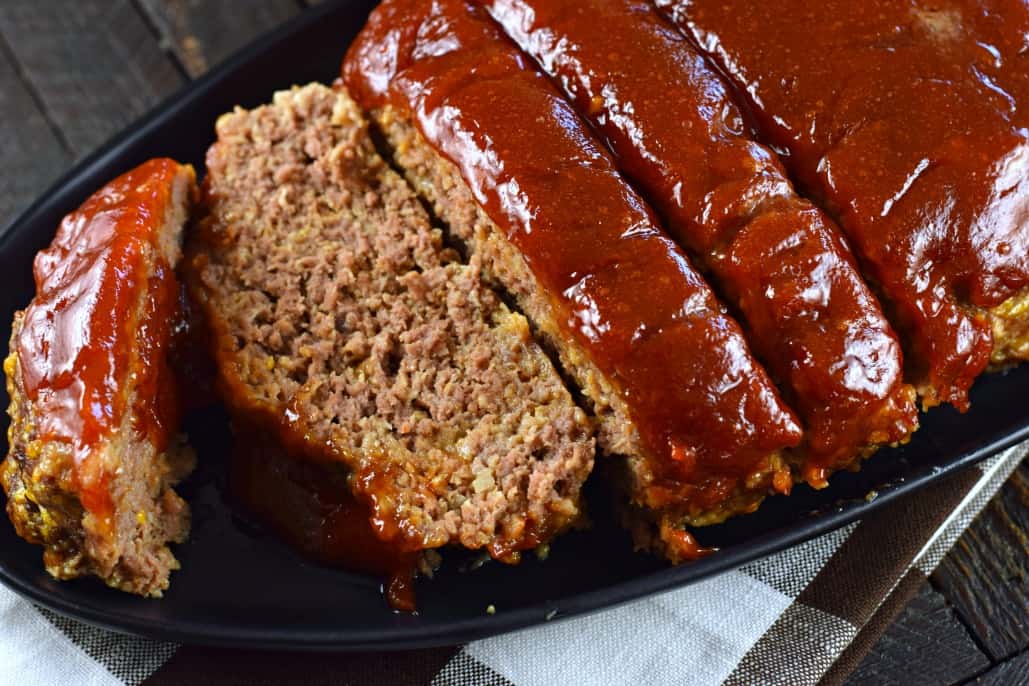 What to do with Leftovers
One of my favorite things to eat for lunch is a leftover meatloaf sandwich.
But, if you find you've really made too much, you can wrap it and freeze your leftovers. Heat in microwave for a quick lunch.
Or, break up the cooked meatloaf and put in tacos!
Serving Suggestions
I know it's not the holidays, but we still love making this Sweet Potato Casserole year round! It's sweet and delicious, and goes great with this BBQ meatloaf recipe!
If you're going to serve the perfect meatloaf you should also serve the The Best Mac and Cheese. This homemade macaroni and cheese recipe is one of the dishes my kids request on a weekly basis. I'll change it up sometimes and serve this Gouda Bacon Macaroni and Cheese too.
Crisp pieces of roasted broccoli and roasted zucchini covered in garlic and Parmesan cheese make for a glorious side dish. This easy to make and kid-friendly Roasted Broccoli and Zucchini recipe deserves a spot on your dinner table!
Looking for bread? These No Knead Garlic Parmesan Dinner Rolls will please the whole family! You can also try this Cheesy Onion Beer Bread. One bowl and easy to make too! Short on time? These Puff Pastry Bread Sticks are so easy and tasty!
Classic Meatloaf recipe with a sweet and tangy bbq glaze. This Perfect Meatloaf is tender, flavorful, and better than you remember from childhood, give it a try tonight!