You can't beat the down home good taste of Corn Casserole. Served hot with a bubbling buttery top, it makes a perfect accompaniment to a holiday meal!
For more delicious side dishes, our readers love this easy Green Bean Casserole Recipe. And of course, in our house it's not a holiday without Hashbrown Casserole and Sweet Potato Casserole!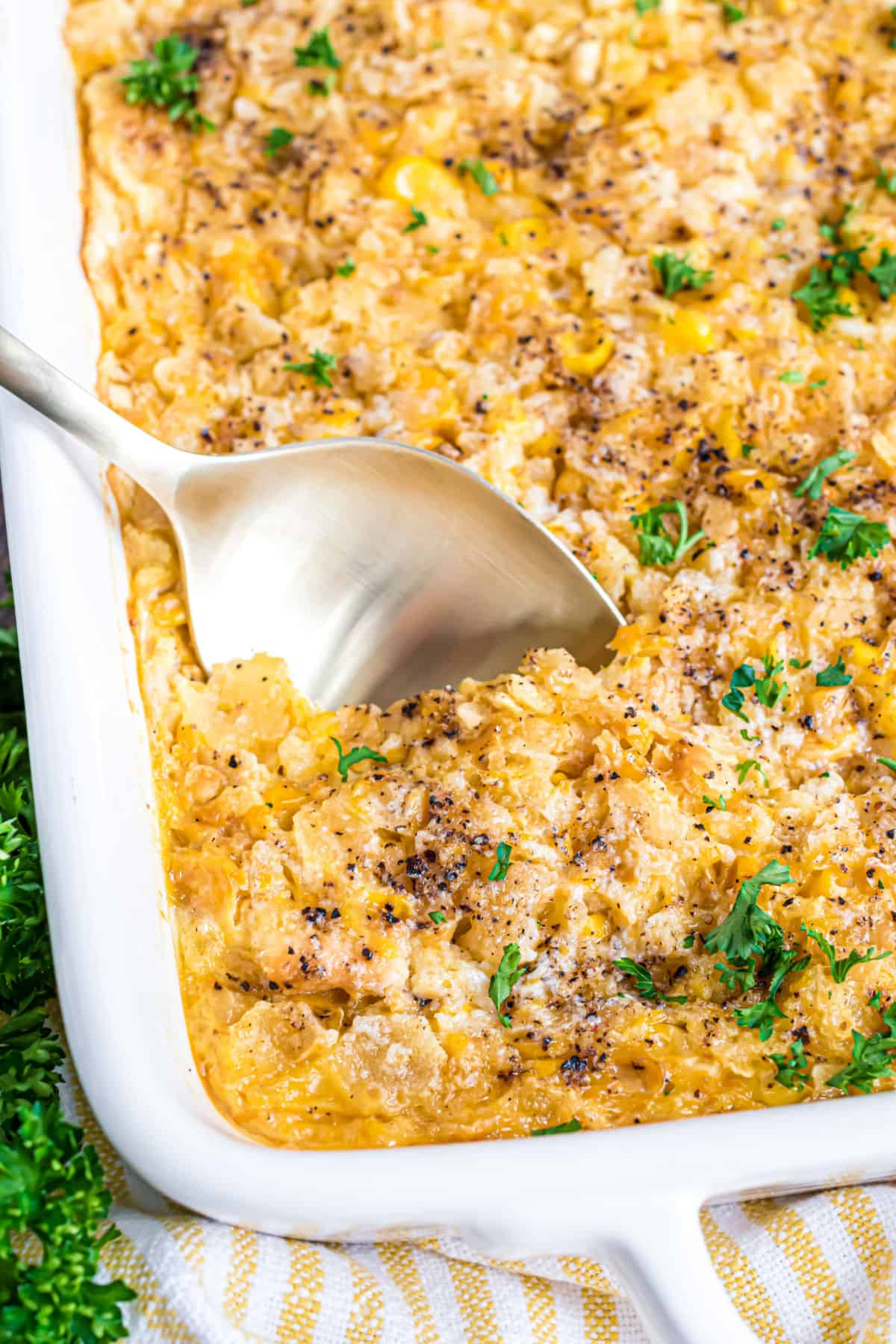 Why this Recipe Works
Corn Casserole is a staple of American cuisine. Made with inexpensive ingredients, it's filled with sweet corn flavor and topped with butter.
This recipe for corn casserole is hands down my family's favorite.
Easy and impressive. It only takes a few minutes to assemble this casserole, but the flavor is worthy of a special occasion!
Easy clean up. Just mix is all in the baking dish. No extra bowls to dirty up!
Just six ingredients. You can find these ingredients at any grocery store, and probably in your pantry already!
Made with real creamed corn. Instead of a cornbread mix base, this casserole is made with saltine crackers and creamed corn for better flavor and perfect slightly creamy consistency.
Ingredient Notes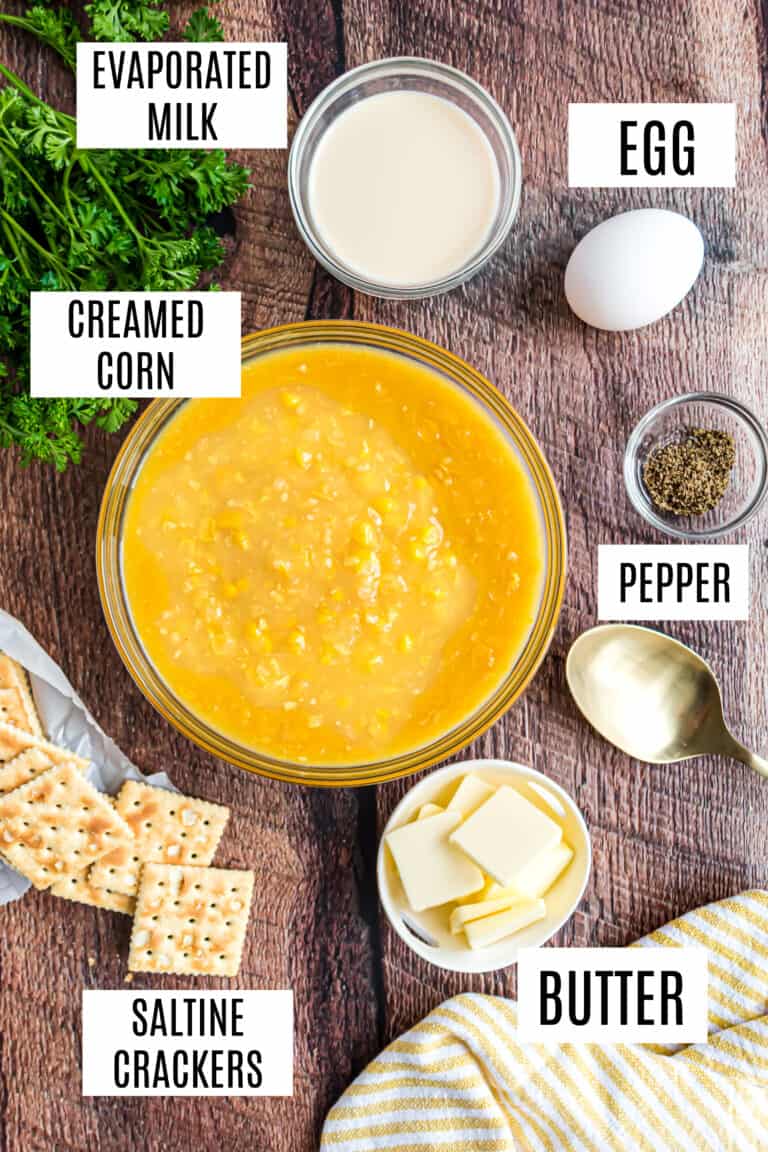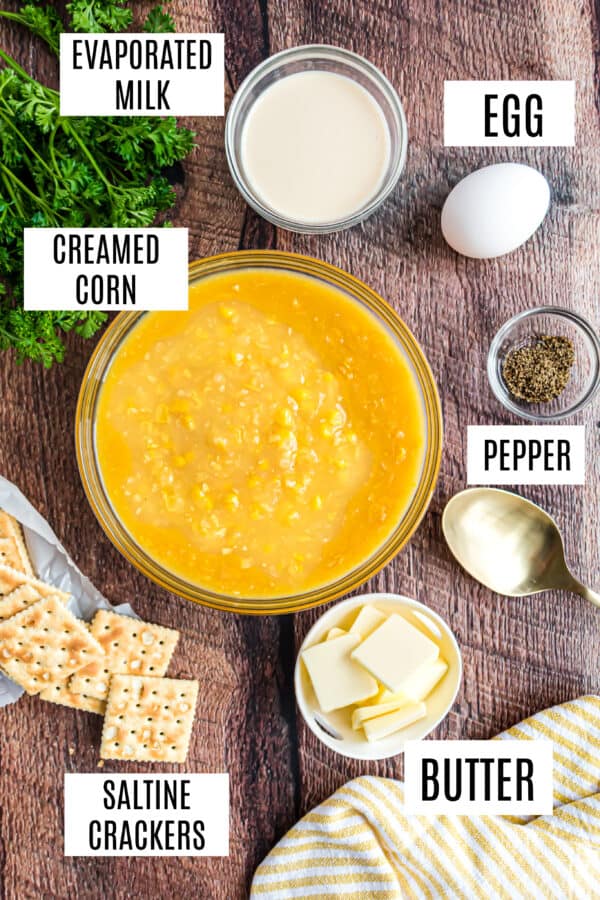 Here's what you'll need to make the best ever baked creamed corn dish.
Cream corn. You'll need two cans.
Evaporated milk. Make sure to use evaporated, not sweetened condensed.
Egg
Saltine Crackers
Black pepper
Butter– salted or unsalted is fine.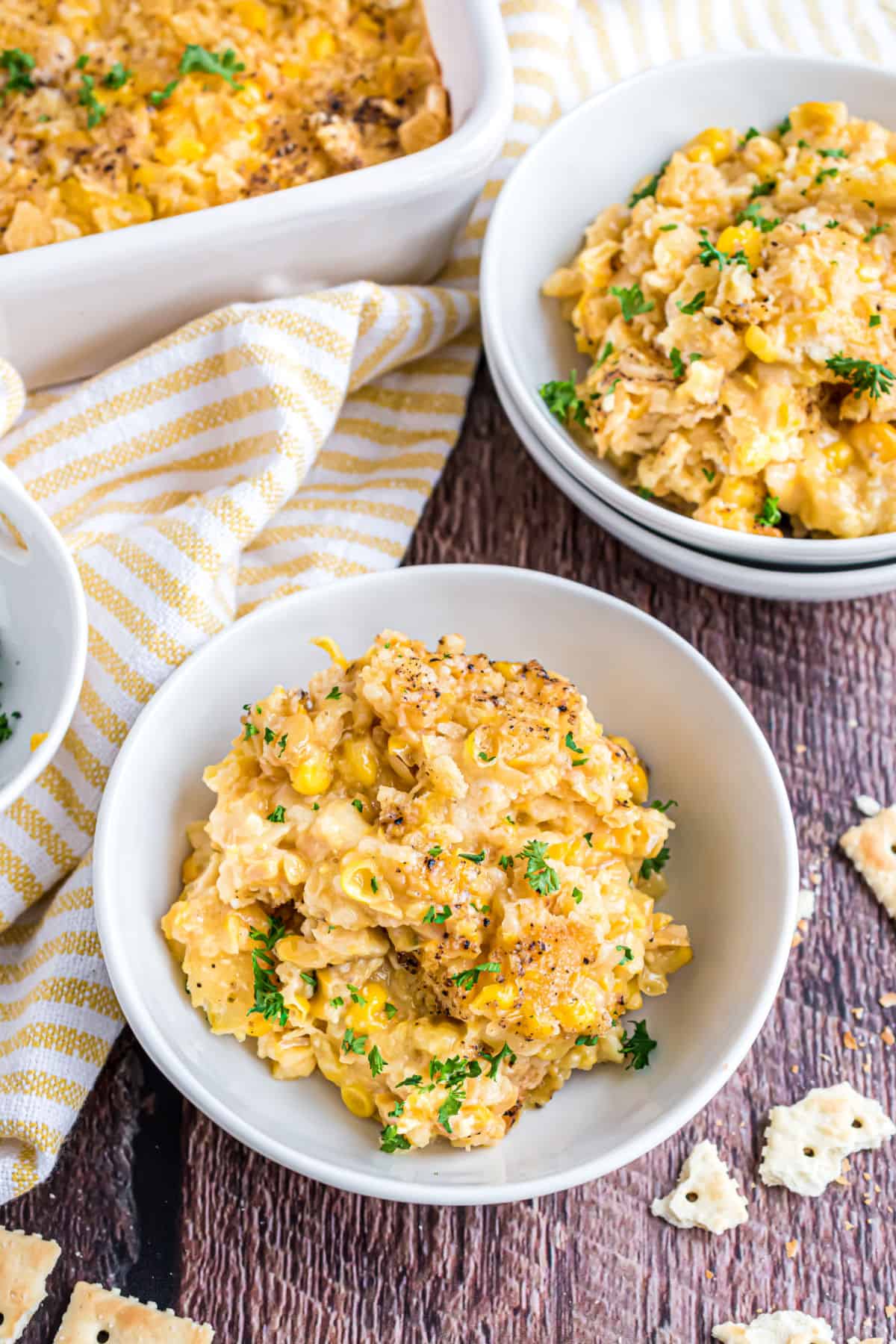 Serving Suggestions
Corn Casserole goes well with just about every main course! It's a staple side dish for every kind of holiday at our house. We love it served piping hot garnished with parsley for a touch of freshness.
Serve with your Easter ham or Thanksgiving turkey. It's also a perfect accompaniment to Garlic Herb Roasted Chicken or this Mississippi Pot Roast.
This recipe is easy enough to make any night of the week, so don't feel like you need to save it for a special occasion. Try it with some Sloppy Joes or Meatloaf.
After you've cleared every crumb of corn casserole off your plate, serve up slices of Kentucky Butter Cake or Pecan Pie for dessert!
Tips and Tricks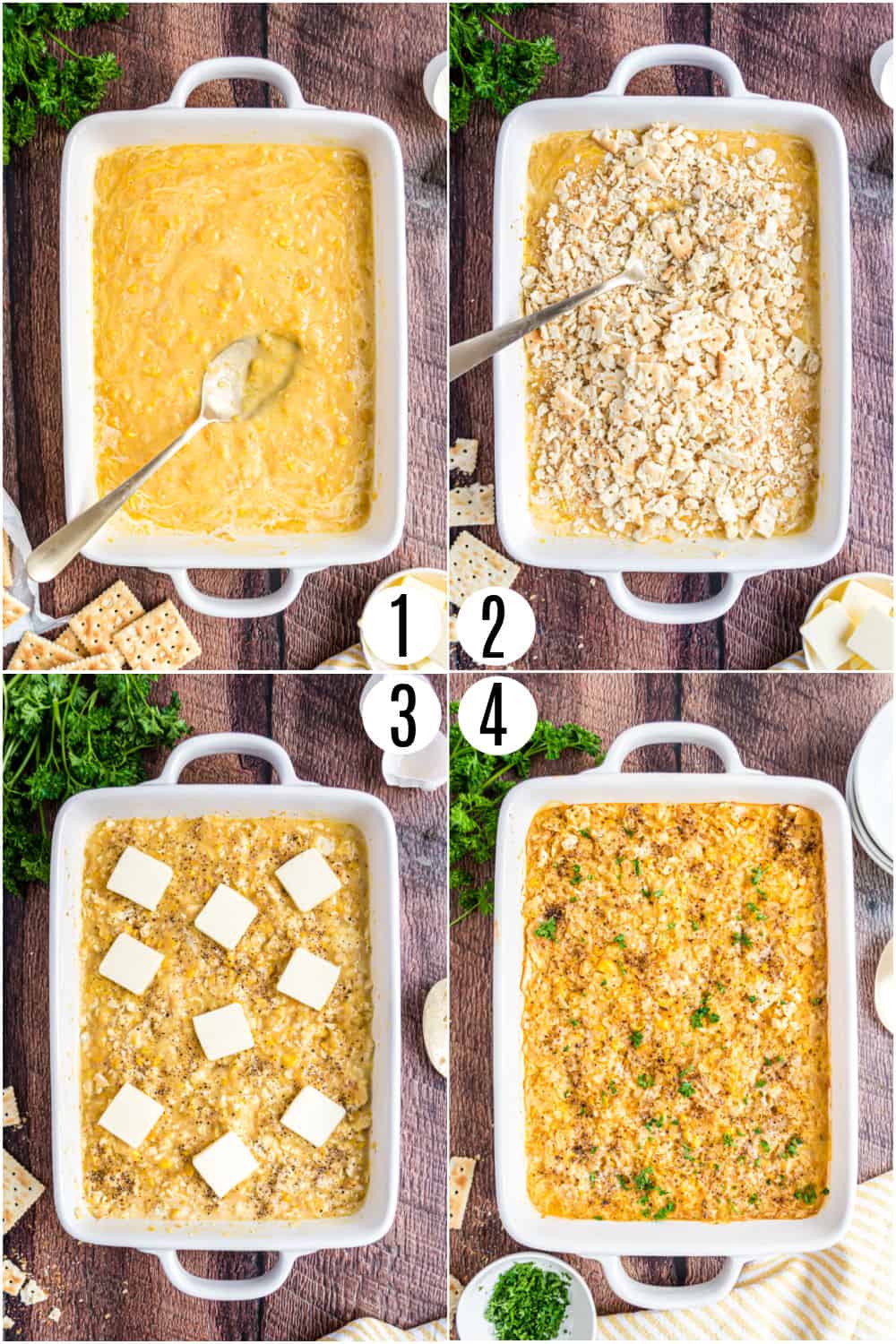 How to crush crackers. Place whole Saltines in a plastic bag with a zip top. Use a mallet or rolling pin to break the saltines into pieces. They don't need to be crumbs. Just small enough to fold into the corn casserole.
Add butter at the end. For this recipe, I dab the butter on top of the casserole instead of mixing it in with the creamed corn and egg. This creates a golden brown layer on top that bubbles as it bakes! When you take a bite of the finished dish, the butter flavor is undeniable.
Storing leftovers. Keep leftover casserole tightly covered in the refrigerator.
Recipe FAQs
Can I use homemade cream corn instead of canned?
Yes, you can substitute the canned corn for 3.5 cups of homemade cream corn.
Is Corn Casserole the same as Corn Pudding?
Corn Pudding and corn casserole are similar dishes with slight differences. Corn pudding tends to have a softer more custard-like texture. The casserole bakes up with a firm center and contains more whole pieces of corn. The crispy crackers in this recipe solidify it as a "casserole" for me!
Can you freeze corn casserole?
Yes, you can freeze this if you bake it in a freezer safe pan. Double wrap the pan of cooled casserole in plastic wrap, then foil. It can be stored in the freezer for up to 3 months. Let thaw in the refrigerator and reheat before serving.
How long does corn casserole keep in the fridge?
Stored covered, this side dish keeps for 3 -4 days in the refrigerator. Reheat in the oven or in the microwave.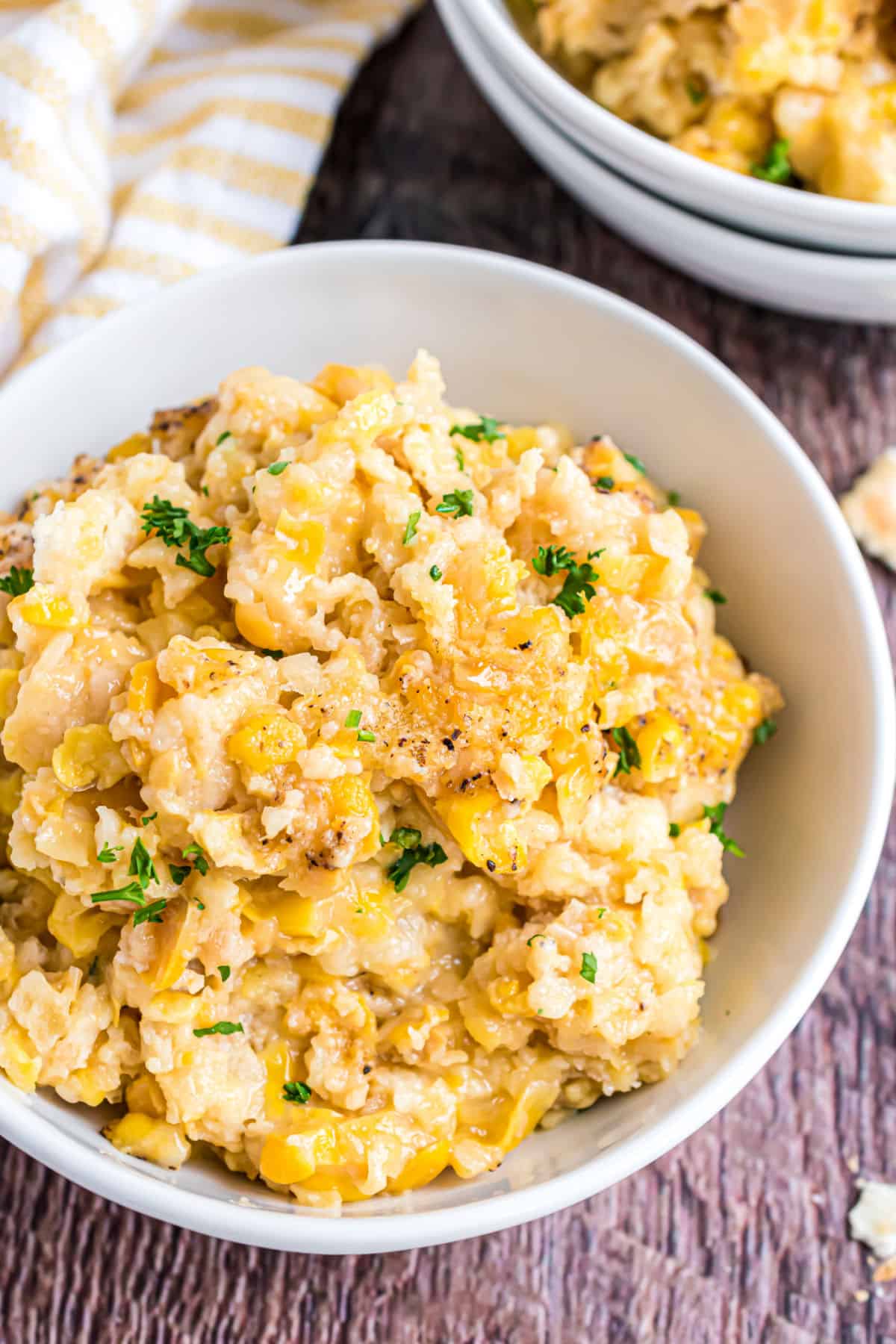 More Easy Side Dishes
Learn how to make Corn Casserole and you'll never be more than 30 minutes from a delicious side dish. You'll come back to this easy corn recipe over and over again!