Bring extra sweetness to your holiday table with this Ambrosia Salad recipe! Canned fruit gets tossed with whipped cream and marshmallows for an easy and irresistible side dish.
No holiday meal is complete without a cold, fruity salad. This Frozen Cranberry Salad is another must-try! Readers love this Pistachio Salad too!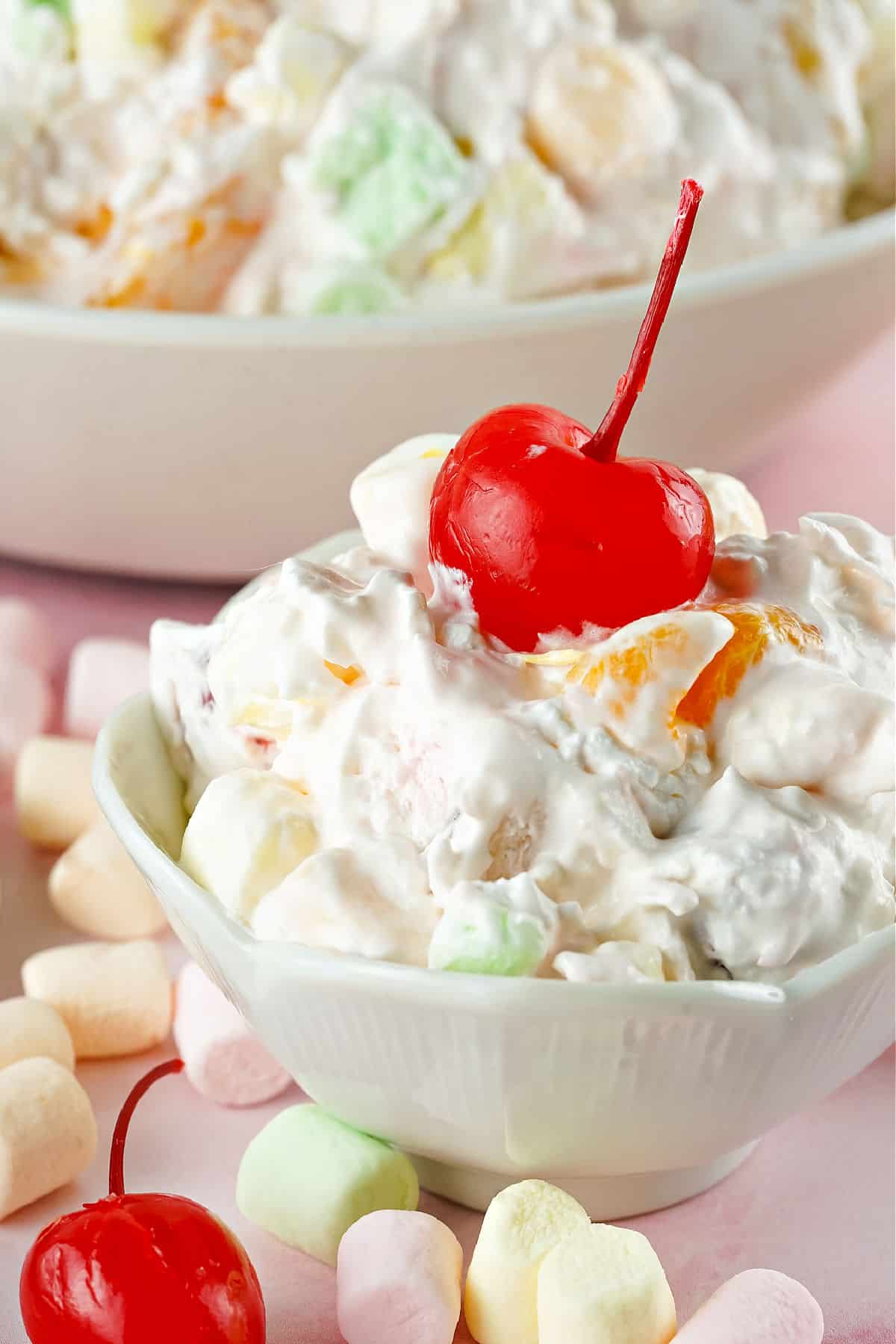 What is Ambrosia
Ambrosia is a fruit salad with sweet creamy dressing. With origins in the American south, this sweet side dish has become a staple of holiday meals across the United States.
There are as many variations on Ambrosia as there are cooks who make it.
Virtually all Ambrosia Salad recipes include canned fruit, a creamy dressing and coconut, marshmallows, or both.
Some include nuts, chocolate or other mix-ins too.
This dish is the kind of "salad" that makes you question the meaning of the word. Because Ambrosia is undeniably decadent and rich–more similar to a dessert than a typical dinner salad.
There's just something about the festive and sweet combination of fruits, cream and coconut that makes it irresistible on a holiday dinner plate.
Whether you grew up eating Ambrosia Salad or are trying it for the first time, this recipe is the perfect easy Christmas side dish! Paired with your classic sweet potato casserole, and of course some cheesy hashbrown casserole, your family and friends will love it.
Don't forget to try our lemon jello salad next!
Ingredient Notes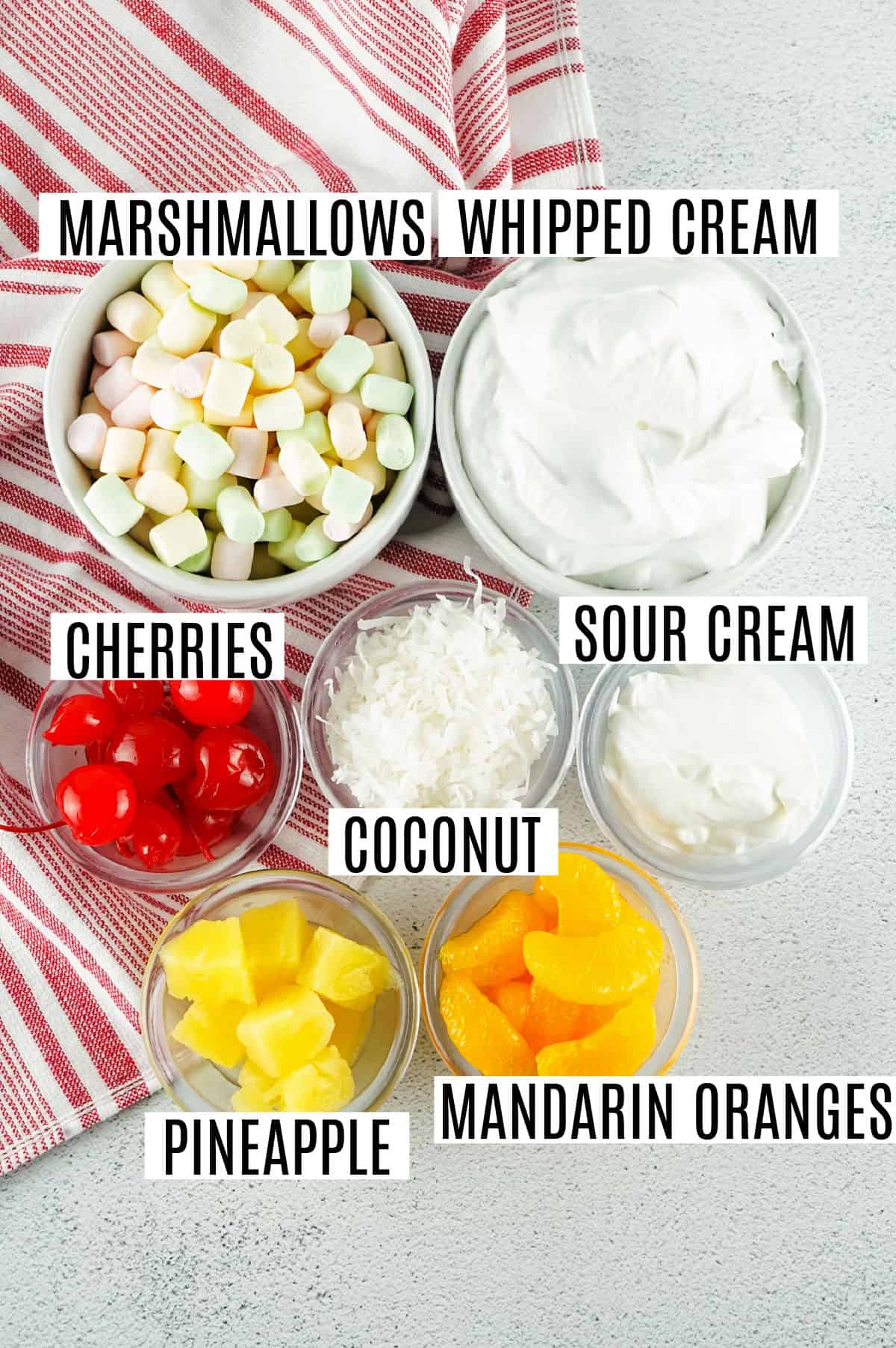 Whipped Cream – My homemade whipped cream is delicious in today's recipe, but Cool Whip works too.
Fruit Flavored Mini-Marshmallows – I love the color and flavor these add! Of course, regular miniature marshmallows are a fine substitute.
Sour Cream – For a sweeter twist, substitute vanilla pudding instead.
Maraschino Cherries – Make sure to remove the stems first.
Pineapple Chunks – Crushed pineapple works well in this Ambrosia Salad recipe too.
Coconut – Use the sweetened flakes to add some crunchy texture and delicious flavor to the fruit salad. Or toast the coconut for delicious texture.
Tips and Tricks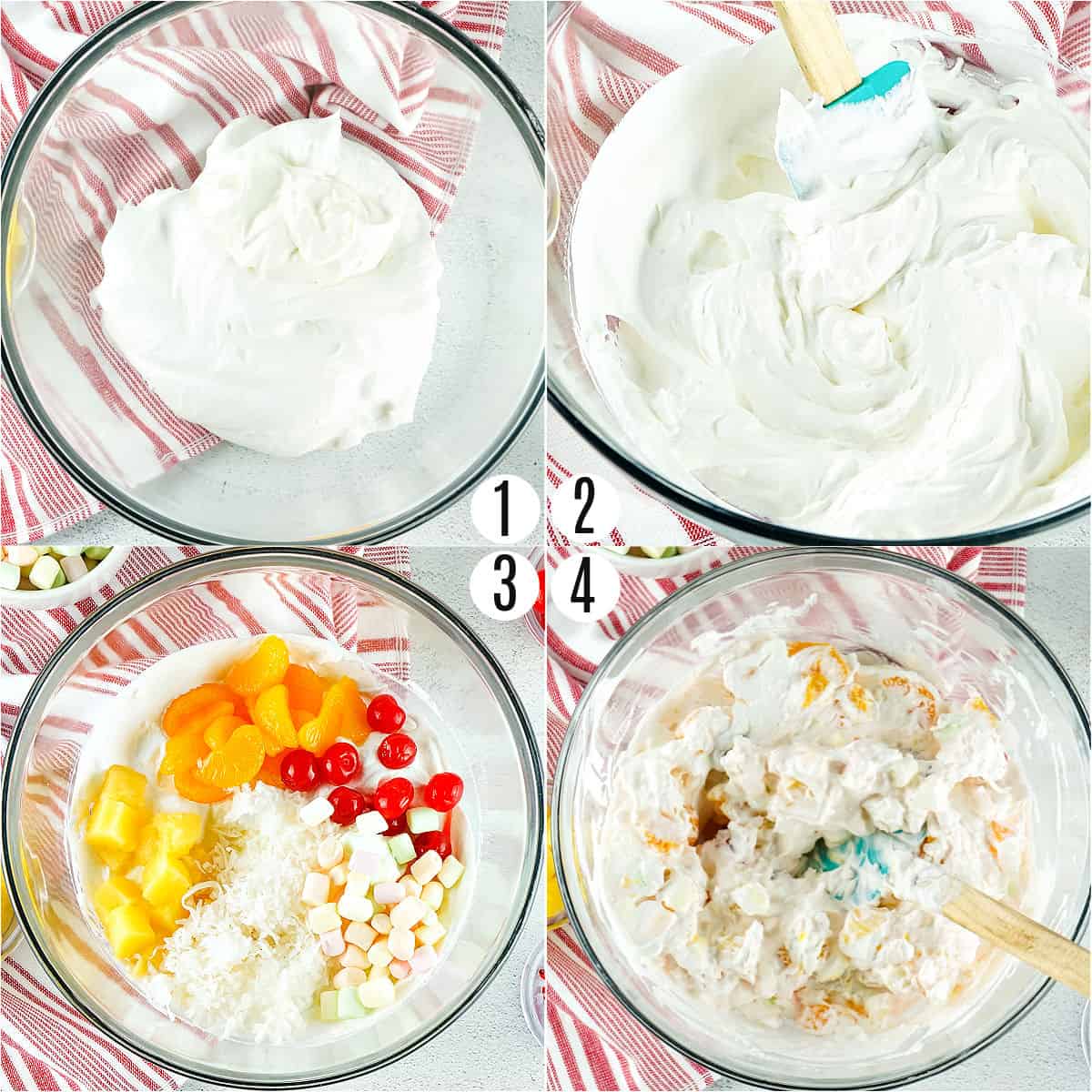 Mix together the whipped cream and sour cream first. Then fold in the fruits and marshmallows.
You could also use vanilla yogurt instead of sour cream if preferred.
Cover and chill Ambrosia Salad for at least an hour before serving.
Store in an airtight container in the fridge for 2 to 3 days.
Recipe FAQs
How far ahead of time can I make Ambrosia?
Ambrosia Salad is best enjoyed within about a day of assembly. It's a perfect option for prepping in the morning and letting chill until dinner time!
Can I freeze Ambrosia Salad?
I don't recommend freezing Ambrosia.
Can I use different fruits in this Ambrosia recipe? What about nuts?
Yes, this recipe is perfect for adapting with whatever fruit or mix-ins you have on hand! It's delicious with a can of fruit cocktail in place of the oranges or pineapple. Quartered grapes and apple chunks taste great in Ambrosia too. If you like Ambrosia Salad with nuts, feel free to toss in a handful of chopped pecans or walnuts too.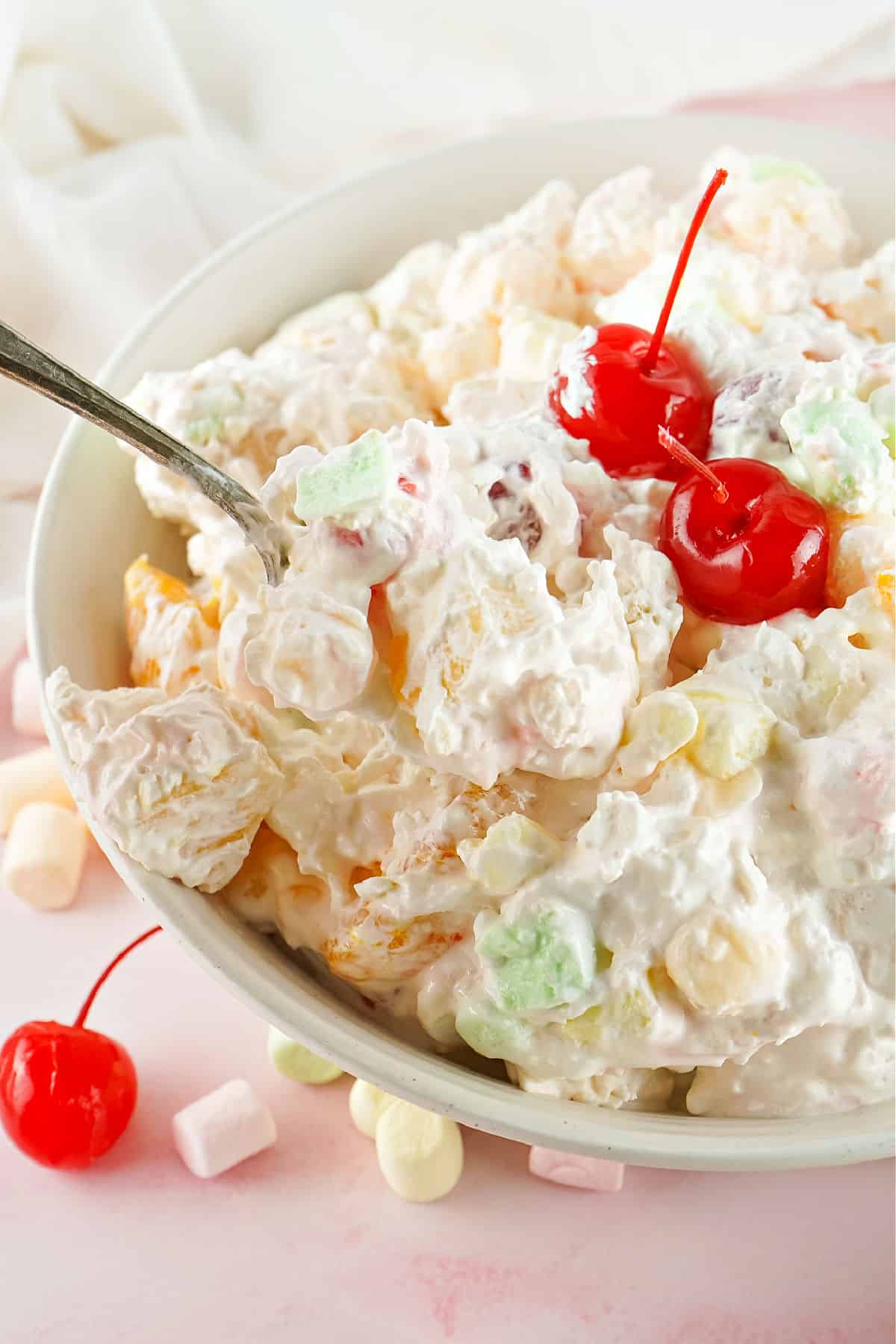 More Easy Desserts
Creamy, cold and sweet Ambrosia Salad never goes out of style! Our version of the nostalgic holiday side dish is easy to make and full of fruity flavor.