This Halloween dessert is a little spooky, a little silly, and a lot delicious! Add a cookie graveyard to your Dirt Pudding Cake and invite the ghouls and ghosts out to party!
If you love dirt pudding, this chocolate pudding cake is dense and delicious! Or give my favorite chocolate eclair cake recipe a try instead!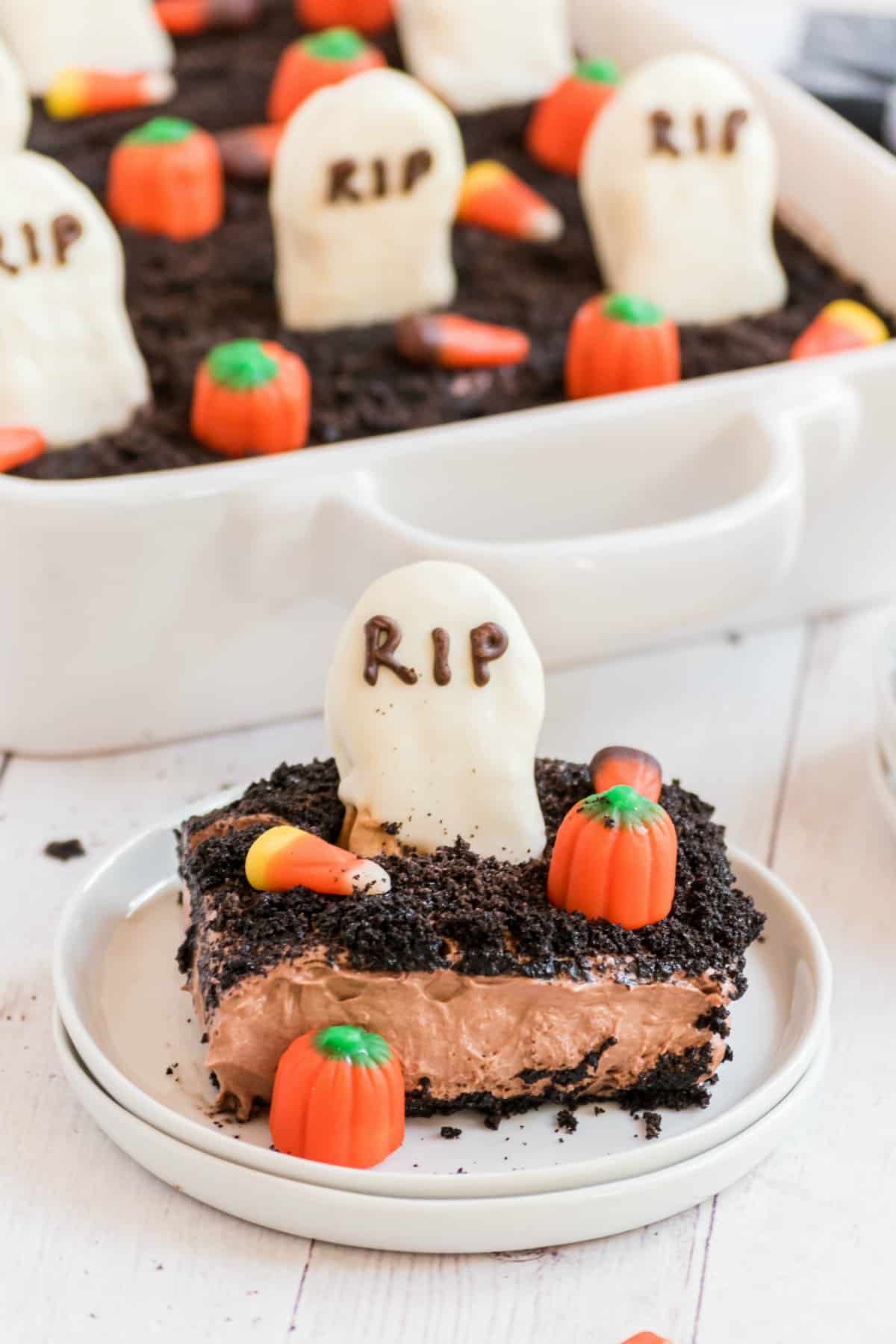 Graveyard Dirt Dessert
I'm a little giddy about how adorable this Halloween Dirt Cake turned out. I took a classic Dirt Cake recipe and decorated it for the upcoming holiday by making it look like a graveyard.
A few candy pumpkins adds just the right colorful touch!
Not familiar with Dirt Cake?
It's a "cake" made from a combination of chocolate pudding, cool whip and cream cheese. You add crushed Oreos on top to make it look like dirt!
Usually, you'd add things like gummy worms to the pudding to double down on the garden dirt theme (you can see it served in trifles and clean garden pots at parties too).
Kids always love dirt cake and eating it always reminds me that food is supposed to be FUN. Decorating this dessert was a blast; this would be a great recipe for kids to help make.
In this twist on the classic, the crushed cookies become graveyard dirt! Whether you're having a party or staying home to enjoy the day this year, this cake will make a perfect centerpiece for your dessert table.
How to Make Tombstones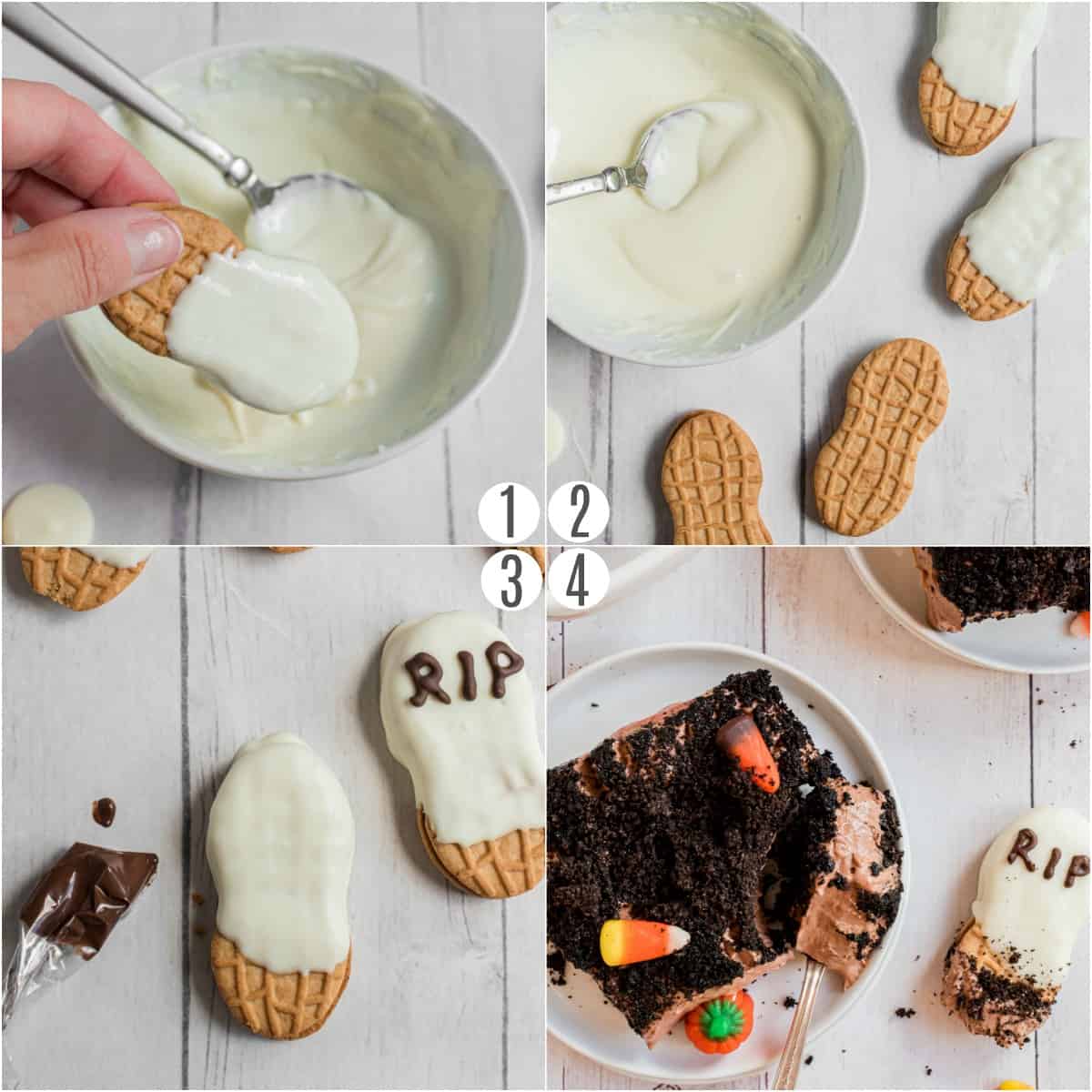 The "tombstones" dotted on the top of the dirt cake are key for making it look like a graveyard.
To make them, dip nutter butter cookies in melted white chocolate.
Let the chocolate set, then use a frosting bag or ziploc bag with the corner cut out to pipe "RIP" onto each cookie using melted milk chocolate.
If you're handy with your frosting bag you could even get creative and add other fun designs or names to the tombstones!
Once the chocolate is set, poke the bottoms into the top of the pudding cake, arranging the scene however you like.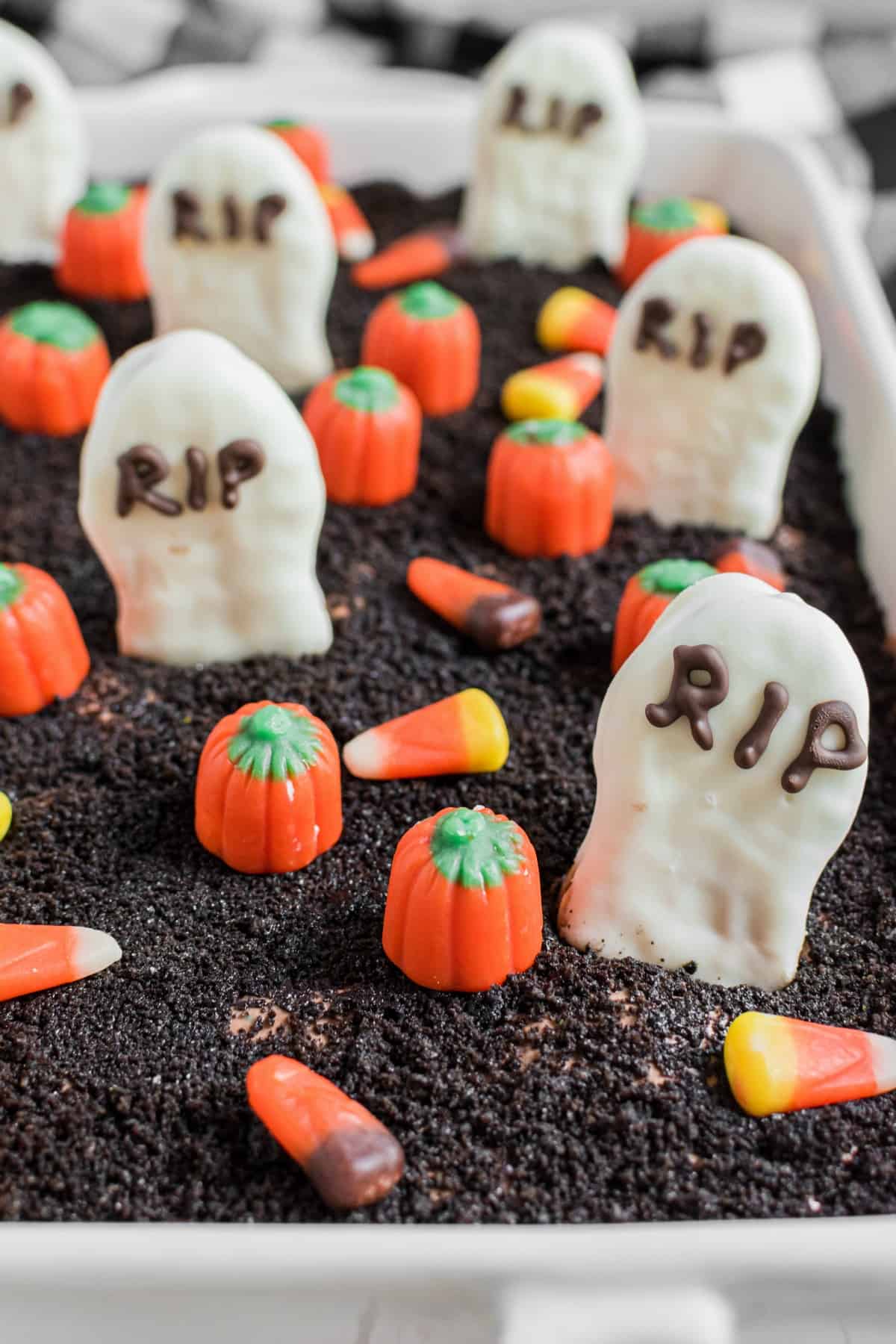 Ingredient Notes
Cookies – I like classic Oreo sandwich cookies for this recipe. Crush the cookies first (filling included)!
Instant Pudding – Chocolate pudding mix works best for the "dirt" theme but Vanilla Pudding mix tastes good here too.
Cool whip – If frozen, let the cool whip thaw before using.
Milk – Any variety of milk works here! You can use whole milk, low fat, non-dairy etc.
Candy corn and pumpkins – Arrange these around the headstones to complete your scene!
Tombstones– you'l need Nutter Butter cookies (or Milanos), white chocolate, and milk chocolate.
Add the crushed Oreos on top, arrange your pumpkins and candy corn with your Nutter Butter tomb stones and you have a fun, spooky Graveyard Dirt Cake.
Powdered sugar, cream cheese and butter get mixed with the pudding, then you fold in the cool whip to create a dreamy, fluffy pudding cake base!
Dirt Pudding Cake Variations
Easter Dirt Cake– topped with Peeps and pastel candies.
Classic Dirt Cake– with chocolate filling.
Gummi Dirt Cake– with vanilla pudding and gummi worms.
Recipe FAQs
How Should You Store Dirt Cake?
Enjoy your dirt cake within 3 days for best taste. Store tightly covered with cling wrap in the fridge! Keep in mind that the cookies "tombstones" may get soft after a day or two.
Why did my dirt cake come out runny?
When a dirt cake comes out runny, it's usually because you accidentally used cook and serve pudding mix! Make sure the box says "INSTANT" pudding mix before adding it to this cake recipe.
Can I use other flavors of pudding in dirt cake?
Yes. I love this with vanilla pudding too, or you're welcome to experiment with your favorite pudding flavors. Make sure it's a pudding that tastes good with chocolate cookies!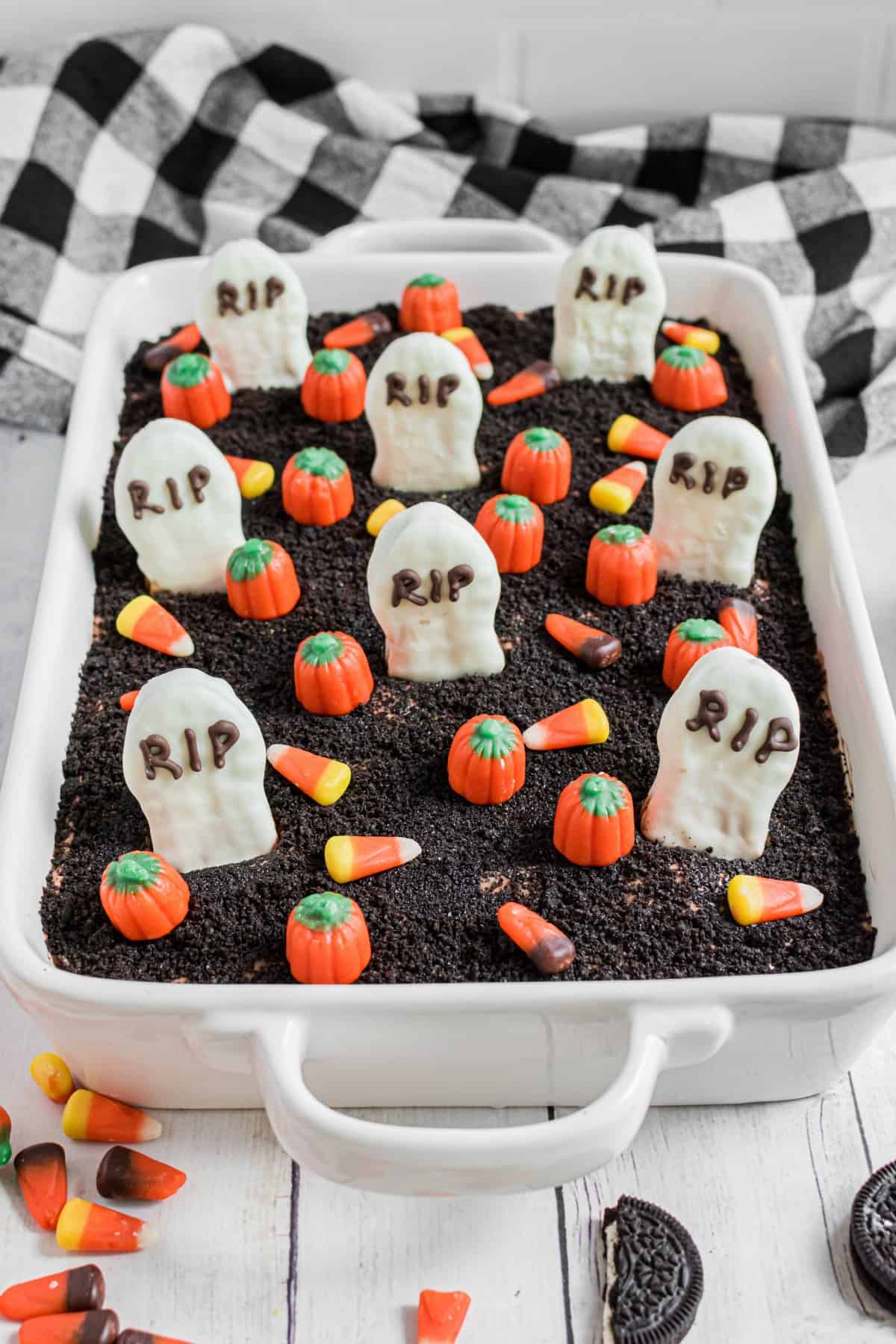 More Halloween Recipes
Skip the boring grown up desserts and feel like a kid again! This Graveyard Dirt Cake is tasty fun for the whole family.