These Halloween Peanut Butter Cookie Cups start with a 3 ingredient, flourless cookie! Add your favorite candy and make a spooky treat this holiday!
Use this easy 3 ingredient peanut butter cookie recipe, or my favorite classic peanut butter cookie recipe. Both work great and taste amazing!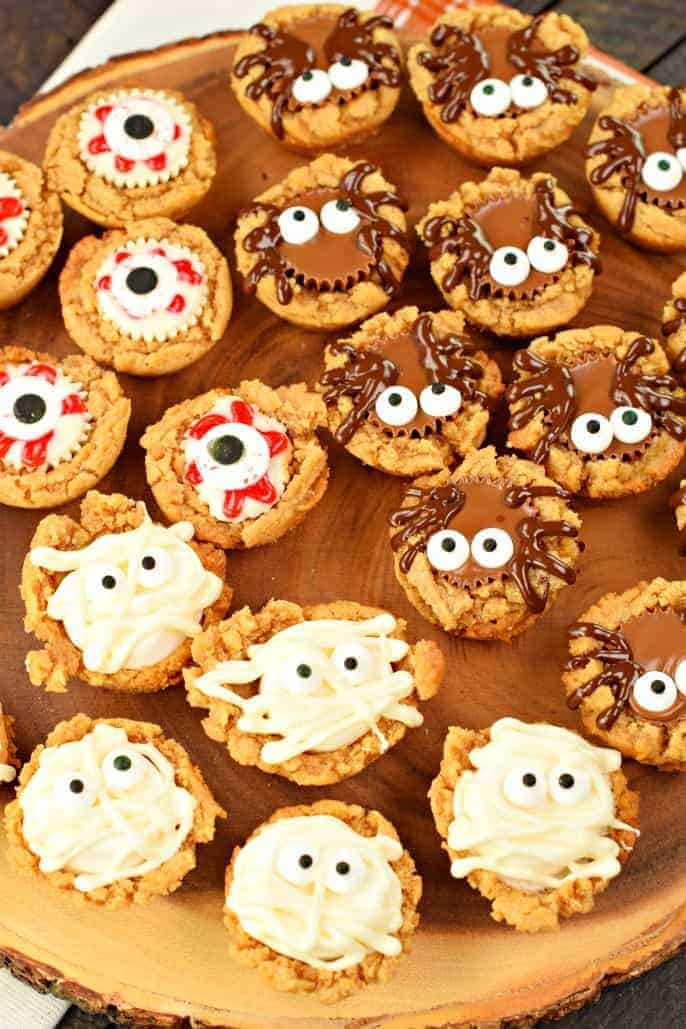 Peanut Butter Cookie Cups
One of my husband's favorite cookies growing up were these simple peanut butter cookie cups.
You take a TBSP of the cookie dough and place it in a mini muffin tin, bake, then press a Reese's PB cup mini into the hot cookie. Voila. Dessert. To this day those are still one of his favorite cookies.
I knew I wanted to make a fun Halloween treat (I was on a roll with these Butterfinger Frankenstein Cupcakes and these Spooky Eyeball Cake Balls).
Of course I had no refrigerated cookie dough on hand (do people keep rolls of this on hand??).
So I did the next best thing. I made the EASIEST peanut butter cookie dough with only three ingredients.
You may remember this cookie dough from these Peanut Butter and Jelly Cookies.
Ingredient Notes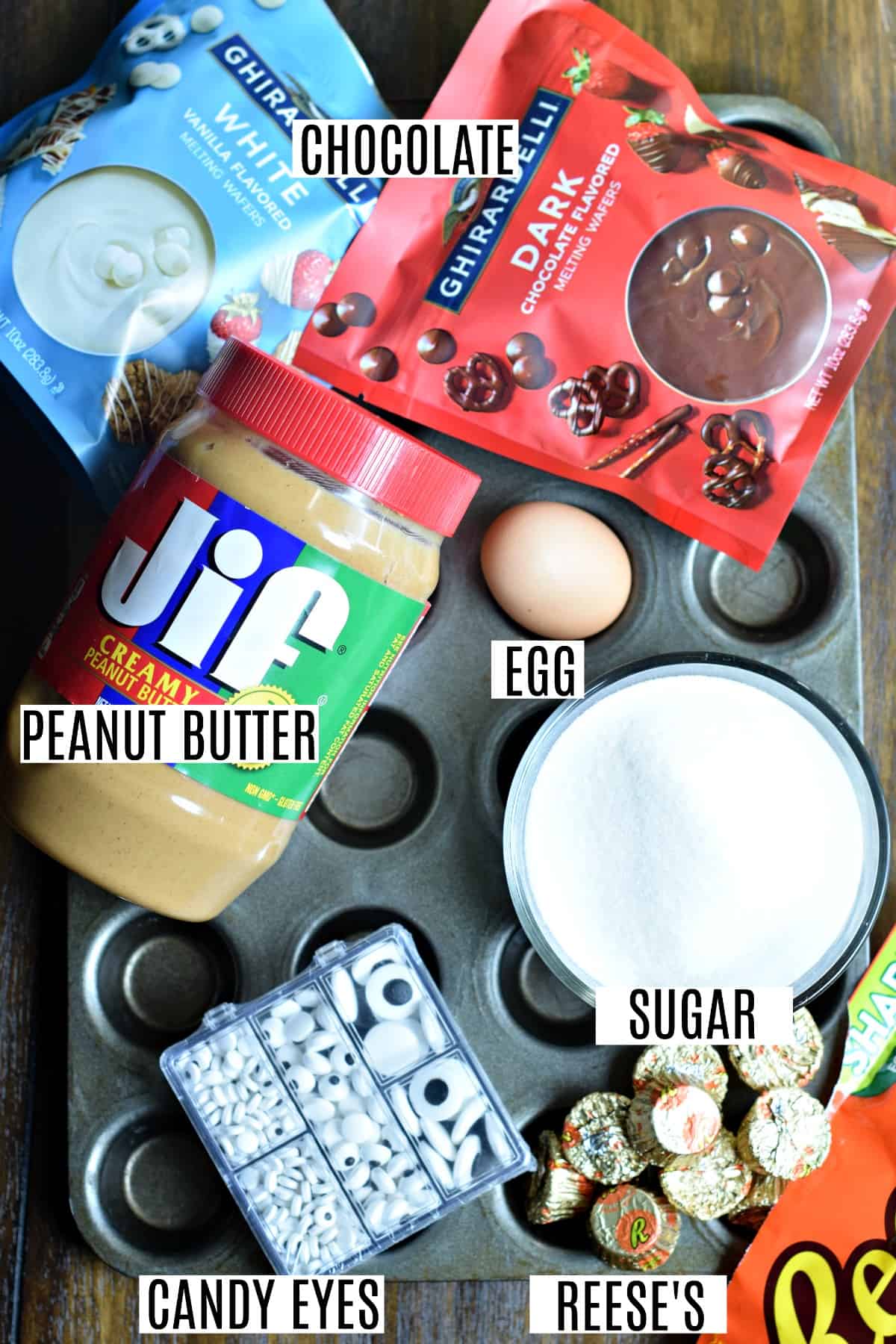 The best part of the base of these cookies is it's only 3 ingredients!
Peanut Butter– creamy or crunchy it doesn't matter. I prefer Jif or Skippy vs a natural brand for this recipe.
Sugar
Egg
To make the fun creepy Halloween cookies you will also need:
White and Dark Chocolate melting wafers– I prefer the Ghirardelli brand, as they taste great and melt smooth.
Candy Eyes– most large grocery stores carry these in the baking aisle
Reese's Peanut Butter Cups– just the minis, the white chocolate ones are fun for the mummies!
Red gel icing– to make the bloody eyeballs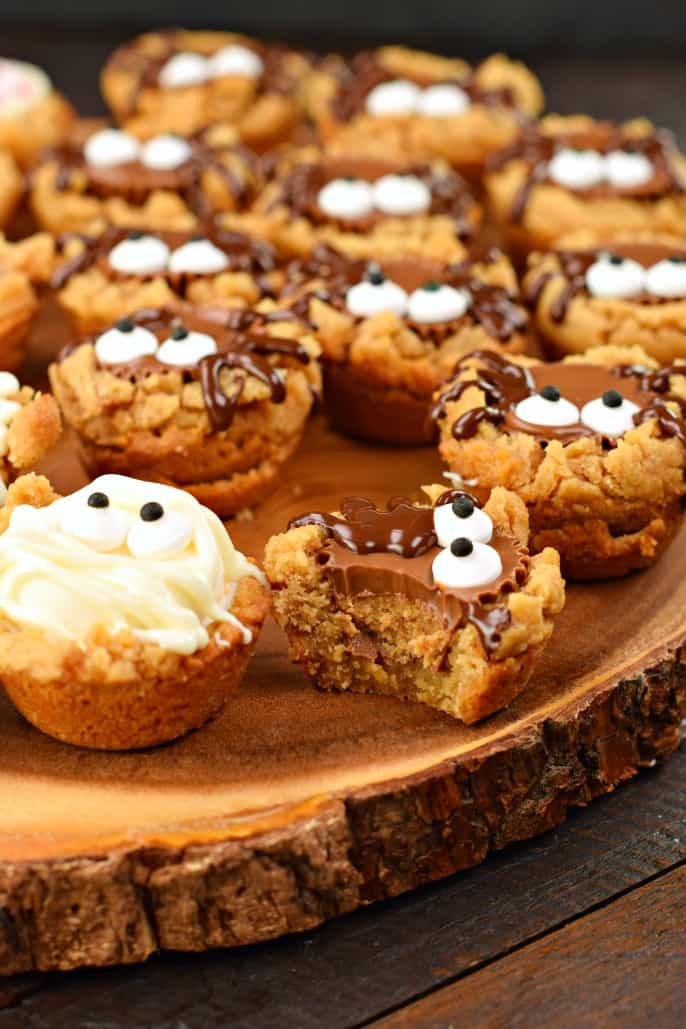 Tips and Tricks
One batch makes 24 cookie cups. You decide if that's enough, and adjust the candy and toppings accordingly!
I used my favorite non-stick mini muffin tin and sprayed it with baking spray. You can also grease your pan with my homemade cake release if you have no baking spray!
Have all your candy unwrapped so you can press them into your cookie cups immediately when taking them out of the oven! Allow the cookie cups to sit in the pan for about 10 minutes, then use a butter knife and they should POP right out!
For the mummy: you can use either white chocolate peanut butter cups or marshmallows (for a fun fluffernutter treat). Use melted white chocolate and drizzle it on the cookie to create the scraps of cloth! Don't forget the candy eyes!
For the spider: you can use either a peanut butter cup or a rolo for these fun treats. Then press your candy eyes on top and use melted chocolate to create the legs!
For the bloody eyeballs, you can use either a white chocolate peanut butter cup or marshmallow. Then use red gel to create the bloodshot look and the big candy eyes!
Freeze Cookies. Use my tips on how to freeze cookie dough for later.
Recipe FAQs
What is the texture of 3 ingredient peanut butter cookies?
They have a crisp exterior with a soft and chewy center!
How do you store Halloween cookie cups?
Keep these in an airtight container at room temperature.
Can you freeze Peanut Butter Cookie Cups?
Yes! If you're going to freeze these cookies, they turn out best if frozen without decorations. Push the Reese's in the warm cookie and skip the toppings. Freeze in airtight container for up to 3 months.
More Halloween Recipes