A rich, fudgy layer of Brownies topped with Halloween Oreos and Chocolate Chip cookie dough. Ever feel like somebody's watching you??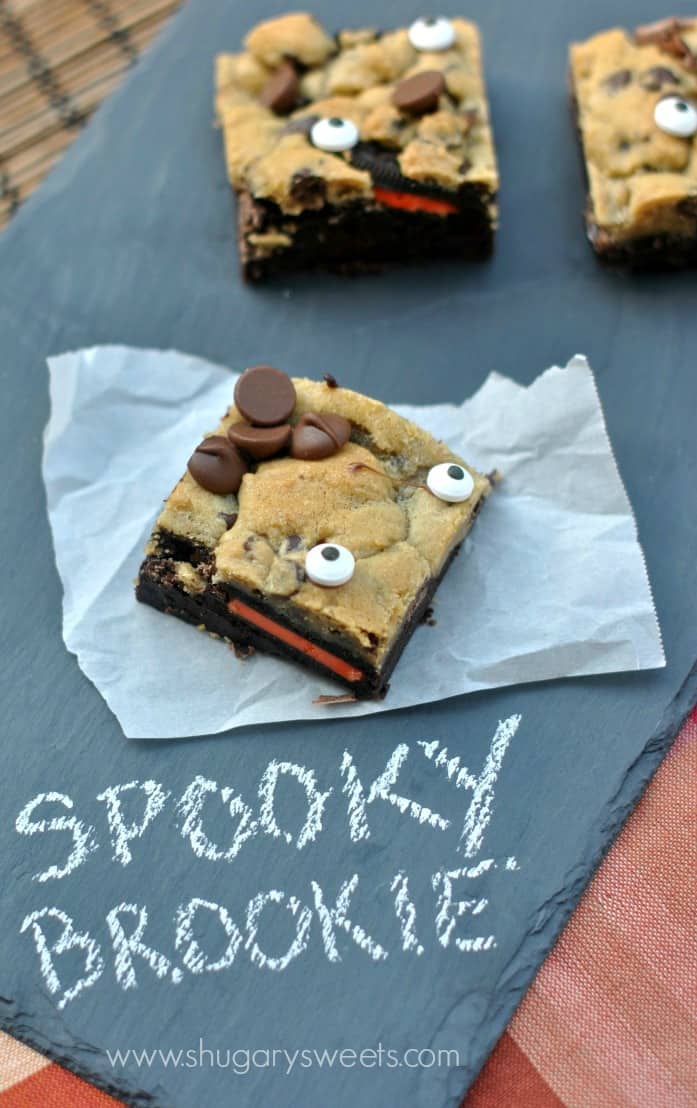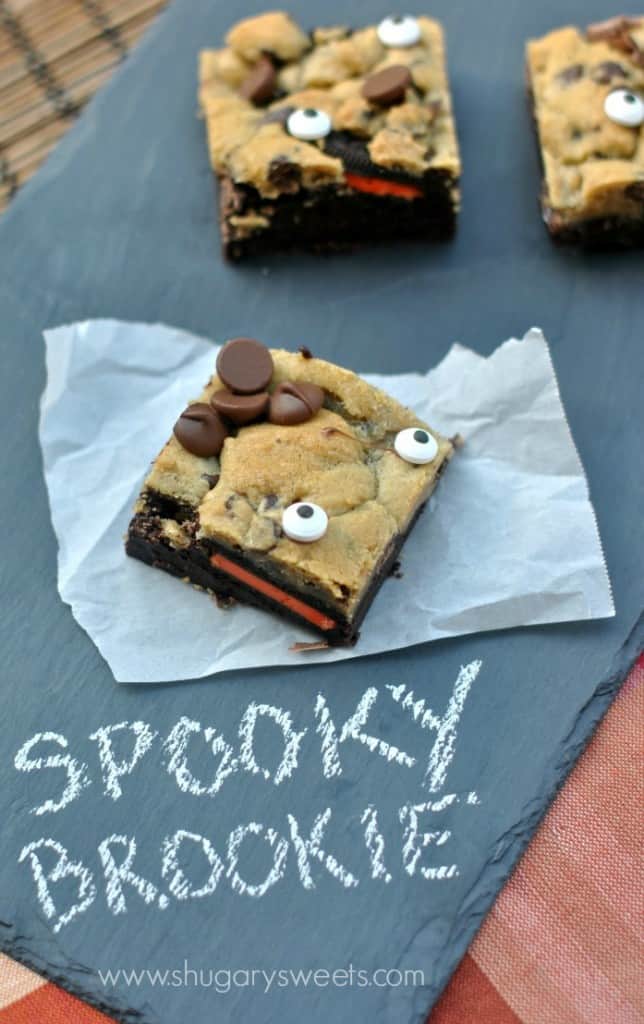 Click HERE to save recipe to Pinterest
Swim season is in full swing this fall. And now I have two swimmers. And of course, some people think that should make it easier, to have my kids doing the same sport. But no. Because of their age difference they not only swim different times, but also different locations for meets.
So this weekend I think I drew the short straw. While my husband got to go with our youngest to her FIRST meet, I went to Louisville for the weekend with our oldest daughter.
Saturday my husband texted me at 10am, his meet was over. Mine hadn't even started.
However, the best thing about swim meets out of town is I get to hang out with the other swim moms. And laugh. Then laugh some more!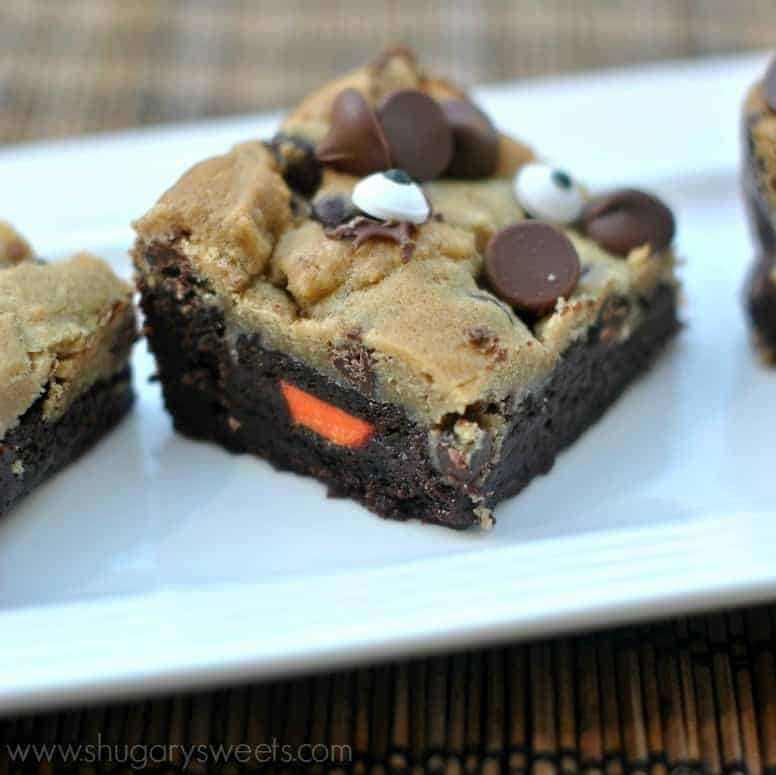 So when it was time to pull out the desserts (yes we always have dessert at a swim meet), I brought the Spooky Brookies.
And they were gone quite quickly. My good friend Susan was talking about her favorite movie, When Harry Met Sally. As she took a few bites of the Spooky Brookies, she said, "Does anybody else feel a moan coming on??"
Yes. That's how good these are!
Plus, unlike the other Brookies on the site here, these are total CHEATER Brookies. I used Ghirardelli Brownie Mix and Nestle Chocolate Chip Cookie Dough (in the tubes). You can totally go from scratch, but I like to help out you busy bakers too!
Those of you whose children will tell you the night before that they signed up to bring the treats to the Halloween Party! Anyone ever have this happen to them??
I found these candy "eyes" at Target, but if you can't find them you can use melted white chocolate a mini chocolate chip. ENJOY!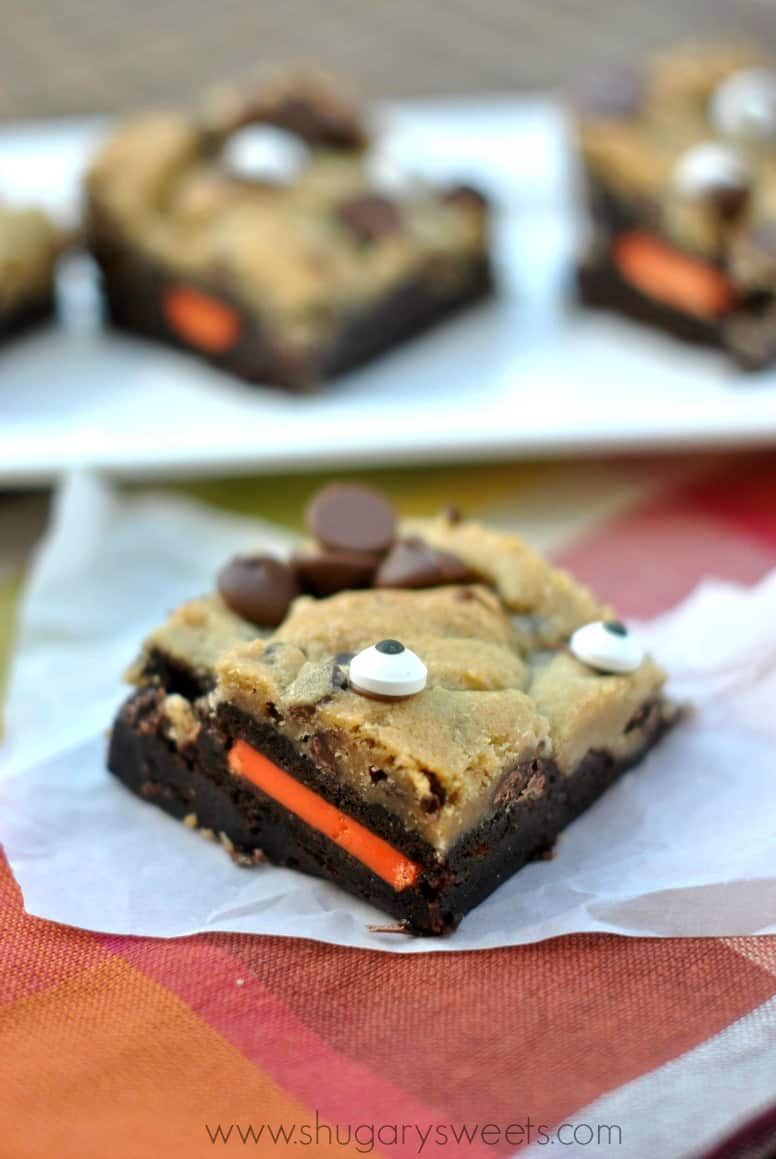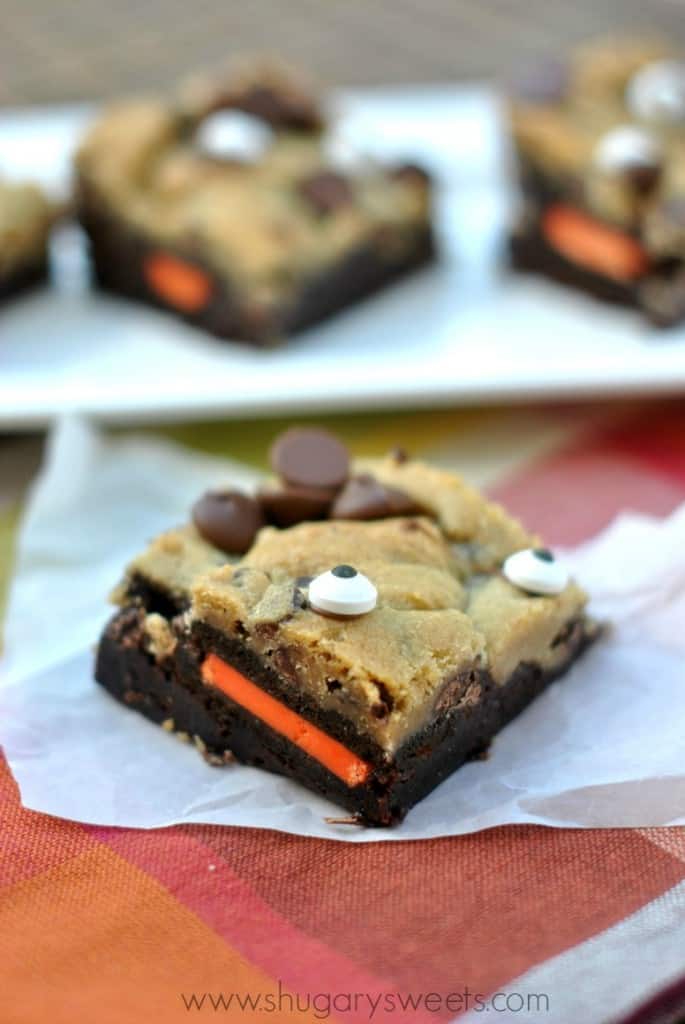 Love Brookies?
Check out this delicious Peanut Butter Version: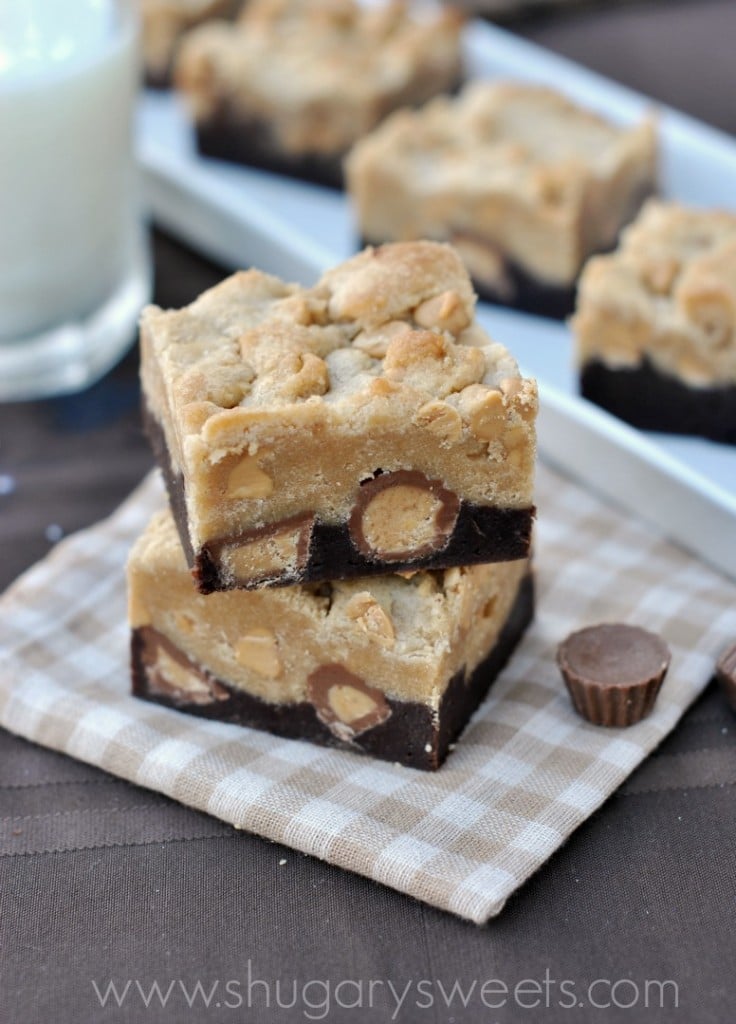 Searching for the perfect Halloween Treat?
check out my PINTEREST board for all things Halloween and Fall.
Connect with Shugary Sweets!
Facebook | Twitter | Pinterest | instagram 
Yield: 16 bars
Spooky Brookies
Total Time
2 hours
50 minutes
A rich fudgy layer of Brownies topped with Halloween Oreos and Chocolate Chip cookie dough. Ever feel like somebody's watching you??
Ingredients
For the brownie layer:
1 box (18.75 oz) Ghirardelli Chocolate Supreme Brownie Mix (makes an 8x8inch pan)
1/4 cup water
1/3 cup oil
1 large egg
For the cookie layer:
16 Halloween Oreos
1 pkg (16.5oz) Nestle Chocolate Chip Cookie Dough (in the refrigerated tube)
1/2 cup Ghirardelli milk chocolate morsels
32 candy "eyes"
Instructions
Preheat oven to 325 degrees F. Line an 8 or 9inch square baking dish with parchment paper. Set aside.
Mix ingredients for brownies in a large bowl using a whisk. Mix until just combined. Pour into bottom of baking dish, spreading so batter goes all the way to the sides.
Top with 16 Oreo cookies.
Breaking the chocolate chip cookie dough into chunks, drop by tablespoons onto the brownie/Oreo layer. Continue until all cookie dough is used, and brownies are nearly covered.
Top with extra milk chocolate morsels (optional).
Bake for 35-40 minutes. Press "eyes" onto melted chocolate chips. Allow brookies to cool at room temperature. Once cooled, cover with foil and refrigerate for 2 hours (or overnight). Cut into 16 bars. ENJOY.


Today's recipe for Spooky Brookies was originally published on Shugary Sweets on October 22, 2013 and has been republished in October 2018.