How fun are these Spooky Eyeball Red Velvet Cake Balls for this Halloween? Great for dessert, bake sales, and class parties.They not only look impressive–they taste great too!
Love red velvet? Be sure to try my favorite, from scratch, red velvet cupcake recipe. Or, try your hand at this impressive Red Velvet Cheesecake Cake for dessert.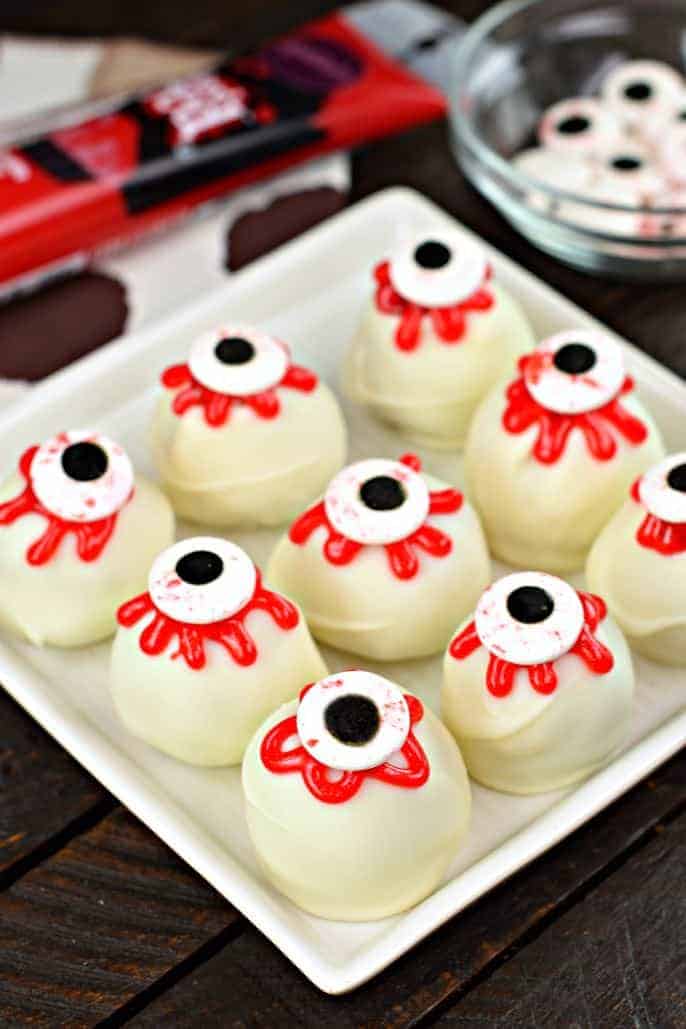 Halloween Party Fun
So creating holiday themed food is not really my thing. I mean sure, I occasionally pop out a cute Thanksgiving day treat like these turkey krispie treats, or a cute mummy cupcake.
I wanted to stretch my wings a little bit more and try some new themed desserts for Halloween. Last year I made these Red Velvet Cake Balls and I immediately knew some eyeballs would be a fun twist for "spooky season."
Kids love the gross-out factor of these red velvet cake "eyeballs"!
Me? I love them because of the taste. Rich red velvet cake with frosting and white chocolate . . . yes, please!
Give our red velvet crinkle cookies a try next. Or whip up some red velvet cheesecake brownies!
Ingredient Notes
The ingredients for these cake balls are simple.
Red velvet cake mix – You can make these with your favorite homemade red velvet cake if you prefer, but a mix is my choice for convenience.
Cream cheese frosting – Again, I went with the canned stuff for convenience!
White chocolate melting wafers- Ghriradelli Wafers are best and will create smooth, soft coating that's so much better than melted chocolate chips!
Gel frosting – Tubed, sparkly red food gel creates the eye ball veins!
Candy eyes – Find these online or at a craft store. The blood shot versions add spookiness!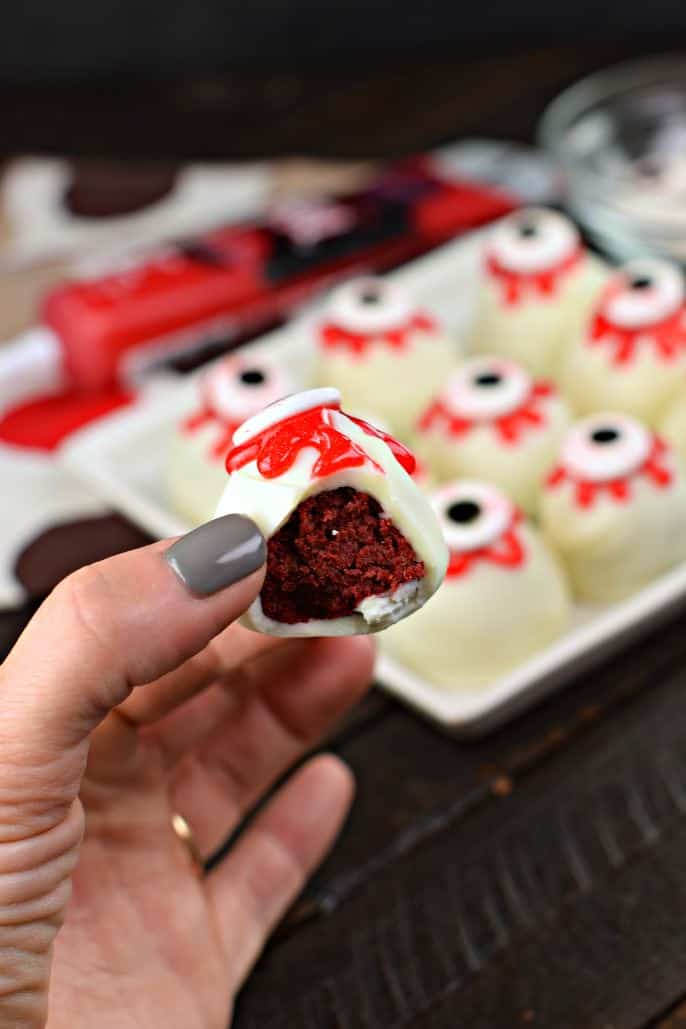 Step by Step Instructions
STEP 1. Make the cake
Bake the red velvet cake following the directions on the box. Let it cool for a few minutes, then dump it into a bowl and crumble it with your hands.
STEP 2. Form into balls
Add the cream cheese frosting to the bowl and combine it with the crumbled cake.
Use a cookie dough scoop to form the mix into balls. Place balls on a pan lined with parchment paper and freeze about 1 hour at least or until solid.
STEP 3. Dip
Melt the candy wafers in a bowl. Use a toothpick to dip each frozen cake ball into the melted chocolate. Tap off the excess and put the coated cake balls back on the baking sheet.
STEP 4. Decorate
Drizzle the cake balls with the food gel, then press a candy eye ball onto the top of each one. Enjoy!
Tips and Tricks
Making cake balls can be tedious! Plan ahead and break it up into chunks. I like to bake the cake one day and form the cake balls. Then I freeze the cake balls (overnight or more) until ready to dunk them in melted chocolate.
Dip the cake balls in the white chocolate while they're still fresh from the freezer. The cold helps the chocolate firm up quickly! I keep half of the cake balls in the freezer while working with the other half of the batch. If they start to fall off the toothpick or get difficult to dunk, pop them back in the freezer and work on the other half of the batch.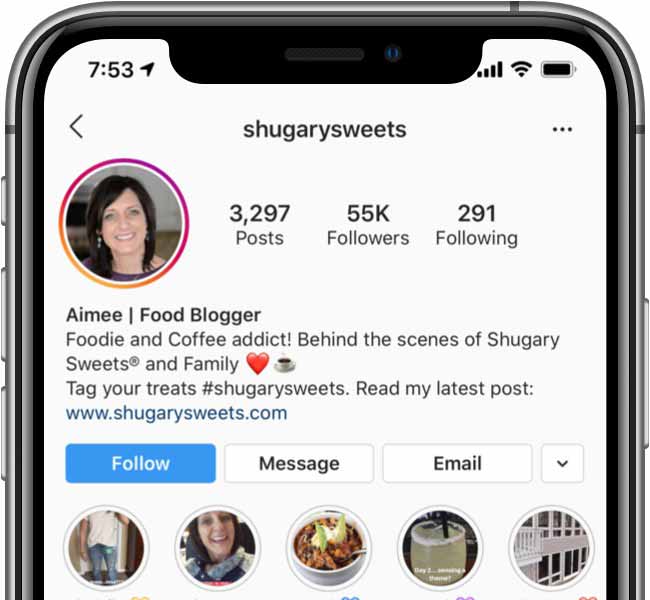 Recipe FAQs
How do you store cake balls?
Keep these in a container in the fridge. They taste best if eaten within 3 days.
Where do you buy blood shot candy eyes?
Most large grocery stores carry them during the holiday season, or you can usually find them at Walmart and Target as well.
Can I use white chocolate chips instead of melting wafers?
You can but the cake balls will not be as smooth or even. I also find the chocolate gets harder when it sets. The melting wafers taste great and the chocolate sets up soft enough to bite into.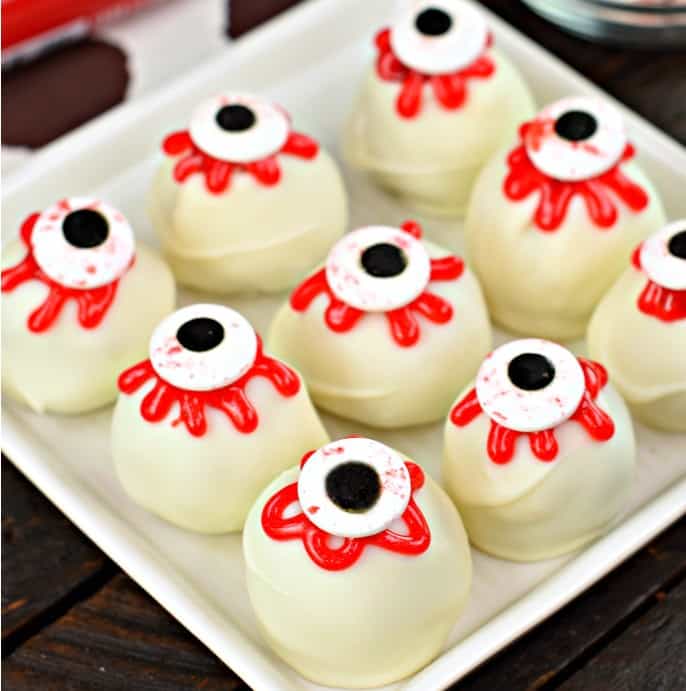 More Halloween Recipes
These Halloween themed cake balls are sure to steal the show at all your spooky celebrations!