Still looking for that last minute Halloween dessert? These Vanilla Bean Cupcakes are made from scratch with the perfect decoration: MUMMY faces. Take a simple dessert and make it spooky with this easy recipe!
Use this vanilla cupcake base in delicious Cranberry Cupcakes too for Christmas. Or go the other directions and make these rich and decadent Ferrero Rocher Cupcakes for the chocolate lover in your life!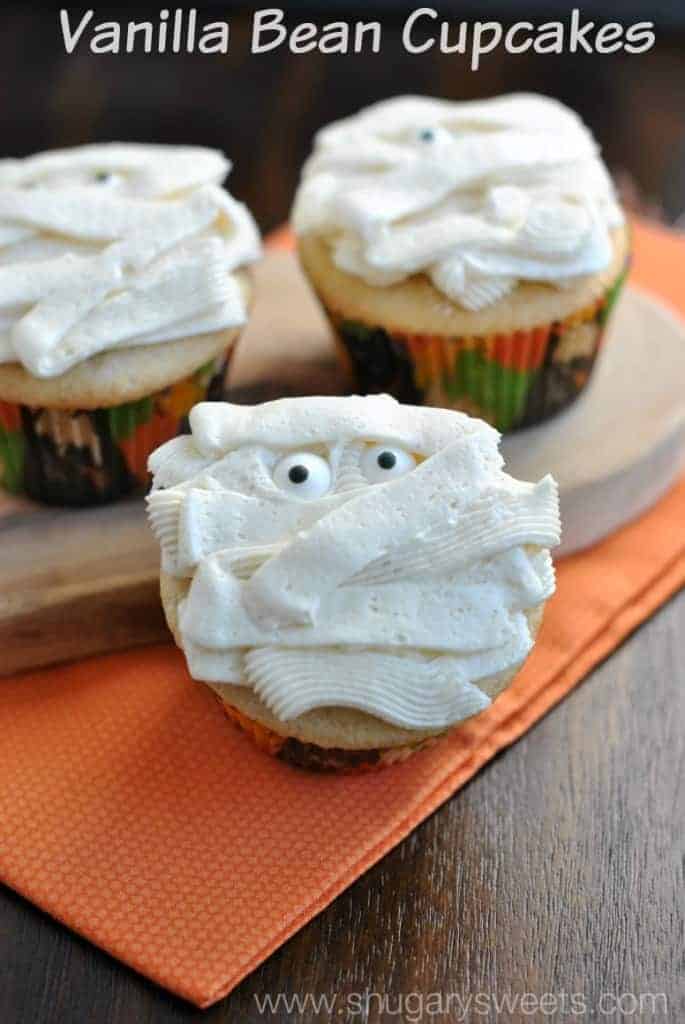 Halloween Cupcakes
Everyone loves an adorable cupcake and everyone loves Halloween.
Combine the two and you get these fun, easy and downright delicious Vanilla Bean Cupcakes decorated to look like mummies!
Candy Eyeballs make every treat more fun! You swirl icing on top of each little cupcake, then dot them with eye balls and wind up with a mummy-inspired Halloween cupcake!
Or, just skip the decorations and make them any time you need a simple but extraordinary vanilla cupcake recipe.
You may have seen these mummies on my Snickerdoodle Blondies and my Monster Sugar Cookies. It's such an easy technique!
PRO TIP: Get festive and make a batch for 4th of July. Add blue frosting and sprinkles for a fun Red White and Blue Cupcake Recipe.
Ingredient Notes
Egg whites – This is how you achieve a crumb that's light as air while still holding its shape in the cupcake liner.
Cake flour – More refined and with less gluten (protein) than all purpose flour, cake flour makes these cupcakes so delicate and airy!
Vanilla bean paste- Rodelle vanilla bean paste imbibes the cupcakes with the most aromatic and rich vanilla flavor! I use it in both the batter and the frosting. While you can do various substitutes to replicate the flavor, it's tough to mimic the texture of vanilla bean paste in the frosting.
Sugar – Use Vanilla Sugar for even more great taste!
Milk – Buttermilk is perfect, or whole milk. Use my buttermilk substitute if needed.
Candy eye balls – The easiest way to add a zany touch to any cupcake or cookie. Find these online or at a big craft store (think Michael's or Joanne Fabrics). I found mine at Target!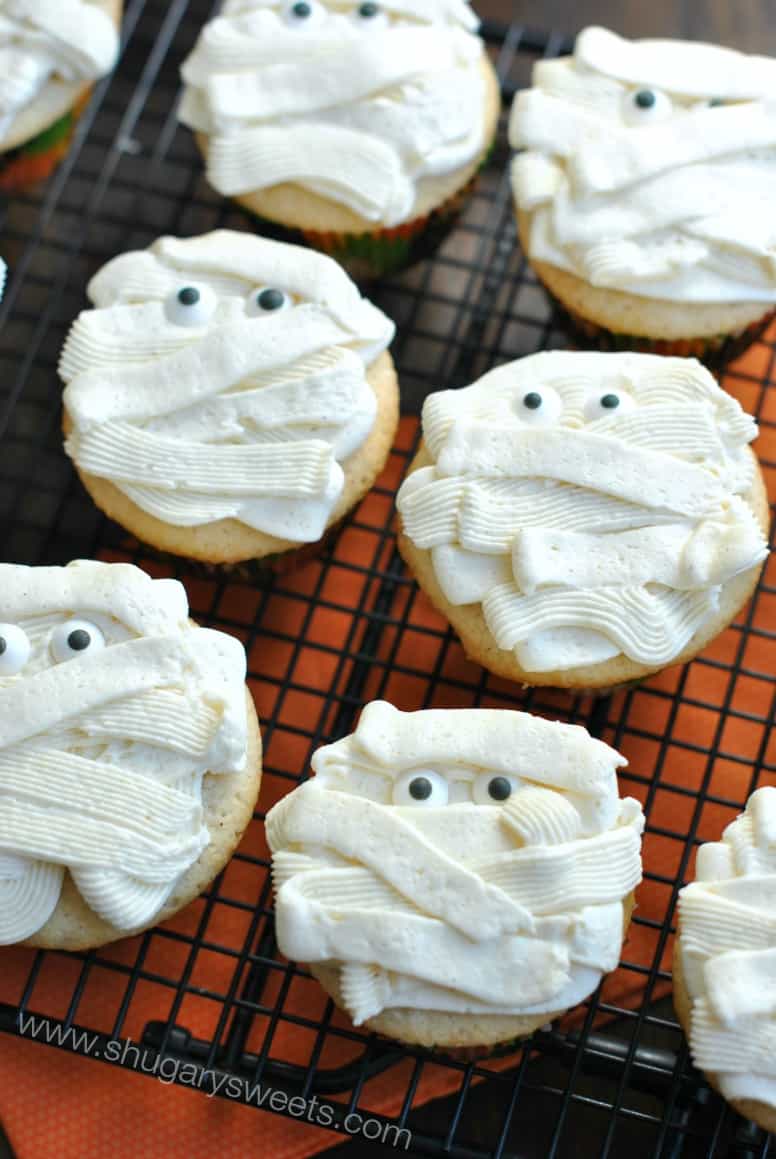 Step by Step Instructions
STEP 1. Prepare the cupcakes
Whisk together the vanilla bean paste, egg whites and buttermilk in a bowl and set aside.
Beat the butter and sugar in a stand mixer, then add the dry ingredients. Beat in the egg mixture and a little more milk until everything is combined.
STEP 2. Bake
Line a muffin pan with cupcake liners and fill each liner about 2/3 of the way full with the cupcake batter. Bake for 20-22 minutes, then let the cupcakes cool completely before frosting.
STEP 3. Make the frosting
While the cupcakes are cooling, make the vanilla bean frosting by beating butter with powdered sugar, milk and vanilla bean paste until light and fluffy.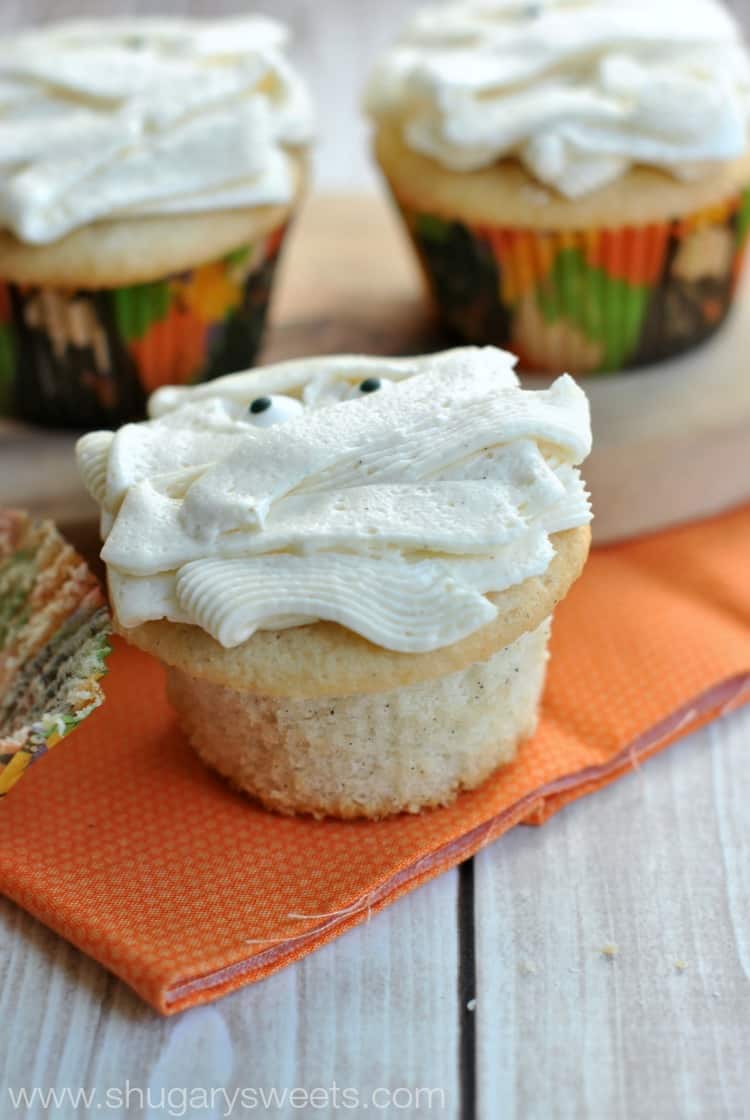 STEP 4. Mummy stripes
To make the mummy stripes, I filled my pastry bag with the frosting then used wilton tip 48 to pipe it onto the top of the cupcakes. I alternated my stripes with the smooth side and the basket weave side to give the mummy stripes texture. Feel free to get creative here!
Once all the cupcakes are "striped", add the candy eyeballs to the top of each cupcake to complete your "mummies."
I just love how the simple addition of stripes and candy eyes makes a regular vanilla cupcake looks festive for Halloween!
Tips and Tricks
Storing: Keep your cooled and frosted cupcakes covered at room temperature. They taste best if eaten within 2 – 3 days.
Be sure to beat the batter for 2 or 3 minutes in your stand mixer before baking. This gets everything incorporated and whips a bit of air into the cupcakes!
If you can't find tiny candy eyeballs, you can use mini chocolate chips to make "eyes."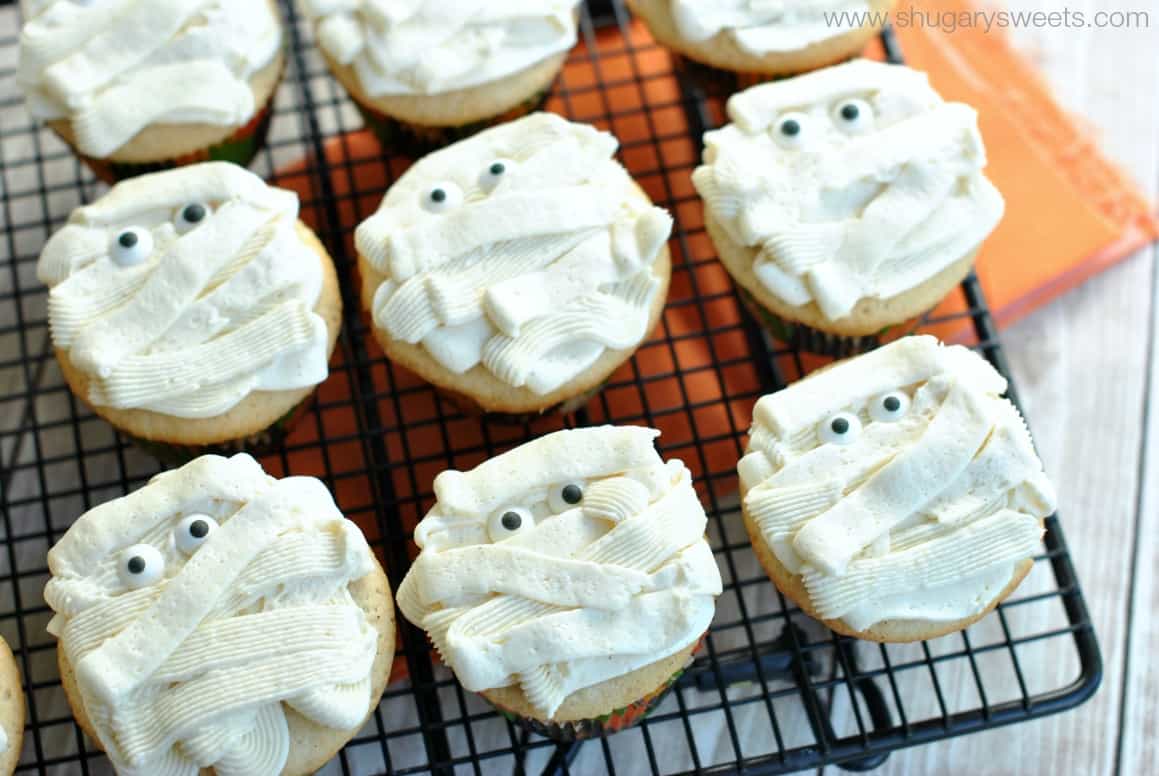 Recipe FAQs
Can these be made as regular cupcakes?
Of course! Delicious Vanilla Bean Cupcakes are ALWAYS in season. Just use your frosting bag to pipe the frosting on cupcakes as desired and omit the candy eye balls.
Can I substitute vanilla extract?
You could swap the vanilla bean paste for a teaspoon of vanilla extract OR a crushed vanilla bean pod in the cupcake batter and then reduce the amount of milk added by a teaspoon. Using vanilla extract instead of vanilla bean paste in the frosting will affect the consistency (as well as the flavor) so I don't recommend it.
Can this be made with all purpose flour?
Again, you COULD use regular flour here, but the cake flour is a key ingredient in making these cupcakes so light and airy. It's worth going out and picking up a bag of cake flour to make these!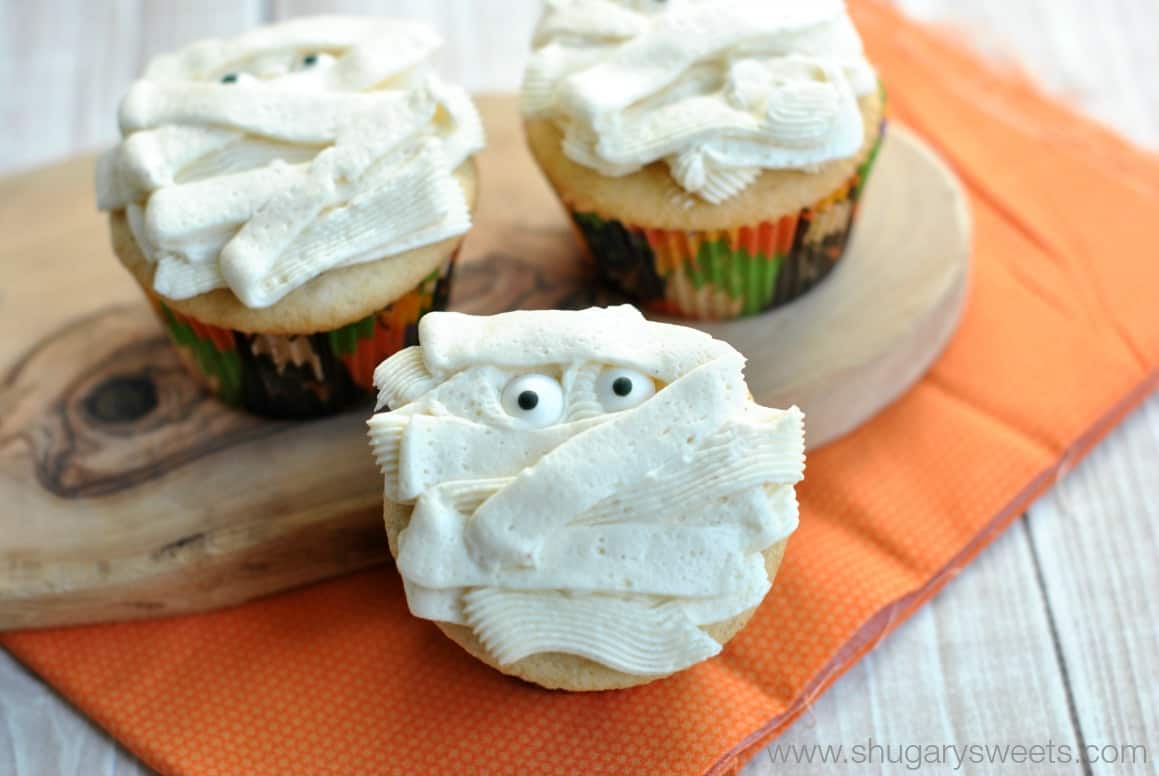 More Halloween Recipes
Vanilla Bean Cupcakes are ANYTHING but boring when you dress them up like spooky mummies! Make your Halloween even more delicious this year when you whip up a batch of these tasty treats.