Still looking for that last minute Halloween dessert? These Vanilla Bean Cupcakes are made from scratch with the perfect decoration: MUMMY faces.
Be sure to sign up for my email…new recipes in your inbox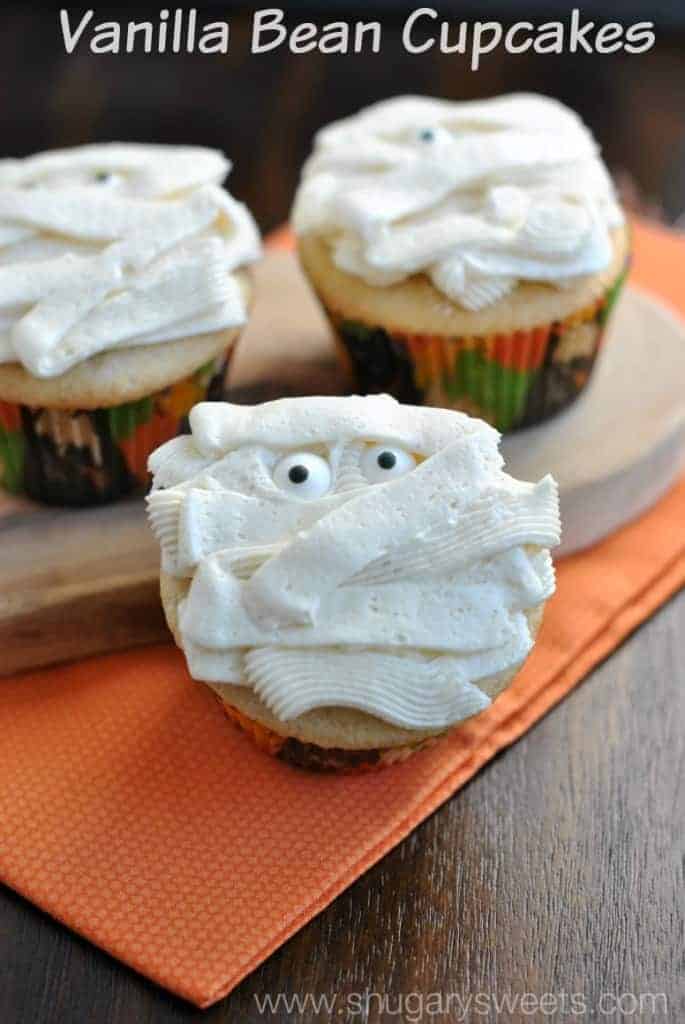 I'm not a huge fan of Halloween. I can't help myself for admitting this. We have friends (hi Kari and Greg) who go all out this holiday. They celebrate enough to cover my lack of enthusiasm.
It's not that I don't like candy. Or googly eyed treats. Nope. Love those.
It's not that I don't like chili or comfort food this time of year.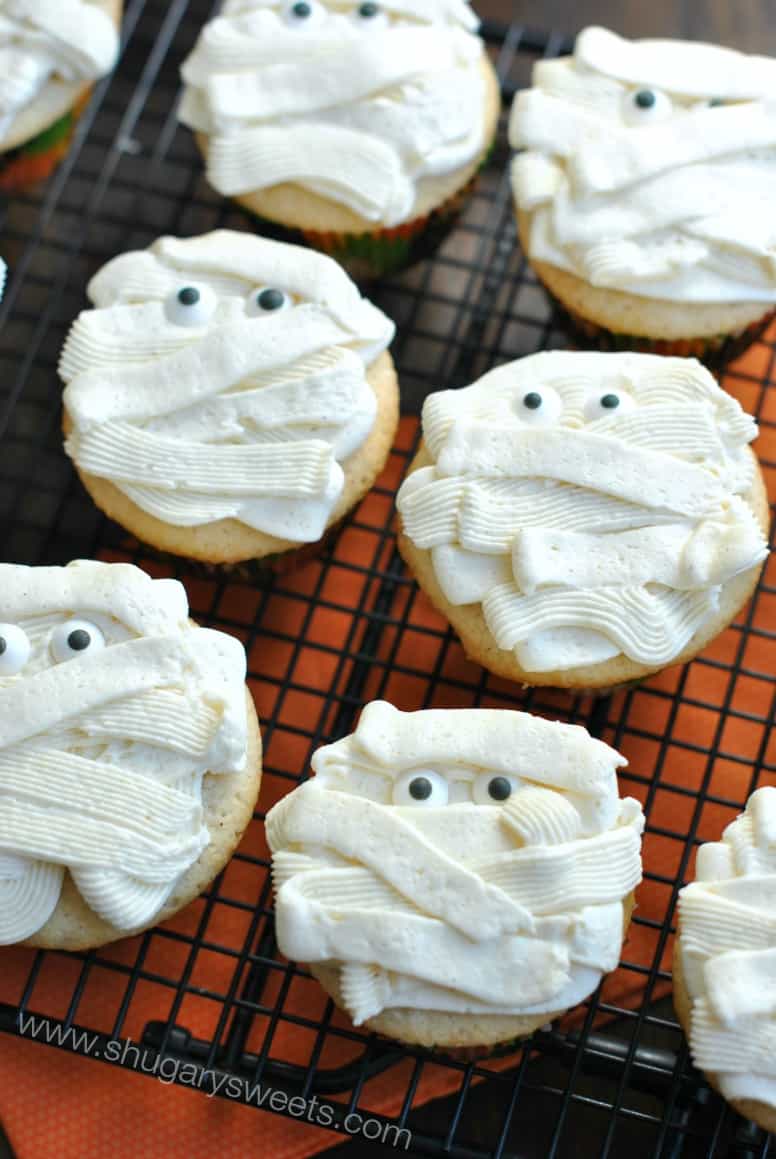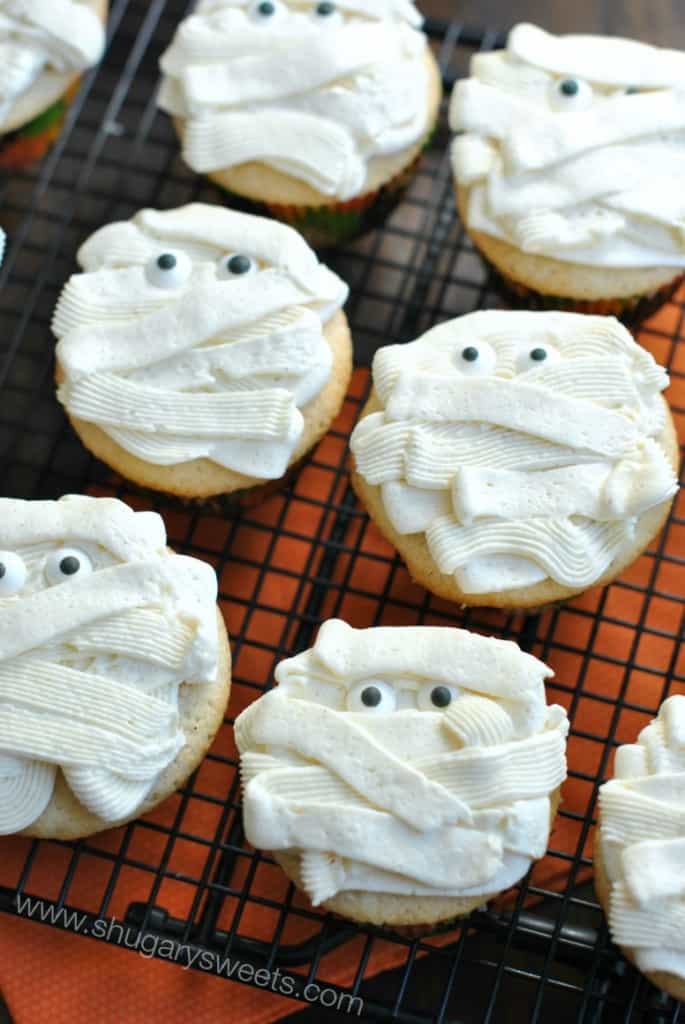 I'm just not a big fan of the costumes. Or the creepy spiders and webs. Or clowns (does anyone like clowns????)
So, instead of talking about the things I don't like…let's focus on the good parts.
Remember…the googly eyed treats.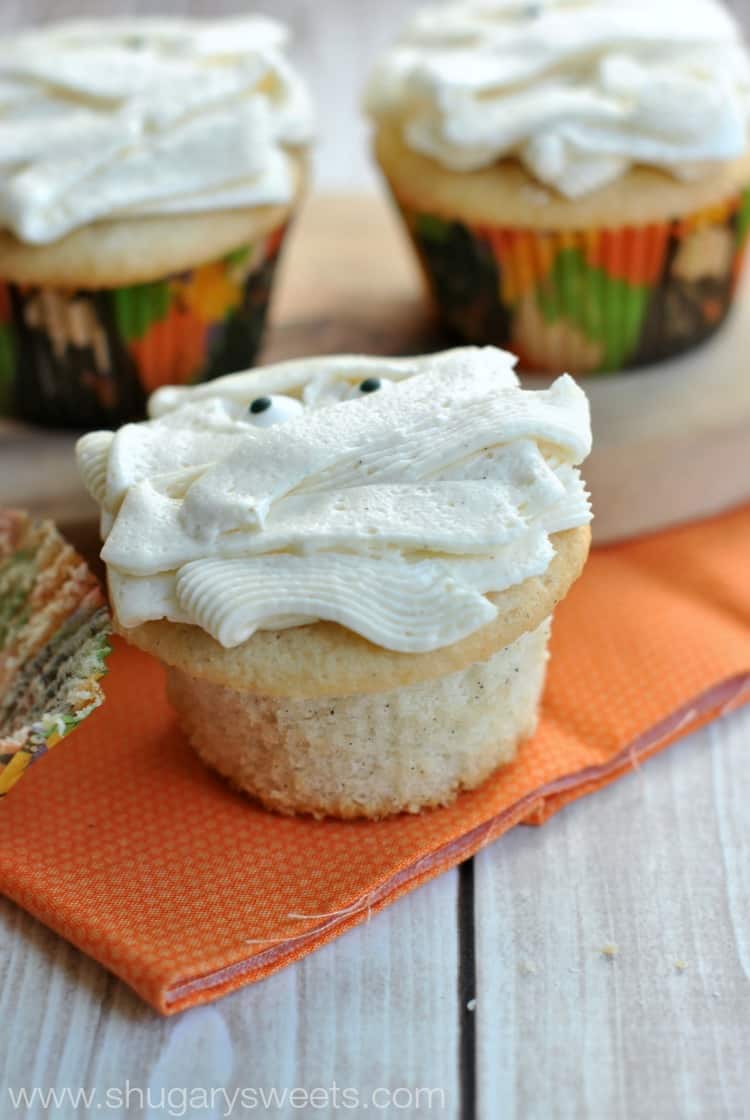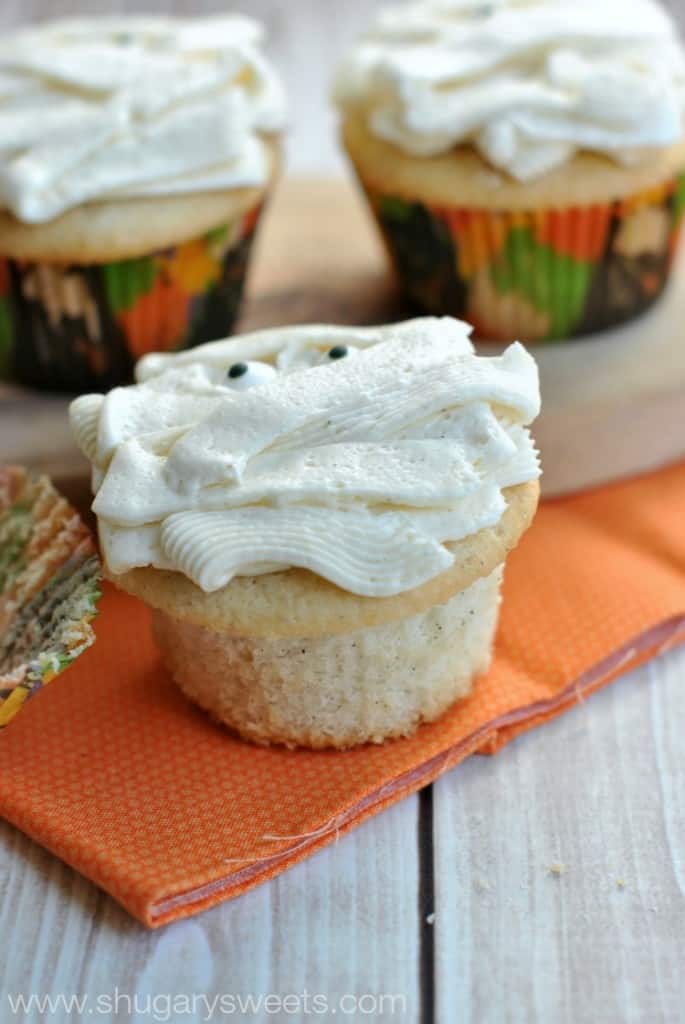 I made these Mummy Cupcakes for the first time several years ago for my daughter's Halloween party at school. They were so easy to decorate, I wanted to make them again for our friends (mentioned above) Halloween party. Actually, it was a "pre-Halloween party." Officially it's called the "set up" party. They do a great spooky garage, and everyone comes to help set up and decorate. Or, in my case, eat.
When deciding what dessert to bring, my youngest told me she wanted "those fun Mummy cupcakes from my school party."
Instead of making cupcakes with a white cake mix, I used my favorite Vanilla Bean Cupcake recipe. For today's recipe I used Rodelle Vanilla Bean Paste
.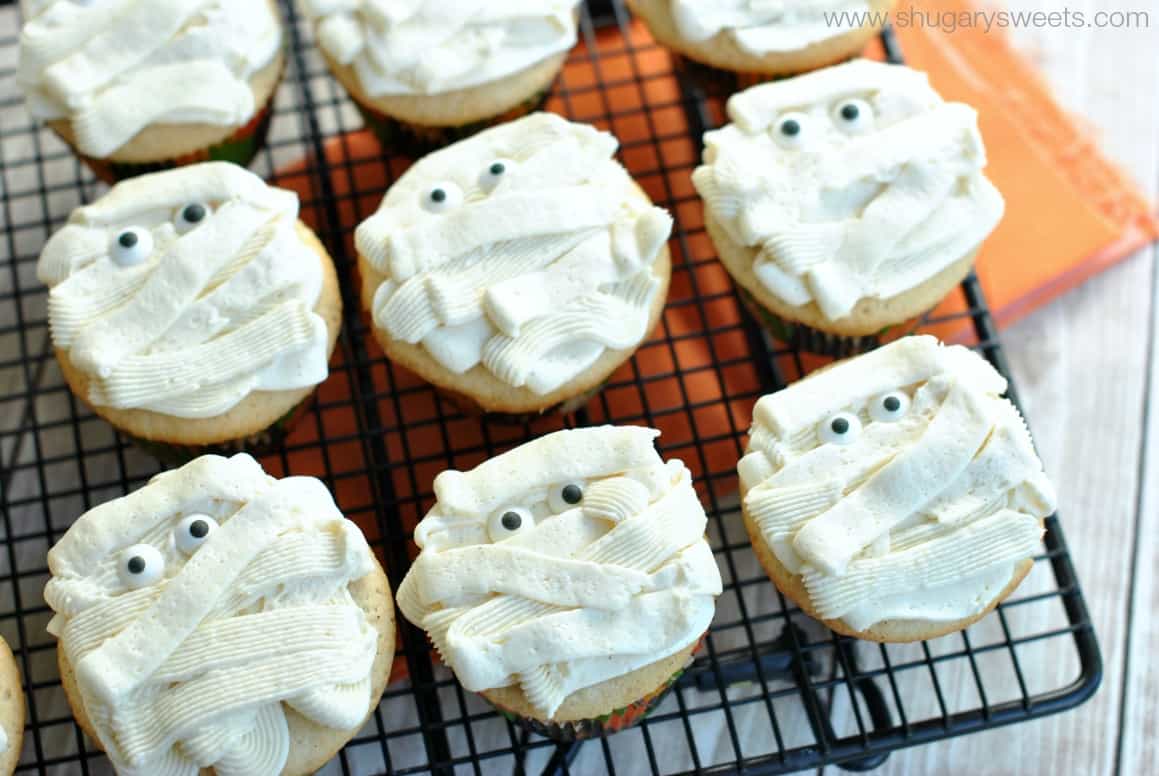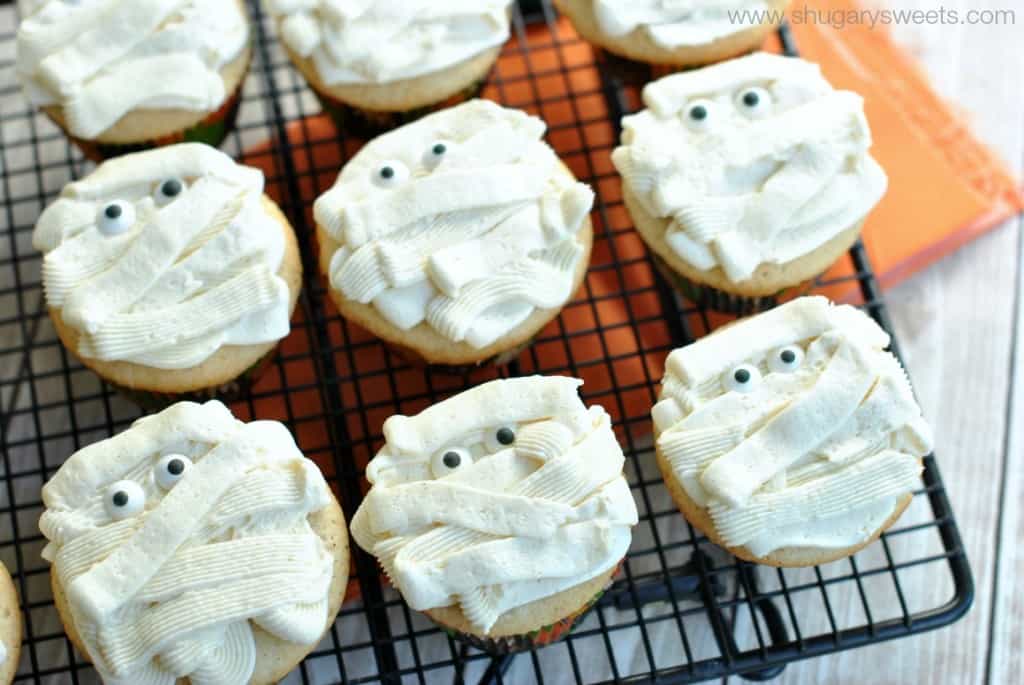 To make the mummy stripes, I first whipped up the vanilla bean frosting (oh guys, it's so good). Then using wilton tip 48
, I alternated my stripes with the smooth side and the basket weave side to give the mummy stripes texture. I added the candy eyeballs too (I bought mine at Target).
And there you have it. Totally moist, delicious vanilla bean cupcakes. Perfect for Halloween. Get baking!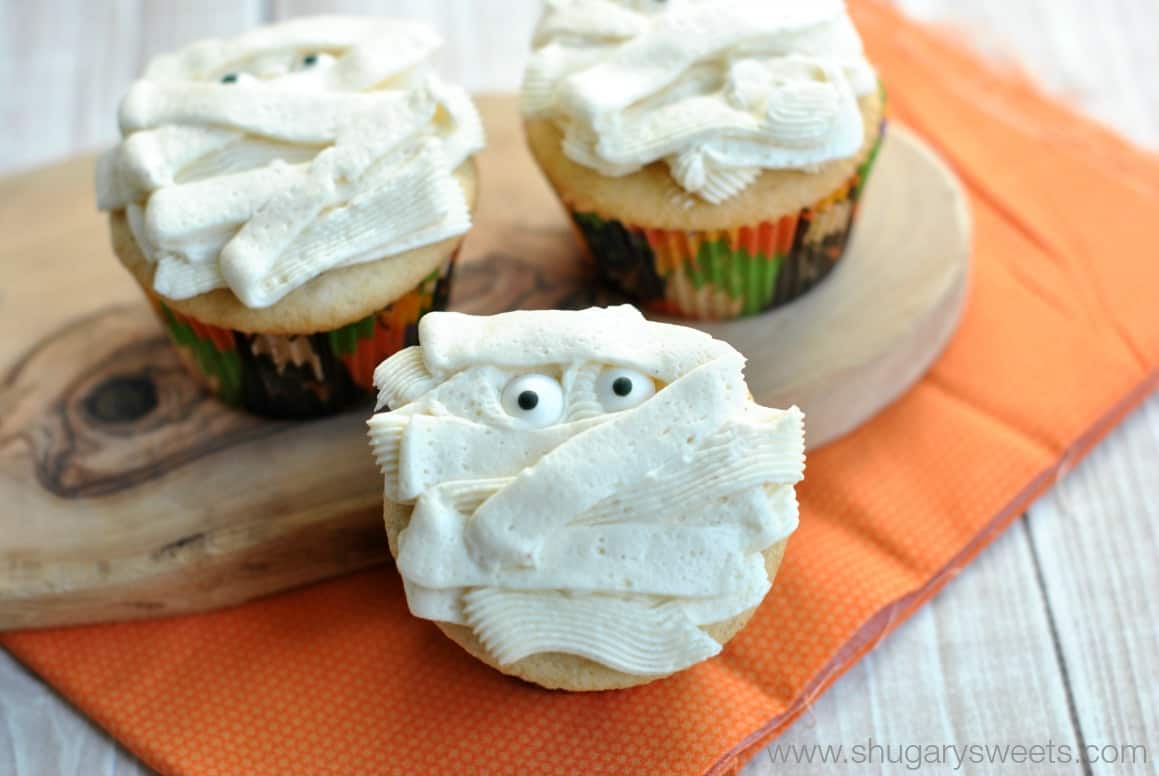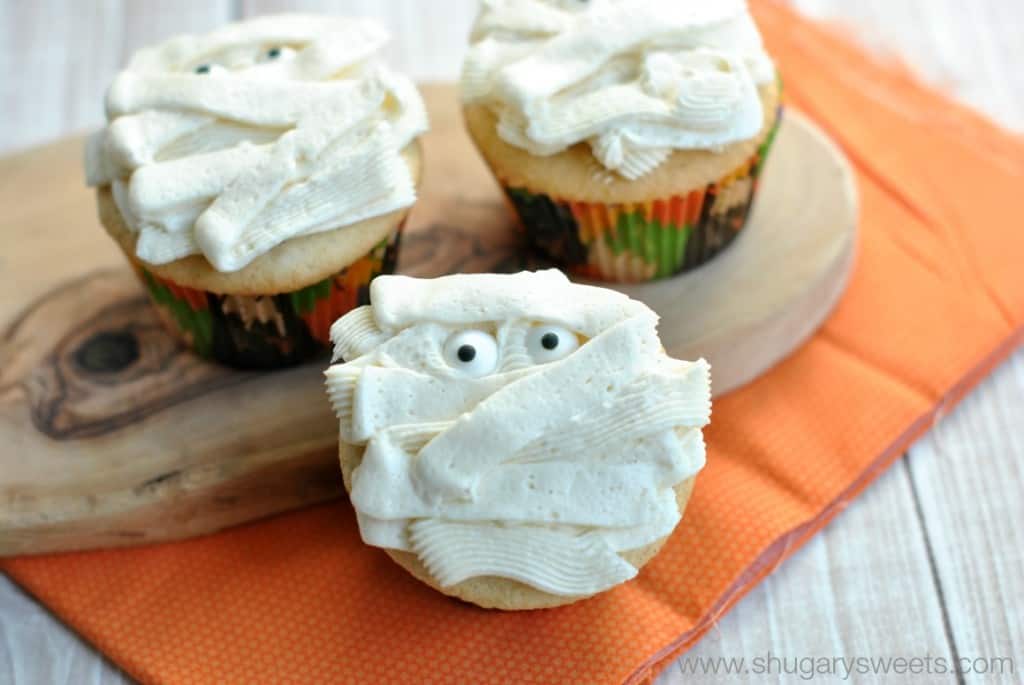 Connect with Shugary Sweets! Be sure to follow me on my social media, so you never miss a post!
Pinterest | instagram | Bloglovin'
Yield: 24 cupcakes
Vanilla Bean Cupcakes
Ingredients
For the Cupcakes:
5 egg whites, room temperature
3/4 cup milk (I used fat free)
1 Tbsp Rodelle Vanilla Bean Paste
3/4 cup unsalted butter, softened
1 3/4 cup granulated sugar
2 1/2 cup cake flour
1 Tbsp baking powder
1/2 tsp kosher salt
For the frosting:
1 1/2 cup unsalted butter, softened
4 cup powdered sugar
2 tsp Rodelle Vanilla Bean Paste
2-3 Tbsp milk
48 candy eyes
Instructions
For the cake, whisk together the egg whites, vanilla bean paste and 1/4 cup milk in a small bowl. Set aside.
In a large mixing bowl, beat the butter and sugar for 2 minutes. Add in dry ingredients and mix until combined. Slowly add in egg mixture, beating until fully incorporated. Beat in the remaining 1/2 cup milk. Turn mixer on high and beat for 2 minutes.
Fill cupcake liners 2/3 full and bake in a 350 degree oven for 17-18 minutes, until set (will begin to lightly brown on edges). Remove and cool completely before frosting.
For the frosting, beat butter for 5 minutes until pale in color. Add sugar, vanilla bean paste and milk. Beat an additional 5 minutes until light and fluffy.
Pipe onto cupcakes by filling pastry bag and using tip 48, pipe "stripes" onto top of cupcakes. Add candy eyes. ENJOY!
Looking for more fun Halloween Ideas? First, check out my Halloween Pinterest Board!
Follow Shugary Sweets's board Halloween and Fall Stuff on Pinterest.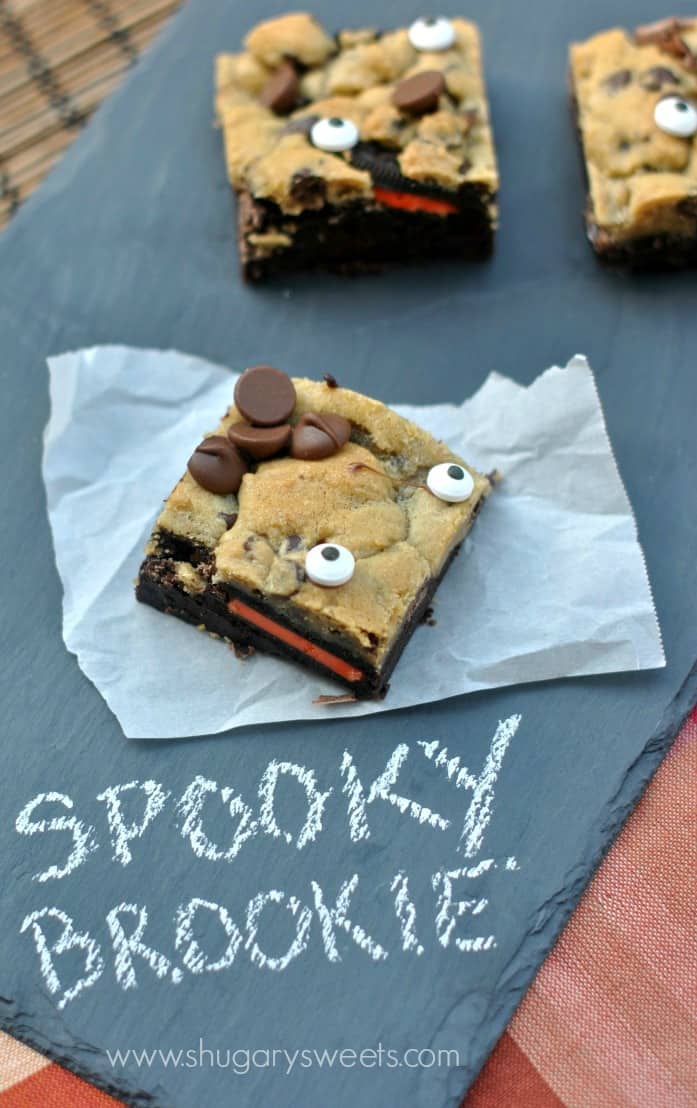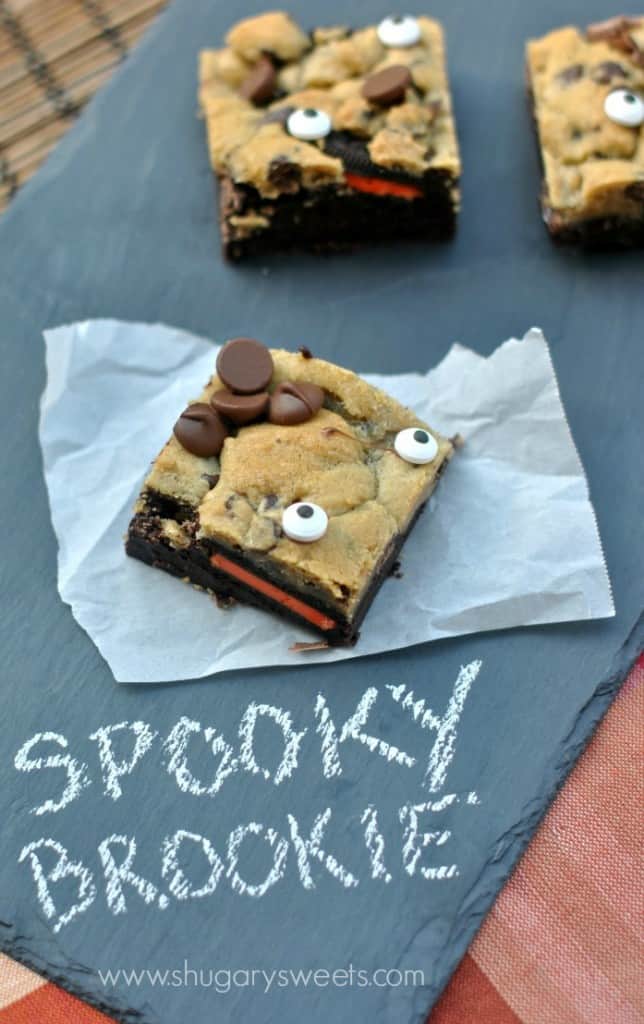 Spooky Brookies: easy layered treats for Halloween!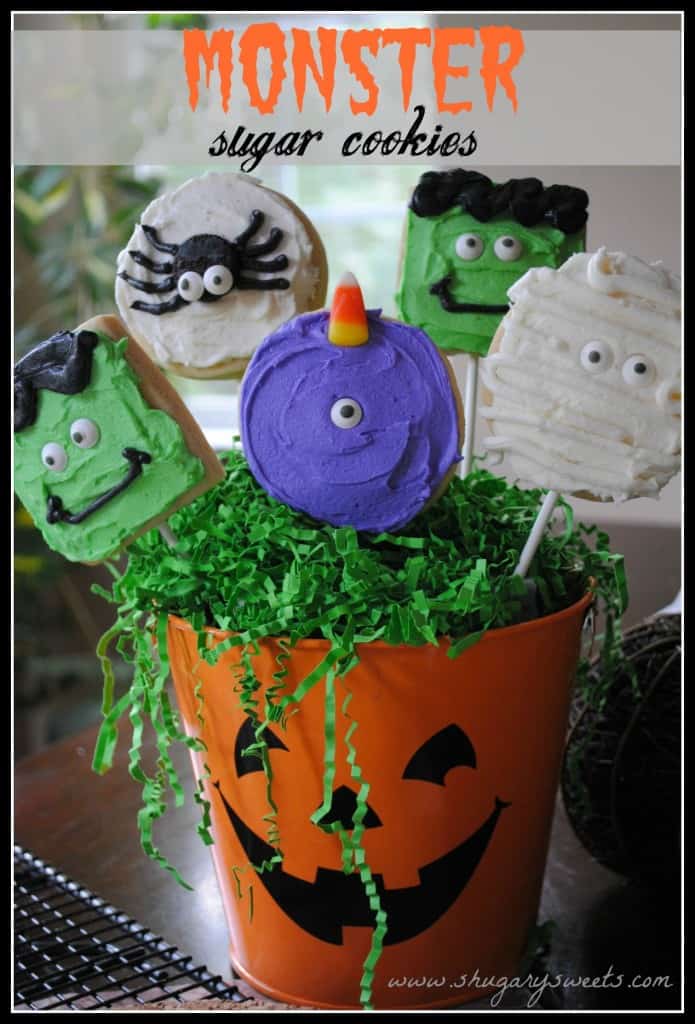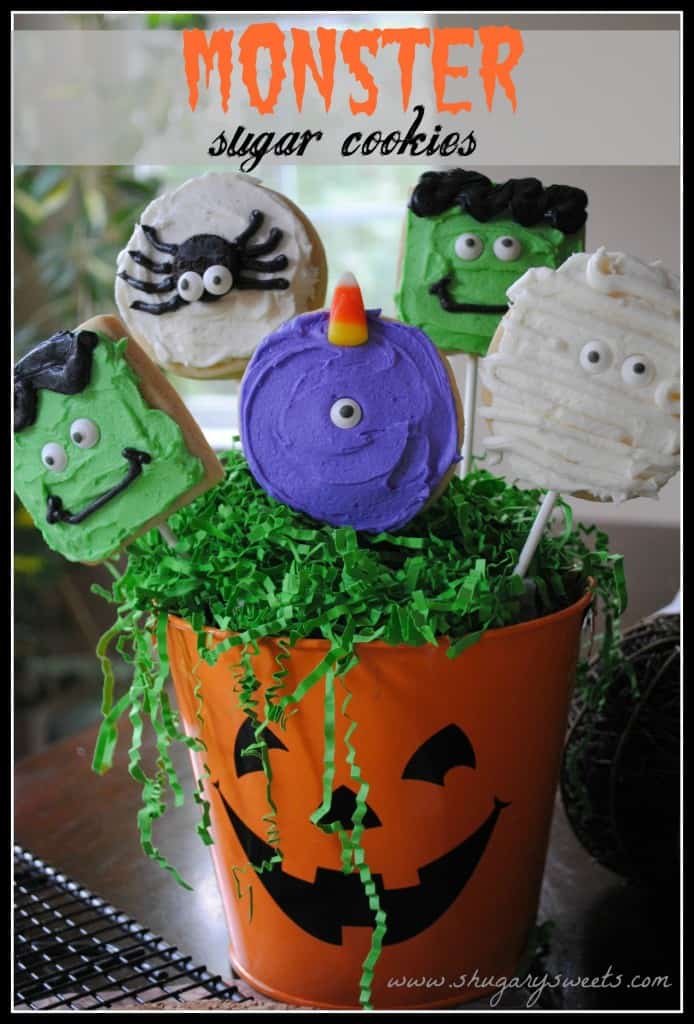 Monster Sugar Cookies: let the kids help decorate these fun frosted sugar cookies!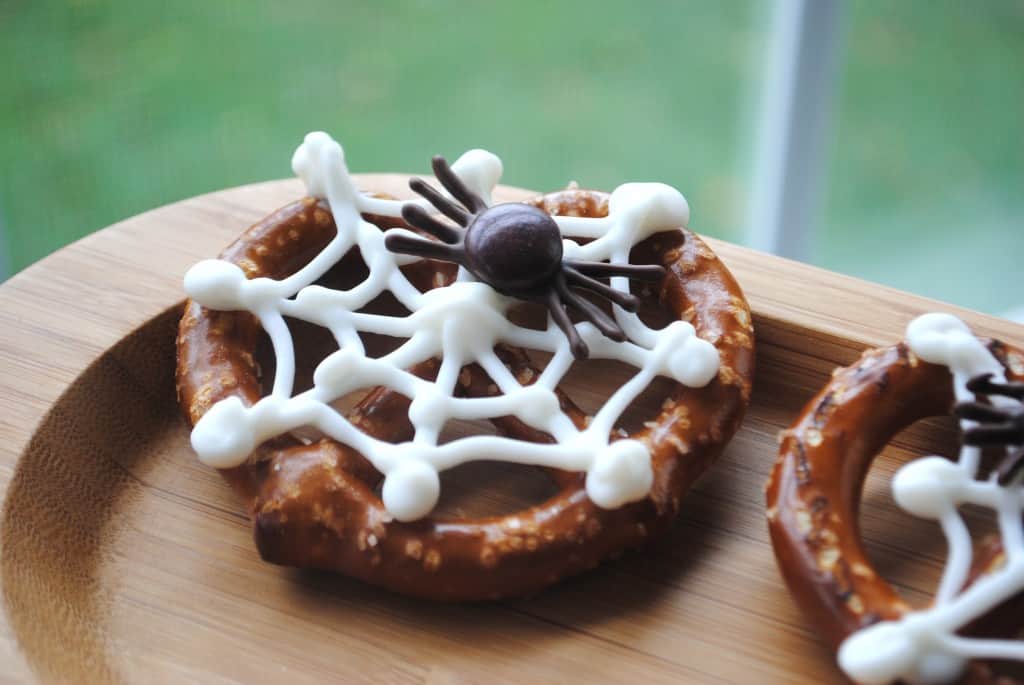 Spider Pretzels: easy tutorial on making these cute webbed treats!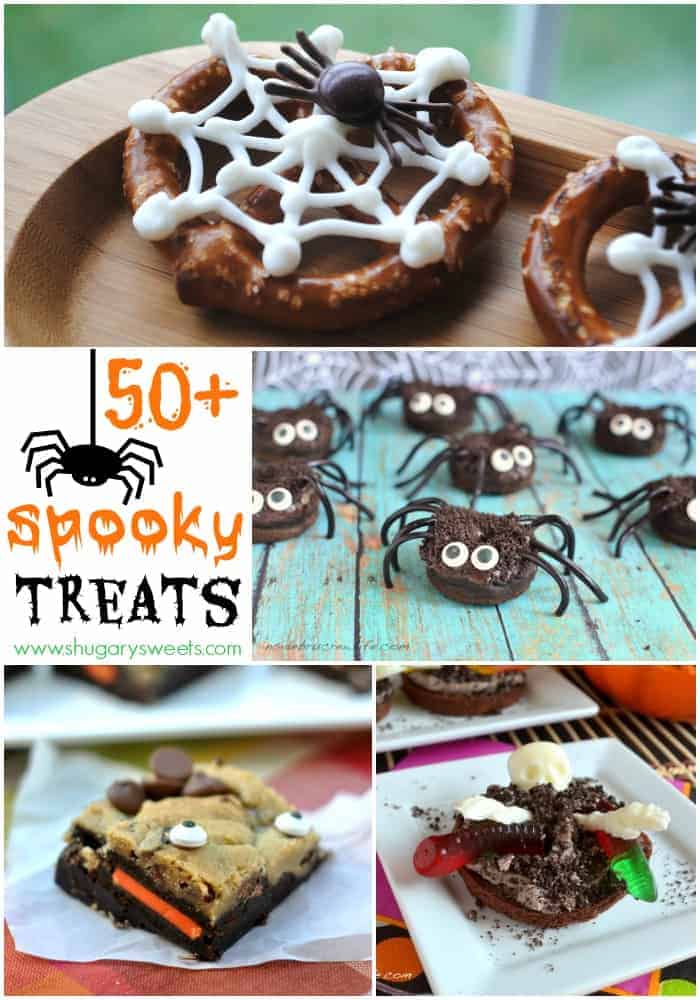 Still need more ideas? Check out this list of over 50 Spooky Treats!