Enjoy these delicious Snickerdoodle Blondie Bites this holiday season. You too can feel like "somebody's watching you"!! haha
**I've partnered with Pillsbury to bring you some great recipes! All opinions are 100% my own, of course!!**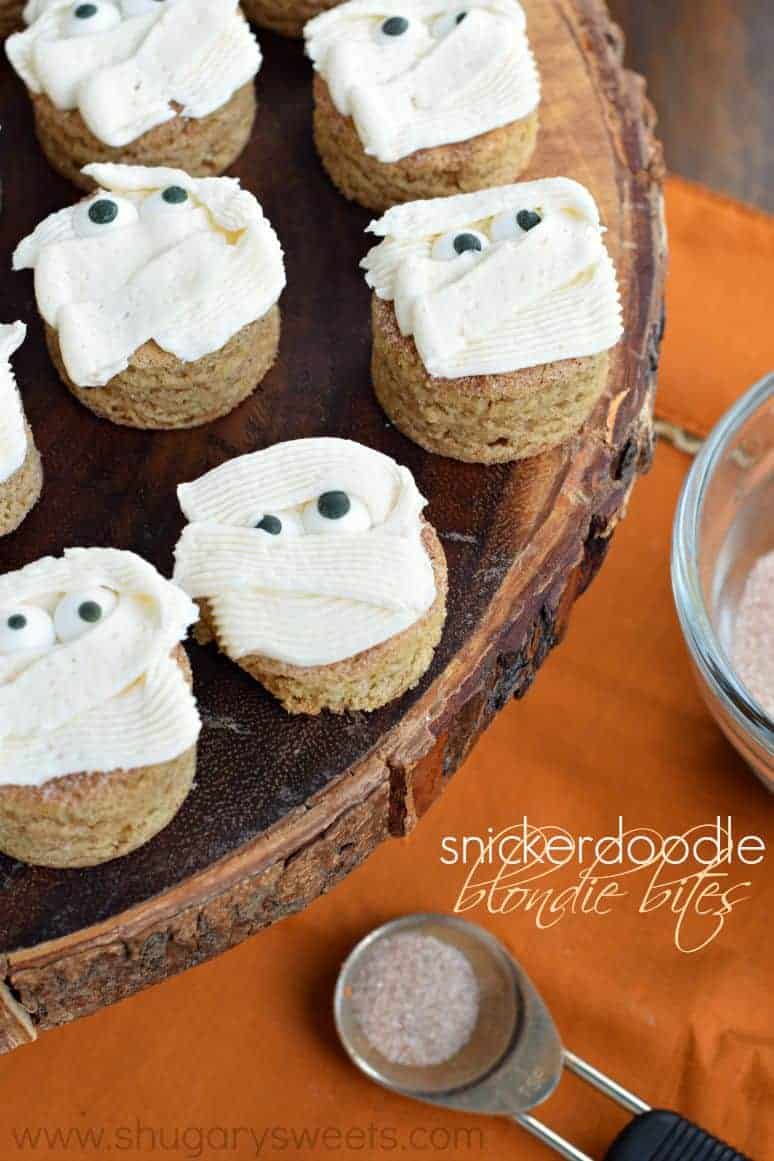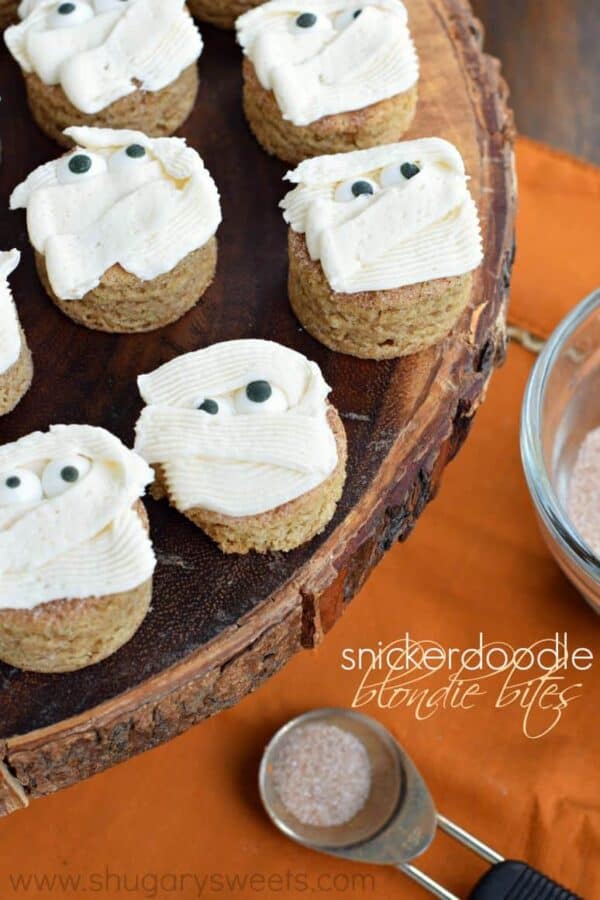 It's no secret that Halloween is one of my least favorite holidays. The stress of costumes has pretty much ruined it for me. I hate buying the plastic costumes from those big box stores. Yet, I can't sew, so coming up with fun costumes every year has been the bane of my existence.
We are finally at a place where my kids are old enough, that if they want to go out trick or treating with friends, then they have to MAKE their own costumes. Such a stress reliever for me.
Now I can focus on creating fun Halloween themed treats, like these Snickerdoodle Blondie Bites.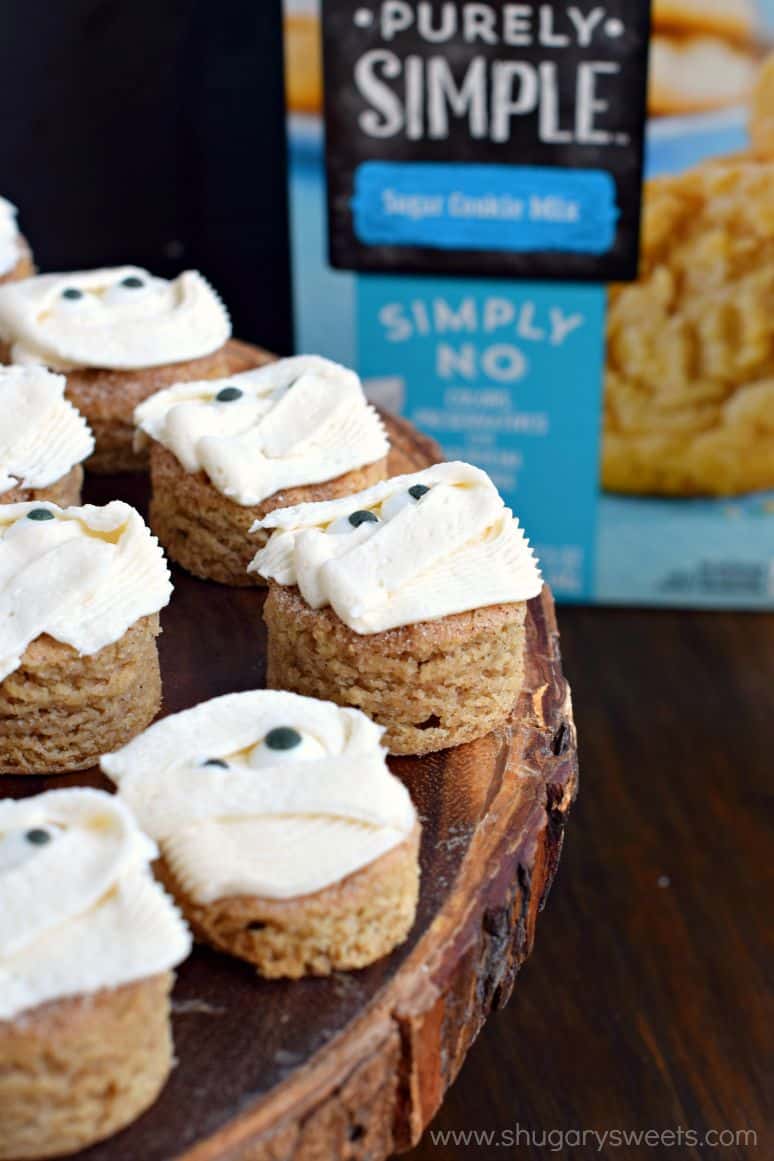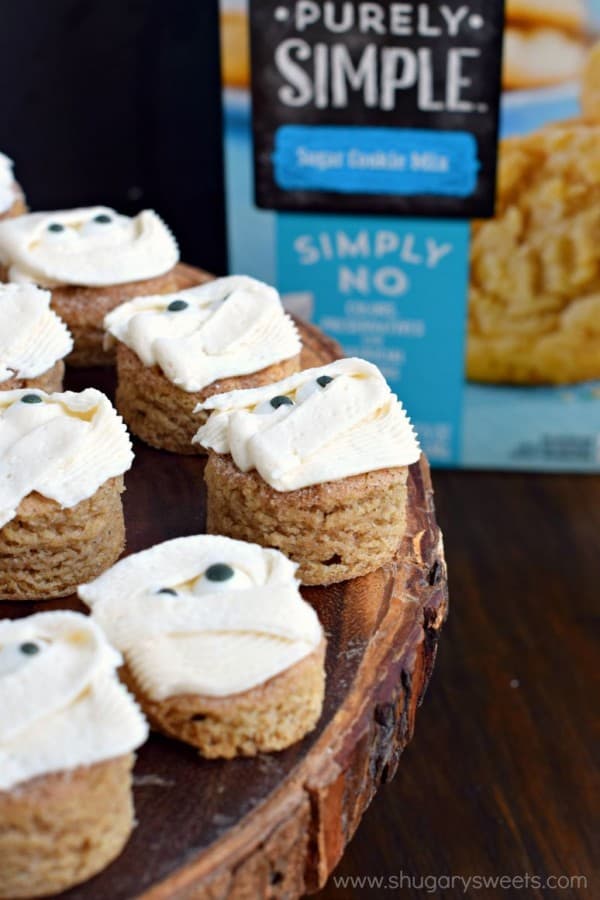 I've got a secret too, these blondies started from a box of Pillsbury Purely Simple Sugar Cookie Mix. You may remember earlier this spring I used the Pillsbury Purely Simple White Cake mix to make this delicious Coconut Cream Poke Cake! I love that these mixes have no color, preservatives or artificial flavor added!
Making these bites are so easy. Mix up the ingredients for the blondies in a large bowl. Spread the batter into a parchment paper lined 13×9 baking dish. Sprinkle the top generously with the cinnamon sugar mix!!
If you prefer, you can just spread the frosting over the cooled snickerdoodle blondies, cut into squares and enjoy. OR…take it a step further to create a festive, fun holiday treat!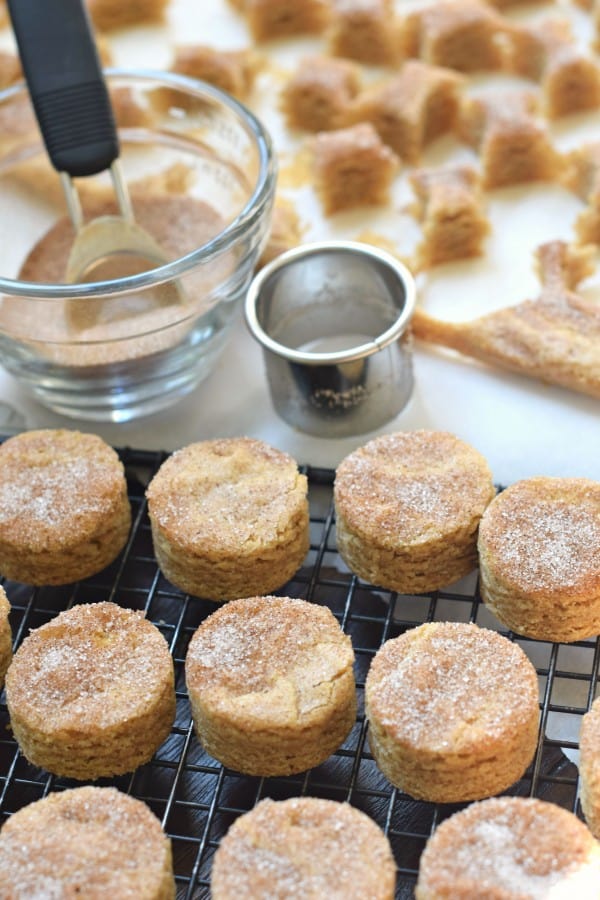 I used a 1.5 inch circle cookie cutter to cut the shape out of the cooled blondies. I got about 3 dozen little circles in one pan.
Whip up the buttercream frosting in your electric mixer. Add your frosting to a decorator bag with tip #48 (it's the flat tip, with ridges on one side). Using a back and forth motion, make stripes on the cookie top resembling the cloth of a mummy. Press in some candy eyes (or chocolate chips). So easy, so fun!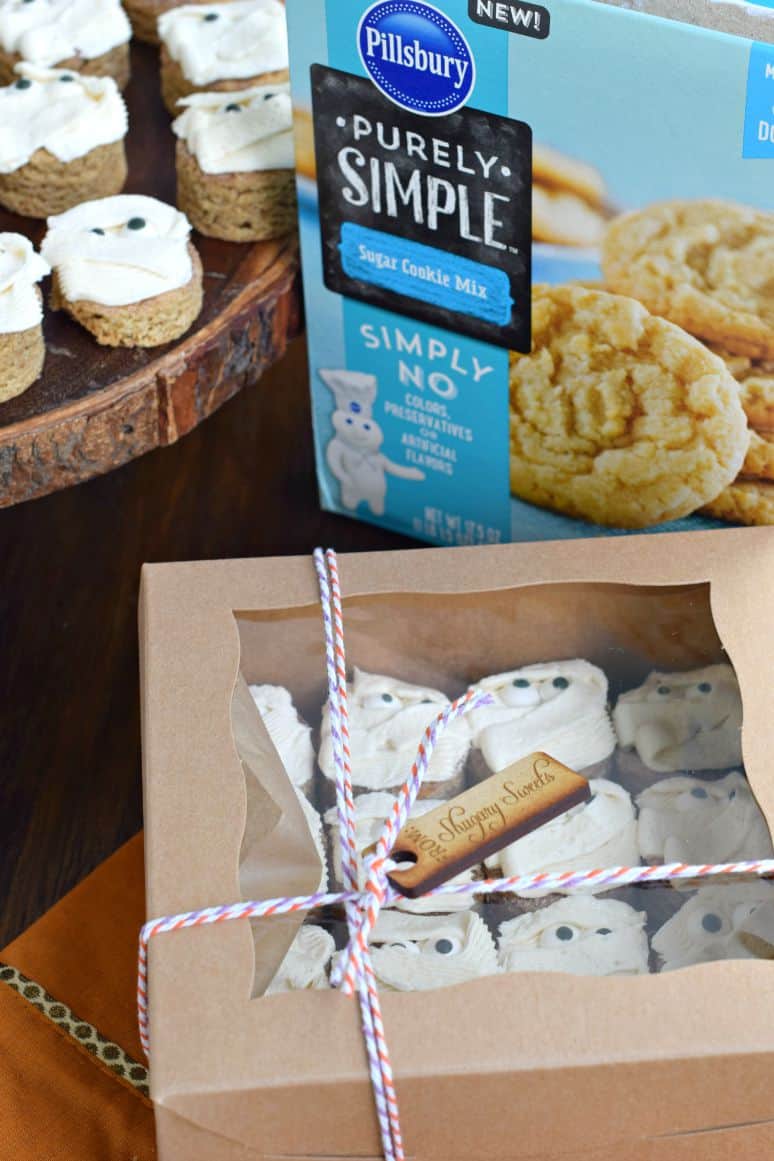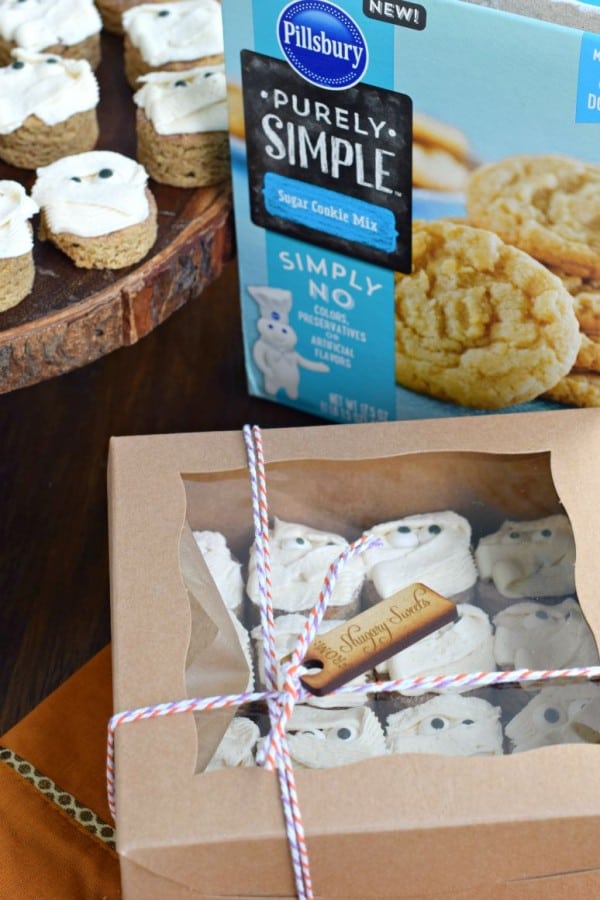 Know what else is fun? Being part of a blog hop with some of my favorite food bloggers! I packaged these mummy treats up and sent them over to Jamie from My Baking Addiction.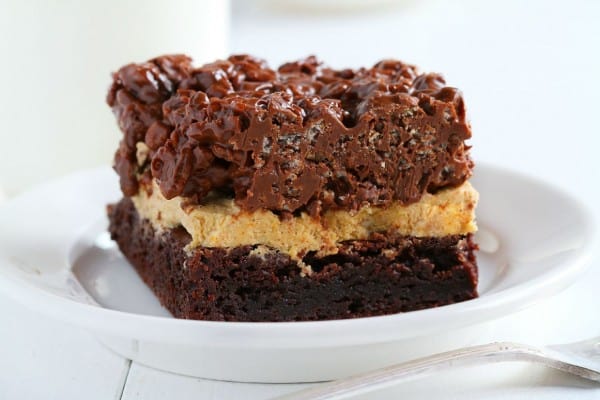 And while Jamie got to indulge in some of my treats, I received a lovely package of Krispy Pumpkin Brownies from my friend Amanda from I Am Baker. Aren't they amazing looking? Well, they taste even better than they look, if that's even possible!
Be sure to go check out their fun recipes using Pillsbury Purely Simple mixes!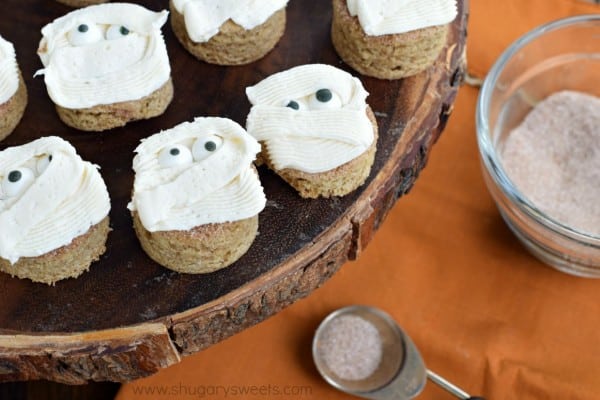 Connect with Pillsbury:
website | facebook | pinterest
Yield: 3 dozen blondie bites
Snickerdoodle Blondie Bites
Ingredients
For the blondies:
1 box Pillsbury Purely Simple Sugar Cookie Mix
2 large eggs
1/2 cup unsalted butter, melted
1 tsp cinnamon
For the topping:
1 Tbsp granulated sugar
1/4 tsp cinnamon
For the frosting:
1/4 cup unsalted butter, softened
1 cup powdered sugar
1/2 tsp vanilla extract
2 tsp milk
edible monster eyes or chocolate chips, optional
Instructions
Preheat oven to 350 degree F. Line a 13x9 baking dish with parchment paper. Set aside.
In a mixing bowl, combine cookie mix with eggs, melted butter and cinnamon. Beat until fully combined. Spread in baking dish.
In a little bowl, mix sugar and cinnamon. Sprinkle generously over top of unbaked blondies.
Bake in oven for 22-25 minutes, until toothpick comes out clean. Set aside to cool completely.
For the frosting, beat butter, powdered sugar, vanilla, and milk until fluffy and smooth, about 3-5 minutes.
You can either spread frosting over cooled blondie bars and cut into squares. OR if you want to make the mummy bites, use a 1.5 inch cookie cutter to cut circles out of blondie bars.
Add frosting to a decorator bag with tip #48. Pipe stripes back and forth over bites, and add monster eyes or chocolate chips for the mummy eyes. Store in airtight container. ENJOY.

**I am part of the Pillsbury Purely Simple BlogHop Campaign. The J.M. Smucker Company has sent me free product samples and compensated me to develop a fun recipe. All opinions are 100% my own. **