One bite of these Snickerdoodle Cheesecake Bars and you'll fall in love! The sweet and salty graham cracker pecan crust with the creamy cheesecake layer is all topped to perfection with the snickerdoodle pecan cookie topping!
***This post is sponsored by Fisher Nuts. I am excited to be a partner in creating delicious recipes, all opinions are 100% my own***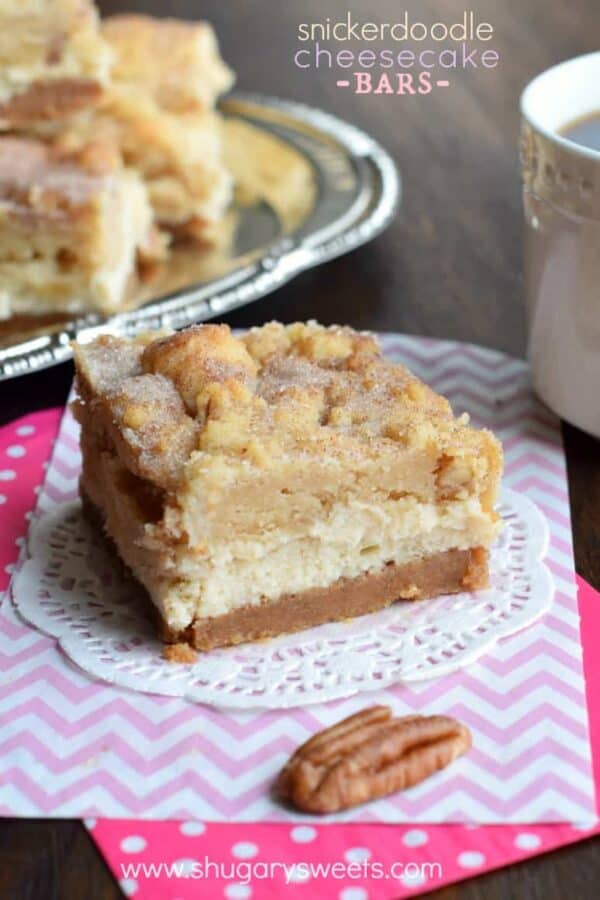 Once again I think I need to use this phrase: "These are the best things I've ever made."
Okay maybe not ever…but for sure one of the best this year. This month. This week. Today!!
Seriously though, let me walk you through the delights of this bar:
The crust is made with a combination of graham cracker crumbs and Fisher pecans. Sweet and salty!
The cheesecake layer is smooth and creamy, and best served COLD.
The snickerdoodle cookie layer has a top crust of cinnamon sugar and one bite of this bar will leave you wanting more. I promise!
I'm pretty sure that cheesecake bars are nearing the top of my list of "favorite desserts." I don't think they could ever replace Krispie Treats….but they come in a close second.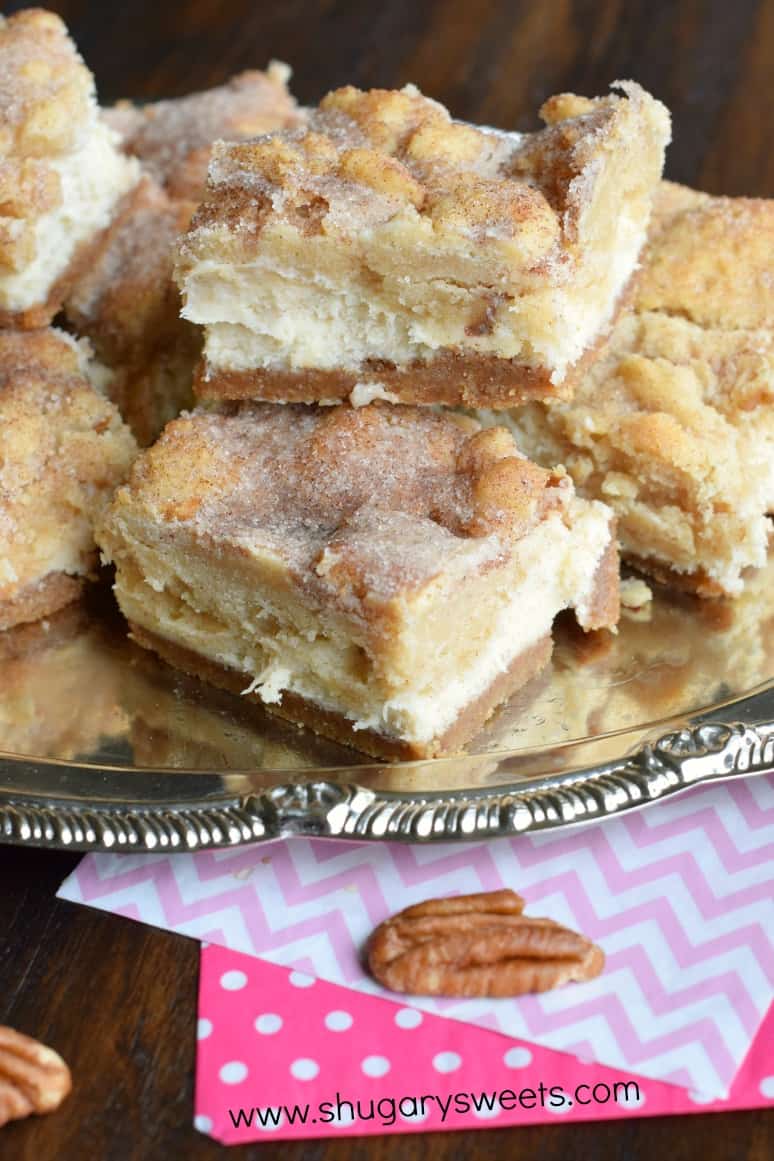 Today's version is one of a long list of ideas I've had brewing since I first shared this Chocolate Chip Cheesecake Bar.
My husband asked me the other day, so how is your list of creative ideas coming along? Are you running out?
Oh, sweet man, I can't keep up is the problem. There are days when I read over my list to decide what to make, and out pops 4 more new ideas inspired by the list of ideas (HA! Did that make sense???)
If you haven't tried making cheesecake bars yet…you should do it soon! You can change them up to your own liking.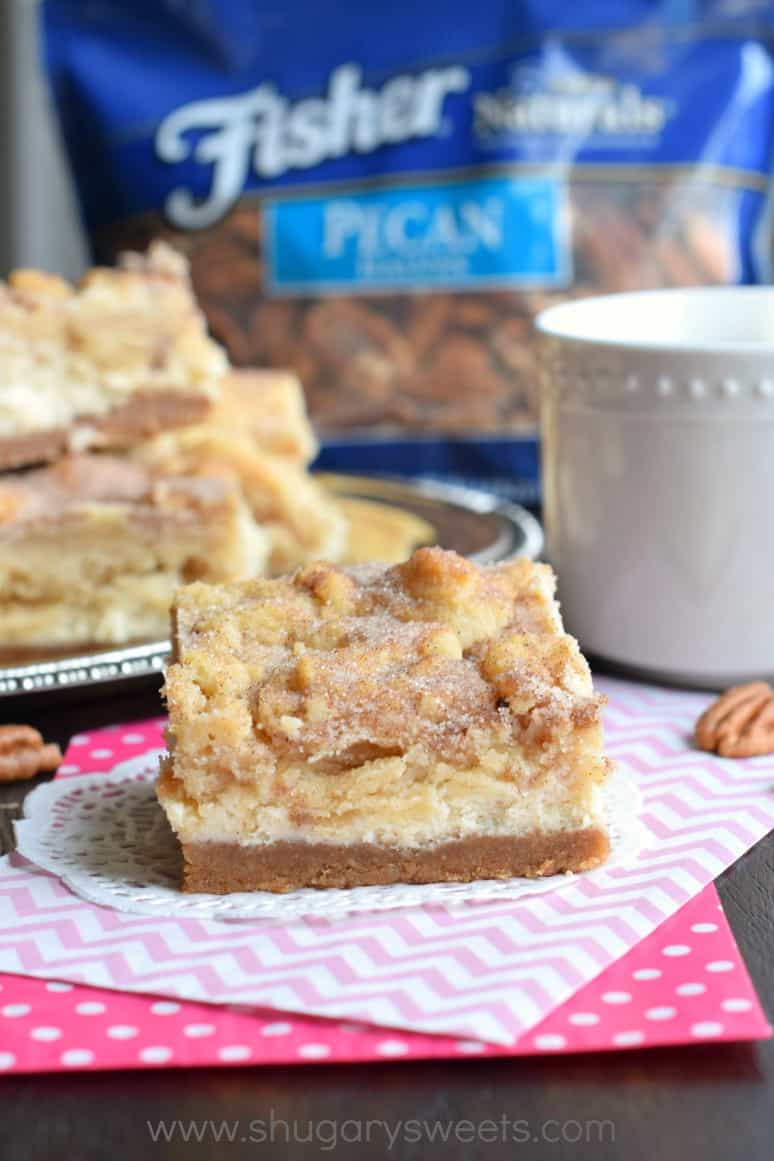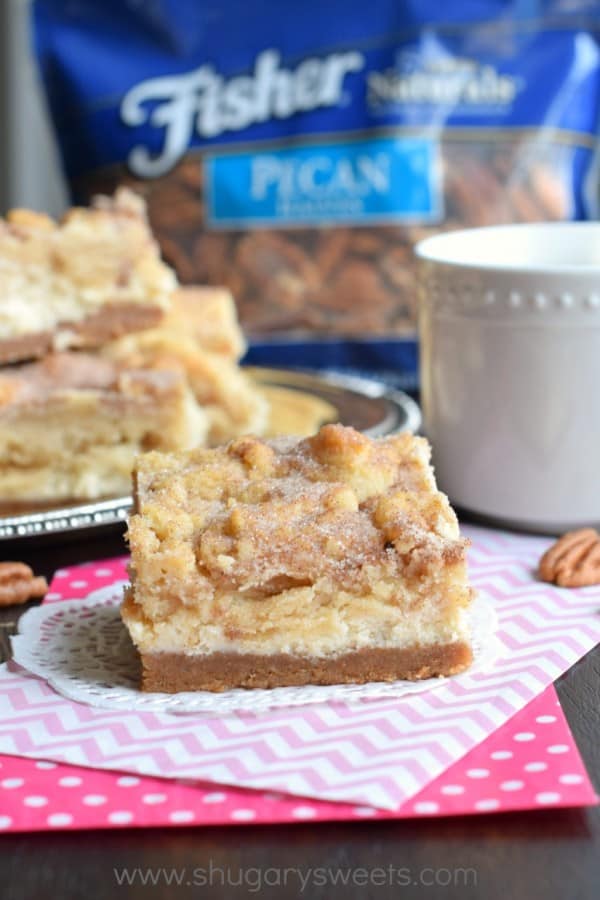 I've partnered with Fisher Nuts as part of their Think Fisher brand ambassadorship this year, so adding delicious nuts to my desserts is always a priority. Fisher Nuts are preservative free and always my number one choice at the grocery store!
Not only did I add pecans to the crust layer, but I also added some to the cookie layer! It's a pairing that was meant to be, and you'll understand once you take a bite of this delicious bar!
These Snickerdoodle Cheesecake Bars would be the perfect addition to your summer dessert table. Just make sure you save one for yourself, because they won't last long!