Snickerdoodle Cheesecake Bars are like cookies and cheesecake in one! A homemade graham cracker crust is topped with a creamy cheesecake layer and snickerdoodle cookie dough in this sweet and salty recipe.
We love cheesecake you can eat with your hands. These Caramel Apple Cheesecake Bars and Chocolate Cheesecake Bars are two more incredible cheesecake recipes you'll love.
Why these Cheesecake Bars are Best
Let me walk you through the delights of this bar:
The crust is made with a combination of graham cracker crumbs and pecans. Sweet and salty!
The cheesecake layer is smooth and creamy, and best served COLD.
The snickerdoodle cookie layer has a top crust of cinnamon sugar and one bite of this bar will leave you wanting more. I promise!
I'm pretty sure that cheesecake bars are nearing the top of my list of "favorite desserts." I don't think they could ever replace Krispie Treats….but they come in a close second.
Ingredient Notes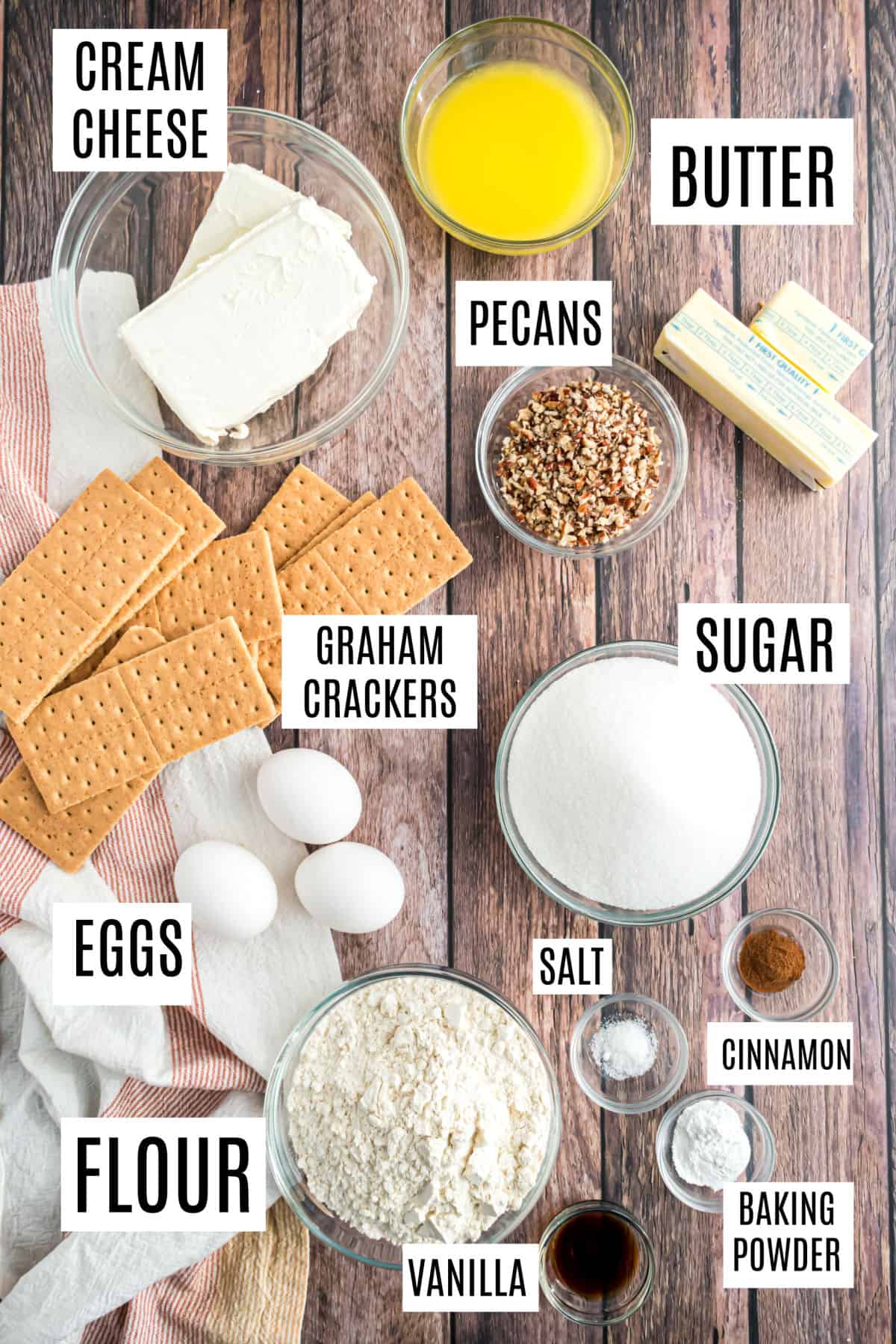 Pecans – These are added to the How to Make a Graham Cracker Pie Crust for the perfect dimension of nutty flavor. We also use chopped pecans in the snickerdoodle topping!
Cream cheese – It's crucial to use full fat regular cream cheese to make the cheesecake layer. You want the kind that comes in BLOCKS not the "spreads" in the tub.
Butter- you'll need unsalted butter for the crust layer, as well as the cookie layer. Make sure your butter is softened (use our tips on how to soften butter quickly).
Cinnamon – It's not a snickerdoodle dessert without it! You will use this in the filling, the snickerdoodle layer and the final cinnamon-sugar topping.
PRO TIP- We love making our own homemade vanilla extract, but if using store bought, be sure it's pure extract, not imitation (for best flavor).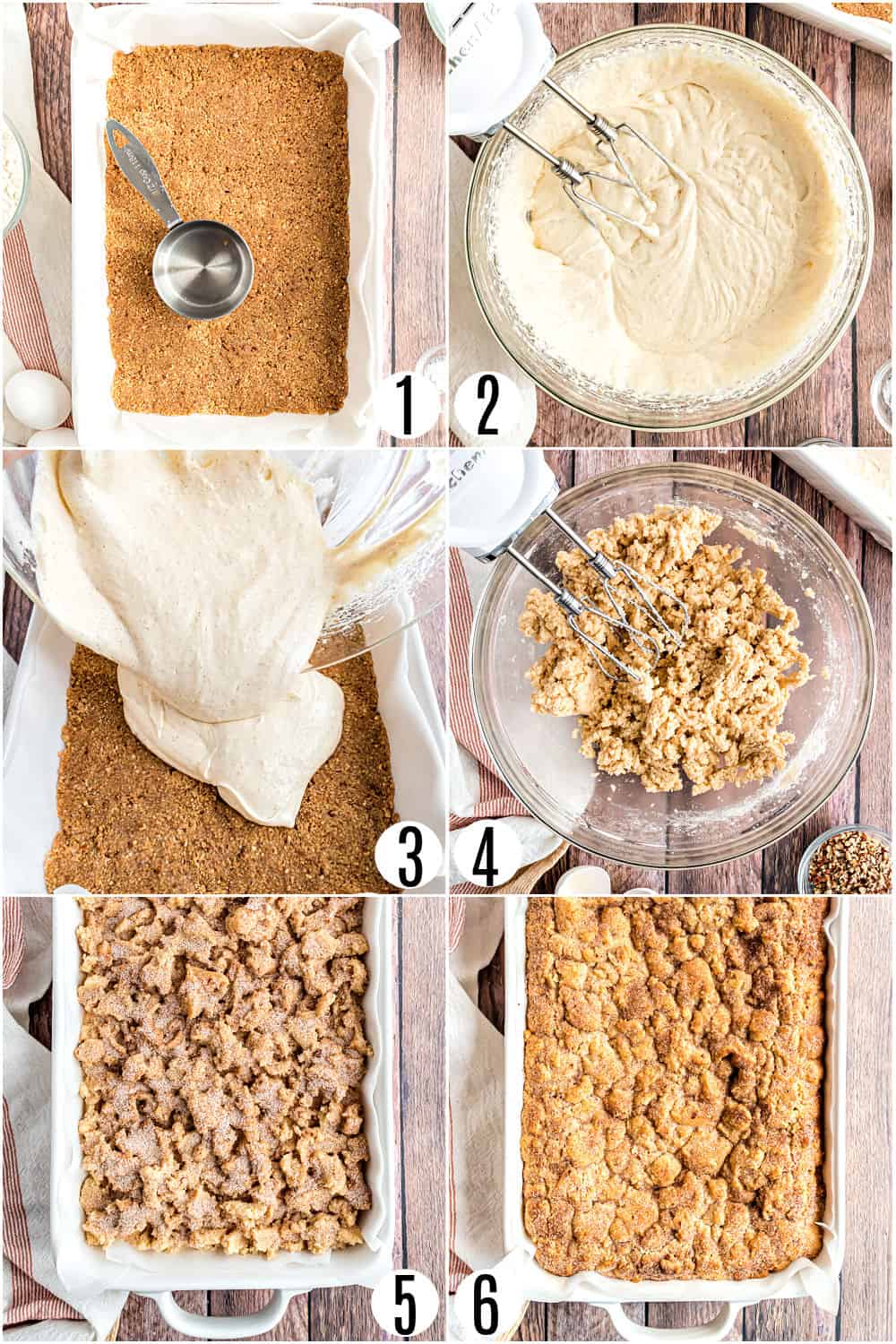 Tips and Tricks
Let your cream cheese soften at room temperature to make it easier to incorporate. I take mine of of the refrigerator about 30 minutes before making cheesecake bars.
Do not overbake. Take the bars out of the oven when the cookie layer is fully baked and brown, but the cheesecake is still a bit jiggly.
Chill your snickerdoodle cheesecake bars for at least 4 hours! Even better, leave the bars in the fridge overnight. They taste best when they're extra cold so don't try to cut corners and shorten the chill time.
Read all my tips and tricks for making perfect graham cracker crust! With or without nuts, it's my favorite crust for cheesecake.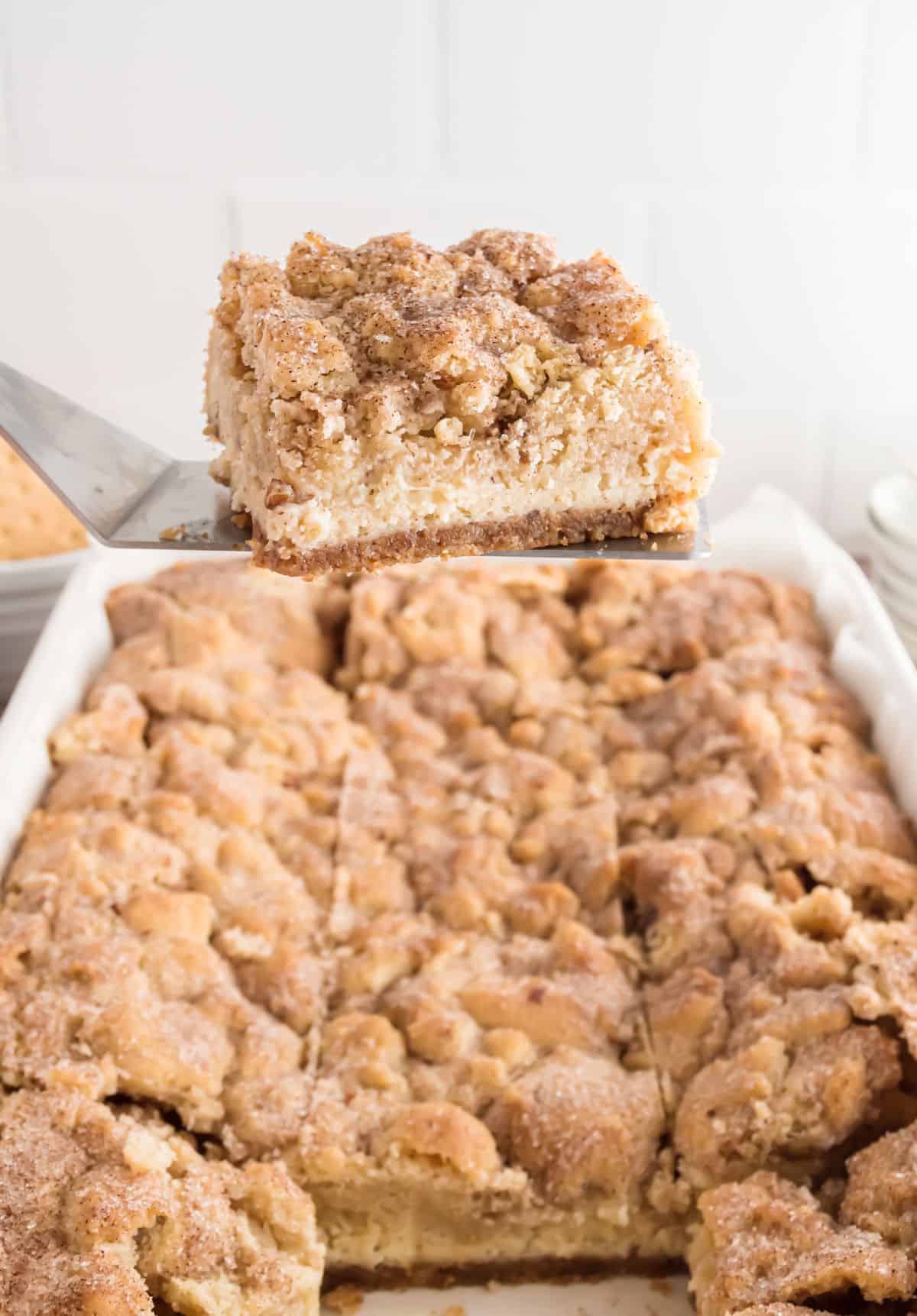 Recipe FAQs
Can I use whipped cream cheese instead?
No, whipped cream cheese spreads should not be used in this recipe. They contain more air and water than regular cream cheese which would affect the finished consistency and flavor of the snickerdoodle cheesecake.
How long do Snickerdoodle Cheesecake Bars keep?
In my house, we tend to eat the whole batch before you can say "snickerdoodle." But if you have more will power than I do, these bars will keep well for up to 5 days in the refrigerator.
How can I tell when Snickerdoodle Cheesecake Bars are done baking?
Take the bars out of the oven when the snickerdoodle cookie layer is golden brown. It's okay if the cheesecake layer jiggles a little bit when you tap the pan. It will continue firming up as it cools.
Can I freeze these cheesecake bars?
Yes, you can! To freeze, place a single layer of cut cheesecake bars on a sheet pan. Freeze for 1 hour or until solid. Then transfer the frozen bars to freezer bags.
Make sure to include a sheet of wax paper between the layers of bars to prevent them from sticking together.
How do I thaw frozen cheesecake bars?
Thaw frozen snickerdoodle cheesecake bars in the refrigerator for several hours before eating.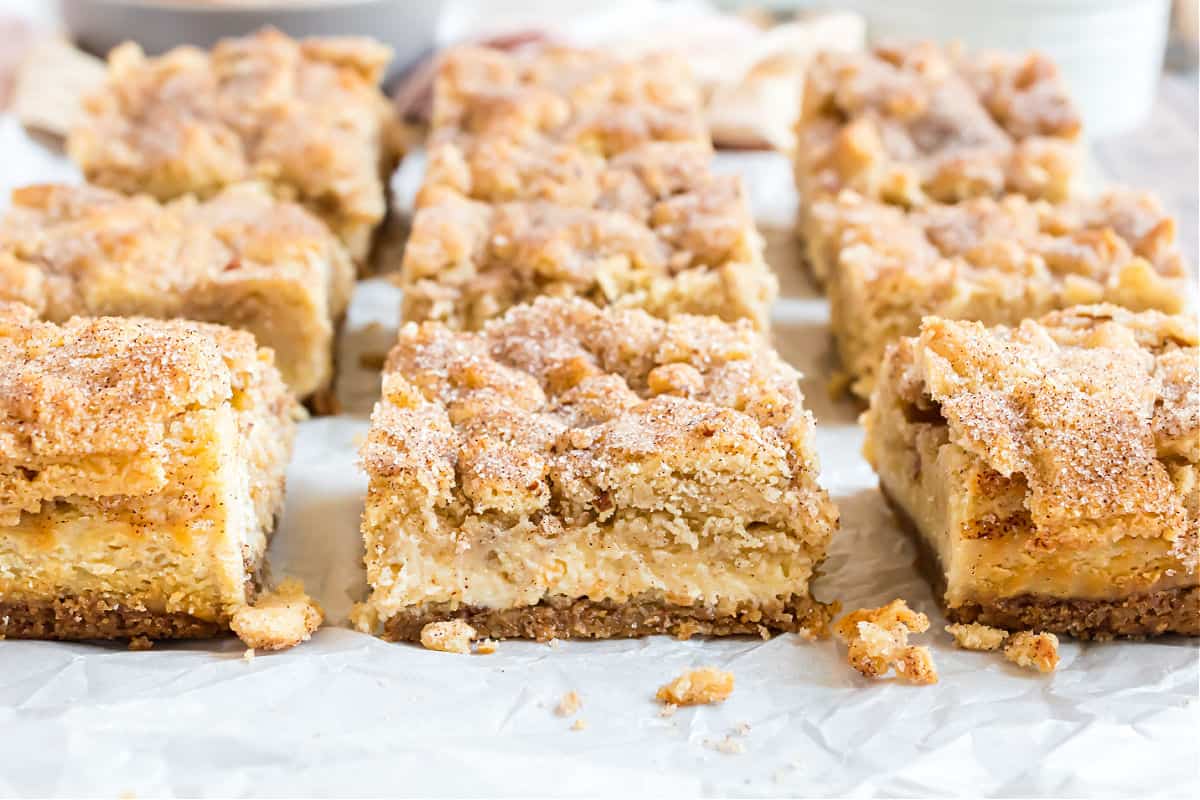 Snickerdoodle Cheesecake Bars are cheesecake and cookie in one. You'll love the combination of sweet, salty and cinnamon sugar flavors in every bite!