Layers of flavor combine in this Chocolate Cheesecake Bars recipe. A creamy vanilla cheesecake with a graham cracker crust, and a crunchy chocolate cookie layer on top. What could be better?
Love cheesecake bars? Our classic chocolate chip cheesecake bar inspired today's recipe. But you'll have to give our lemon cheesecake bar recipe a try next!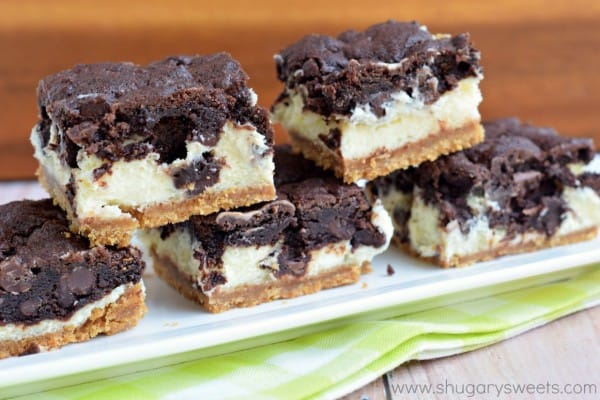 Why this Recipe is Best
Combining chocolate and cheesecake is a no-brainer. Chocolate's rich deep flavor and cheesecake's creamy sweetness are a match made in dessert heaven.
This recipe takes the whole concept of chocolate cheesecake and makes it, somehow even better. One bite and you'll understand what I mean!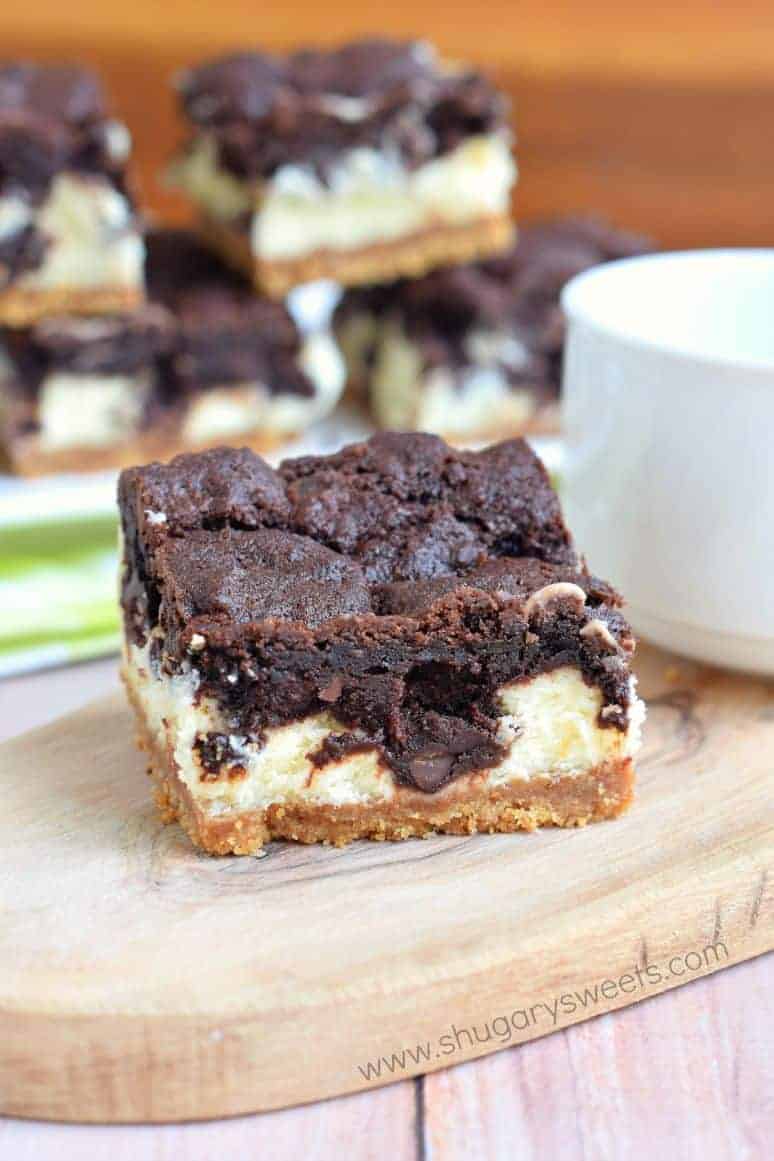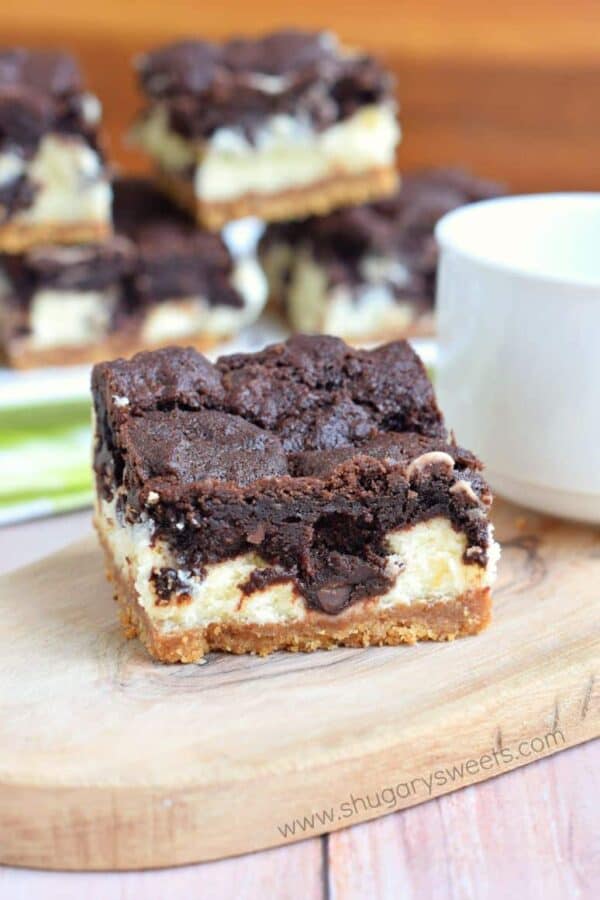 Ingredient Notes
These cheesecake bars have three layers: a crust, a filling and the cookie layer.
Graham cracker pie crust – You will need graham crackers, melted butter and sugar. Read all of our tips and tricks for graham cracker crust!
Cream cheese – Use regular full fat cream cheese for this cheesecake filling. Let it soften at room temperature for 20 minutes so it's easier to combine.
Sugars – Granulated sugar is used both in the filling and the topping. You will also need brown sugar for the cookie layer.
Vanilla – Flavors the cheesecake layer and enhances the chocolatey taste of the cookie dough. Use a high quality pure vanilla extract for best results.
Baking cocoa – The unsweetened cocoa powder gives the cookie dough its chocolate flavor and a rich color.
Chocolate chips – Semi-sweet morsels are our favorite here, but milk chocolate or even white chocolate varieties can be used too.
Tips and Tricks
Use a food processor (or a ziploc bag and a meat pounder) to process your graham crackers into a fine crumb. DO NOT use the store bought graham crumbs. I personally think the flavor of those is "off" and I can tell the difference in the two.
Use parchment paper to line your 13×9 baking dish. Not only does it help with clean up…but once these are complete, you can lift the whole batch out of the pan to slice them. This helps keep them looking uniform and pretty (not smashed and uneven). The symmetrically obsessed tendencies I have will thank you!
Refrigerate. I can't tell you enough how important this step is before eating this dessert. I don't know many people who like warm cheesecake. Once this is done baking, cool it on the counter until it's able to go in your refrigerator. Then keep it in there for 4 hours (or overnight). Not only does it give the cheesecake time to firm up to make cutting smoother, but it tastes amazing chilled.
Storing. Leftover chocolate cheesecake bars store well in the refrigerator for several days. This makes them a perfect option for a make ahead dessert!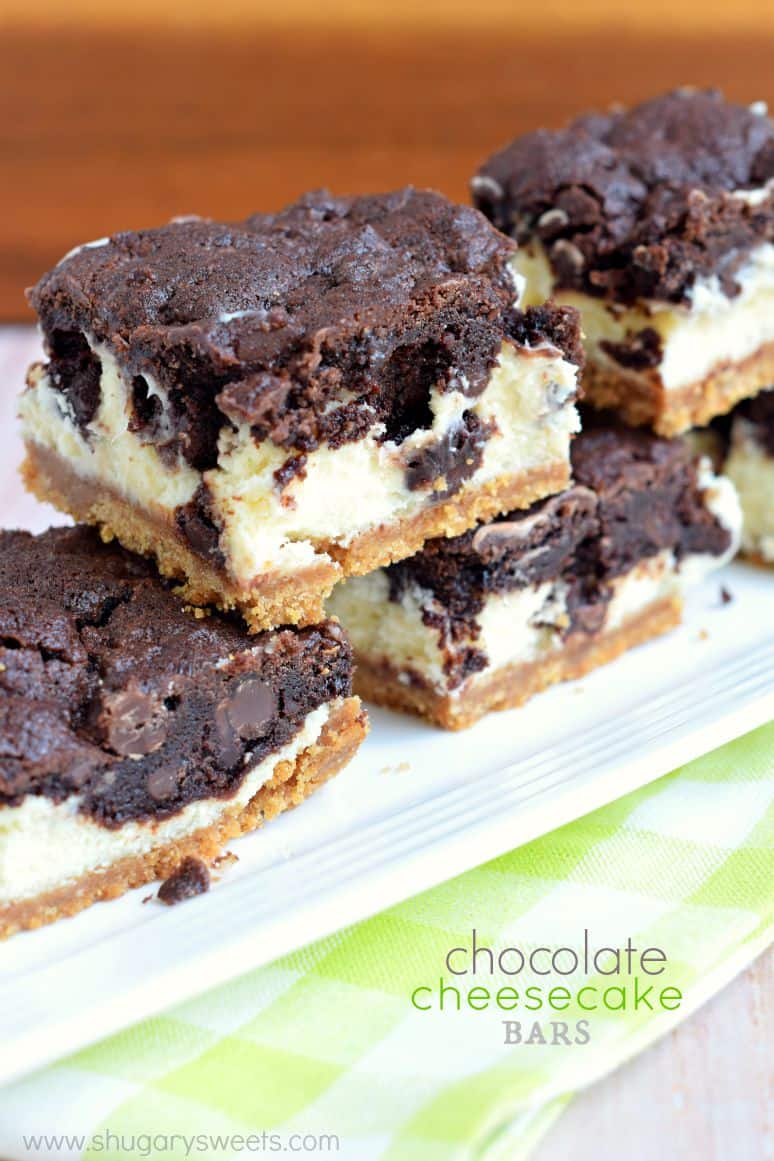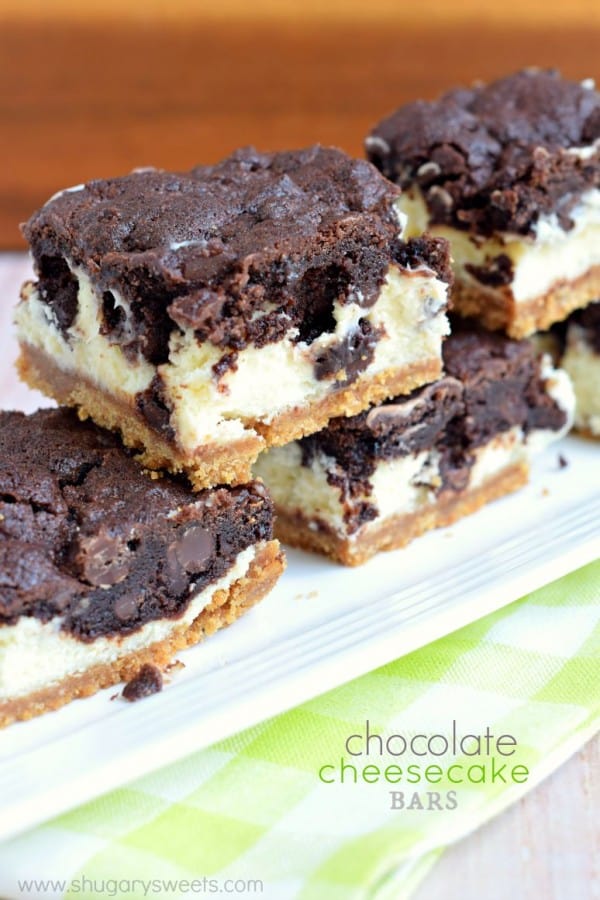 Recipe FAQs
My cheesecake bars are too soft to slice. What should I do?
If your bars are still soft and runny when you try to slice them, they probably need more time to chill. Put them in the refrigerator for another 30 minutes (or the freezer) then check them again.
Why are my bars sticking to the pan?
Make sure to line your baking dish with parchment paper to prevent sticking. You can also grease the parchment paper with baking spray to make the bars even easier to slide off.
Can I freeze chocolate cheesecake bars?
Yes, these bars are freezer friendly! Place sliced cheesecake bars in a freezer bags with wax paper between layers. Keep frozen for up to three months.
When ready to enjoy, let the bars thaw on the counter top or in the refrigerator overnight.
Chocolate Cheesecake Bars are the perfect combination of chocolate chocolate chip cookies and vanilla cheesecake. Easy, decadent and oh so chocolatey!