Looking for a decadent dessert idea? These Chocolate Cheesecake Bars have everything you crave, and more!
**This post is sponsored by Rodelle. I am excited to partner with them in creating delicious, family friendly recipes! All opinions are 100% my own**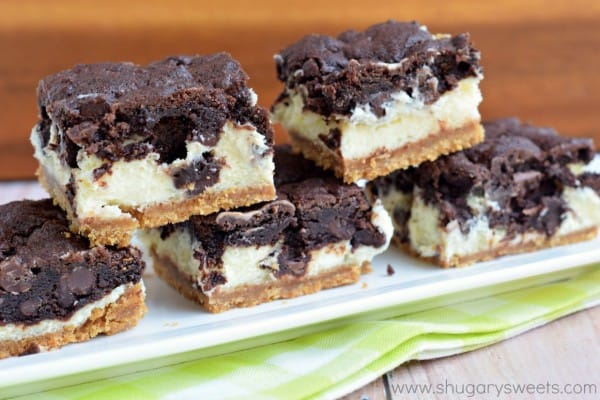 Ever get a dessert you love and just want to eat it like crazy? That's how I am with cheesecake bars. You may notice I have LOTS of varieties on the blog.
Lemon. Snickerdoodle. Peanut Butter. Chocolate Chip.
Today's version is a Chocolate Cheesecake Bar. It starts with a graham cracker crust. Then it's topped with a creamy vanilla cheesecake. And topped with chocolate cookie dough. All baked to perfection.
As you may remember, I'm currently working with Rodelle to create delicious recipes using their products. I hear this all the time: does it matter what vanilla I use?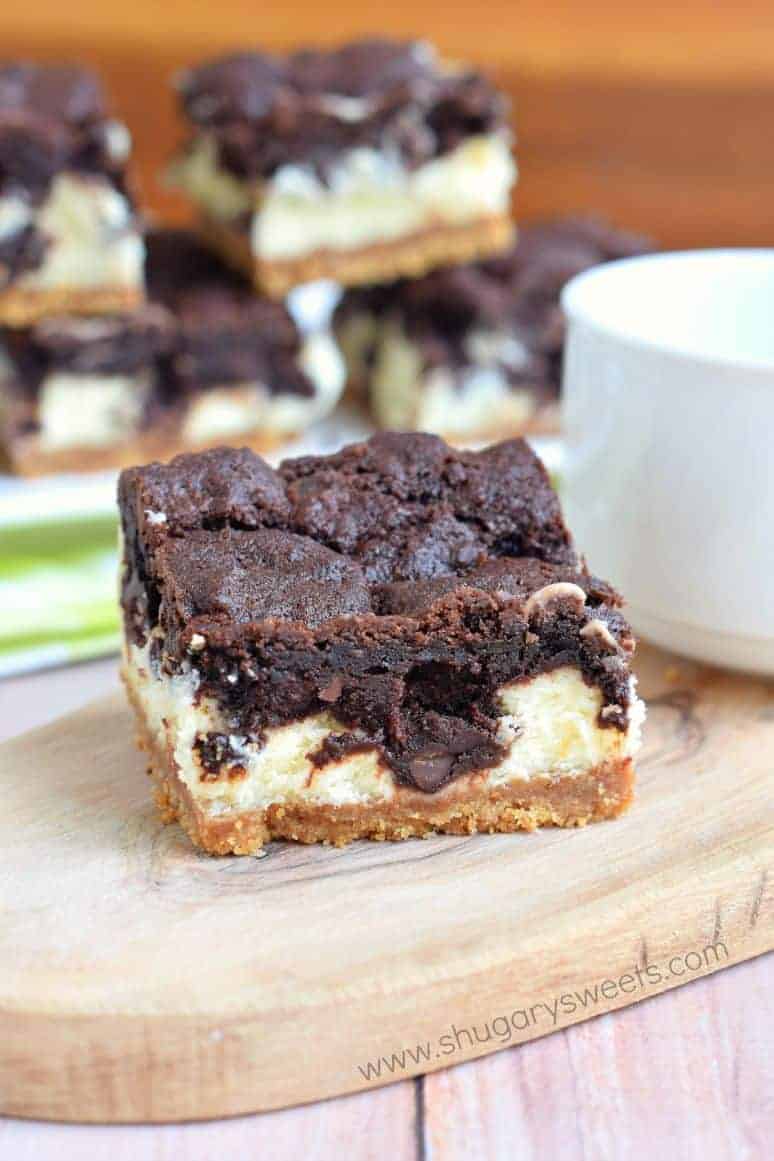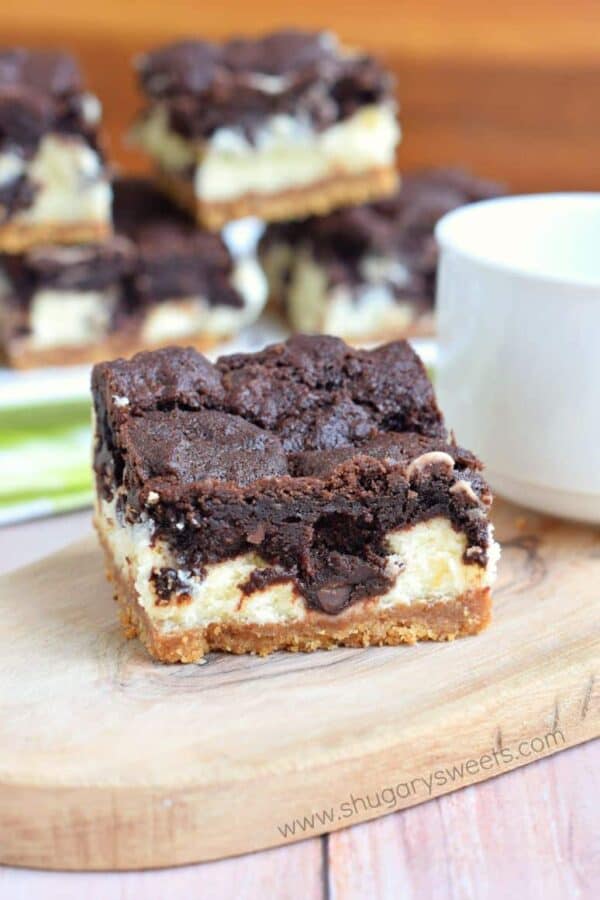 My answer is yes. And I'm not just saying that because I'm partnered with Rodelle. I had been using their products and singing their praises long before they first approached me! I love the flavor their vanilla gives to my baked goods.
What you may not know is that in addition to all their awesome extracts, they have the best unsweetened cocoa I've ever used. It's truly my favorite (and I love that I can purchase it online
or at Costco)! It gives a rich chocolate flavor to all my baked goods…and the color is dark and gorgeous!
But, back to these Chocolate Cheesecake Bars. A few simple tricks:
Use a food processor (or a ziploc bag and a meat pounder) to process your graham crackers into a fine crumb. DO NOT use the store bought graham crumbs. I personally think the flavor of those is "off" and I can tell the difference in the two!
Use parchment paper to line your 13×9 baking dish. Not only does it help with clean up…but once these are complete, you can lift the whole batch out of the pan to slice them. This helps keep them looking uniform and pretty (not smashed and uneven). The symmetrical OCD tendencies I have will thank you.
Refrigerate. REFRIGERATE. I can't tell you enough how important this step is before eating this dessert. I don't know many people who like warm cheesecake. Once this is done baking, cool it on the counter until it's able to go in your refrigerator. Then keep it in there for 4 hours (or overnight). This is MUY IMPORTANTE (very important). Not only does it give the cheesecake time to firm up to make cutting smoother, but it tastes amazing chilled.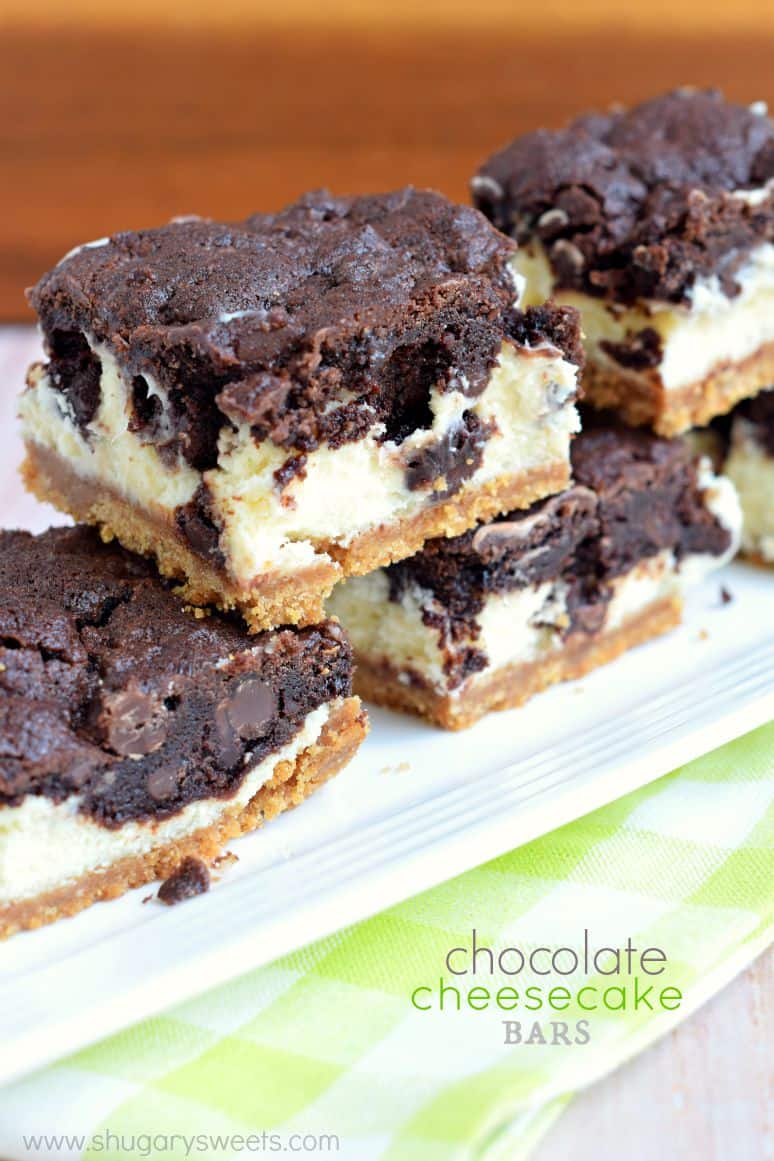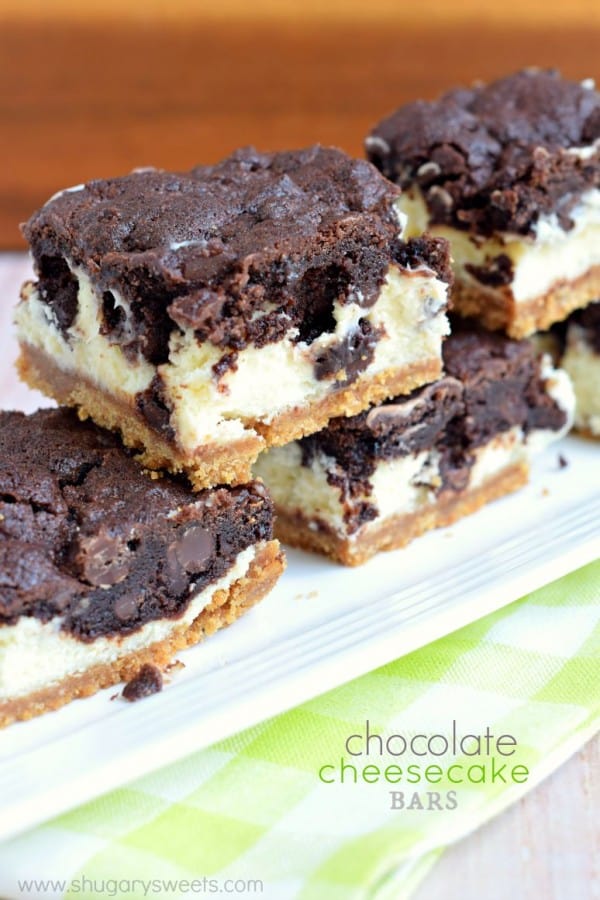 Now I'm off to go binge watch my favorite Netflix show right now. It's called Damages with Glenn Close and Ted Danson. Have you watched it yet? So good!!
Connect with Rodelle:
website | facebook | pinterest
Yield: 24 large bars
Chocolate Cheesecake Bars
Prep Time
4 hours
45 minutes
Ingredients
For the Crust:
2 1/2 cup graham cracker crumbs (about 18 full size crackers)
1/4 cup granulated sugar
1/2 cup unsalted butter, melted
For the Cheesecake Filling:
2 packages (8 oz each) cream cheese, softened
3/4 cup granulated sugar
2 large eggs
1 tsp Rodelle Vanilla Extract
For the Cookie Dough:
3/4 cup unsalted butter, softened
1/2 cup granulated sugar
3/4 cup light brown sugar, packed
1 large egg
2 Tbsp milk (I use skim)
2 tsp Rodelle Vanilla Extract
1 1/4 cup all-purpose flour
1/2 cup Rodelle Gourmet Baking Cocoa (unsweetened cocoa powder)
1/2 tsp kosher salt
1 tsp baking soda
1 package (12 oz) semi sweet chocolate chips
Instructions
Preheat oven to 350 degree F. Line a 13x9 baking dish with parchment paper. Set aside.
For the crust, combine graham cracker and sugar in food processor. Pulse until fine crumbs. Add in melted butter and pulse until combined. Press into bottom of prepared baking dish.
For the cheesecake filling, beat cream cheese with sugar, eggs, and vanilla using the whisk attachment of an electric mixer. Beat until fluffy and smooth, about 3-5 minutes. Pour over graham cracker crust.
For the cookie dough, beat butter with sugars for 2 minutes. Add egg, milk and vanilla. Beat until combined. Add in flour, cocoa powder, salt and baking soda and mix until fully blended. Fold in chocolate chips.
Drop by large scoop onto top of cheesecake layer. Try to use your fingertips to spread gently (doesn't have to cover cheesecake completely, as it will spread during baking).
Bake for 30-35 minutes until cookie dough layer is fully baked. Remove and cool on counter. Once cooled, cover with plastic wrap and refrigerate 4 hours or overnight. Cut and enjoy!
Look no further. Here are some of my favorite cheesecake bars on the blog: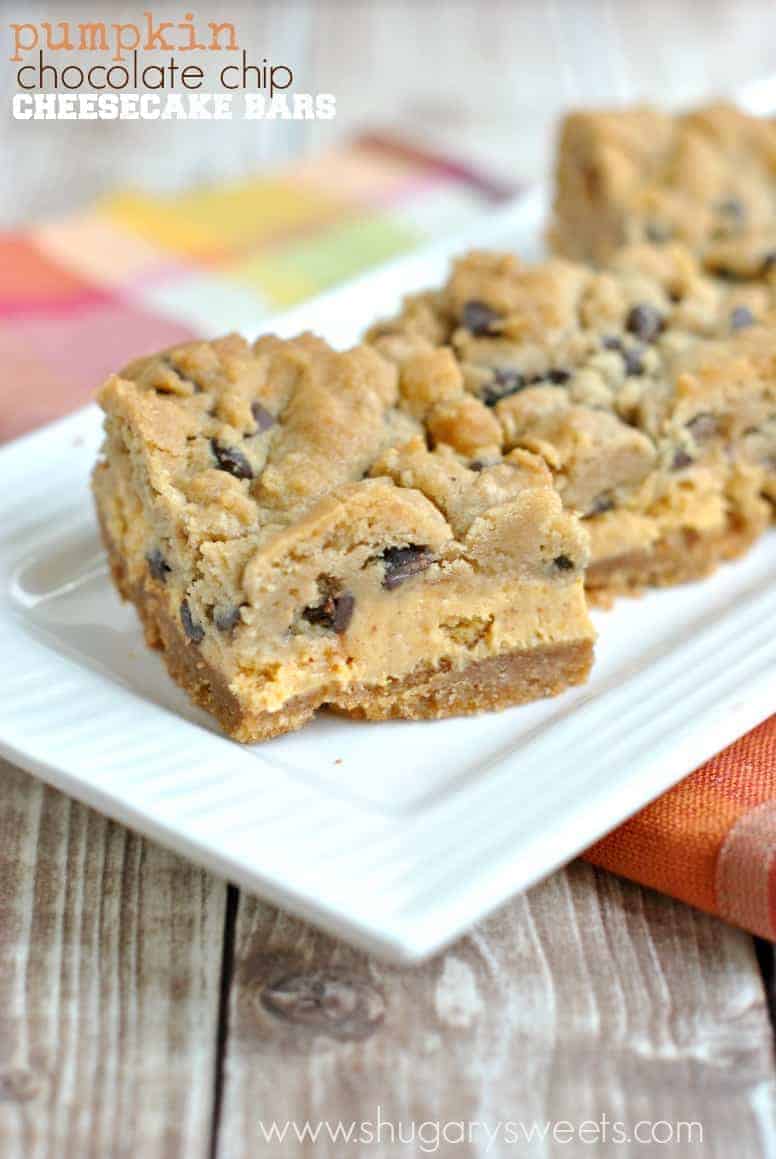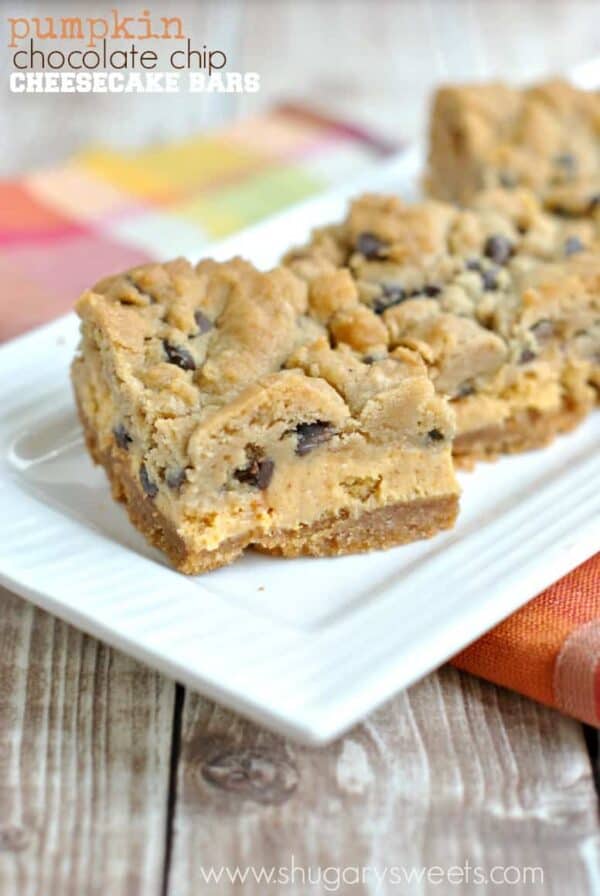 Pumpkin Chocolate Chip Cheesecake Bars: this one is perfect for fall baking!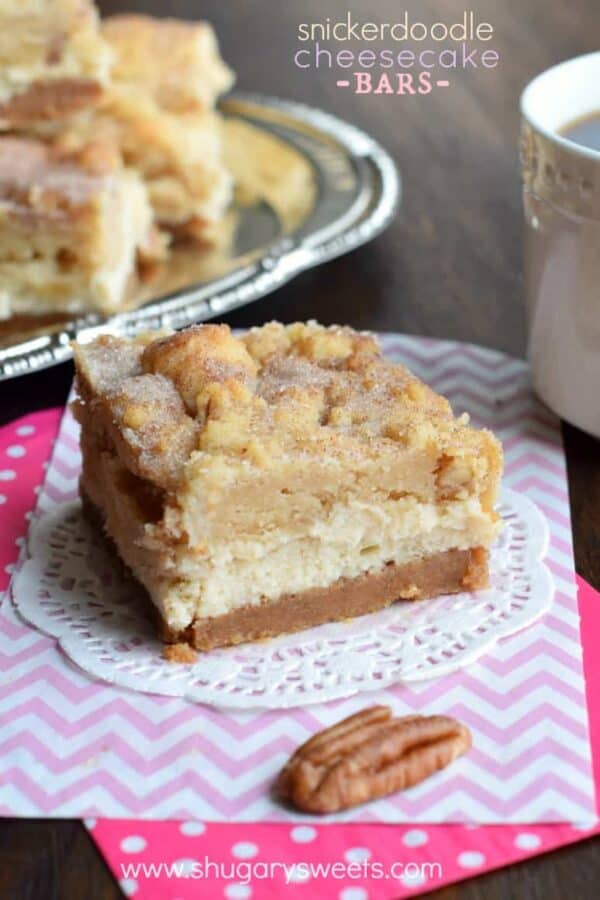 Snickerdoodle Cheesecake Bars: If I had to choose these *might* be my favorite version!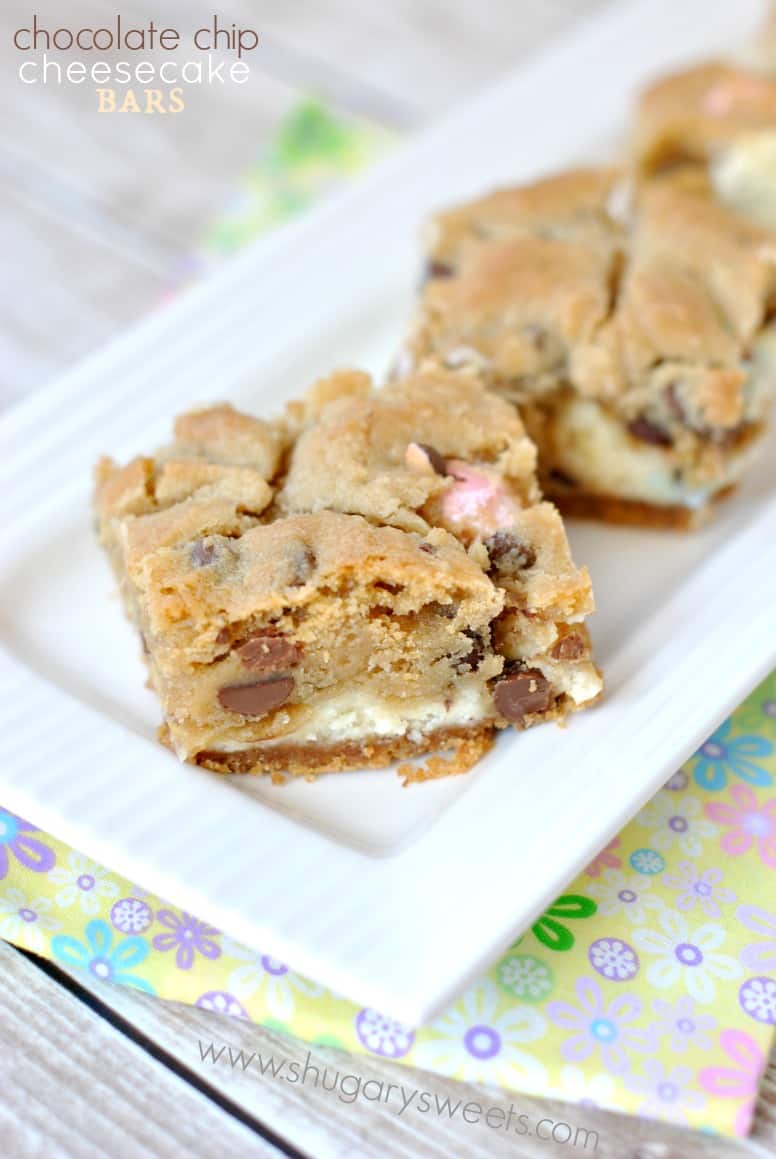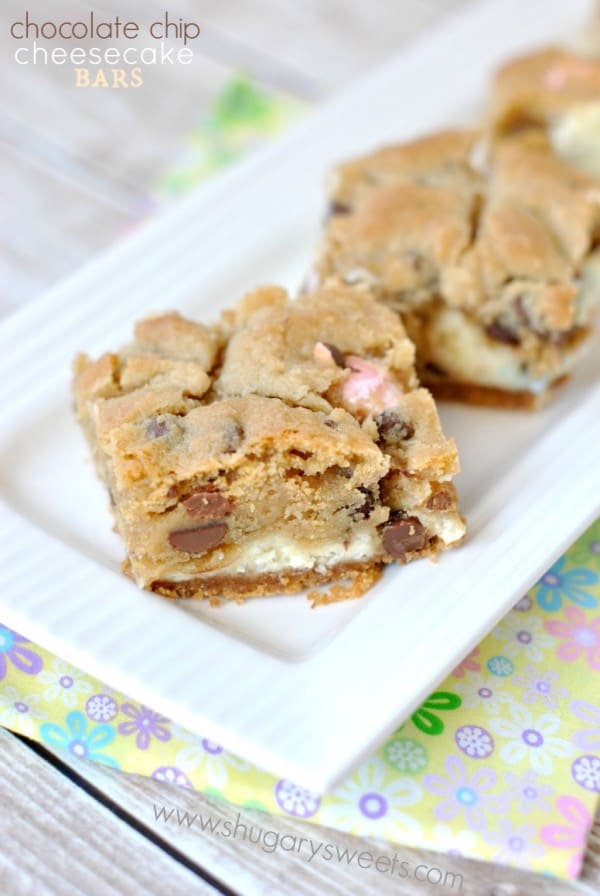 Chocolate Chip Cheesecake Bars: this is the classic recipe I base all my yummy variations off!

**I've partnered with Rodelle Kitchens as a brand ambassador to create delicious recipes for you, my readers! I personally love their products, and all opinions are 100% my own**