The BEST Red Velvet Cheesecake Cake recipe starts with two layers of homemade red velvet cake with a layer of cheesecake in the middle. Topped with delicious cream cheese frosting and white chocolate curls, you'll want to make this cake for friends and family every holiday!
During the holidays, I love Eggnog Cheesecake Cake and Chocolate Peppermint Cheesecake Cake. But, I have even turned breakfast into dessert with Cinnamon Roll Cheesecake Cake! Which will you try first?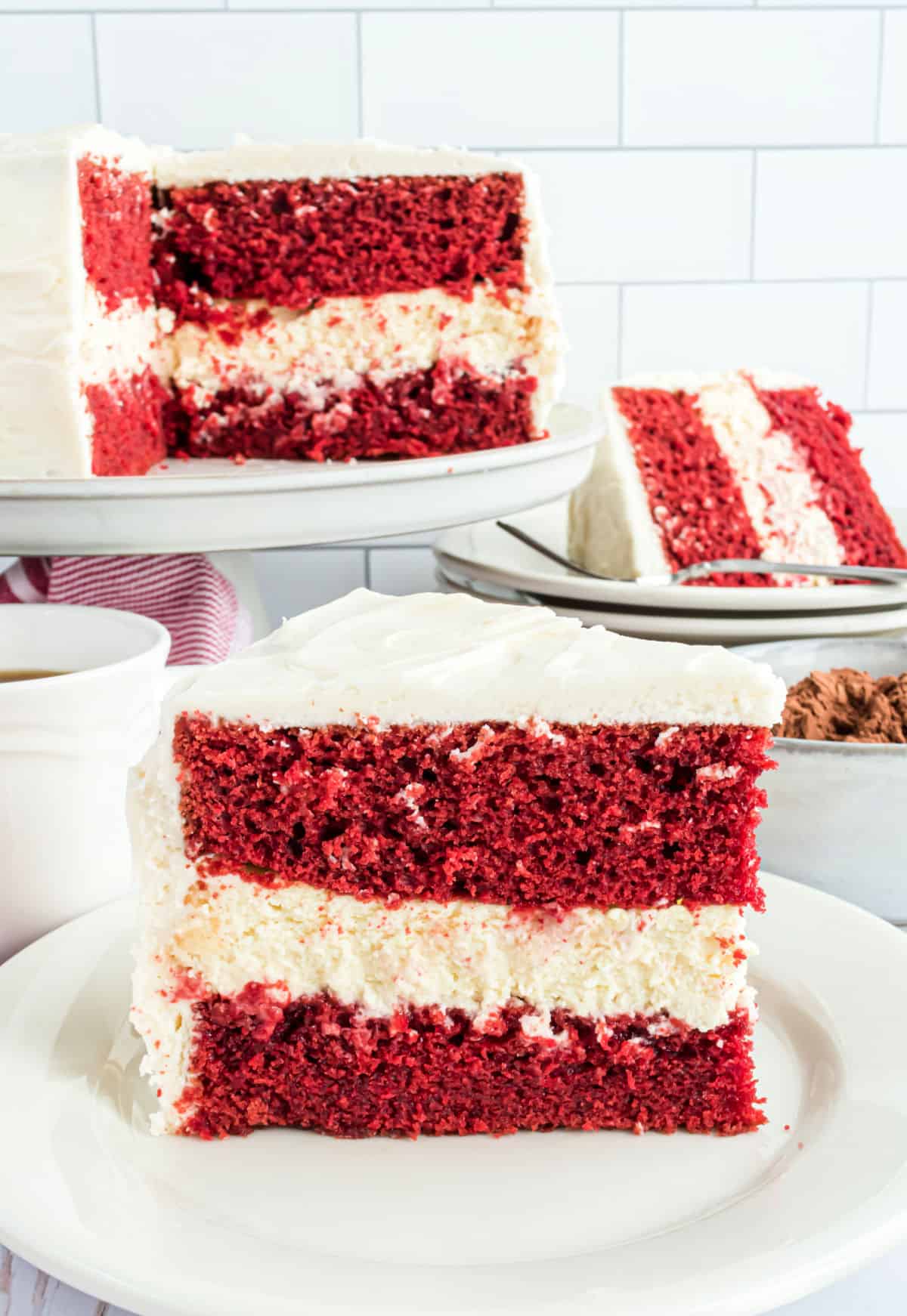 Why You'll Love This Recipe
If you're looking for an indulgent red velvet cake to top them all, here it is.
This Red Velvet Cheesecake Cake combines the best of both worlds. It's topped with dreamy cream cheese frosting and white chocolate curls for a stunning finish.
Easy enough for a beginner to make, this recipe is sure to become a conversation piece at any holiday gathering.
We think this red velvet cheesecake cake is an especially great fit at Valentine's day. The red color is brilliant and it tastes divine. 
Here are a few reasons why this recipe works so well.
It's incredibly elegant. This may not be your every-week cake, but I bet it is the one you'll come back to for holidays, birthdays and special events. Everything about it screams "you're special."
For as fancy as it looks (and tastes), the hands on time to prep this cake it is totally manageable. Even if you're a beginner, I'd recommend it.
Between the fluffy red velvet, creamy cheesecake and light cream cheese frosting there is something for everyone. Or, if you're like me, I love it all! Another reason I took a 2-in-1 approach with this cake.
Ingredient Notes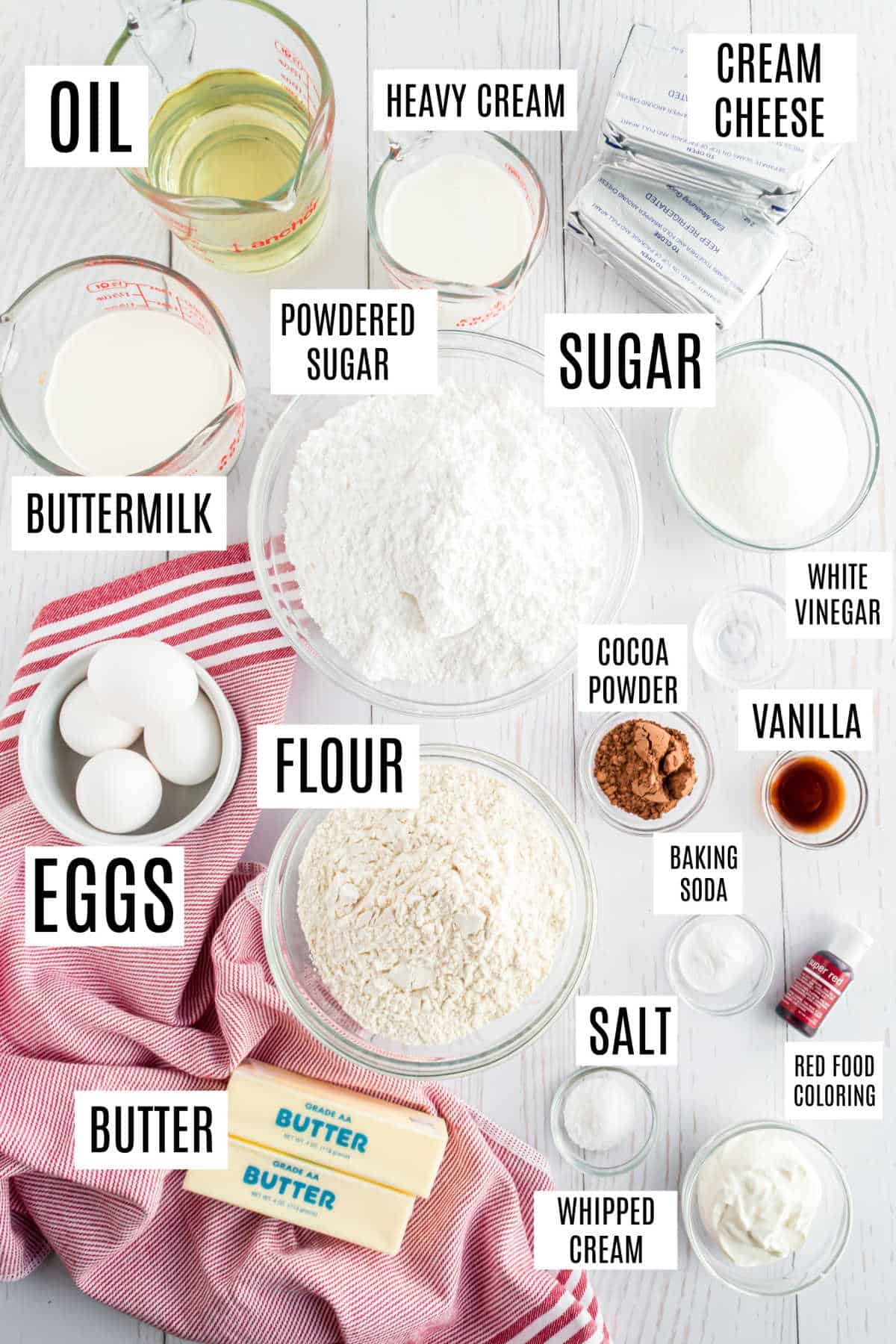 Cream cheese – A crucial ingredient for the rich cheesecake and frosting. Be sure to choose the block style cream cheese, not the type that comes in a tub.
Sour cream – Adds extra tanginess to the cheesecake.
Red gel food coloring – Provides a concentrated red color to the cake. I use Americolor Super Red Gel Food Coloring.
Unsweetened cocoa powder – Adds a touch of chocolate flavor to the cake.
Buttermilk – Tangy buttermilk adds flavor to the cake and helps it rise higher. Use our easy buttermilk substitute if you don't have any fresh on hand.
Granulated sugar
Vegetable Oil – Vegetable oil adds richness and moisture to the cake.
Eggs – Eggs bind the ingredients together and add richness.
Vanilla extract– Choose pure vanilla, or make your own. We've got a delicious vanilla extract recipe you need to try soon.
All-purpose flour
Baking soda – Helps the cake rise in the oven.
White vinegar – Activates the baking soda to help the cake rise.
Kosher salt– Learn why we use kosher salt in baking!
Heavy whipping cream – Thins out the cheesecake and frosting without sacrificing richness.
Unsalted butter – Blends with cream cheese for a rich, tasty frosting. Use our tips and tricks on how to soften butter quicky.
Powdered sugar – Provides structure to the frosting, so it stays in place.
Easy Instructions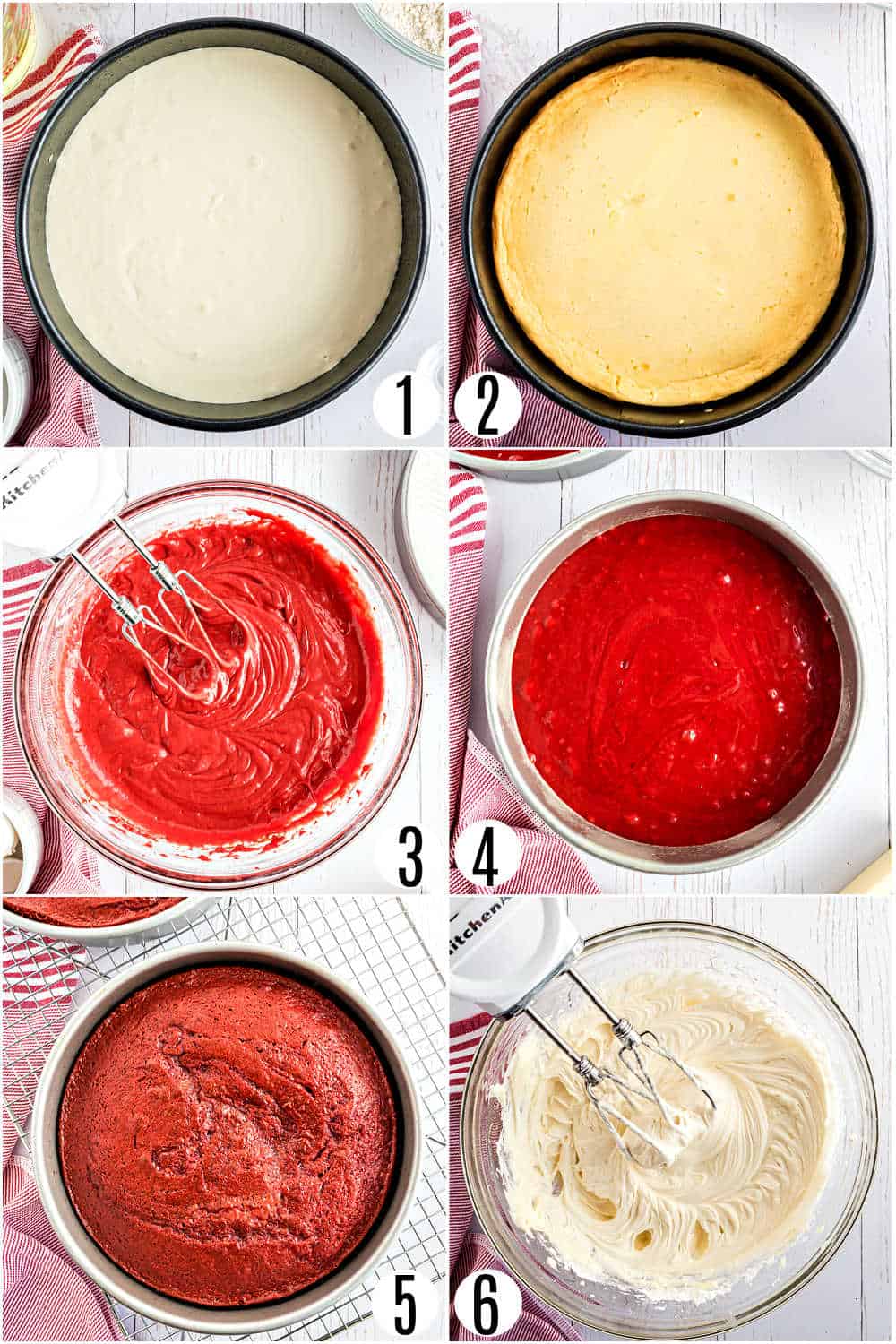 The secret to success with this recipe is planning your time wisely. There is no heavy lifting, just a little hands-on and time for each layer to cool between steps.
Make your cheesecake the night before. Beat all of the ingredients together until they're smooth, about 3 minutes. Pour this mixture into a pre-greased springform pan and bake for 45 minutes. Allow it to cool completely, and then freeze in plastic wrap overnight.
Bake your cake the next morning. Batter takes less than 10 minutes, so begin preheating your oven to 350°F before you start. Whisk together the wet ingredients first. Then slowly mix in the dry ingredients. Divide the finished batter between two greased 9-inch cake pans, using a circle of parchment paper in the bottom of each. Bake for 32-34 minutes, then remove the pans to cool completely.
Prepare the frosting. This should be done 10 minutes before you intend to assemble the finished cake. Fully combine the butter and cream cheese first. Then mix in the vanilla, powdered sugar, and heavy cream.
Assemble the cake. Start with a single layer of red velvet on a cake stand. Top it with the frozen cheesecake, making sure to remove the parchment paper. Place the second layer of cake on top. Frost it generously, spreading an even layer with an offset spatula. Finish with white chocolate shavings on top. Refrigerate until ready to serve.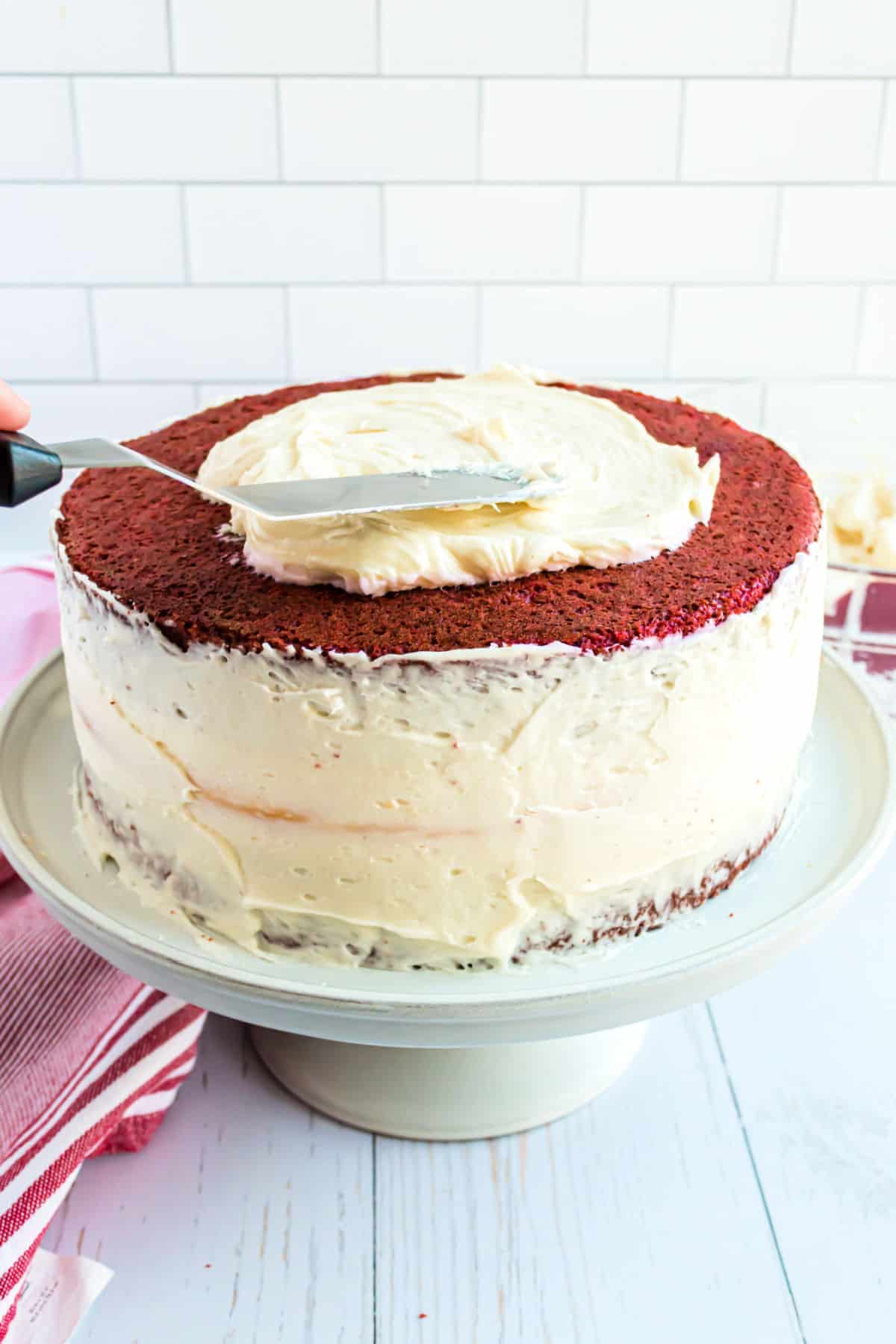 Tips & Tricks
Be patient when assembling this cake. Carve out 15 minutes for this process, even though you'll probably be done faster. Many-a-cake has been ruined by a hasty assembly. A patient mind and steady hand makes all the difference.
When preparing the cake batter, remember that the vinegar and baking soda ingredients will leaven very quickly. It's best to start with a pre-heated oven and greased cake pans standing by so that you can bake immediately.
I only use gel food colorings because one drop goes a long way. Unlike other red velvet cakes that need tablespoons of food coloring, ½ teaspoon of red gel coloring gives a bright red color.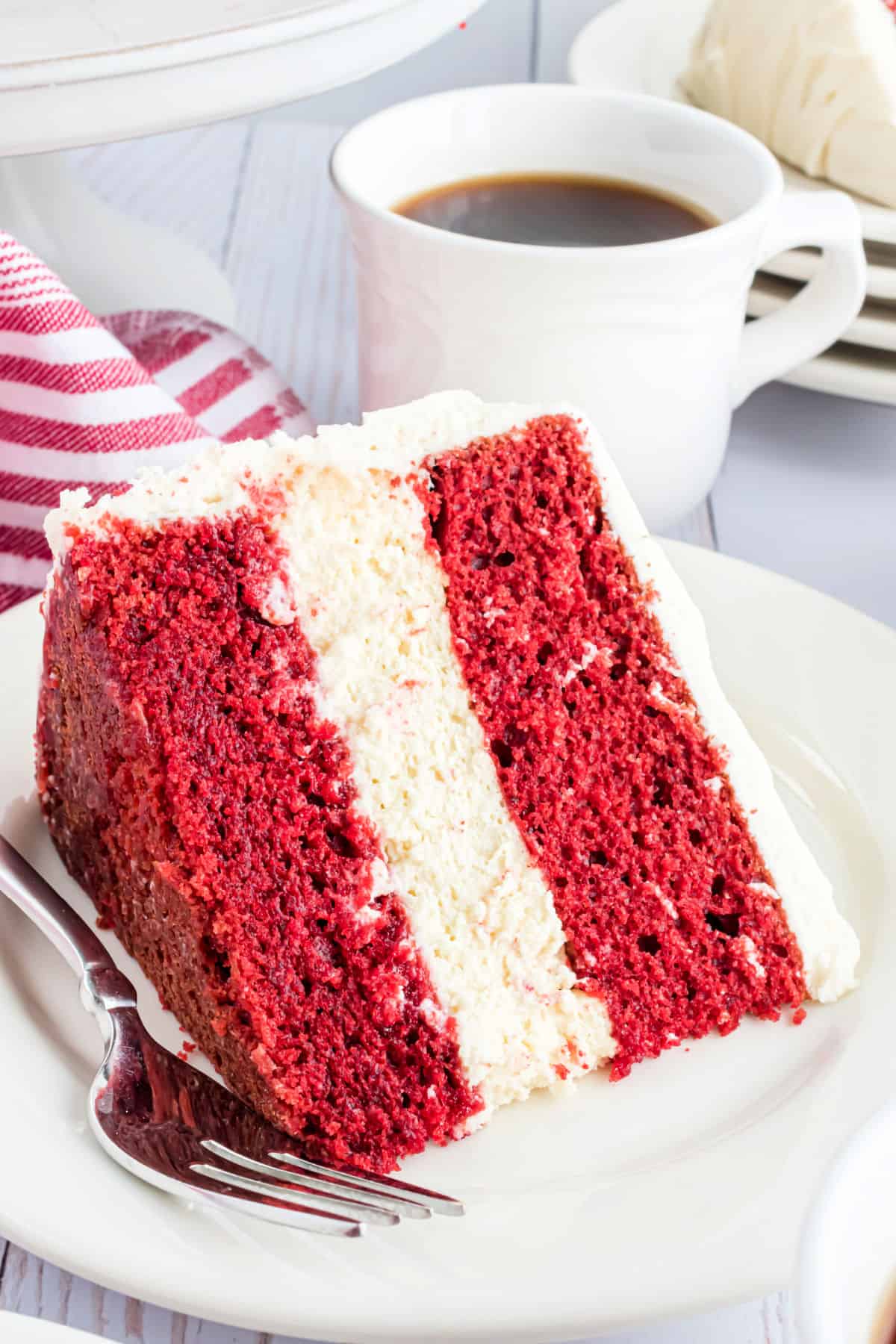 More Red Velvet Recipes 
Can't get enough red velvet? Me either.
Most folks would stop with one red velvet recipe for their holiday party. But if you really want to "wow" your guests then you might consider doing a red velvet buffet. People will be talking about it for literal years. Here are a few good companion ideas.
Start with my Red Velvet Cheesecake Brownies with a red brownie base and marbled cheesecake on top.
Red Velvet Crinkle Cookies take the classic chocolate crinkle to a new level! If you're more of a classic chocolate chip cookie fan, simple Red Velvet Cookies are chewy with white chocolate chips throughout.
Finally, make the ultimate cookie for dipping in your coffee with gorgeous Red Velvet Biscotti dipped in white chocolate. Biscotti never looked better!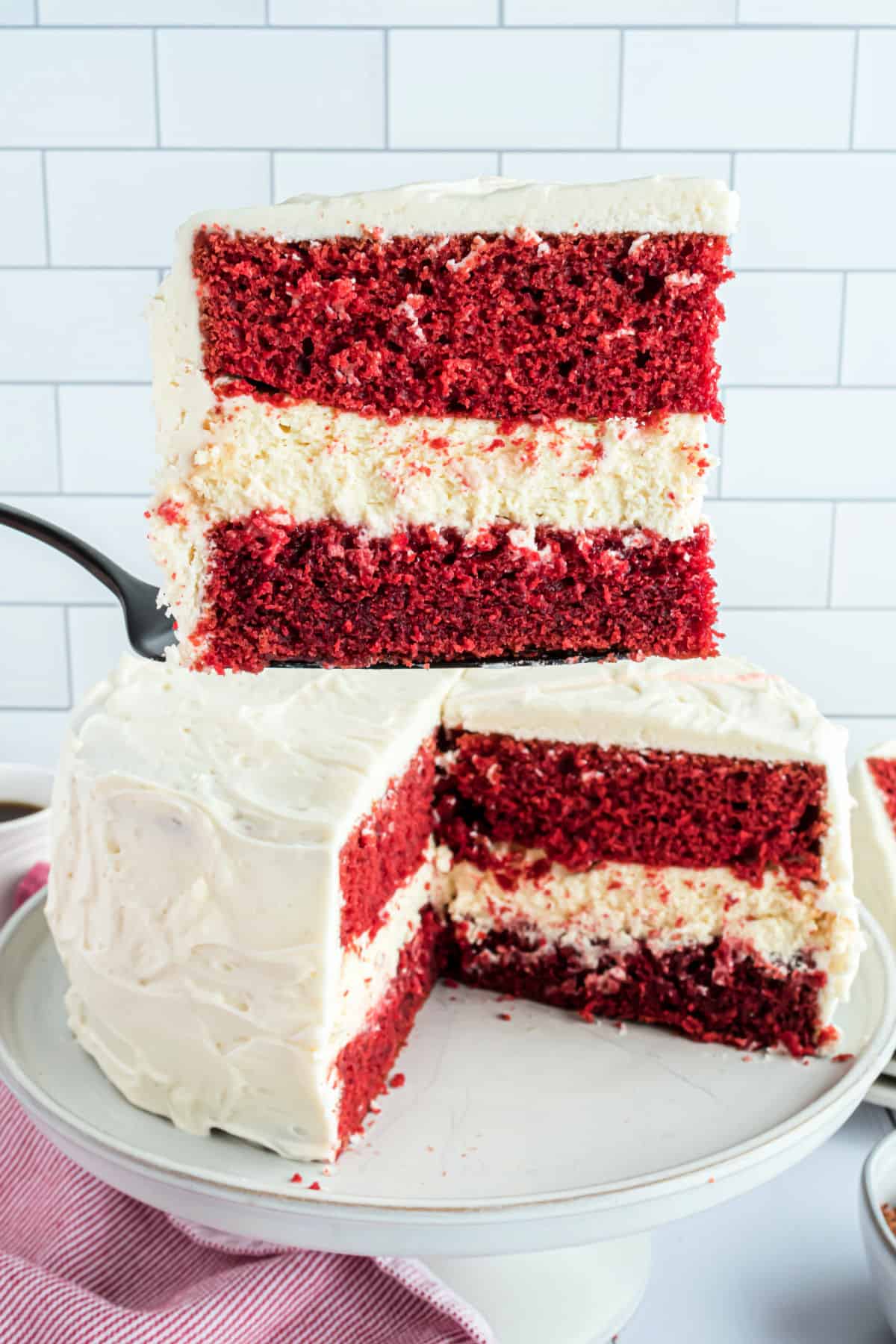 Recipe FAQs
How can I save time while making this cake recipe?
Break this recipe up into two days for the best results. Make the cheesecake and cake layers one day. Freeze the fully-cooled cheesecake overnight and store the cooled, wrapped cakes at room temp. The next day, prepare the frosting and assemble the cake.
If I don't have buttermilk, what can I use instead?
Thankfully, buttermilk is easy to substitute in a pinch. If you have milk and vinegar or lemon juice on hand, you can make your own buttermilk. 
Why do I need to leave the cheesecake in the oven after baking?
The cheesecake will continue to bake and set in the oven as it cools down, ensuring it's cooked thoroughly and is safe to eat.
How should I store this cake?
Because this cake has cheesecake inside, you'll need to store it covered in the refrigerator at all times. It's best served cold, but you can also let a slice sit at room temperature for 30 minutes before eating if you prefer.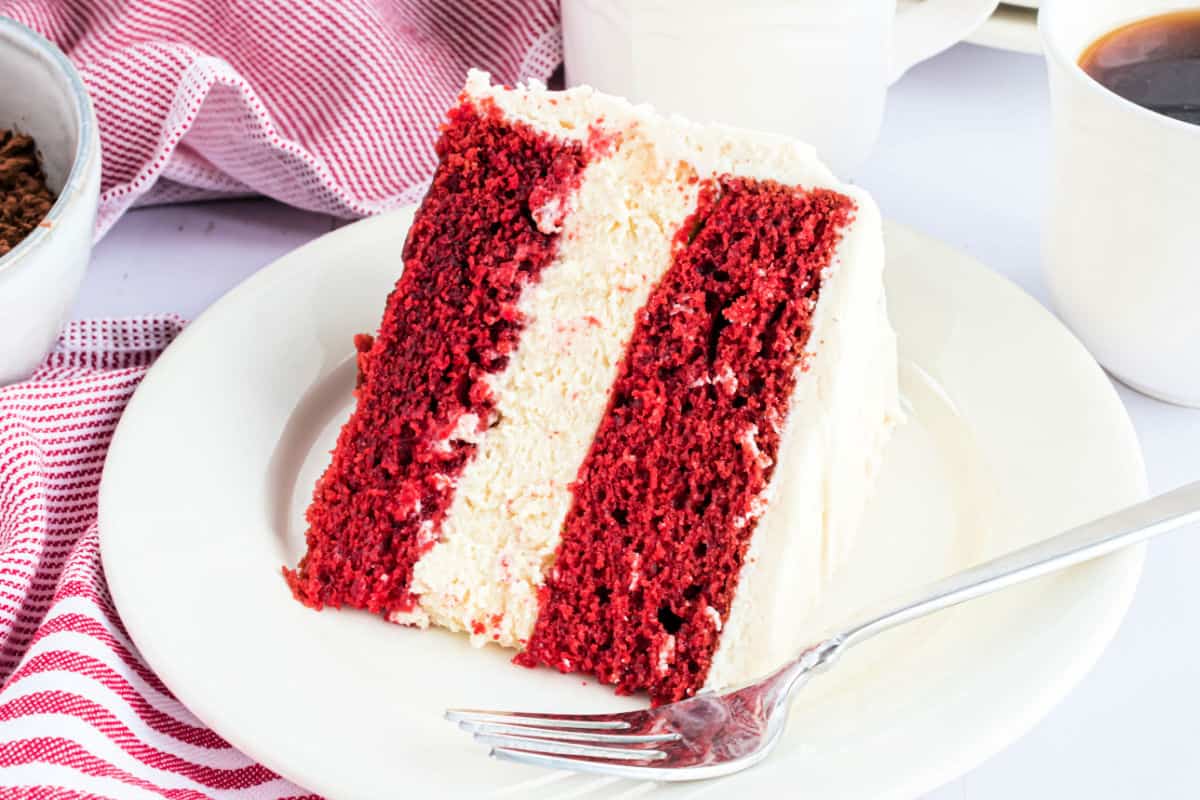 More Cheesecake Cake recipes