Chocolate Peppermint Cheesecake Cake: double chocolate layer cake with peppermint cheesecake center and peppermint frosting!!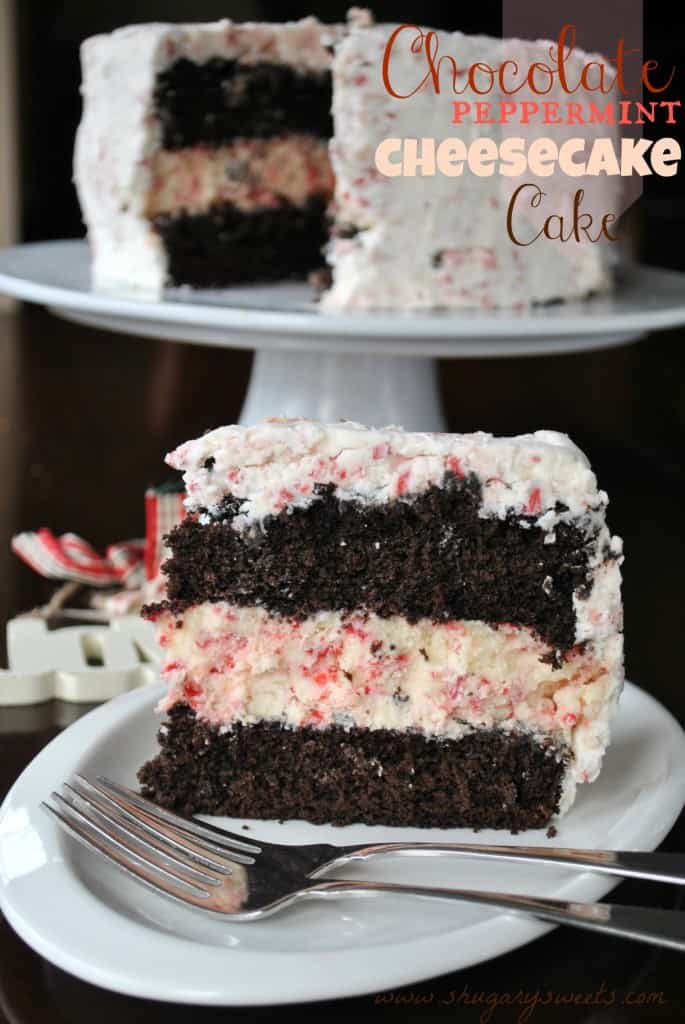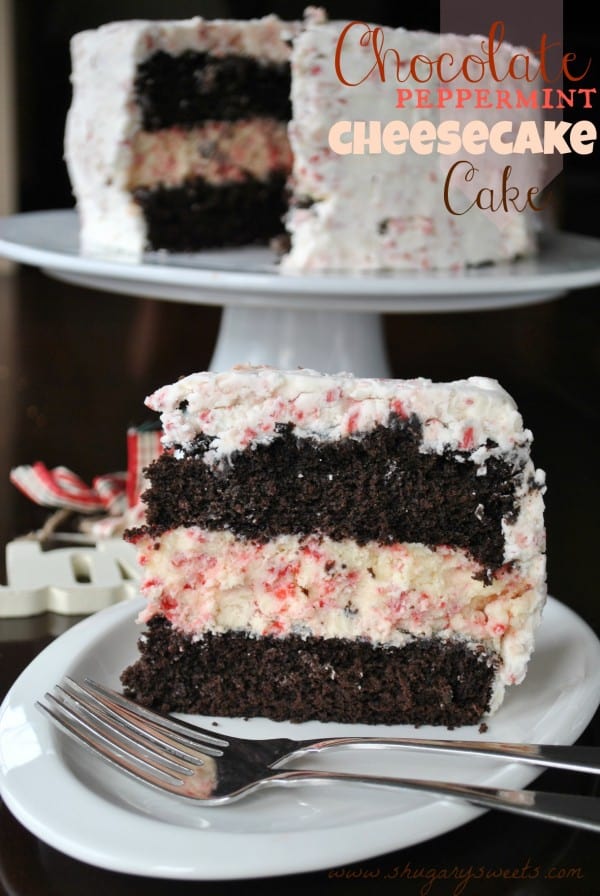 I have a new love in my life. It comes in the form of cheesecake cakes.
Seriously. I first fell in love when I made THIS pumpkin cheesecake cake. Now I've made a new version for Christmas. YOU MUST TRY THIS.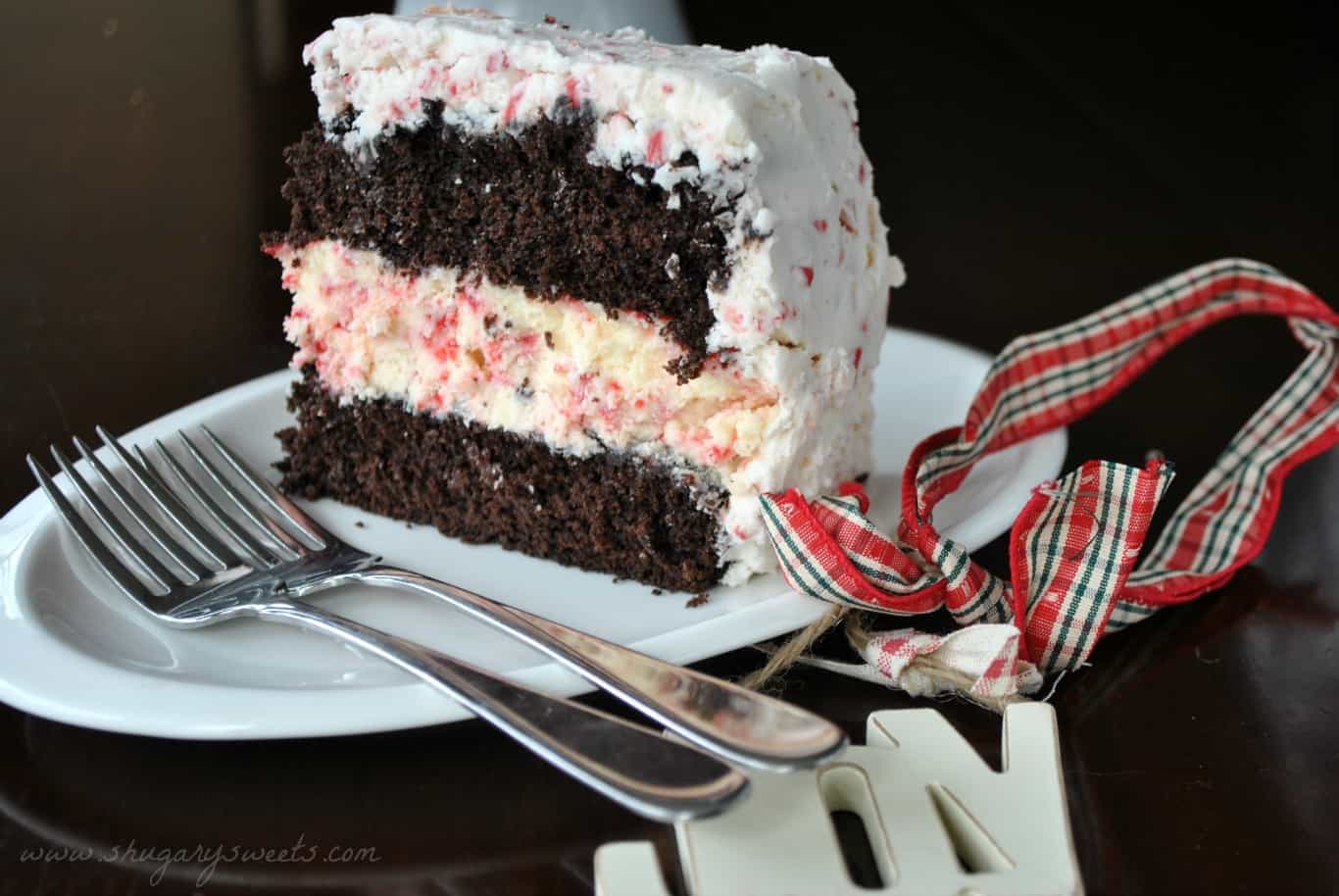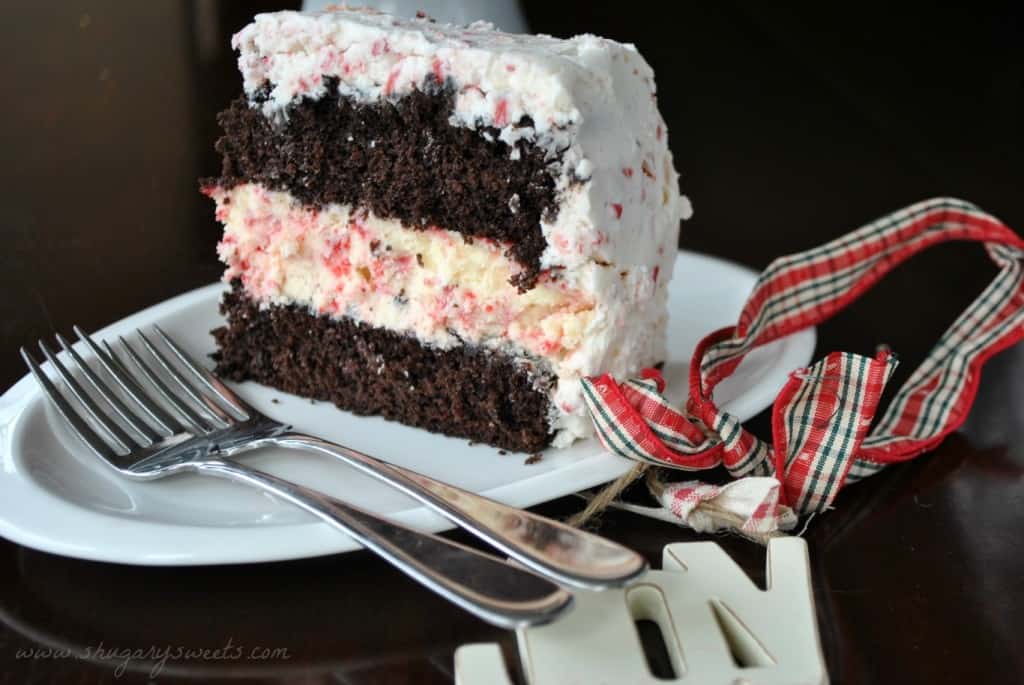 You can make it this weekend to get yourself in the spirit. Or save the recipe for the holidays when you want to impress people with your cake making skills. The best part? You can make each layer on a different day, and freeze them so they are ready when you want to assemble! You're welcome.
Now, I have all the fun holiday treats planned out…what to get for gifts for family is a whole 'nother story! Time to start shopping!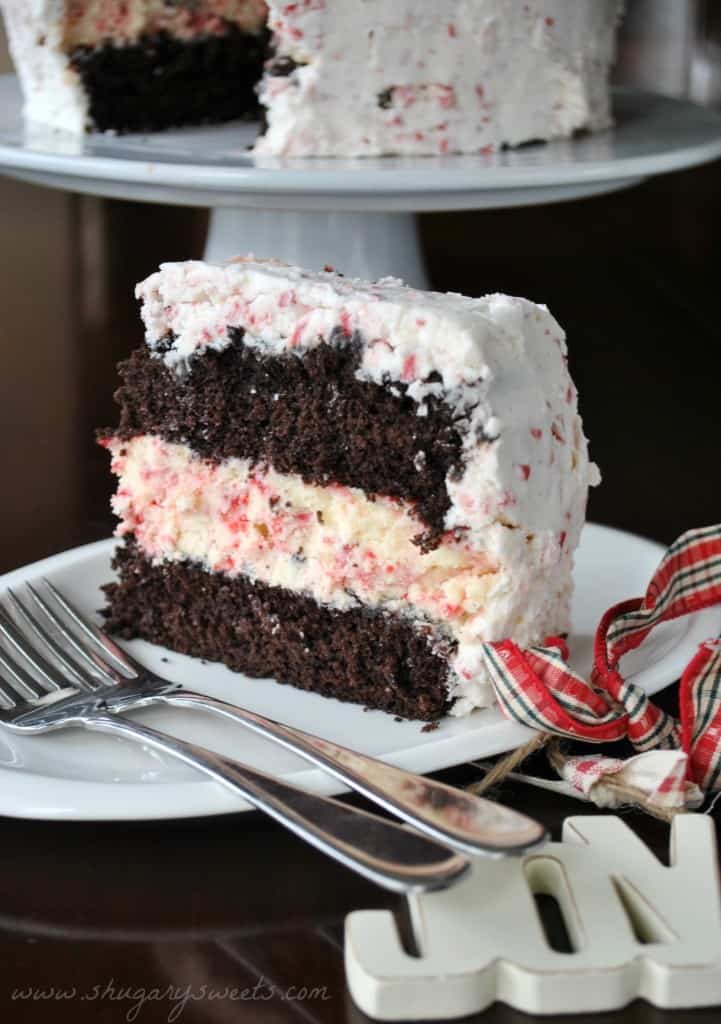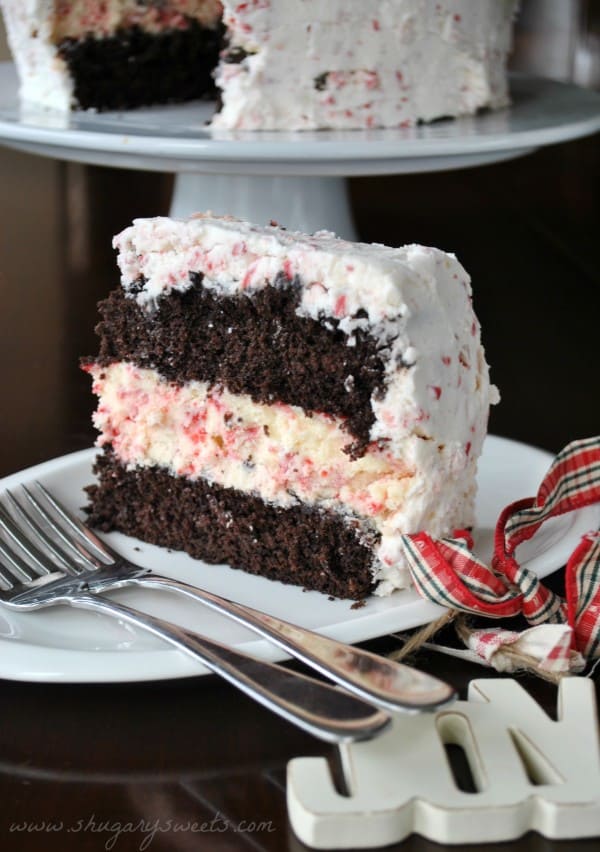 If you like this Chocolate Peppermint Cheesecake Cake, you may also enjoy these recipes….
Chocolate Chip Cheesecake Cake– chocolate cake with chocolate chip cheesecake, chocolate frosting and chocolate ganache! by Bird on a Cake
Pumpkin Cheesecake Brownie Pie– pie crust topped with brownie, topped with pumpkin cheesecake. OMG. by Inside BruCrew Life
Chocolate Cheesecake Cake– chocolate cake with a cheesecake layer topped with cream cheese frosting! by Barbara Bakes
OR
Follow my Pinterest Board: Cheesecake Heaven
Yield: serves 12-16
Chocolate Peppermint Cheesecake Cake
Cook Time
1 hour
30 minutes
Layers of chocolate cake with pepperming cheesecake filling and peppermint frosting!
Ingredients
For the Chocolate Cake Layers:
1 3/4 cup flour
1/2 cup unsweetened dark chocolate cocoa powder
1/2 tsp kosher salt
1 tsp baking soda
1/2 tsp baking powder
1/2 cup brewed coffee, cooled
1/2 cup whole milk
1/2 cup unsalted butter, softened
1 1/2 cup granulated sugar
2 eggs
For the Cheesecake Layer:
2 pkg (8oz each) cream cheese, softened
2/3 cup granulated sugar
pinch of salt
2 eggs
1/4 cup sour cream
1/3 cup heavy cream
1/2 tsp peppermint extract
1/2 cup Andes Peppermint Crunch baking chips
For the Frosting:
1 cup unsalted butter, softened
5 cup powdered sugar
1/2 cup heavy cream
1 cup Andes Peppermint Crunch baking chips
Instructions
For the Cakes:
In a small bowl, mix flour, cocoa, salt, baking soda and baking powder. Set aside.
In a measuring cup, mix together cooled coffee and milk. Set aside.
Grease 2- 9inch round baking pans and line the bottom with parchment paper. Set aside.
IN mixer, beat butter and sugar for 5 minutes, until smooth. Add eggs, one at a time. Slowly add in dry ingredients alternating with the coffee and milk mixture, about 3 additions of each.
Pour cake batter evenly into the 2 prepared pans. I also use Wilton's Baking Strips on my pans to keep the cakes from getting rounded on the tops (I found them at Michaels).
Bake in a 350 degree oven for 25 minutes. Remove and cool on wire rack. When completely cooled, you can wrap each layer in plastic wrap and put in the freezer for later assembly!
For the Cheesecake Layer:
Preheat oven to 325 degrees. Using a large roasting pan on the lower 2/3 of the oven, preheat the pan too!
Prepare springform pan by wrapping bottom of pan (outside) with double layer of foil. Spray pan with nonstick baking spray and line bottom (inside) with a circle of parchment paper.
Meanwhile, boil a kettle of water to use later.
Beat cream cheese with granulated sugar for 2-3 minutes until creamy. Add in salt and eggs, one at a time, beating well after each addition. Beat in sour cream, heavy cream and peppermint extract. Fold in baking chips. Pour into prepared 9inch springform pan. Place pan in center of preheated roasting pan in the oven. Pour boiling water slowly into the roasting pan, until there is about an inch of water coming up the sides of the springform pan.
Bake cheesecake for 45 minutes. Turn oven off and let cheesecake sit in oven for an additional 30 minutes. Remove and cool completely on counter.
When cooled, transfer entire springform pan into the freezer for several hours or overnight. I put it in freezer for about 2 hours. Remove cheesecake and wrap in plastic wrap and return to freezer, or assemble cake.
For the frosting,
beat butter for 3 minutes. Add powdered sugar and heavy cream and beat an additional 3-5 minutes until fluffy. Add baking chips.
To assemble the cake, lay one frozen layer of chocolate cake on cake plate. Top with frozen cheesecake and second layer of chocolate cake. Frost sides and top with a thin layer of frosting to apply a crumb coat. Refrigerate 30 minutes to an hour. Remove from refrigerator and frost remaining cake. I keep the cake covered in the refrigerator until ready to eat.
Remove and allow to sit about 15 minutes before slicing. ENJOY!
Recommended Products
As an Amazon Associate and member of other affiliate programs, I earn from qualifying purchases.