Chocolate Peppermint Cheesecake Cake – Double chocolate layer cake with creamy cheesecake center and peppermint frosting! This rich dessert is sure to steal the show at your holiday celebration!
Love chocolate and peppermint? Try our delicious Chocolate Peppermint Biscotti recipe with your morning cup of coffee! Or give these easy Chocolate Peppermint Grahams a try for a tasty no bake treat.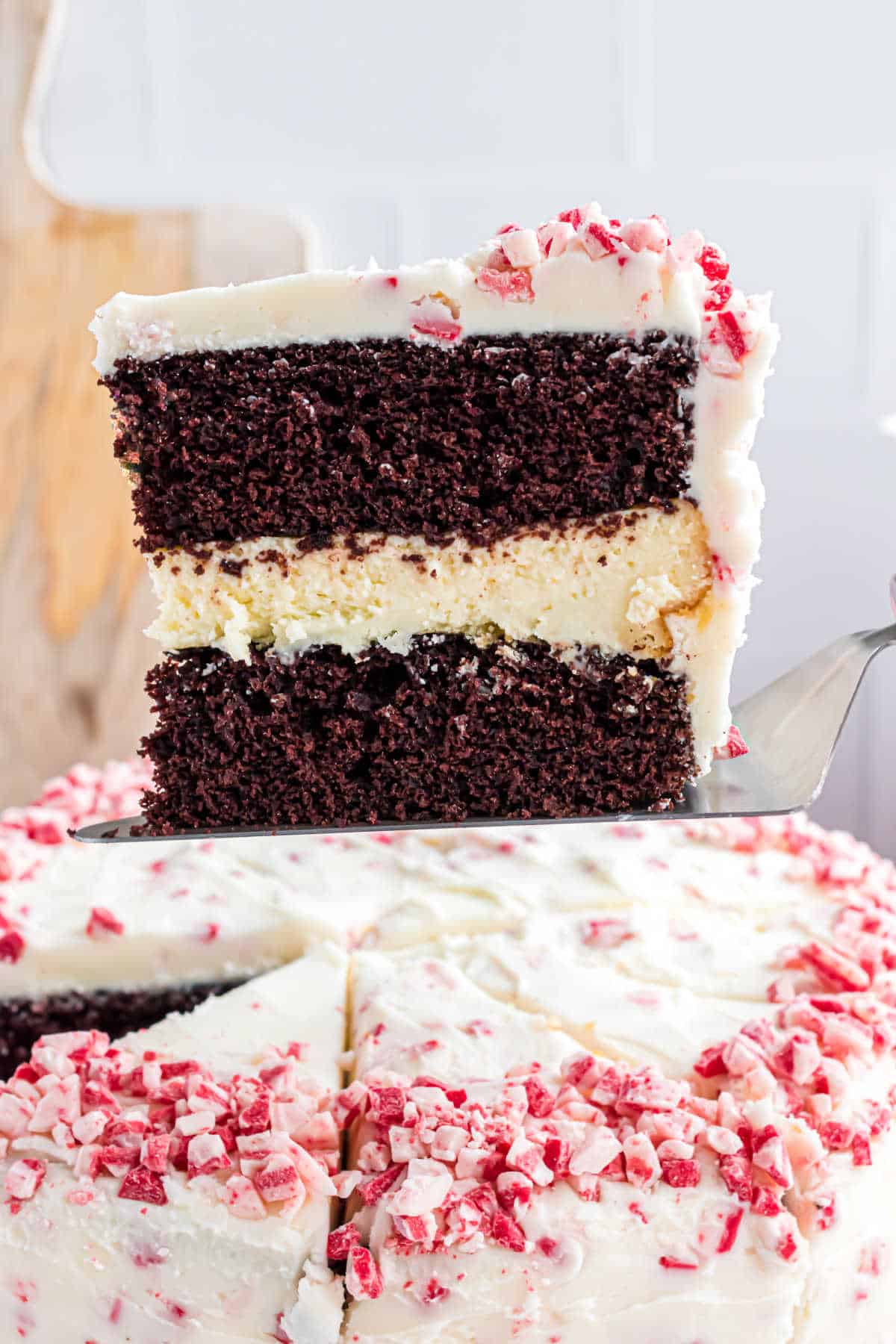 The Ultimate Holiday Cake
I have a new love in my life. It comes in the form of cheesecake cakes.
Seriously. I first fell in love when I made a pumpkin cheesecake cake. Now I've made a new version for Christmas.
Believe me. There is NOTHING like this dessert. It has layers of rich chocolate cake surrounding a thick creamy cheesecake filling.
Two cakes in one? Yes, please!
Add in a fluffy buttercream frosting flecked with crunchy peppermint candies and you have the ultimate holiday dessert. A slice of this is the best way to celebrate the most festive time of the year.
Ingredient Notes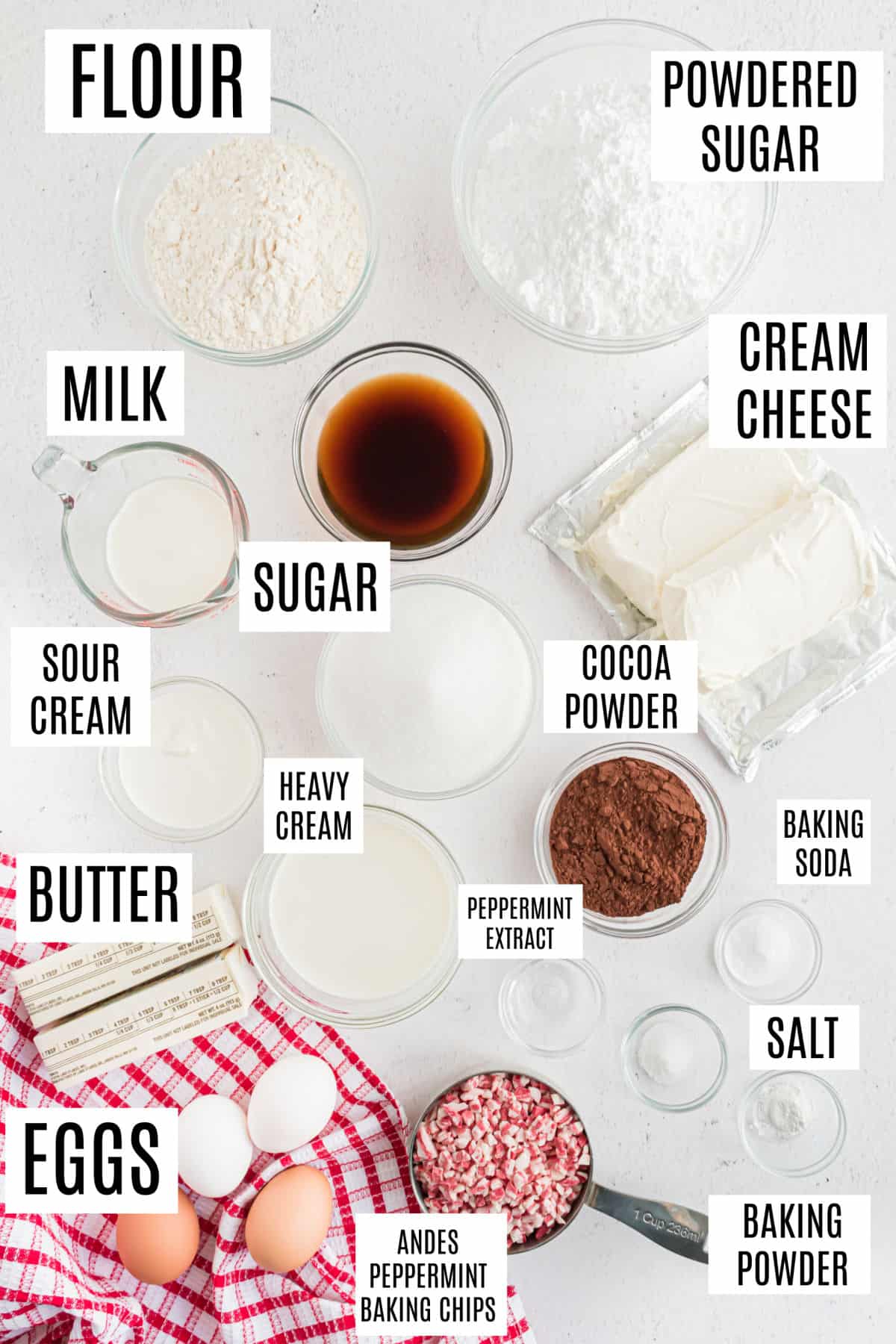 The recipe starts with a rich dark chocolate cake. You'll also need to plan ahead to make the cheesecake layer ahead of time.
Cocoa powder- The dark chocolate cocoa powder makes the cake layer extra rich and chocolate-y. If needed, you can swap it for regular unsweetened cocoa.
Coffee – Cooled brewed coffee is the other secret to getting the deepest chocolate flavor in the cake. Make a little extra with your morning pot and set it aside to cool until you're ready to bake the cake. And no, the cake will NOT taste like coffee.
Andes peppermint crunch baking pieces – Folding these into the cheesecake layer and the frosting makes the peppermint flavor shine. You'll see I use these candies in our peppermint cheesecakes too! Avoid crushed candy canes as it will create an entirely different texture.
You'll need to soften the butter and cream cheese to make a creamy frosting. Use our tips and tricks on how to soften butter quickly!
Step by Step Instructions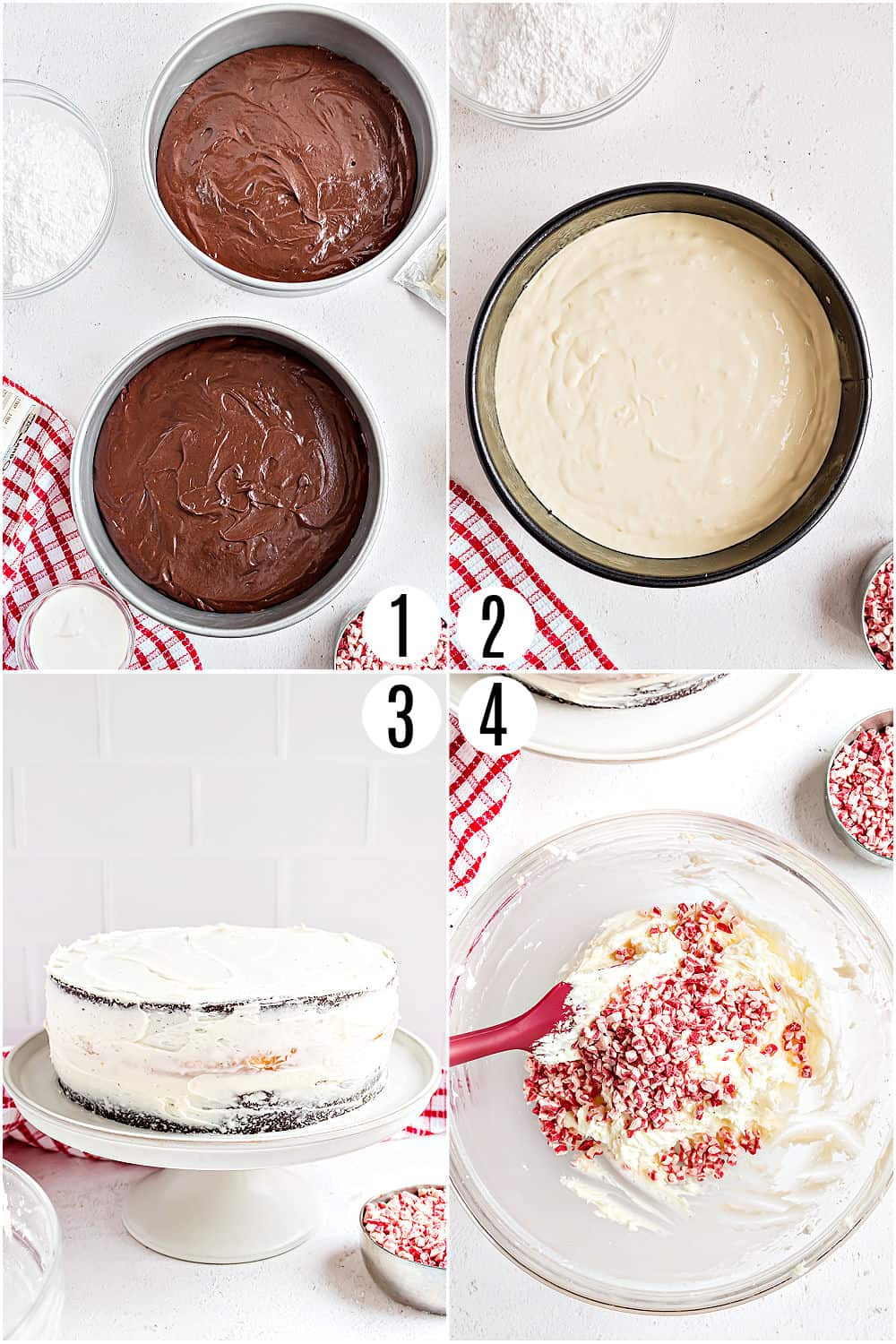 Yes this cake takes a little more time and effort than some Christmas desserts. The results are more than worth it!
STEP 1. Chocolate cake layers
You'll need two 9-inch layers of chocolate cake. Freeze until ready to use or while you make the cheesecake layer.
STEP 2. The cheesecake layer
Adding a pan of water to the oven (but not necessarily putting the cheesecake IN the pan) still gives the same moist atmosphere this cheesecake needs to create a perfect texture.
When cooled, transfer entire springform pan into the freezer for several hours or overnight. Then, remove cheesecake and wrap in plastic wrap and return to freezer until you're ready to use.
STEP 3. Crumb coating of frosting
You'll need to create a crumb coating on the assembled cake. This provides a nice base to spread the chunky peppermint frosting over.
STEP 4. Frost
Frost entire cake with peppermint buttercream frosting. Add extra andes peppermints on top.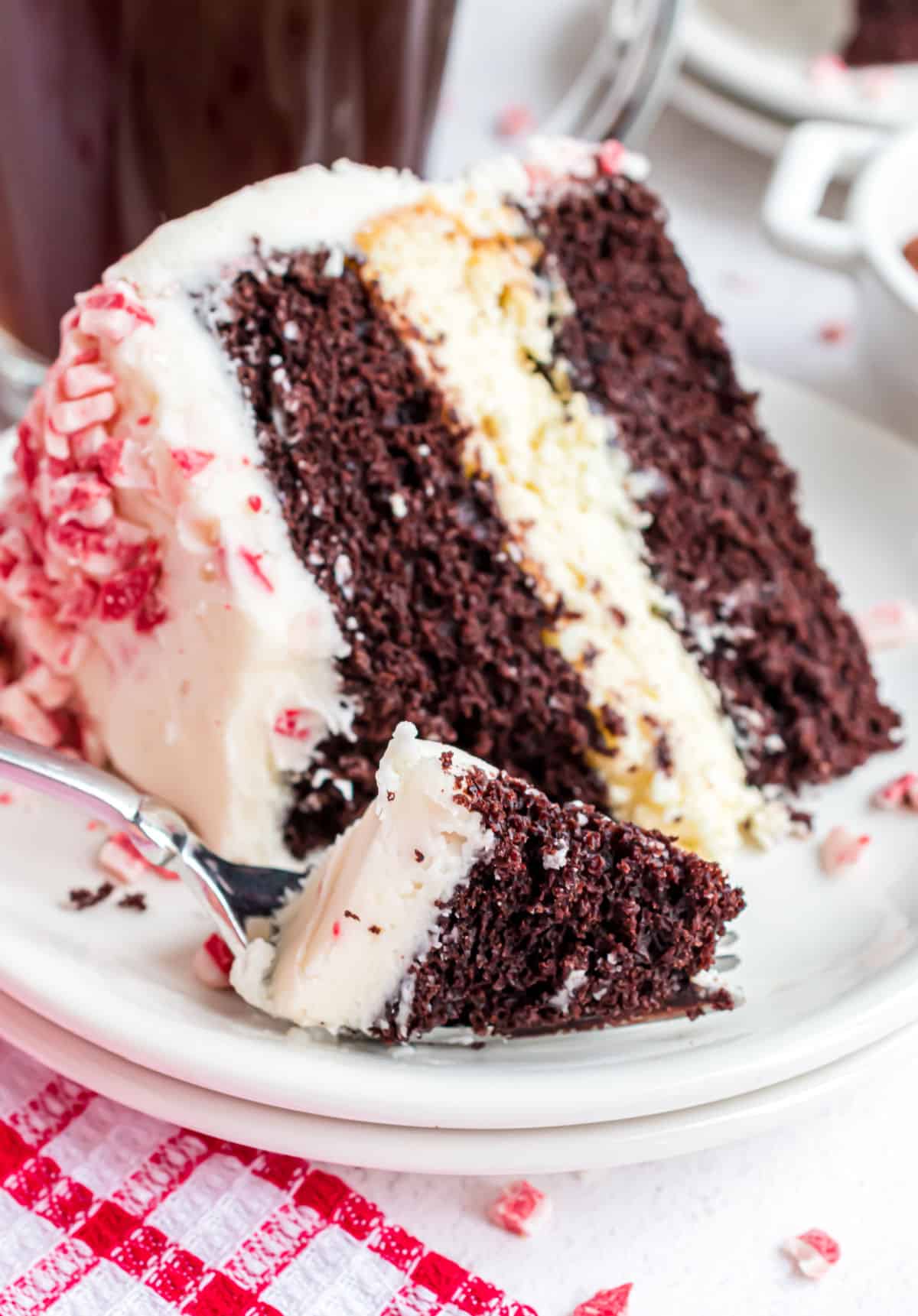 Recipe FAQs
Can you make a cheesecake cake ahead of time?
Make the Chocolate Cake layer, then wrap in plastic wrap and foil and freeze. Additionally, you can make the cheesecake layer ahead of time and freeze. Then, when you're ready to serve the cake, put everything together, top with the frosting and you have an incredible homemade cake without much effort. This cake can also be fully made and assembled up to the day before.
How do you store a Cheesecake cake?
Store your cheesecake cake in the fridge tightly covered, then let stand at room temperature for at least 15 minutes before slicing and serving. Garnish with more crushed peppermint candies or candy canes if desired.
What do I do if my cheesecake cracks?
Nothing. If your cheesecake cracks, it's okay. You can still use it between the cake layers, nobody will know!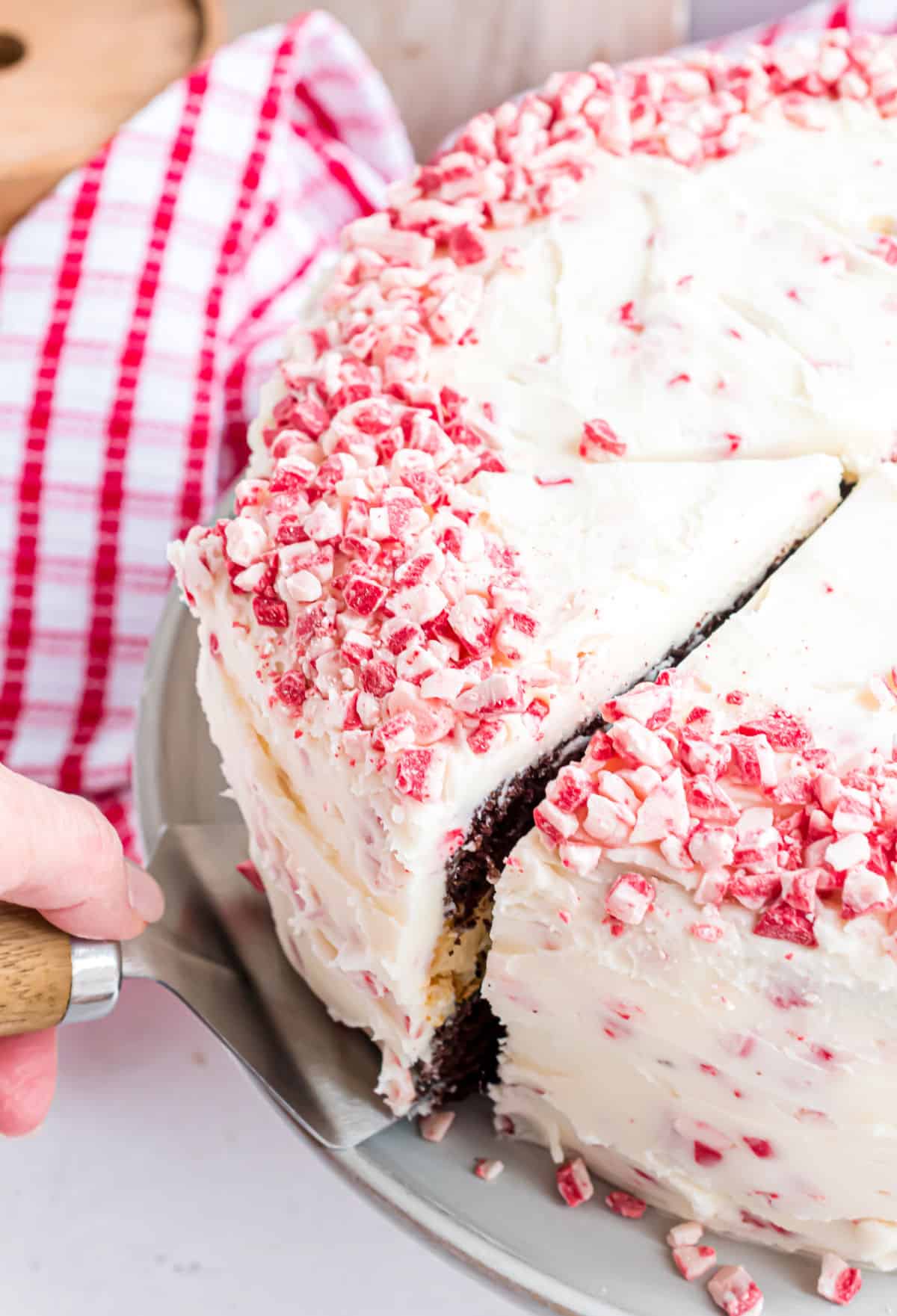 More Cheesecake Cake Recipes
Love cheesecake cakes? Here are a few of our favorite versions!
Salted Caramel Cheesecake Cake– two layers of chocolate cake, with creamy caramel buttercream frosting and a layer of cheesecake in the center!
Red Velvet Cheesecake Cake– two layers of red velvet cake with cream cheese frosting.
Eggnog Cheesecake Cake– the ultimate holiday dessert. From scratch spice cake with creamy eggnog cheesecake filling and frosted with homemade eggnog buttercream.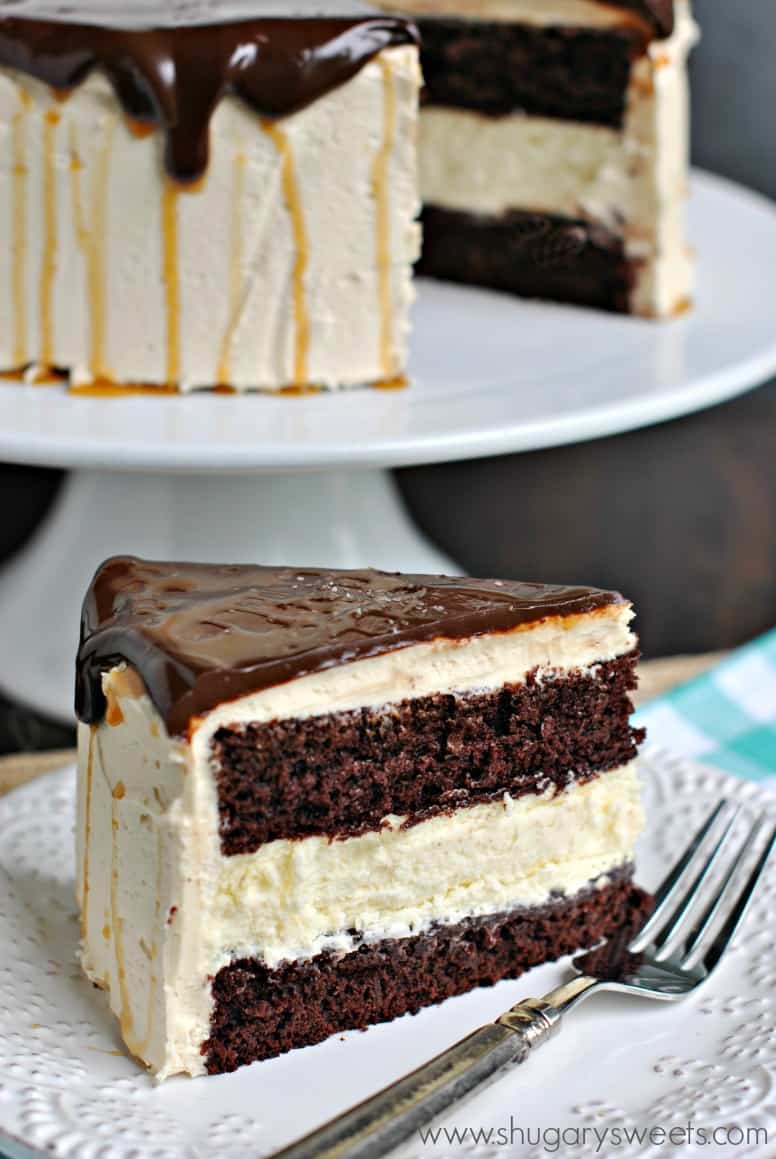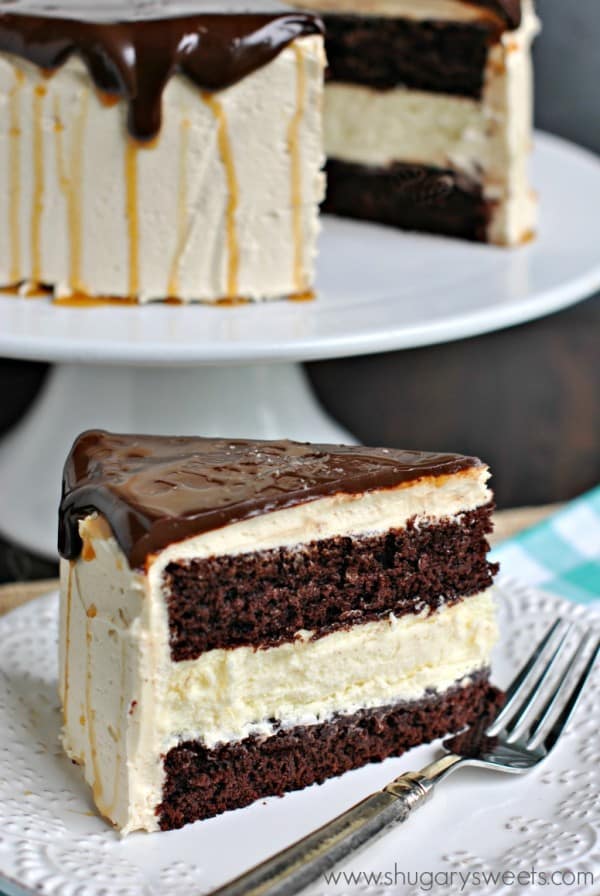 More Cake Recipes
Can you imagine any more indulgent and delicious Christmas themed dessert? This Chocolate Peppermint Cake with a cheesecake center is guaranteed to impress!