This Eggnog Cheesecake Cake is made with homemade spice cake and a rum flavored cheesecake filling. Topped with a creamy eggnog buttercream frosting, it's the perfect holiday dessert for eggnog lovers!
If you LOVE eggnog, be sure to try these delicious Eggnog Cupcakes. Or whip up an Eggnog Latte to enjoy by the fire with a holiday movie!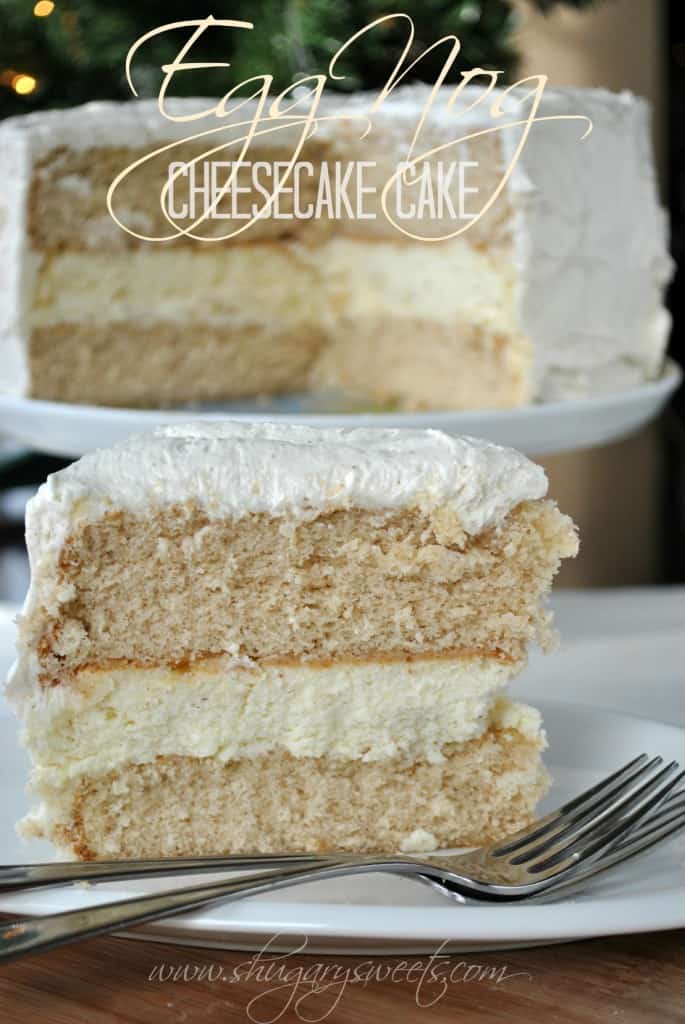 Holiday Cheesecake Cake
I'm obsessed with making this red velvet cheesecake cake. So it was only necessary I make an eggnog version for the holidays!
This Eggnog Cheesecake Cake starts with a two layers of homemade spice cake.
Nutmeg and rum extract give the center cheesecake layer an authentic eggnog taste!
It's topped with a rich buttercream frosting filled with all the eggnog flavors you love.
This cake is creamy, and spicy, and just plain delicious. It's the exact cheesecake cake you want to dig into after a night of caroling or Christmas shopping.
Ingredient Notes
Egg whites – Don't waste the yolks when you separate out the whites. Save them to make Homemade Lemon Curd!
Cake flour – This flour gives the spice cake layers a light and airy texture.
Buttermilk – If you don't have any on hand, my Buttermilk Substitute works beautifully here.
Rum flavoring – The essential ingredient for eggnog flavored desserts! Pick up a bottle for this cake, then use the rest to make my Eggnog Cheesecake Bars and Eggnog Truffles.
Low fat eggnog – Also called "light eggnog", it gives the frosting the perfect flavor without making it too heavy. Or use our homemade eggnog recipe!
How to make an Egg Nog Cheesecake Cake
Anyone who has made cheesecake and layer cakes separately can make a cheesecake cake!
The biggest difference between regular cheesecake and the cheesecake used in my favorite cheesecake cake recipes is that there is no crust on the bottom of the cheesecake. The bottom cake layer is your "crust" here!
When I make an Eggnog Cheesecake Cake, I like to make the cheesecake first. It bakes at a lower temperature, so it is easier to increase the oven temperature for the cake after the cheesecake is done than vice versa.
While the cheesecake is chilling, make the cake layers and let them cool. Make sure to leave the cheesecake in the fridge until you're ready to assemble the cake to keep it nice and cool!
Just before assembling, beat together the eggnog frosting ingredients.
How to assemble:
Place one layer of spice cake on a cake plate. Place the cheesecake on top followed by the second layer of spice cake.
Spread the eggnog frosting over the top and sides of the cheesecake cake. Slice, serve and enjoy.
Tips and Tricks
Let your egg whites come to room temperature before adding them to the cake batter. Room temperature egg whites are easier to incorporate into the batter.
I use Wilton Bake Even Cake Strips to make perfectly even cake layers.
Prepare your springform pan by wrapping it in a double layer of foil before baking the cheesecake. Then spray the inside with plenty of cooking spray so the cheesecake slides out easily after baking.
Want a simple cheesecake without the cake? Try our creamy eggnog cheesecake recipe!
Recipe FAQs
How do you store this cake?
Once assembled, this cake holds up well (covered) in the refrigerator for several days.
Do I have to whip my egg whites before adding them to the cake batter?
Nope, you do not need to whip or beat the egg whites before adding them to the other ingredients in the cake batter!
What can I use instead of rum flavoring?
The rum flavor makes this eggnog dessert taste just like a cozy mug of eggnog. But if you don't have it or don't like it, you can replace rum flavoring with vanilla extract in this eggnog cheesecake cake recipe.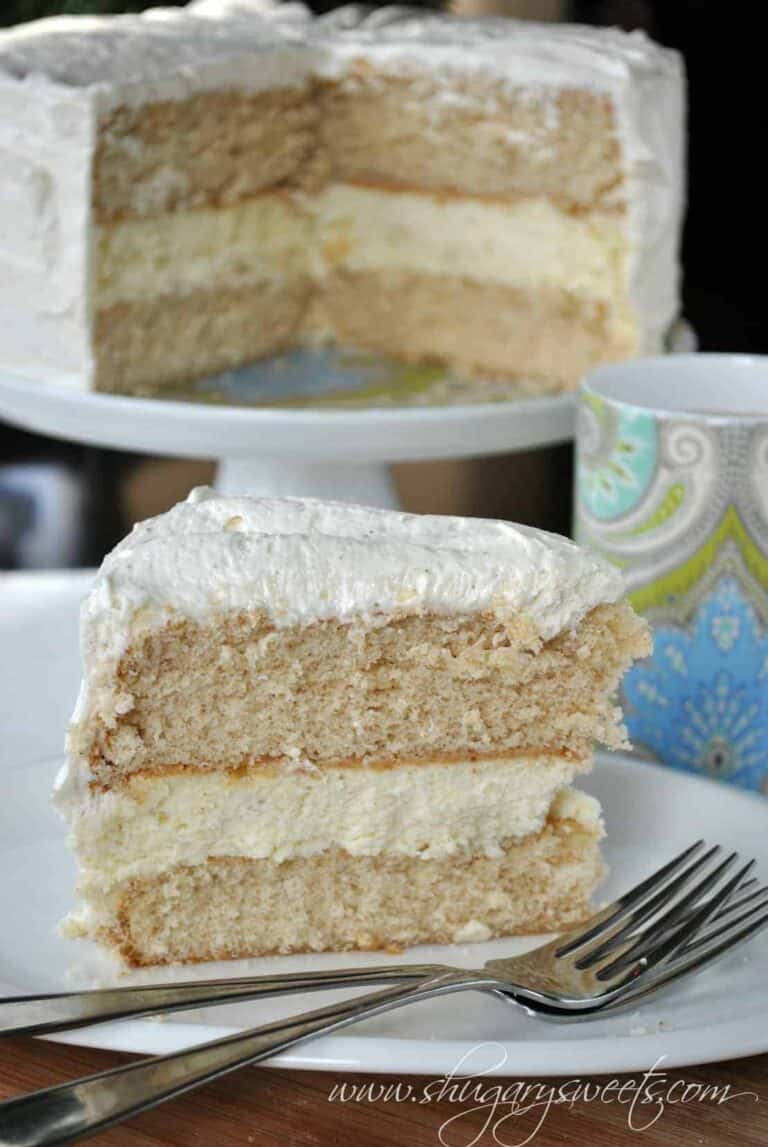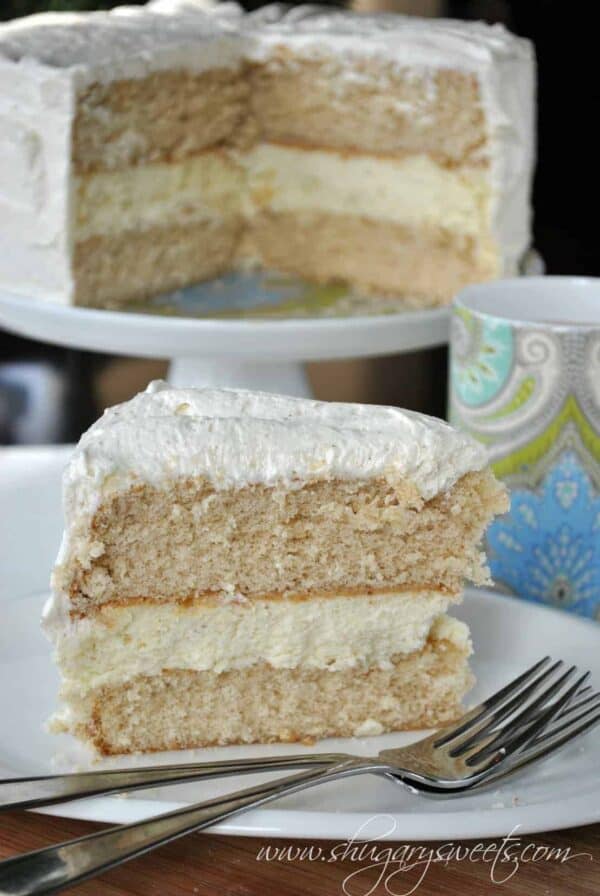 More Cheesecake Recipes