Homemade Christmas truffles? Yes, you can! These Eggnog Truffles are a homemade candy dressed to impress–and easier to make than you'd ever expect!
I love making home made candy. It feels so special when you present someone with a bag or jar of candies you made with love.
Contrary to popular belief, homemade truffles are not at all tricky to make, when you have the right recipe. These Eggnog Truffles make a perfect (and unique) addition to this year's Christmas Cookie exchange. They're also a fun gift idea!
Eggnog Candy
I've written before about my family's insistence that they love eggnog. Then, I buy it and no one touches it.
I've accepted this as inevitable. I've even learned to love it, because it gives me an excuse to experiment with all kinds of eggnog recipes, including eggnog candy.
Eggnog Fudge disappears much faster than a carton of eggnog does in my house! Now, I've learned to make Eggnog Truffles, too. I'm starting to think my family is requesting that I buy so much eggnog on purpose…so they'll get eggnog candy to snack on.
In any case, I'm not sad about it. It's borderline impossible to be sad when you're popping these sweet, soft and decadent bites of Christmas truffles into your mouth!
How to Make Eggnog Truffles
Don't be intimidated by the number of steps in this truffle recipe. If you can bring a pot to boil, you can make your own eggnog candy.
STEP 1. Boil eggnog
In large pot, bring sugar, eggnog and butter to a rolling boil and let boil for 2 minutes. Remove it from heat and mix in nutmeg and rum flavoring.
STEP 2. Add marshmallow cream
Add marshmallow cream and white chocolate morsels to the eggnog mixture. Use an immersion blender or transfer to your stand mixer and blend everything together until the chocolate is completely melted and well incorporated.
Pour into a parchment lined baking sheet and refrigerate this mixture until cold and set. For me, that takes about an hour.
STEP 3. Form truffles
When the truffle mixture is set, remove it from the pan and cut it into bite sized pieces. Roll each piece into a ball, then freeze for one hour.
STEP 4. Coat with candy
Melt vanilla candy coating according to package directions and put it in a deep glass or bowl. Using a toothpick, dip each truffle into the melted chocolate, tapping the excess off on the side of the bowl.
Set onto parchment lined cookie sheet and sprinkle each truffle with a tiny pinch of nutmeg. Allow these to set about half an hour in refrigerator.
Serve cold and enjoy!
How to store
Keep your eggnog candy covered in the fridge. They will keep their shape and texture at room temperature for a few hours, provided your room isn't too warm but I like them best when they are chilled.
In the fridge, these stay good for about a week. Whenever I have some of these candies in the fridge, though, I have a hard time resisting stealing one from the container every time I open the refrigerator!
Tips and Tricks
An immersion blender, electric beaters or mixers is the quickest way to incorporate all the white chocolate morsels and make sure they melt. If you don't have any of these, just use a heavy spoon and a little elbow grease to mix the ingredients together well. You want the truffle mixture to be smooth, with no obvious chunks of white chocolate left.
For perfectly evenly sized truffles, use a kitchen scale to measure each truffle before rolling it into a ball. This isn't necessary, of course, if you trust yourself to eyeball the size, but it does add a nice "polished" look to a plate of homemade truffles when they are all the same size.
The rum extract adds an authentic eggnog flavor to these truffles. If you do not have it and don't want to buy any, you can substitute vanilla extract.
Christmas Truffles
Looking for more delicious and easy festive Christmas candy recipes? Welcome to the homemade candy addiction!
Easy Chocolate Truffles are the classic truffle that will never steer you wrong. Delicious on their own or for dressing up with sprinkles and other toppings.
Peppermint Truffles with a cool minty twist are a must try for the holidays. The'd be perfect on a candy platter next to these Eggnog ones.
Candy Cane Fudge isn't a truffle recipe but it's a seasonal Christmas time fudge that you must try at least once if you love the combo of chocolate and peppermint (and who doesn't?). It's so pretty on a cookie tray too!
Grab a carton of eggnog and make your very own truffles! Eggnog Truffles have all the flavor of the classic holiday beverage rolled into sweet bites of Christmas cheer.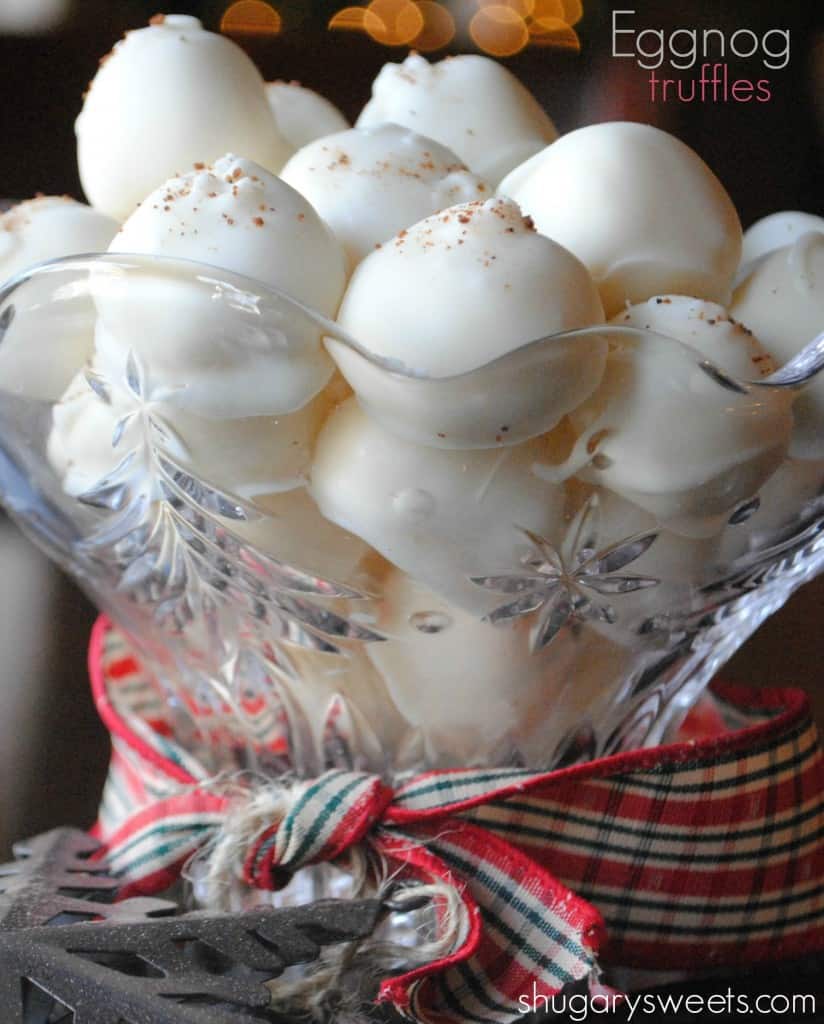 You CAN make truffles! You MUST make truffles! Enjoy!
Yield: 6 dozen
Eggnog Truffles
Ingredients
2 cups granulated sugar
3/4 cup eggnog
1/2 cup unsalted butter
1 tsp rum flavoring
1 tsp nutmeg
1 cup marshmallow cream
3 cups white chocolate morsels
2-(16oz pkgs) vanilla candy coating
1 Tbsp nutmeg, for garnish
Instructions
In large pot, bring sugar, eggnog and butter to a boil. Boil for 2 minutes (rolling boil). Remove from heat and mix in rum flavoring and 1 tsp nutmeg.
Pour mixture into a mixing bowl (or use an immersion blender). Add in marshmallow cream and white chocolate morsels. Blend until completely melted and incorporated (took about 1 1/2-2 minutes). Pour into a baking sheet lined with parchment paper. Refrigerate for 1-2 hours.
When set, remove by lifting parchment out of pan and lay on cutting board. Cut into bite size pieces. Roll each piece into a ball and return to cookie sheet. When all truffles have been rolled, put in freezer for one hour.
Melt vanilla candy coating (according to package directions) and put in a deep glass or bowl. Using a toothpick, dip each truffle into melted chocolate, tapping the excess off. Set onto parchment lined cookie sheet.
Immediately sprinkle with a tiny pinch of nutmeg. Repeat for remaining truffles. Allow to set about half an hour in refrigerator. Serve cold and enjoy!
Notes
I like to use Ghirardelli white chocolate wafers for the vanilla candy coating.