Eggnog Truffles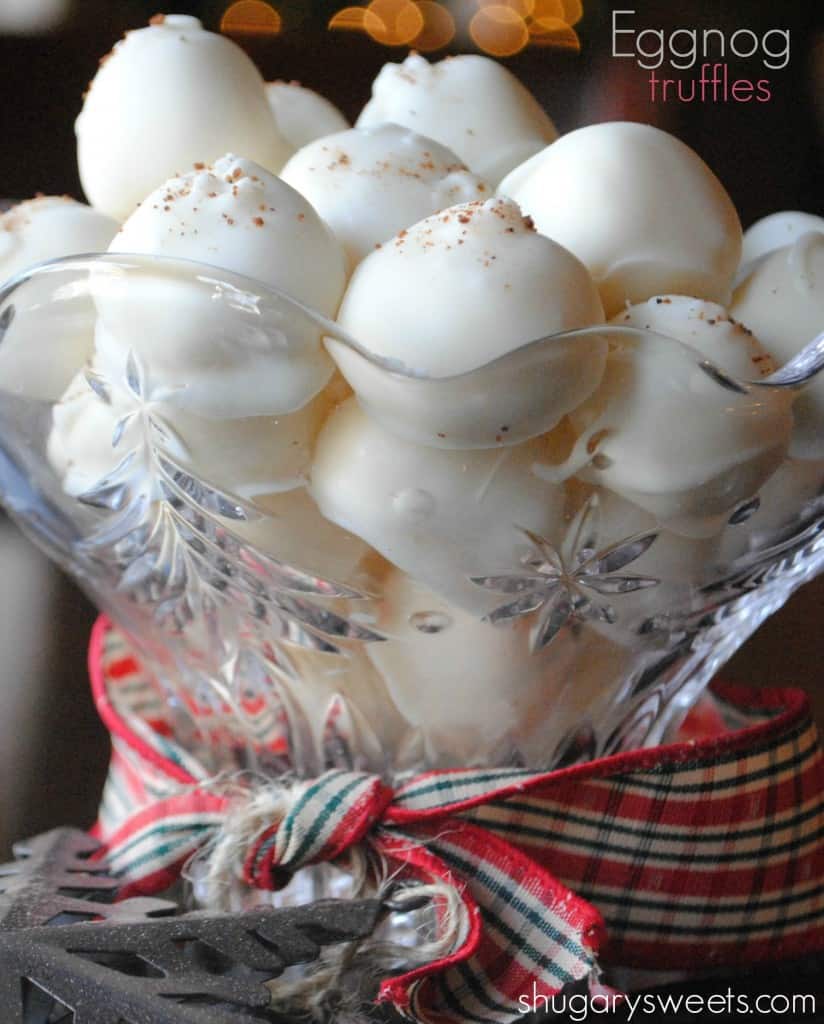 Ready for more eggnog? I promise this is the last one (this week anyways). I apologize to those who are haters, but for people like me, who LOVE the stuff, we can only enjoy this treat for a limited time during the year (unless you make it yourself, but no thanks).
So today I bring you eggnog truffles. Oh yes. They taste like eggnog, creamy delicious eggnog. And how pretty in a bowl. Like most truffle recipes, they are easy to make, just need a little patience while you wait for the different steps to set up!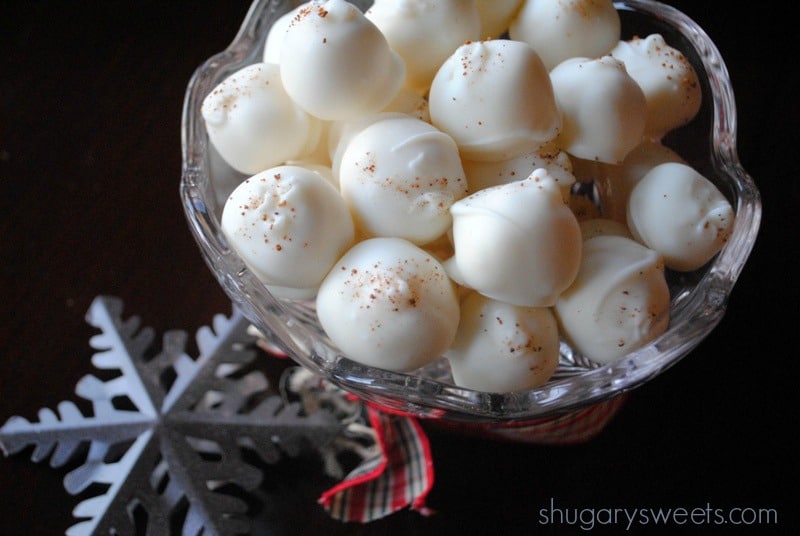 You CAN do this! You MUST do this! Enjoy!
Eggnog Truffles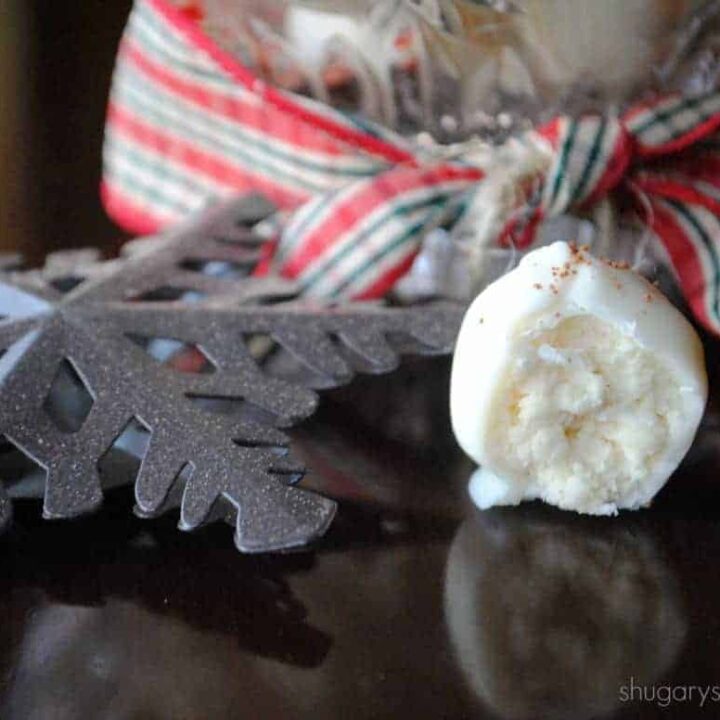 Ingredients
2 cup sugar
3/4 cup eggnog
1/2 cup butter
1 tsp rum flavoring
1 tsp nutmeg
1 cup marshmallow cream
3 cup white chocolate morsels
2-16oz pkgs vanilla candy coating
1 Tbsp nutmeg, for garnish
Instructions
In large pot, bring sugar, eggnog and butter to a boil. Boil for 2 minutes (rolling boil). Remove from heat and mix in rum flavoring and 1 tsp nutmeg.
Pour mixture into a mixing bowl (or use an immersion blender). Add in marshmallow cream and white chocolate morsels. Blend until completely melted and incorporated (took about 1 1/2-2 minutes). Pour into a baking sheet lined with parchment paper. Refrigerate for 1-2 hours.
When set, remove by lifting parchment out of pan and lay on cutting board. Cut into bite size pieces. Roll each piece into a ball and return to cookie sheet. When all truffles have been rolled, put in freezer for one hour.
Melt vanilla candy coating (according to package directions) and put in a deep glass or bowl. Using a toothpick, dip each truffle into melted chocolate, tapping the excess off. Set onto parchment lined cookie sheet.
Immediately sprinkle with a tiny pinch of nutmeg. Repeat for remaining truffles. Allow to set about half an hour in refrigerator. Serve cold and enjoy!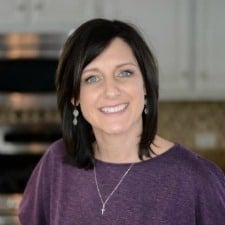 Aimee is a dessert lover (specifically rice krispie treats), workout enthusiast, self-taught foodie, and recipe creator. Her recipes have been featured in over 15 magazines, and her passion is to share her love of cooking with the everyday home cook! Learn more about Aimee.