Eggnog Cupcakes
These Eggnog Cupcakes are made from scratch with my favorite spice cake and topped with creamy eggnog frosting. The perfect holiday treat!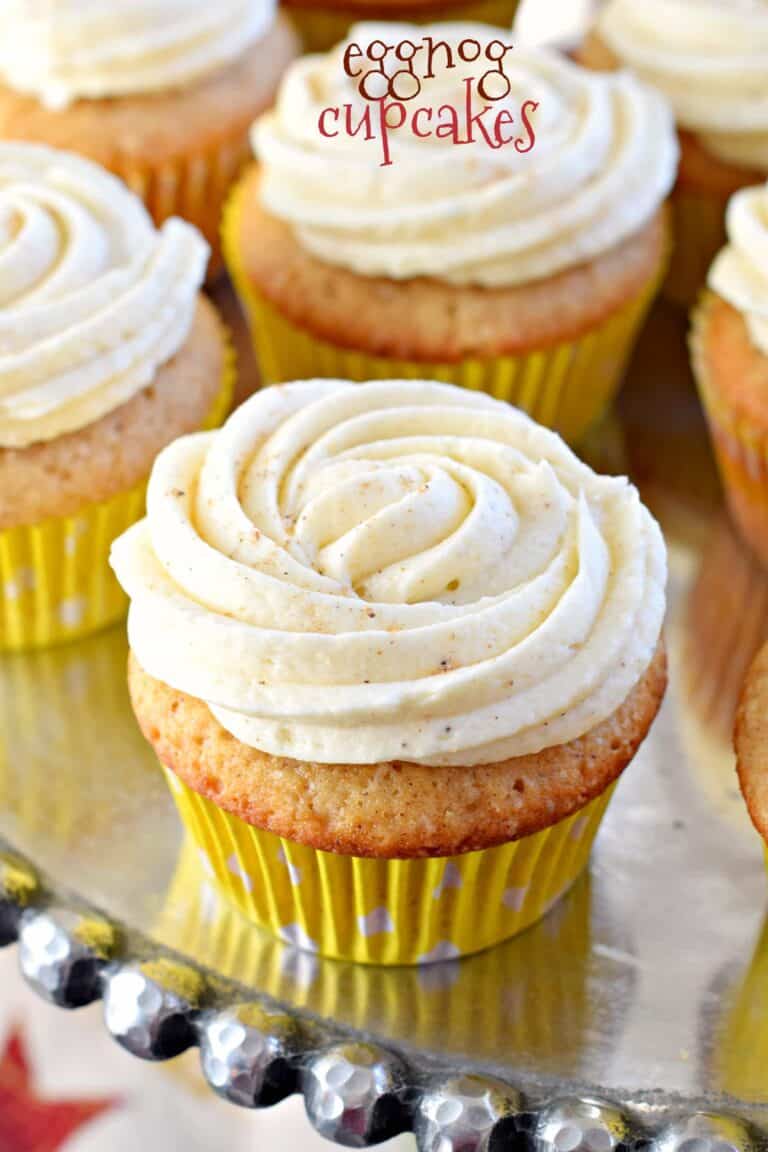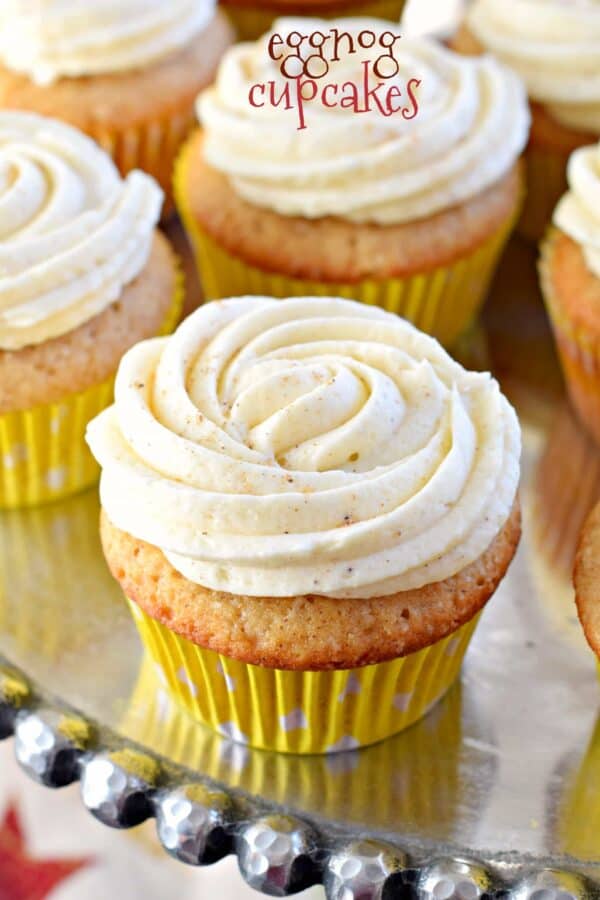 My family thinks they love eggnog. I mean, starting this time of year, they say "don't forget to buy eggnog." And then I buy 3 quarts of it and it sits there….for the entire month. Apparently I am the only TRUE eggnog lover in the house.
My kids love the tradition of eggnog. We pour ourselves a glass every Christmas Eve, before opening presents to each other, and reading the Night Before Christmas. Even that night, I find half full glasses of eggnog on the table after they have all lumbered up the stairs for bed. As the TRUE eggnog lover, I guzzle every last sip, backwash and all. Because I know it won't be long before it disappears from the grocery store and I'll be left waiting 11 months to enjoy it again!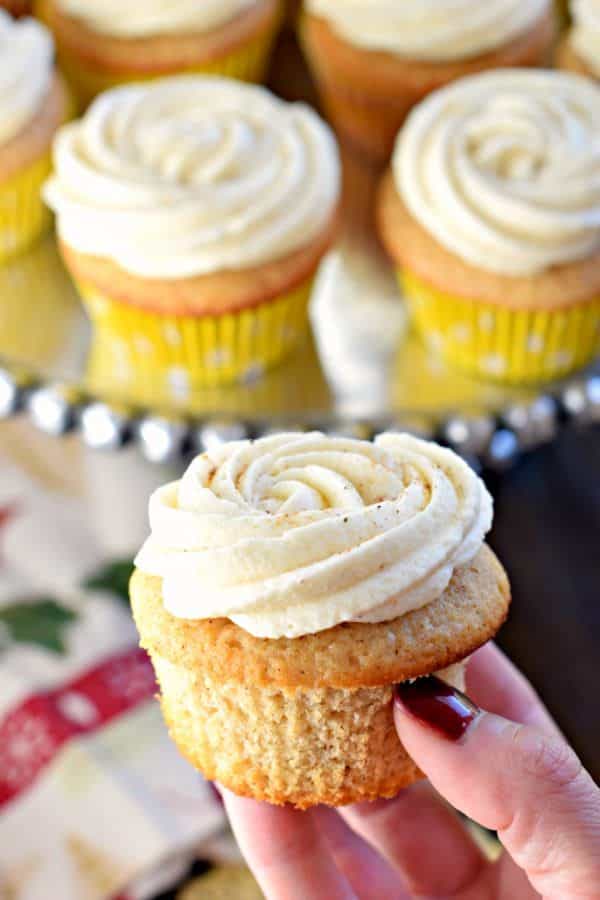 One thing I love to do with all the eggnog I buy is make treats. Everyone loves eggnog flavored food, haha. Including these eggnog donuts, or eggnog cheesecake bars. YUM.
Today, I've made Eggnog Cupcakes. Using my favorite homemade spice cake recipe, I topped these cupcakes with a sweet, creamy Eggnog Frosting! So good you guys.
So tell me, do you have a love or hate for eggnog? And, have you ever made your own? I haven't done that yet….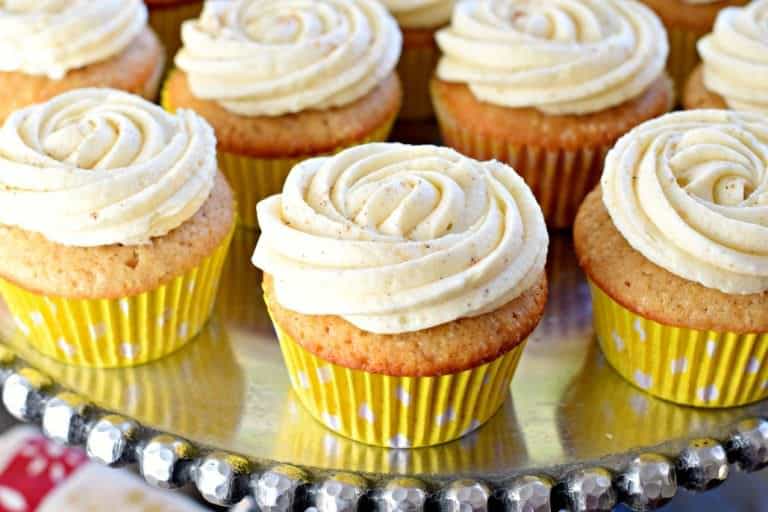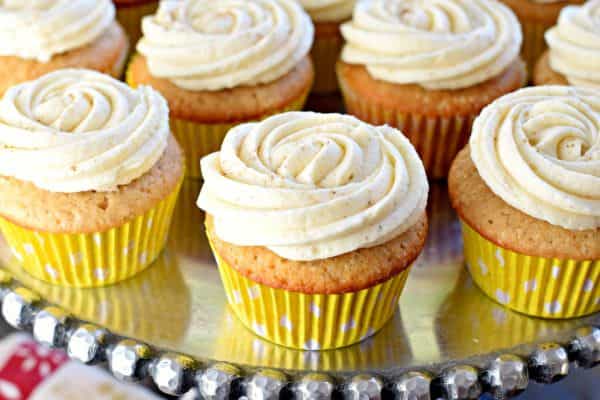 Be sure to follow me on Instagram and tag #shugarysweets so I can see all the wonderful SHUGARY SWEETS recipes YOU make!
Connect with Shugary Sweets! Be sure to follow me on my social media, so you never miss a post!
Facebook | Twitter | Pinterest | instagram
Yield: 24 cupcakes
Eggnog Cupcakes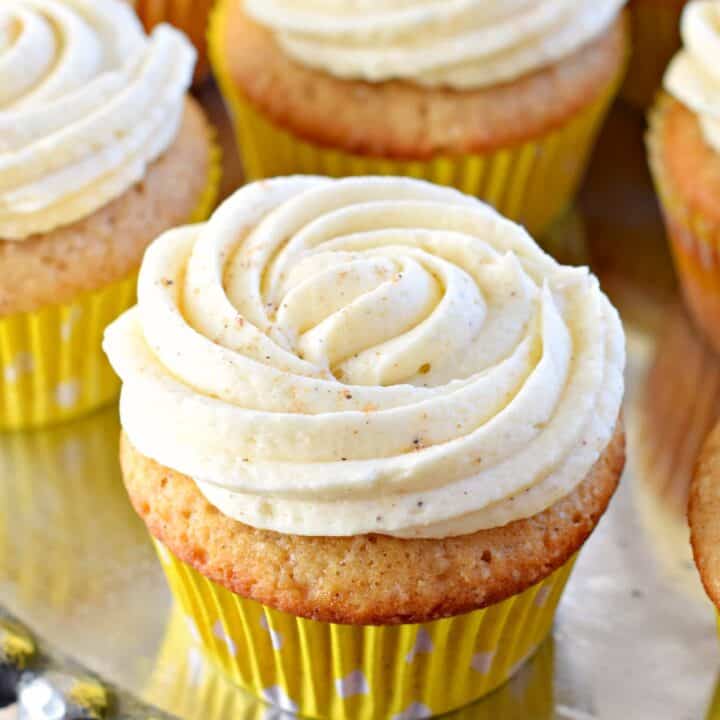 These Eggnog Cupcakes are made from scratch with my favorite spice cake and topped with creamy eggnog frosting. The perfect holiday treat!
Ingredients
For the Cupcakes:
5 egg whites, room temperature
3/4 cup buttermilk
3/4 cup unsalted butter, softened
1 3/4 cup granulated sugar
2 1/2 cup cake flour
1 Tbsp baking powder
1/2 tsp kosher salt
1 tsp cinnamon
1 tsp nutmeg
1 tsp ground ginger
For the Frosting:
1 cup unsalted butter, softened
1 1/2 tsp nutmeg
1 tsp rum flavoring
4 cup powdered sugar
1/2 cup low fat eggnog
Instructions
For the cupcakes:
Line 24 cupcake tins with paper lines. Set aside.
In small bowl, mix egg whites and 1/4 cup buttermilk. Set aside.
In mixing bowl, beat butter and sugar until creamy, about 2-3 minutes. Add in dry ingredients and mix until combined. Slowly add in egg white mixture. Beat in remaining buttermilk.
Bake in a 350 degree oven for 18-20 minutes. Remove and cool completely before frosting.
For the frosting:
Beat butter for 3 minutes until fluffy. Add in nutmeg, rum flavoring, powdered sugar and eggnog. Beat for an additional 3-5 minutes until fluffy.
Pipe onto cupcakes using your favorite decorator tip. Add a sprinkle of nutmeg if desired! ENJOY.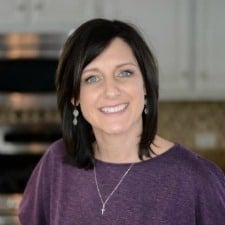 Aimee is a dessert lover (specifically rice krispie treats), workout enthusiast, self-taught foodie, and recipe creator. Her recipes have been featured in over 15 magazines, and her passion is to share her love of cooking with the everyday home cook! Learn more about Aimee.