These Eggnog Cupcakes are made from scratch with my favorite spice cake and topped with creamy eggnog frosting. The perfect holiday treat!
If you love all things eggnog, you'll love these Eggnog Truffles too. This Eggnog Fudge is another treat I like to give as gifts this time of year.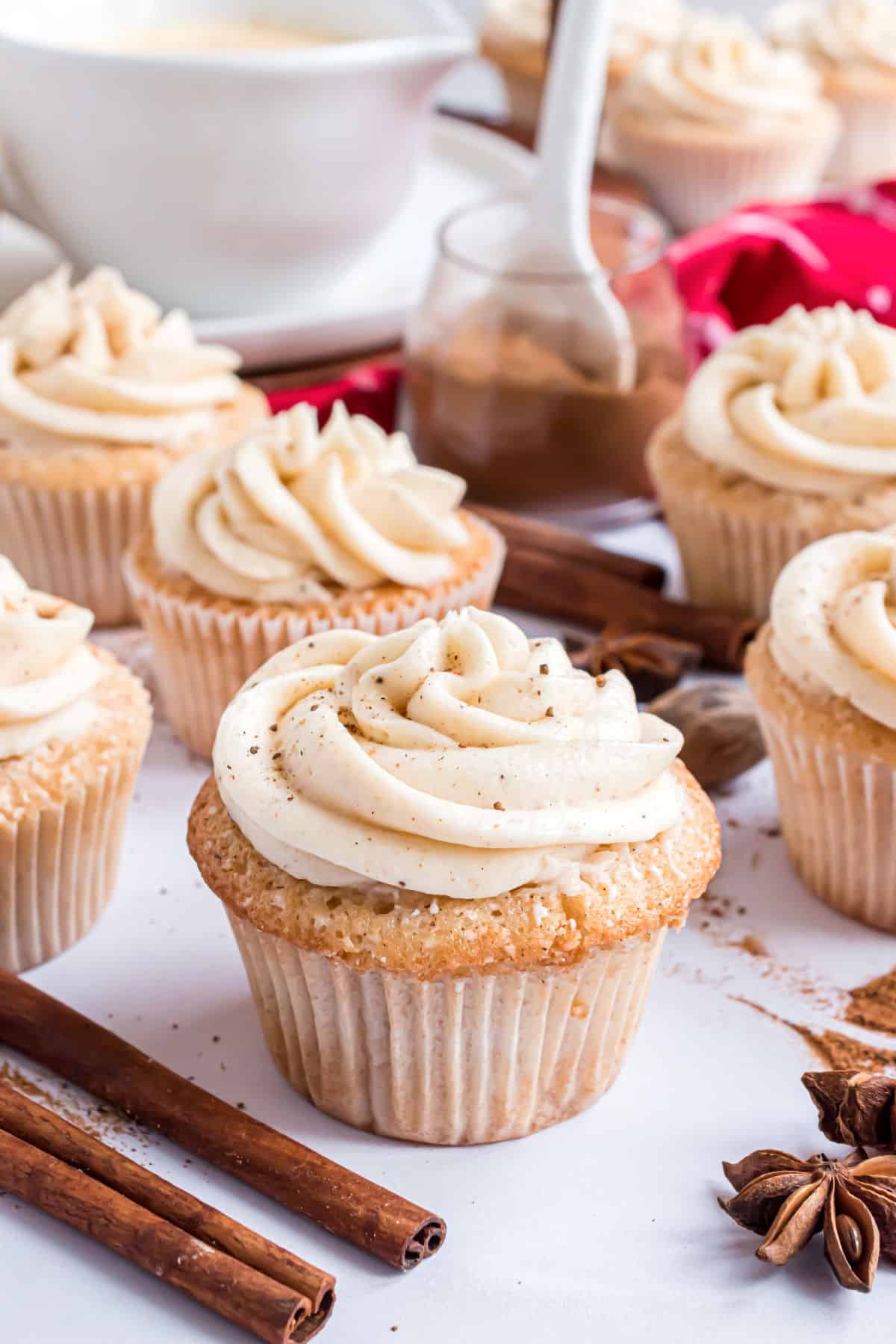 Why These Cupcakes are Best
These Eggnog Cupcakes are pure heaven!
If you're like me and buy more eggnog than you can drink before the holidays are over, this recipe is a great way to use up those leftovers lingering in the fridge, too.
Based on my favorite homemade spice cake.
Real eggnog and rum flavor make the creamy frosting extra festive.
Sprinkled with nutmeg for a picture-perfect finishing touch.
Easy to make—and so much better than boxed mixes.
A perfect handheld dessert for holiday parties!
These cupcakes taste so good, it's worth running out to the store to pick up a carton (or two) of the Christmas beverage so you can make this recipe!
Ingredient Notes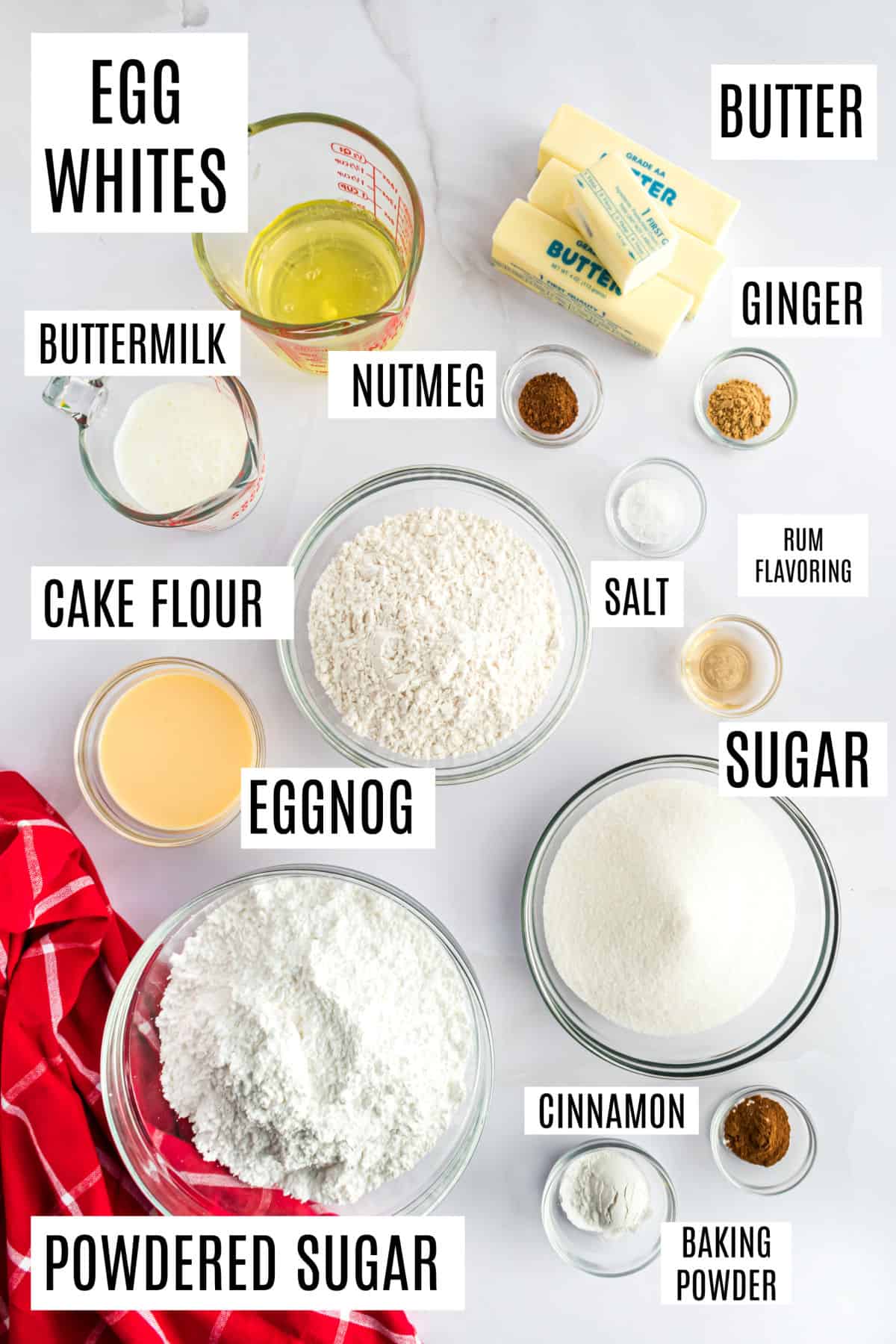 Cake flour – The key to cupcakes with a soft, delicate crumb. See my tips and tricks for how to make a cake flour substitute if you don't have any.
Egg Whites- our cupcake recipe uses egg whites only. Save the egg yolks to make homemade lemon curd.
Buttermilk – The acid in the buttermilk helps the cupcakes get fluffy as they bake, while adding moisture. You can use store bought or this homemade buttermilk substitute.
Spices – A little ginger, cinnamon and nutmeg turn a white cake into a spice cake!
Eggnog – I recommend low fat. It's added to the frosting to thin it to the perfect consistency while, of course, giving it the eggnog touch.
Rum flavoring – For adding an extra touch of "authentic" eggnog aroma. Find it online if your grocery store doesn't carry it.
PRO TIP: Too much eggnog? Use our vanilla frosting or sour cream frosting on top instead!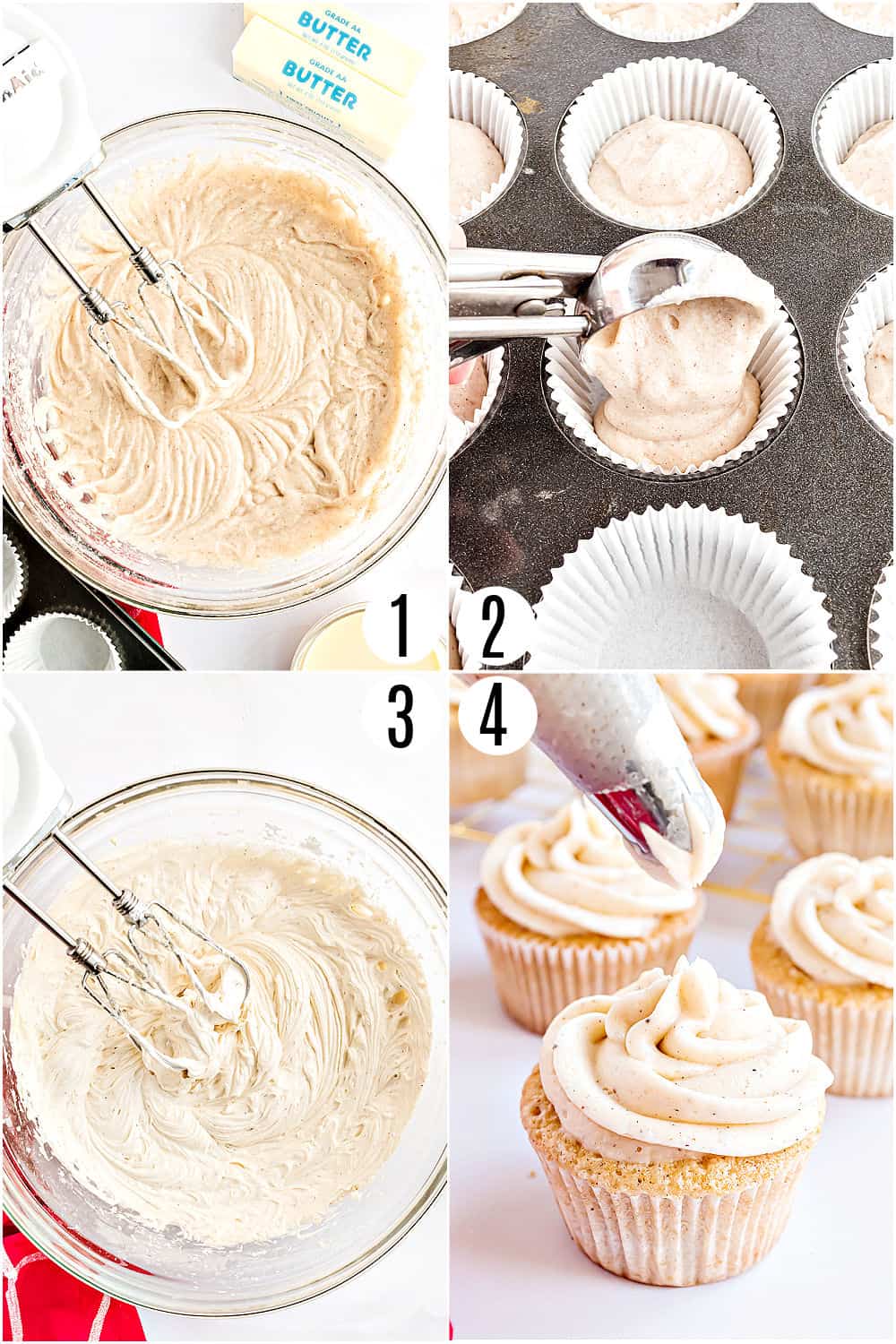 Tips and Tricks
I've said it before and I'll say it again: the cake flour makes a WORLD of difference in cupcake recipes like this one. It has a lower protein content meaning the cupcake consistency stays more delicate, and stays soft even days after baking.
But let's say you don't have any and don't have time for a grocery run. Or you just don't want to buy a whole bag of cake flour for one recipe.
In those cases, you can make a decent substitute with cornstarch and all-purpose flour. Here's the formula for this eggnog cupcakes recipe.
Measure out 2 ½ cups of all-purpose flour into a bowl.
Remove ½ cup plus 2 tablespoons of the flour.
Replace the flour with ½ cup plus 2 tablespoons of cornstarch.
Use in the recipe as directed.
It's as easy as that!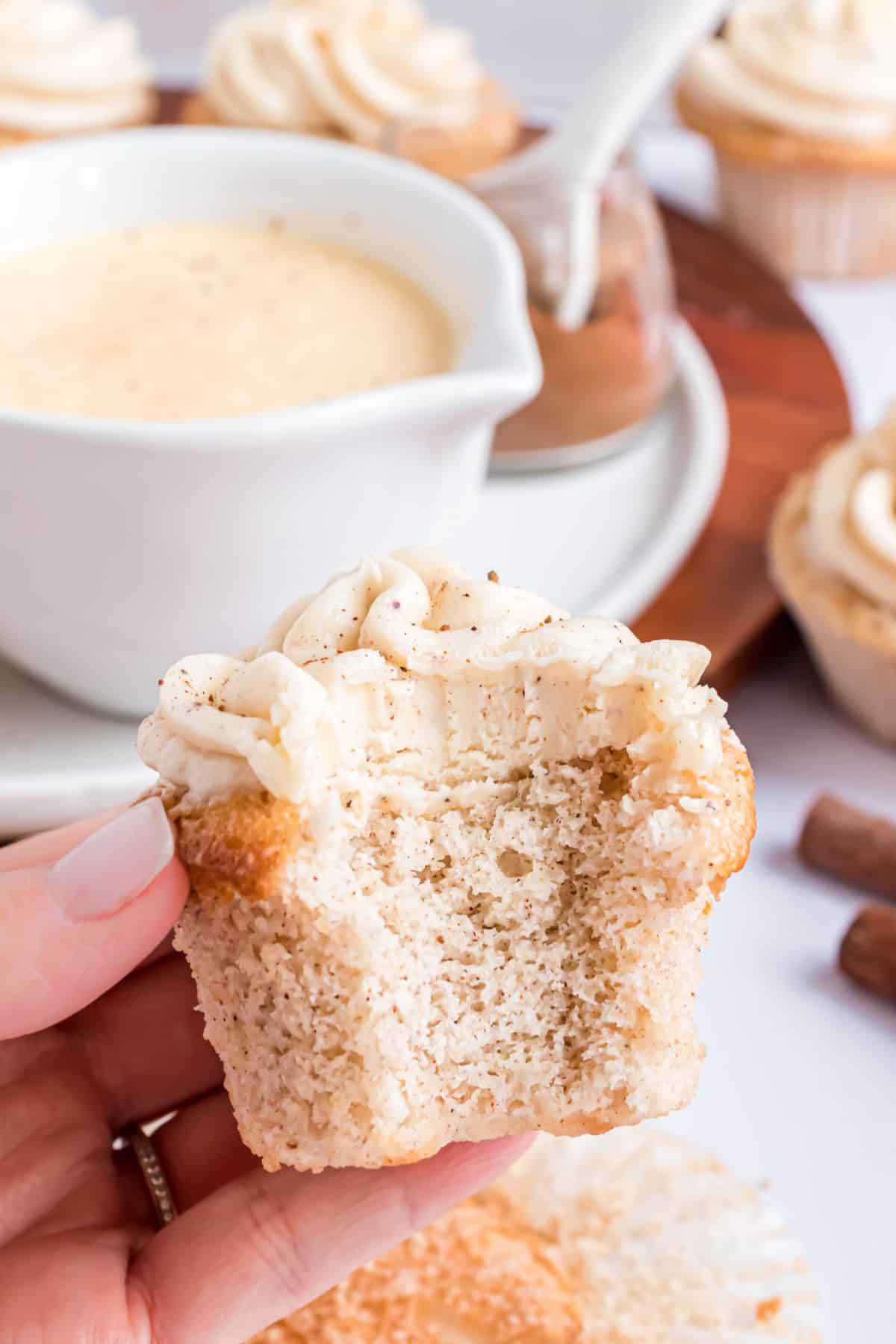 Recipe FAQs
Are rum flavoring and rum extract the same?
They are not the same technically; rum flavor is made from artificial ingredients to imitate the flavor of rum. Rum extract is a highly concentrated liquid made from real rum.
Even though they are different ingredients, both rum extract and rum flavor can be used in eggnog desserts. You can use either one in this eggnog frosting.
Can I use a boxed spice cake mix instead?
Yes, boxed spice cake makes a fine swap if you don't want to make the cupcakes from scratch.
How do I store eggnog cupcakes?
Store these Christmas cupcakes at room temperature in an airtight container. Enjoy within 4-5 days for best taste.
Can I freeze these cupcakes?
These cupcakes are freezer friendly and will stay good in the freezer for 2 to 3 months. You can freeze them before or after adding the frosting.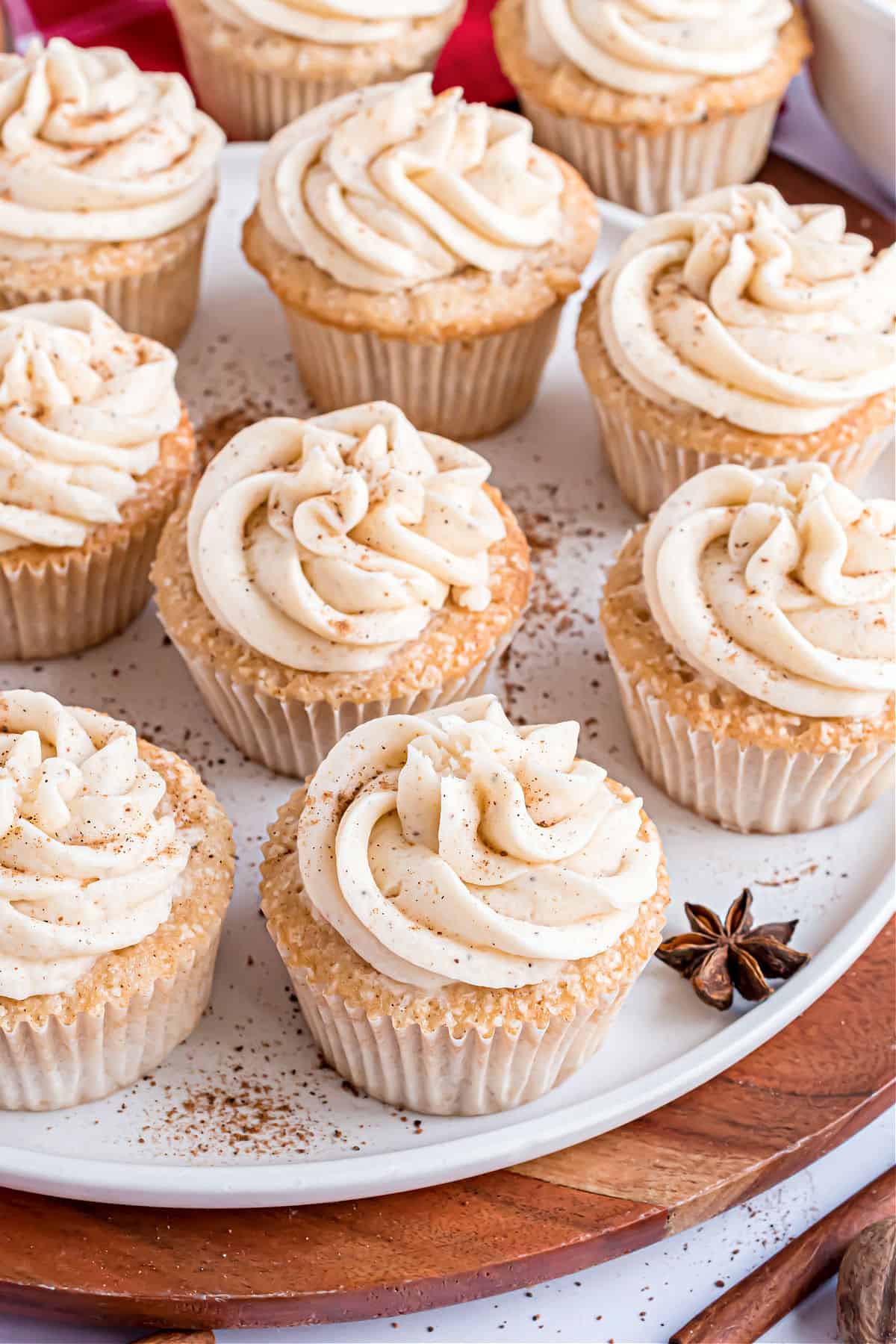 More Eggnog Recipes