Almond Amaretto White Cake is a classic White Cake with a twist. Made from scratch with almond flavoring and a sweet amaretto cream cheese frosting, this almond cake makes the perfect addition to any party!
White Cake with Cranberry Filling is another variation on my white cake recipe you'll love too. Or go rich and decadent and bake up our favorite Dark Chocolate Cake instead!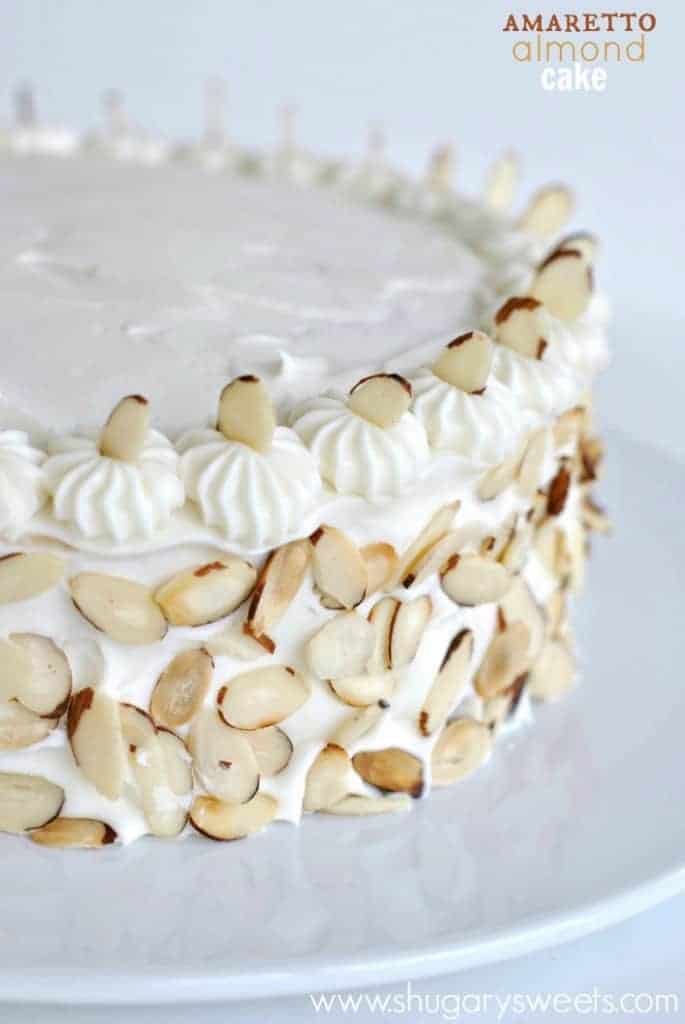 Why this Almond Cake is Best
Make a cake that will turn heads and make your taste buds happy! This from-scratch recipe is easy to make with incredible results.
Ingredient Notes
Tips and Tricks
Recipe FAQ
How do you assemble Amaretto Almond White Cake?
To assemble the cake, place one cooled cake layer on a cake plate. Spread a layer of frosting on top, then cover it with the second cake layer. Frost the top and sides of the white cake. Top it off by pressing toasted almonds around the edges of the cake as desired.
What can I use in place of amaretto?
No substitute will have exactly the same flavor as real amaretto liqueur. If you don't want to use it, you can flavor the cream cheese frosting with 2 teaspoons of imitation amaretto flavoring or almond extract instead.
You would also need to add a bit of milk until the frosting reaches a spreadable consistency.
Can I make this as a sheet cake?
I have not tested this recipe as a sheet cake, but it should work just fine! You will need to add a few minutes of additional baking time if using a rectangular pan.
How do I store amaretto cake?
Because of the cream cheese frosting, this cake needs to be stored in the refrigerator if you're not eating it right away. Transfer it to a cake container or cover with a cake saver before refrigerating to keep cake moist and fresh.
Put down the boxed cake mix and make this easy Amaretto Almond Cake from scratch instead!