Looking for a delicious, from scratch spice cupcake recipe? These Cinnamon Spice Cupcakes with sweet cinnamon buttercream frosting are homemade and absolutely wonderful!
The spice flavor in this recipe reminds me of some of my other favorite fall sweets, like Apple Cinnamon Roll Coffee Cake and these Chai Cookies.
Why These Cupcakes Are Best
I have always loved spice cakes. As a layer cake, sheet cake or cupcakes, the combination of sweet cinnamon and spicy ginger keeps me coming back.
Based off our easy cinnamon cake, today's cupcakes are perfect.
Cake flour gives these cupcakes a soft, delicate crumb.
Sweet with the perfect kick of spice!
Frosted with homemade cinnamon buttercream.
Topped with cinnamon chips for even more flavor.
A million times tastier than cake made from a box!
These days pumpkin spice and chai spice desserts are trendy, but everyone seems to forget about the classic spice cake many of us grew up eating. The kind that came from a box that our moms would make every fall or winter with a generous layer of canned frosting on top.
Today's cinnamon spice cupcakes have all the comforting spice cake taste you love. Only you'll love them even more because they're made from scratch.
Ingredient Notes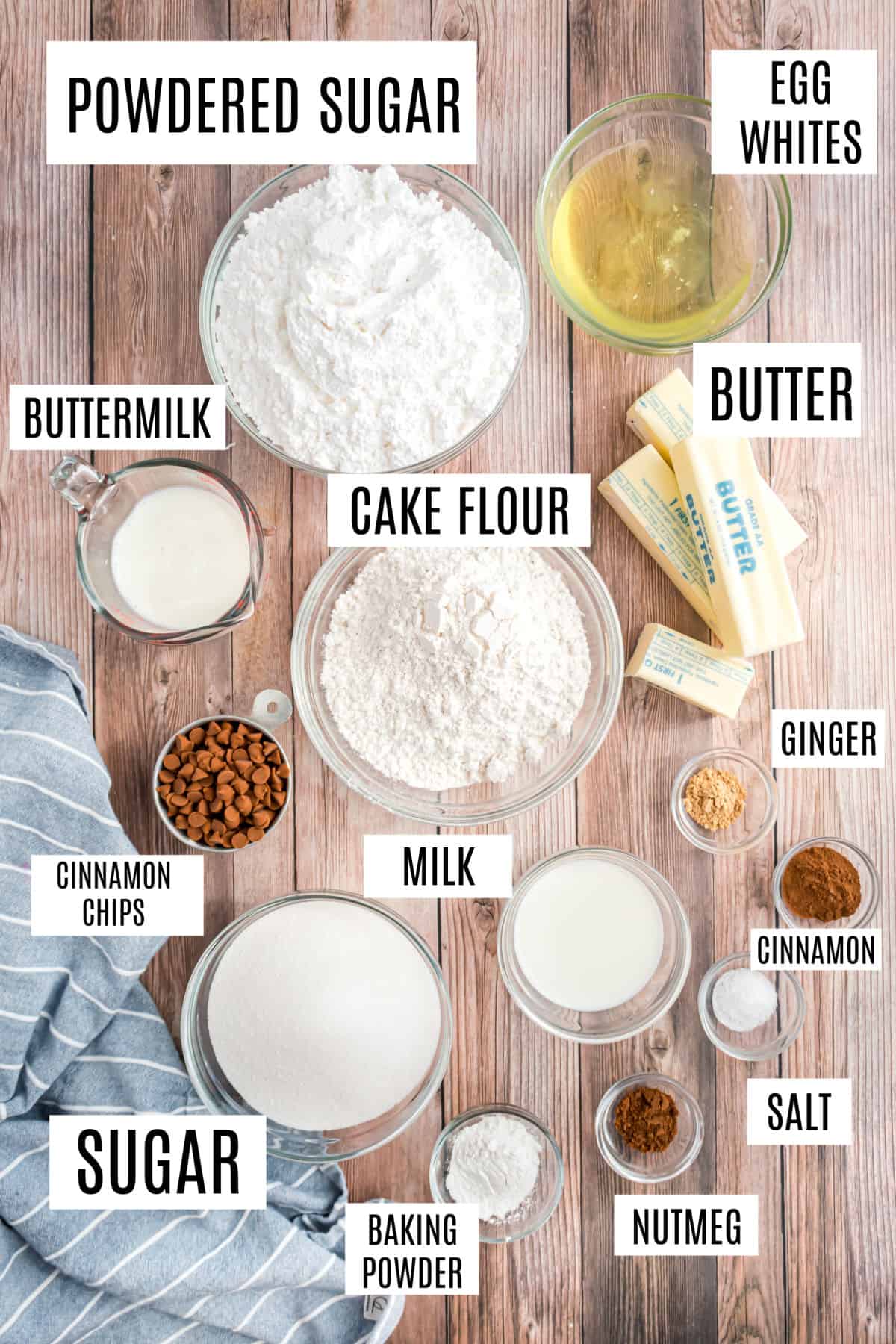 Egg whites – Using only the whites of the eggs makes our cupcakes fluffy and airy. Save the yolks for making homemade lemon curd.
Cake flour – It has less protein than all purpose flour, resulting in softer cupcakes. See our tips and tricks below for a handy substitution idea!
Buttermilk – Learn how to make buttermilk and you'll never need to buy it from the store again.
Spices – Cinnamon is the primary flavor of these cupcakes. We also include nutmeg for its slight nuttiness and ginger for its zesty kick. Add more ginger for an even "spicier" cupcake.
Cinnamon chips – You can find these in the baking aisle near the chocolate chips. We use them as a garnish for the frosted cupcakes. Totally optional, but delicious!
Easy to Frost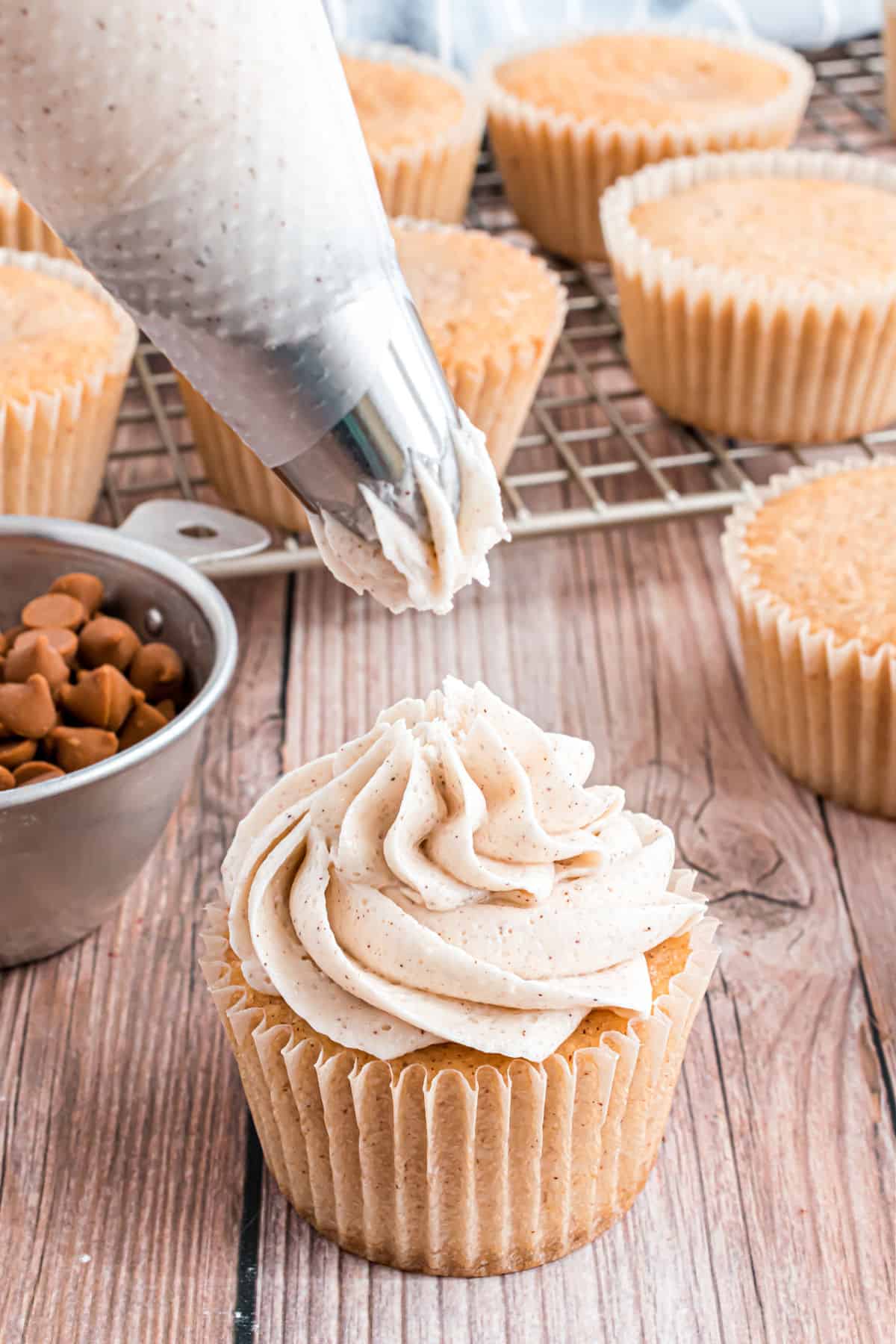 Once you've baked your cupcakes, it's time for the best part: adding the frosting!
The cinnamon buttercream makes the absolutely perfect frosting for spice cupcakes. It's just as easy as a classic vanilla buttercream but with the addition of ground cinnamon.
You can spread the frosting onto your cooled cupcakes with a spatula, or grab your favorite frosting bag. Any size star tip works well.
Don't have a frosting bag? Make one yourself by putting the frosting in a ziploc bag. Snip off a small part of one corner and use the bag to pipe frosting onto the cinnamon spice cupcakes.
The cupcakes taste delicious as they are, but we all loved the addition of cinnamon morsels on top.
Cupcake Tips and Tricks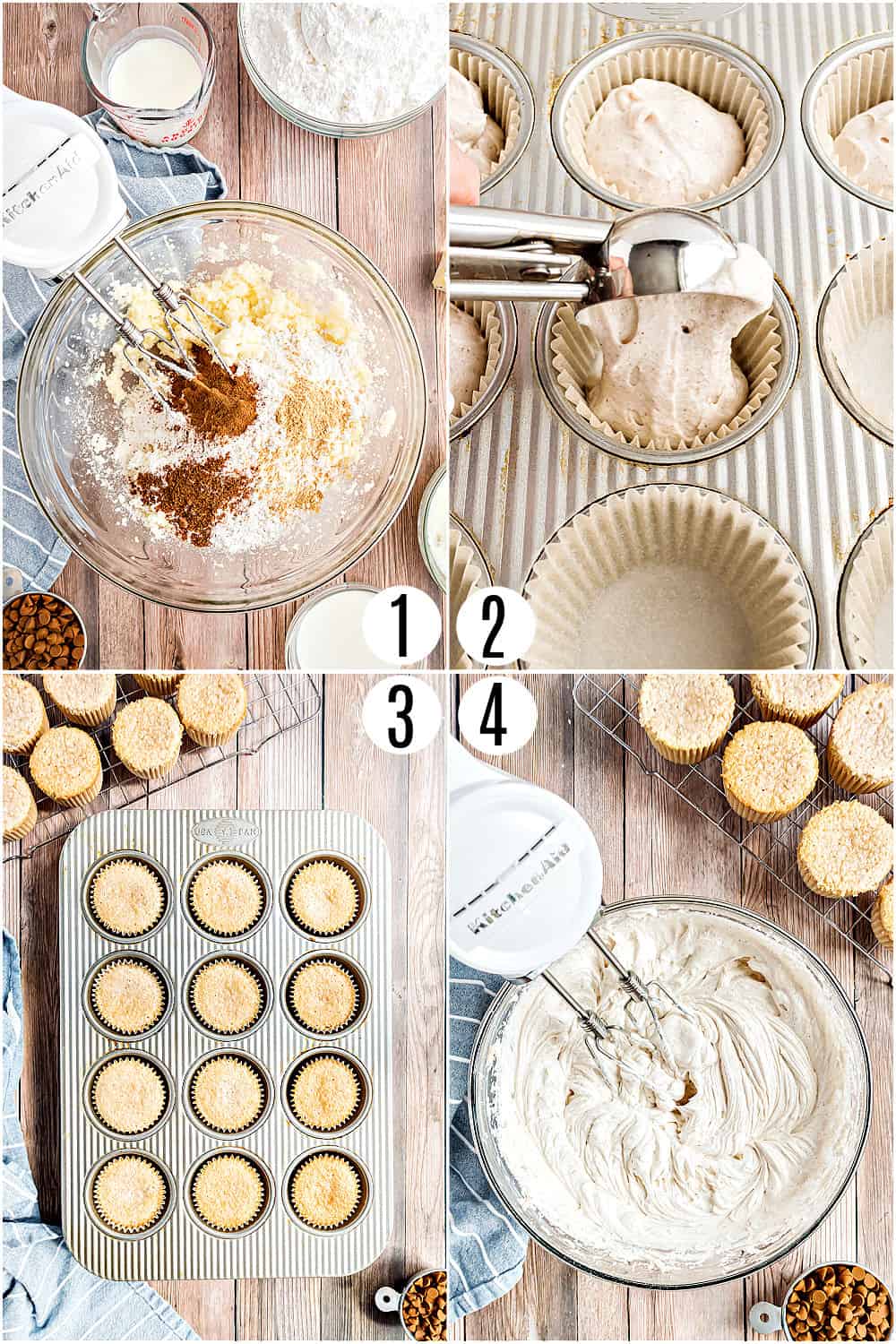 If you don't have cake flour, you can make an easy substitute with all-purpose flour and cornstarch. Replace every cup of cake flour in the recipe with 3/4 of a cup all-purpose flour and 1/4 cup of cornstarch.
Do not over fill your cupcake tins! We recommend filling each liner about 2/3 of the way full with batter. Otherwise your cinnamon spice cupcakes will have domed tops like a muffin that aren't well suited to support frosting.
Store cupcakes in an airtight container at room temperature. They're best enjoyed within 3 days of baking.
Frosting. Swap out the cinnamon buttercream for our light sour cream frosting instead! Adds a delicious tang. Or give our perfect cream cheese frosting recipe a try instead.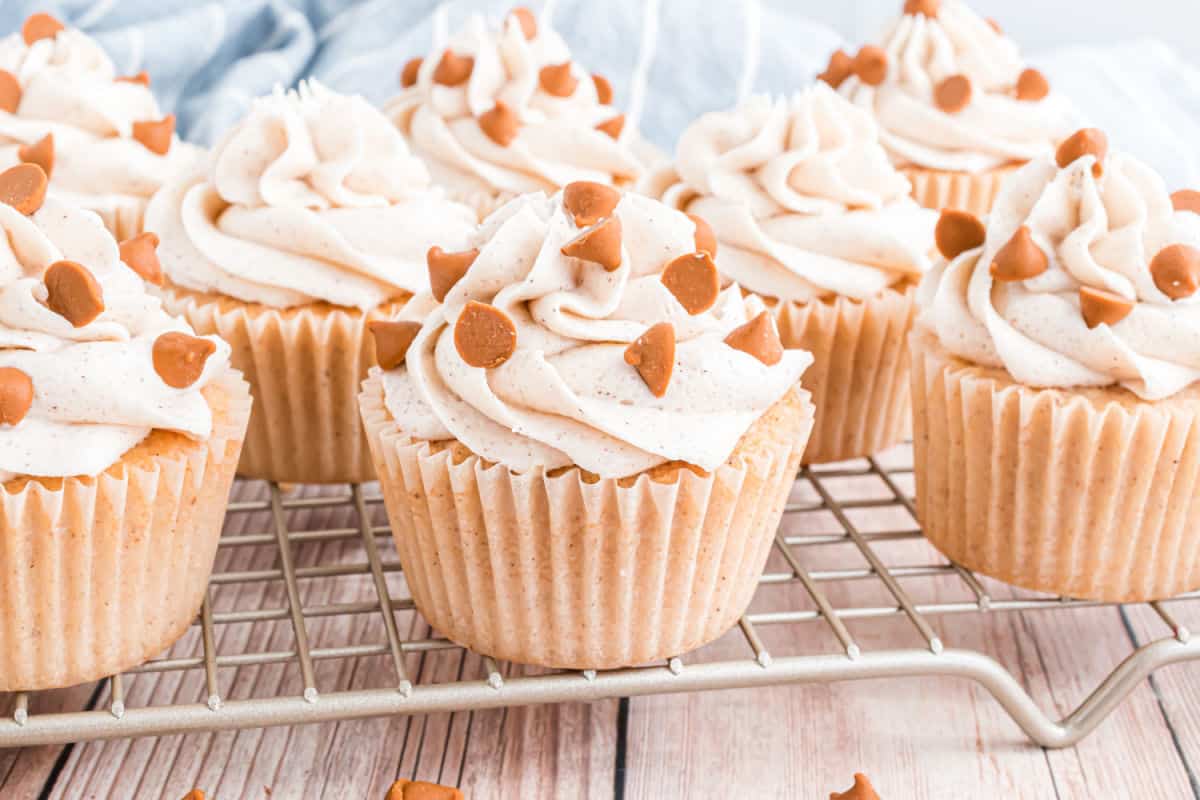 Recipe FAQs
Can I freeze spice cupcakes?
Yes, these cinnamon spice cupcakes hold up just fine in the freezer. Store them in freezer bags with wax paper between them to prevent sticking. They'll stay good frozen for about 3 months.
How do I make this recipe as a cake instead of cupcakes?
To make a classic sheet spice cake, pour the batter into a greased 9×13 baking dish. Increase the baking time to about 30 minutes—or as long as it takes for a toothpick inserted in the center to come out clean.
Can I use store bought frosting?
You sure can. The homemade buttercream is definitely worth making, but if you're in a rush go ahead and use your favorite brand of store bought. Mix in a teaspoon of cinnamon to a can of vanilla buttercream for instant cinnamon frosting!
How many cupcakes does this recipe make?
This recipe makes about 2 dozen standard cupcakes. You may get as many as 30 from the recipe, depending on how full you fill the cupcake liners.
Why are my cupcakes dry?
When cupcakes turn out dry, usually too much flour has been added. Be sure to use our guide on how to measure flour, and don't pack the flour or you'll add too much.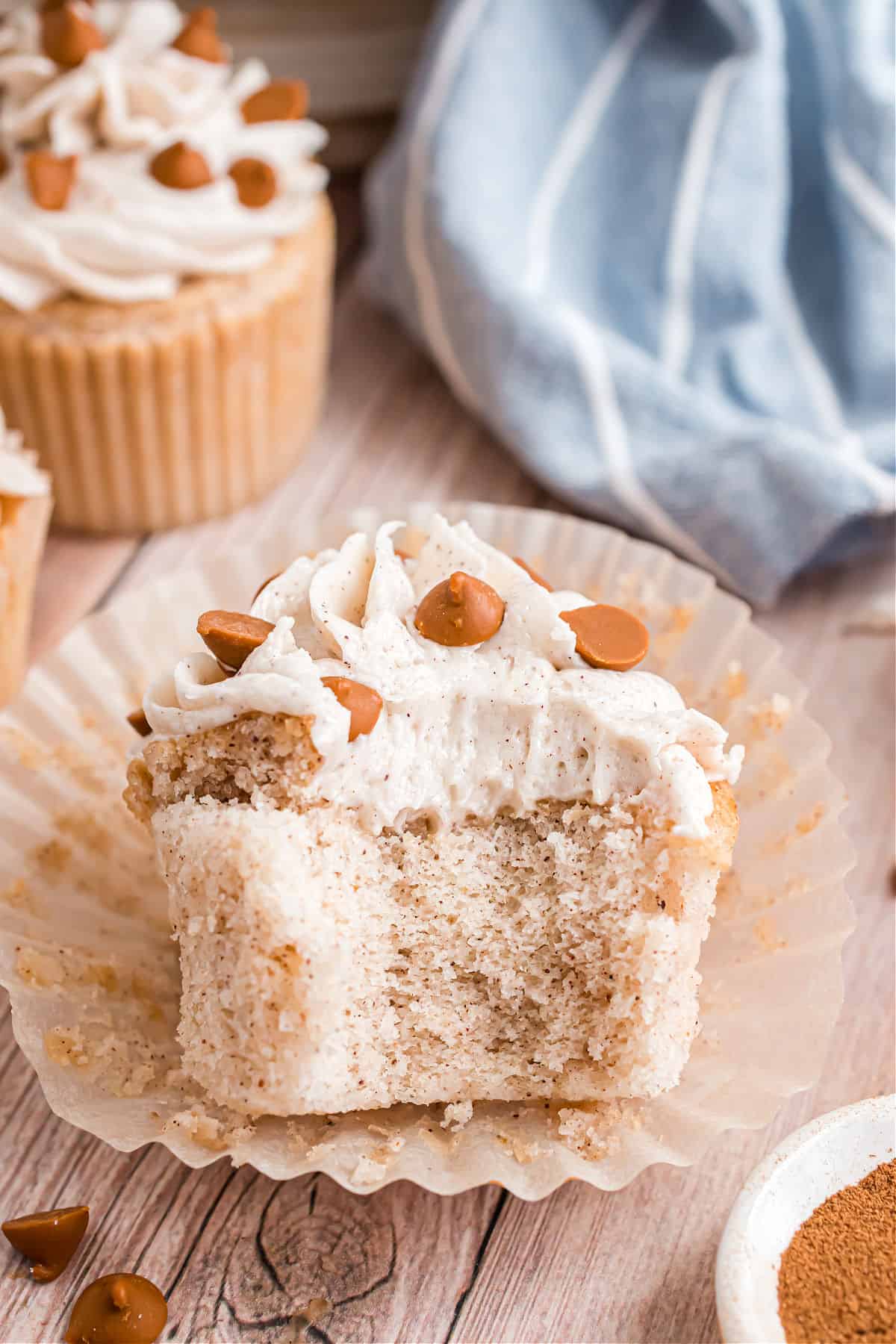 More Easy Dessert Recipes
Remember spice cake? The classic favorite is back in cupcake form! You'll love the bold cinnamon and ginger taste of these soft, fluffy Cinnamon Spice Cupcakes!