Say goodbye to boxed cake mix for good. Just one taste of this Easy Cinnamon Cake will make you a homemade convert for life. And don't worry, this recipe is just as simple as following the instructions on the back of a box but it has way more flavor. 
Love cake? Our applesauce cake is delicious and flavorful. Goodbye cake mixes, let's try this delicious vanilla cake next!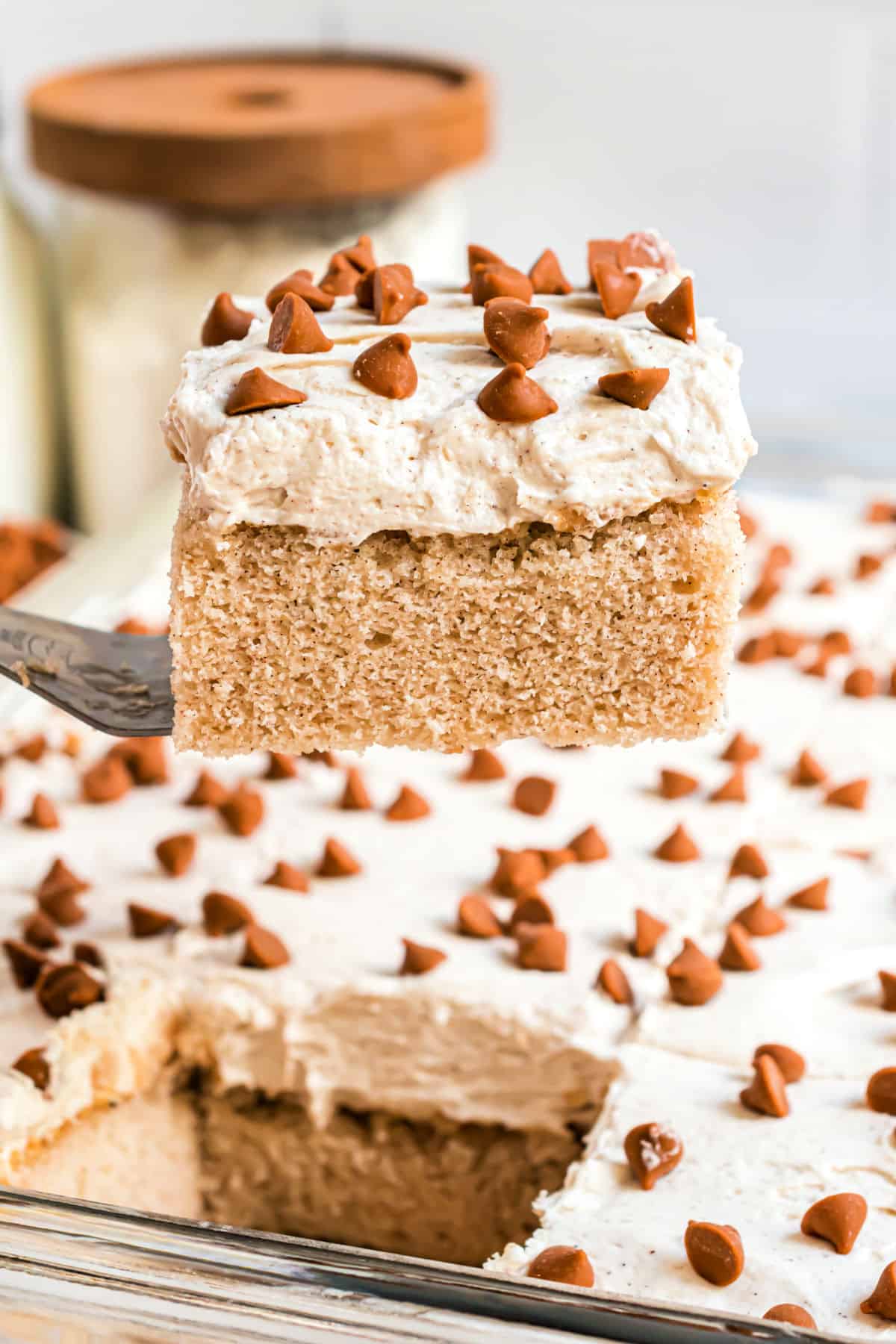 Why this Cake Is Best
This Cinnamon Cake comes together from start to "fork in your mouth" in under an hour with only a few ingredients. However, it tastes so divine that everyone will think you spent all day in the kitchen.
Simple baking procedures mean this recipe is perfect for beginners and experienced bakers alike.
This recipe calls for a 13×9" baking dish, so decorating this cake is a breeze—no fussy layers or intricate piping here.
Whipped egg whites and buttermilk make this recipe stand out from the rest. You'll end up with a cinnamon cake with a delicate texture to die for.
Love today's easy cake? Try our easy chocolate cake next. And don't forget the chocolate buttercream frosting!
Ingredient Notes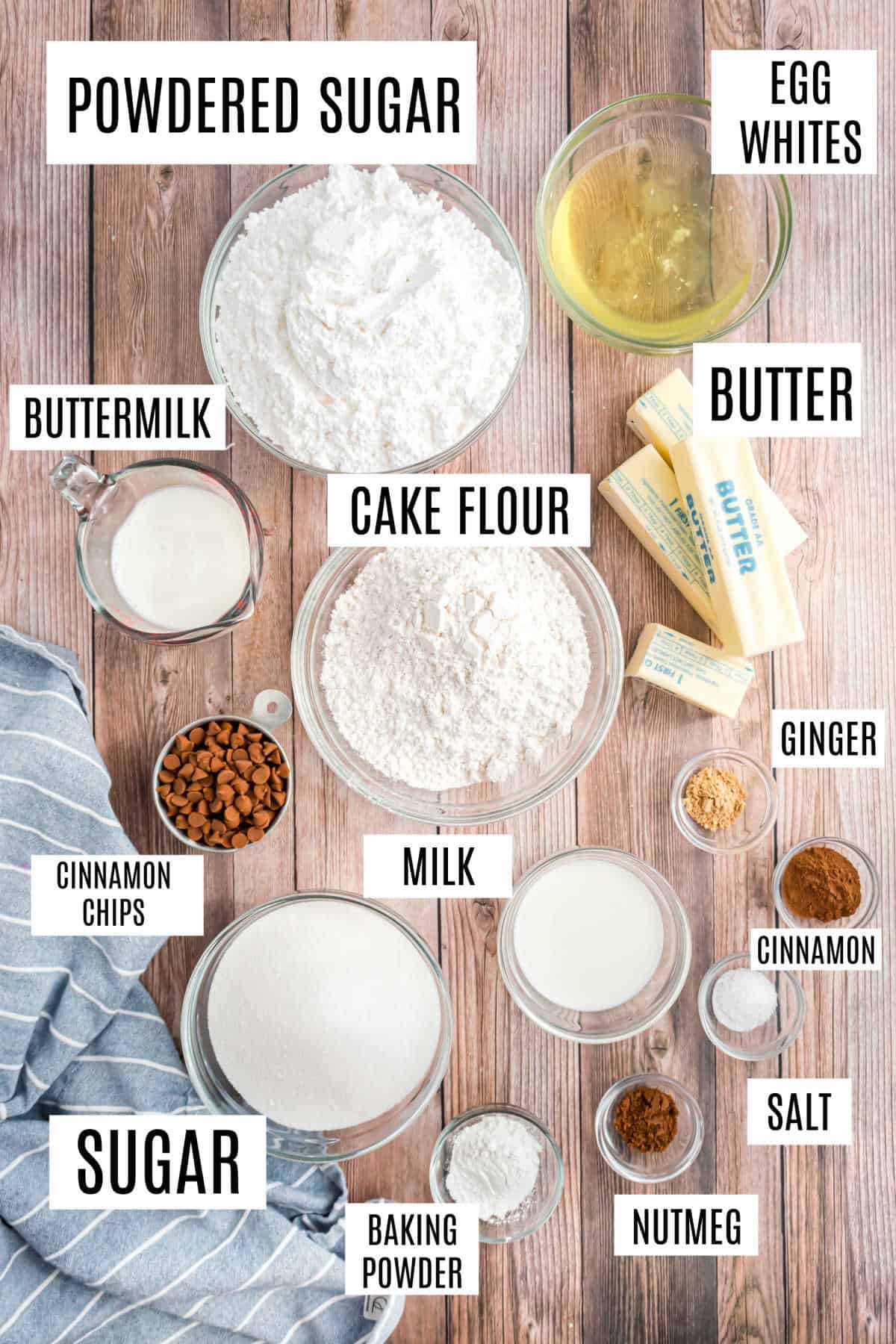 For the Cake:
Egg Whites – Make sure that your egg whites are at room temperature. You'll achieve more volume and a lighter, fluffier texture this way.
Buttermilk– Choose our buttermilk substitute if needed!
Butter – Reach for softened, unsalted butter for the best results. 
Granulated Sugar
Flour – Use cake flour for this recipe. It's lower in protein and has a very fine consistency that'll give you the most delicate crumb you've ever tasted. Be sure to learn how to measure flour correctly too, or you'll end up with a dry cake.
Baking Powder – This recipe is formulated for baking powder. So, don't try to swap it for baking soda, or it won't rise correctly.
Spices – Salt, cinnamon, nutmeg, and ginger create this cake's warm and cozy flavor.
For the Frosting:
Butter – Use softened and unsalted butter for the creamiest and most delicious frosting. We've got tips on how to soften butter quickly!
Powdered Sugar – Powdered sugar keeps the frosting ultra smooth and spreadable.
Cinnamon
Milk
Cinnamon Chips – This garnish is optional, but they'll add texture and a beautiful presentation to the cake. 
Easy Instructions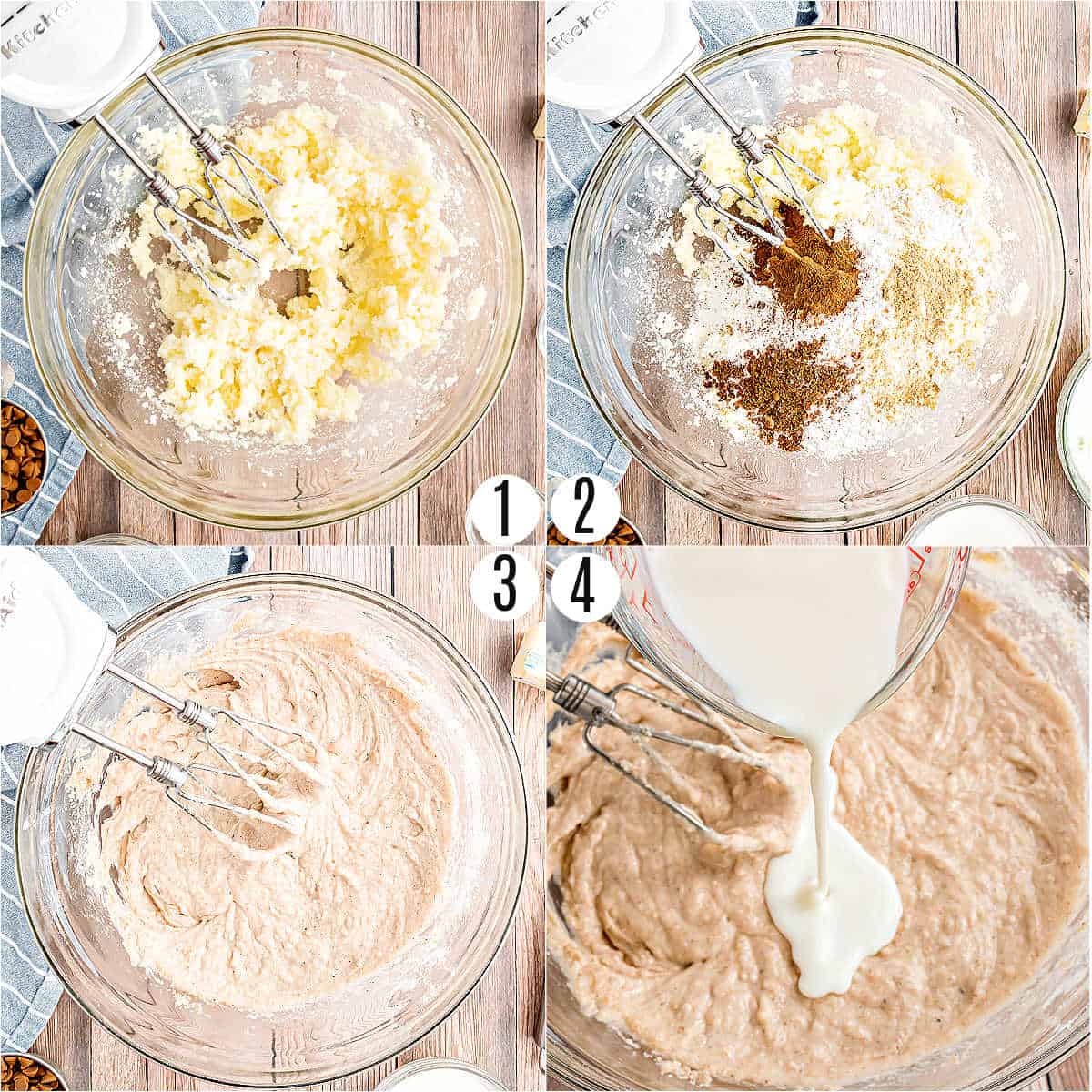 For the Cake:
Combine Buttermilk and Egg Whites – Whisk together ¼ cup of buttermilk and the egg whites. You're not looking to achieve volume here, just incorporate the two, then set aside. 
Cream Butter and Sugar – With a stand or hand mixer, beat the butter and sugar together for about 2-3 minutes. You want the mixture to lighten in color and become fluffy and airy.
Mix in Dry Ingredients – Combine the dry ingredients in a separate bowl. Then, incorporate some of the dry mixture into the creamed butter and sugar. Continue beating in additions until the dry ingredients are thoroughly blended in. 
Incorporate Buttermilk and Egg Whites – Slowly stream the egg mixture into the batter. Then, add the remaining buttermilk and beat the mixture for an additional 2 minutes or so. 
Bake and Cool – Pour the batter into a greased 13×9" baking dish. Then transfer it to a 350°F oven to bake for 40-44 minutes, or until a toothpick inserted into the center of the cake comes out clean. Finally, remove it from the oven and cool completely before frosting.
For the Frosting:
Cream Butter – With a stand or hand mixer, beat the butter until it's pale yellow and creamy. 
Beat in Sugar, Cinnamon, & Milk – Next, you'll incorporate the powdered sugar into the butter in additions. On your first addition, add the milk and cinnamon. Then continue adding the sugar in increments until it's all added and whipped together, about 3-5 minutes. 
Frost & Garnish the Cake – Spoon and spread the frosting onto the cooled cake. Then, top it with a light sprinkling of cinnamon, the cinnamon chips, or anything else you'd like to use as garnish.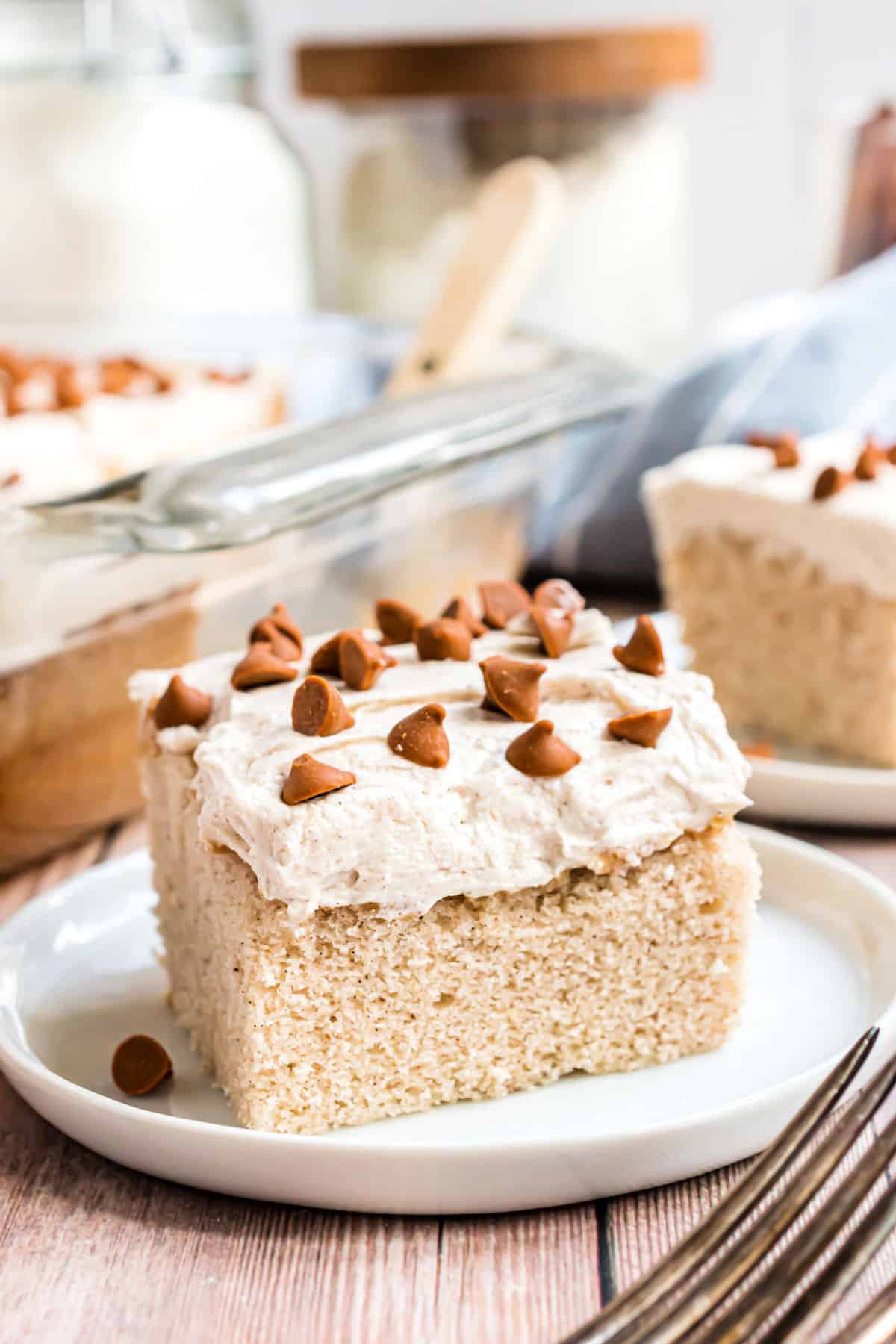 Tips and Tricks
Room-temperature ingredients incorporate easier than cold ones. Whenever possible, let all of your ingredients sit out and come to the same temperature before combining them.
If you only have salted butter on hand, use it and omit the additional salt from the recipe. However, you should avoid using salted butter for the frosting.
Scrape down the sides of your mixing bowl often. You can even do this between each step. This will ensure you completely incorporate all ingredients evenly throughout the batter.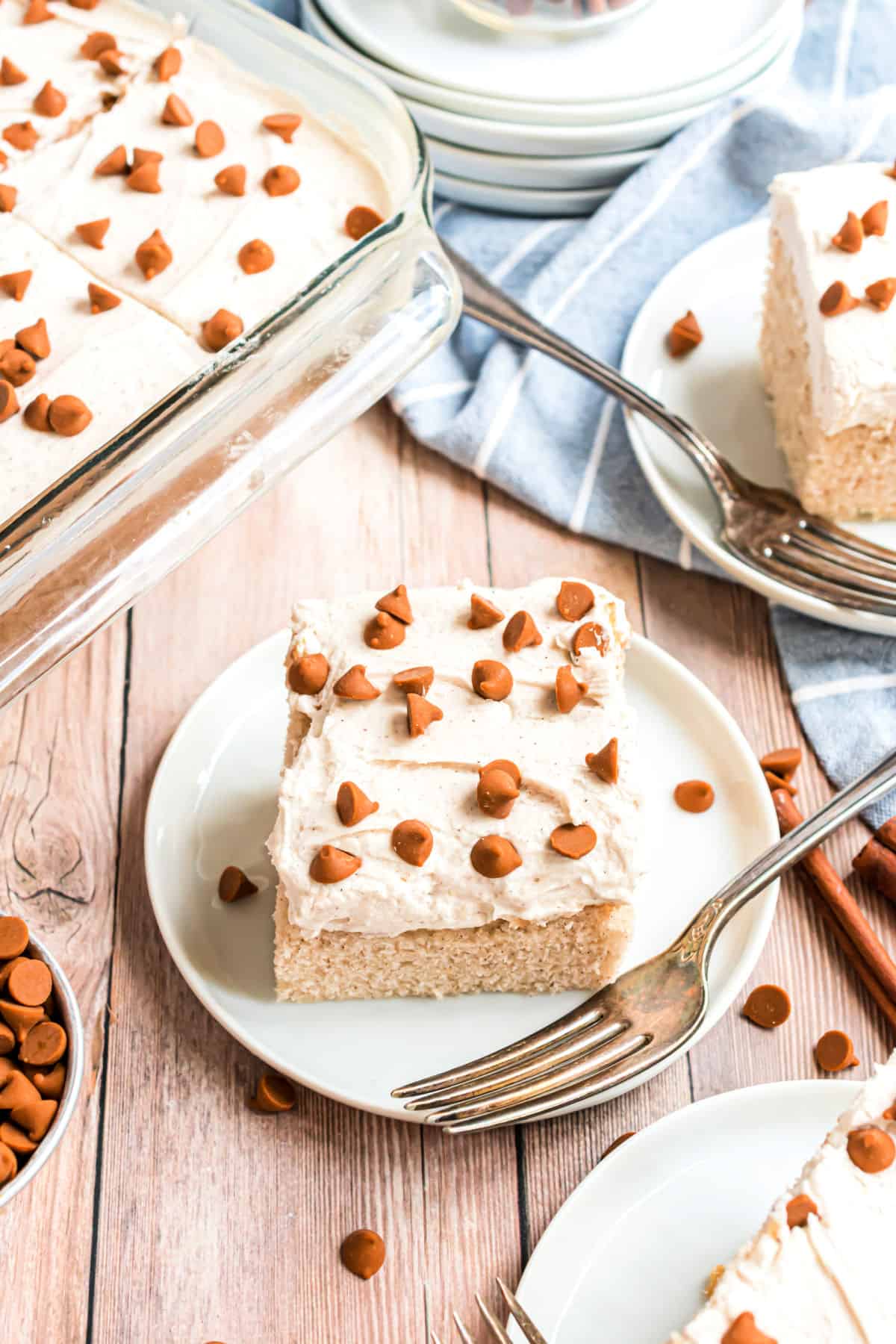 Recipe FAQs
How should I store the cake once it's baked?
Pop the iced cake into the fridge for about 5 minutes until the frosting hardens slightly. Then, cover the cake with plastic wrap, and store it in the refrigerator. It'll last 3-5 days if kept well covered.
What's the best way to serve the cake once it's been refrigerated?
Pull the cake out of the fridge, and allow it to come to room temperature. Once the cake has lost its chill and softened, get ready to dig in!
Can I make cupcakes with this recipe?
You sure can. We've got all the information you need in our cinnamon spice cupcake recipe!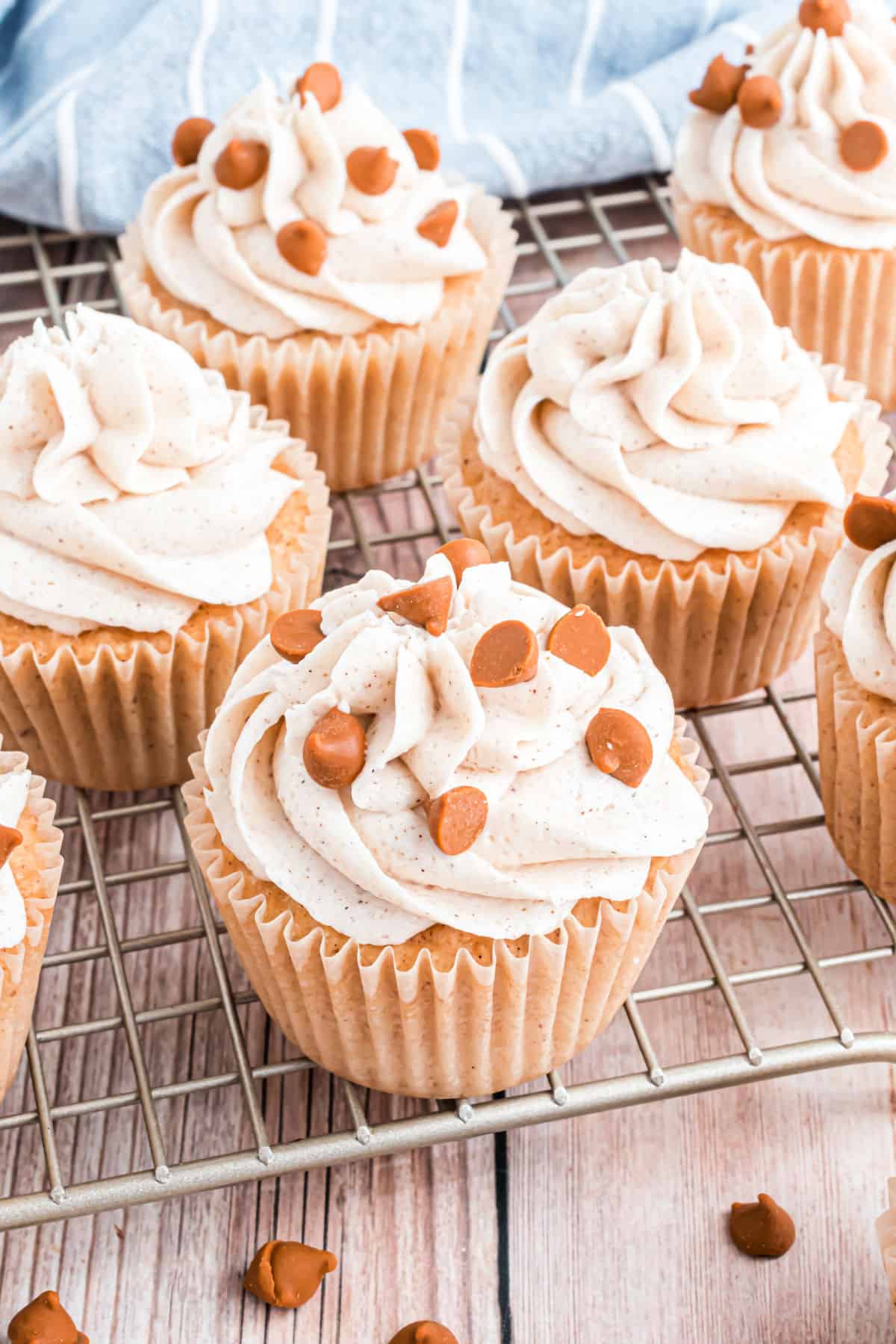 More Easy Dessert Recipes