Classic Lemon Cheesecake tastes even better when it's topped with homemade lemon curd. Creamy and sweet with a bright lemon flavor, this cheesecake tastes like a slice of sunshine!
It's no secret that I find lemon desserts 100% irresistible. If you love today's cheesecake recipe, try our Lemon Poke Cake recipe next!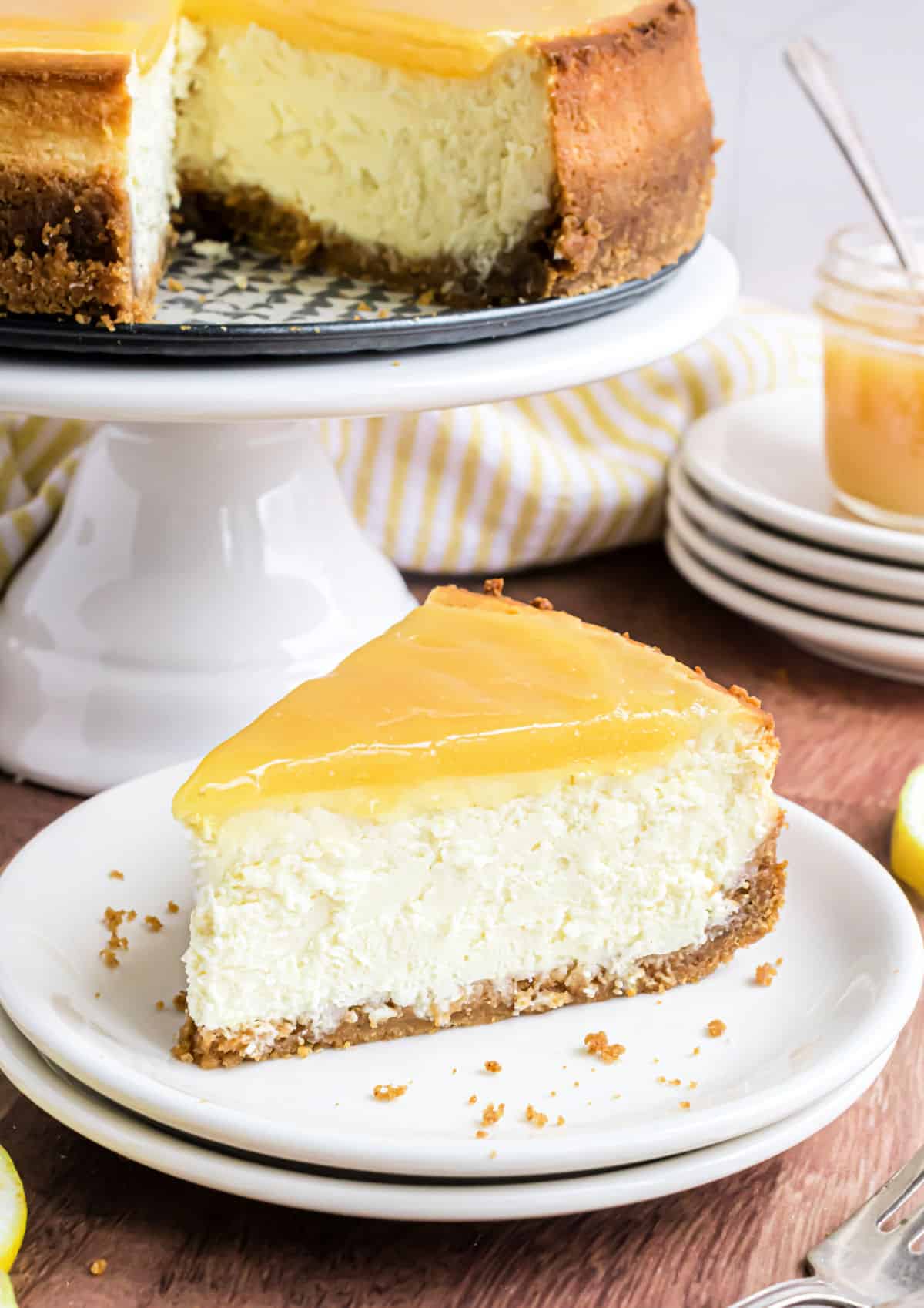 Why This Recipe Works
I can't stop singing the praises of this cheesecake. It satisfies both my insatiable craving for lemon desserts AND my chocolate cravings all in one.
Seriously. Make the Lemon Cheesecake now–thank me later.
Love cheesecake? Try our Baileys Cheesecake for a flavorful twist!
Ingredient Notes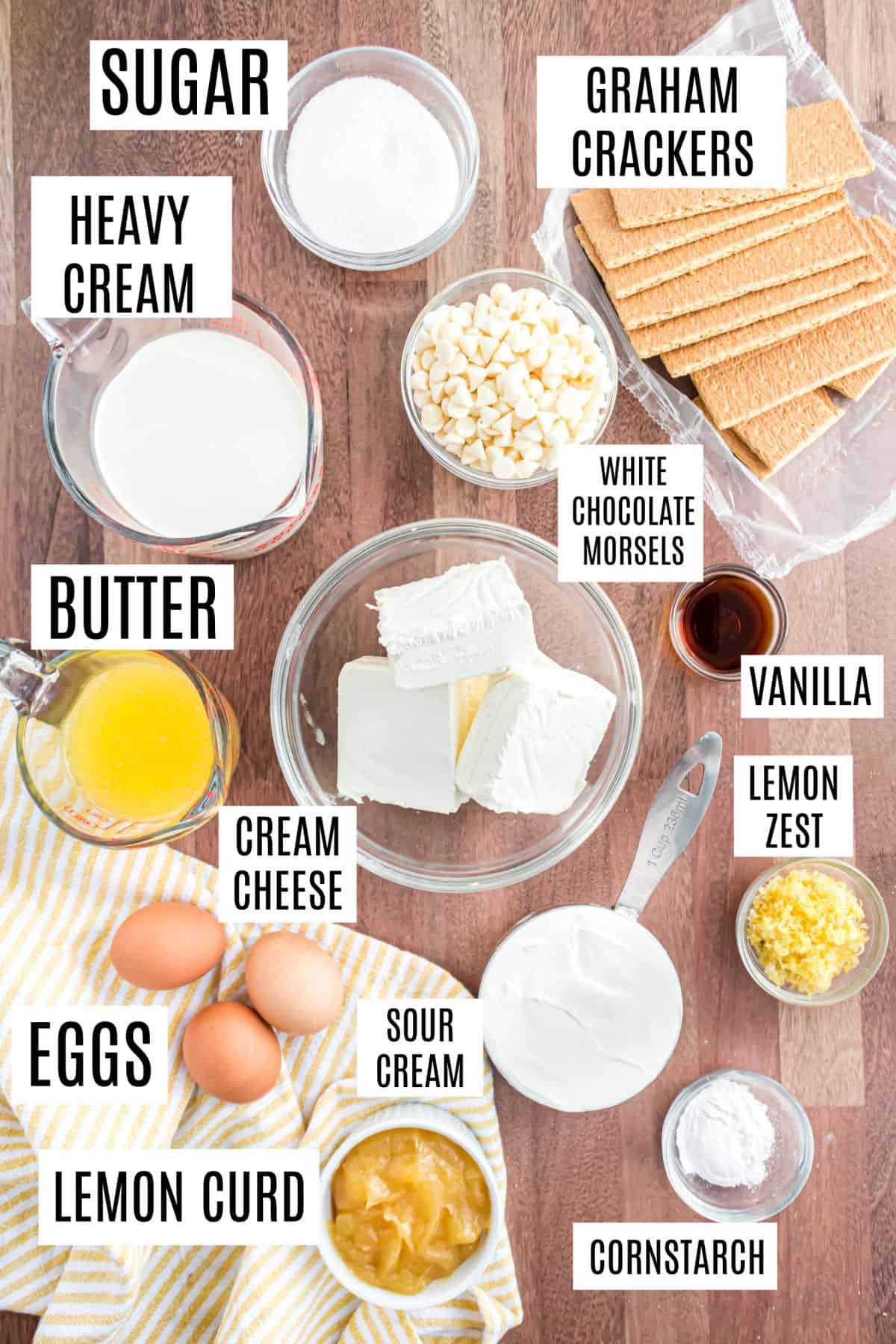 Easy Instructions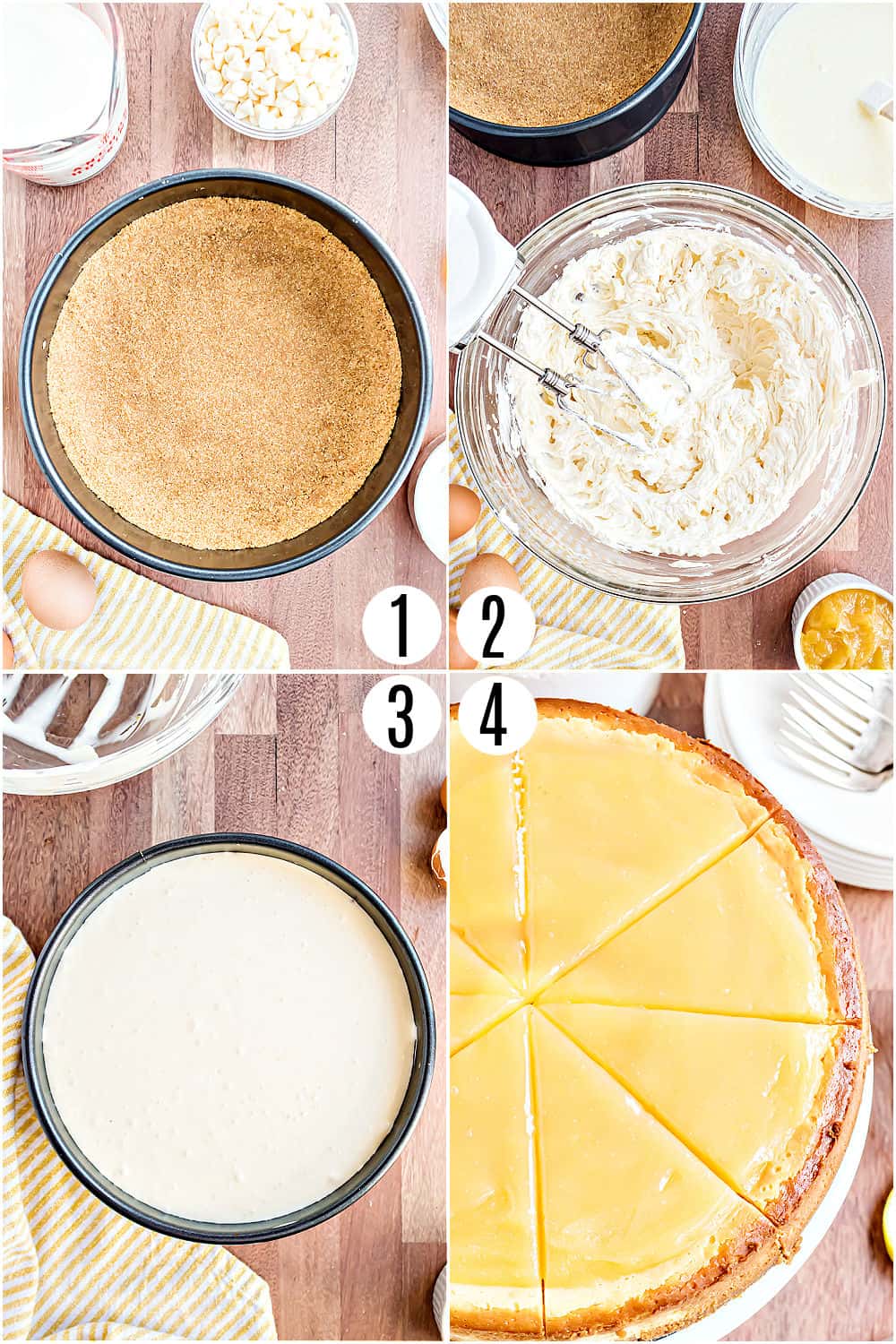 For the crust:
Blend crackers in a food processor to form fine crumbs. Add melted butter and sugar, combine to create a crust.
Press it into a springform pan. Pop it in the freezer while you make the filling.
For the lemon cheesecake filling:
Melt white chocolate with the heavy cream. Combine the remaining filling ingredients (except for the eggs) in a separate bowl.
Then, slowly add the white chocolate mixture. Finally, beat in the eggs.
To bake:
Pour the cheesecake filling into the chilled crust. Bake in a preheated oven over a water bath for 60 minutes.
Turn off the oven. Leave the cheesecake inside the warm oven for 45 minutes.
Chill:
Remove the baked cheesecake. Chill in the fridge overnight. Top with lemon curd before serving.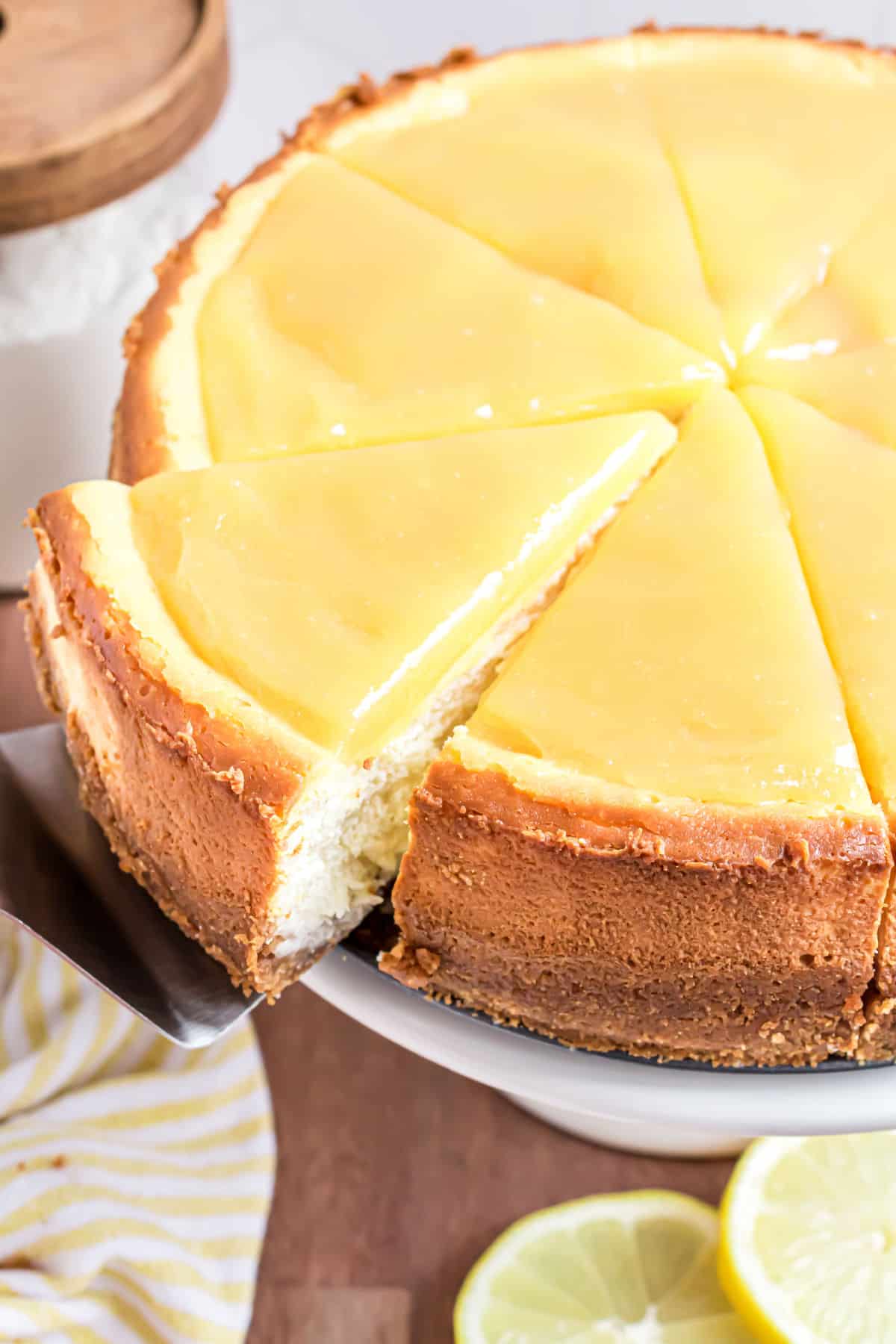 Tips and Tricks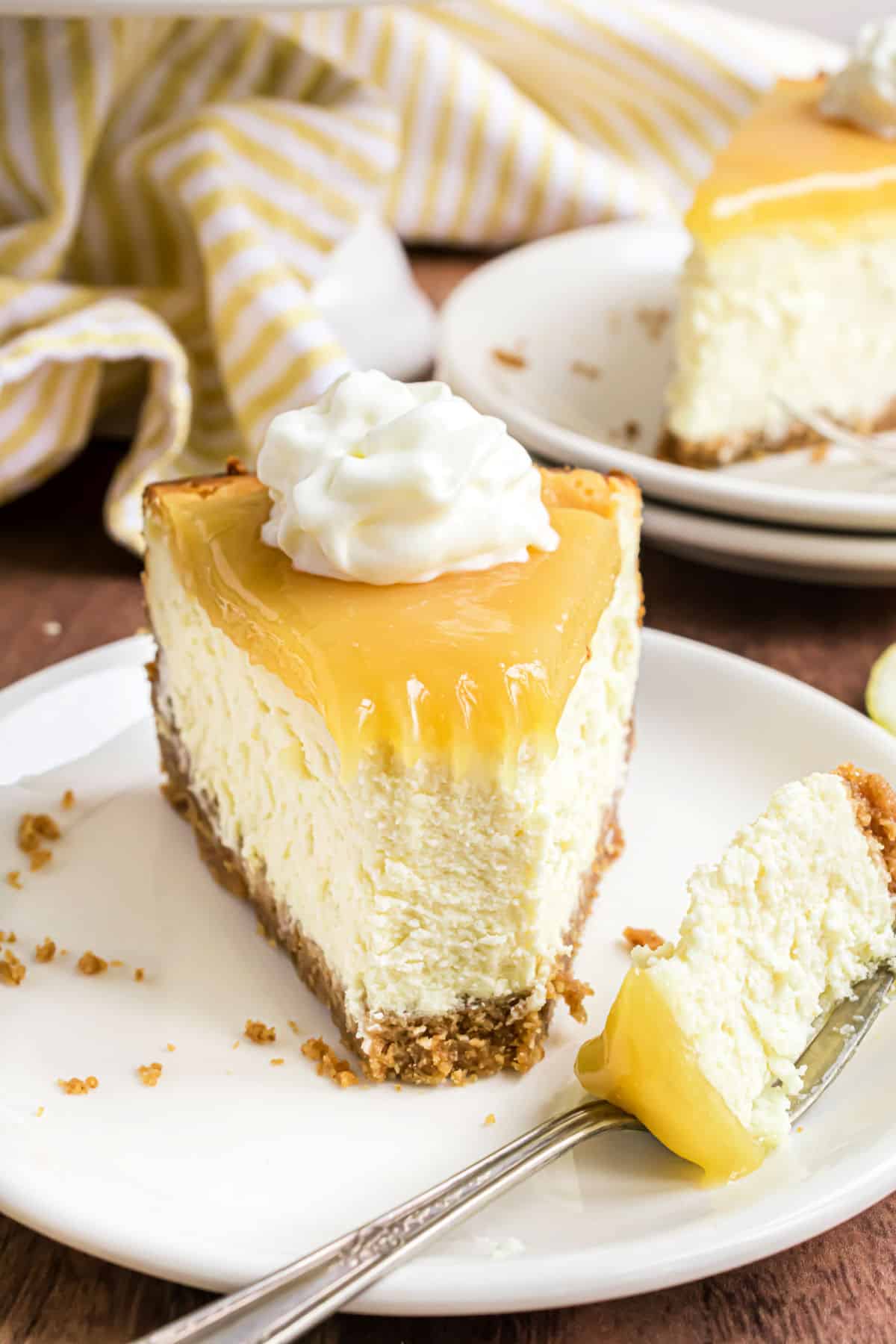 Recipe FAQs
Why did my cheesecake crack?
Cheesecakes can crack for a variety of reasons. Often it's due to incorrect oven temperatures or overbaking. As mentioned earlier, cheesecakes will also crack with a sudden change of oven temperature (like when you open your oven immediately after baking).

What is a water bath?
A water bath is simply a pan of water added to an oven to create humidity. Cheesecakes love a humid environment!
In this recipe, you don't add the cheesecake pan right to the water. Instead, it's placed above the boiling water on the rack as it bakes.
Do I have to store cheesecake in the fridge?
Yes, this cheesecake should be stored in the refrigerator. It tastes wonderful chilled!
How long does homemade lemon cheesecake keep?
This cheesecake is best enjoyed within 3 days. We always gobble it up long before then, though!
Can you freeze cheesecake?
Yes you can freeze cheesecake. After chilling in the refrigerator to set up properly, freeze cheesecake in airtight container for up to 3 months.
More Cheesecake Recipes
This easy Lemon Cheesecake recipe is a lemon lover's dream come true! Topped with lemon curd and baked on a graham cracker crust, it's the perfect blend of creamy, sweet and tart.