Classic Lemon Cheesecake tastes even better when it's topped with homemade lemon curd. Creamy and sweet with a bright lemon flavor, this cheesecake tastes like a slice of sunshine!
It's no secret that I find lemon desserts 100% irresistible. If you love today's cheesecake recipe, try our Lemon Poke Cake recipe next!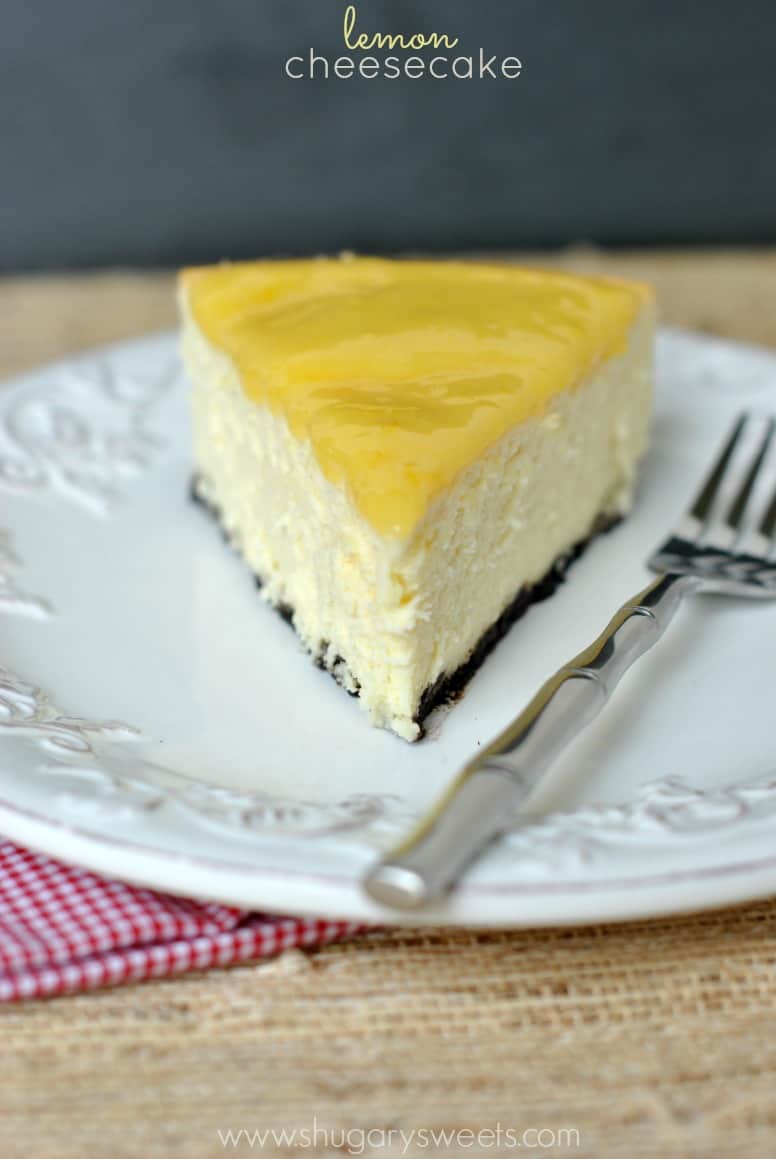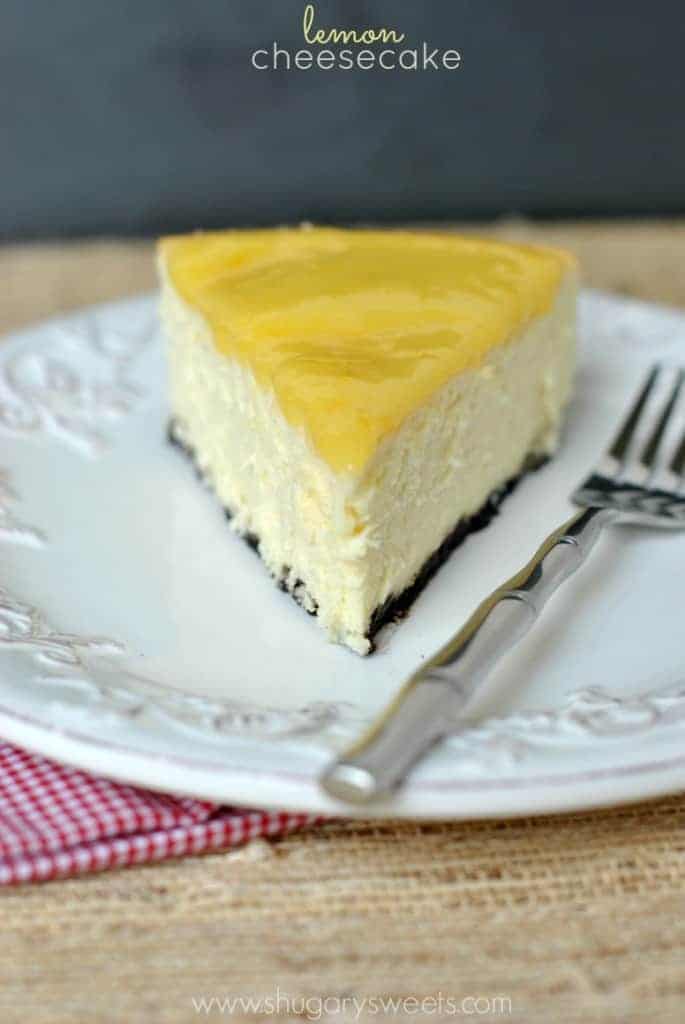 Why This Recipe Works
I can't stop singing the praises of this cheesecake. It satisfies both my insatiable craving for lemon desserts AND my chocolate cravings all in one.
The crust is made from Oreo cookies, adding an amazing chocolate element to the citrusy cheesecake.
Did I mention there's white chocolate in the filling too? White chocolate and lemon are a perfect pair!
In case there wasn't enough lemon for you, I also topped the whole thing with a layer of Homemade Lemon Curd.
Seriously. Make the Lemon Cheesecake now–thank me later.
Ingredient Notes
Lemon zest. This ingredient brings intense lemon flavor and aroma to the cheesecake filling. Use a microplane grater to remove the zest from a whole lemon.
Lemon curd. You can use homemade lemon curd, like I did, or store bought. Both are delicious.
Sour cream. Be sure to use full fat, unflavored sour cream for best results.
Oreo cookies. I used classic chocolate sandwich cookies, as noted. If you prefer a more vanilla focused flavor, golden Oreos make a perfect substitute.
Easy Instructions
For the crust:
Blend cookies in a food processor to form fine crumbs. Add melted butter and combine to create a crust.
Press it into a springform pan. Pop it in the freezer while you make the filling.
For the lemon cheesecake filling:
Melt white chocolate with the heavy cream. Combine the remaining filling ingredients (except for the eggs) in a separate bowl.
Then, slowly add the white chocolate mixture. Finally, beat in the eggs.
To bake:
Pour the cheesecake filling into the chilled crust. Bake in a preheated oven over a water bath for 60 minutes.
Turn off the oven. Leave the cheesecake inside the warm oven for 45 minutes.
Chill:
Remove the baked cheesecake. Chill in the fridge overnight. Top with lemon curd before serving.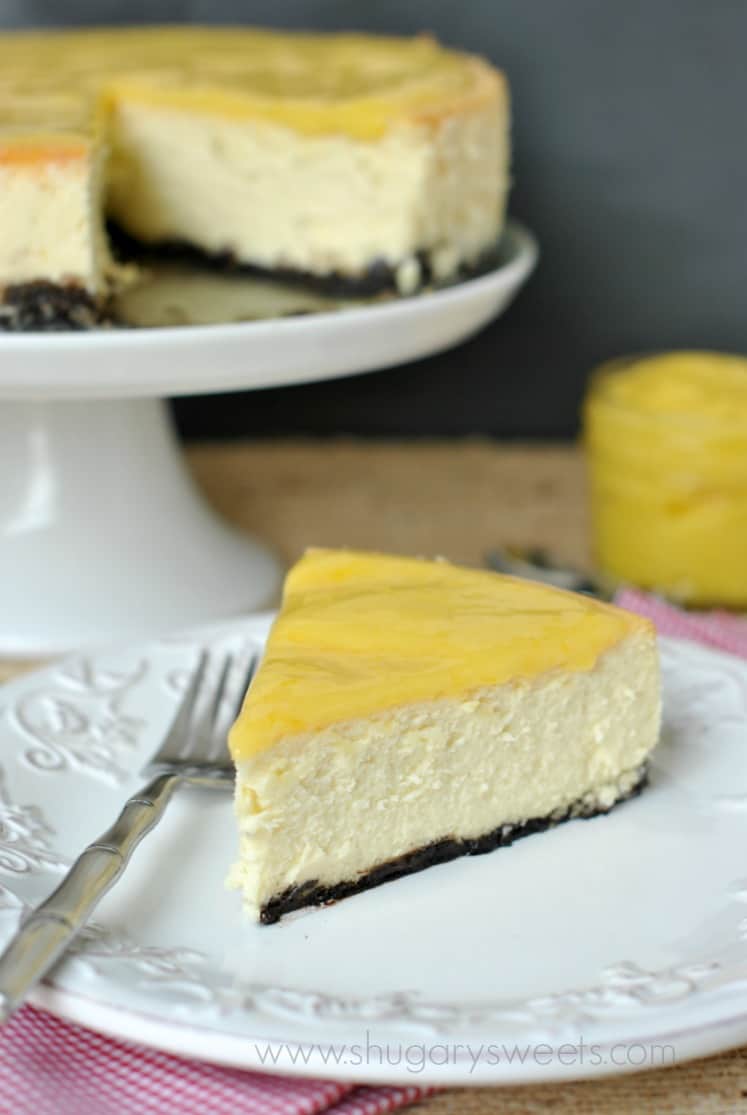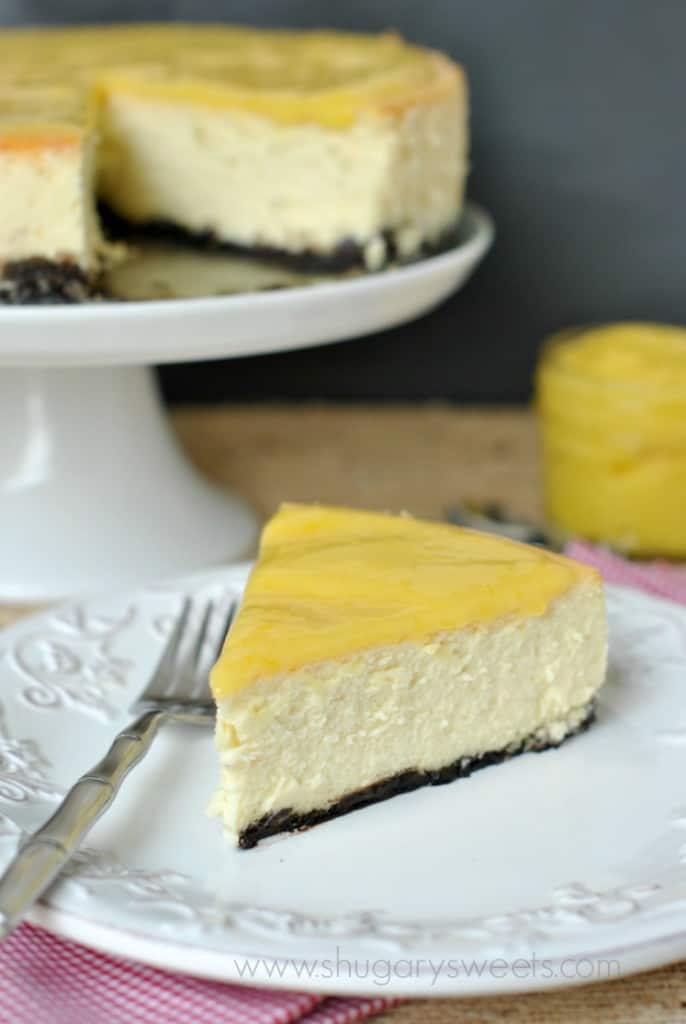 Tips and Tricks
Use softened Cream Cheese for your filling. Seriously, you want the creamiest cheesecake? Start with room temperature cream cheese!
Water Bath. You can still get the benefit of a water bath without actually putting the pan IN the water. Just put your broiler pan of water on the lowest rack instead.
Bake cheesecake according to directions. When it's done baking, DON'T open the oven. Just turn the oven off and leave your cheesecake in there for about 45 minutes. This helps cut down on those cracks on top of your cheesecake!
Remove cheesecake from oven after 45 minutes and allow to set in refrigerator. Add your lemon curd and slice and serve. (for nice clean slices, run knife in hot water and wipe with paper towel after each slice).
If your cheesecake cracked…don't worry! You'll be topping it with lemon curd. You can also try this Vanilla Cheesecake recipe topped with lemon whipped cream and fresh berries.
Recipe FAQs
Why did my cheesecake crack?
Cheesecakes can crack for a variety of reasons. Often it's due to incorrect oven temperatures or overbaking. As mentioned earlier, cheesecakes will also crack with a sudden change of oven temperature (like when you open your oven immediately after baking).

What is a water bath?
A water bath is simply a pan of water added to an oven to create humidity. Cheesecakes love a humid environment!
In this recipe, you don't add the cheesecake pan right to the water. Instead, it's placed above the boiling water on the rack as it bakes.
Do I have to store cheesecake in the fridge?
Yes, this cheesecake should be stored in the refrigerator. It tastes wonderful chilled!
How long does homemade lemon cheesecake keep?
This cheesecake is best enjoyed within 3 days. We always gobble it up long before then, though!
This easy Lemon Cheesecake recipe is a lemon and chocolate lover's dream come true! Topped with lemon curd and baked on an Oreo crust, it's the perfect blend of creamy, sweet and tart.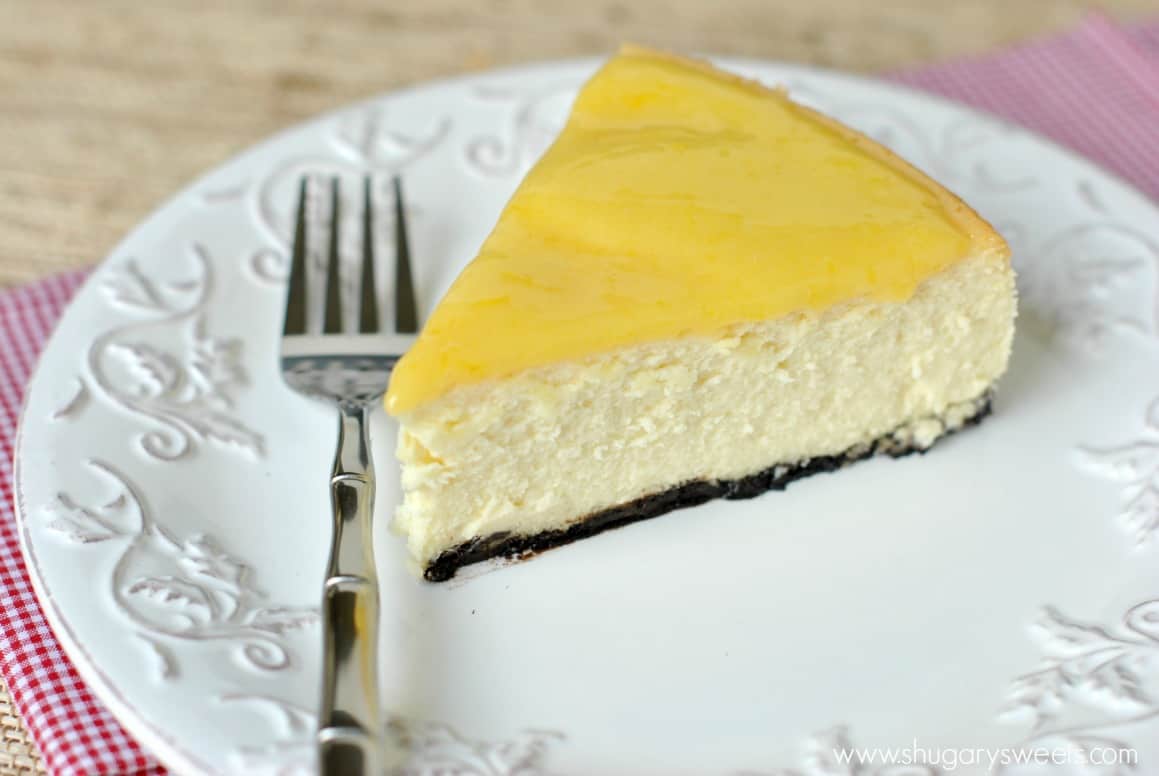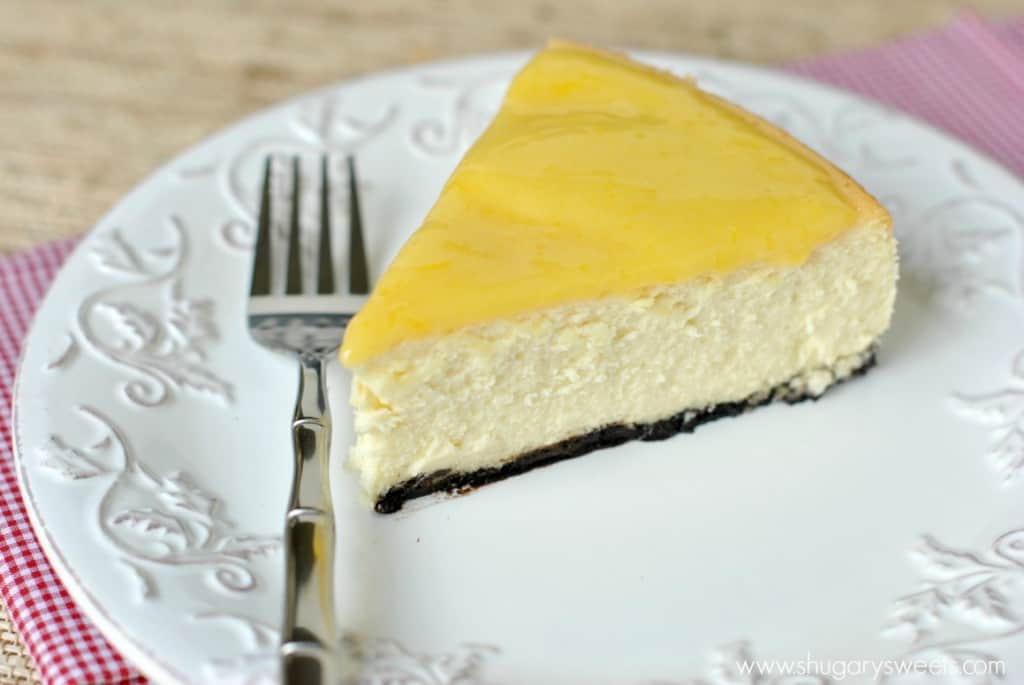 More Cheesecake Recipes