Lemon Raspberry Cheesecake Bites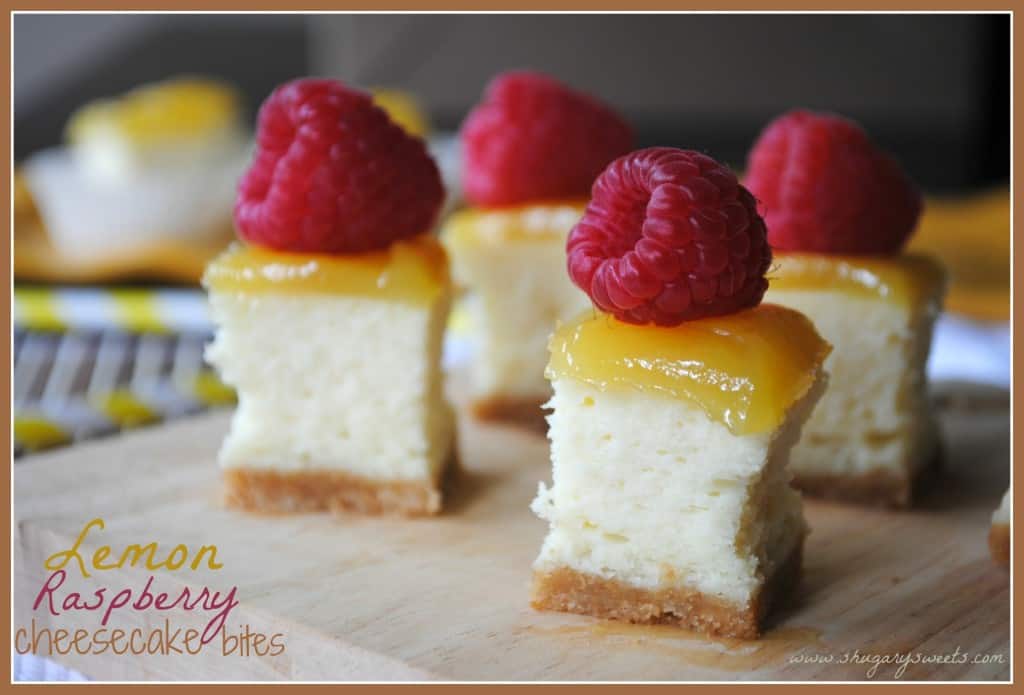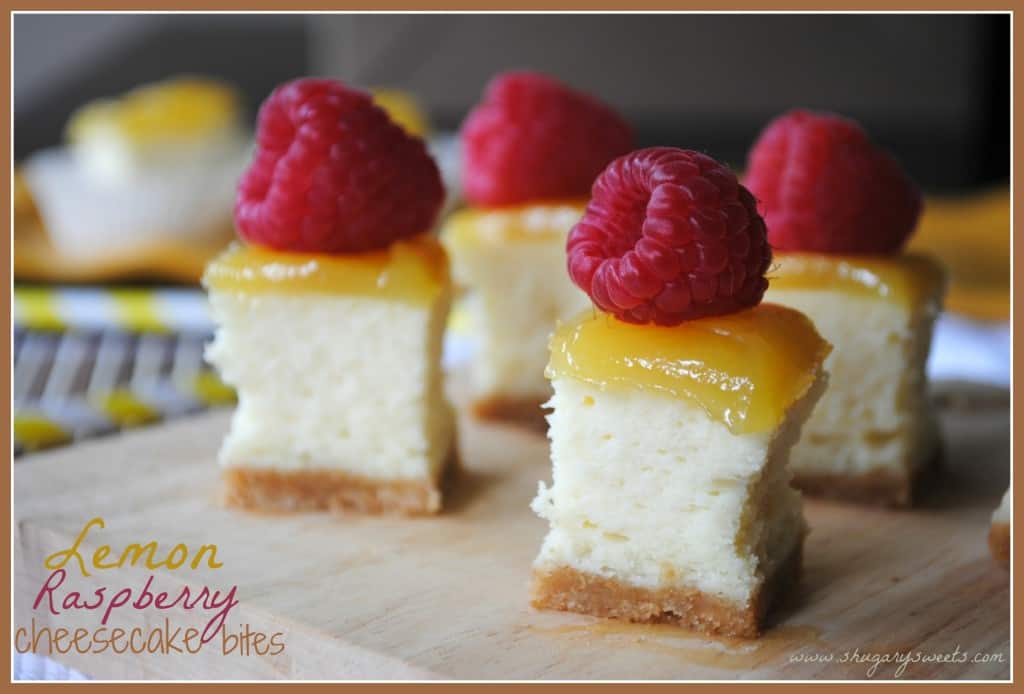 Cheesecake bites are awesome. You get a bite of awesome REAL cheesecake, without feeling guilty about eating a whole slice. Plus, look at that juicy piece of fruit on top.
I spent this week hanging out with my parents in Chicago. I made sure to experience my three favorite restaurants too…Aurelios, Giordanos and Portillos!
I have now made it safely home, at least 5 pounds heavier, and looking for something lite to eat.
These bites of cheesecake are the perfect treat. Just pop a little bite to satisfy that dessert craving.
Unless of course you have zero will power like me and eat more than one bite. 
I made one batch with no raspberries, for those in my family who won't eat that particular fruit. Actually, I take that back. Everyone in my family loves raspberries, just not on dessert. Plain Janes live here.
I cut the perimeter off these bars too so that they look real pretty (and then I snack on that too).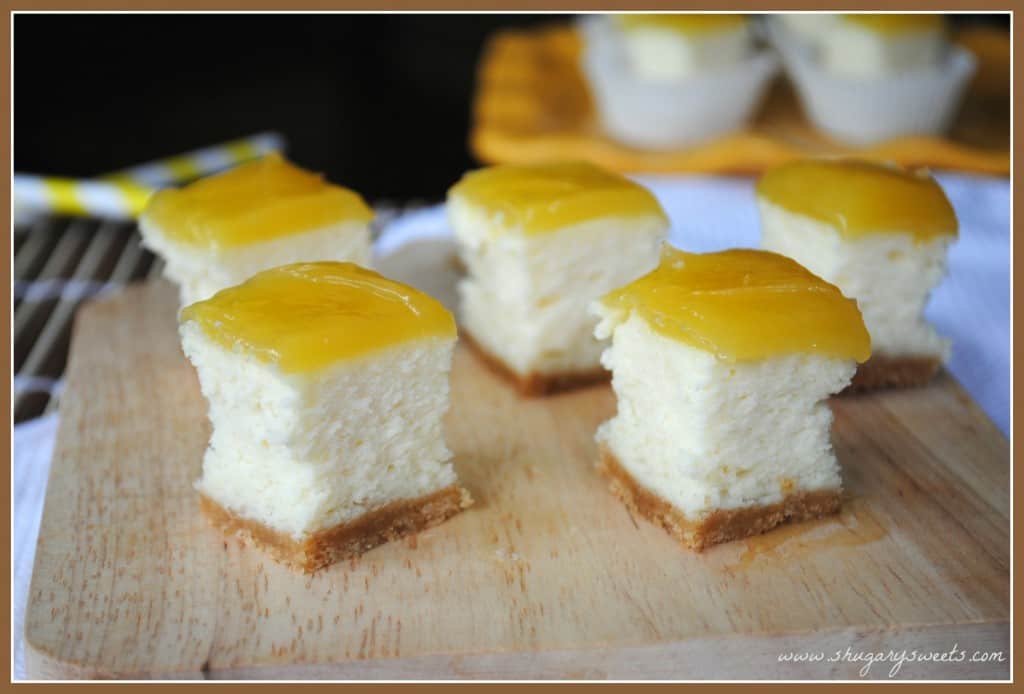 BUT, if you have any self control, you MIGHT be able to eat just one bite (every time you open the refrigerator).
Love cheesecake? Check out these other recipes….
Lemon Raspberry Cheesecake Bites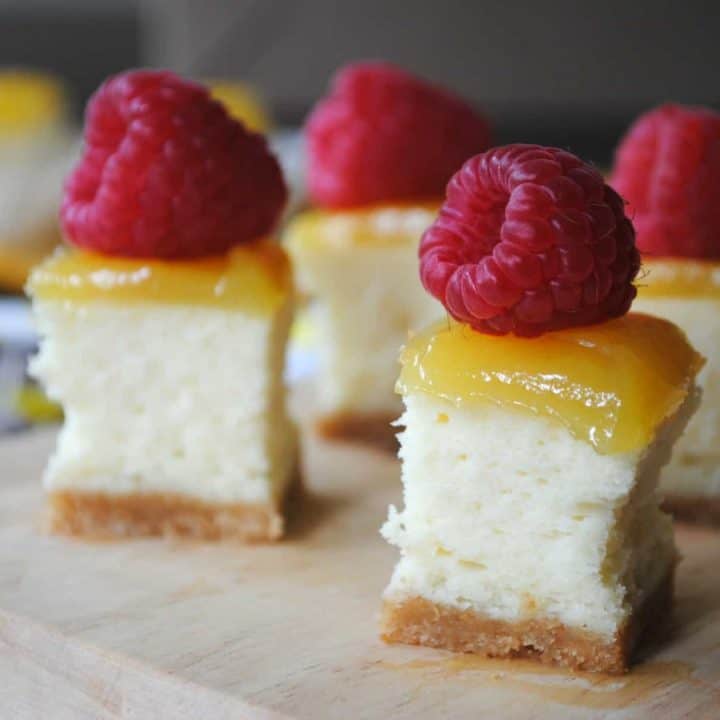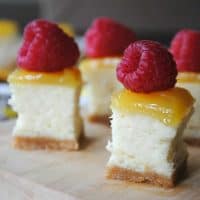 Ingredients
For the Crust:
30 vanilla wafer cookies
1/4 cup butter, melted
For the Cheesecake:
1/3 cup heavy cream
1/2 cup white chocolate morsels
2 pkg (8oz each) cream cheese, softened
3/4 cup granulated sugar
1 1/2 tsp cornstarch
1/2 cup sour cream
1 tsp vanilla extract
2 eggs
For the Topping:
10oz jar lemon curd
48 fresh raspberries
Instructions
For the crust, process cookies in food processor until crumbs. Mix in melted butter until completely combined (I just pulse a couple of times). Press into bottom of a foil lined 8inch square baking dish.
Bake crust in a 350 degree oven for 8 minutes. Remove and cool while preparing cheesecake filling.
For the filling, heat heavy cream in a small saucepan over low heat. Add in white chocolate and stir continuously until chips are melted. Remove from heat and set aside.
In mixer, beat cream cheese with sugar and cornstarch until fluffy. Beat in sour cream, eggs and vanilla extract. Slowly beat in heavy cream mixture. Pour into prepared crust and bake in a 300 degree oven for 35 minutes. Turn oven off, and let cheesecake remain in oven an additional 20 minutes. Remove and cool completely. Spread lemon curd on top of cheesecake, evenly.
Refrigerate at least 3 hours.
Cut cheesecake into small bites (I cut off the edges to get a nice, clean bite). Garnish with fresh raspberries, if desired. Enjoy!