Lemon Raspberry Cheesecake bites are the perfect bite-size dessert. Mini cheesecake that is creamy and delicious without the guilt of a whole slice. Enjoy snacking on one, two, or more of these cheesecake bars!
Love cheesecake? Our lemon cheesecake is perfect when you want to make a traditional pie shaped treat. Or give our no bake lemon cheesecake a try next!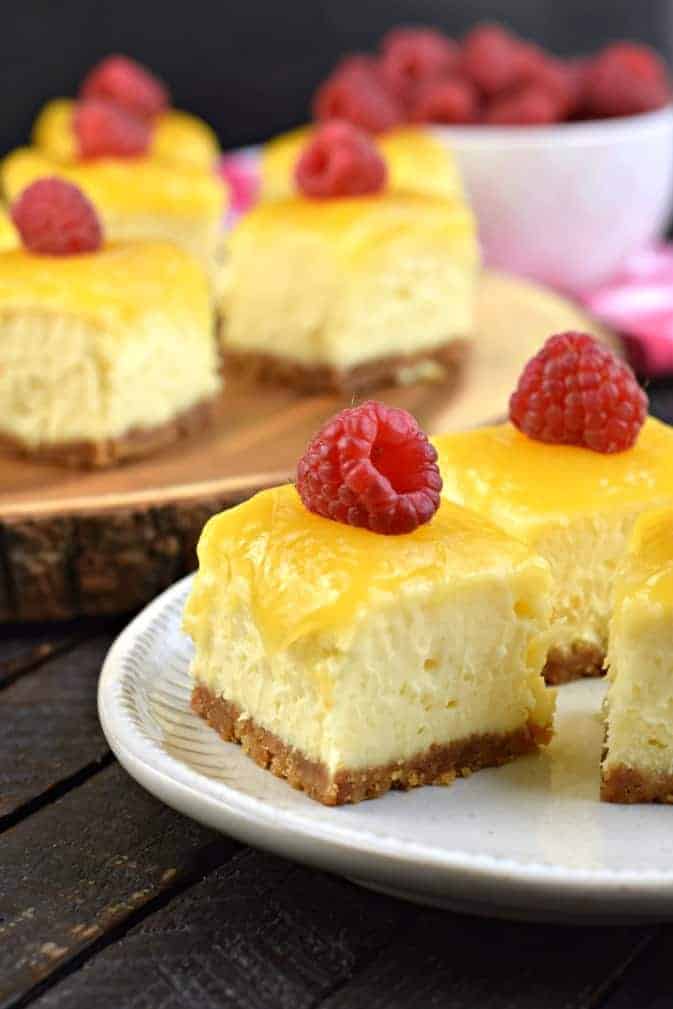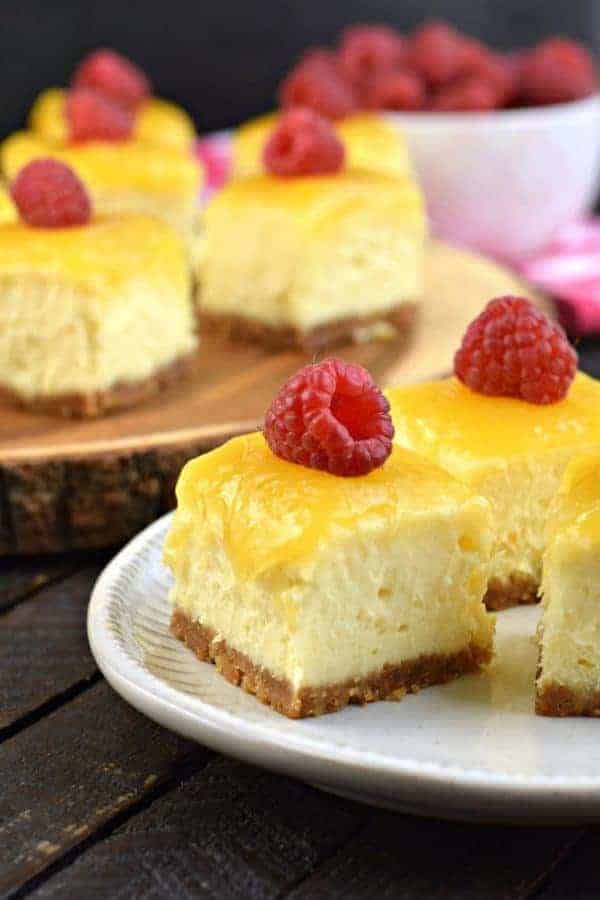 Why this Recipe Works
These mini lemon cheesecakes are the perfect treat. The combination of raspberry and lemon is amazing! Just pop a little bite to satisfy that dessert craving and get your cheesecake fix. Unless, of course you have zero willpower like me and eat more than one bite. That's okay too!
I made one batch of these without raspberries, and one batch with. I can't decide which one I like better!
I cut the perimeter off of the lemon cheesecake bars too so that they look especially pretty (and then I snack on that too).
If you have any self control, you might be able to eat just one bite (every time you open the refrigerator, that is). I doubt it though. These are too tasty!
How to Make Lemon Raspberry Cheesecake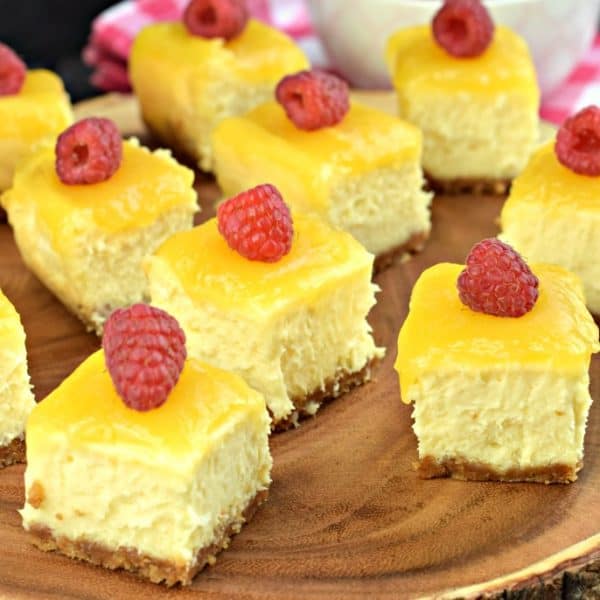 Make the Crust. For the crust, process cookies in a food processor until they become crumbs. Mix in melted butter until completely combined (I just pulse a couple of times). Press into the bottom of a foil lined (or parchment paper lined) 8-inch square baking dish.
Bake crust for 8 minutes. Remove and cool while preparing cheesecake filling.
Make the Filling. For the cheesecake filling, heat heavy whipping cream in a double boiler over low heat. Add in white chocolate and stir continuously until chips are melted. Remove from heat and set aside.
In a mixer, beat softened cream cheese with sugar and cornstarch until fluffy. Beat in sour cream, eggs and vanilla extract. Slowly beat in heavy cream mixture. Pour into prepared crust and bake in a 300 degree oven for 35 minutes. Turn oven off, and let cheesecake remain in oven an additional 20 minutes. Remove and cool completely.
Add Lemon Curd. Spread lemon curd on top of cooled cheesecake, evenly, using an offset spatula. Refrigerate for at least 3 hours, or overnight.
Serve. Cut cheesecake into small bites (I cut off the edges to get a nice, clean bite.) Garnish with a fresh raspberry, if desired. Enjoy!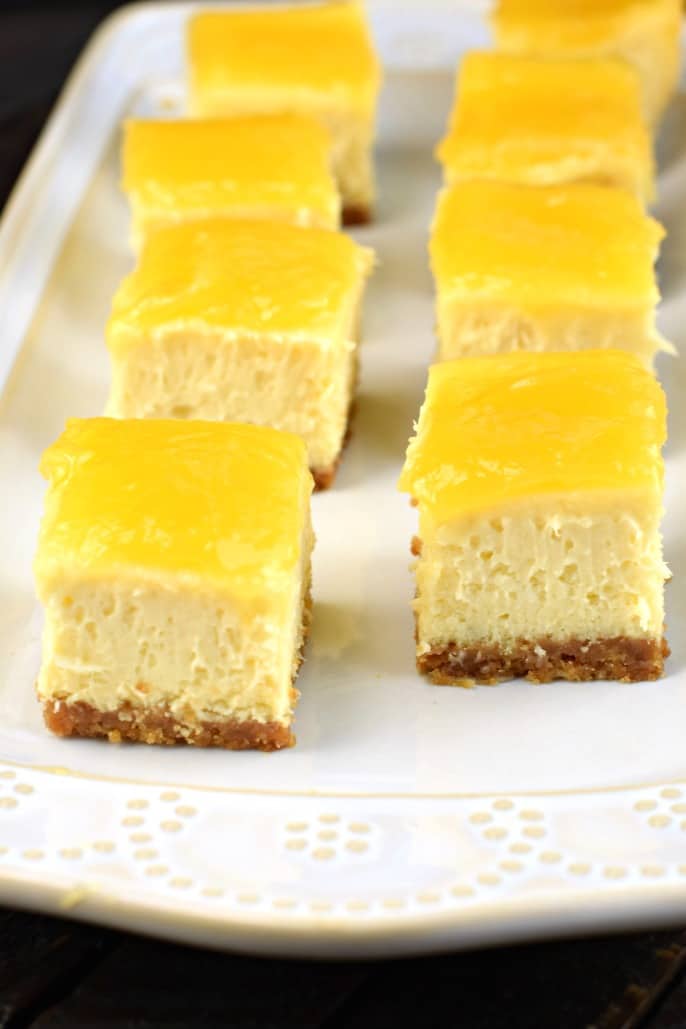 How to Store Lemon Curd Cheesecake
Don't keep your cheesecake out at room temperature for longer than two hours.
Store these cheesecake bites in an airtight container in the refrigerator for up to 4 days.
Can I Freeze Lemon Cheesecake Bars?
If you don't have any willpower, like me, you can freeze these cheesecake lemon bars to prevent you from gobbling them all up!
After making them, allow them to cool completely, then wrap cheesecake tightly in plastic wrap and then slide into a freezer bag. These can be frozen for up to two months.
When you're ready to serve them (I mean eat), defrost them in the refrigerator overnight. Top with fresh lemon curd and berries. ENJOY.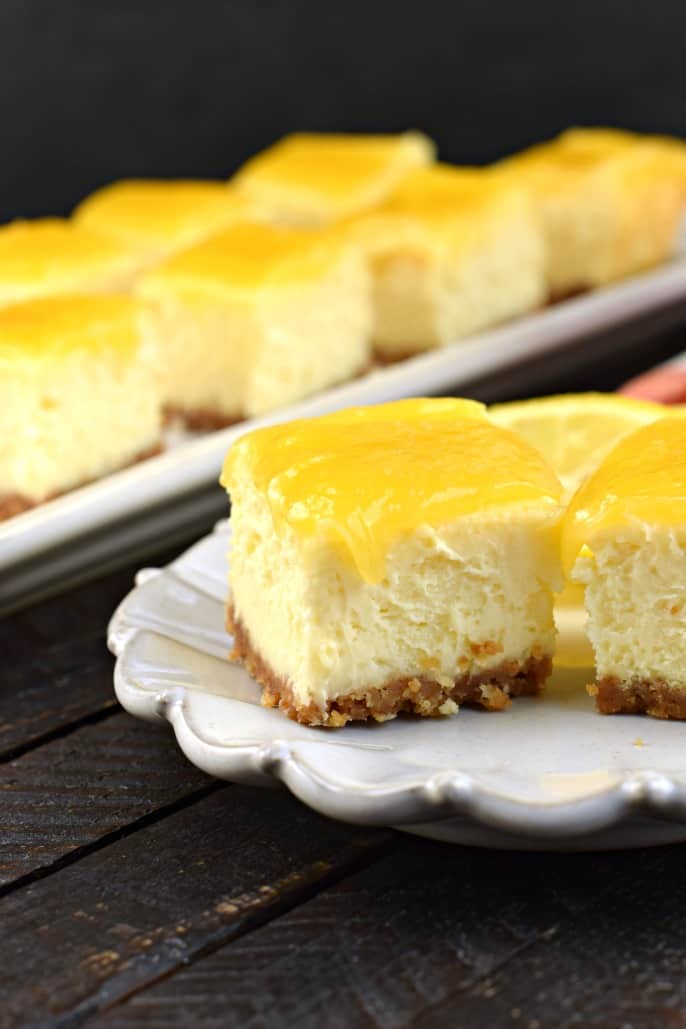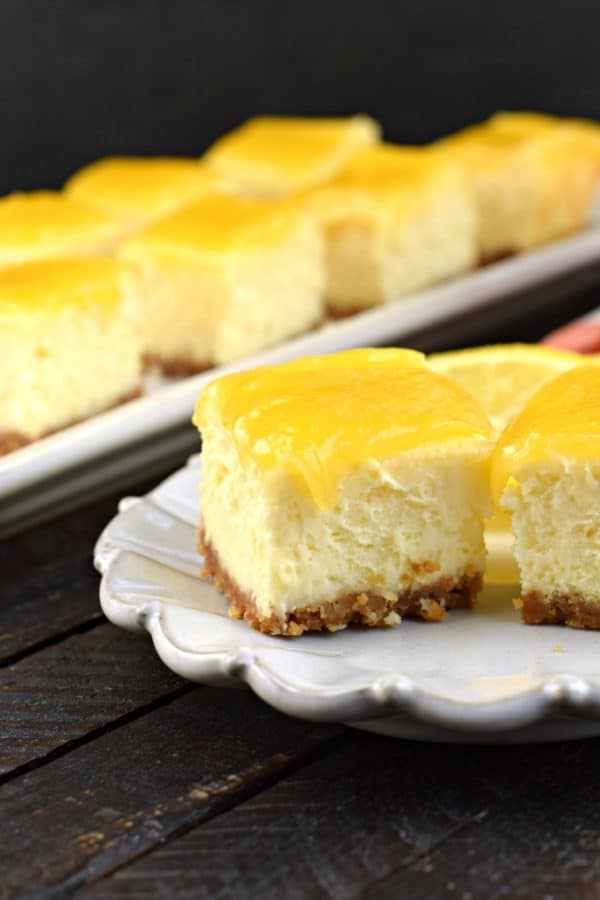 Tips and Tricks
Use a double boiler for your filling mixture. If you don't have a double boiler, use a glass or metal bowl over a saucepan.
Make sure you don't over beat the cream cheese mixture. Over beating can cause air pockets in the cheesecake, creating cracks.
No water bath is needed for these bars since we're topping them with lemon curd.
Use our graham cracker crust recipe instead.
Speaking of lemon curd, it is delicious. You can buy a jar of lemon curd from the store or make your own. It's actually much easier to make than you might think!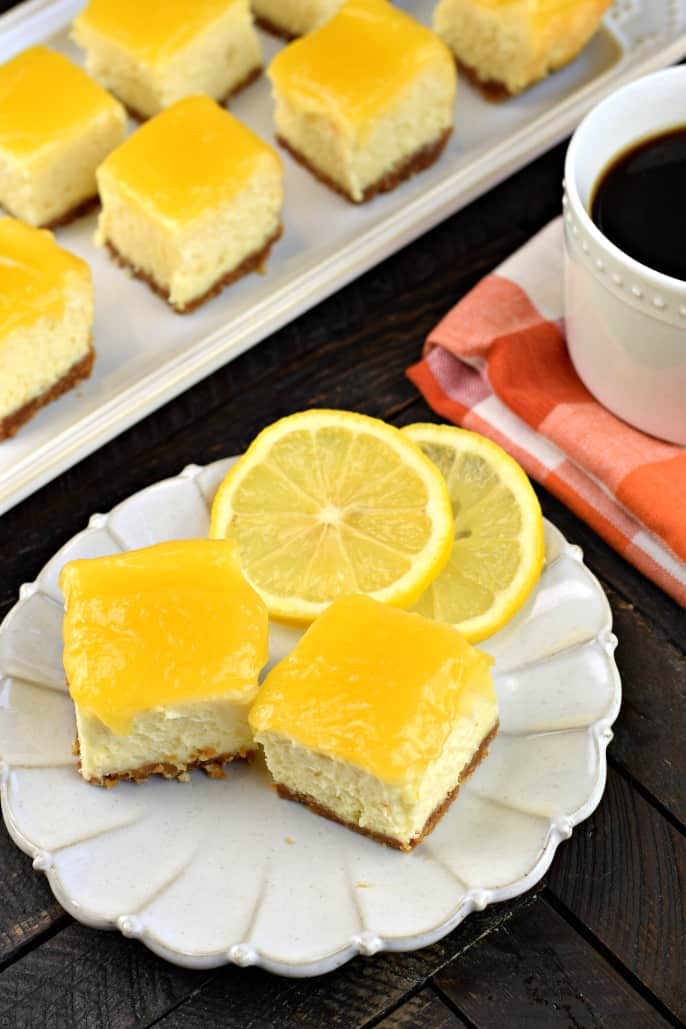 How to Tell When the Cheesecake is Done Cooking
It can be tricky to know when cheesecake is done. Here a few different ways to test it.
Look at it: Your cheesecake is done when a ½ inch ring around the edges starts to brown and puff up a bit.
Check the temperature: Stick your instant thermometer halfway through the middle of the cheesecake. When it's done, the temperature will read 150° F
Shake it gently: Use an oven mitt to gently shake the prepared pan while it is still in the oven. If the area in the middle jiggles just slightly, then the cheesecake is done.
Touch it: With a clean hand, gently touch the middle of the cake with one or two fingers. If your finger comes away with batter on it, or sinks the cake, it needs to cook for a little longer.
More Cheesecake Recipes
Lemon Raspberry Cheesecake bites are creamy, delicious, bite sized cheesecake treats!