No Bake Blueberry Cheesecake recipe with almonds and a graham cracker crust. You'll love this easy dessert idea for summer, or any holiday!
Craving dessert? Try our easy no bake cookies for the perfect treat that's ready in minutes. Of course you could always whip up a batch of Rice Krispie Treats too!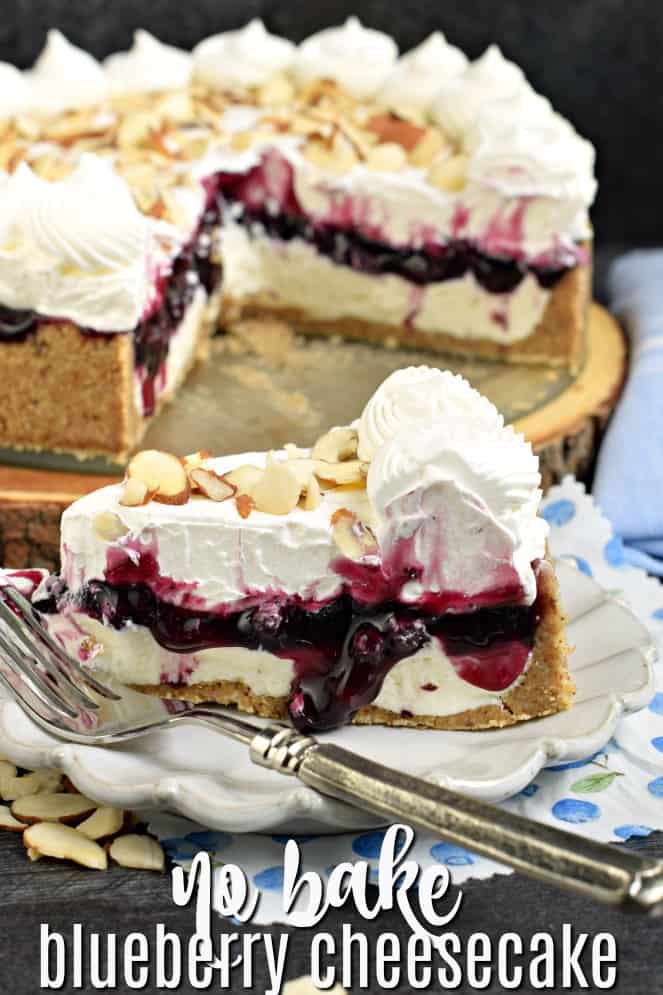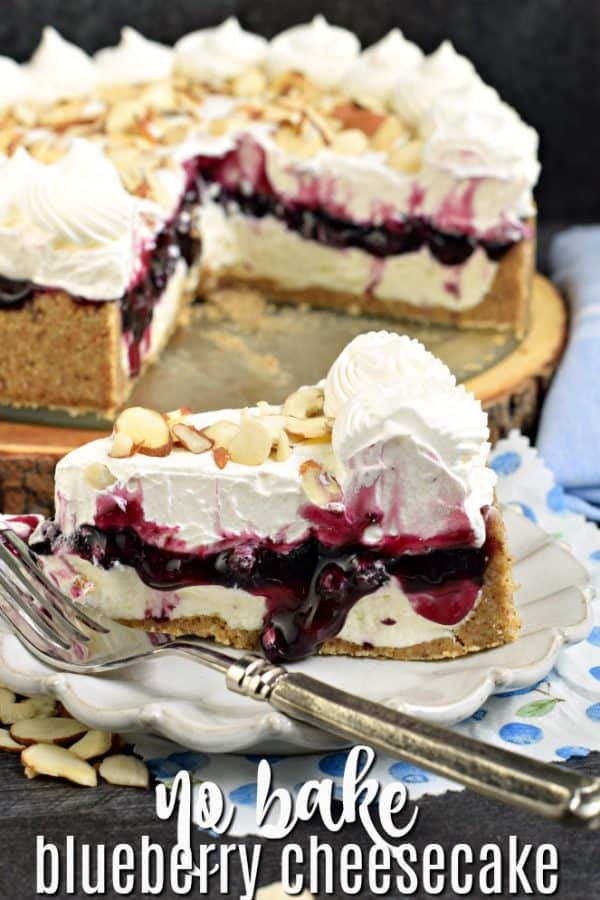 Why this Cheesecake is Best
Every once in awhile I love to share a recipe that looks impressive. Yet there's a secret.
This is a ridiculously easy No Bake Blueberry Cheesecake recipe.
Don't be fooled by the steps involved, you literally just mix and layer a few things, refrigerate, and voila! A gorgeous Blueberry Cheesecake emerges.
You may remember this stunning Banana Cream Cheesecake? I used that same concept to create today's tasty version.
I love the pairing of creamy cheesecake, blueberry pie filling, and crunchy sliced almonds.
I even added almond extract into the cheesecake layer for a deeper, nuttier flavor!
And the graham cracker crust? Also made with almonds!
You'll love this desserts, and it's impressive enough to share too! Try our no bake strawberry cheesecake next! Or give our delicious no bake raspberry cheesecake a try soon.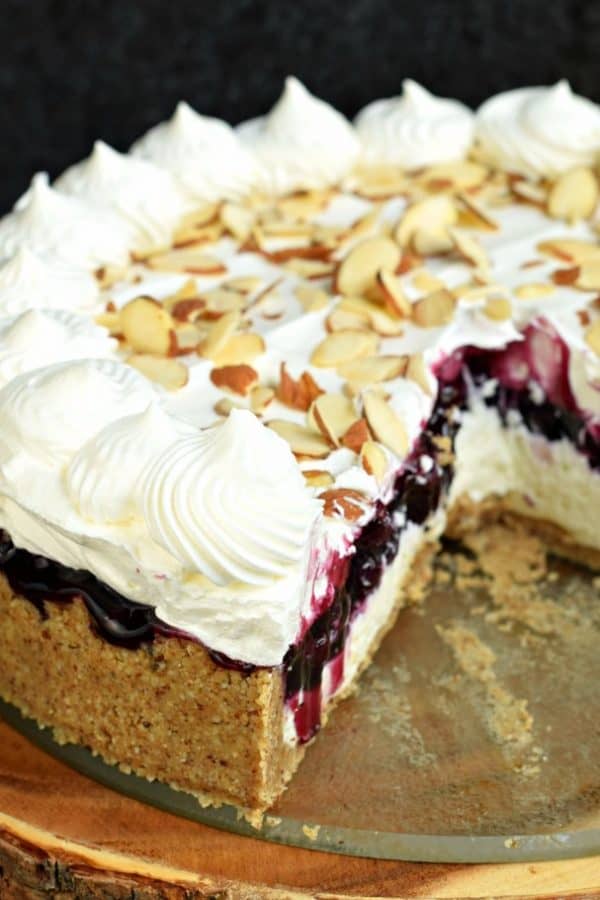 Ingredient Notes
Almonds – add a nutty twist to my go-to graham cracker pie crust.
Cream cheese – Use the full fat version for creamiest flavor!
Almond extract – enhances the almond taste in this cheesecake.
Blueberry pie filing – I use canned pie filling for convenience.
Whipped topping – Thawed Cool Whip is a perfect topping for blueberry cheesecake!
Sliced almonds – Sprinkled on top to add crunch to the soft cheesecake layers.
Tips and Tricks
Before you ask: YES you can substitute fresh whipped cream for the Cool Whip in this Blueberry Cheesecake recipe.
To match the consistency of the Cool Whip, I suggest my Stabilized Whipped Cream as an easy substitution. It tastes like Cool Whip but without all the added preservatives.
Feel like a different fruity filling? Swap the blueberry filling for a can of cherry pie filling instead!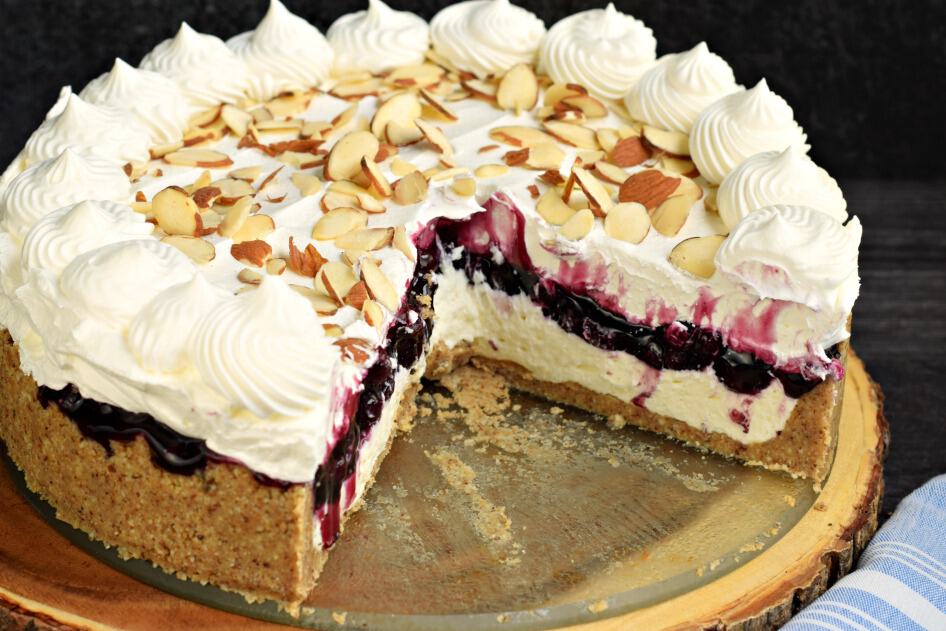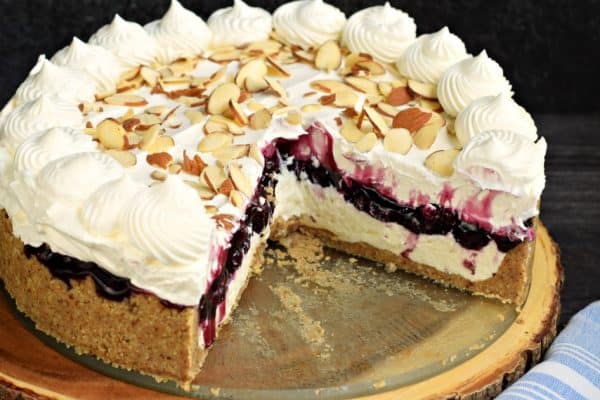 Recipe FAQs
Can I make no bake cheesecake in advance? How far ahead of time can I make it?
No Bake Cheesecake is best prepared at least 4 hours before serving. I usually prep it the day before and let it chill in the fridge overnight.
You can make this no bake blueberry cheesecake up to 4 days in advance. Keep it covered in the fridge to keep if fresh and delicious!
How can I make blueberry pie filling from scratch?
Follow the instructions for making filling from my Blueberry Pie recipe. It makes a perfect swap for canned filling!
Can I make cheesecake without a springform pan?
The springform pan makes it easy to remove the cheesecake from the pan in one, beautiful shape.

If you don't have one you can still make this recipe as bars!

Press the crust into a square 8 x 8 baking dish lined with parchment paper. Follow the recipe as directed and you'll have some incredible blueberry cheesecake bars to share!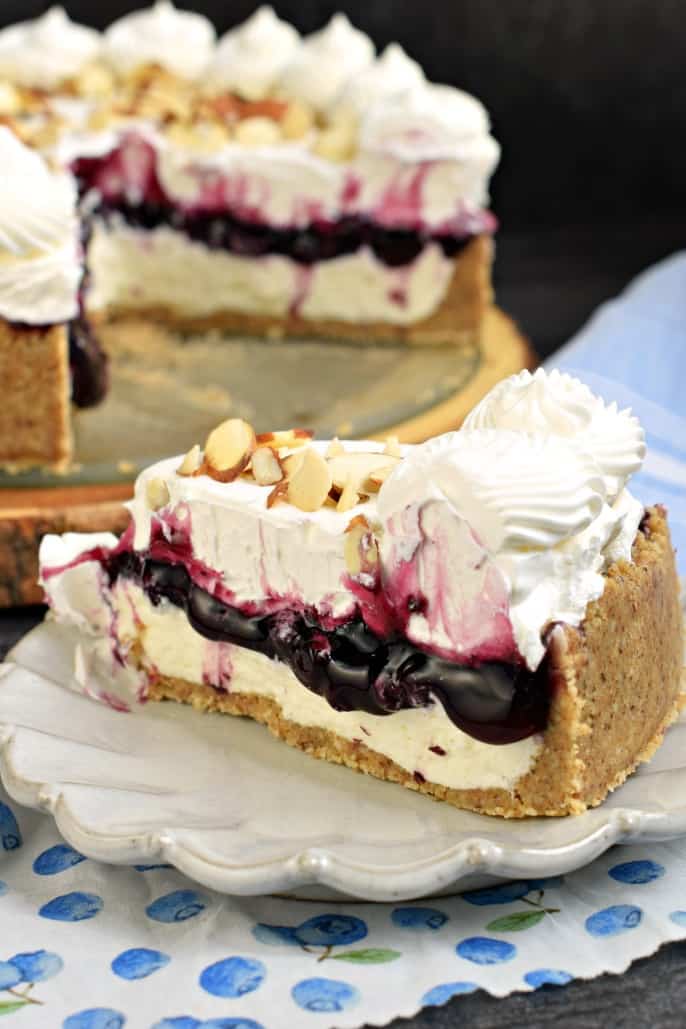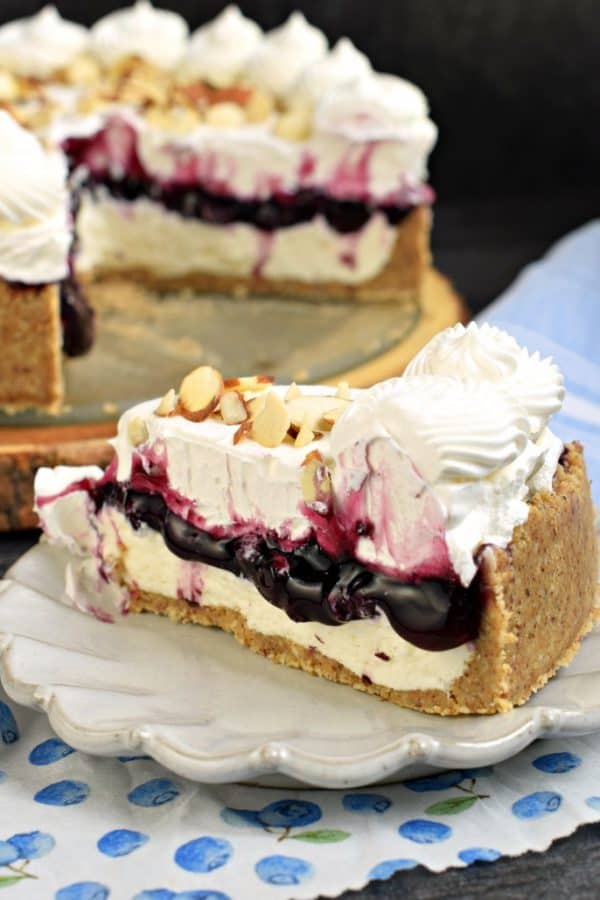 Easy No Bake Blueberry Cheesecake recipe with a graham cracker crust, blueberry pie filling, and sliced almonds!