No Bake Blueberry Cheesecake recipe with almonds and a graham cracker crust. An easy dessert idea for summer, or any holiday!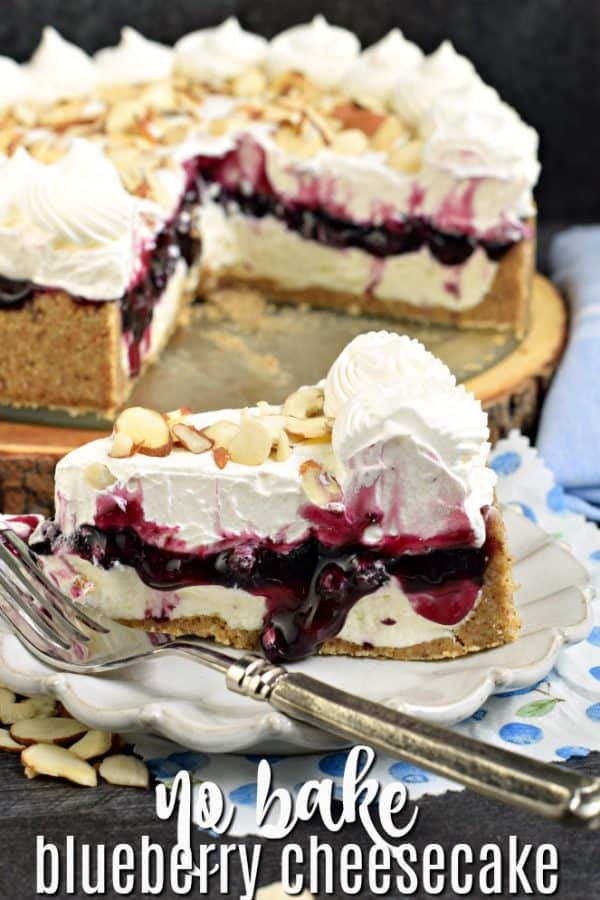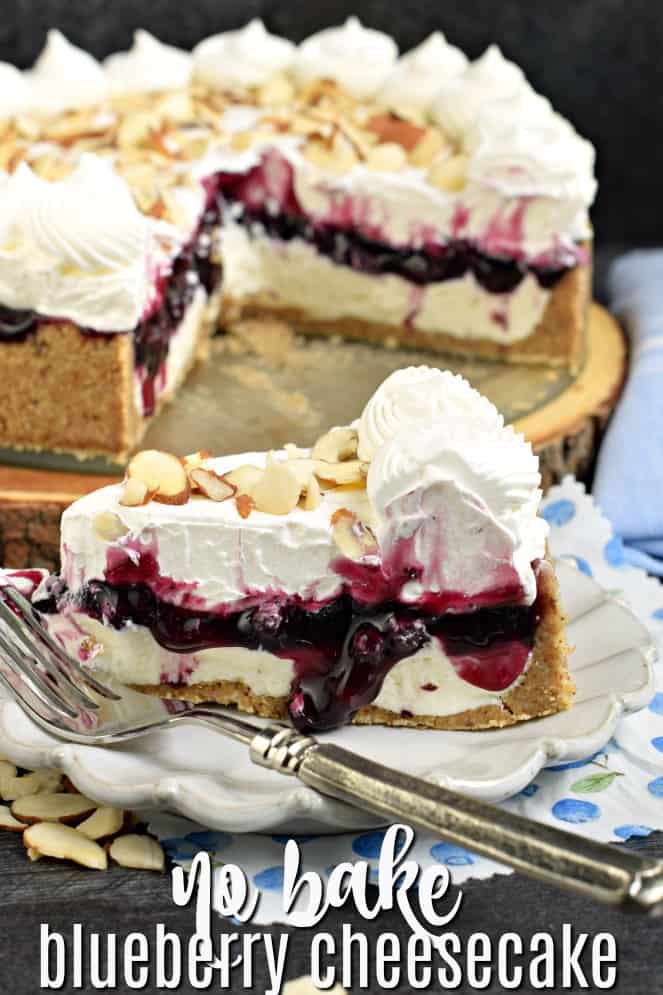 Every once in awhile I love to share a recipe that looks impressive. Yet there's a secret.
This is a ridiculously easy No Bake Blueberry Cheesecake recipe.
Don't be fooled by the steps involved, you literally just mix and layer a few things, refrigerate, and voila. A gorgeous Blueberry Cheesecake emerges.
You may remember this stunning Banana Cream Cheesecake? I used that same concept to create today's tasty version.
With one delicious addition. Crunchy Fishers Nuts sliced almonds.
I love the pairing of creamy cheesecake, blueberry pie filling, and crunchy sliced almonds. I even added almond extract into the cheesecake layer for a deeper, nuttier flavor!
And the graham cracker crust? Also made with almonds! You'll love this desserts, and it's impressive enough to share too!
How to Make No Bake Blueberry Cheesecake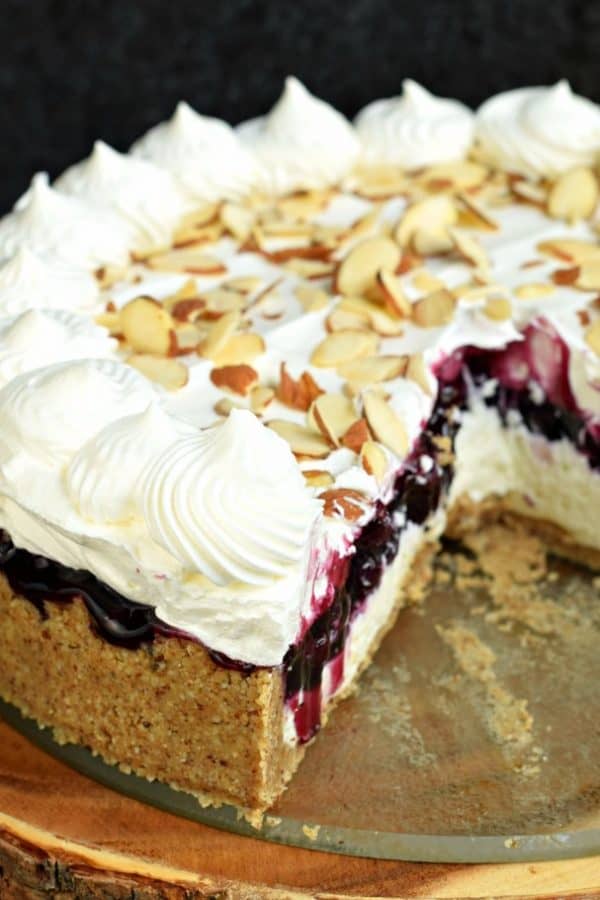 STEP 1: Prepare the Pan.
Lightly grease the bottom of a 9-inch springform pan with baking spray. Set this aside.
STEP 2: Make the Graham Cracker Crust.
In a food processor, you're going to blend the almond slices with graham crackers, and granulated sugar. Process this until fine crumbs.
Slowly add in melted butter and mix until crumbly. Pour crust mixture into the bottom of prepared springform pan.
Press crumbs firmly to create crust, allowing them to go up slightly on the sides of the pan. Set aside.
STEP 3: Cheesecake Time.
In a large mixing bowl, beat cream cheese with sugar for several minutes, until light and fluffy, scraping down the sides of the bowl as needed.
Add in heavy whipping cream and almond extract and beat for an additional 2-3 minutes. Pour cheesecake filling onto prepared crust.
STEP 4: Blueberry Pie Filling.
Carefully spoon one can of thick, blueberry pie filling onto the top of the cheesecake layer. I used the entire can, but if you want a little less, feel free to not use it all (and save the blueberry pie filling to go on top of some ice cream later!
STEP 5: Finishing Touches.
Top the entire cheesecake with Cool Whip. I reserved some of it and spooned it into a piping bag to put some swirls on top (totally optional). Sprinkle the top of the cake with more Fisher Nuts Sliced Almonds.
STEP 6: Refrigerate and Enjoy.
Refrigerate entire cake for at least 3 hours (or overnight). When ready to serve, release springform pan, cut slices of cheesecake into wedges and enjoy.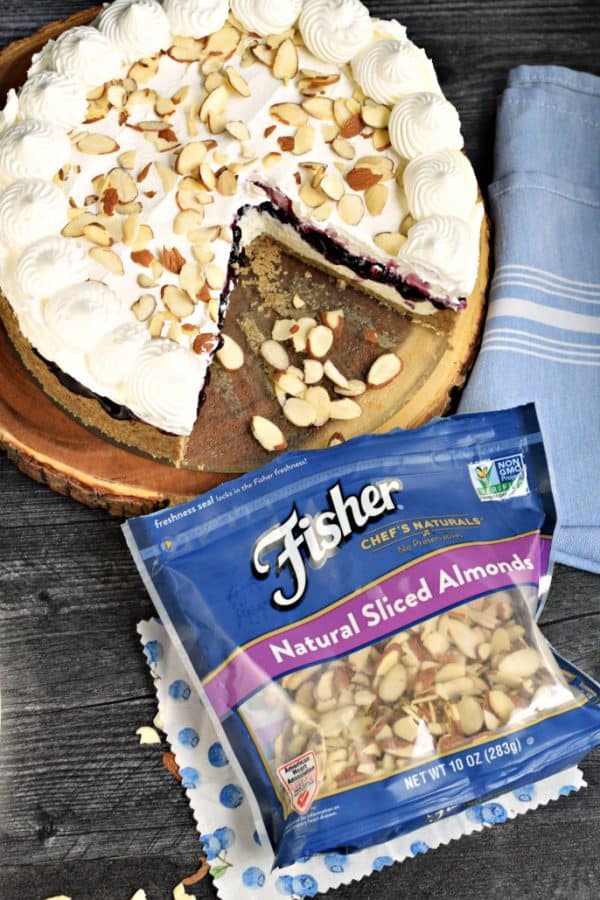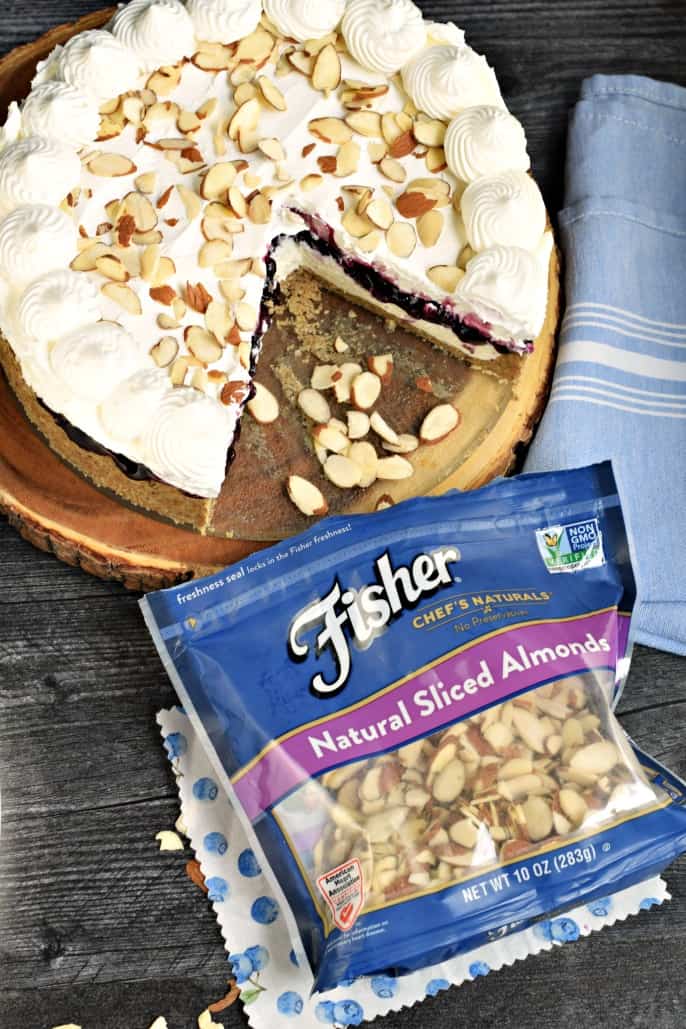 How to store Blueberry Cheesecake
Keep this no bake no bake cheesecake recipe in the refrigerator until ready to serve.
Store the leftovers, in the refrigerator as well, for up to 3 days.
I slide the springform pan back over the cheesecake to store in the refrigerator. This keeps the layers from collapsing, and makes storage easy!
Can you freeze No Bake Cheesecake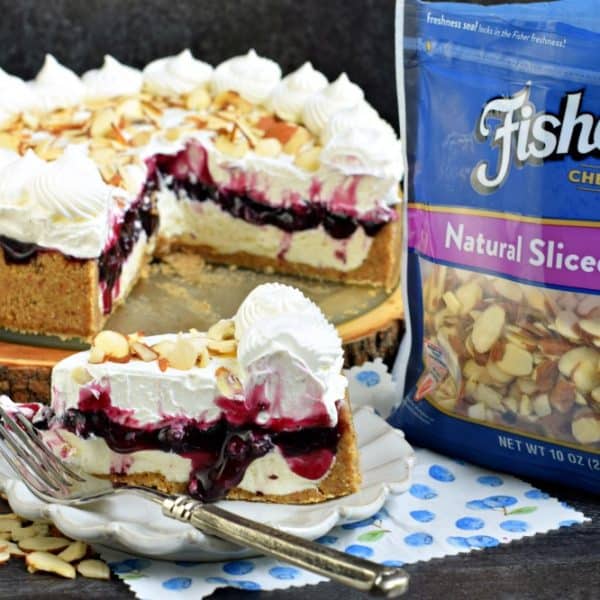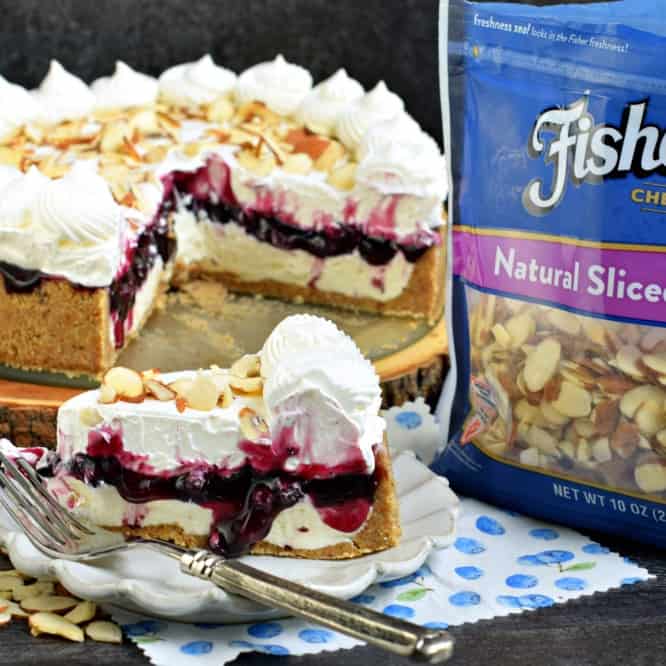 Yes absolutely!
Once you have assembled the blueberry cheesecake recipe in the springform pan, cover with plastic wrap, then a layer of foil.
Freeze cheesecake for up to 30 days, for best results.
Thaw in refrigerator overnight. Remove pan and enjoy!
Why Fisher Nuts?
I don't do very many sponsored posts around here, but when I do, it's always with products that I use and love already.
I have always used Fisher Nuts in my baking for years, even before I became an ambassador with them over 6 years ago!
Why?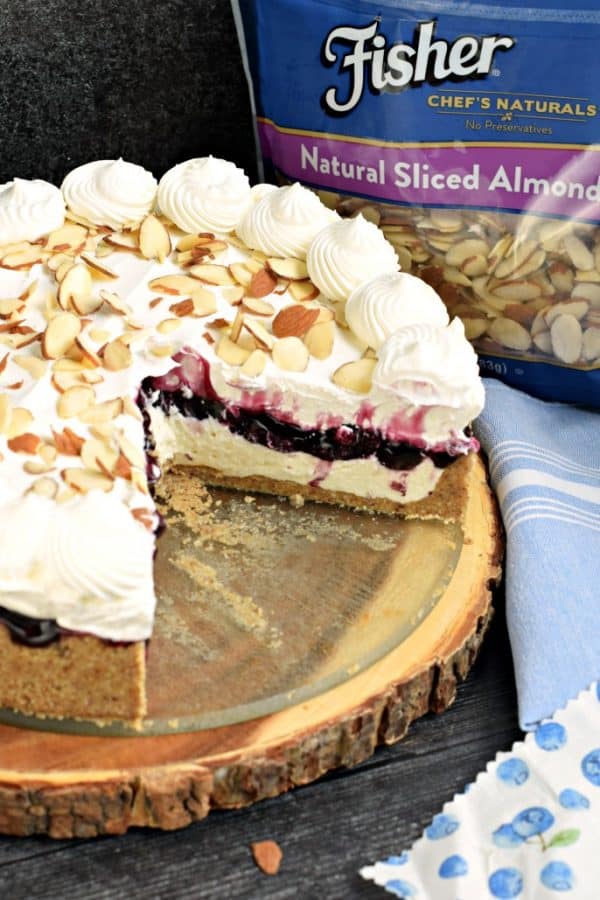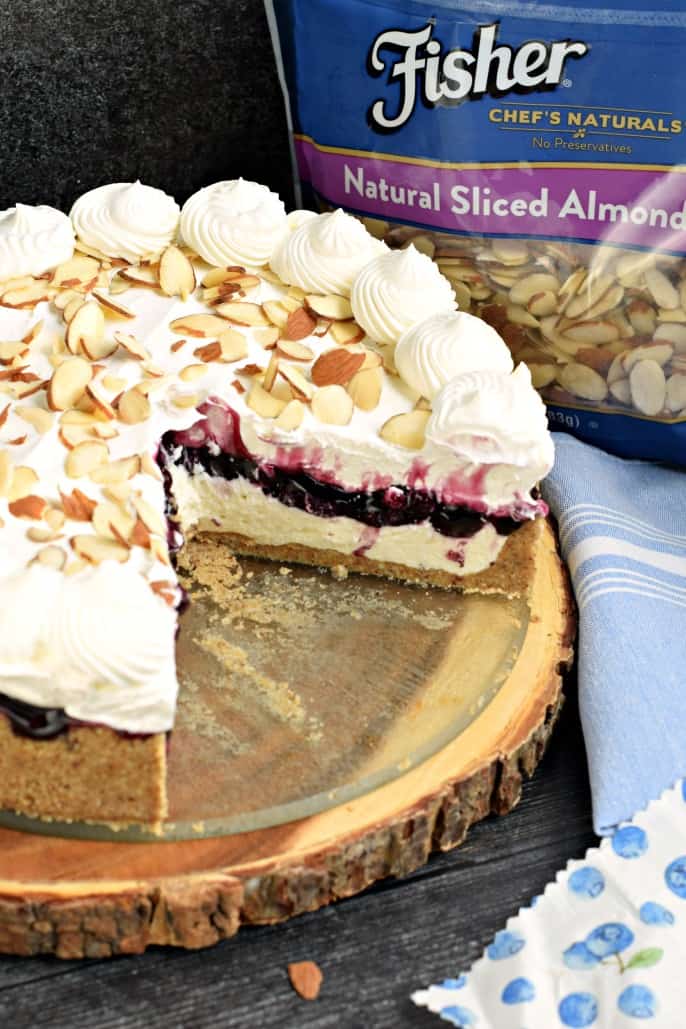 I love the flavor and texture of Fisher Nuts. They are fresh right out of the bag, for snacking or baking. And the resealable bags keep them even fresher, longer.
No preservatives and no GMO's in these nuts, which makes this mom happy!
Can I use other Pie Filling in this cheesecake?
Of course!
Strawberry or Cherry pie filling would be my next choice that would taste amazing with the sliced almonds.
Just be sure you choose a name brand pie filling, as they tend to be thicker and contain more berries. This keeps the filling a little less runny in the cheesecake.
PRO TIP: You could also mix the pie filling WITH the cheesecake to make a different color and texture. Especially if the filling is a little runnier than you would like.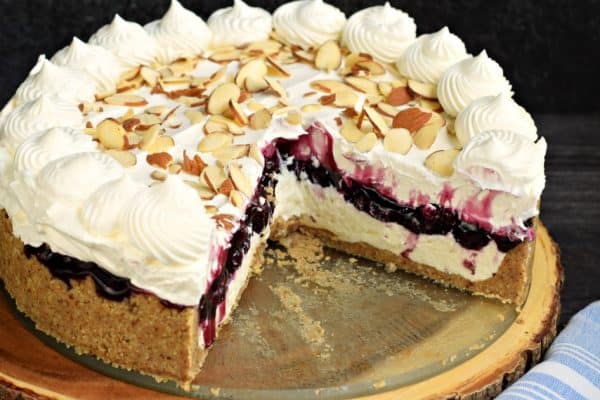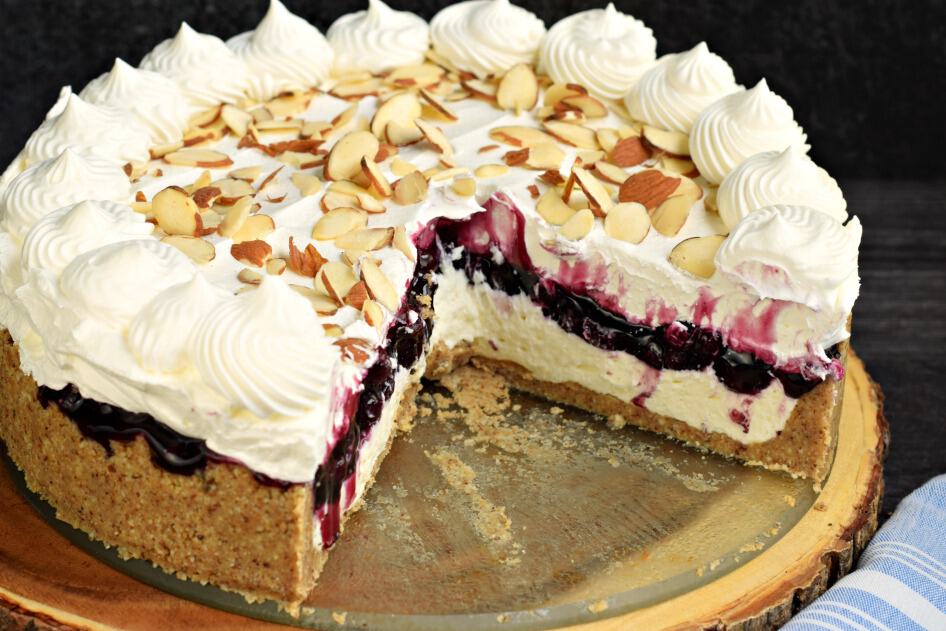 What You'll Need to Make No Bake Blueberry Cheesecake
If you want a quick glance at what's needed for today's recipe, look no further. For the printable recipe with measurements, scroll all the way down!
Ingredients:
Graham Crackers
Granulated Sugar
Unsalted Butter
Cream Cheese
Heavy Whipping Cream
Almond Extract
Blueberry Pie Filling
Cool Whip (or Homemade Whipped Cream)
Tools: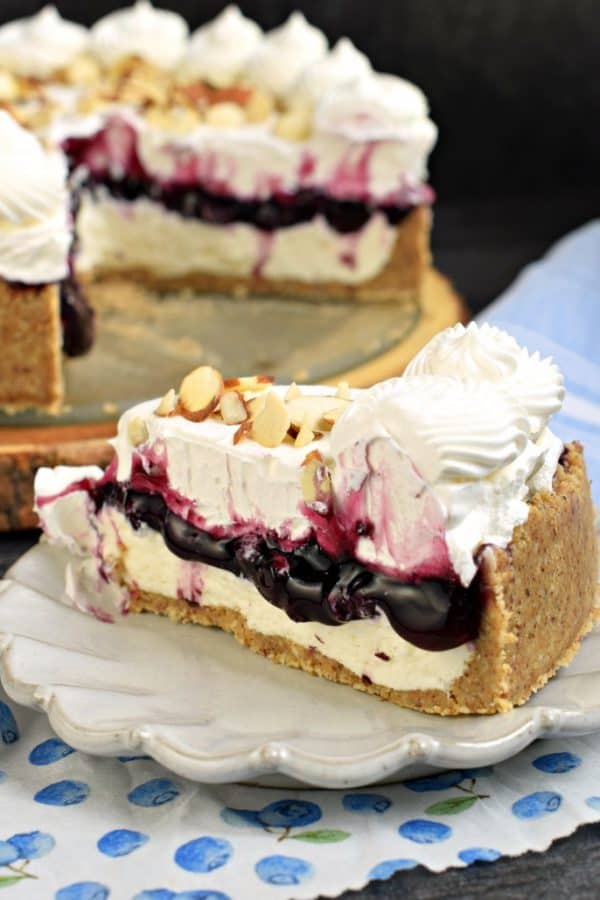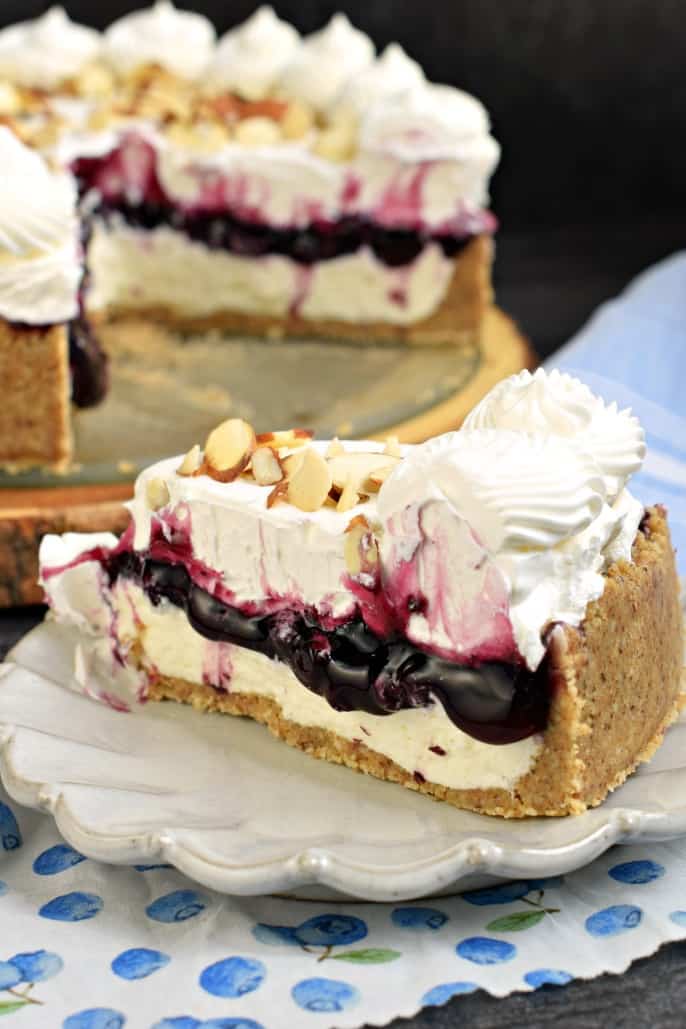 MORE FISHER NUTS RECIPES:
No Bake Blueberry Cheesecake Recipe and Video
This post is sponsored by Fisher Nuts. I am excited to be partnering with them this year and bringing you all some delicious recipes! All opinions and text are my own.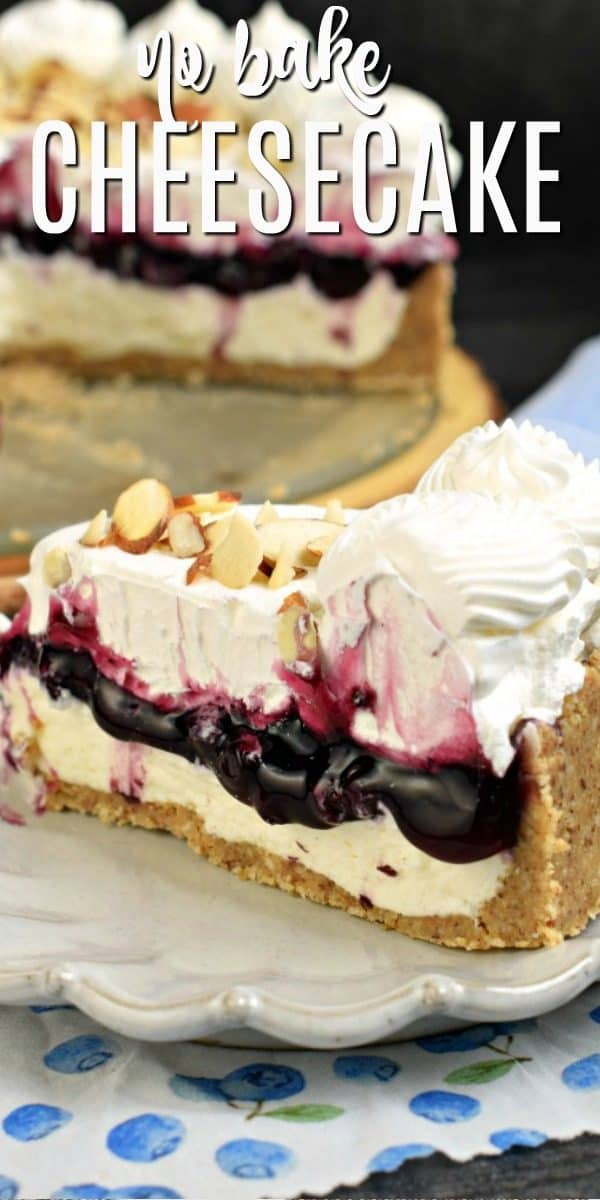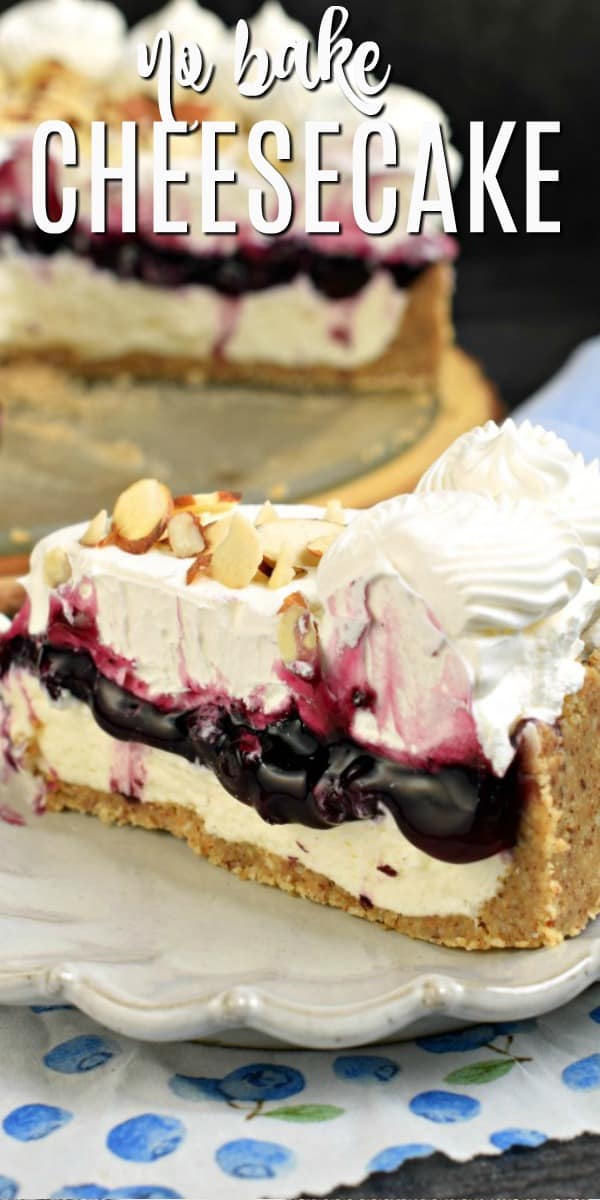 Easy No Bake Blueberry Cheesecake recipe with a graham cracker crust, blueberry pie filling, and sliced almonds!