Strawberry Cheesecake Napoleons
Sweet stacks of puff pastry, cheesecake, and strawberries are completed with some delicious sliced almonds! You'll want to make these Strawberry Cheesecake Napoleons soon!
***This post is sponsored by Fisher Nuts. I am excited to be a partner in creating delicious recipes for compensation. All opinions are 100% my own***
Be sure to follow me on Bloglovin'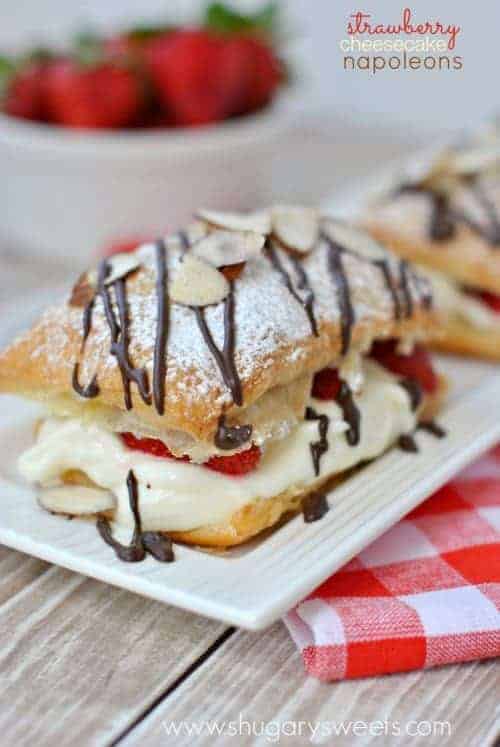 My husband is strange.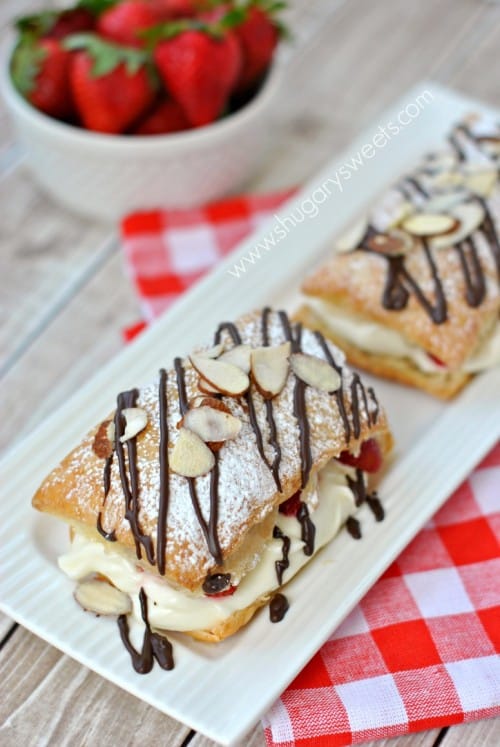 Oh wait. Do I need to explain myself?
Okay. Here it is. The man won't eat anything creamy. Nothing with cream cheese, yogurt, sour cream, mayo. Basically, my favorite food group: "white goopy stuff".
Seriously, it's maddening. No casseroles get consumed by him. He eats bread and butter while the rest of us devour a creamy, cheesy, goopy dinner.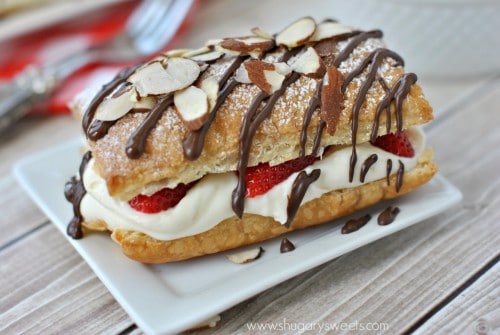 His ONE exception to the rule? Cheesecake. Dude, seriously, if goopy cream cheese offends you, how can you possibly love cheesecake? Especially his MOM's no bake cheesecake. (which reminds me, I need to share that recipe soon!!).
The filling of this Napoleon is based off his mother's delicious no bake cheesecake recipe. It's creamy. It's goopy. It's just how his momma makes it. And he loves momma's cheesecake.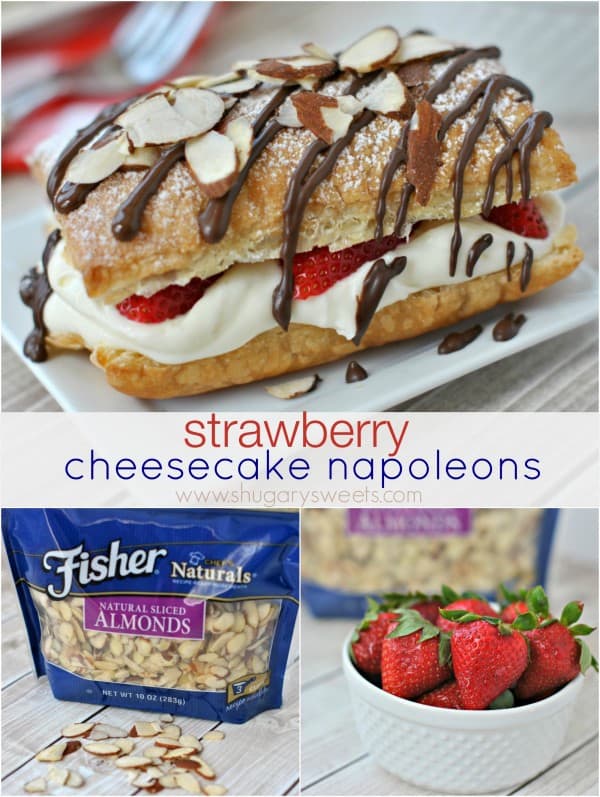 Creating a spring recipe for Fisher's was fun! It only made sense to do an easy treat! Once you bake up the puff pastry, you can pile it high with creamy, fluffy no bake cheesecake filling. Add fresh berries (I used strawberries…but blueberries, raspberries and blackberries would be wonderful too)! And of course, adding the Fisher's Sliced Almonds on top was the perfect finishing touch.
I love the crunch the almonds give to this dessert. Plus they make a simple treat look classy and elegant. Right?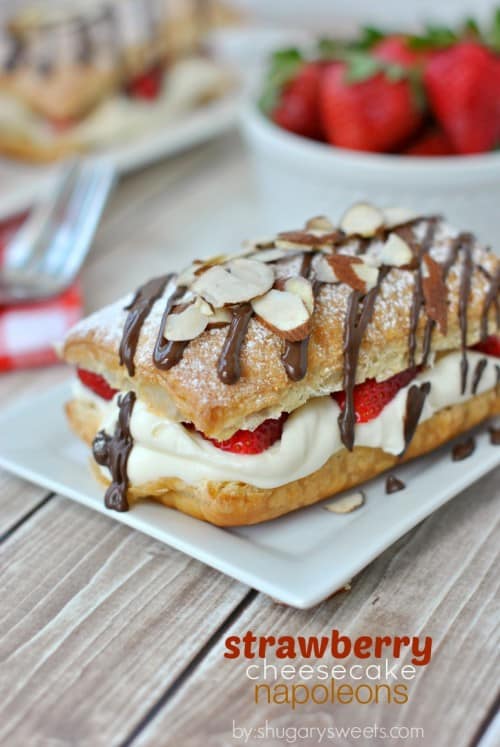 Classy and elegant, two things that do NOT describe me, haha! However, this dessert is perfect when entertaining family and friends this holiday! These are great when eaten immediately after assembling. But guess what? I did an experiment and allowed (yes, allowed, as in didn't let anyone TOUCH it) one to sit overnight in the fridge.
The result? It was still perfect. The puff pastry softened slightly, but the taste was absolutely yummy. I hope you give this recipe a try next time you need a classy dessert but don't want to slave away in the kitchen!
Connect with Fisher Nuts:
website | facebook | pinterest
Yield: Serves 6
Strawberry Cheesecake Napoleons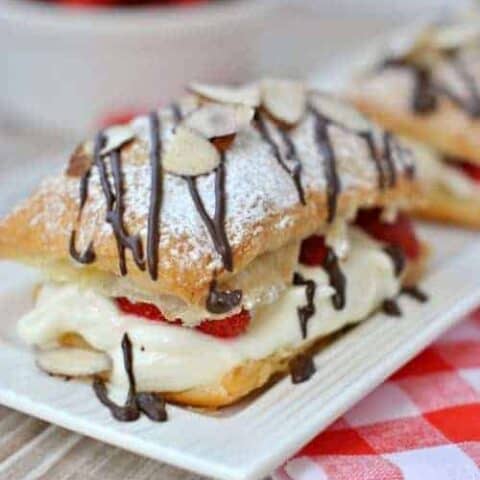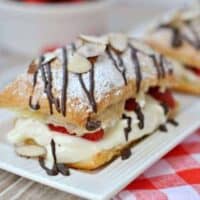 Prep Time 40 minutes

Cook Time 11 minutes
Ingredients
1/2 box (1 sheets) puff pastry, thawed
1 package (8 oz) cream cheese, softened
1/2 cup granulated sugar
3 Tbsp heavy cream
8oz strawberries, halved (or other berries)
1/2 cup Fisher's Sliced Almonds
1/4 milk chocolate, melted
powdered sugar, optional
Instructions
Thaw puff pastry according to package directions. When ready to use, unfold and cut along seams, creating 3 long strips. Cut each strip in half, creating 6 rectangles.
Place on a baking sheet and bake in a 400 degree oven for 11-15 minutes, until lightly browned. Remove and cool completely. Slice in half lengthwise through center. Set aside.
In a large mixing bowl, beat cream cheese, sugar and heavy cream for 5 minutes, until fluffy.
Fill bottom of each "sandwich" with cheesecake filling. Top with strawberries. Place top of puff pastry over strawberries and sprinkle (generously) with powdered sugar. Drizzle melted chocolate over each Napoleon and immediately sprinkle with Fisher's Sliced Almonds. Serve immediately or refrigerate.
LOVE Fisher's Nuts? Here are a few of my past recipes created on their behalf!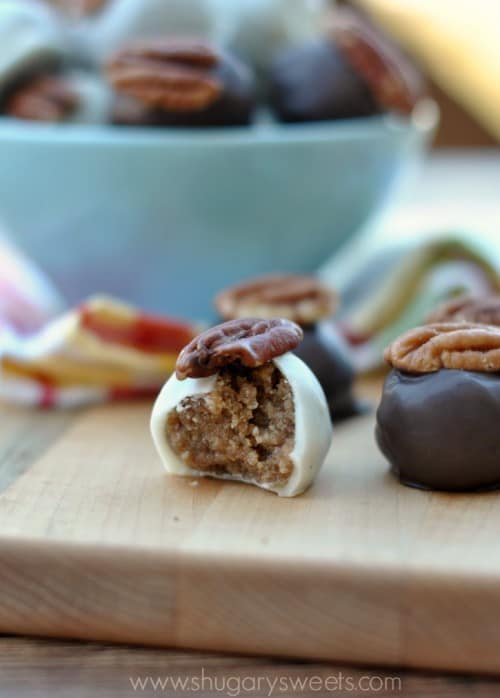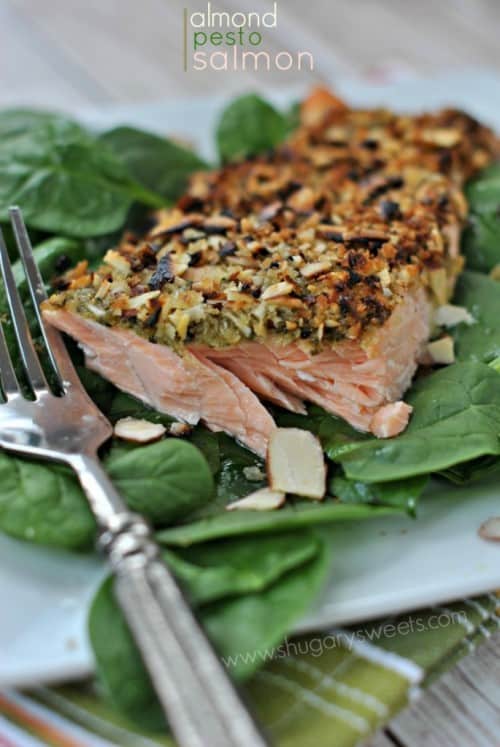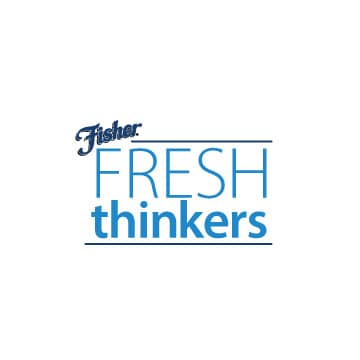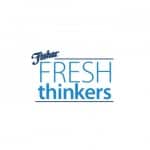 **This is a sponsored post on behalf of Fisher Nuts. I'm a part of the Fishers Fresh Thinkers. I was compensated for my time, however all opinions expressed are 100% my own!