These Strawberry Cheesecake Napoleons have layers of puff pastry, cheesecake, and berries. A dusting of powdered sugar and sliced almonds completes this impressive dessert!
When you're craving cheesecake but short on time, this Cheesecake Dip Recipe is another lifesaver when you need a quick, easy dessert for a crowd.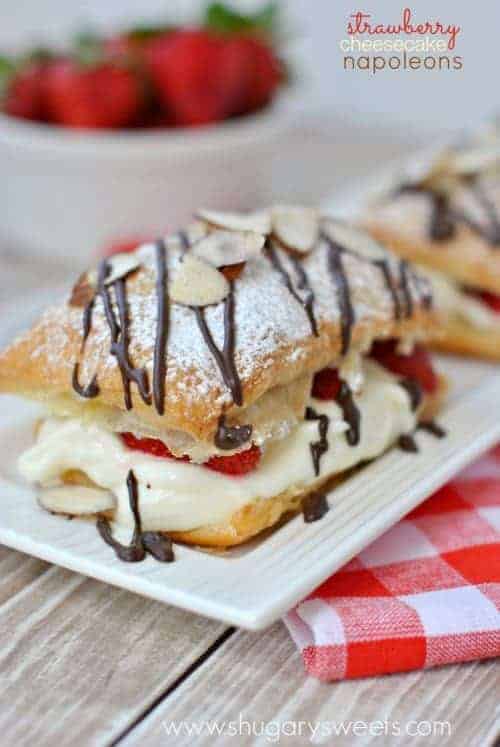 What are Napoleons
Napoleons are classic French pastries layered with cream filling and topped with powdered sugar. The concept is incredibly simple but the results couldn't be any more extraordinary!
In this homemade Strawberry Cheesecake Napoleon recipe, we swapped the custard cream found in traditional versions for a creamy cheesecake filling instead.
A few sliced strawberries and a drizzle of melted chocolate give these Napoleons an extra special touch. They look so elegant on the plate that no one will believe it took you just 20 minutes to make these delicious Parisian-approved pastries.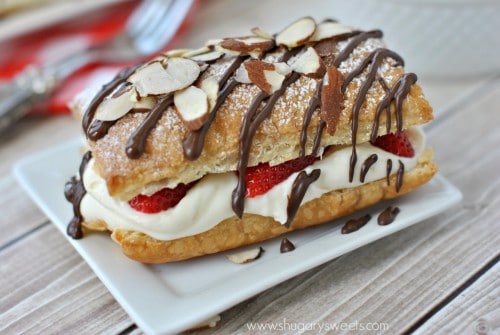 Ingredient Notes
Puff pastry. You will only need half a box for this recipe. Save the other half and make some puff pastry bread sticks later!
Strawberries. Or substitute another variety of berries. Raspberries would be delicious!
Milk chocolate. Melt chocolate bars, wafers or morsels in the microwave to drizzle over the finished napoleons. Substitute dark or white chocolate if you prefer.
Cream cheese. Use full fat cream cheese for the thickest, creamiest cheesecake filling!
Sliced almonds. We love garnishing Strawberry Cheesecake Napoleons with a handful of sliced nuts. If you're not a fan of almonds, feel free to serve the pastries without. Toast the nuts for best flavor!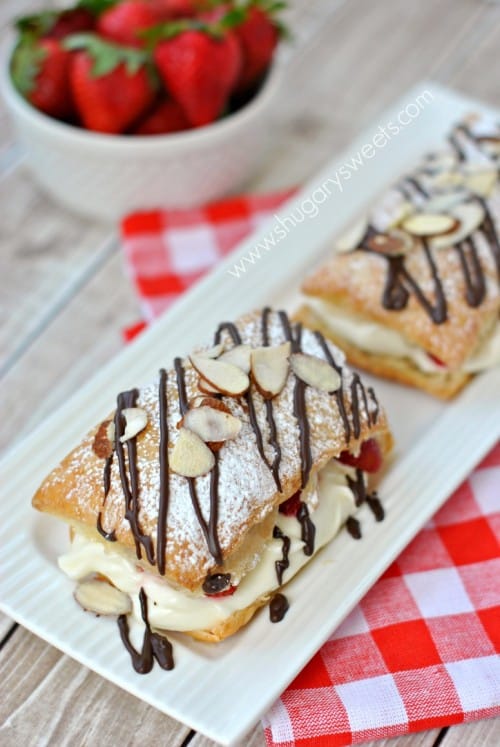 Tips and Tricks
Bake the pastry first: Slice the thawed puff pastry dough into 6 even rectangles. Bake until puffy and lightly browned.
Assembling: Slice the cooled pastry in half like a sandwich roll. Spoon filling onto one half, then add strawberries and the second half of the pastry on top.
Garnishing: Use a sifter to sprinkle powdered sugar over the Napoleons. Arrange sliced almonds on top and finish with a drizzle of melted chocolate!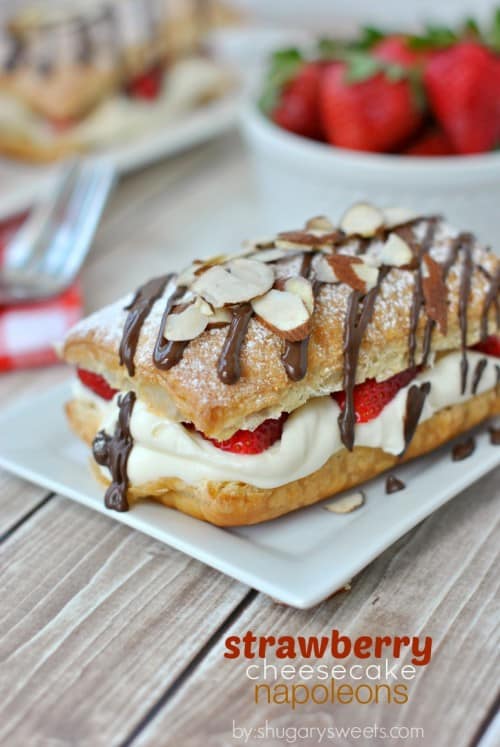 Recipe FAQs
Do these Napoleon desserts need to be refrigerated?
If you are not eating the Strawberry Cheesecake Napoleons right away, they should be kept chilled. Store them covered in the fridge until ready to enjoy!
What can I use instead of puff pastry?
No other ready made dough will give you exactly the same results as puff pastry dough. However, you could use refrigerated croissant dough (like Pillsbury crescent rolls), shaped into rectangles, in a pinch.
Can I freeze Napoleons?
I don't recommend freezing Napoleons with strawberries. As the berries thaw they will release a lot of moisture into the puff pastry making it soggy.
What other fruits can I put in cheesecake Napoleons?
Cheesecake napoleons are perfect vehicles for all kinds of fruit. Any berry would taste great with the cheesecake filling in this recipe! Maraschino cherries, and banana slices are other good choices.
More Easy Dessert Recipes
Flaky pastry and fresh berries meet cheesecake in this easy recipe for Strawberry Cheesecake Napoleons.