Is it a cheesecake? Is it a dip? It's both! Cheesecake Dip brings all the taste of good cheesecake to a creamy dessert dip. Served with cookies, fruit, or Graham crackers, this recipe will rock your next dessert bar!
Similar to our favorite cream cheese frosting recipe, you'll love eating this dip by the spoonful! Love cheesecake? Try our Baileys Cheesecake for a fun twist.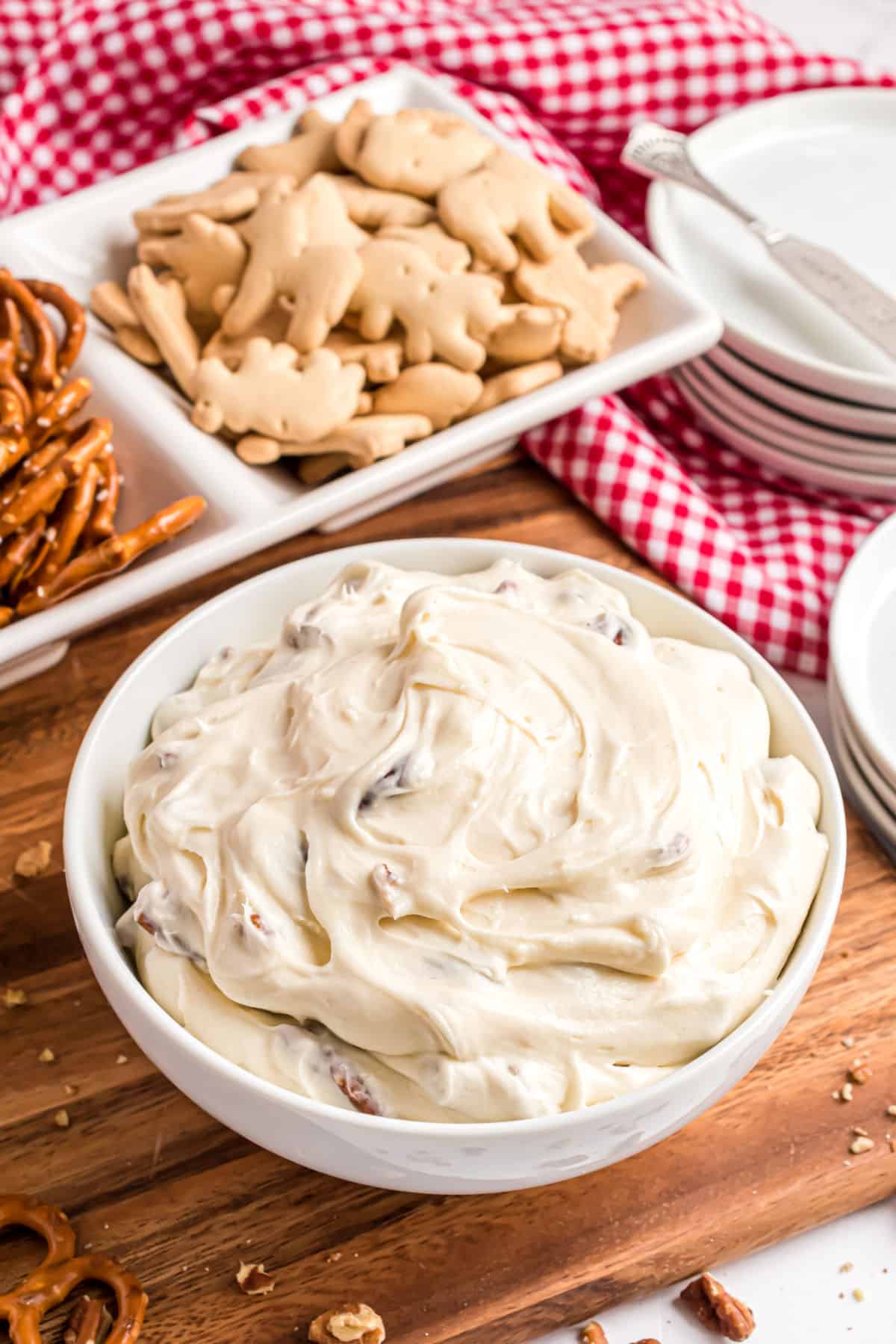 What is Cheesecake Dip
So after eating my fair share of Carrot Cake, and licking the bowl of icing, I realized I needed to do something.
I'm not talking running to the gym, or eating low carb soups, I'm talking desserts. All that carrot cake and frosting gave me INSPIRATION for today's recipe!
Many of you tried the Cookie Dough Dip I made earlier this year… and I figured it I could turn cookie dough into a dip, then why not cheesecake?
After a bit of playing with different cheesecake ingredients, I came up with this amazingly creamy and rich cheesecake dip recipe.
I can see this no bake dessert being a perfect addition to a dessert buffet or served as a party snack.
Eaten with graham crackers, animal crackers, pretzels cookies or fruit, Cheesecake Dip is delicious! You might even be tempted to just grab a spoon and eat it straight out of the bowl.
(I won't judge you if you won't judge me!)
Ingredient Notes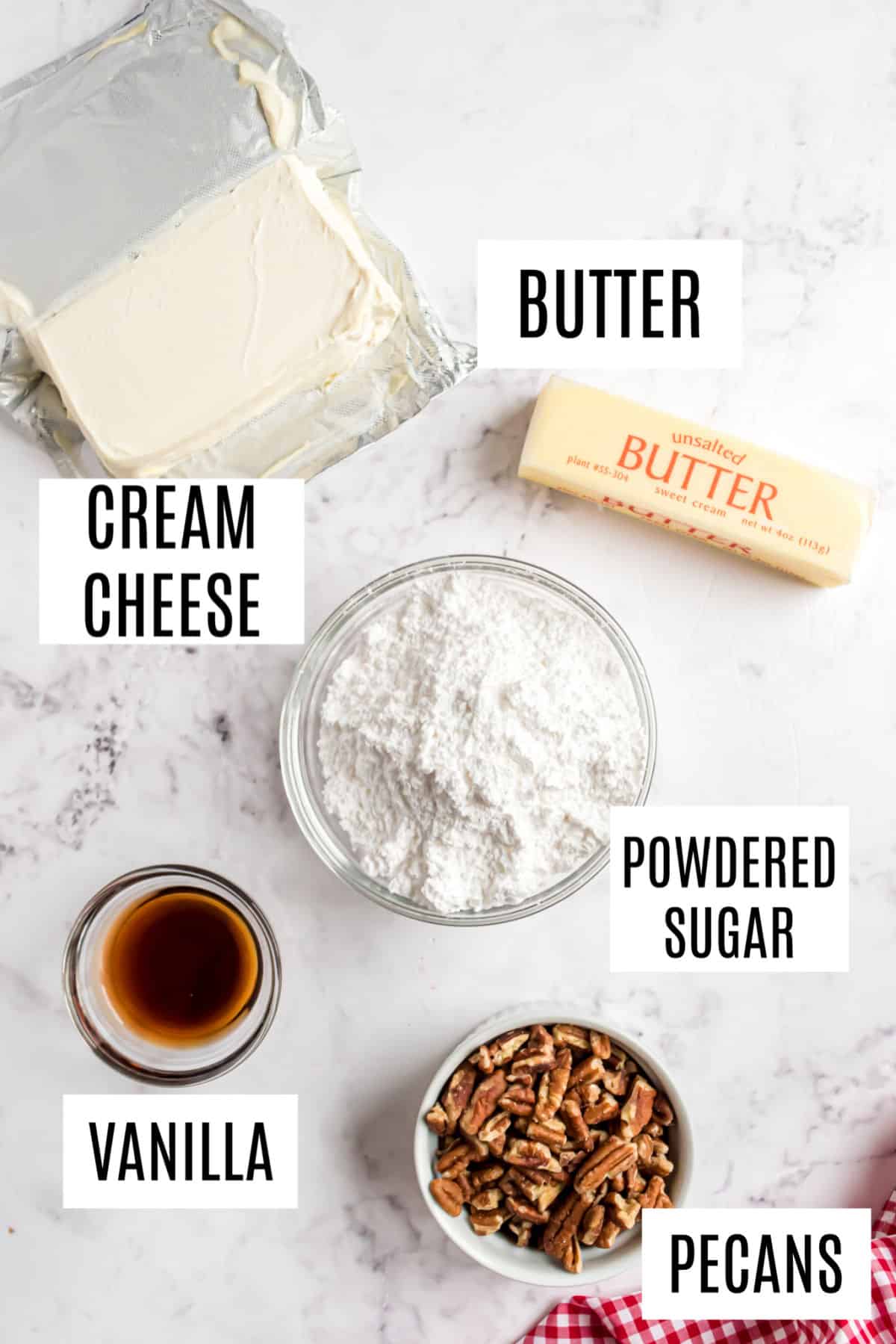 All the taste of cheesecake with none of the waiting time? Count me in.
Here's what I used in my cheesecake dip:
After whipping together the cream cheese with the butter, vanilla and powdered sugar, you just fold in the chopped pecans and serve!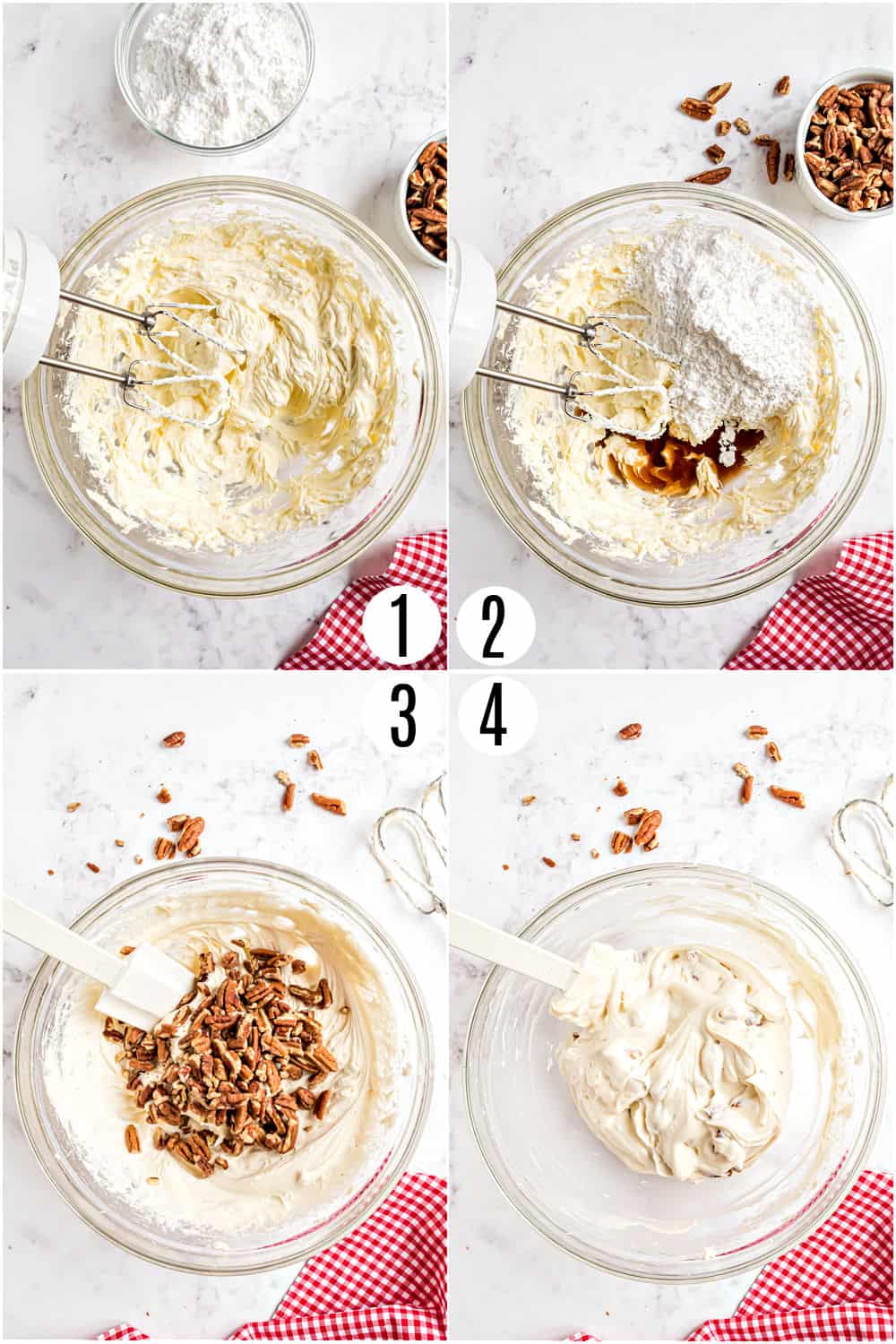 Variations
For my first foray into cheesecake dip, I wanted to stick with classic and straightforward flavors.
I used plain cream cheese and pecans for a bit of crunch.
You could also experiment with flavored cream cheeses like strawberry, cinnamon or blueberry.
Keep in mind that you'll probably want to reduce the amount of powdered sugar in the dip if you use a flavored kind. (These tend to have more added sugars.)
You really don't need to get fancy here, though. This basic cheesecake dip recipe is so good just as is.
Want this dip to be more allergen friendly? It's still amazing without the pecans!
Next time I make this sweet cream cheese dip, I may try substituting walnuts for the pecans for something a little different.
Between this, funfetti dip, and the cookie dough dip, I can't decide which one I like better. You'll have to make both and let me know what you think!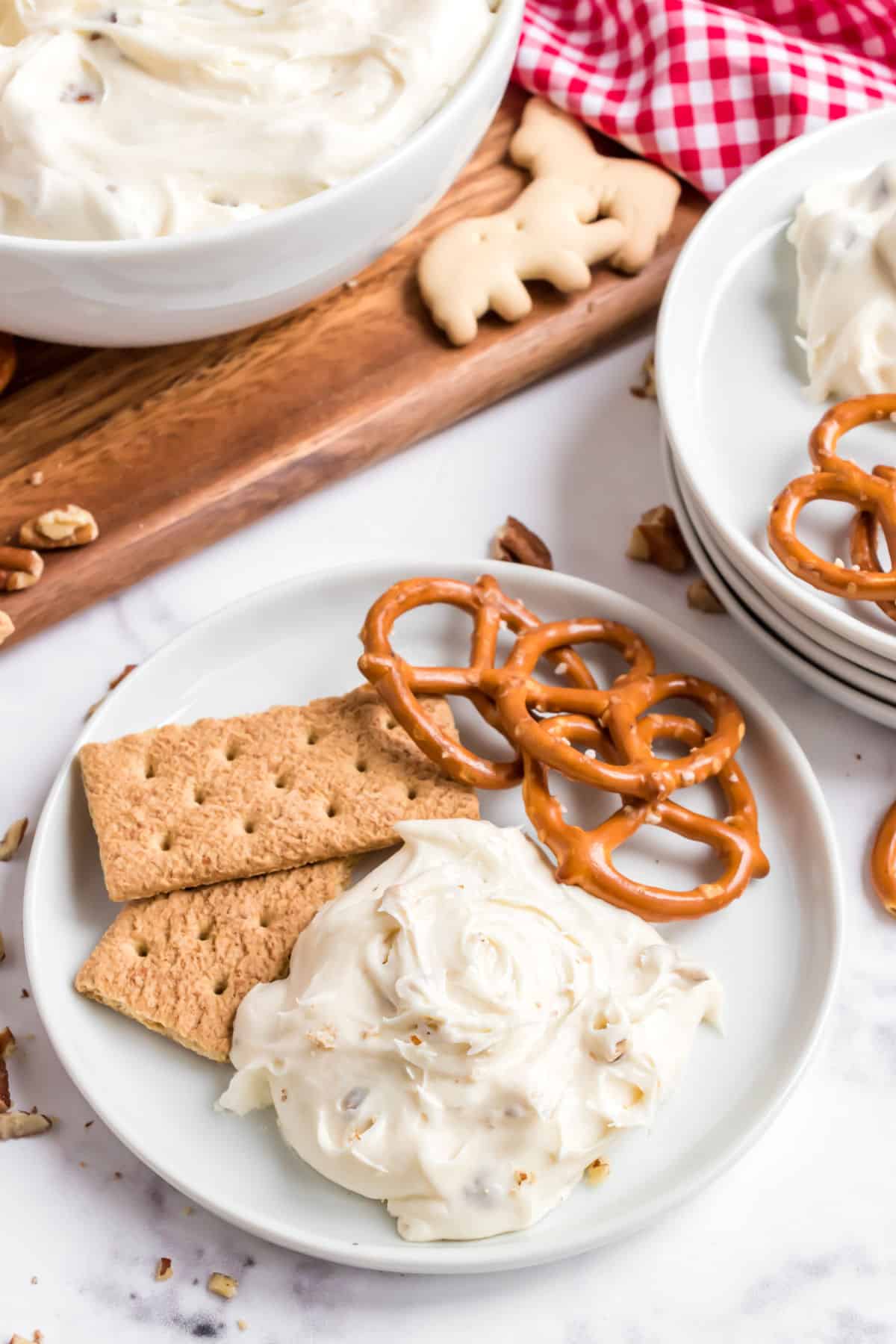 Serving Suggestions
The possibilities are endless! We mostly ate our cheesecake dip with graham crackers this time around. Here are some other great ideas:
Pretzels
Sugar Cookies (unfrosted)
Whole strawberries
Pretzel rods
Toasted cinnamon bread
Banana, Apple, and Pear slices
Feeling a little festive? Add some sprinkles on top of the cheesecake dip before serving. (I can't wait to serve it this way at our next family birthday party!).
Like this cannoli dip recipe, you could fancy up the bowl with chocolate and sprinkles!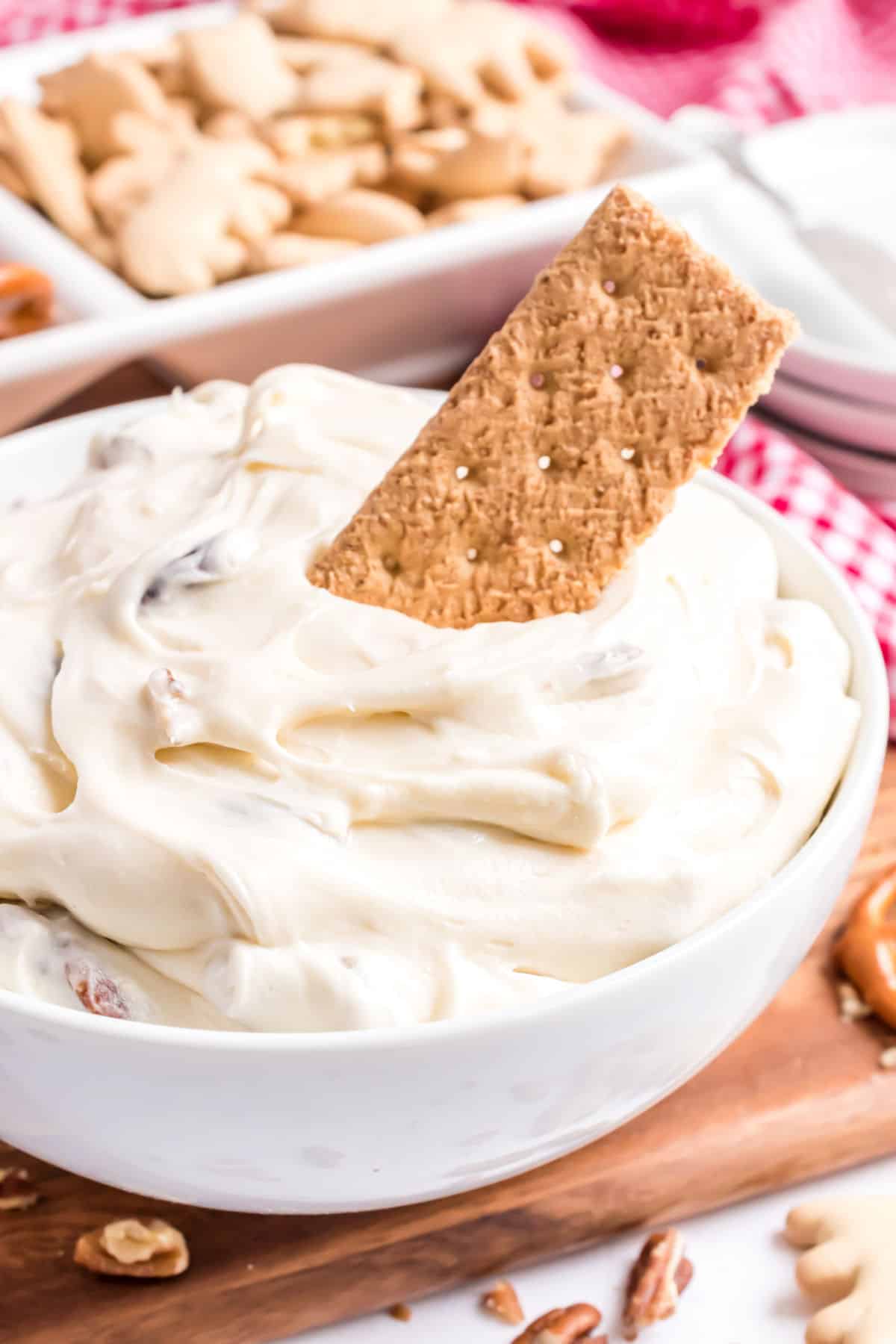 Recipe FAQs
How long does cheesecake dip last?
Store cheesecake dip in airtight container in the refrigerator for up to one week. For best taste and texture, allow dip to sit at room temperature for up to 15 minutes before serving (but no longer than 2 hours).
Can you freeze cheesecake dip?
The high fat content in this dip from the cream cheese means it'll keep in the freezer for a couple of months. Thaw in refrigerator overnight before serving.
You need this dessert dip for whenever you need a quick cheesecake fix! Share it with friends or keep the goods for yourself.
This sweet cream cheese dip is creamy, sweet cheesecake bliss in a bowl.