This easy, sweet Cannoli Dip recipe tastes like the delicious filling of your favorite Italian dessert! Add fresh pistachios and sprinkles for a festive flair.
Love sweet dips? Our peanut butter dip is highly requested and 5 stars! serve with fruit, pretzels, or homemade cinnamon tortilla chips.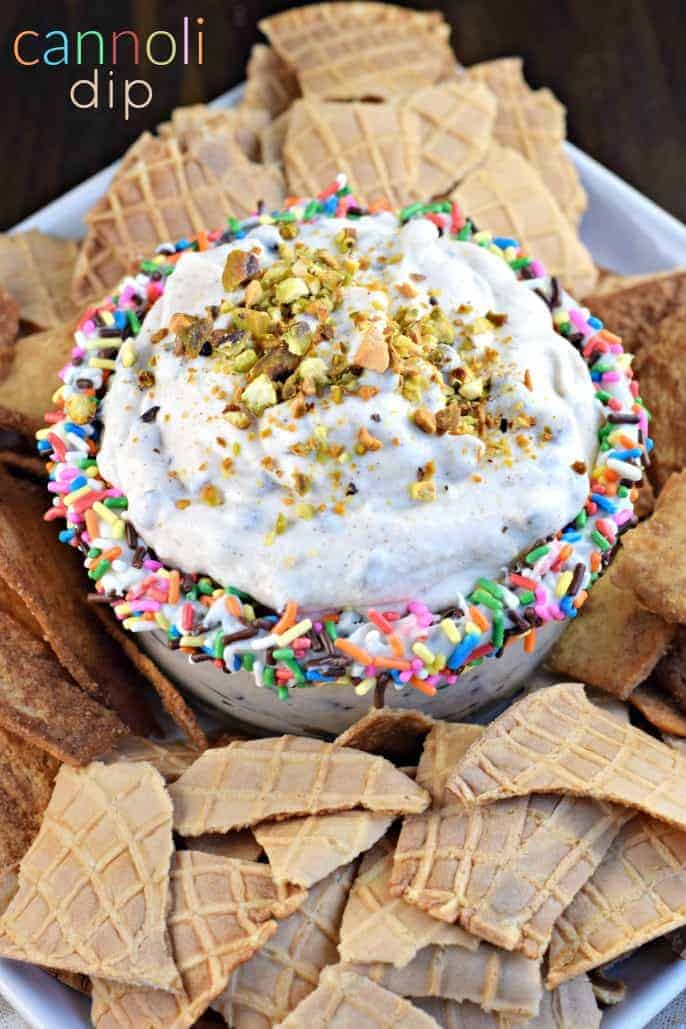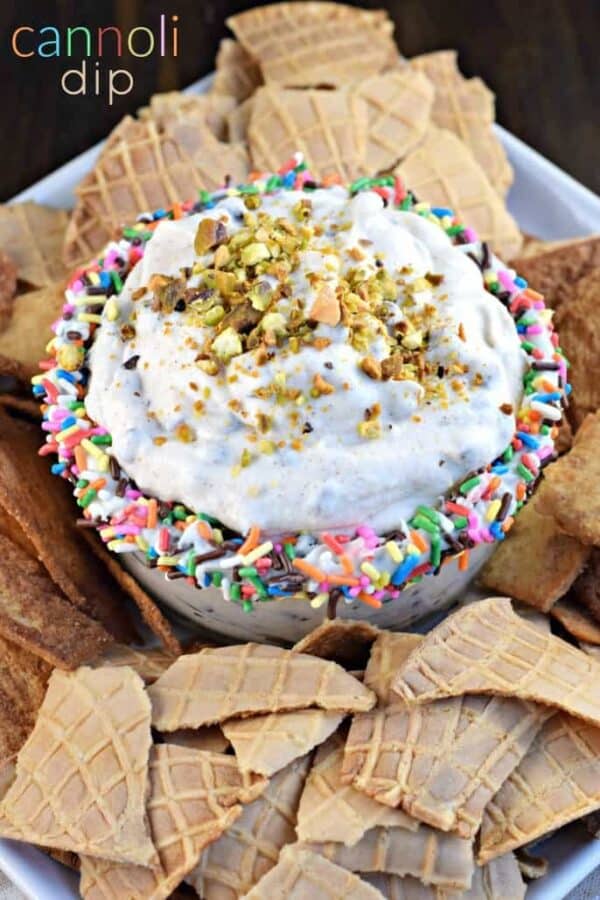 Why this Recipe Works
This Cannoli Dip was created when, one year, we had a celebration to end all celebrations. It was huge!
I'm not talking about a large group of people. I'm talking we celebrated almost every holiday in one day!
You see, my son was home for the week before leaving the country. He'd be gone his birthday, Thanksgiving, Christmas and New Years. The first time we won't be together for all of those the holidays.
So, I made the holidays happen all at once last week. We celebrated his birthday (with a pumpkin pie). We ate a huge Thanksgiving dinner (with his favorite hashbrown casserole). We enjoyed eggnog around the Christmas tree and opened presents.
And then we cheered for New Years with champagne and confetti poppers.
One of the treats we enjoyed throughout the celebration was the Cannoli Dip. And by "enjoyed" I mean, Demolished. Destroyed. Devoured.
I had first tried it earlier this year at a family party. And I knew I would have to recreate this fantastic dip!
My family is a huge fan of our homemade cannolis. I knew this would be a hit because it's basically cannoli filling, served as a dip. Easier than from-scratch cannolis and just as delicious.
Wondering how to turn your favorite Italian pastry dessert into an easy to serve dip?
Let's go.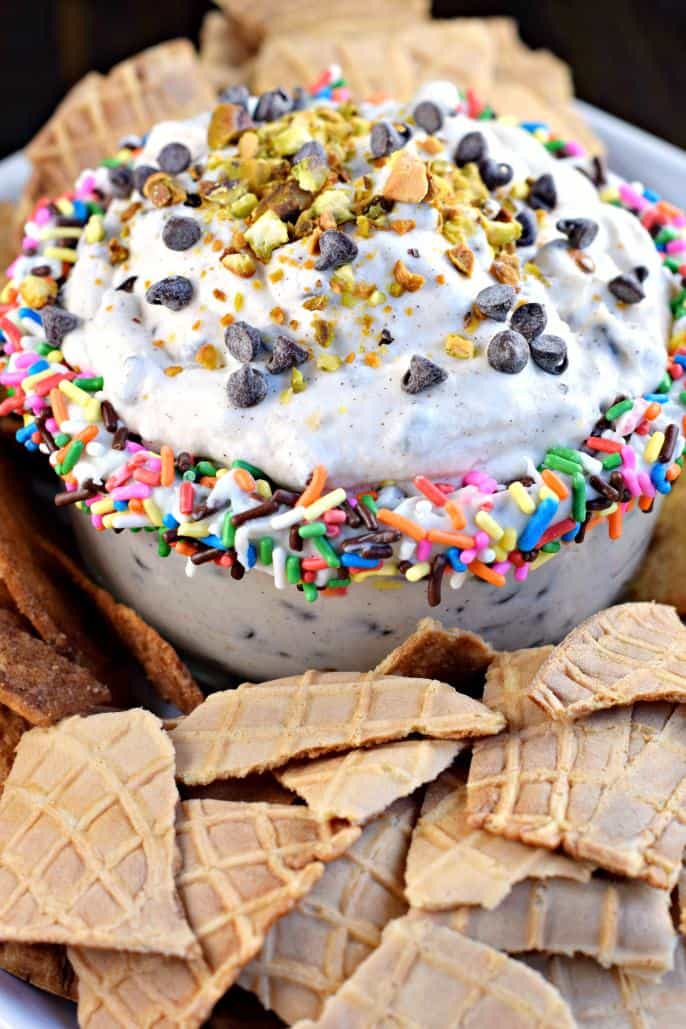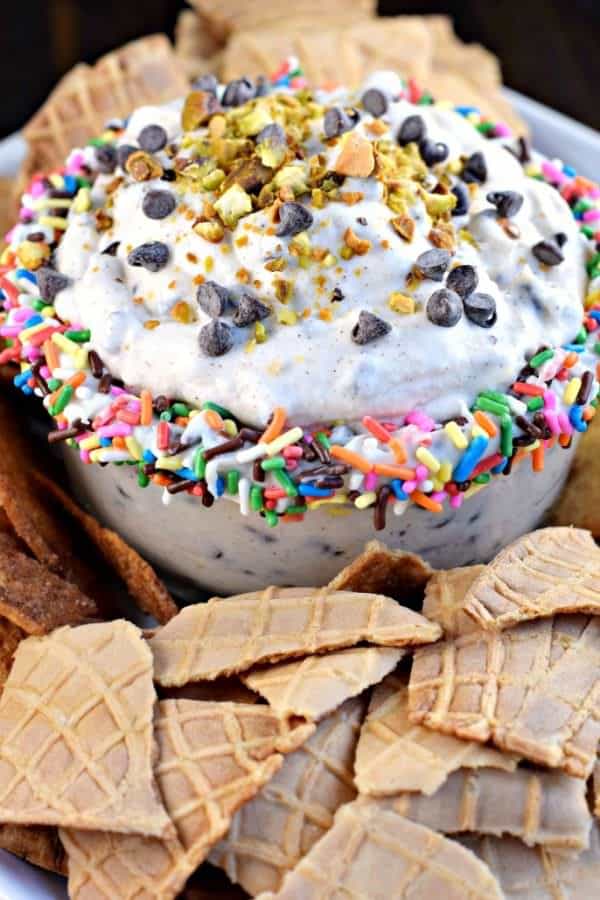 How to Make Cannoli Dip
Like a cannoli filling, you need ricotta cheese and heavy cream to make this recipe. It also includes cream cheese, powdered sugar and white chocolate.
After melting the white chocolate, you brush it on to the rim of a medium sized bowl. The one I used was 2 cups, which was perfect. Cover the white chocolate rim with multi colored sprinkles.
In a separate bowl, beat heavy whipping cream until stiff peaks form. Using an electric beater, this takes about 3 minutes. If you're beating the cream by hand with a whisk it'll take much longer!
In another mixing bowl, combine ricotta cheese, cream cheese, powdered sugar, and cinnamon. Stir until blended, then fold in the beaten whipped cream.
Finally, fold in some mini chocolate chips. Pour the riccotta filling into the bowl with the sprinkles, then garnish with pistacios. I added some extra chocolate chips to the stop, too, both for appearance and because . . .well, is extra chocolate ever a bad idea?
After chilling the dip for 2 hours, it's ready to serve!
What to serve with Cannoli Dip
Here are a few ideas for what to serve as dippers for this sweet cannoli filling dip:
Cinnamon pita chips– or homemade cinnamon tortilla chips
Waffle cones or bowls broken into pieces
Cannoli filling broken into "chip" sizes
Graham crackers
Animal crackers
Nilla wafers
Chocolate wafers
Apple or pear slices
Ritz crackers
Pretzels
So many options for scooping up this irresistible dip. You can't go wrong with this combination of cheesy, creamy, sweet tastes whipped together!
How to store
Store Cannoli Dip in the fridge when you're not eating it! It'll keep well in an airtight container for a few days.
I recommend letting it chill for at least 2 hours before serving but you can certainly make it even farther in advance. This is a great dip to make the night before your gathering to save time on the day of the event!
Tips and Tricks
The best ricotta cheese for Cannoli dip and filling is whole milk ricotta. Skim ricotta will work, but I find whole milk cheese has a much richer flavor, which is what you want in this dip. It's dessert after all!
Do not substitute any thing else for the heavy cream. You need real heavy cream to create those stiff whipped peaks that make the consistency of this dip so good.
For whipping the cream, electric beaters or a stand mixer with the whisk attachment are the way to go. If you don't have these, you can beat the whipped cream by end with a strong wire whisk…but it'll take a while and will give you a major upper body workout!
While the sprinkles make this dip even more exciting with a pop of color, you can leave them out if you prefer not to use them or don't have any.
Since I made this dip for the first time years ago, it's become a staple at the dessert table whenever I have a gathering of friends and family.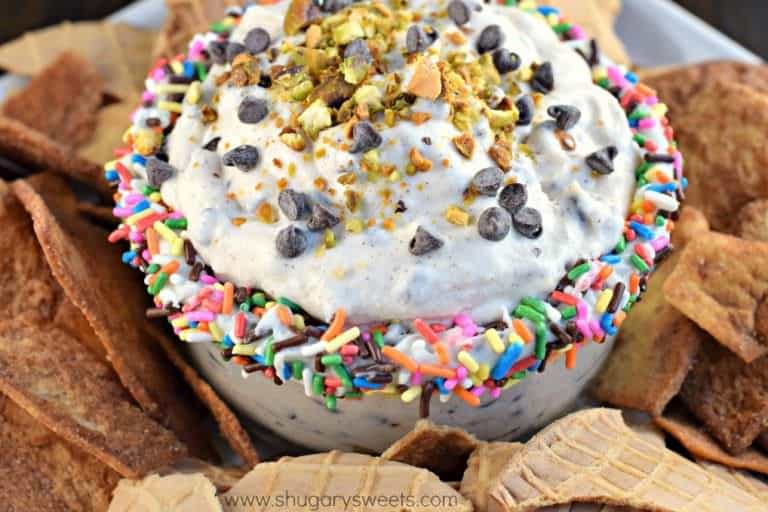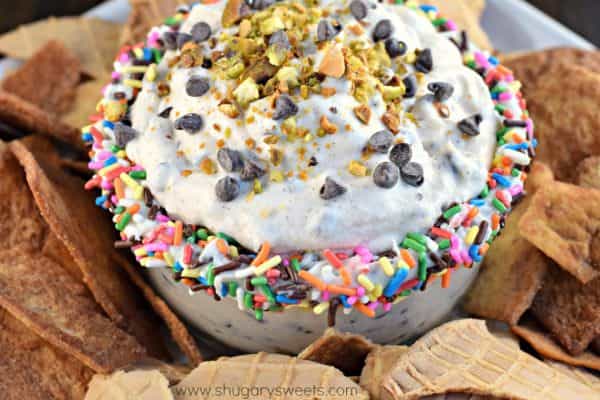 Easy Dessert Recipes
Easy to make creamy Cannoli Dip is a must try for anyone who loves cannolis!