This easy, sweet Cannoli Dip recipe tastes like the delicious filling of your favorite Italian dessert!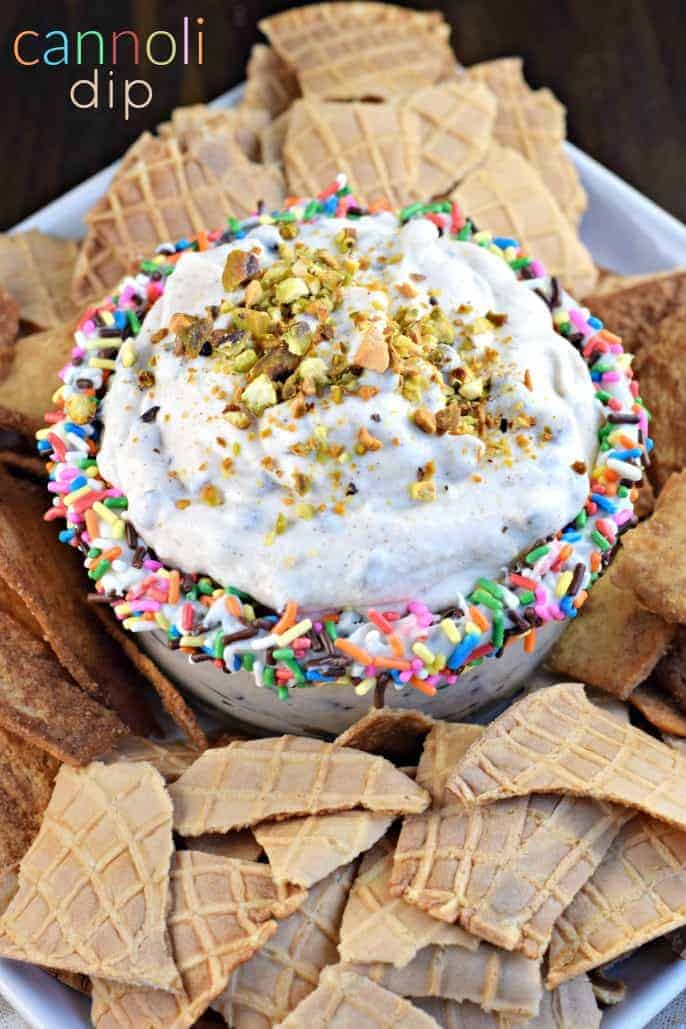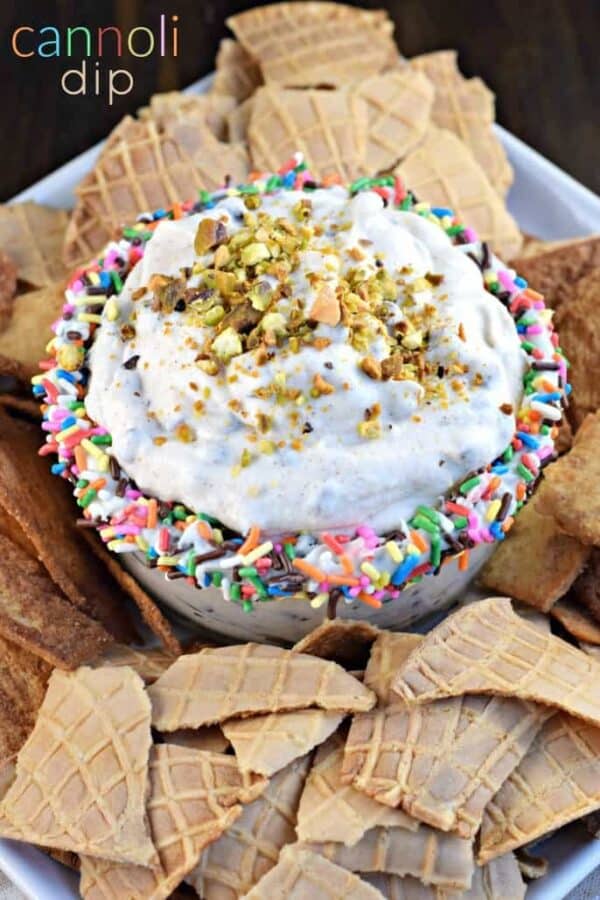 Last weekend we had a big celebration. I'm not talking about a large group of people…I'm talking about many holidays in one day.
You see, my son was home for the week…and he will be out of the country for his birthday, Thanksgiving, Christmas and New Years. The first time we won't be together for the holidays.
So, I made the holidays last week. We celebrated his birthday (with a pumpkin pie)….we ate a huge Thanksgiving dinner (with his favorite hashbrown casserole)…we enjoyed egg nog around the Christmas tree and opened presents…and then we cheered for New Years with champagne and confetti poppers.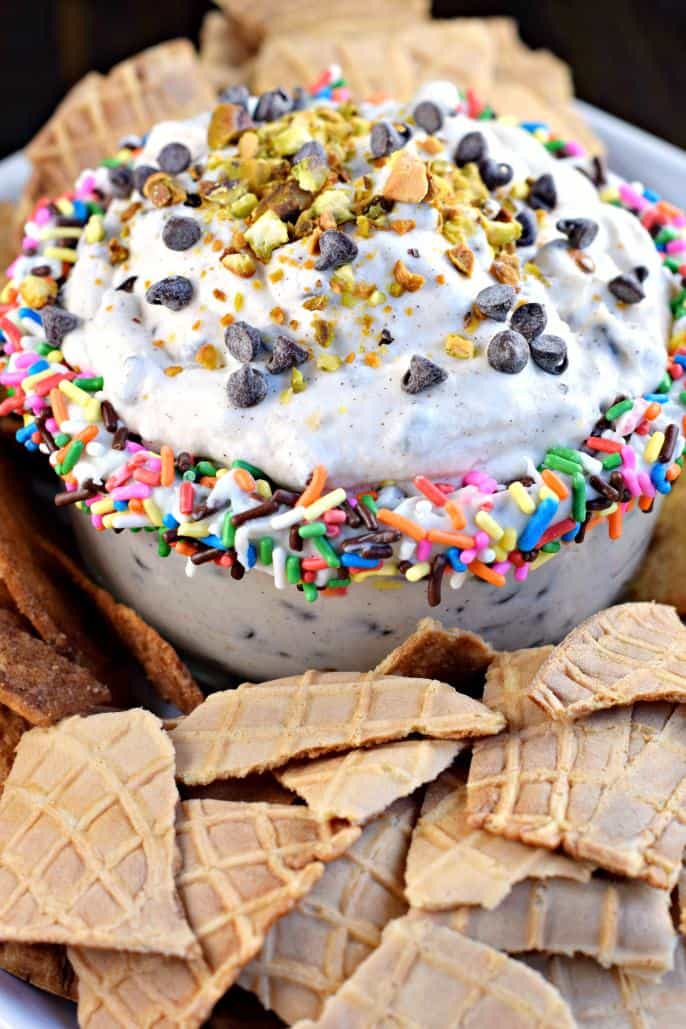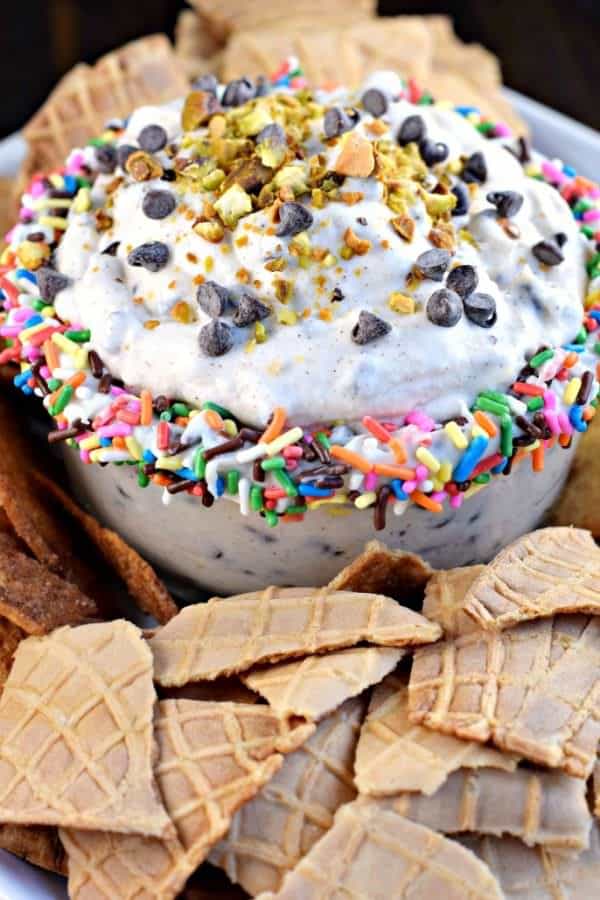 One of the treats we enjoyed was the Cannoli Dip. And by "enjoyed" I mean, Demolished. Destroyed. Devoured.
I had first tried it earlier this year at a family party. And I knew I would have to recreate this fantastic dip!
My family is a huge fan of our homemade cannolis. I knew this would be a hit.
I used cinnamon pita chips as dippers, as well as broken waffle cones.
Actually, I bought the waffle bowls and broke those into large pieces, they worked out perfect!
If you can find the bowls, cones will work just fine too! Or buy some cannoli shells, that would be tasty too! ENJOY!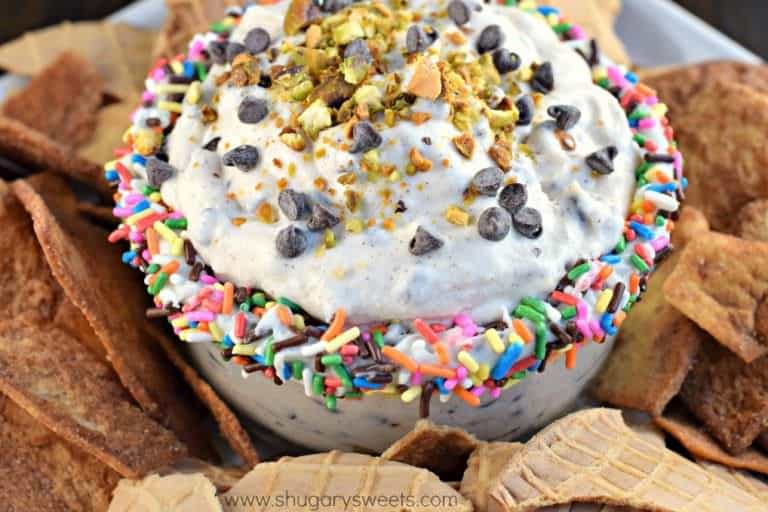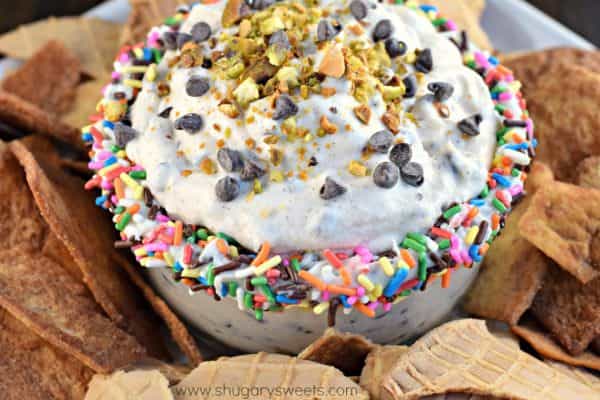 Easy Dessert Recipes
Cannoli Dip
Prep Time
2 hours
10 minutes
This easy, sweet Cannoli Dip recipe tastes like the delicious filling of your favorite Italian dessert!
Ingredients
3/4 cup whole milk ricotta cheese
2 oz cream cheese, softened
1 cup powdered sugar
1/2 tsp cinnamon
1/2 cup heavy cream
3/4 cup mini chocolate chips
1 Tbsp chopped pistachios
waffle cones, cinnamon pita chips- for dipping
1/4 cup white chocolate, melted
sprinkles- for bowl
Instructions
Melt white chocolate in microwave for about 30 seconds. Stir until smooth. Using a silicone brush (or knife), spread melted chocolate on rim of 2 cup bowl. Add sprinkles immediately. Set aside.
In a clean, dry mixing bowl, beat heavy cream until stiff peaks form, about 2-3 minutes. Set aside.
In a mixing bowl, combine ricotta cheese, cream cheese, powdered sugar, and cinnamon. Stir until blended. Fold in the beaten whipped cream.
Fold in all mini chocolate chips. Pour into serving bowl (with the sprinkles). Sprinkle with chopped pistachios (and extra chocolate chips if desired). Refrigerate for 2 hours (or more).
Serve with cinnamon pita chips and broken waffle cones (or bowls). ENJOY!