Candied Orange Peel–a homemade candy made by boiling orange peels and sugar to create impressive sweet citrus treats. You'll love this easy sweet treat.
Love homemade candy? This Copycat Three Musketeers candy bar is so good, and only THREE ingredients! Our readers also love to make easy Crockpot Candy all year long. Just add sprinkles for the season.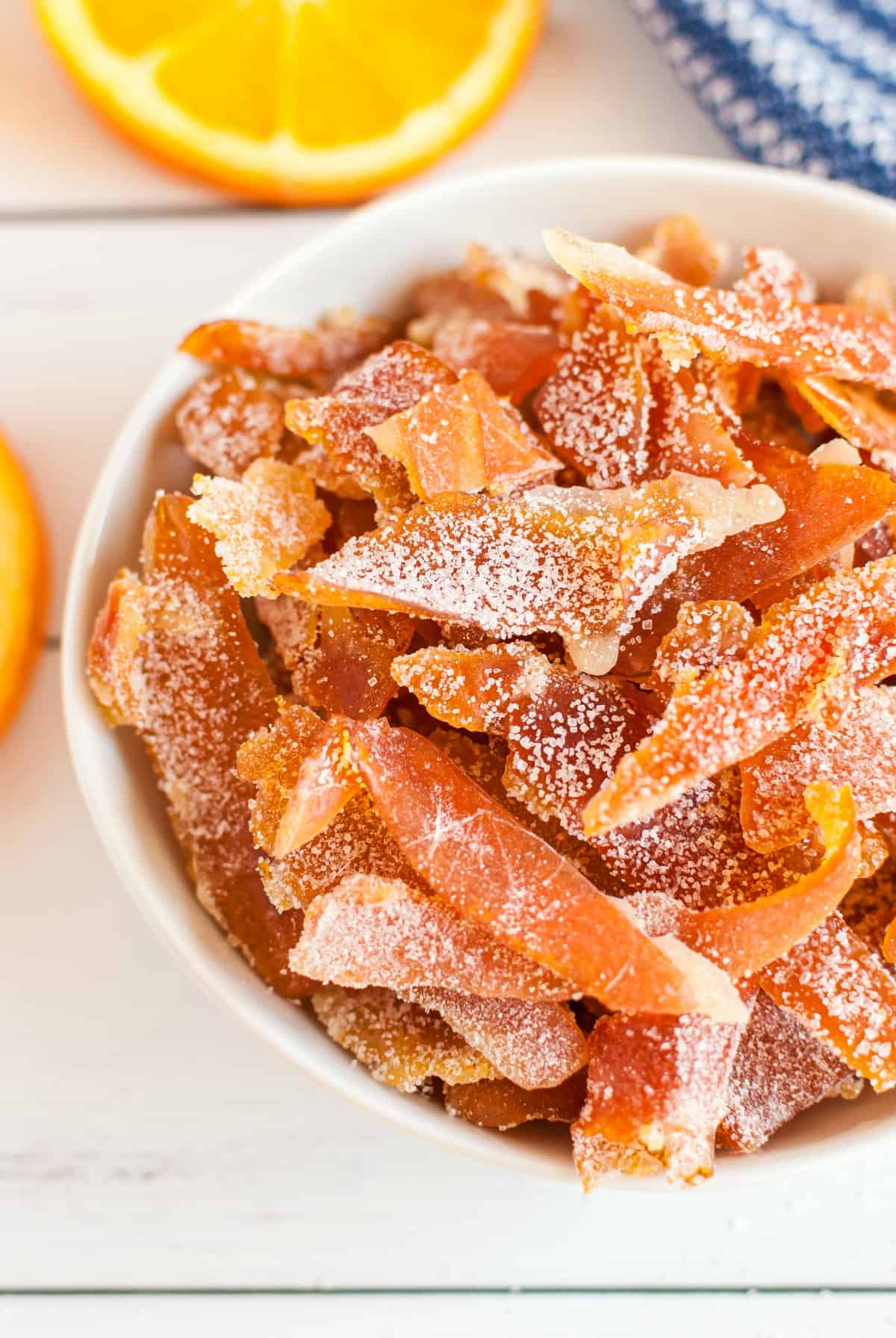 Why Make Orange Peel Candy
Whenever I go to a confectionary, the kind of place with all kinds of fancy and elegant candies, I look for candied orange slices.
I'm always amazed that something I usually think of as bitter and unappetizing (orange peels) can become so sweet and bursting with flavor.
After discovering this method for making orange candy, I'm now obsessed with making it at home.
At first glance, this recipe seems time consuming and difficult. While there are a few steps, it's actually super easy.
It's mostly repeating the same step a few times to get the candied oranges just right.
Boil, drain, boil, drain, boil, drain….you get the picture. The boiling water softens and tenderizes the tough orange skin so it can absorb all the sweetness from the syrup. (the process reminds me of making sugared cranberries!)
You don't want them to be bitter or tough, so boil away!
At the end of all the boiling and draining, you them simmer one last time in a simple syrup on the stove top. After this step, the oranges will be sweet but pretty wet!
To finish making the candy, you let the moist orange slices dry out on the counter covered with more sugar.
This Candied Orange Slices recipe takes a little patience than many treats, but I promise it's completely worth it. Everyone is impressed by this elegant homemade candy.
The finished candied orange peel is delicious all on its own. You can also go the extra mile and dip the candied orange slices in melted dark chocolate. Yes, please!
Now that I've perfected the art of candied orange peel, I may have to branch out and try other citrus fruit next. (Candied lemon peel, anyone?)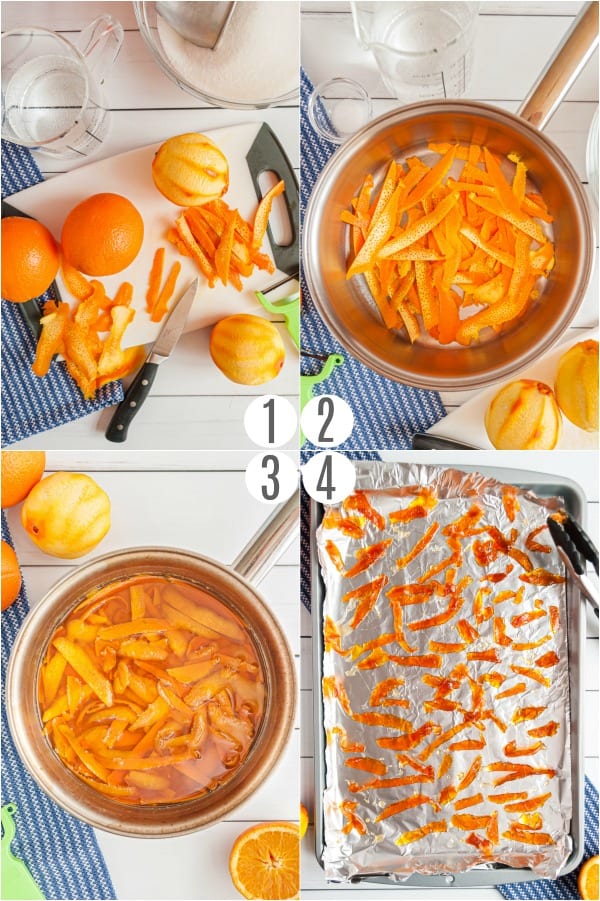 How to Make Candied Orange Peel
The good news is you don't need any candy making experience or special equipment for this orange candy recipe. If you can peel oranges and boil water, you can make candied orange peel!
Here's what you need for the recipe:
Oranges – I recommend your standard large navel oranges here.
Sugar
Water
Salt – I used Kosher salt. Sea salt or whatever table salt you have in your pantry works just fine.
STEP 1. Peel the oranges and slice the peel into quadrants. You can use an orange peeling tool for this or just slice the oranges into fourths, then peel with a knife.
STEP 2. Place the orange peels in a large pot and cover with water. Bring the oranges and water to a boil and cook for 30 minutes. Drain the pan, place the oranges back in the pot with more water and repeat twice more.
STEP 3. In separate saucepan, bring 1 cup sugar, 1 1/2 cup water and salt to a boil. Continue boiling for about 2 minutes until sugar is dissolved.
STEP 4. Add prepared, drained peel (from above) to the syrup. Bring to a boil again, reduce heat. Simmer, uncovered for about one hour. Drain any remaining liquid.
STEP 5. Allow orange peel to cool in a single layer on a foil lined baking sheet for at least an hour. Cut into strips. Sprinkle with 2 cups of sugar, tossing to coat. Let stand on foil lined baking sheet overnight, until dried (about 12 hours).
Enjoy!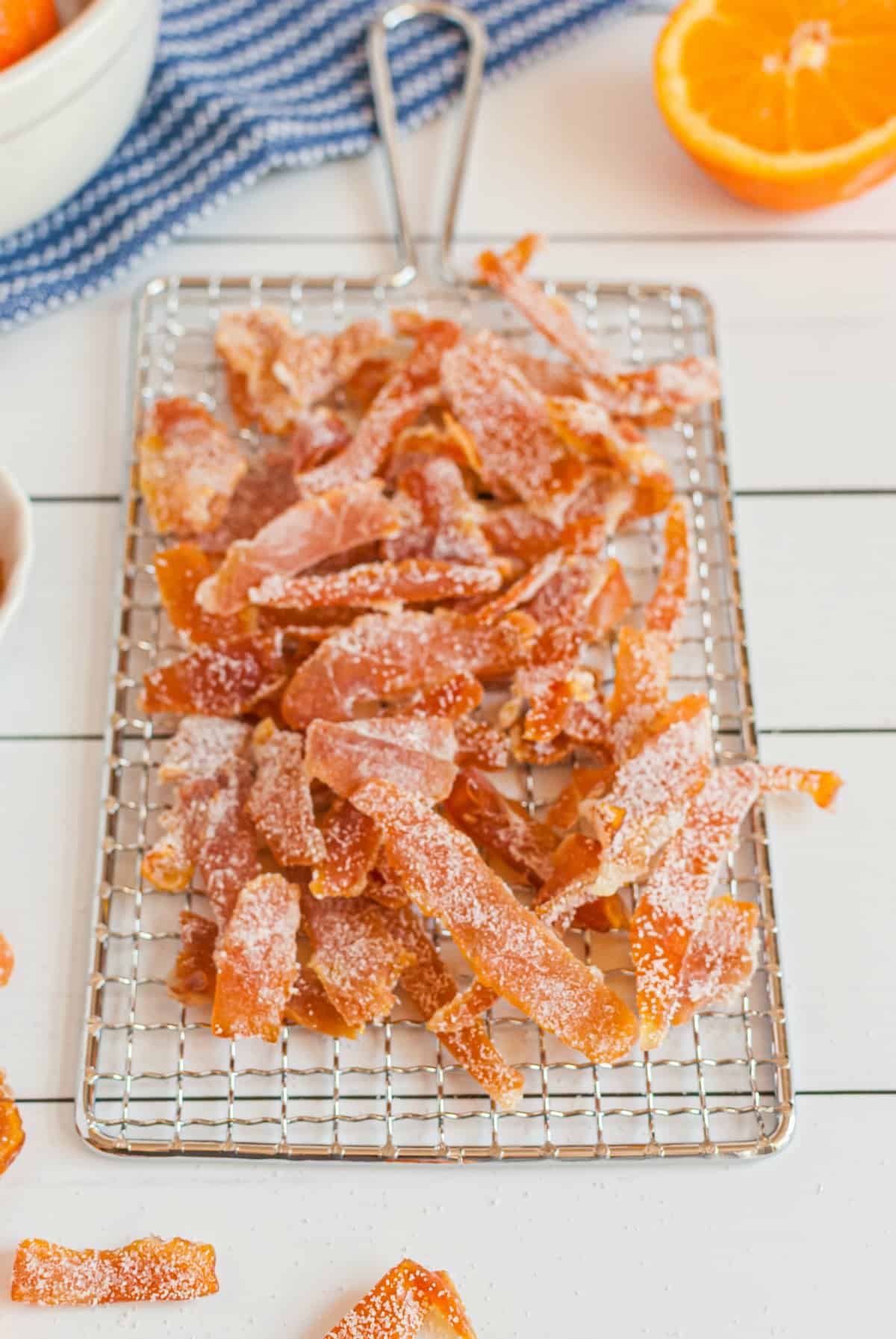 How to Store Homemade Candied Orange Peel
I prefer to store this on the counter, unsealed. When you store in airtight container, it can get sticky and you have to add more sugar to dry it up.
If you need to store it in a jar or container to transport it (or gift it to someone), it'll be okay! Just uncover it again as soon as you can and be prepared to add more sugar if needed to dry it out again.
Serving suggestions
I really could enjoy a whole bowl of this candy by itself, no questions asked. But given the chance to add chocolate to just about anything, I'll take it 99.9% of the time!
To make chocolate covered candied orange peel:
Melt dark chocolate in the microwave or double boiler.
Dip the ends of each orange peel candy into the chocolate.
Place on wax paper and let stand until the chocolate is set.
A slice of candied orange peel also makes a perfect garnish for an Orange Cupcake or a Chocolate Cake.
But my all time favorite way to use Orange Peel Candy is by putting it in Cannolis!
So, after you make this recipe go ahead and try your hand at the wonder that is homemade cannoli.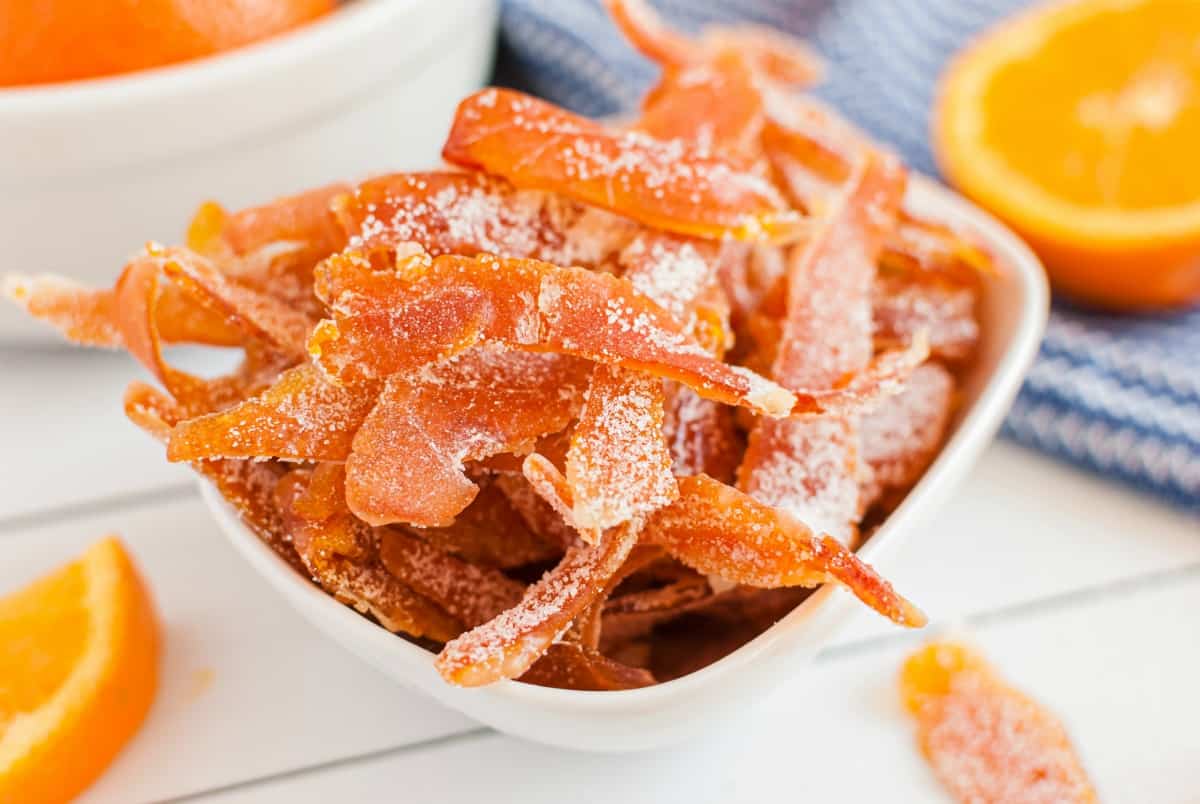 Candied orange peel is a confection for all seasons, but it especially makes me think of Christmas. A batch of this homemade orange candy would make a lovely gift for a teacher or friend during the holidays!
With just three simple ingredients you can make candy that's bursting with sweet orange flavor. Try your hand at making your own Candied Orange Peel Slices and impress all your family and friends.