Orange Peel Candy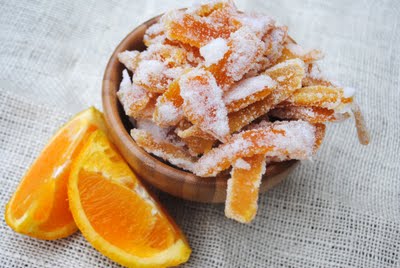 Ah, orange peel candy. Do any of you go to the store and buy the 10 for $10 bags of candy, things like butterscotch hard candies, jelly beans, and of course orange jelly candies? And of course you have to buy ten bags, because it's such a deal right? I buy them and Michael always says, "you didn't have to buy ten to get the deal." I know this. But I can eat an entire bag of spice drops in one sitting. They are individual servings I thought.
Regardless, now you can make your own orange candy at home. While it may seem time consuming, it's really very easy. Boil, drain, boil, drain, boil, drain….you get the picture. You don't want them to be bitter. And, you want them soft, so while they are boiling and draining and drying, go eat a bag of spice drops. Or circus peanuts. I love those! Am I the only one, cause they never run out of circus peanuts!
You can make this candy to snack on. Or you can make it and dip the ends in melted dark chocolate (yes please!!), or you can use it for a whole different purpose. One that I will tell you all about….tomorrow! So go make your candy today, so you can use it tomorrow in my special dessert!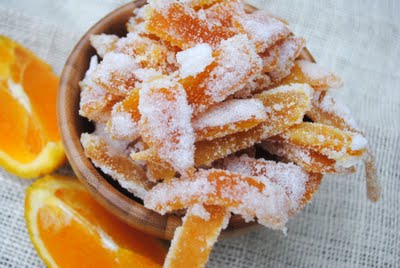 Orange Peel Candy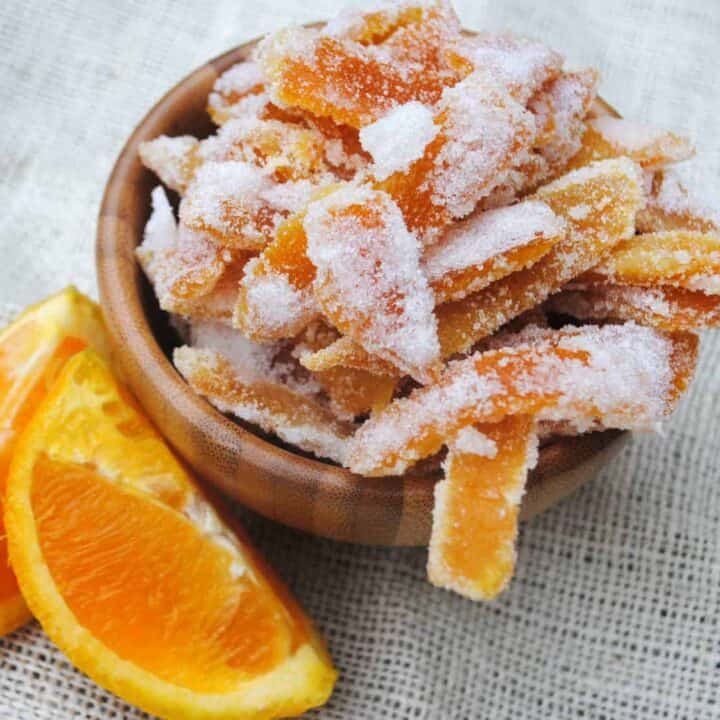 Ingredients
4 navel oranges
3 cups granulated sugar, divided
1/2 tsp salt
1 1/2 cup water
Instructions
To prepare oranges, remove peel from orange the best way you know how. I have a little orange peel tool, but you can slice your orange in quarters and then peel off the skin.
In large pot, put orange peels with enough water to cover. Bring to a boil and boil uncovered for 30 minutes. Drain and repeat twice.
In separate saucepan, bring 1 cup sugar, 1 1/2 cup water and salt to a boil. Continue boiling for about 2 minutes until sugar is dissolved. Add prepared, drained peel (from above) to the syrup. Bring to a boil again, reduce heat. Simmer, uncovered for about one hour. Drain any remaining liquid.
Allow orange peel to cool in a single layer on a foil lined baking sheet for at least an hour. Cut into strips. Sprinkle with 2 cups of sugar, tossing to coat. Let stand on foil lined baking sheet overnight, until dried (about 12 hours). I prefer to store this on the counter, unsealed. When you store in airtight container, it can get sticky and you have to add more sugar to dry it up.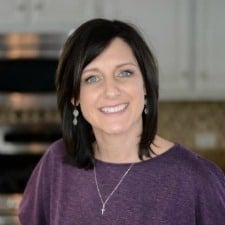 Aimee is a dessert lover (specifically rice krispie treats), workout enthusiast, self-taught foodie, and recipe creator. Her recipes have been featured in over 15 magazines, and her passion is to share her love of cooking with the everyday home cook! Learn more about Aimee.