Sugared Cranberries make the prettiest topping for all your holiday desserts! Sweet with a juicy burst of tart flavor, these cranberries taste as good as they look.
There's only one time of year I cook with fresh cranberries (seriously, why do we all forget about cranberries come January?) but during that two month window I make a LOT of cranberry dishes!
There's the customary Cranberry Sauce at the dinner table, Frozen Cranberry Salad and so many cranberry desserts from cheesecake to bliss bars.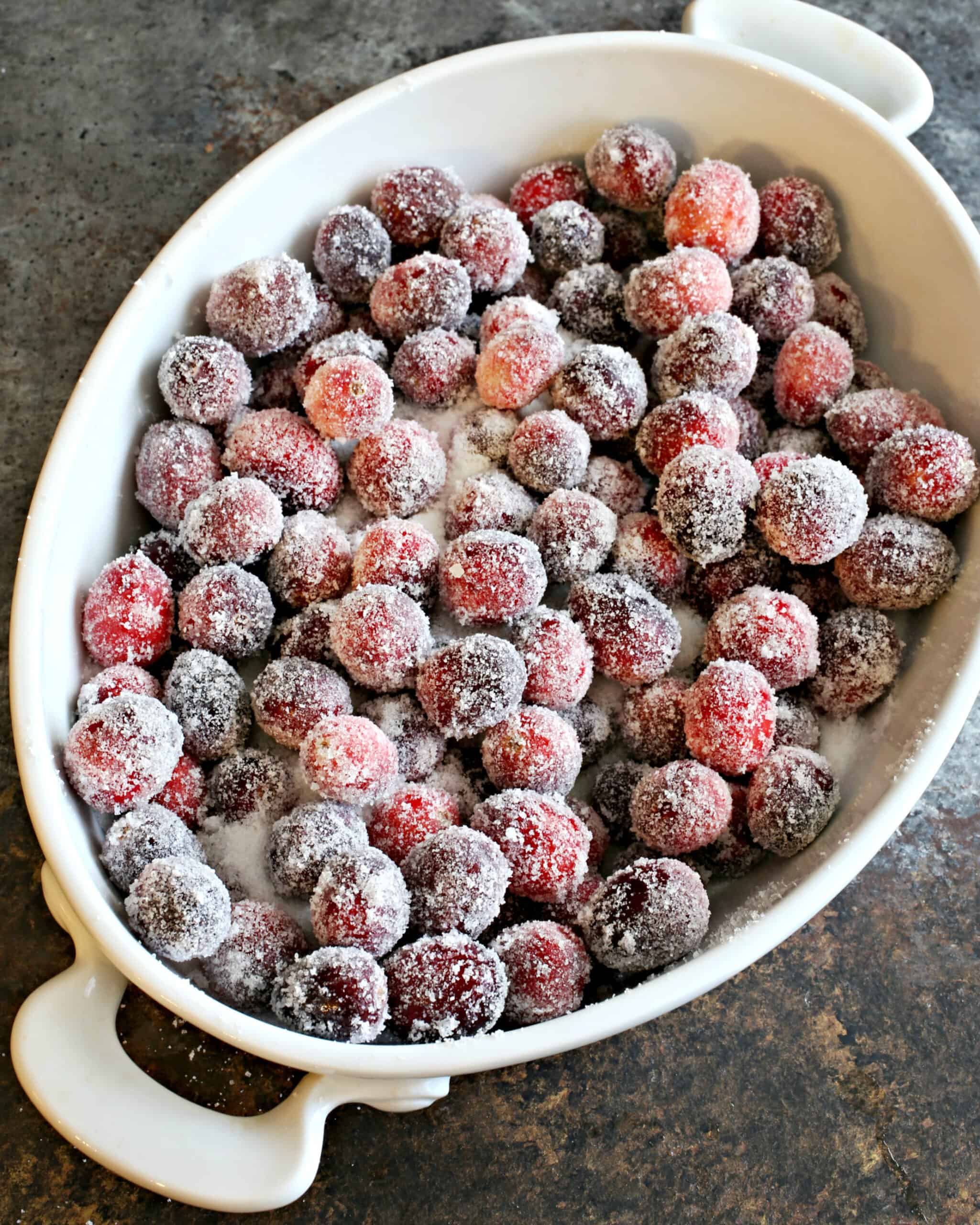 Why Make Sugared Cranberries?
As much as I love the taste of cranberries in desserts, I might love their color even more! The shiny bright red berries add the perfect festive touch to any dish.
When I was looking for the best topping for a Cranberry Cake I made recently, sugared cranberries were the solution!
These little jewels of color look even merrier when they're rolled in sugar, adding a hint of acidity and plenty of color to any dish.
They make me think of freshly fallen snow and all things Christmas!
Learning how to make Sugared Cranberries is easy! By soaking the berries in a warm sugar water, they absorb plenty of sweetness as they soften without bursting and losing their shape.
Make a big batch and store them in the fridge so you're always ready to add a beautiful and delicious topping to cakes, cupcakes or cheesecake.
A handful of sugared cranberries also makes a great garnish for a holiday cheese tray or a celebratory cocktail.
Ingredient Notes
Cranberries – Both fresh and frozen cranberries will work for this recipe.
Granulated sugar – You'll need sugar to dissolve in water for soaking the cranberries as well as plenty of additional sugar for the rolling! Roll in vanilla sugar for an even tastier treat.
Tips & Tricks
Did I mention how easy it is to make Sugared Cranberries?
Add water and sugar to a small pot and warm it on the stove, stirring to help the sugar begin to dissolve. Once warmed, take the pot off the stove and add in cranberries.
Let the berries soak in the sugar water bath for a few minutes, then remove them with a slotted spoon. Toss the berries in sugar to coat then transfer them to a wire rack to dry.
After about an hour of drying, the berries are ready to serve or store!
When I'm making a dish that I know will require a sugared cranberry on top, I like to make these the night before and store them in the fridge to make my prep time shorter.
Of course, I can never resisted popping a few of these delicious cranberries in my mouth whenever I open the fridge!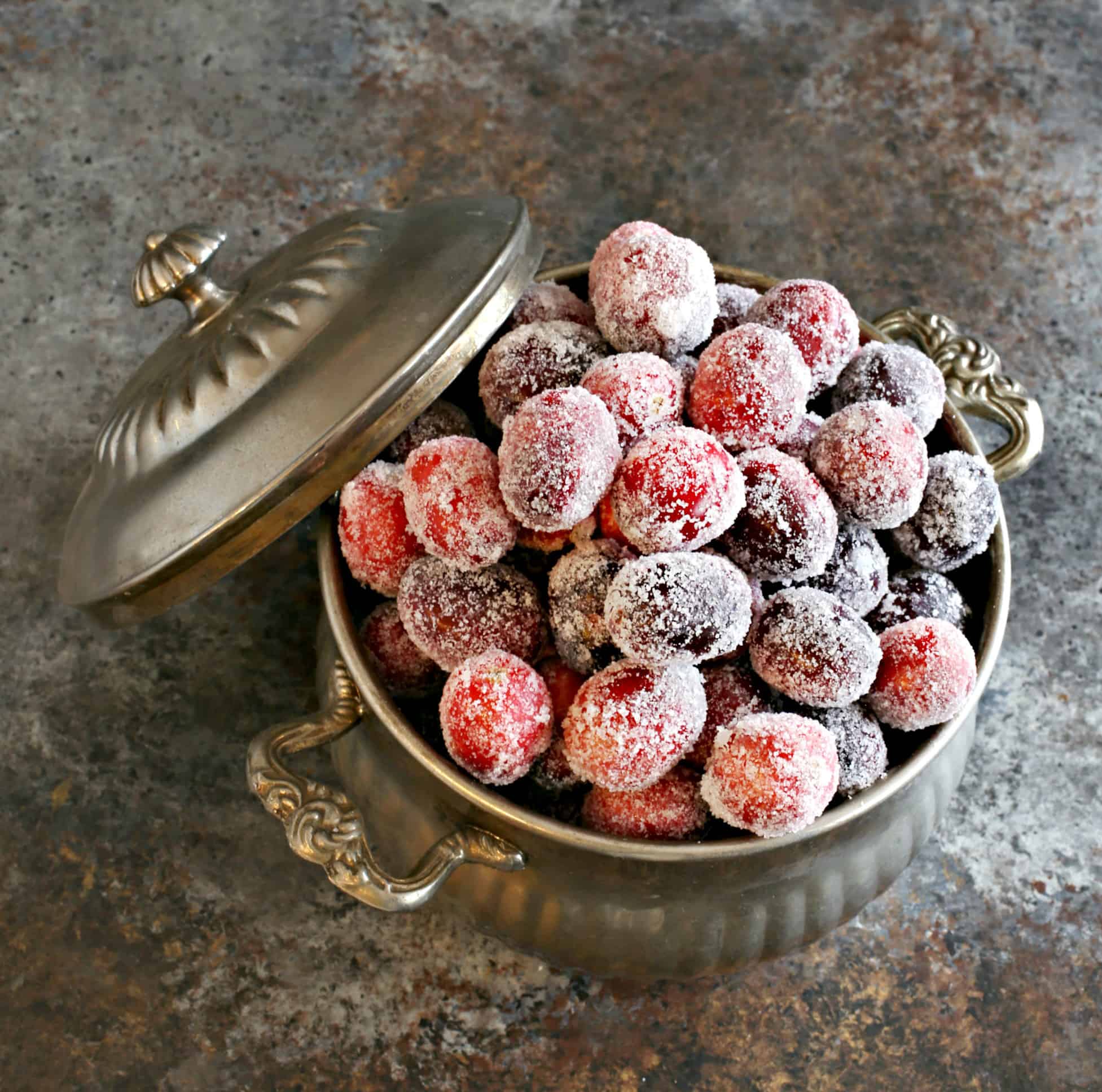 Recipe FAQs
How do you store sugared cranberries?
Once dried, they should be kept chilled in an airtight container. I put them in a tupperware in my fridge and they stay good for about 3 days.
Can this be made with frozen cranberries?
Absolutely. If you're using frozen cranberries, let them partially thaw before soaking in the sugar water.
How do you use sugared cranberries?
Decorate frosted cakes with a wreath of sugared cranberries, add them to the top of your cheesecake or any rich and creamy dessert where you want to add cranberry flavor and holiday cheer.
I also love to spear sugared cranberries on a toothpick to garnish Christmas cocktails and mocktails!
Why don't my cranberries look sugar coated the next day?
The granulated sugar may "melt" off the cranberries over time. If that happens, don't fret: just toss them in more sugar until they're coated again!
How to use Sugared Cranberries
Add your cranberries as festive touch to all your holiday desserts.
From Cranberry Cheesecake to Cupcakes with whipped cream frosting. Or give my white layer cake with cranberry topping a try!
More Basic Recipes
Try this easy Sugared Cranberries recipe to add instant holiday spirit to your holiday table! You'll love the tart pop of flavor and color they add to all your cranberry desserts and cocktails this season.