Frozen Cranberry Salad – This frosty salad is an explosion of cranberry flavor! With pineapple chunks and loads of sweet cool whip, it's a must try dessert that's especially popular for the holidays.
Love holiday side dishes? Be sure to try this family favorite German Potato Salad recipe! Or for something sweeter, try this delicious Watermelon Salad.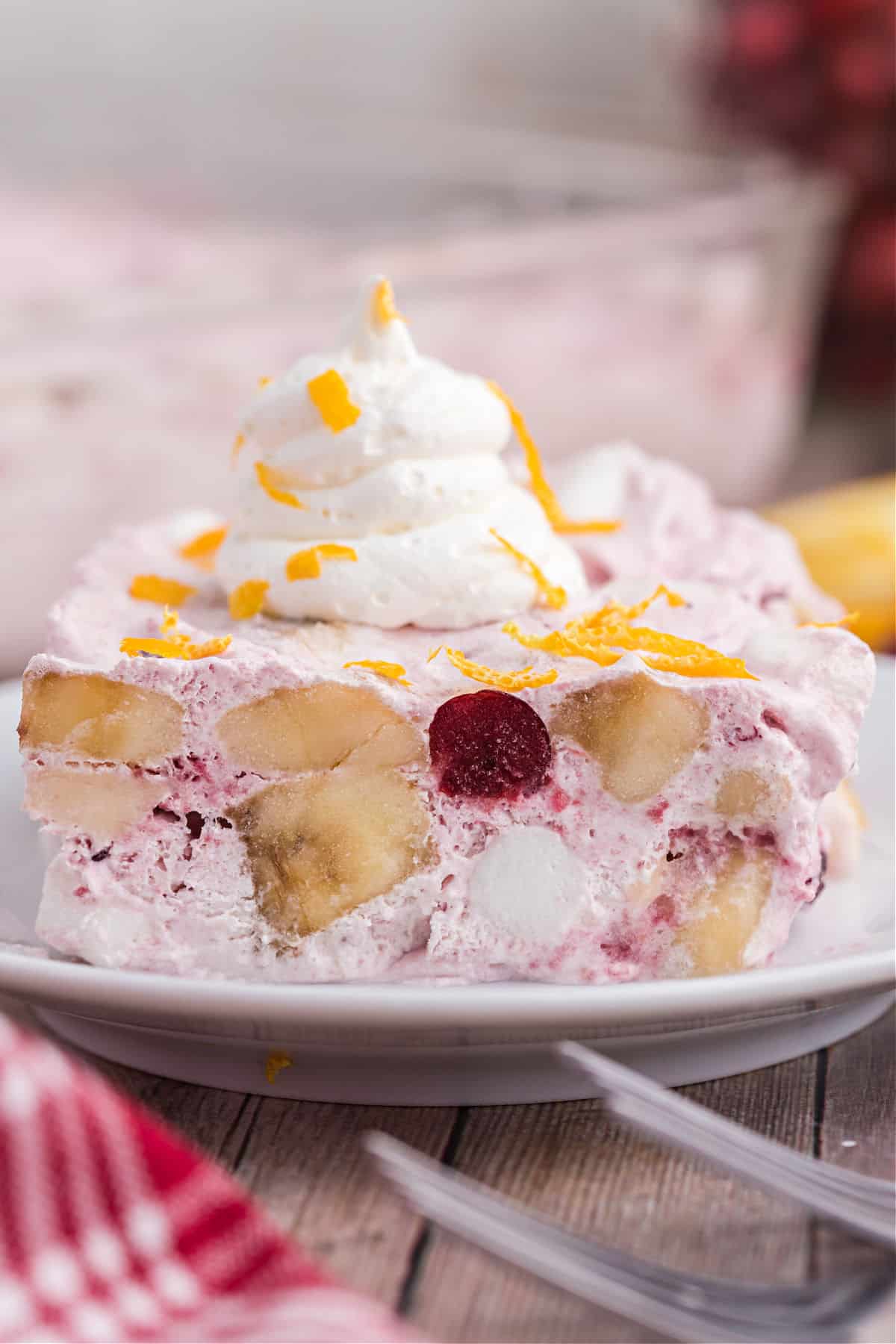 Why Make Jell-o Salad
In my family, Jello salad is served at every holiday. We're not necessarily picky about what form it comes in, but have it we must.
Sometimes we keep it simple and go with a classic bowl of jello and cool whip. Sometimes, it's something fancier like Strawberry Pretzel Jello.
Here's the problem I have with Jello: there is never enough room in the refrigerator to store it after dinner.
When we're talking holidays, we're talking LEFTOVERS of everything.
No matter how delicious everything is, when you have 26 pounds of turkey on the Thanksgiving menu, leftovers are guaranteed. You can only force feed people so many helpings of mashed potatoes, after all.
That means the fridge is invariably bursting at the seams the week after any big food holiday.
And when space in the fridge is at a premium, the JELL-O will be the first thing to get cut.
That's why I'm obsessed with Frozen Salad! Oh my.
Not only does it taste delicious, you can make it days in advance. It keeps well for over a week in the freezer!
Plus, if there are leftovers? Stick it back in the freezer. Sounds magical, right? Oh, it is.
Ingredient Notes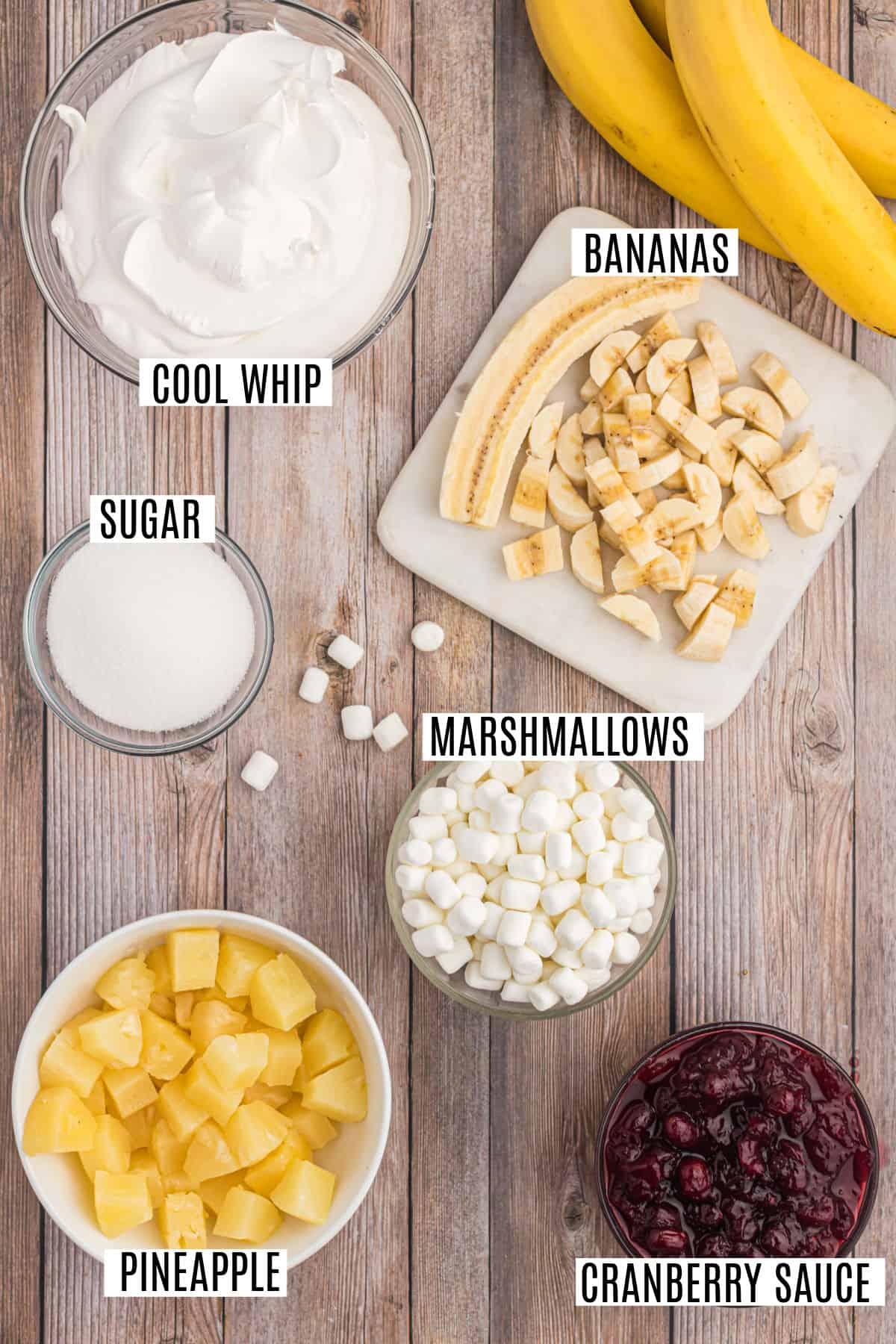 Even though frozen salad occupies the same spot on my holiday table that a jello salad would it doesn't actually contain any jello. (Shhhhh, don't tell Grandma!)
Instead, it's a combination of fruit and cool whip that you freeze in a baking pan before serving. The texture is similar to a cold jello salad but tastier!
You'll need 6 ingredients:
Cool Whip- or a homemade stabilized whipped cream.
Sugar- just a touch to sweeten the salad, feel free to cut back if you prefer.
Bananas- cut into bite size chunks.
Marshmallows- the minis work best. Swap them out for the colorful, fruity marshmallows if you prefer. Or chop up the larger ones, or homemade marshmallows.
Pineapple- you'll need a can of pineapple chunks. Fresh or frozen pineapple works great too.
Cranberry Sauce. We use a can of whole berry cranberry sauce, but homemade cranberry sauce is perfect too!
How to make frozen salad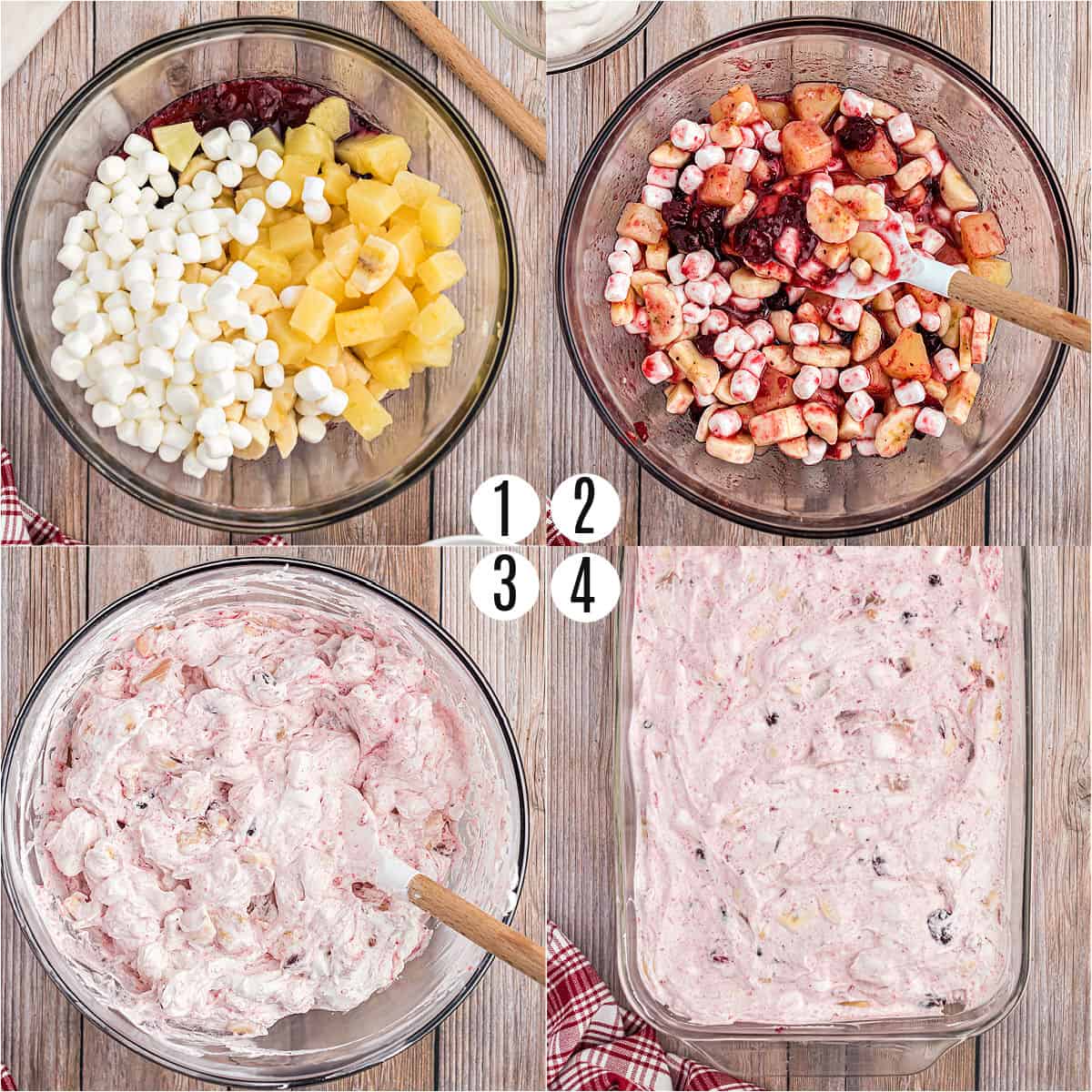 Another reason I love this recipe around the holidays? It's almost ludicrously easy.
It's as easy as tossing a few ingredients in a bowl and sticking it in the freezer to set.
Start with a can of cranberry sauce. I use the canned whole berry cranberry sauce in frosty salads. Add the entire contents to a bowl with some sugar.
Next, come the pineapple chunks. Again, I always use the canned pineapple for this recipe with the juices drained out. Add these to the bowl along with sliced bananas and mini marshmallows!
Last but not least: cool whip! Fold the (thawed) whipped topping in with the fruit and mix to combine.
Dump the whole salad mixture into a glass baking pan, cover it with foil and pop it in the freezer.
The salad is ready when it's frozen solid. This takes anywhere from 6 – 8 hours, but I usually leave it in the freezer overnight.
Like I mentioned before, you could also make it a few days in advance to beat the rush of last minute cooking prior to the Thanksgiving or Christmas dinner.
How to Serve
After removing from the freezer, cut the solid fruit salad into squares to serve. If it's too solid to slice, let it stand for 5 minutes at room temperature.
The salad softens as you eat it with the smooth creamy texture of a soft serve ice cream, flecked by chunky pieces of fruit.
I love all the different fruit flavors in this cold salad, but the cranberry stands out as the star! The tart cranberries add the perfect zing to the creamy cool whip.
Eat this salad within 30 minutes of serving so it's still plenty cold and refreshing. Top it with a dollop of whipped cream (or more cool whip) and some fresh orange zest.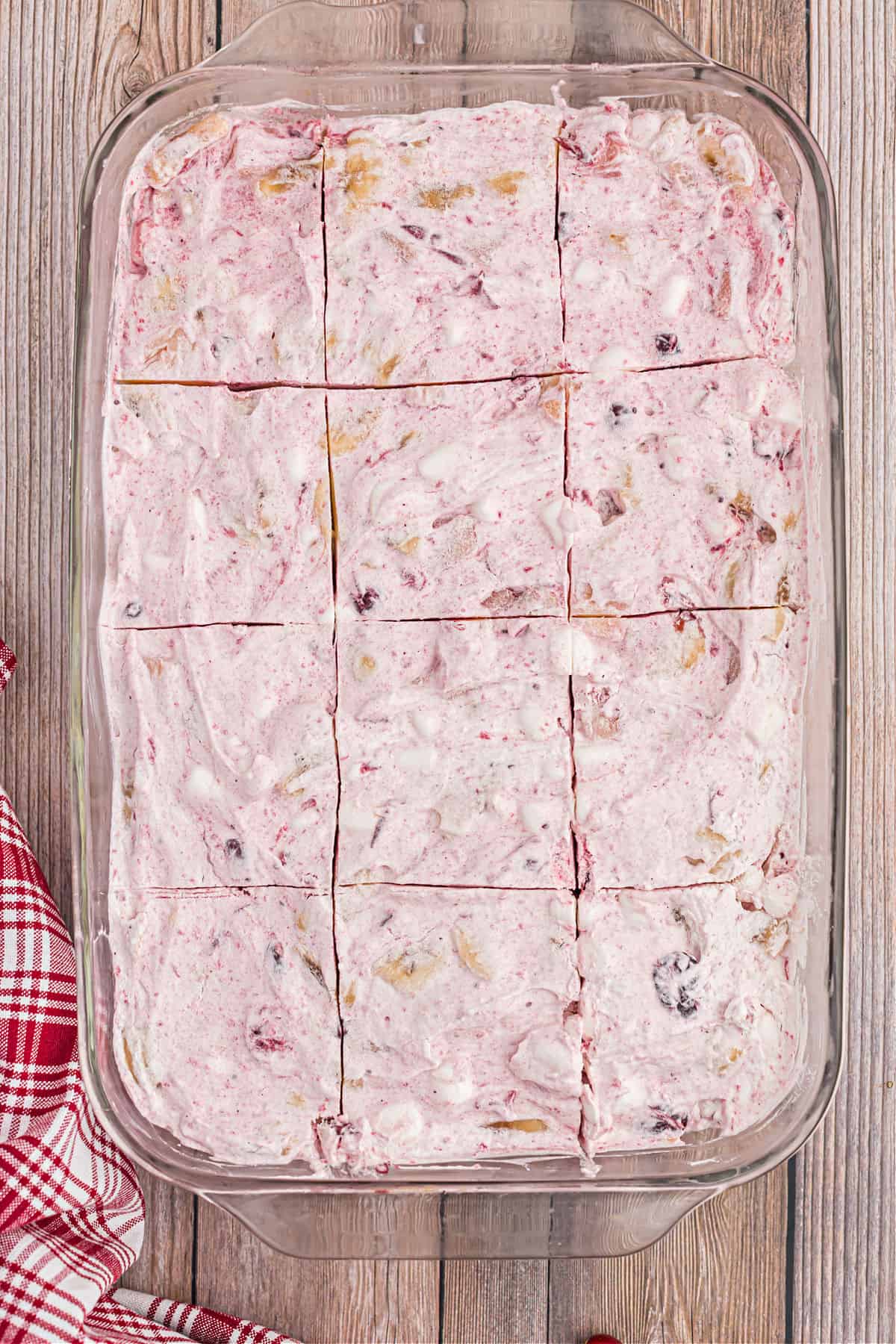 Can you refreeze frozen salad?
Absolutely. That's the beauty of this side dish!
Any leftovers can go right back in the freezer until you're ready to enjoy them. Just make sure to cover the pan in foil or plastic wrap so it doesn't get freezer burnt.
More Tips for Frosty Salad
Freeze into single servings: As an alternative you could spoon the fruit and cool whip mixture into muffin tins or ramekins to make single serve blocks–no slicing required.
Substitute for mini marshmallows: If you only have full sized marshmallows, you can still make this salad. Chop the marshmallows into small chunks then proceed with the recipe as directed.
Additions: For a frozen cranberry salad with some crunch, add a handful of chopped pecans along with the pineapple and bananas.
Don't have one more holiday meal without a fruity frosty salad on the table! Cool whip, cranberries and pineapples together make this the easiest and tastiest frozen salad you'll ever make.