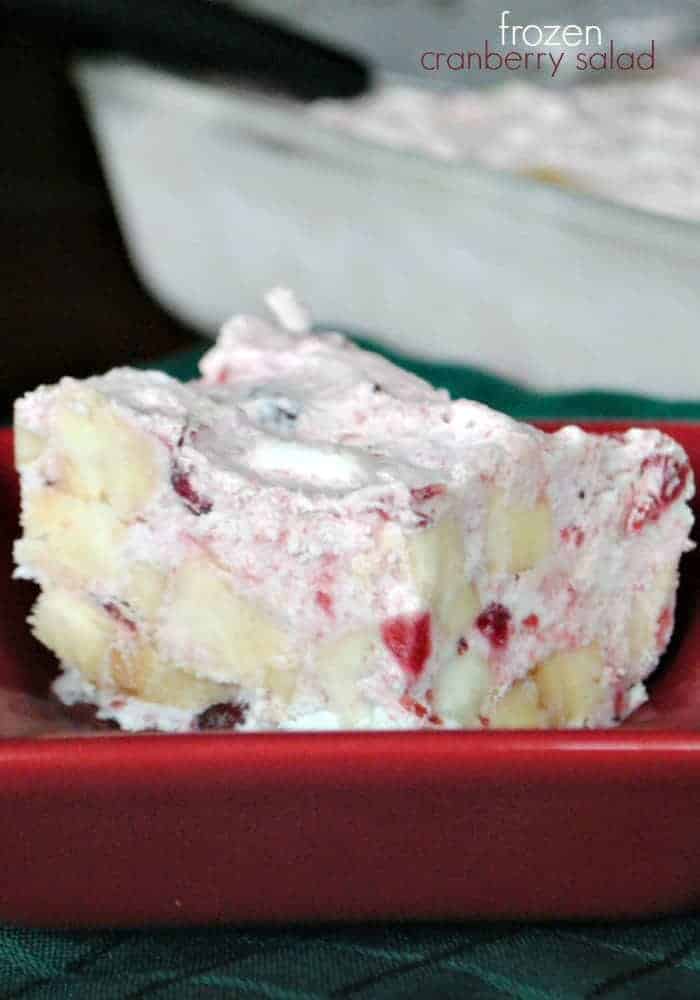 In my family, Jello salads are served at every holiday.
Sometimes it is just a classic bowl of Jello, and sometimes it's something fancier like Strawberry Pretzel Jello.
Grandma always serves something cold with lunch and dinner (at least I sure hope that wiggly cold dish is Jello)!
Here's the problem I have with Jello: there is never enough room in the refrigerator to store it after dinner.
And when making room with all the leftovers (let's face it, I have a 26 lb turkey, there WILL be leftovers), the JELL-O will be the first thing to get cut.
However, this frozen salad? Oh my. Not only does it taste delicious, you can make it days in advance.
And it keeps well over a week in the freezer. Plus, if there are leftovers? Stick it back in the freezer. Go ahead. Refreeze it. It will be just fine.
Frozen Cranberry Salad
Ingredients
20 oz pineapple chunks, drained
5 bananas, halved and sliced
16 oz can whole-berry cranberry sauce
1 1/2 cup mini marshmallows
1/2 cup sugar
12 oz cool whip
Instructions
In large bowl, combine cranberry sauce with sugar. Add bananas, pineapple and marshmallows. Fold in cool whip. Pour into glass 13x9 baking dish.
Cover and freeze until solid (about 6-8 hours). Can be made several days in advance. If leftovers, cover and put back in freezer, keeps for several weeks!