Tender potatoes tossed with bacon in a tangy dressing taste delicious alongside just about any main course. Learn how to make German Potato Salad in the Instant Pot as a side dish for your next family meal!
If you love potatoes, be sure to try our Instant Pot Potatoes recipe. Creates the perfect baked potato with a creamy center. Or give these Baked Mashed Potatoes a whirl.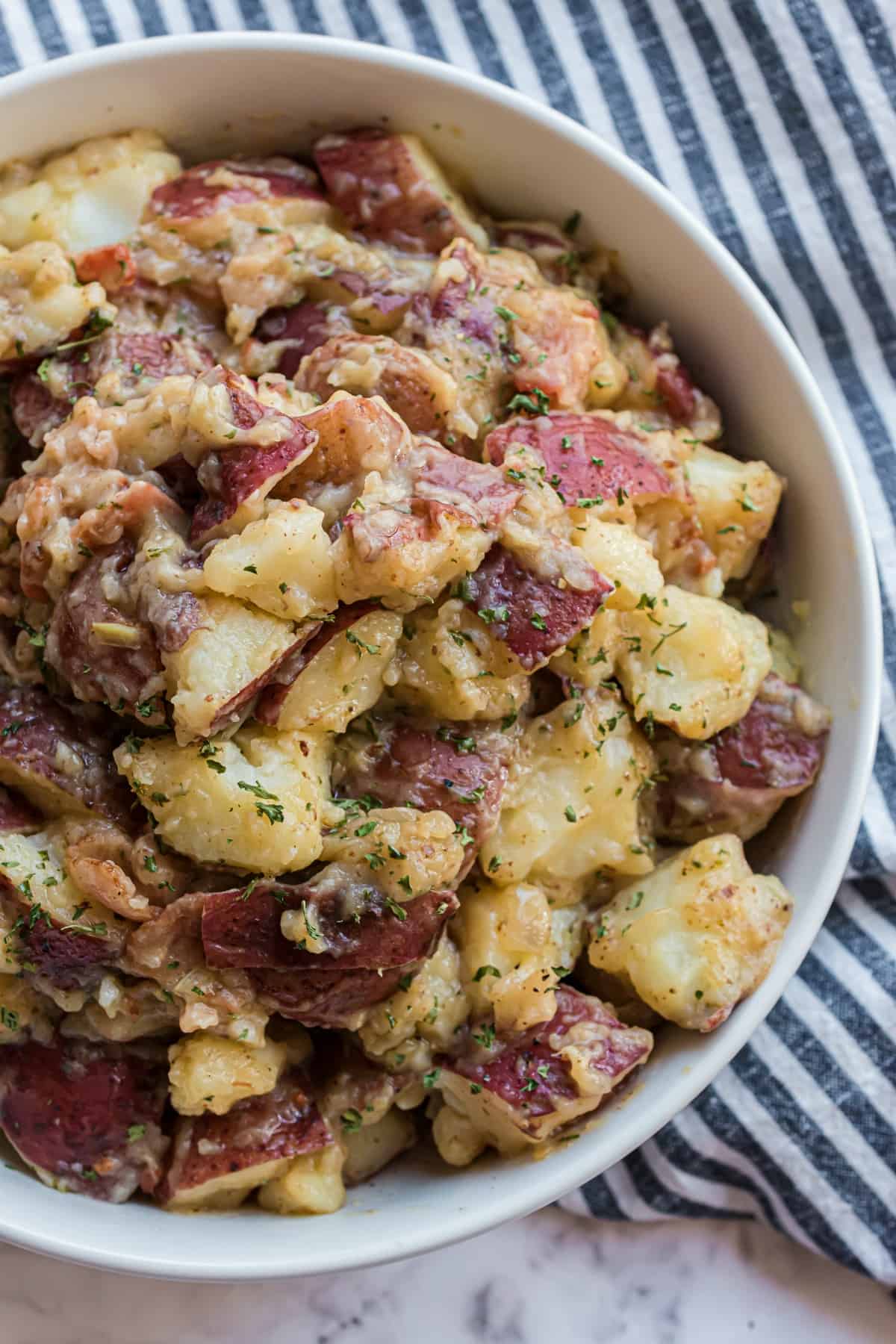 What is German Potato Salad?
When I mention potato salad, you probably imagine a big bowl of cooked cold potatoes tossed in mayonnaise served up on paper plates on barbecues and picnics.
German Potato Salad on the other hand contains not a singe drop of mayo. Instead, it involves plenty of bacon, the tang of dijon mustard, and a sprinkling of parsley for freshness.
You can serve German Potato Salad hot, cold or room temperature and I love it alongside all of my favorite meat dishes. It pairs wonderfully with Pork Chops, chicken, steak and turkey!
If you're looking for a mayo free potato salad recipe or a new kind of potato side dish to serve at your next big dinner, this German Potato Salad is just the ticket!
Make it in the Instant Pot or on the stove the old-fashioned way–it's delicious both ways.
Don't forget Dessert! Make a batch of our German gingerbread, Lebkuchen, to complete your meal!
Ingredient Notes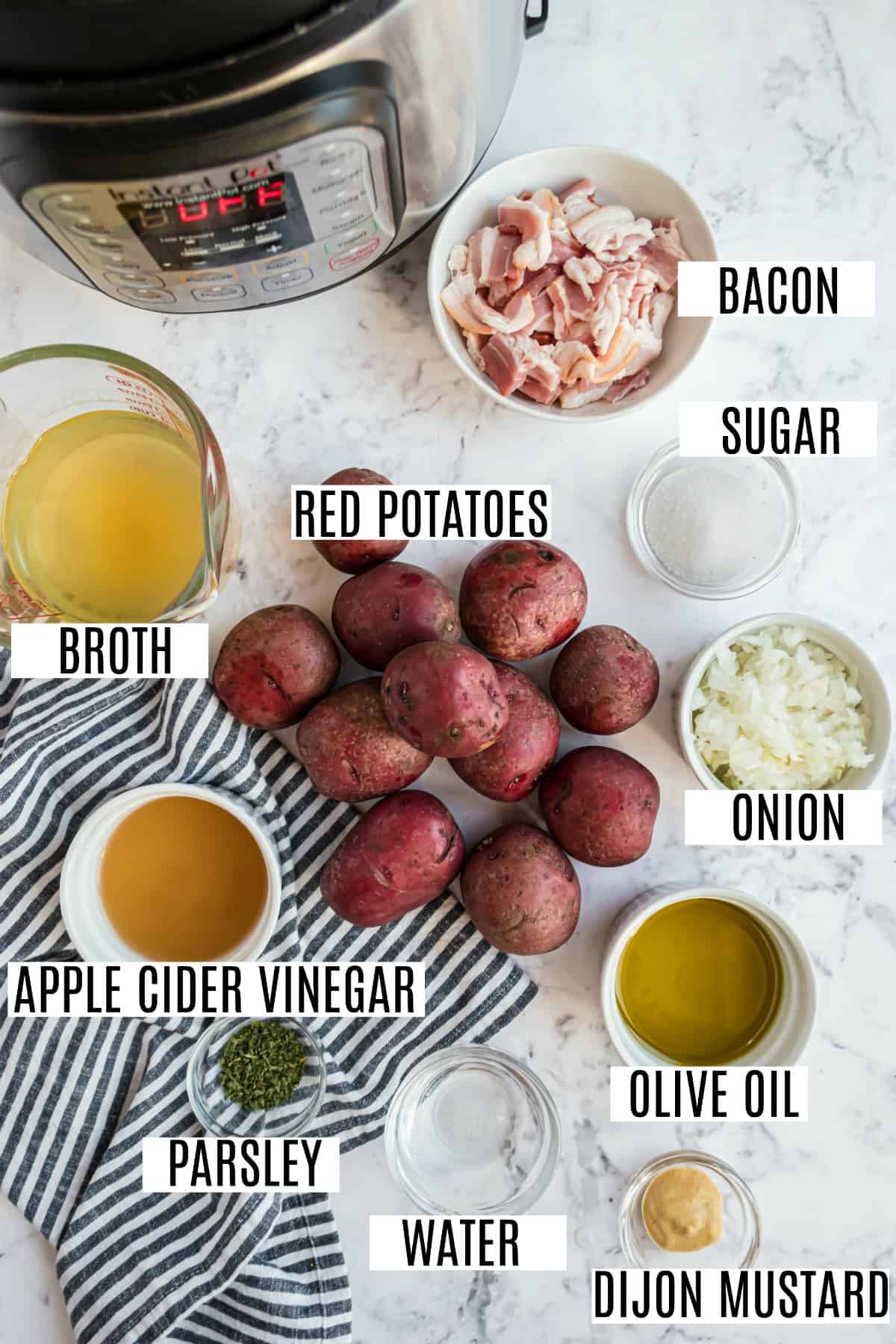 Potatoes – Red potatoes or yukon gold potatoes work best due to the softer skin. No peeling required.
Chicken broth – Vegetable broth could be substituted.
Bacon – Uncooked, cut into bite sized pieces
Apple Cider Vinegar – Lemon juice would work as a substitute.
Step by Step Instructions
How to Make German Potato Salad with the Instant Pot: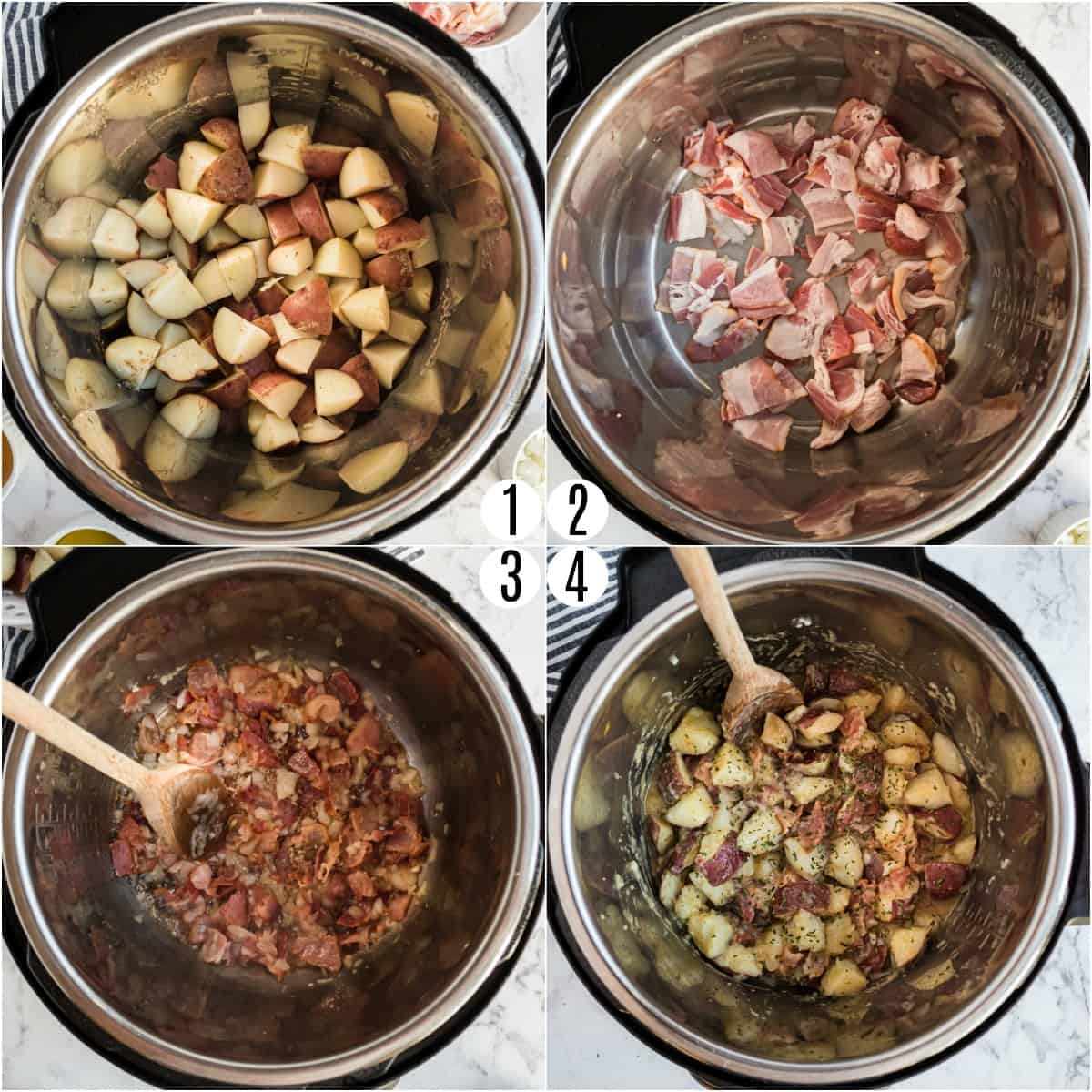 STEP 1. Prep
Wash the potatoes and cut them into the bite sized pieces. Add them to the instant pot along with the chicken broth.
STEP 2. Pressure cook
Secure the lid of the Instant Pot and cook on High Pressure for 6 minutes. Quick release the pressure and drain the broth from the potatoes.
STEP 3. Cook bacon
Change the Instant Pot setting to "saute" and cook the bacon and onion until the bacon is browned. Turn off the pot, add the potatoes back in and toss.
STEP 4. Dressing
Combine vinegar, sugar and mustard in a bowl with olive oil to make a dressing. Pour the dressing over the potatoes in the instant pot and toss to coat.
Season with salt, pepper and parsley to taste.
How to make German Potato Salad without an Instant Pot:
After washing and cutting the potatoes, boil in water until fork-tender. Cook bacon in a skillet and drain, leaving 2 tablespoons of grease to sautee the onion.
Add the cooked potatoes to the skillet and cook with the onion until browned. Pour the dressing into the skillet and cook on low until all the ingredients are heated through. Season with salt and pepper and sprinkle parsley over the salad before serving.
Tips & Tricks
Dice potatoes evenly. Try to make sure the potatoes are cut into even pieces as much as possible to ensure they cook at the same rate.
Refrigerate leftovers. Don't leave German Potato Salad out at room temperature for more than 2 hours. This salad will keep in the fridge, covered, for up to 5 days.
Serve hot or cold. I prefer the taste of German Potato Salad when it's warm, however the cold leftovers are delicious too.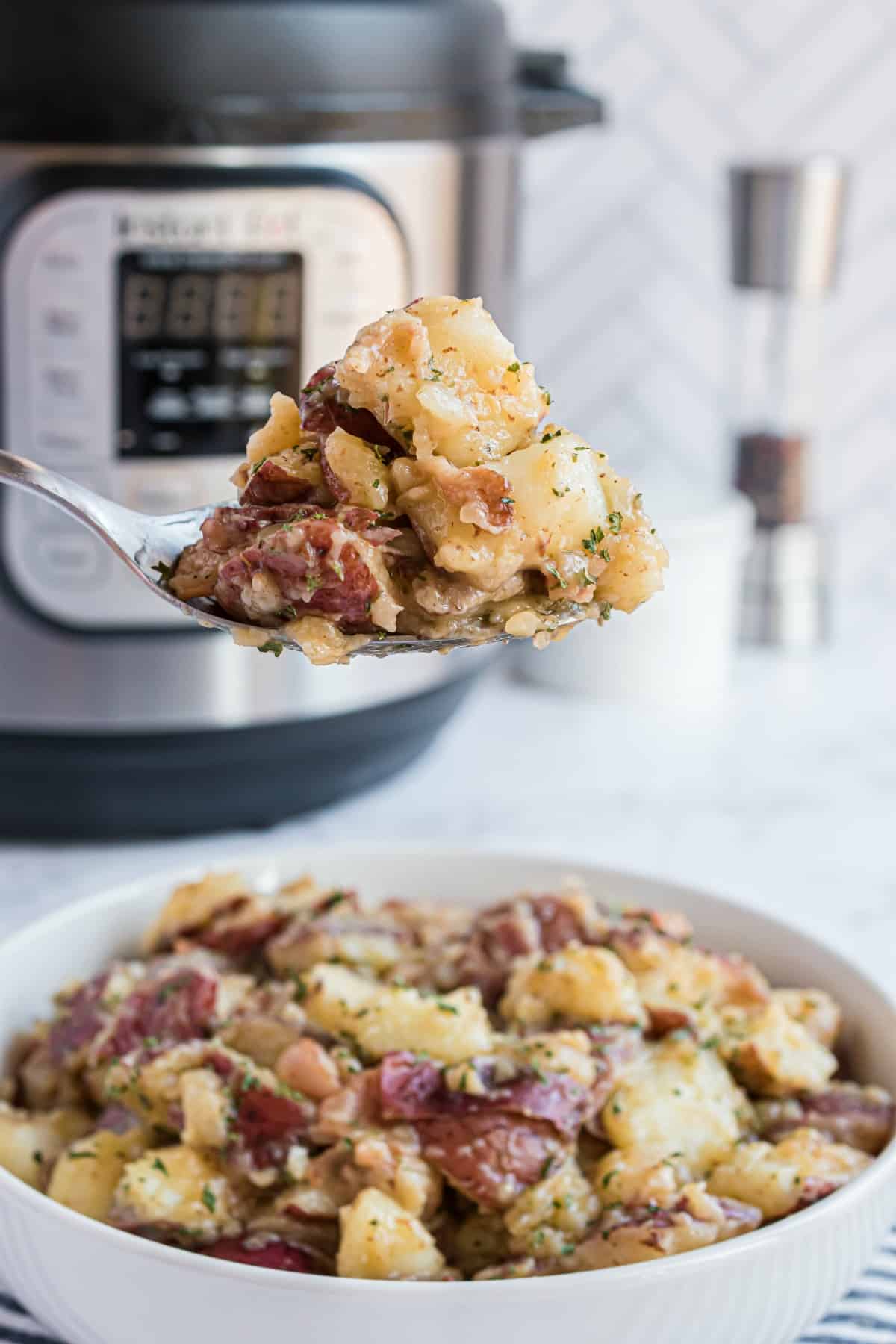 Recipe FAQs
What kind of potatoes are best for German Potato Salad?
Red potatoes and Yukon golds are best for German Potato Salad. I like to use a combination for color variety. Avoid Russets with their thicker, tougher skin.
Can German Potato Salad be made vegetarian?
The bacon adds a ton of savory salty flavor that is hard to duplicate! But, yes, if needed you could make this suitable for vegetarians by leaving out the bacon and swapping the chicken broth for vegetable broth. Cook the onion in butter or olive oil before adding the potatoes back to the pot.
What's the best way to reheat German Potato Salad?
Reheat German Potato salad in the microwave or by tossing it in a pot on the stove for a couple of minutes until heated through. You can also enjoy it cold or at room temperature if preferred.
Skip the mayo and try this delicious German Potato Salad instead! Served warm or cold, it's an easy kid-approved side dish for any occasion.