Fluffy and creamy best describes Instant Pot Baked Potatoes. In a matter of minutes you can have this easy, fool proof potato ready and on your plate!
Perfect baked potatoes are a great addition to dinner. Serve them up with our favorite Meatloaf Recipe or as a side dish to Oven Baked Pork Chops.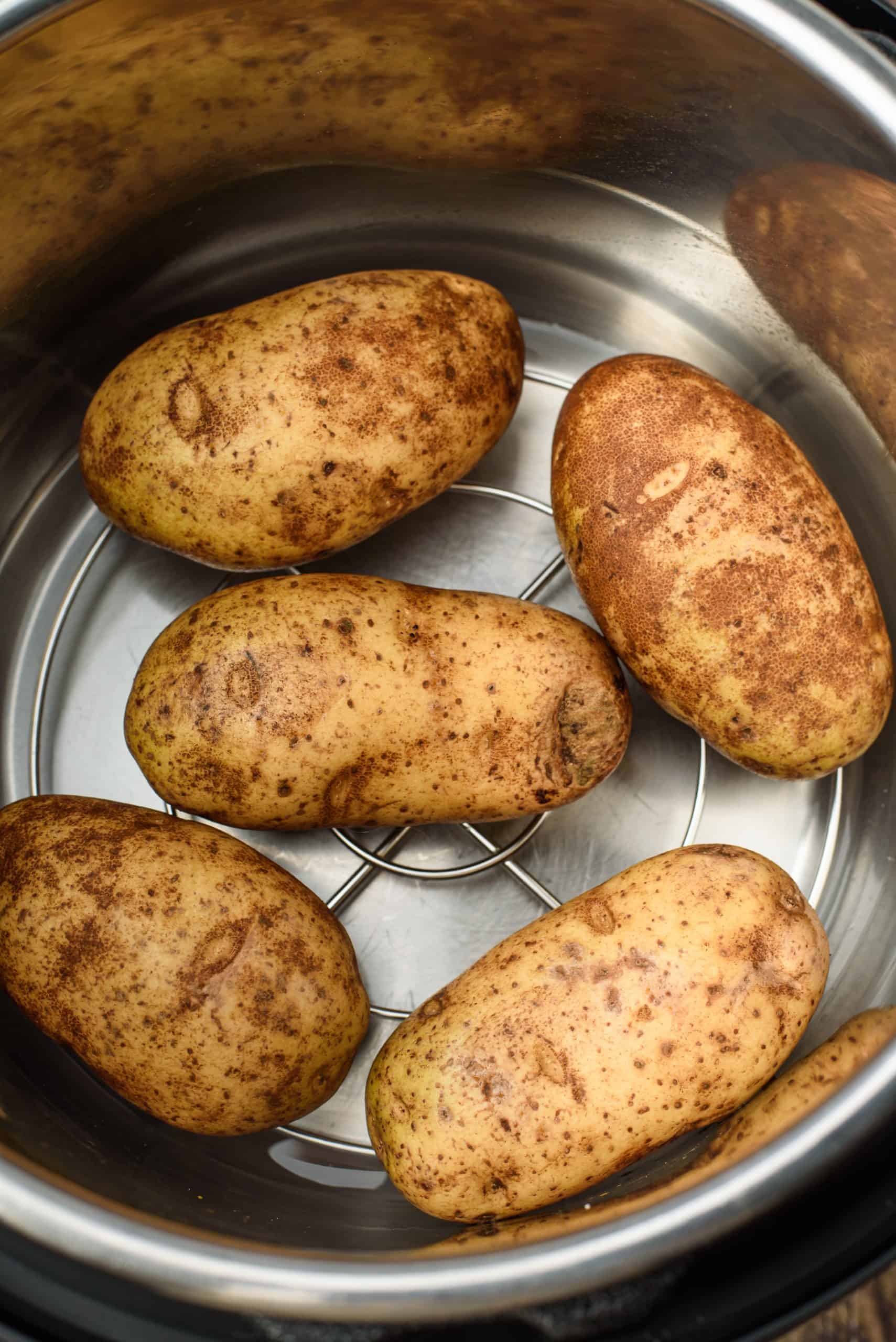 Why use the Instant Pot
Baked Potatoes are probably one of the world's best side dishes. And maybe even the most popular.
Potatoes are pretty affordable, and quite filling. You can customize them in so many ways with various toppings. Or make au gratin potatoes!
However, you first have to start with the perfect baked potato.
For years I've been baking my potatoes in the oven, just like my mom taught me, and her mom taught her. But are they really the easiest side dish when often times they take LONGER than the main dish?
I mean, sure they are EASY, but they can be time consuming.
Until now. I've recently discovered my love of making potatoes in the Instant Pot. (Have you tried my German Potato Salad yet? Made in the pressure cooker!)
Not only do they come out creamy and perfect on the inside, but they are done in far less time than it takes in the oven!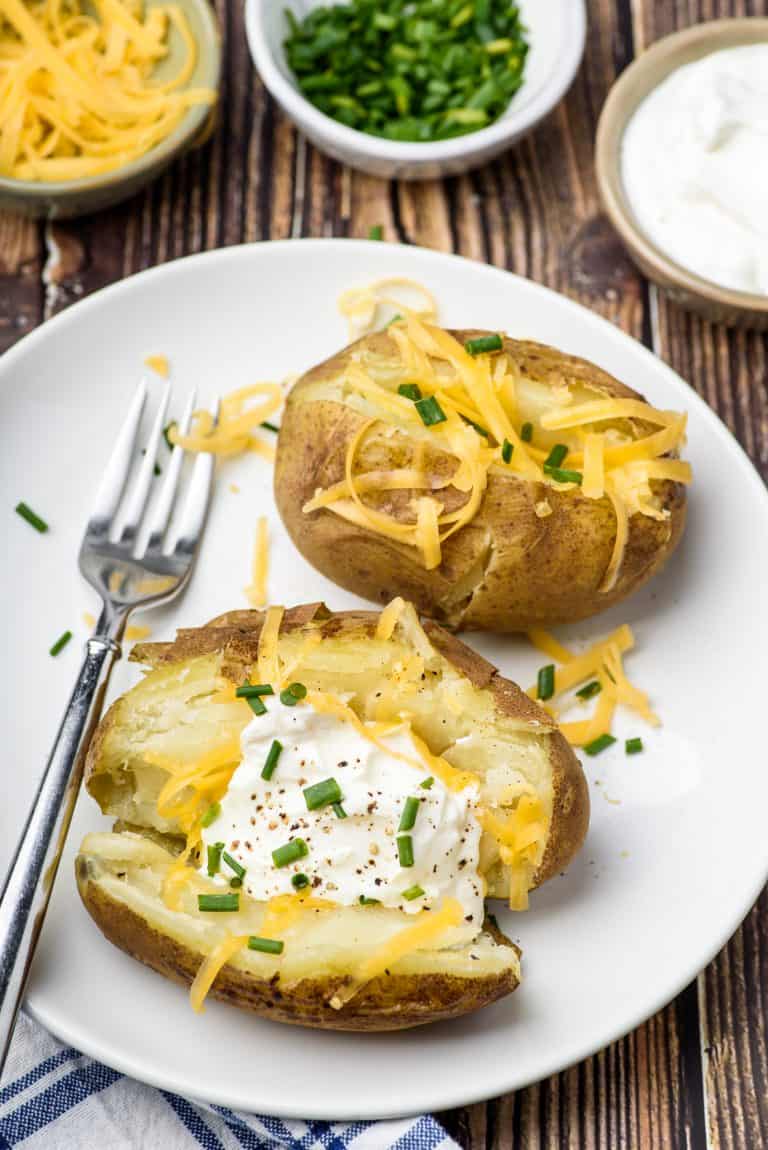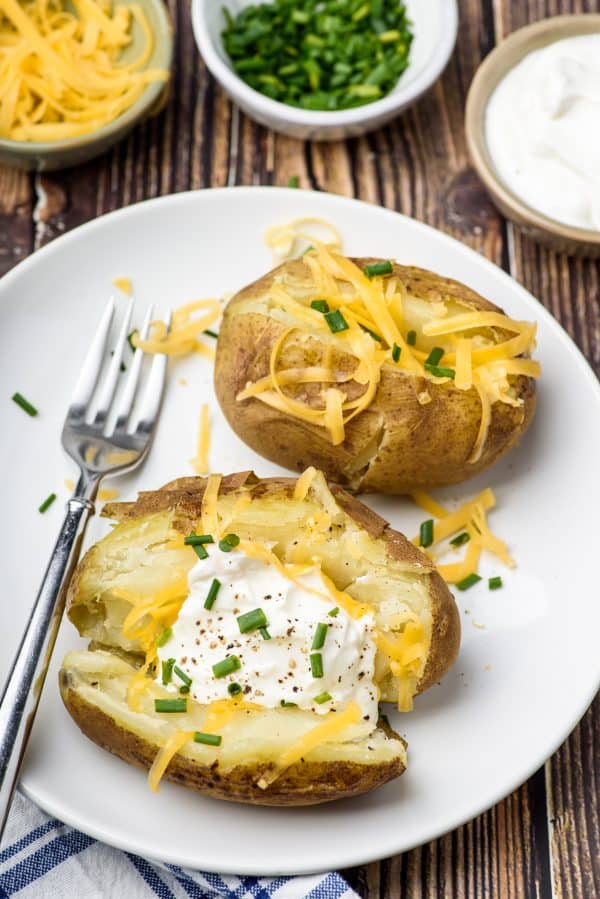 Tools and Ingredients
Instant Pot. I use a 6 quart Instant Pot for all my recipes. It's big enough for my family of 6, and the 6 quart tends to be on sale, somewhere, ALL THE TIME!
Trivet. When cooking potatoes in the Instant Pot, you'll want to place them on a trivet so that they are not sitting in the water at the bottom. I use the one that came with mine, but you can find my favorite Instant Pot Accessories on Amazon.
No trivet? No problem. Roll up balls of aluminum foil and place several of them in the bottom of the Instant Pot. Add water and set single layer of potatoes on top, making sure that the potatoes are not IN the water.
Water. As will all pressure cooker recipes, cold water is a MUST. You'll need 1 cup for baked potatoes.
Potatoes. I use Russet Potatoes as it's our favorite for baked potatoes. However, if making mashed potatoes, I tend to choose Yukon golds. Just be sure that the potatoes are all approximately the same size, this will help make sure they cook evenly.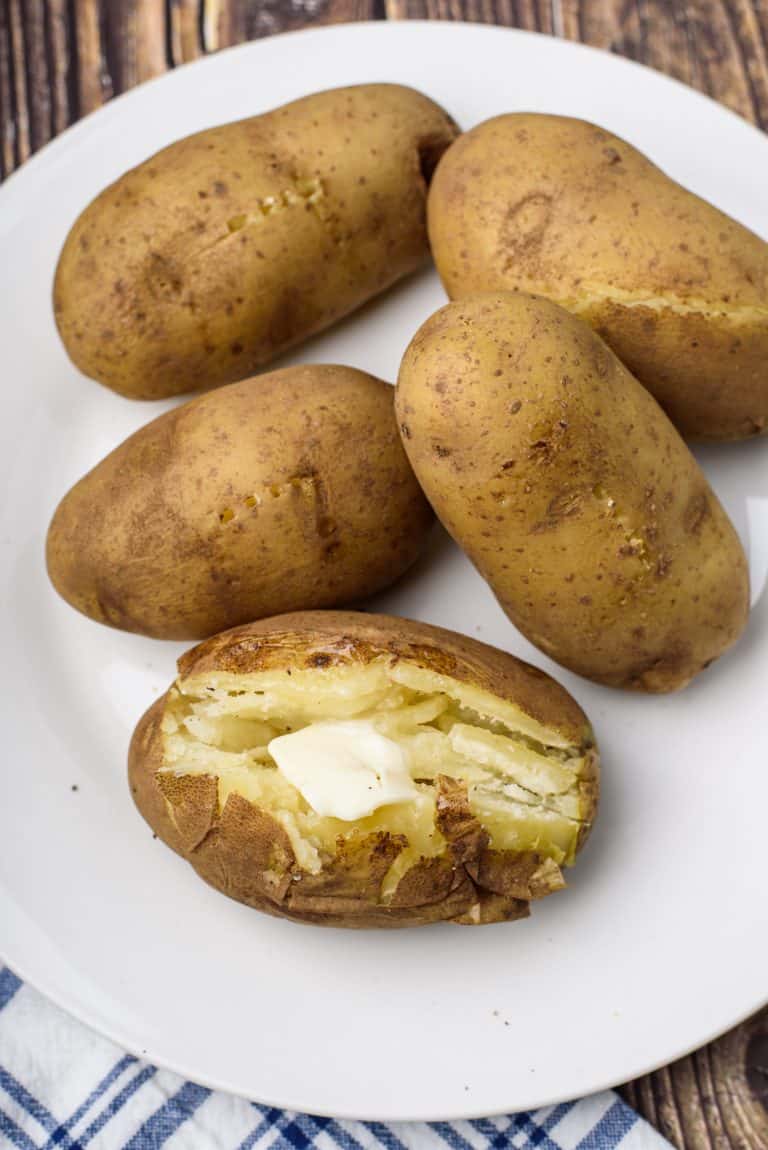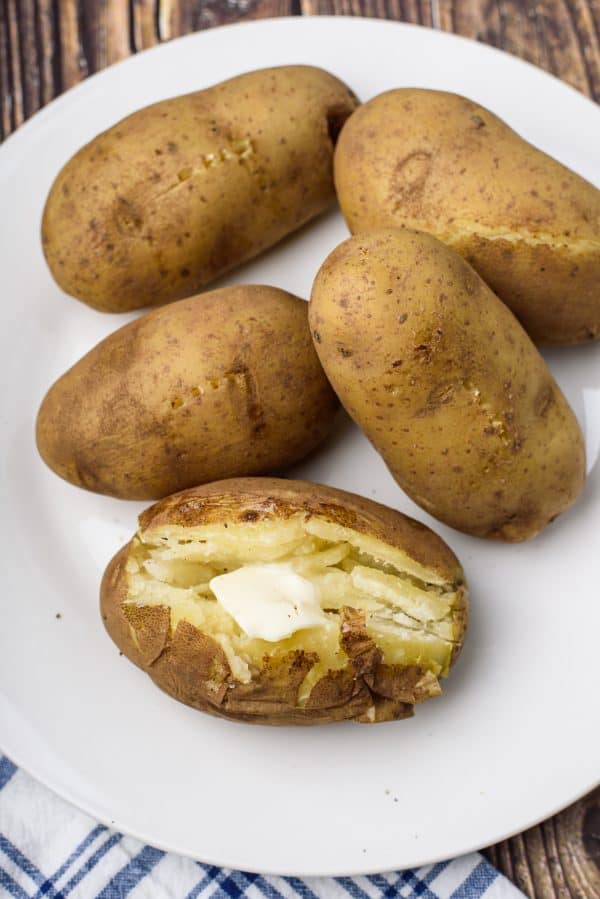 Step by Step Instructions
Clean the Potatoes. Scrub those potatoes clean. Potatoes grow in the dirt, which means they are DIRTY. I use this little brush to make sure mine are clean before cooking.
Prick each potato with a fork a couple times to allow the steam to escape when pressure cooking.
Pressure Cook. Pour water into the Instant Pot and place trivet, steamer basket, or foil balls in the bottom. Place clean potatoes on top, stacking if necessary.
Secure the lid in place and make sure the valve is set to SEALING.
Set to HIGH PRESSURE and add cook time (see below).
Small potatoes: Pressure cook for 10-12 minutes
Medium potatoes: Pressure cook for 14-16 minutes
Large potatoes (like you find at Costco): Pressure cook for 18-20 minutes
✅Typically in my grocery store the potatoes are of small-medium size
Natural Release. When cook time ends, allow pot to naturally release pressure for 8-10 minutes. Do a quick release and remove potatoes with tongs.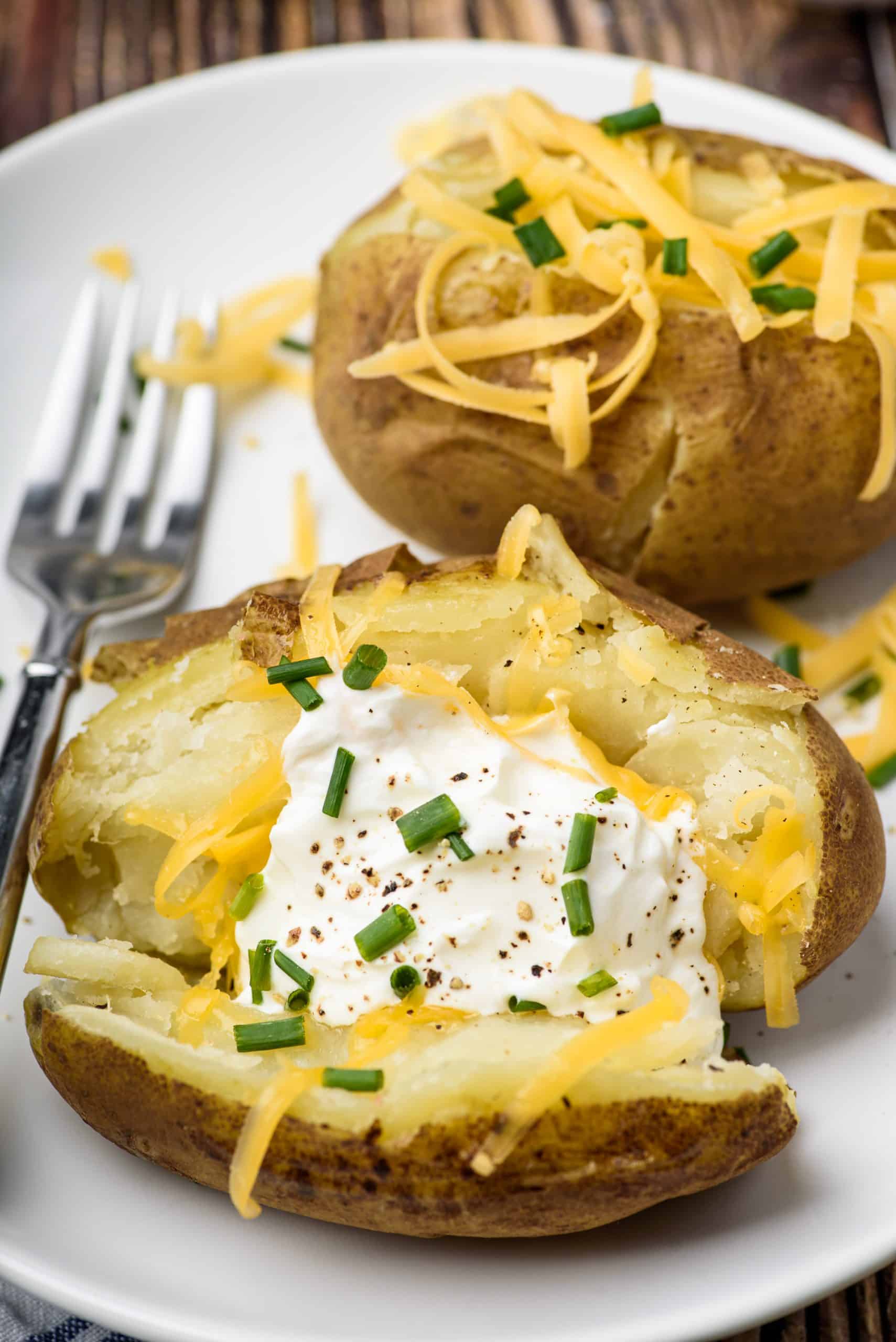 How to Serve Baked Potatoes
Baked Potatoes are delicious with butter, salt and pepper, chives, sour cream, and shredded cheese. Crumbled bacon also makes a delicious topping!
But, we also love to make a baked potato bar, which features the potato as part of the main dish.
What to serve with Baked Potatoes
Most often, baked potatoes are part of a side dish in our house. They go great with: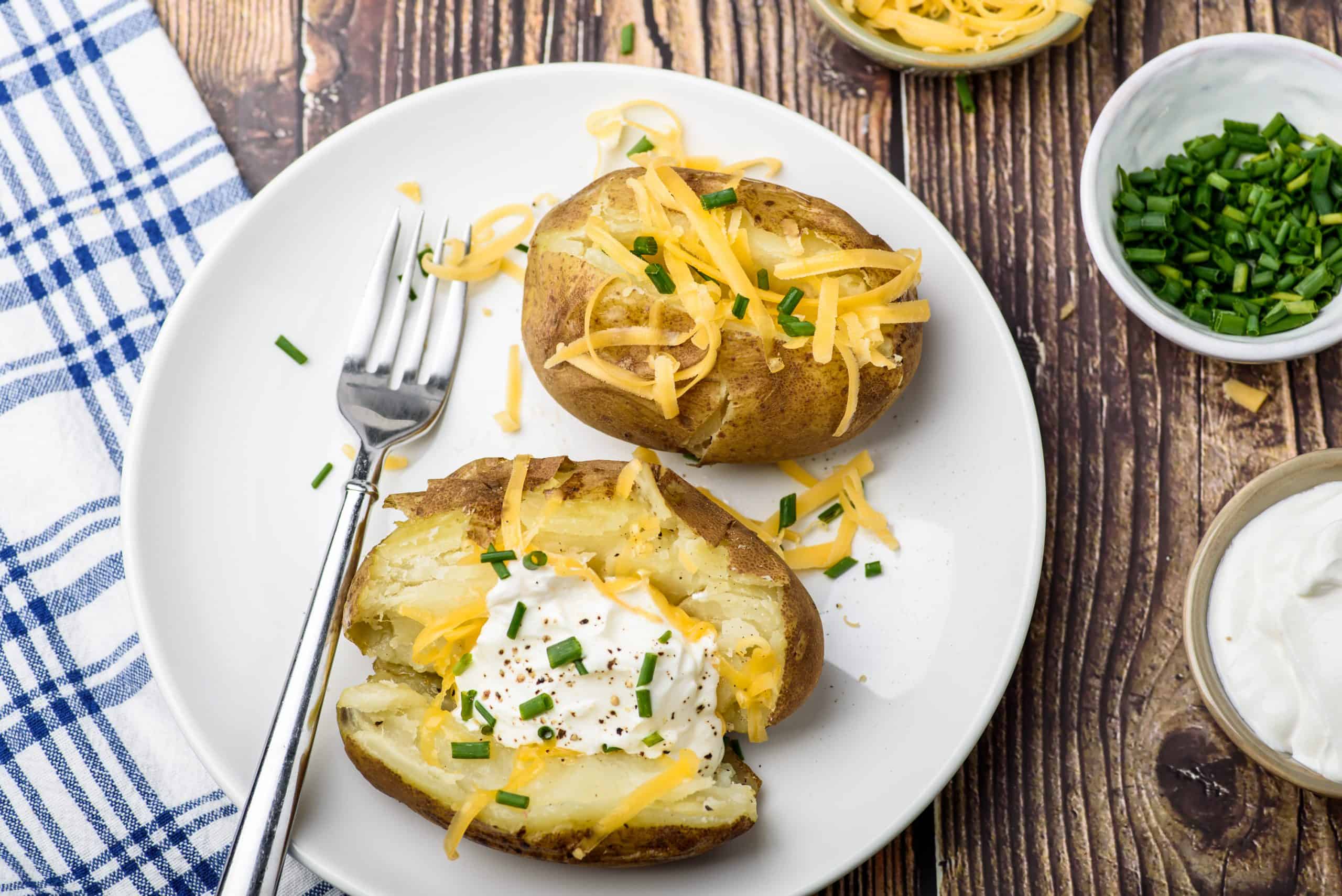 Tips and Tricks
Scrub your potatoes clean
Size matters…find potatoes equal in size for best results
Use a trivet so the potatoes aren't sitting in water
Err on the side of the larger potato, it's better to cook the potato more than less time!
More Recipes
The easiest, fool proof potatoes in the Instant Pot.