Grandma's Ham Salad recipe makes a delicious party dip or ham sandwich spread! Put your leftover ham to use and make this for your next get-together!
We love using up leftover honey baked ham for some of of our favorite dinners and snacks. You can also whip up some easy egg salad sandwiches to pair with today's salad.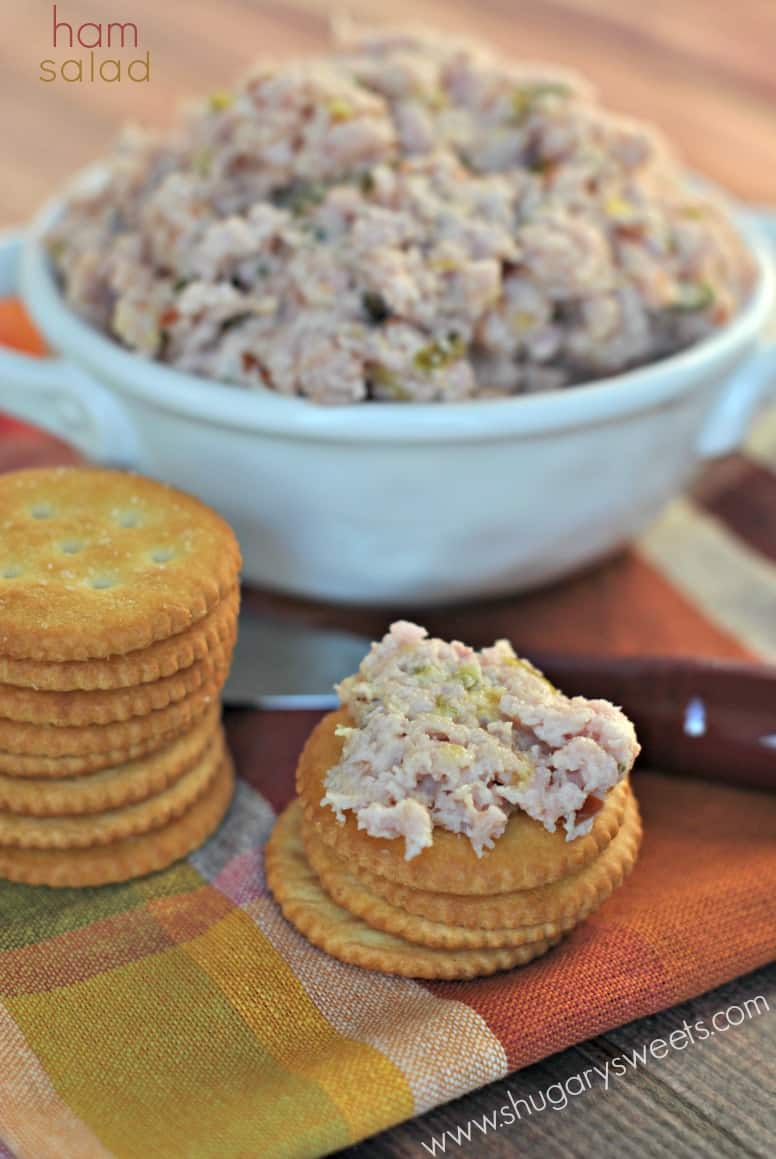 Ham Salad for generations
Every year, no matter where our family Christmas is being held, I'm always in charge of bringing Grandma's Ham Salad. It's been a staple in my family for years and I have such fond memories associated with it!
Growing up, my grandma always served the same food for Christmas. We ate cold cut sandwiches, potato salad and ham salad.
I know it may not be your traditional holiday meal, but I looked forward to it for so many reasons.
Ham salad was always the first item I scooped onto my plate at those family gatherings. You had to be quick or it could all disappear before you got your fill! That's how much everyone loved Grandam's ham salad.
You may remember me sharing my grandma's potato salad. It is simply the best. The key to her potato salad is dicing everything VERY VERY small.
For the ham salad you have to own a meat grinder, or ask your butcher to grind the meat for you. It's worth it.
Grandma's ham salad recipe took me several years to get right because her recipe card had no measurements included except a 5lb ham. Everything else was just a list of ingredients. I had to figure out HOW MUCH of everything she used.
She never measured, just tossed everything in a bowl and turned ground ham into a tangy, savory salad with just a hint of creaminess.
I persisted, though, and by now I've got the balance just right. Usually, I just eyeball everything (like Grandma did) but before writing the recipe down I made sure to measure everything.
Ham Sandwich Spread
Never had ham salad? You are missing out. Do you like those ham roll ups with cream cheese and onion (or pickles)??? It kinda tastes like that. . . kinda.
Just make it to find out for yourself! Anyone who likes ham likes this Ham salad, I promise.
Like I mentioned before, I bring this to every family holiday. Some of us scoop it up with crackers (my favorite way). It's also an amazing spread for a sandwich. Scoop it onto toasted rolls or sliced bread and you have a full meal!
It's not quite as creamy and "gloopy" as a potato or chicken salad but it definitely has a creaminess too it that's just wonderful.
With the saltiness of the Ham and the zing of dill pickle relish, it's perfect. I wouldn't change a thing about Grandma's Ham Salad recipe!
What you'll Need
This recipe makes a lot of ham salad! Make it for a party or when you have company coming over and you're all but guaranteed to have plenty.
The good news is that this ham salad freezes well, too! So go ahead and make the whole recipe and pop any leftovers in the freezer for later.
Here's what you need to make ham salad:
Cooked Ham – we love our honey baked ham recipe for this!
Yellow mustard
Mayonnaise
Soy sauce
Dill pickle relish
How to Make Ham Salad
Use a meat grinder to grind the fully cooked ham into coarse grinds. Add the mayo, mustard, relish and soy sauce and mix until well combined.
Store in an airtight container in the fridge until you're ready to serve! It keeps well (covered and refrigerated) for up to 5 days.
To freeze: Place in an airtight container in the freezer for up to 3 months. Thaw overnight in refrigerator, stir, and serve!
What to serve with Ham Salad:
This ham salad is always on our family's Christmas table, per Grandma's tradition! We serve it with Ritz crackers or hearty wheat crackers. It's also tasty scooped up with celery sticks on a party tray!
Any leftovers are likely to end up in our sandwiches for the rest of the week's lunches.
This recipe makes for a great ham sandwich spread that the kids love! They can assemble it themselves, too, because it's all the sandwich fillings in one.
Leftover Ham Recipes
If you have access to a meat grinder, I can't recommend this recipe enough for using up your leftover Easter or Christmas Ham.
Looking for even more leftover ham recipes? Give this Ham Casserole a try! It's the ideal quick and easy dinner for after the holiday rush. You'll love this Broccoli Ham Quiche, too!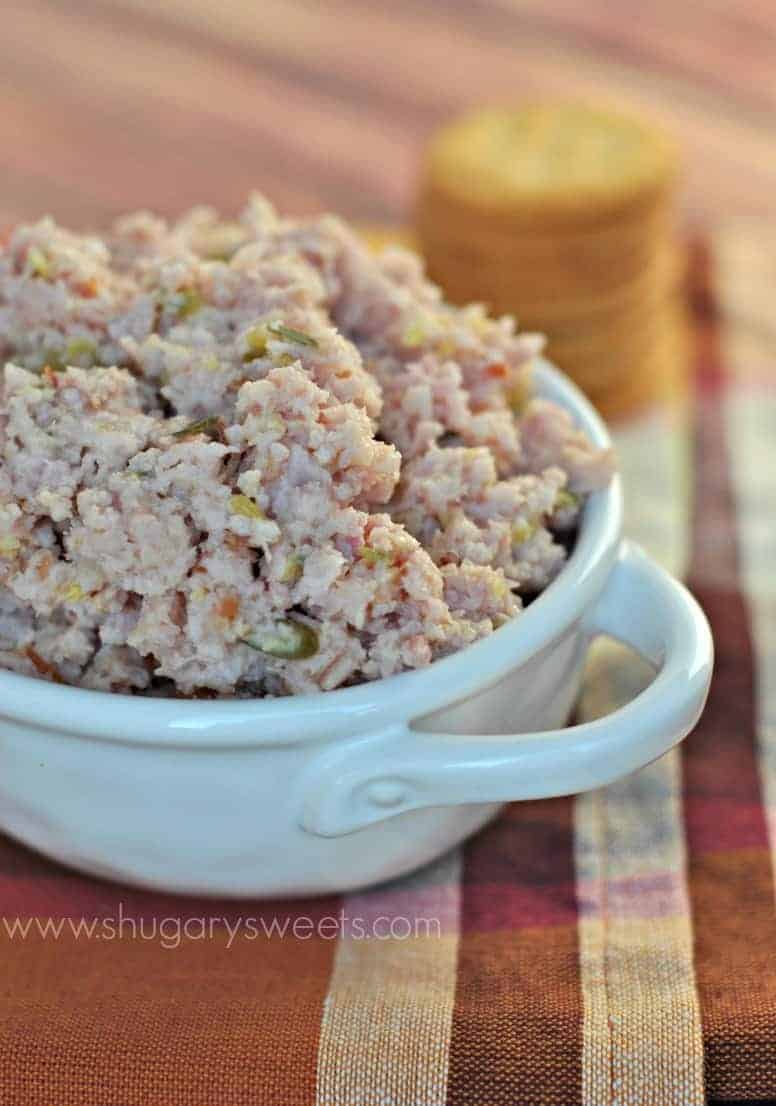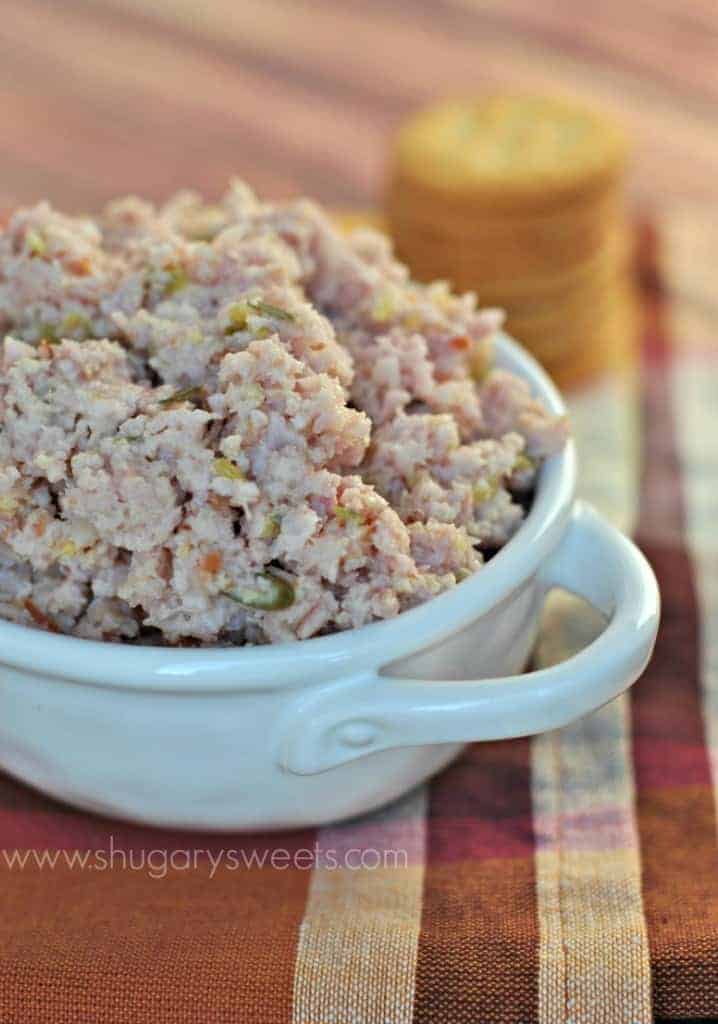 More Holiday Recipes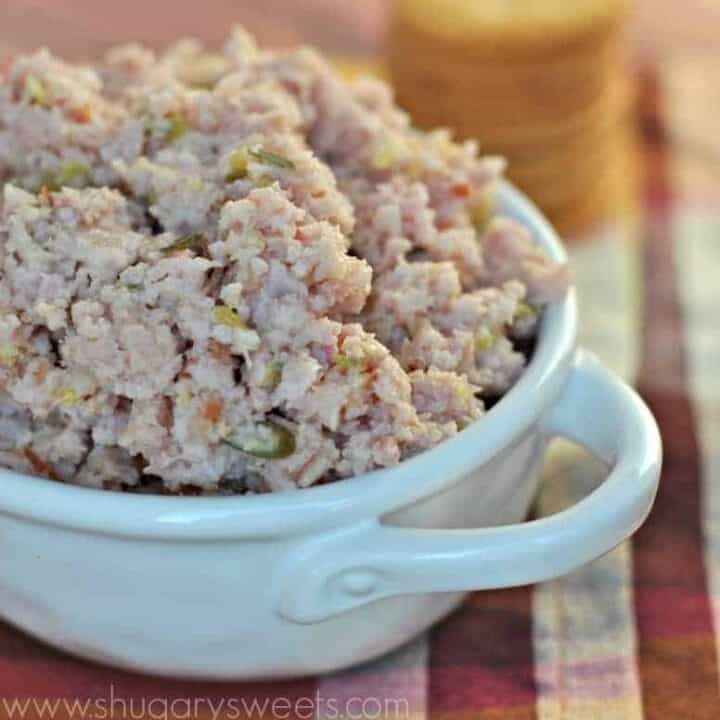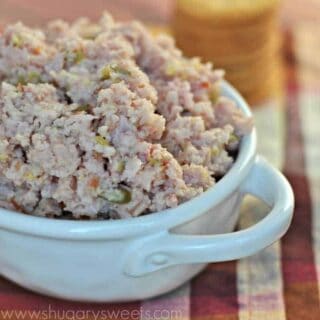 Ham Salad
Grandma's Ham Salad recipe. A delicious dip with crackers! Make this for your next party, just do it!
Ingredients
5

pound

ham

fully cooked

2

jars

dill pickle relish

10 ounce each

3

teaspoons

yellow mustard

1

cup

mayonnaise

1

teaspoon

soy sauce
Instructions
Grind fully cooked ham with a coarse meat grinder. Add mustard, mayonnaise and soy sauce, mixing until fully combined.

Refrigerate in a covered container for up to 5 days. ENJOY.
Notes
If you have access to a meat grinder, I can't recommend this recipe enough for using up your leftover Easter or Christmas Ham.
Nutrition
Calories:
196
kcal
,
Carbohydrates:
2
g
,
Protein:
21
g
,
Fat:
12
g
,
Saturated Fat:
2
g
,
Polyunsaturated Fat:
8
g
,
Cholesterol:
64
mg
,
Sodium:
1011
mg
,
Sugar:
1
g