This Honey Baked Ham is juicy, tender, and perfectly caramelized. It's easy to make, and has a mouthwatering honey brown sugar glaze. If you're looking for a holiday meal, look no further.
Looking for more holiday favorites? Don't forget to serve this up with our sweet potato casserole and hashbrown casserole on the side. And of course in the summer, potato salad is a delicious pairing.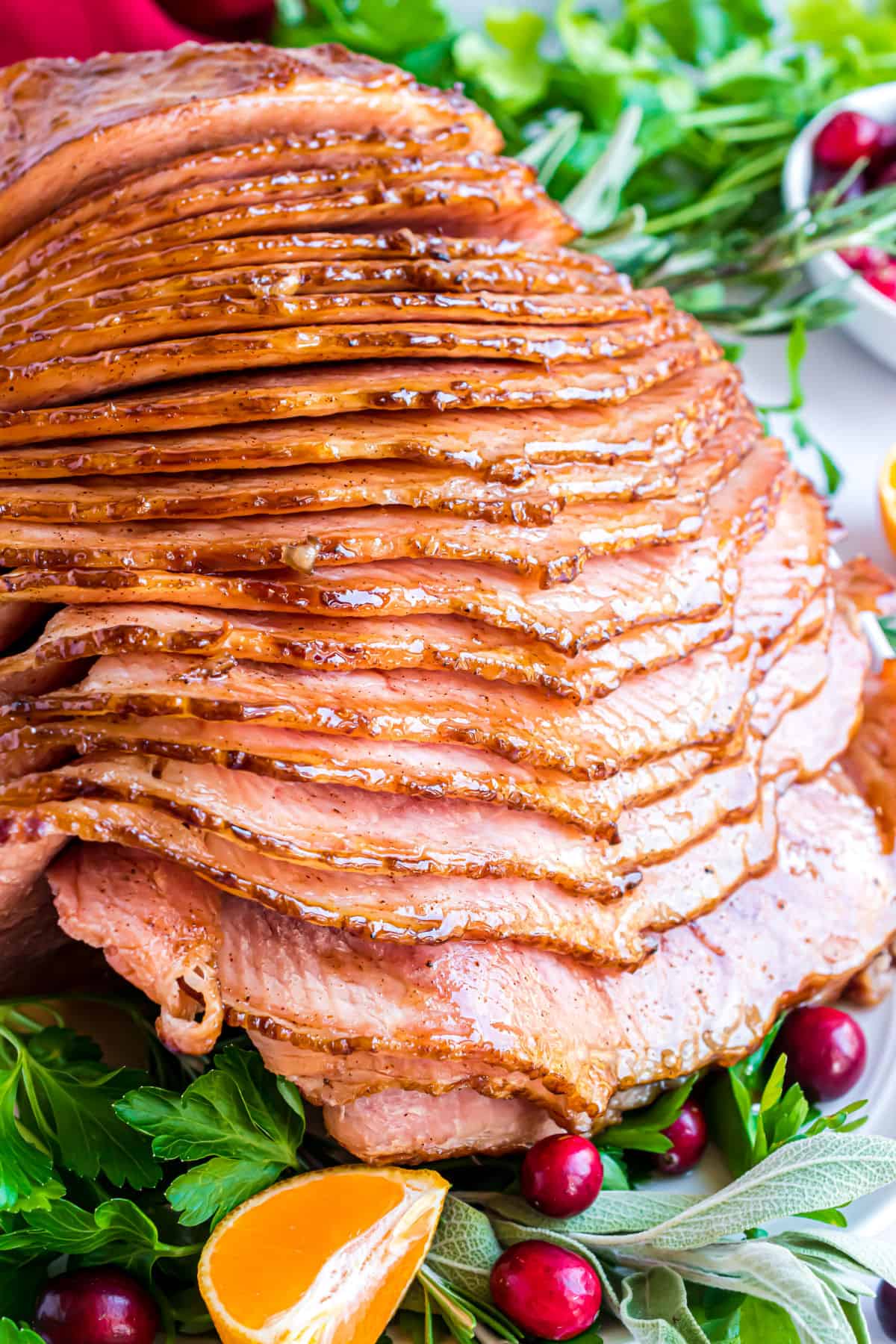 Why this Recipe Works
During the holiday, we either have homemade turkey or a honey ham. Occasionally we make both, especially since this ham is so good and easy (and makes great leftovers).
I love how my oven caramelizes the brown sugar to create a glaze around this delicious ham. It locks in the juicy flavors and creates an amazing texture with its crisp and chewy shell. Here are a few things I think you'll love about this recipe,
The short cook time. We'll eliminate A LOT of fuss from this recipe by starting with a purchased spiral-cut ham. It's already cooked, which means less time in the oven. The end result is effortless to carve and serve.
The tangy glaze. I love adding orange juice to my glazes. It adds a sweet and slightly sour tanginess to the finished product. It also helps keep the ham moist in the oven.
The showmanship. Everything about this dish screams, "see me…love me." The only thing better than the mouthwatering aesthetic is the flavor of the ham. It's a perfect recipe for large gatherings. People will take notice! I also like it as a weekend dish when I need leftovers for the coming week.
We love how versatile ham is for dinner. Whether you're making it for dinner on a weeknight or a holiday in the winter, it's the perfect main dish. It's also an easy dish to make in the summer too!
Ingredient Notes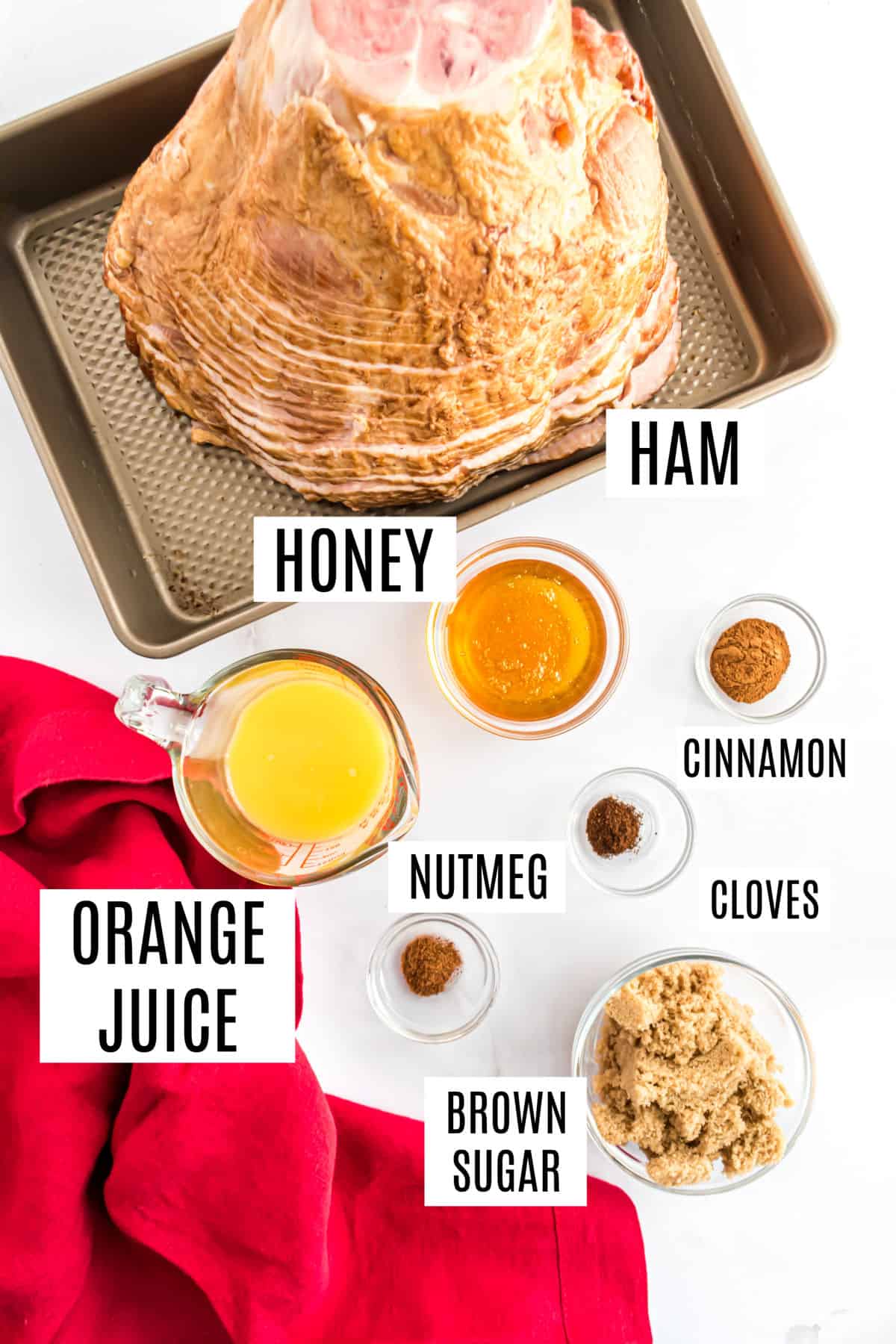 Spiral-Cut Ham – This recipe is formatted for a 10 pound ham. You'll usually find the pre-cooked kind, which I recommend.
Light Brown Sugar – Light brown sugar contains less molasses than dark brown sugar. The more delicate flavor profile pairs well with the orange juice and spices instead of overpowering them. However, if you only have dark brown sugar, you can still use it.
Orange Juice – Adds sweetness to the glaze
Honey – Creates a sweet caramelization to the glaze when paired with the juice and sugar.
Ground Cinnamon
Nutmeg
Ground Cloves
Easy Instructions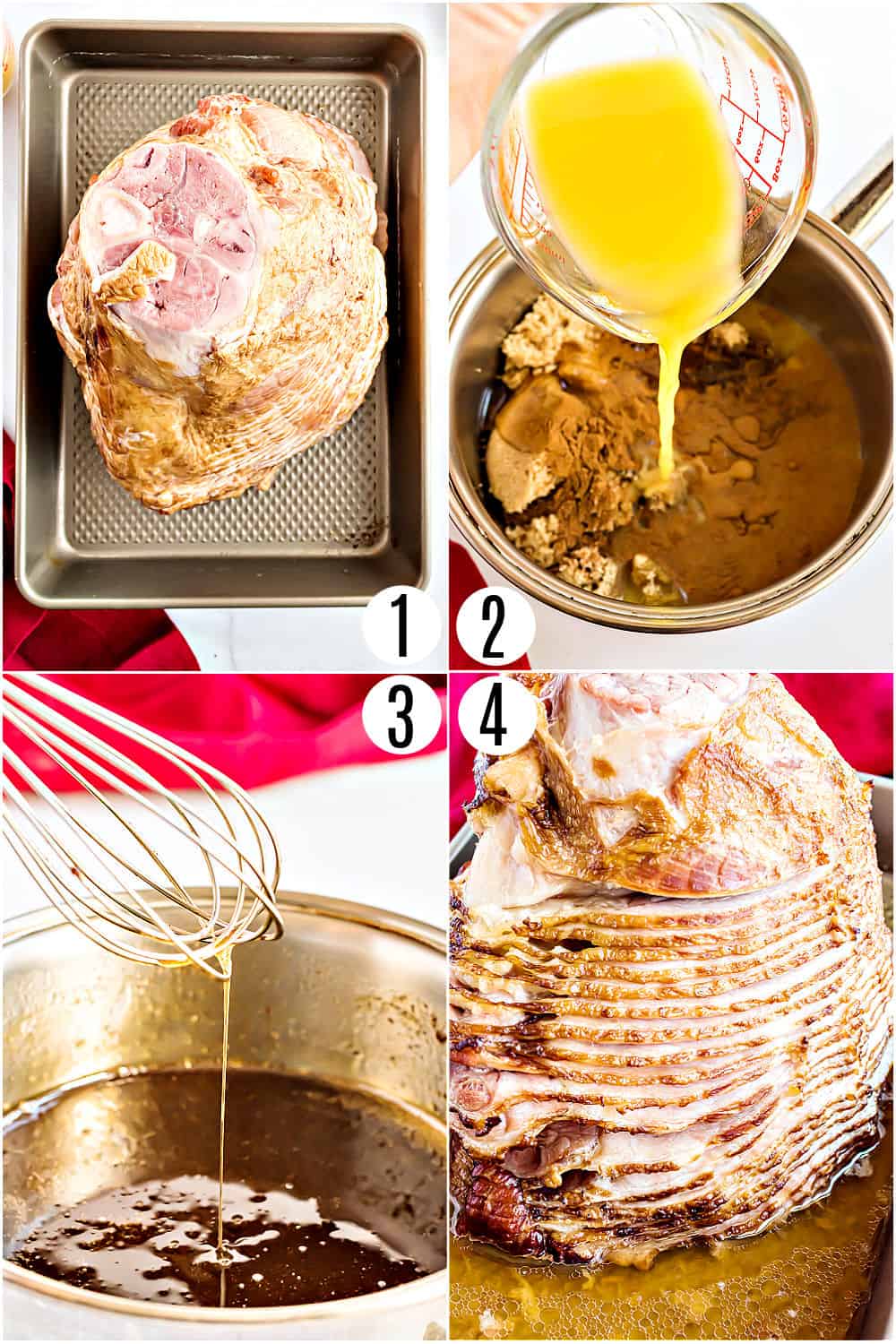 Preheat the ham. A 10-lb ham has a lot of thermal mass, and you'll want the entire thing warmed through before applying and caramelizing the glaze. This is a low-effort step, but it can take 2 hours for the ham's internal temperature to hit 110°F. Plan accordingly. Cover the ham in a large roasting pan and bake at 325°F.
Prep the glaze. Combine all of your glaze ingredients in a saucepan over medium heat. Stir it continuously until the sugar dissolves, and the glaze thickens. This should take about 3-5 minutes.
Glaze and caramelize the ham. Use a pastry brush to spread the glaze evenly over the ham. You'll want it to coat between every spiral of ham too. Bake the glazed ham until the internal temperature is 145°F. Rest it before serving.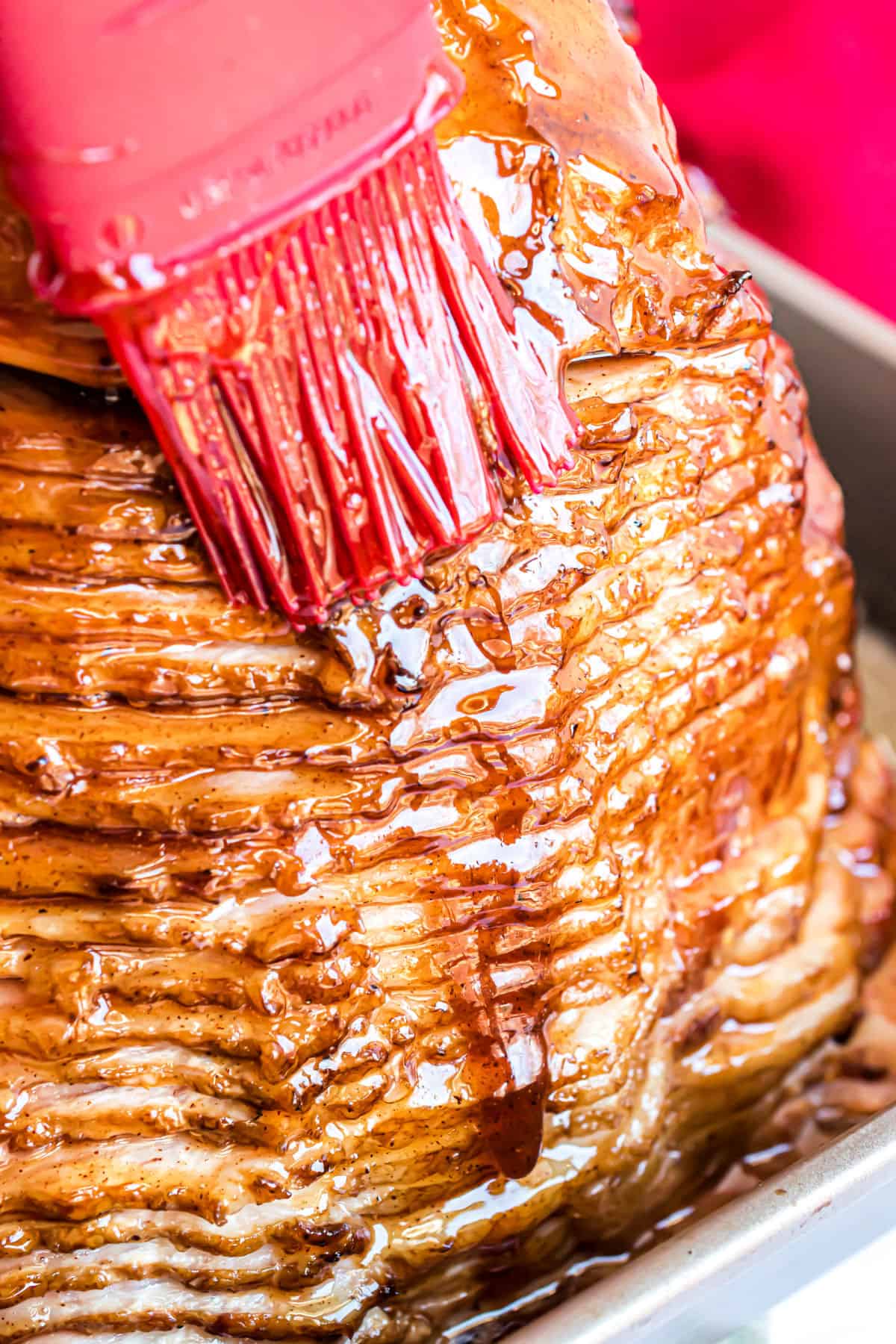 Tips and Tricks
Use a probe thermometer. Look for one you can stick into the ham and monitor outside the oven. This way, you aren't releasing all the steam from the foil tent when checking for doneness. 
Turn up the oven for a crispier glaze. If you want the glaze to caramelize and give the ham a crispy, crunchy coating, increase the oven to 400°F before you put the ham back in the oven. This way, the sugars in the glaze will caramelize to form an irresistible candy-like shell. 
Don't toss the ham bone once you're done carving! Instead, freeze it for future use in a delicious Ham & Split Pea Soup. Any remaining ham on the bone will add extra flavor to the soup.
Buy the right amount of ham. My recipe is geared for a 10-lb ham, but you can scale up or down if you've got a different number of mouths to feed. When purchasing your ham, allot for about ¾-1lb per person.
Loosen the glaze for spreading. As the glaze you prepped cools, it'll thicken. If it becomes too thick before you can spread it on the ham, heat it over low heat until it becomes thinner, like syrup.
Reserve a little glaze for serving. Consider reserving some glaze for your guests when they make their plates. It's a fabulous garnish, and I sometimes make extra for this specific purpose.
Bake with slices facing down. This seals in the moisture and prevents the slices from drying out.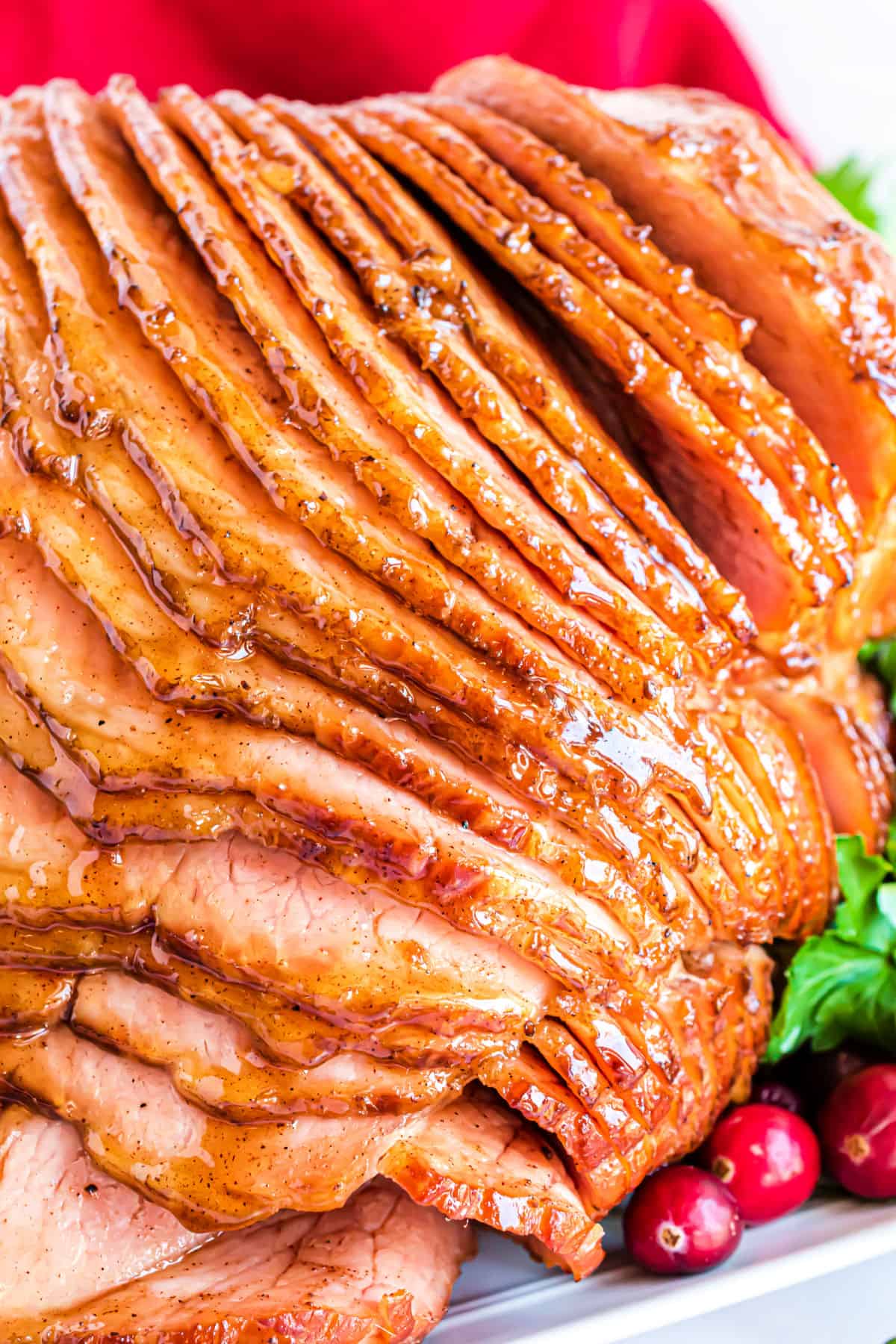 Serving Suggestions
It's so easy to pair this recipe with a casserole side dish. This way, you can easily prepare enough to feed a crowd or have enough leftovers for the week ahead.
Everyone knows that Sweet Potato Casserole with marshmallows compliments baked ham. The warm, cozy, brown sugar flavor weaves throughout both recipes to tie the whole meal together.
Green Bean Casserole is another no-brainer to serve with baked ham. Luckily, I have effortless Slow Cooker grean bean casserole and Instant Pot green bean casserole recipes, depending on what equipment you have in your kitchen. 
Leftovers. Save your leftover ham and freeze it in airtight ziploc freezer bags for use later. Delicious to add into our ham and cheese quiche, as well as our easy ham casserole.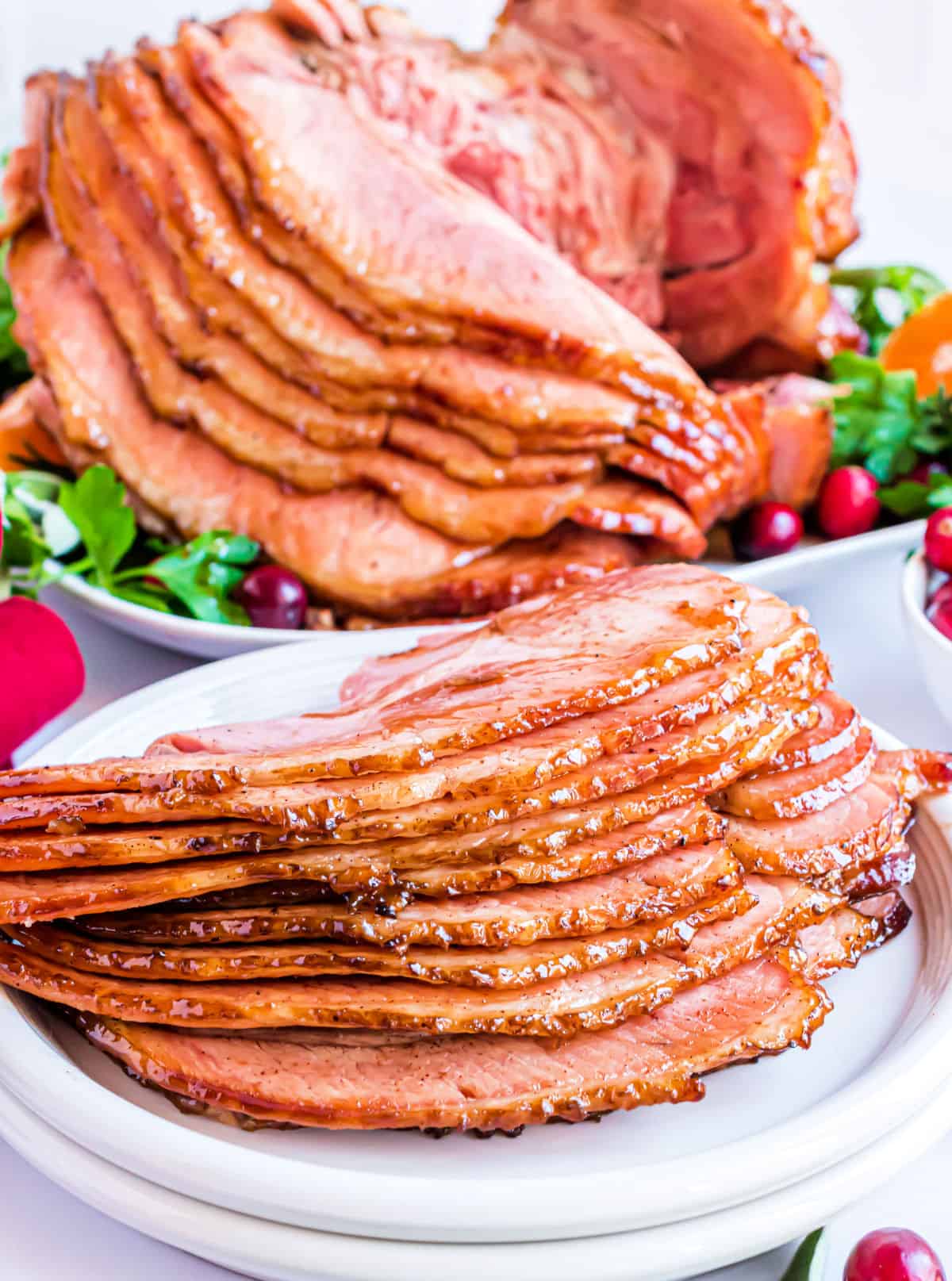 Recipe FAQs
What's the best way to store leftovers?
Store leftovers in an airtight container in the refrigerator for up to 4 days. Otherwise, you can freeze leftover ham in an airtight freezer bag for up to a month.
How should I reheat leftover ham?
If your leftovers are frozen, first thaw them in the refrigerator. Then, you can either heat them on the stovetop or in the oven. Cover the ham with foil if baking it again so it doesn't dry out. 
Can I use boneless ham?
You could use the same glaze recipe for boneless ham, but you'll probably need to adjust the cooking time. I used pre-cooked bone-in ham for this recipe, which is usually more flavorful than boneless. 
Are there other flavor variations for the glaze?
You can easily switch up the glaze flavor by swapping the orange juice for pineapple or apple cider (juice, not vinegar). 
More Easy Dinner Recipes