Wondering what to do with leftover ham? This cheesy Ham, Broccoli, and Rice Casserole is the easy and delicious solution the whole family will enjoy.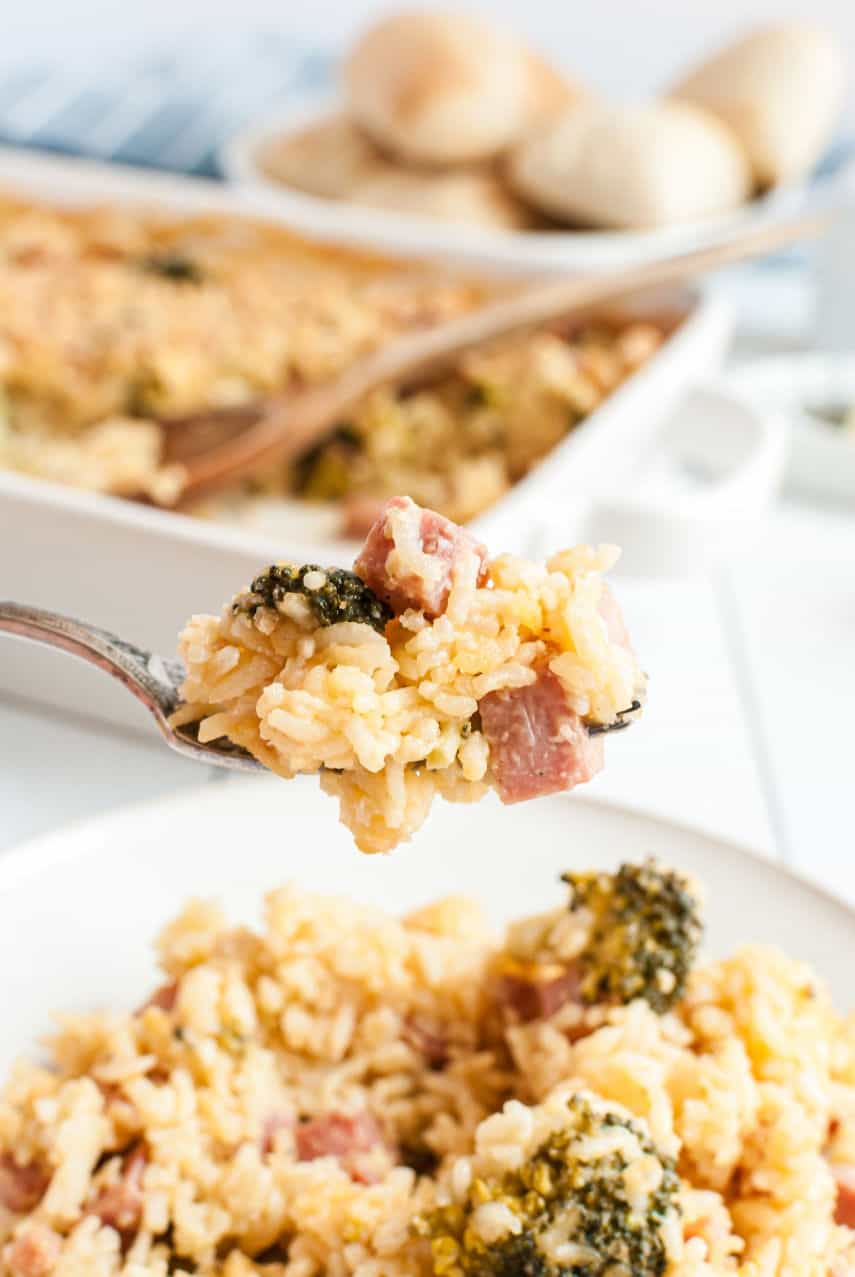 Today's recipe is sponsored and made in partnership with Iowa Pork. All opinions are 100% my own.
Who else somehow always makes too much ham on Easter?
I don't mind having leftovers, though! Cooked ham leftovers are great to have on hand as a meal starter or protein rich snack. Everyone in my family enjoys ham so having it ready to add to all kinds of meals makes my life so much easier.
I love putting ham in my freezer for dinners and breakfasts!
If you're getting sick of ham sandwiches and salads, I have a delicious solution for you: Cheesy Ham Casserole! It comes together in just one bowl, plus the baking dish so clean up is easy too.
Ham Casserole Recipe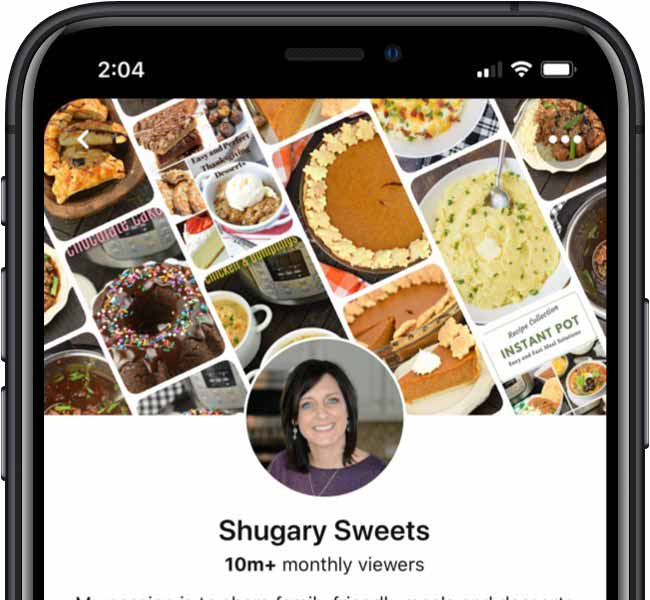 This is a casserole like mom used to make, only better.
I love the combination of savory ham with cheese, rice, broccoli and creamy soup.
Crumbled buttery Ritz crackers add salty crunchiness that my kids and I couldn't get enough of.
Leftover Ham Recipes
You can never go wrong with layering slices of leftover ham into a grilled cheese sandwich, throwing them into an omelette or enjoying them in a lunchtime Ham Salad.
But we all need a recipe to shake things up from time to time! This casserole is just the thing.
Cheesy Ham Casserole is different enough from the usual leftover ham recipes but uses familiar ingredients you probably already have in your fridge, freezer, and pantry.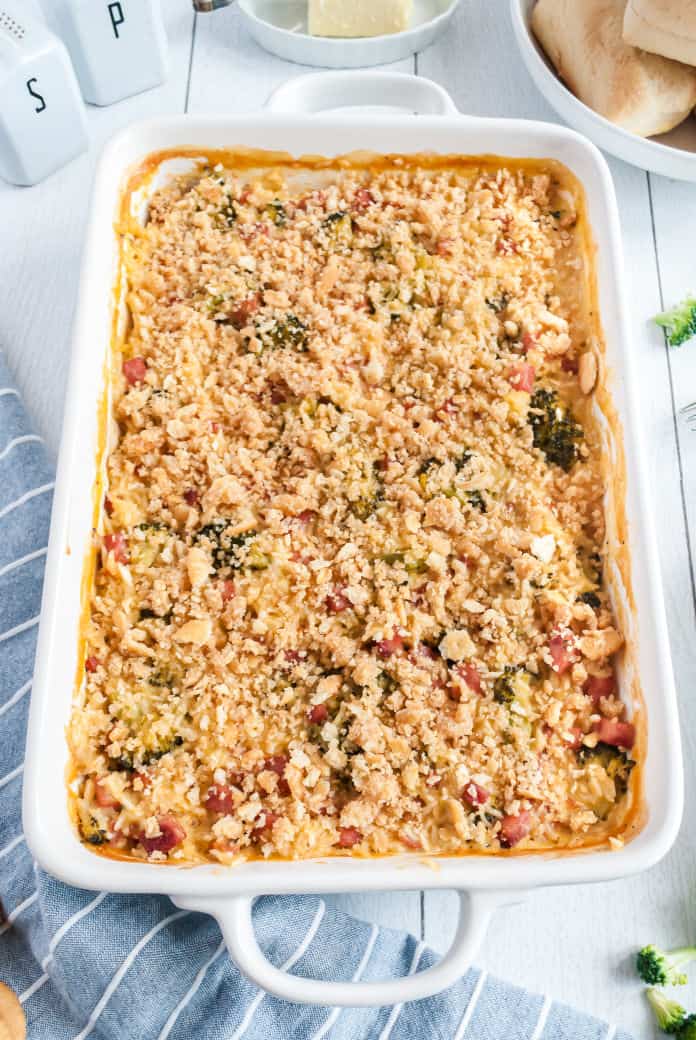 If you have leftover broccoli florets that didn't make it into your Roasted Broccoli and Zucchini side dish for Easter dinner, toss them into this casserole so they don't go to waste.
I've tried Ham Casserole with both fresh broccoli florets and frozen and it's worked well both ways .
Another favorite way to use up that leftover ham and broccoli is in Broccoli Ham Quiche. (Brunch anyone?)
Cheesy Ham Casserole
A pan of cheesy ham casserole works as a family weeknight meal but it's also a good one to deliver to a house-bound friend who might need a hot meal.
You can cover it with foil right in the baking dish and drop it off at their doorstep.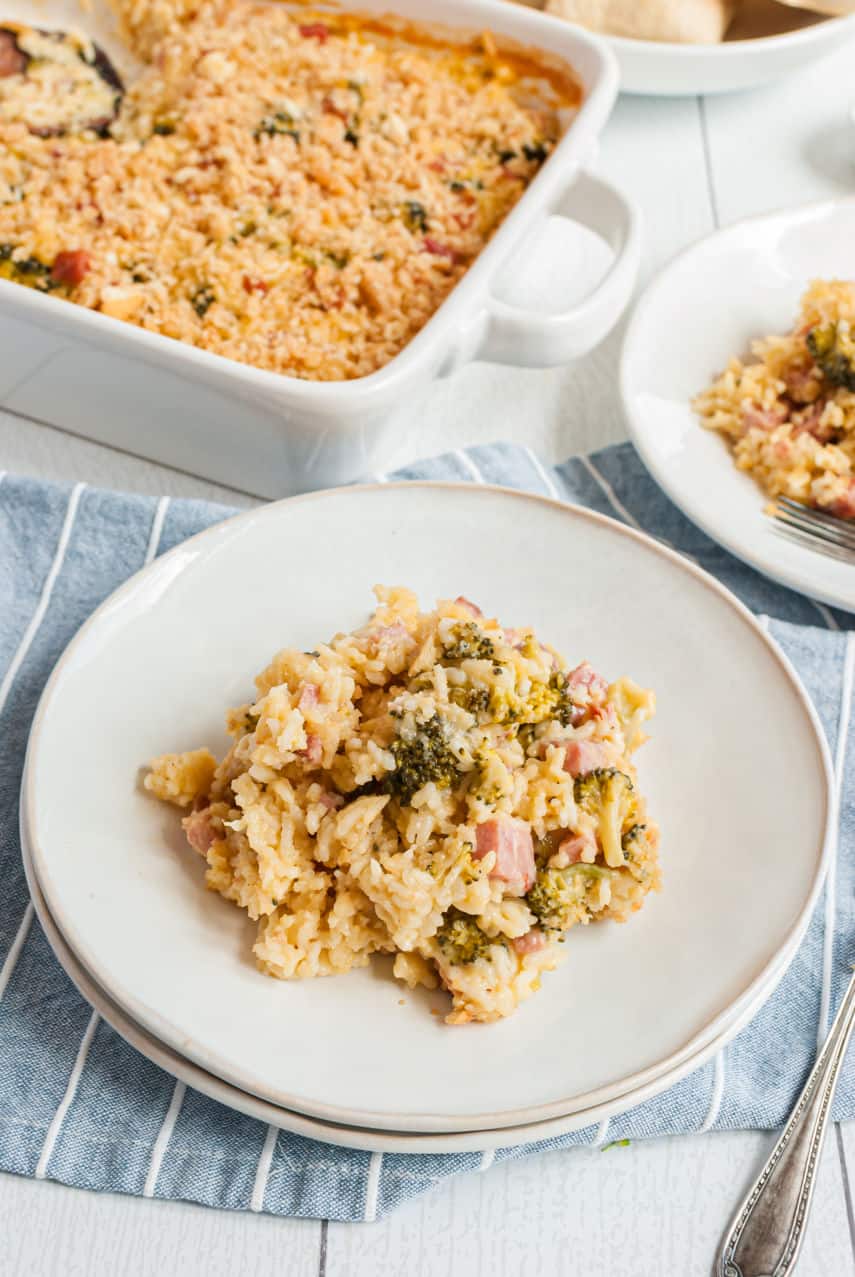 For this Ham Casserole you need:
Diced ham
Canned cream of chicken soup
Chicken broth
Broccoli florets (fresh or frozen)
Unsalted butter
White rice, uncooked
Minced onion
Garlic powder
Salt
Black pepper
Ritz cracker crumbs (or corn flake cereal)
How to Make Ham Casserole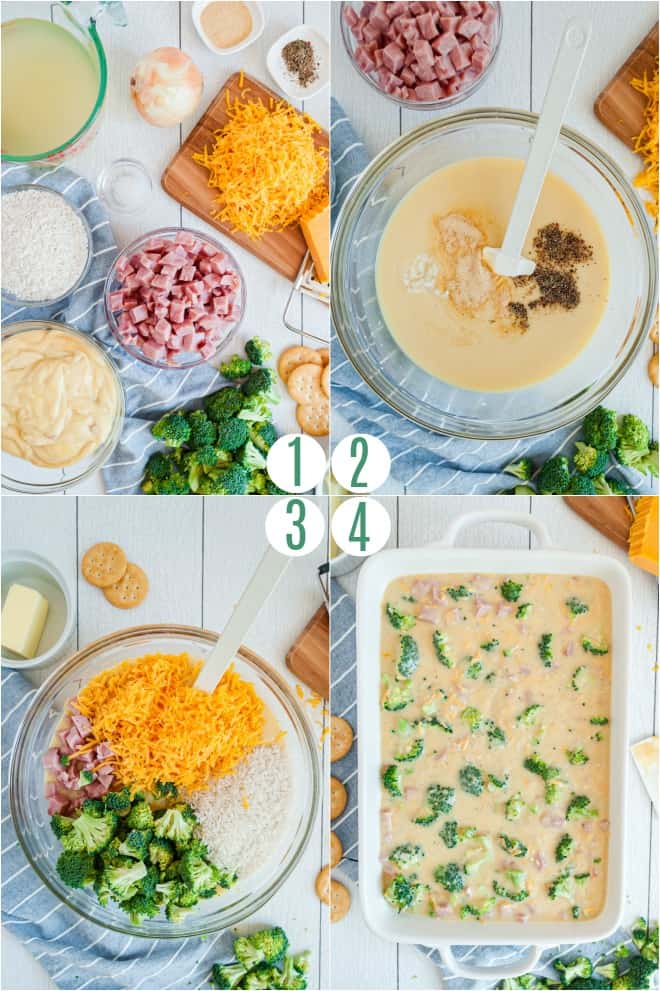 STEP 1. Mix the casserole ingredients
In a large mixing bowl, whisk together the soup and broth until blended. Add in minced onion, garlic powder, salt, and pepper. Stir until combined
Add in diced ham, broccoli, uncooked rice, and cheddar cheese. Pour into a large 13×9 baking dish.
STEP 1. Bake covered
Cover tightly with foil and bake for about 30 minutes at 350 F. Uncover the mixture, stir and recover with the foil. Bake for another 35 minutes.
STEP 3. Add the cracker crumb crust
While the casserole is baking, melt butter and add in crushed Ritz crackers. Set aside.
When the cook time ends, remove the foil and stir everything together. Top with cracker crumbs and bake uncovered for an additional 5-10 minutes. The crackers will brown lightly and everything will look melty and bubbly!
Serve hot and enjoy.
What to serve with Ham Casserole
One of the things I love about this easy dinner recipe, is that it's basically a complete meal…starch, veggie, protein! We love that pork is packed with protein!
We do occasionally make some homemade dinner rolls or garlic bread to serve alongside this dinner.
You can also whip up my favorite Italian Salad recipe to serve on the side!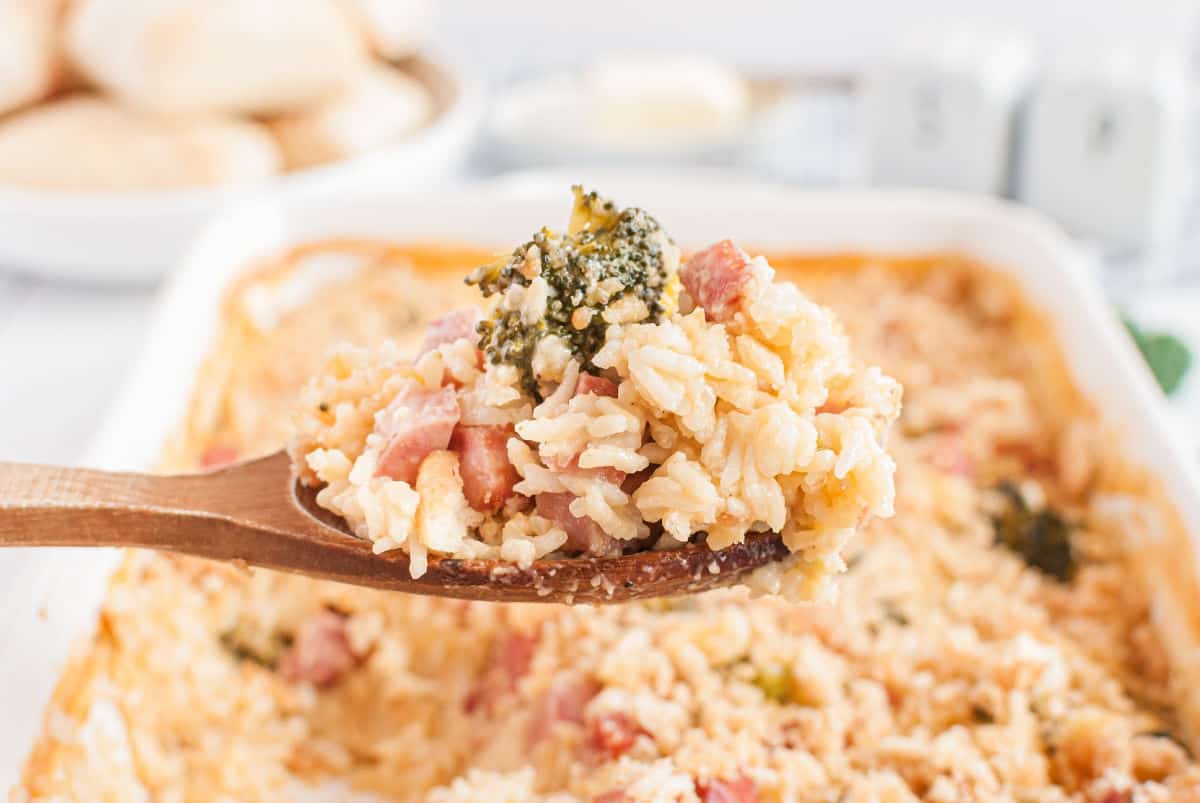 FAQ about Ham (and other Pork proteins)
Where does Pork come from?
Well, besides the fact that pork comes from pigs, did you know 1/3 of pork here in the United States comes from Iowa? Thank you IOWA 🙂 My ham and bacon loving family is thankful for all of you farmers!
How long do you cook pork?
Once upon a time, we all overcooked our pork dinners. The safe internal cooking temperature for fresh cuts of pork is 145 degrees F. You can find more information here about how to cook pork safely.
Give me more Pork recipes!
You can find many more delicious pork recipes on the Iowa Pork website! I've partnered with them for today's delicious ham casserole recipe!
I have questions about Pig Farming, where can I find information?
I get it, we all have questions about the safety and care of our food and animals (and environment). You can learn more about the Iowa Pig Farmers HERE!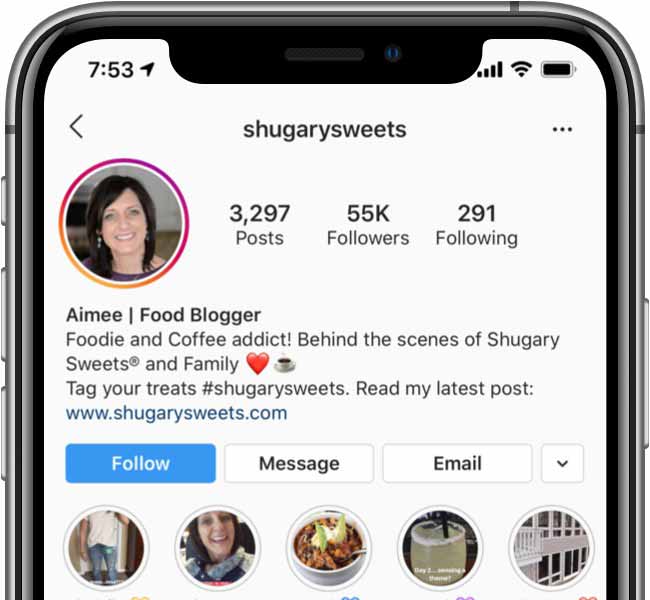 Tips for Ham Casserole
If you use frozen broccoli here, you need to reduce the amount of liquid in the overall recipe. Use 1/4 less chicken broth to compensate.
The crumb cracker crust takes just about 1 full sleeve of Ritz crackers when I make this. If you don't have crackers (or prefer not to use them) corn flake cereal is a perfect substitution.
Store leftovers tightly covered in the fridge. It'll keep well for a couple of days, but the cracker crust will not stay as crisp. Reheat in the oven for a few minutes before serving.
What's the best kind of ham to use for ham casserole?
The beauty of this casserole recipe is that virtually any kind of cooked ham leftovers you have will taste good.
I've made it with leftover honey cured ham, hickory smoked ham and spicy ham and they've all been good.
Can you freeze ham casserole?
You can absolutely freeze this casserole before baking!
Follow the recipe from Steps 1 -3 and instead of baking, put the covered casserole in the freezer (wrap a layer of plastic wrap around it to protect against freezer burn too).
When ready to bake, bake as directed adding 5 – 10 minutes of extra baking time before adding the Ritz cracker crust.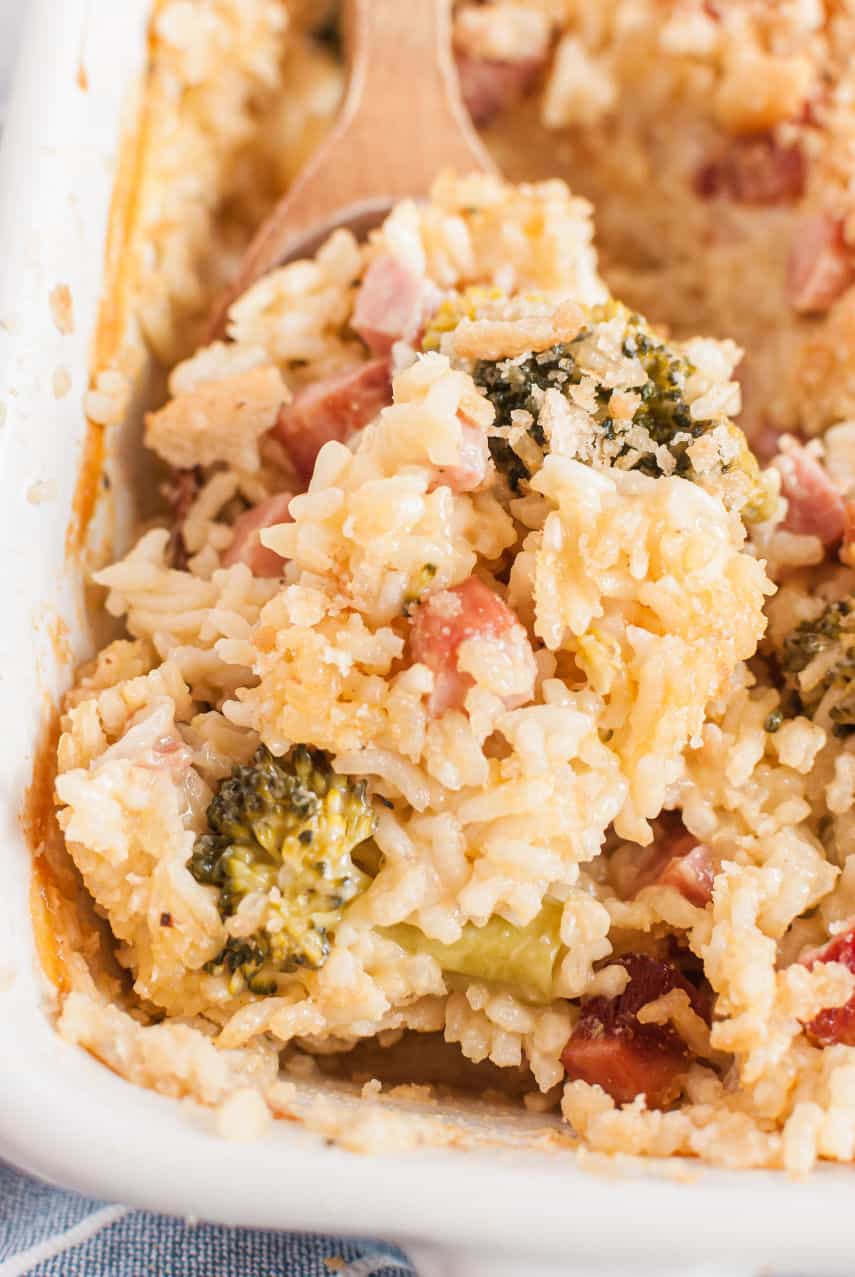 Easy Pork Dinners
Today's recipe is sponsored and made in partnership with Iowa Pork. All opinions are 100% my own.
Mix up your week of leftover ham meals with this easy Cheesy Ham Casserole recipe!