Easy Breaded Pork Chops with Peach Glaze are the perfect copycat Shake and Bake dinner recipe, all topped with a juicy peach and glaze!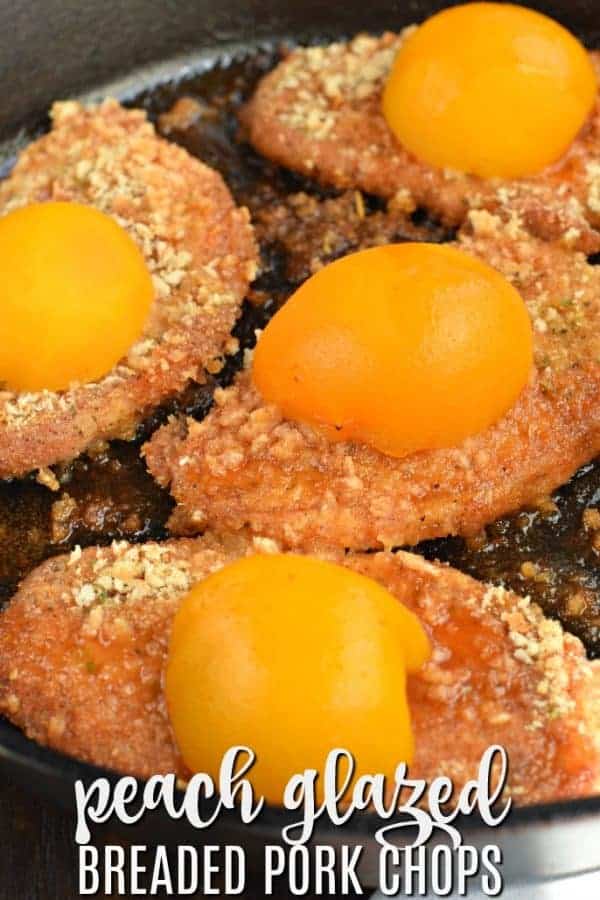 Easy Weeknight Dinner
I love pork. The other white meat.
Don't get me wrong, I love chicken, beef, and seafood. But sometimes, I just want a pork chop. And usually, I buy Shake 'N Bake because it's easy, tasty, and makes the meat tender.
I wanted breaded pork the other day but I didn't have any Shake 'N Bake, so I had to improvise. I made my own Shake 'N Bake breadcrumb mixture and it turned out perfect!
I love it when that happens, because sometimes that can be a disaster (we've all been there)!
But this time, the homemade breading was delicious! This breaded baked pork turned out golden brown and crispy and tender, just how I like it!
The peach glaze and topping on this great recipe comes from my Grandma. She makes the Shake 'N Bake pork chops with this delicious peach glaze, and I stole it from her. Thanks Grandma!
Trust me, once you try this recipe, you'll want to steal it as well!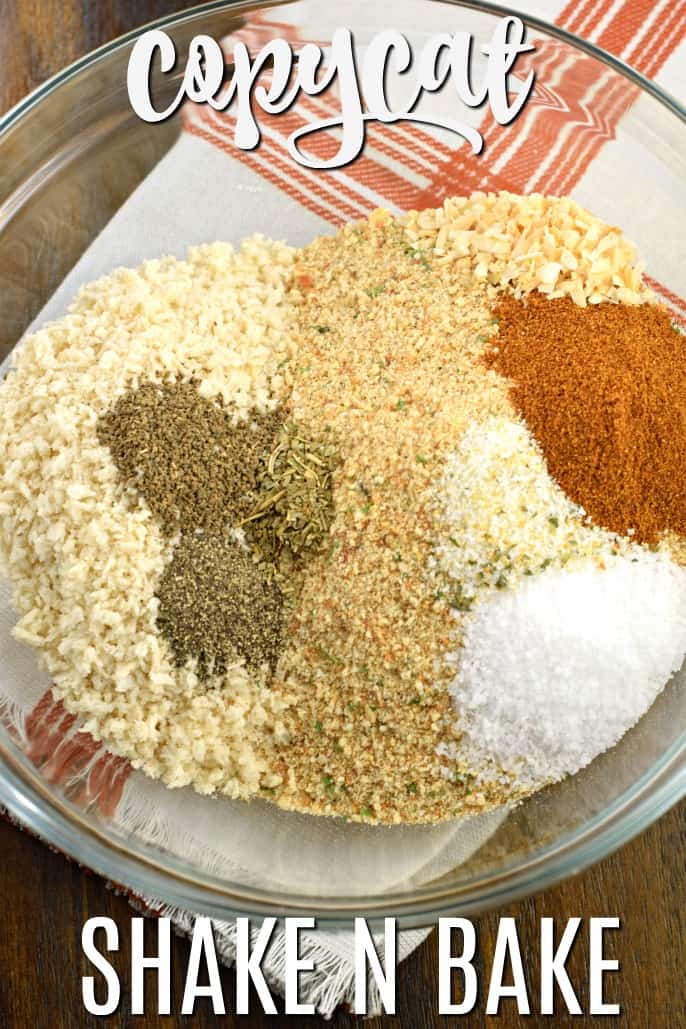 How to Make Breaded Pork Chops with Peach Glaze
STEP 1: Preheat your oven to 375 degrees.
STEP 2: In a ziploc bag, combine all of your spices and bread crumbs from the homemade shake and bake. Add olive oil and shake until thoroughly combined. This is enough for 6 pork chops to be generously coated.
PRO TIP: This copycat Shake and Bake recipe is also great using chicken breasts!
STEP 3: Separate the peaches and the syrup. Set aside ½ cup of the syrup for the glaze. Put the rest of the syrup in a shallow bowl.
PRO TIP: If you'd like to make this without the peaches and glaze, just dip in water!
STEP 4: Dip your chops in the syrup bowl and then dip them in the shake and bake seasoning. Set your dipped chops in a baking dish or large skillet. Bake for about 30 minutes.
STEP 5: While cooking, heat the reserved ½ cup syrup, brown sugar, ketchup, and vinegar in a small saucepan. Once hot, remove from heat and set aside. This is your peach glaze.
STEP 6: After the pork has been cooking for 30 minutes, top each one with a peach halve. Bake for an additional 10-15 minutes, until the inside temperature reaches 145 degrees F.
STEP 7: Spoon the peach glaze from the saucepan over the pork chops once they're done cooking. Serve and enjoy!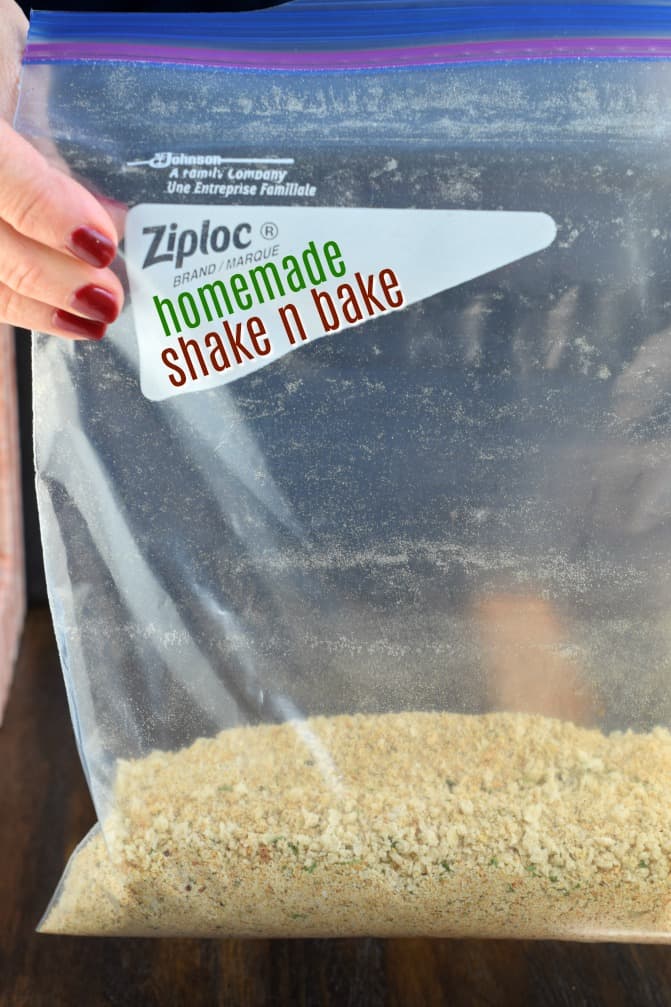 Homemade Shake 'N Bake
This homemade shake and bake is so easy and includes ingredients you probably already have on hand. It's more natural than the boxed stuff and costs a lot less! You can make a larger batch and keep it in your pantry for later!
It's easy to make, just mix your seasonings together in large ziploc bag, toss your meat into the bag, shake and place on a baking sheet or in a skillet.
How Long to Cook Pork Chops
Some people are intimidated at the idea of how to cook pork chops. They are either used to dry, overcooked pork, or are scared of eating undercooked, raw pork.
If you follow these cooking times, and cook your pork chops to an internal temperature of 145 degrees, you don't need to be intimidated of cooking pork chops!
A good rule is that the thicker the pork chop is, the more time it will need to cook:
Boneless pork chops at 1" thick require about 45 minutes in a 350 degree oven.
Bone-In pork chops require about 10% MORE cooking time, so make sure to factor that into your planning if you bought pork chops with bones.
Thinner pork chops will take approximately 25 to 35 minutes.
VERY thin pork chops, under ¼ inch will take less than 30 minutes to cook all the way through..
Your best bet for cooking perfect pork chops is to use a meat thermometer.
I rely on this instant thermometer for all my meat cooking needs!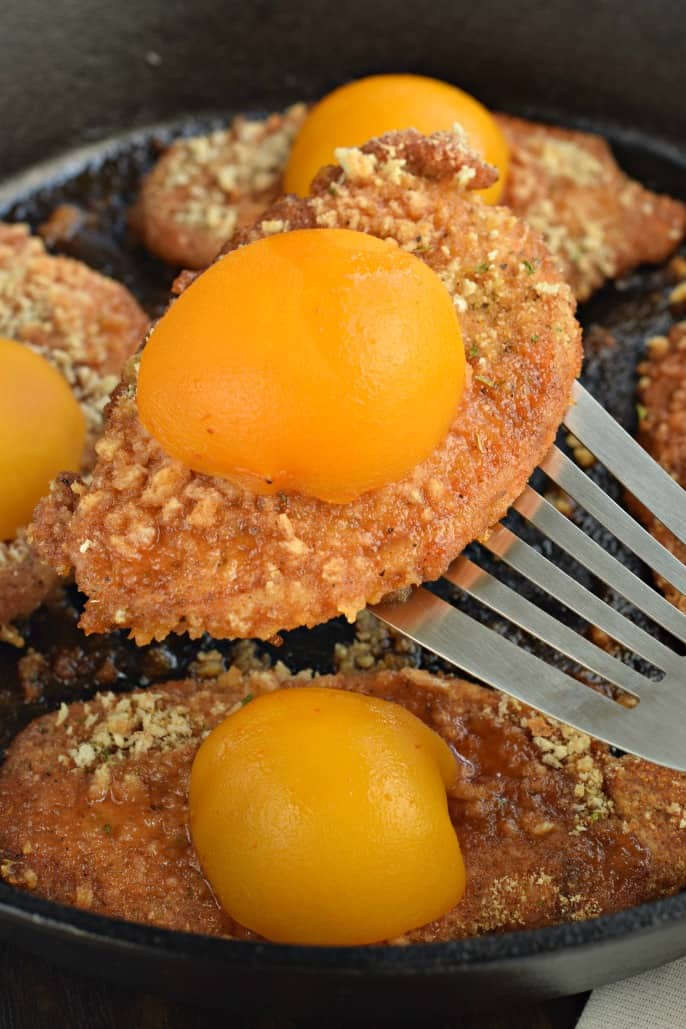 Recipe FAQs
Should I use bone-in or boneless pork?
For this recipe, I used boneless pork chops but you could use either. Just make sure you adjust your cooking time. Bone-in pork chops require about 10% more cooking time, so factor that into your planning.
Can I make this a sheet pan meal and add other vegetables?
Sheet pan meals are awesome because they are easy to prep and require little clean up! You can turn this Shake and Bake Pork Chops recipe into a sheet pan dinner by adding vegetables like sweet potatoes and carrots. Just make more of your peach glaze recipe if you want to cover the vegetables in it too.
What should the internal temperature of the pork be?
You want to cook your pork until the inside temperature reaches 145 degrees. The only way to tell the internal temperature of meat is with a good meat thermometer.
Can you use fresh peaches as well?
Yes! If you have an abundance of fresh peaches on hand and want to use them up, they would be delicious in this recipe. Just make sure the peaches aren't overly ripe as they will fall apart during the cooking process. You can use juiced peaches for the glaze.
Can I substitute another fruit for peaches?
Yes, apples, nectarines, apricots, and even plums would also compliment the pork well, giving it that sweet, savory flavor.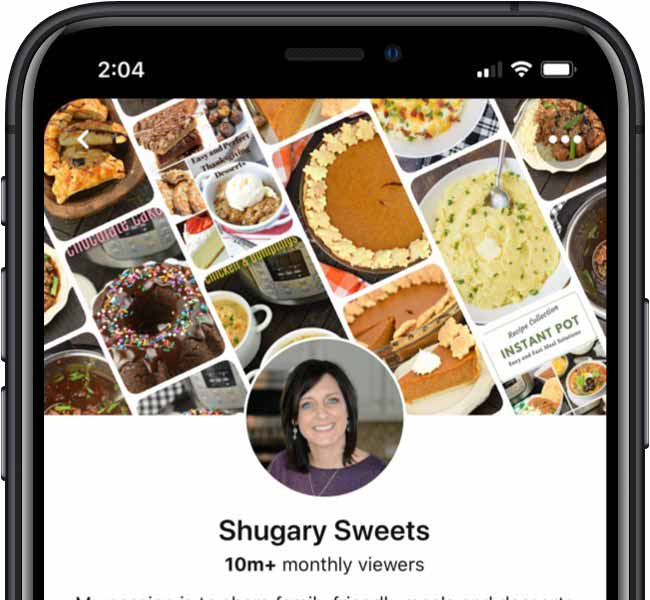 Serving Suggestions
So what goes well with these baked pork chops? I've got some ideas for you!
Oven Baked Mashed Potatoes are a creamy and delicious side dish. Pork chops and mashed potatoes? That's a true comfort food kind of plate!
If you want to compliment the sweetness of the peach glaze, this easy, Instant Pot Apple Sauce recipe is a quick and yummy way to have homemade applesauce on the table in less than 30 minutes!
My kids especially love it when I make this Panera Copycat Macaroni and Cheese to serve alongside these coated pork chops.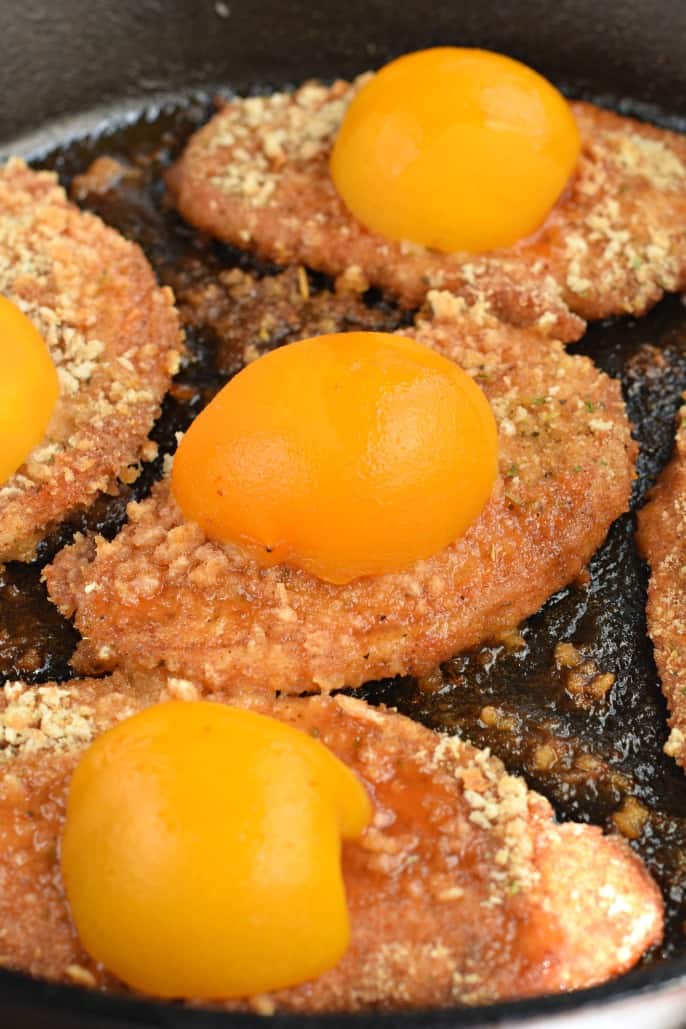 More Pork Recipes
Breaded Pork Chops with Peach Glaze are the perfect copycat Shake and Bake dinner recipe, all topped with a juicy peach and glaze!