Oven Baked Mashed Potatoes are creamy, delicious, and easy to assemble ahead of time. A box of instant mashed potatoes is the secret to this incredible potato side dish!
I love cooking and baking from scratch. But you can't deny that sometimes the best dishes start by opening a can or box. Like this Cranberry Orange Bread that uses canned cranberry sauce or this Peach Crisp made with bisquick.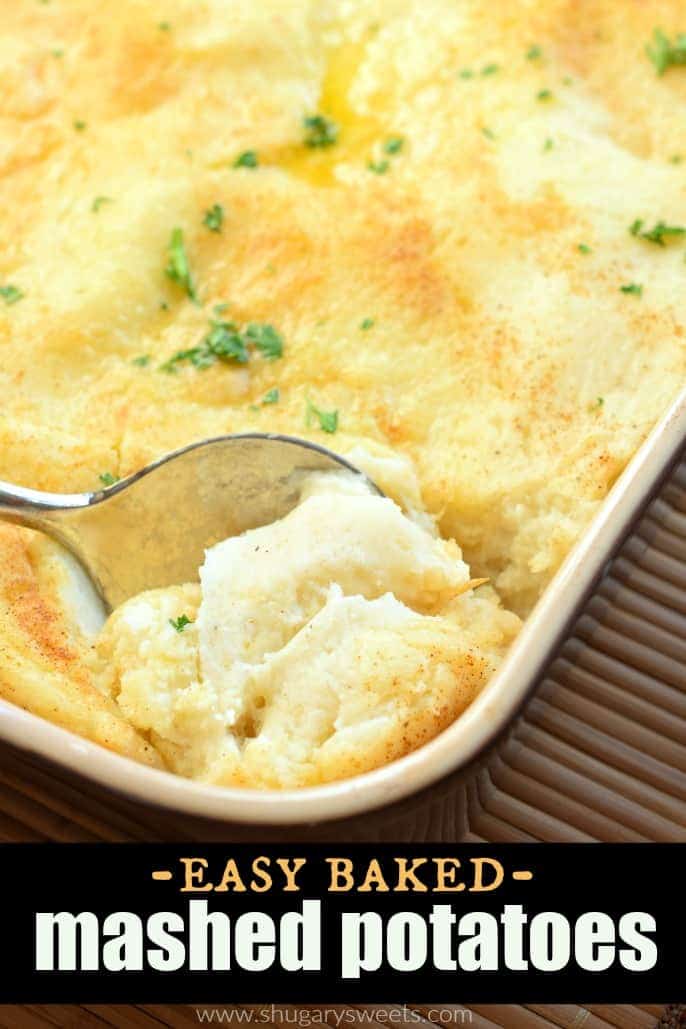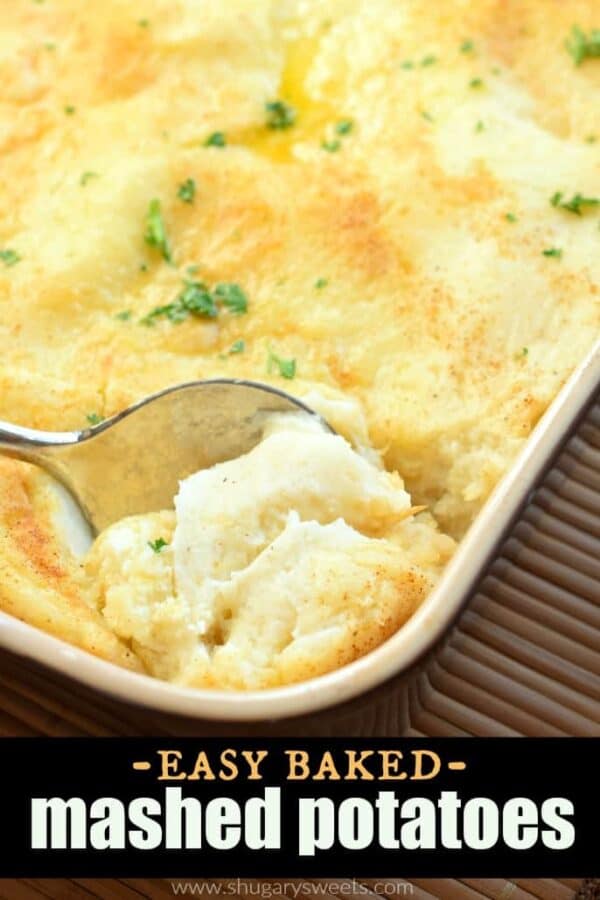 Why This Recipe is Best
These Baked Mashed Potatoes are my family's favorite. My kids actually prefer these over fresh potatoes (and to be honest, so do I).
They are packed with flavor, thick enough to withstand your heartiest of gravies…yet they have a creamy flavor and can stand on their own plain!
The easiest potato recipe ever. Only 5 minutes or prep work!
Super creamy taste.
Make ahead. Assemble it up to one day ahead of time!
Oven baked. You'll love the golden brown top on these potatoes.

Ingredient Notes
Instant mashed potatoes – Prepare them according to the directions on the box.
Sour cream – For that ultra creamy flavor!
Cream cheese – Adds even more creaminess and a cheesy tang.
Unsalted butter – You can use salted but I prefer to be able to control the saltiness of baked mashed potatoes.
Seasoning – A little salt, pepper and paprika is all you need!
Parsley – An optional garnish for serving the potatoes.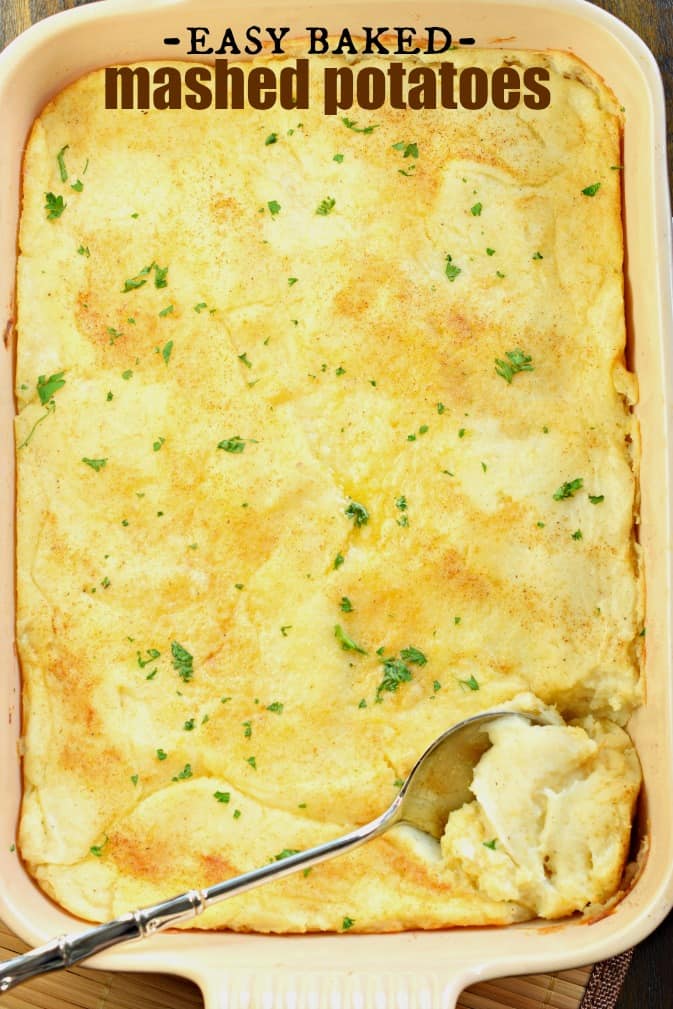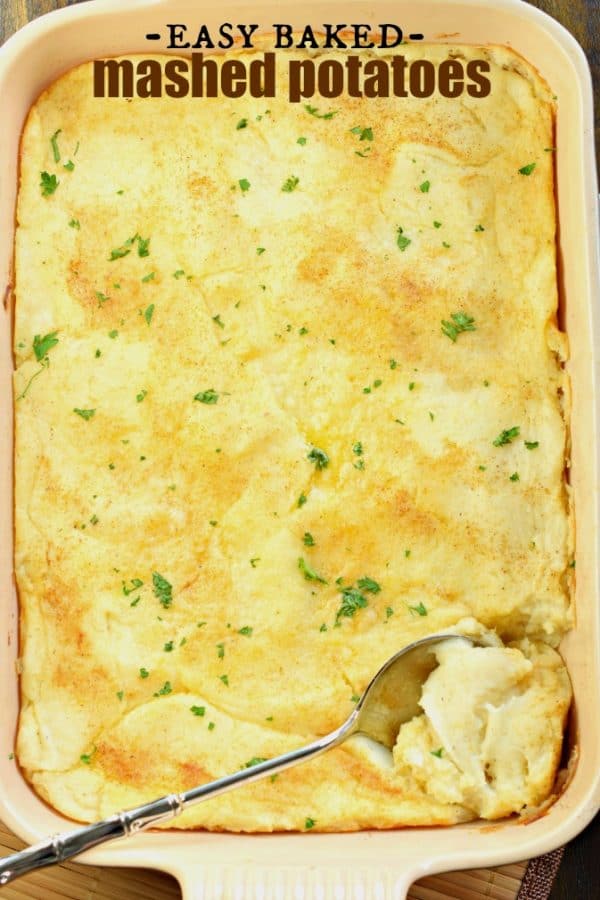 Use Real Potatoes Instead
Okay. I know some of you will ask. How do I make this if I don't want to use instant potatoes.
Easy. Add your washed, peeled potatoes to a large pot covered with water. I would say about 12 potatoes, depending on size. You'll want about 6 cups of mashed potatoes (each medium potato usually yields 1/2 cup of mashed potatoes.
Bring to a boil over high heat. Once boiling, cook until tender. Drain the water and mash the potatoes (I like to use my mixer to get them extra creamy and smooth). Then follow the directions in the recipe card using the mashed potatoes for the instant potatoes.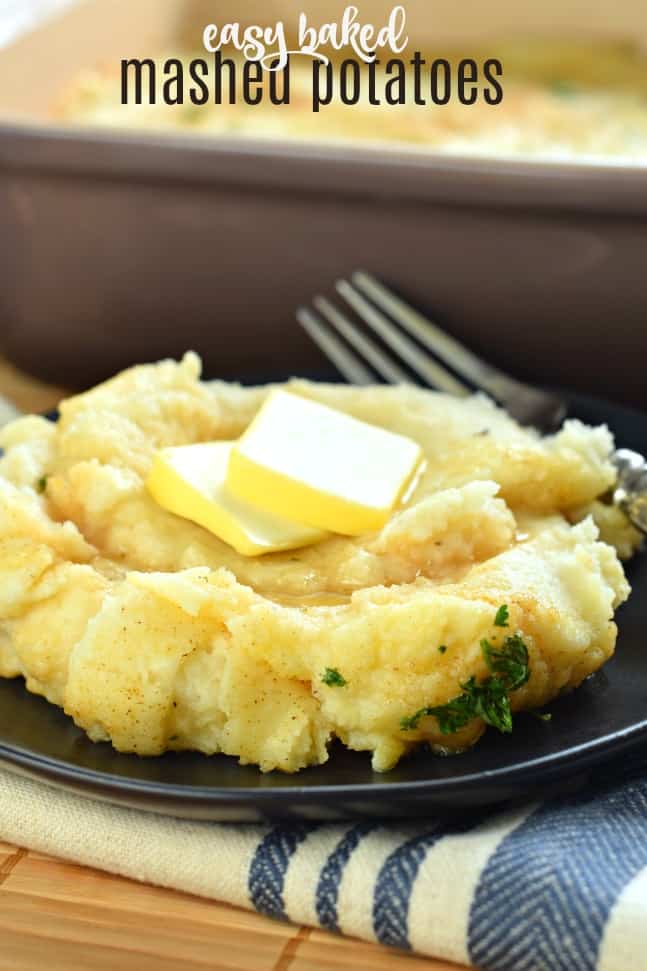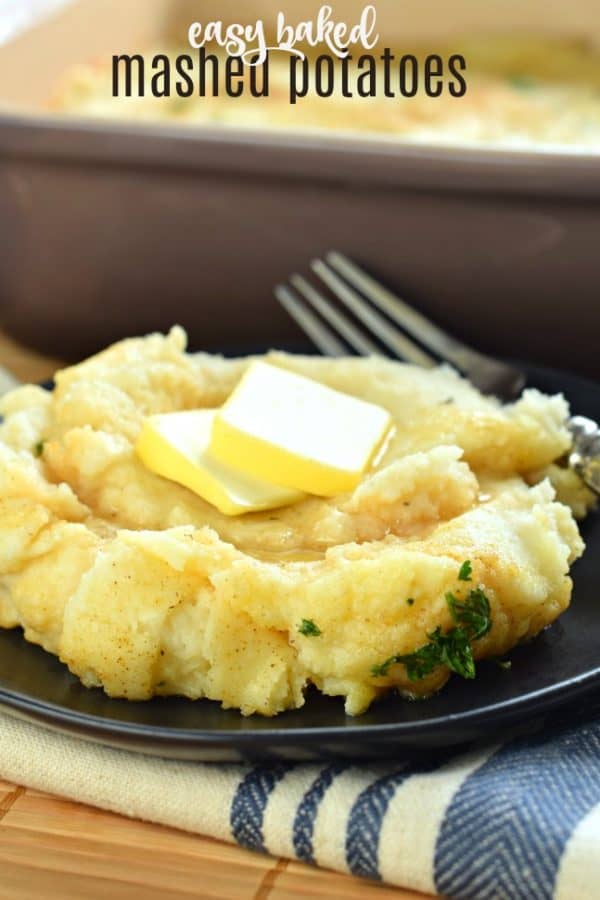 Tips and Tricks
Use room temperature cream cheese and sour cream. Take both ingredients out of the fridge about 20 minutes ahead of time. This makes them easier to mix into the instant potatoes.
Make ahead option. You can combine the ingredients and assemble them in the baking dish up to 24 hours in advance. Cover with foil and keep refrigerated until ready to bake.
Cheesy topping. If you want cheesy oven baked mashed potatoes, bake them as directed, remove and sprinkle cheddar cheese on top. Return to the oven for another 3 – 5 minutes to melt the cheese.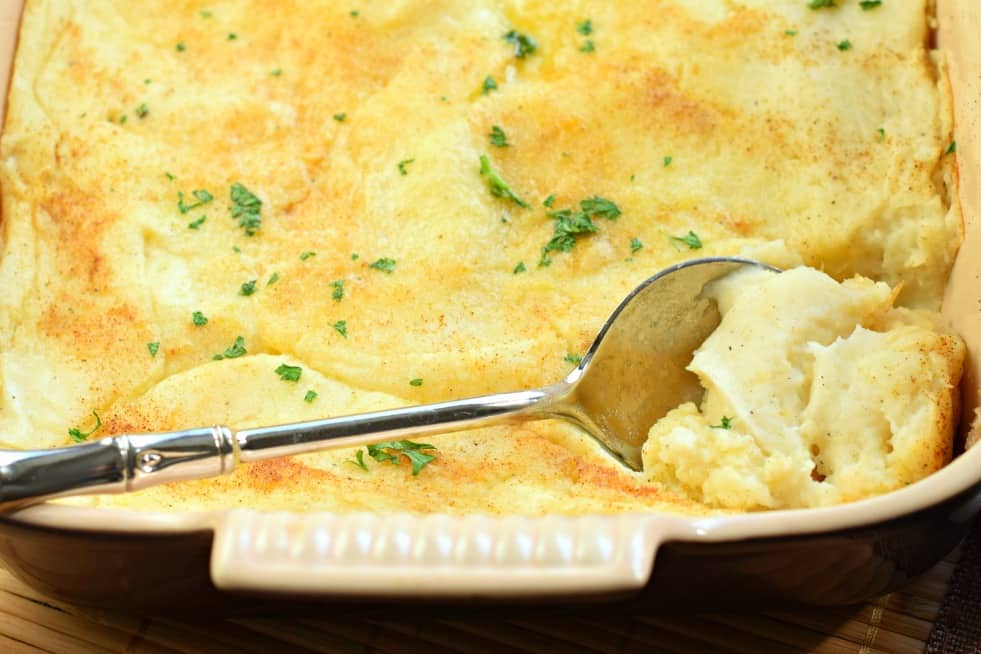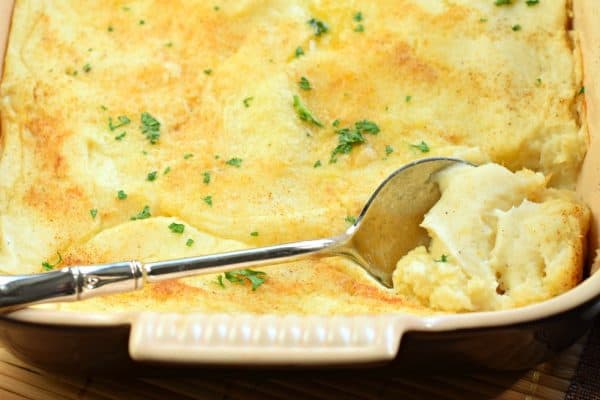 Recipe FAQs
What can I use instead of sour cream?
Plain unsweetened Greek yogurt makes a perfect substitute for the sour cream in this recipe.
How do I store leftovers?
Store leftovers in an airtight container in the refrigerator. Reheat and enjoy within 3 days for best taste.
I'm making this with fresh potatoes. What variety of potatoes are best for mashing?
I prefer russet potatoes for mashed potato recipes. Yukon gold (yellow) or white potatoes are also good choices!
Can I make these dairy free?
I have not tested a dairy free version of this recipe. You could try it with nondairy sour cream, cream cheese and butter and let me know how it turns out!
What's the benefit to baking mashed potatoes?
Baking gives the mashed potatoes a golden brown topping that I love! I also find it evenly distributes the heat throughout the potato dish for a better flavor.
What to serve with Baked Mashed Potatoes
These potatoes as I said above are hearty enough to withstand your favorite gravy.
But they are delicious enough to enjoy as a side dish all on their own.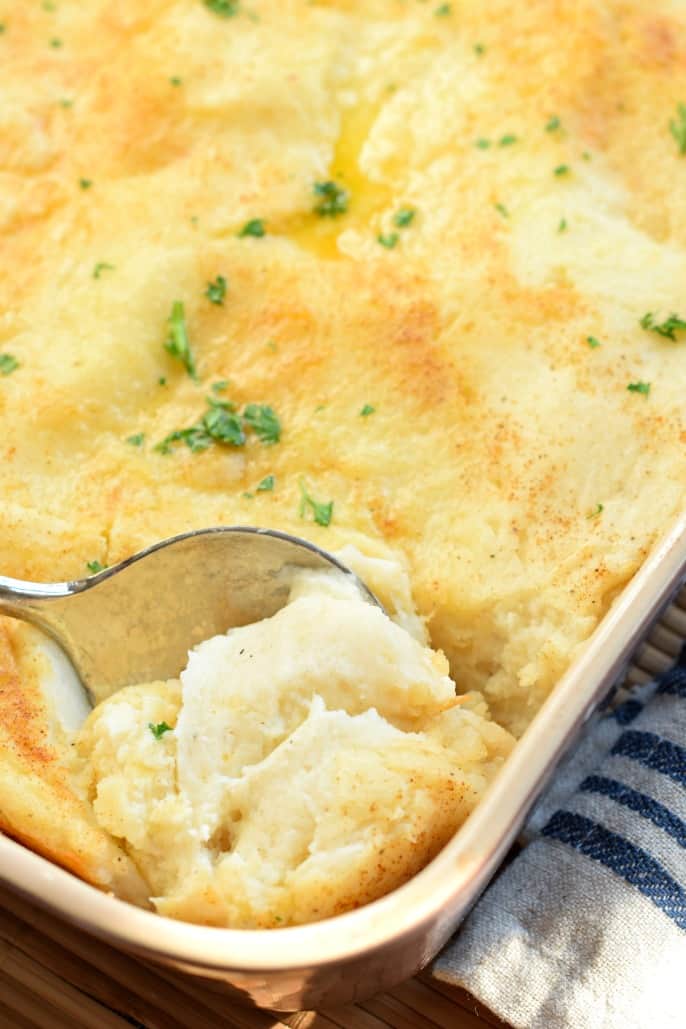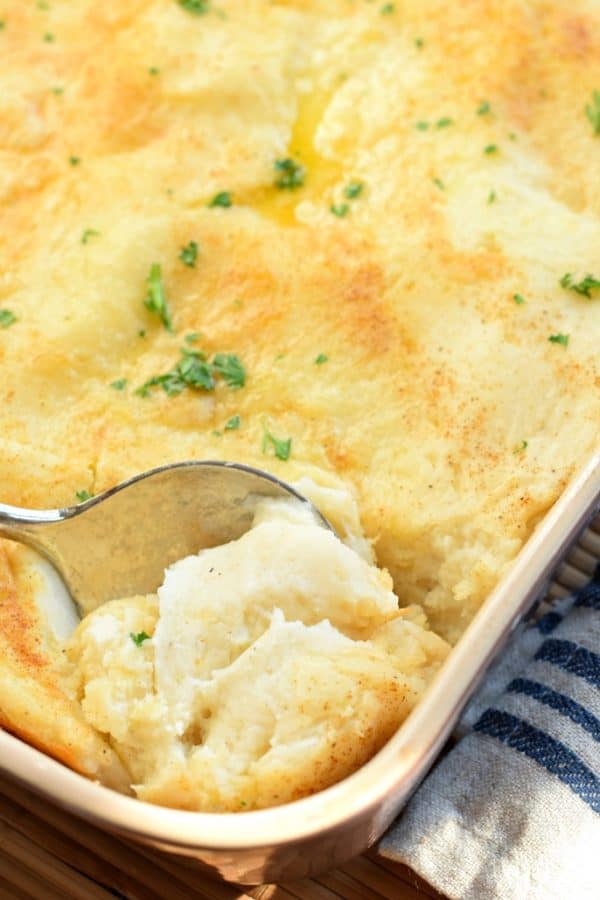 More Dinner ideas:
Learn how to turn instant mashed potatoes into the best potato side dish with this easy Baked Mashed Potatoes recipe!