Make the best Turkey Gravy with just a few ingredients! This easy gravy recipe is ready in minutes and the perfect finishing touch to your Thanksgiving dinner.
My easy Thanksgiving Turkey recipe is full of juicy flavor all on its own. But this homemade turkey gravy takes it too a whole new level!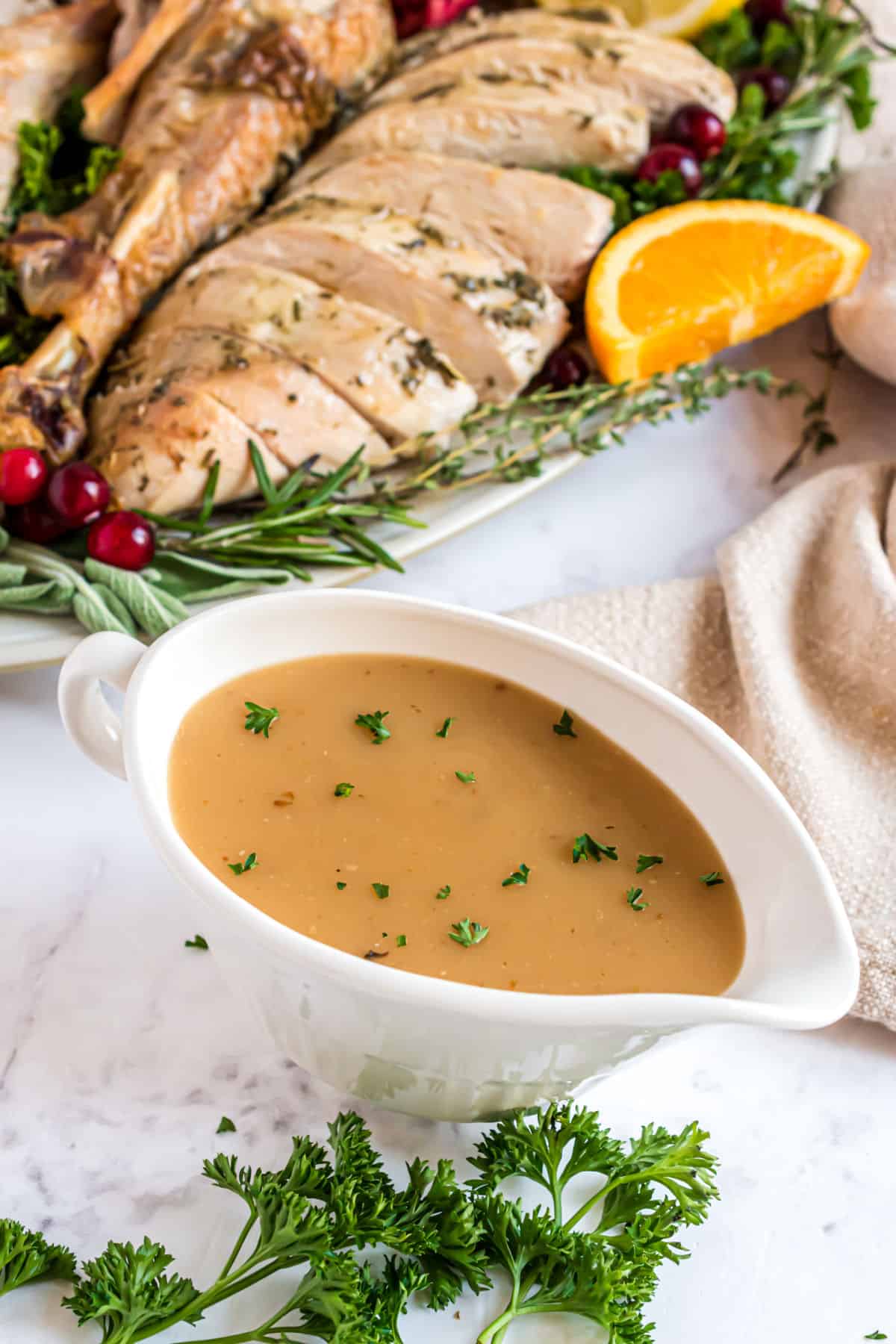 Why this Gravy is Best
When you cook turkey, you end up with a roasting pan filled with turkey drippings–the flavorful juices released during roasting.
This recipe puts them to good use. Thickened with flour and simmered with broth, the turkey drippings transform into a delicious gravy to pour over your carved bird.
5 minute gravy recipe with 4 ingredients!
Delicious on turkey, potatoes, stuffing and more.
No more wasting turkey drippings!
I always add a heap of gravy to my Mashed Potatoes too– and I'm never sad when it runs off into the stuffing or the green bean casserole either.
And is it even Thanksgiving if you don't use a dinner roll to soak up the gravy left on your plate at the end of the meal?
If you've never made homemade gravy from turkey drippings you'll be amazed by how easy it is. Store bought gravy can't hold a candle to this stuff!
Ingredient Notes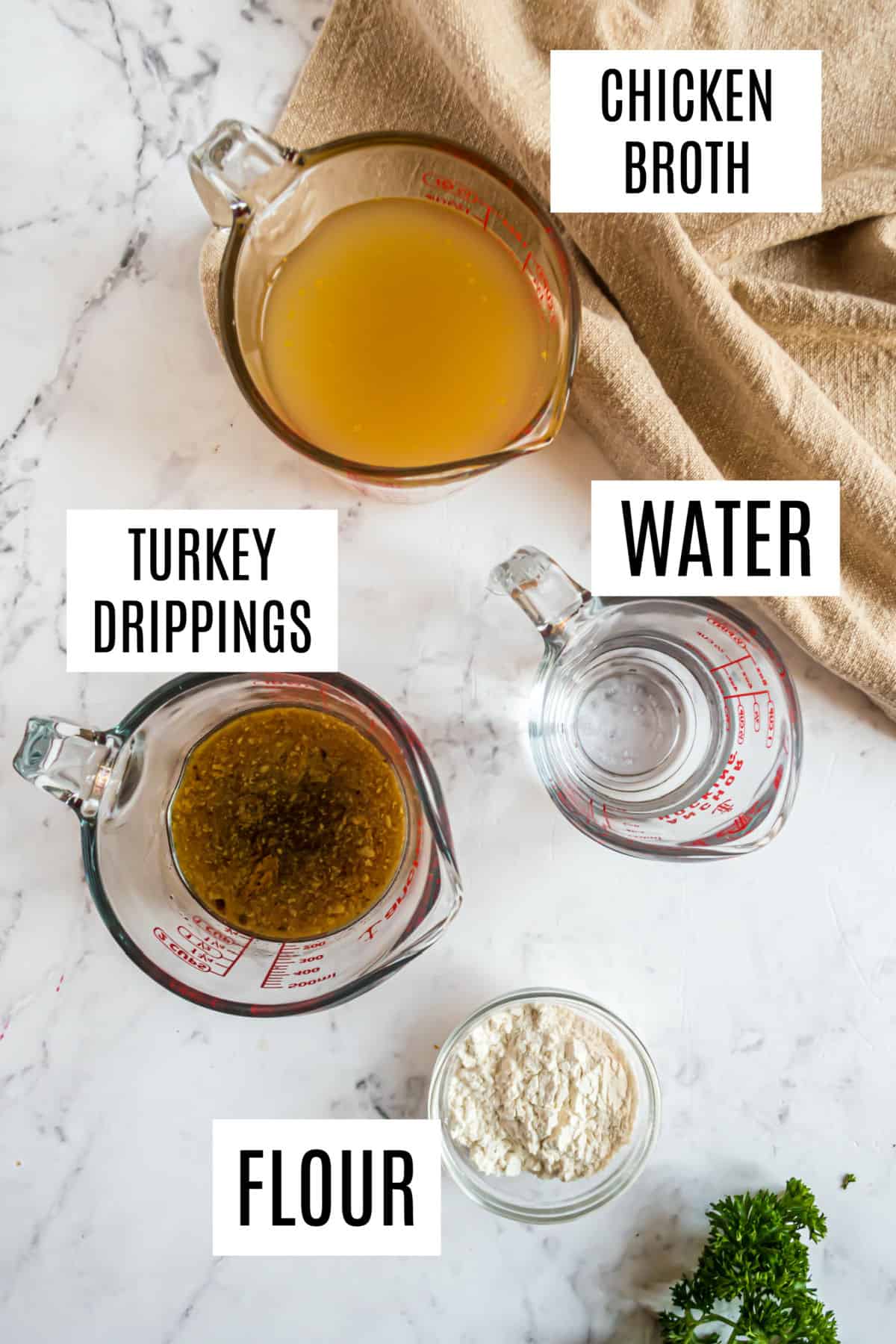 Turkey drippings – A 12 pound turkey should leave you about 3/4 of drippings. Drain them from the roasting pan into your measuring cup.
Chicken or vegetable stock – This is combined with the drippings to double the volume. If you have a larger bird that yielded more drippings you may not even need the stock!
Flour – Whisking flour into the drippings gives it a thick but pourable gravy consistency.
Easy Instructions
To make turkey gravy, simply pour the turkey drippings and broth (if needed) into a sauce pan.
Whisk the flour with water until dissolved. Now, slowly pour the flour mixture into the sauce pan as you heat it on medium heat.
Continue heating the turkey gravy for 2 minutes, or until thick and smooth.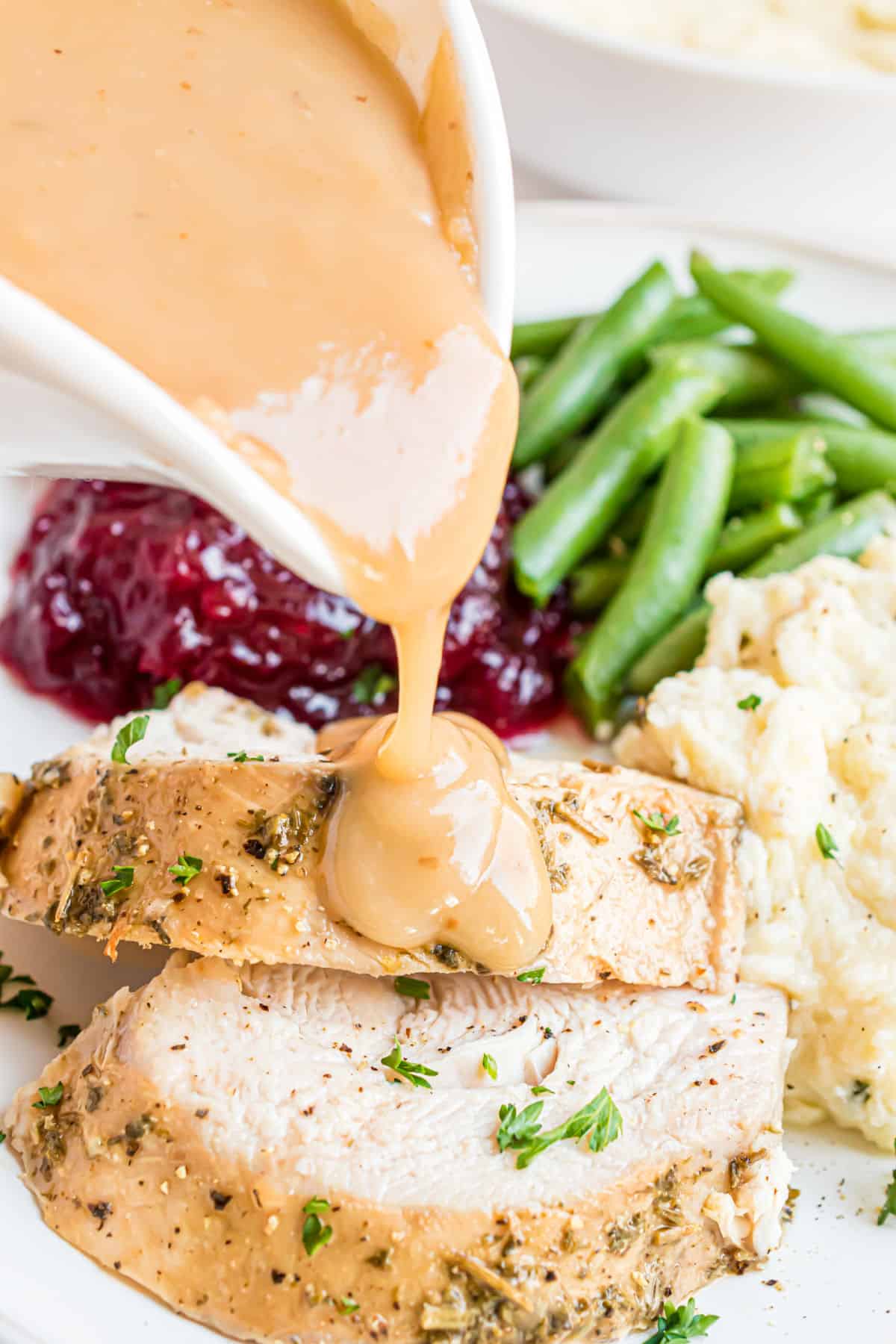 Tips and Tricks
Storing: Store leftover turkey gravy in an airtight container in the refrigerator. Enjoy reheated within 3 to 4 days.
How to reheat gravy: this gravy is best reheated on the stove top. Pour it into a skillet or sauce pan. Heat on medium-low, stirring frequently until warmed through.
Doubling the recipe: If you have more than 1 1/2 cups of drippings from your turkey, feel free to double the other ingredients for an extra large batch of homemade gravy!
Recipe FAQs
Do you skim the fat off the drippings first?
The decision to skim the fat or leave it in is up to you. I tend to leave the fat in for a thick, flavorful gravy. If you prefer, you can transfer the drippings to a measuring cup then skim the fat off the top. Discard the fat and add the remaining juices to the recipe as directed.
How can I keep turkey gravy from getting lumpy?
For smooth gravy, mix the flour with water before adding it to the drippings. This is called a "flour slurry." The water helps dissolve the flour so it doesn't congeal or become lumpy as it heats.
Can I make this gravy recipe without turkey drippings?
No, you can't. The turkey drippings are essential for the flavor and consistency of this gravy recipe!

Do you stir the gravy while it cooks?
Yes, you should use a wooden spoon or whisk to gently stir the gravy as it heats.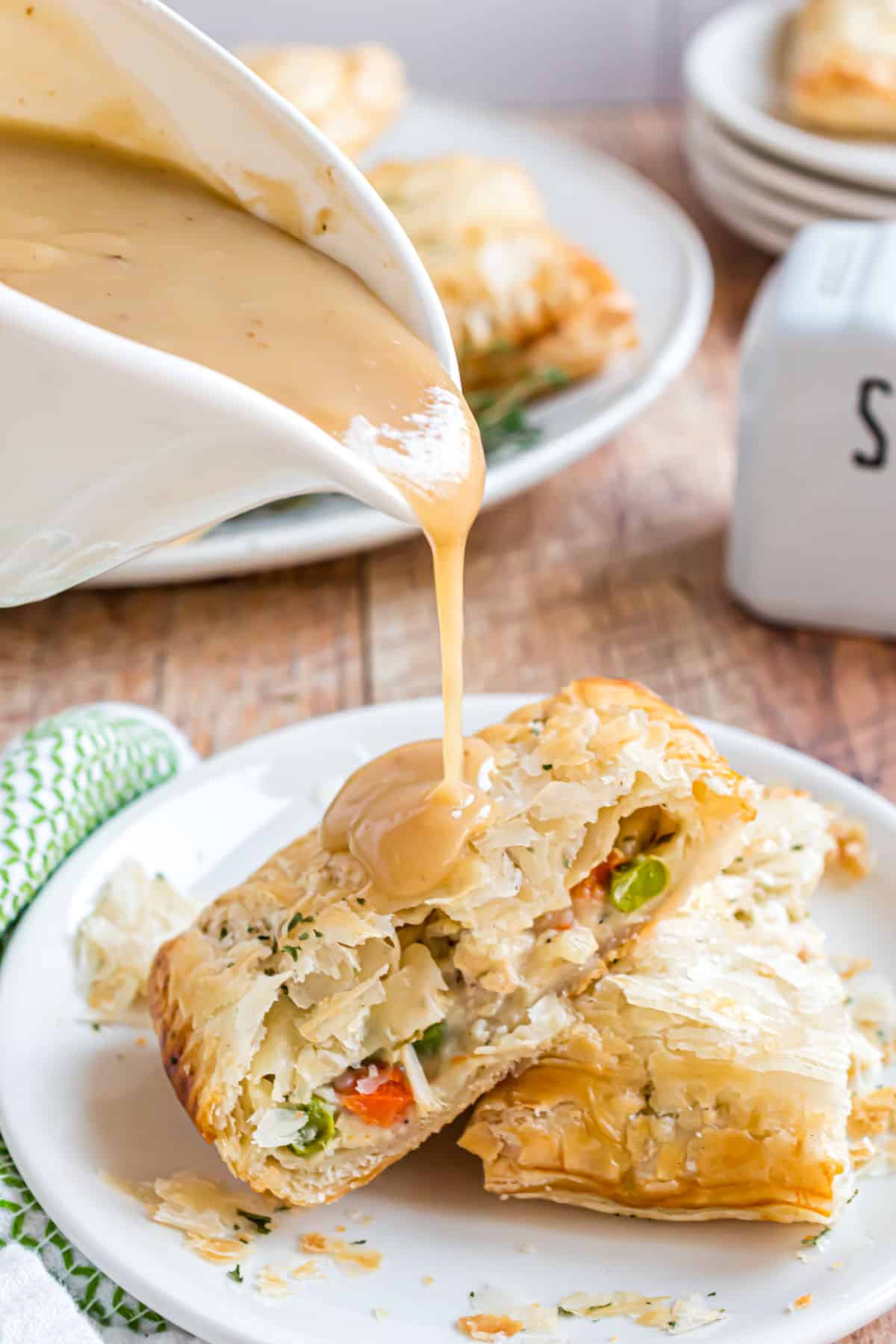 More Thanksgiving dinner recipes
Turn your tray of drippings into an irresistible Turkey Gravy! Spooned over turkey or poured onto mashed potatoes, this homemade gravy is the easiest way to add even more flavorful to your Thanksgiving meal.