Mashed Potatoes in the Instant Pot are done in 10 minutes with this recipe! You'll love these creamy, flavorful potatoes with much less work!
Love potatoes in the Instant Pot? Give our Au Gratin Potato recipe a try. So easy, and delicious! Don't forget to try Instant Pot Sweet potatoes too!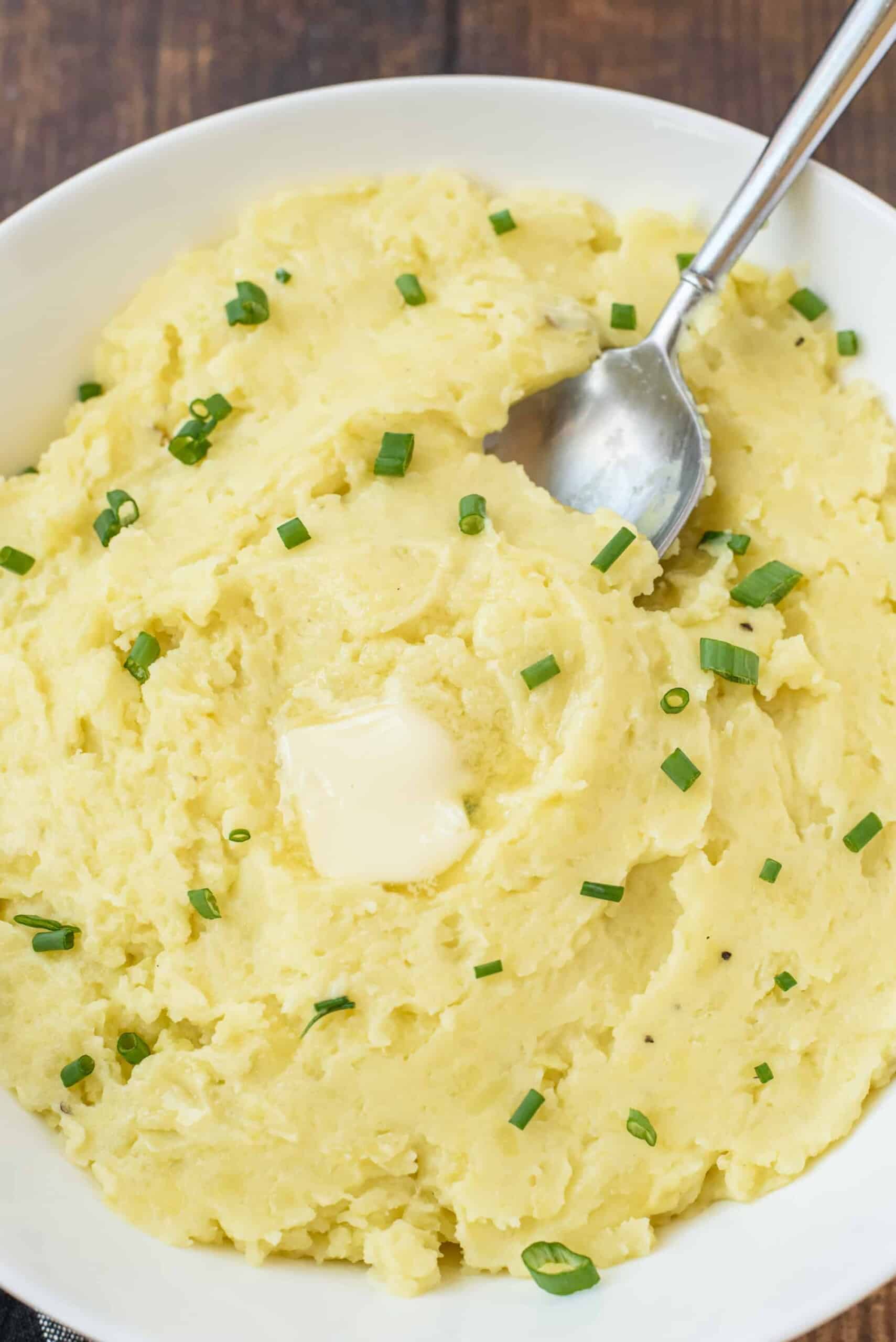 Why this Recipe Works
Sometimes the holidays can be stressful, especially when it comes to serving food.
While in our minds we try to not stress, sometimes we just can't help the chaos that hits when it's time to serve the dinner.
And Thanksgiving can be one of the craziest meals…in addition to the turkey, we fill our tables with a ridiculous amount of side dishes, or is that just my family?
One thing that has helped my family make Thanksgiving (or any family dinner) less stressful is to make food that tastes amazing, but cut down on the prep time.
For instance, we ALWAYS make our turkey the day in advance.
Slice it up, make the gravy, then refrigerate. The morning of the holiday, or dinner, we put the turkey in the slow cooker with gravy. Boom. Done. No carcass to clean up, no slicing turkey while everyone is waiting to eat.
Another shortcut? These easy Instant Pot Mashed Potatoes!
In less time than it takes to boil cold water with a pot full of potatoes, you can already be eating these easy Mashed Potatoes in the Instant Pot!
How to Make Mashed Potatoes in the Instant Pot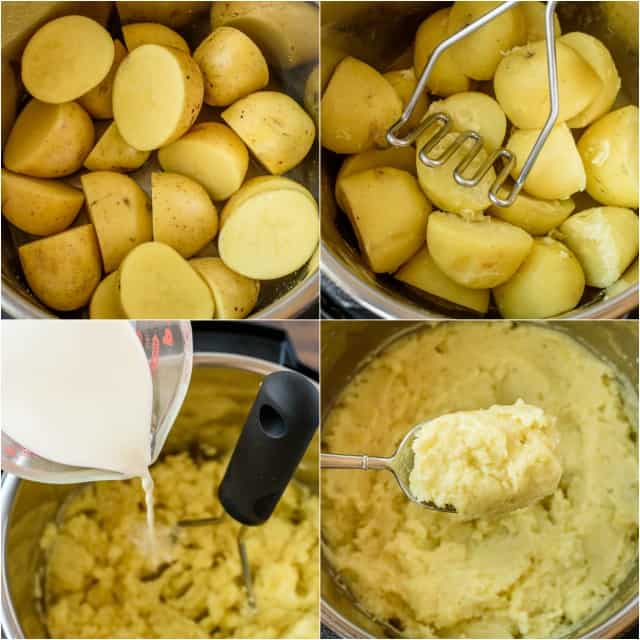 Step 1. Potatoes.
First, decide what kind of potatoes you like best. This recipe works for russet or yukon gold.
There's no need to peel the potatoes first. Once you've cooked them in the Instant Pot, the skins will just slide right off. You can also just keep them on and make smashed potatoes with skins. Or, if you're old school, go ahead and peel them first.
I cut my potatoes in half or thirds if they are really big. This helps ensure even cooking time.
Step 2. Pressure Cook.
Add 1 cup of water to the bottom of the instant pot. Place the trivet inside the pot and add potatoes.
Close the lid and make sure the valve is set to "SEALING."
Select "HIGH PRESSURE" and cook time of 10 minutes.
Quick release when cook time ends. Drain the potatoes into a colander and cool for several minutes. When cool enough to handle, you can rub the peels right off!
Step 3. Mash.
Add the potatoes back to the pot and add butter. Mash until desired consistency.
Add cream (or milk) and continue to mash. Season with salt, pepper, and fresh garlic if desired.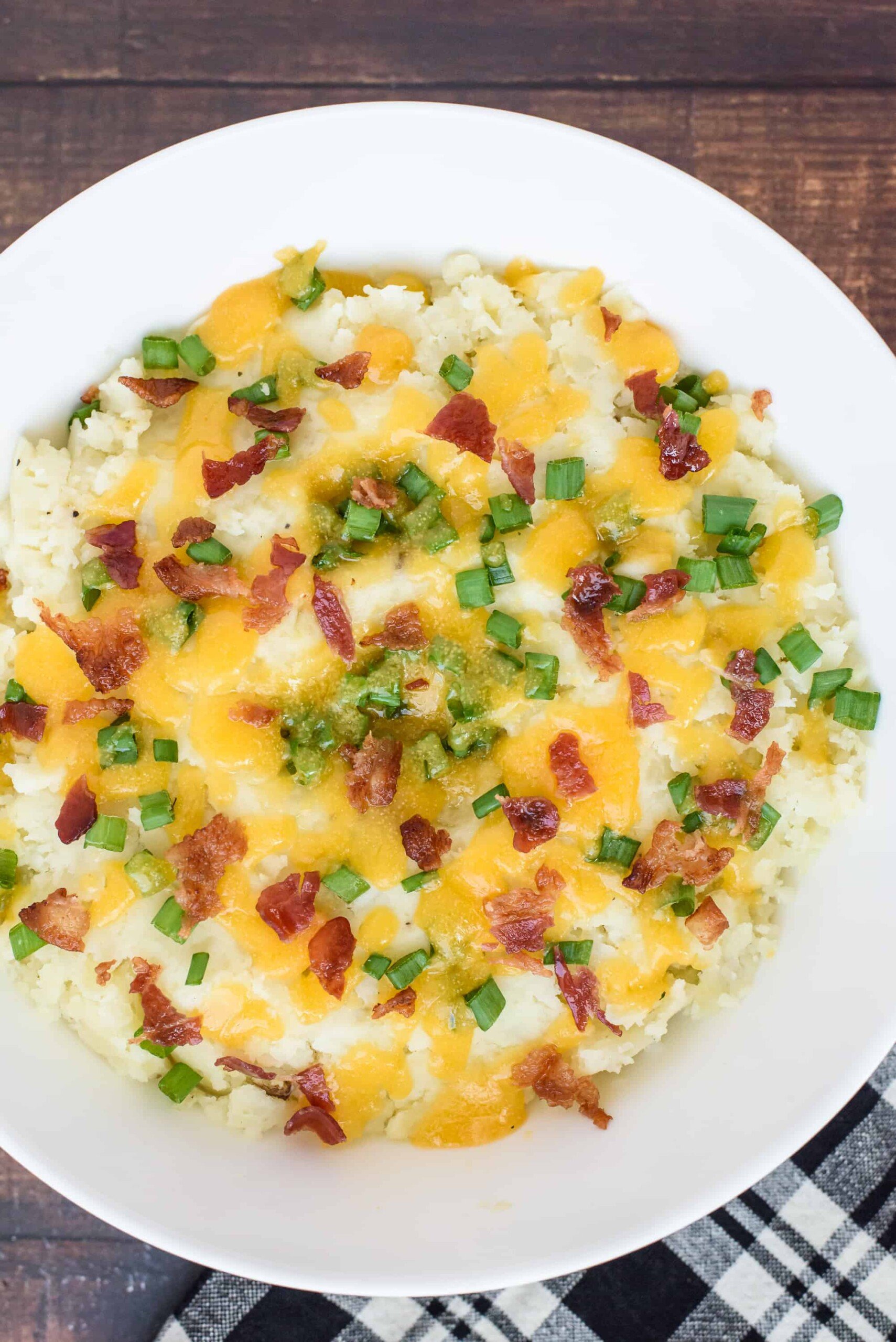 What can I add to Mashed Potatoes
One of the best things about today's recipe is you can totally change up the flavor of these potatoes to your preference.
Buttermilk Ranch Mashed Potatoes: Add in Ranch seasoning mix (one packet) while you mash them and use buttermilk instead of regular milk.
Bacon and Cheese Mashed Potatoes: Make some loaded potatoes by adding cooked and crumbled bacon to the top with shredded cheese and green onions (or chives).
Swap out the heavy cream for sour cream, yogurt, or cream cheese for a creamy flavored potato!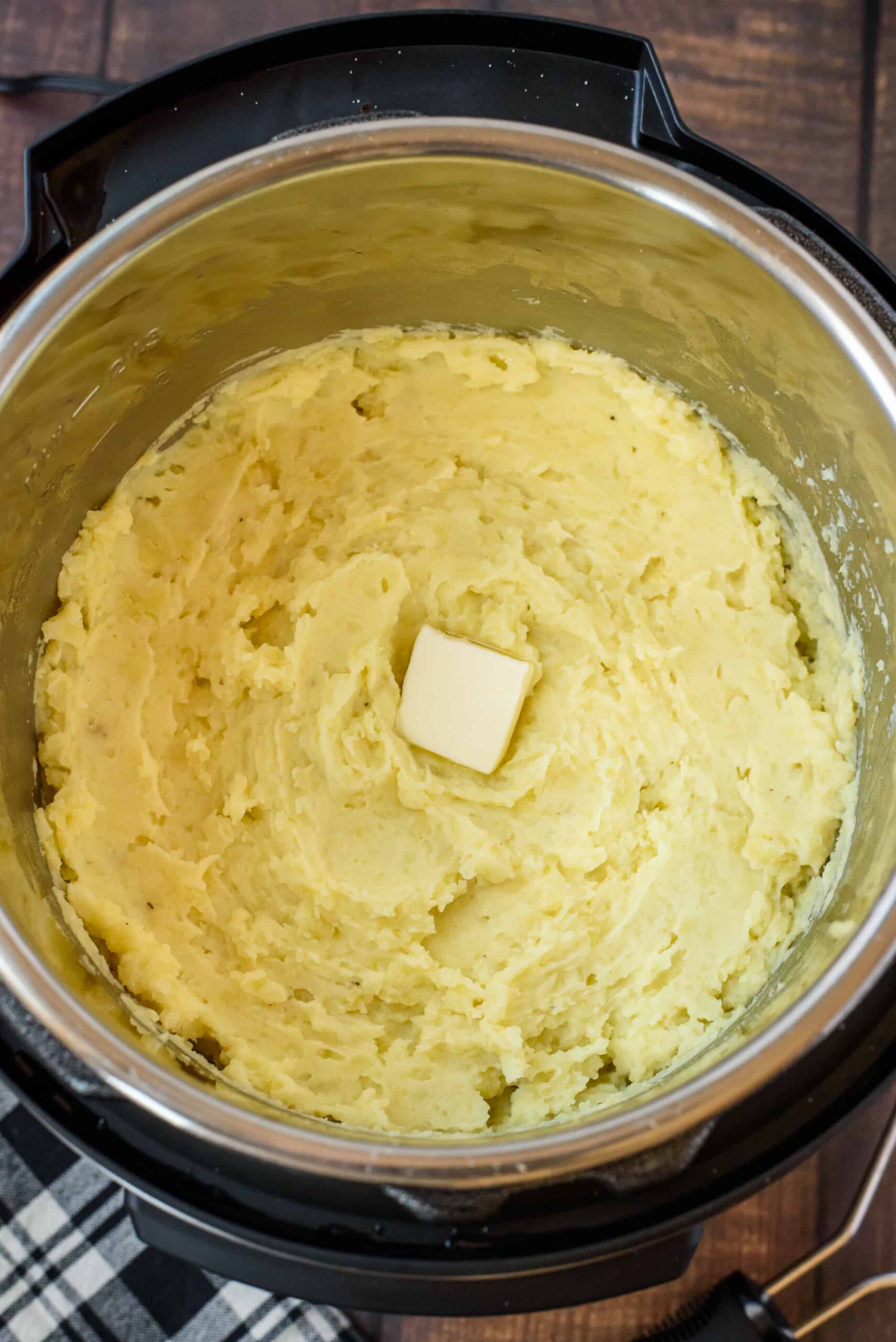 Serving Suggestions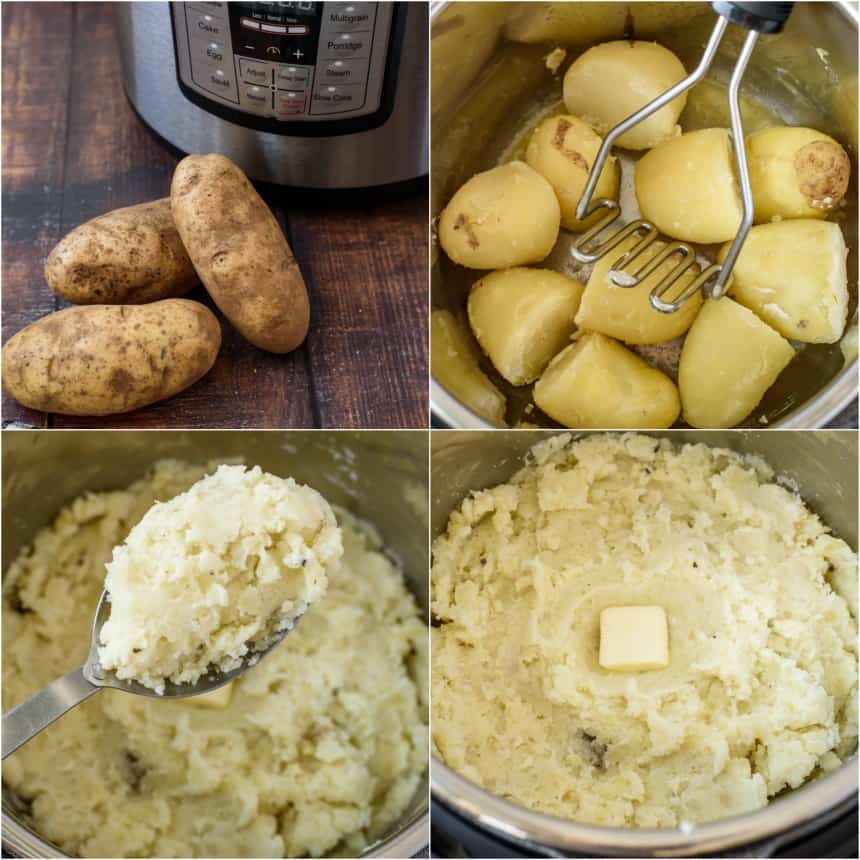 Tips and Tricks
I used a 6qt Instant Pot for today's recipe. Prep time does not include the time it takes to come to pressure (about 10 minutes).
Whether to peel or not peel is completely optional. Mashed potatoes are great with skins on…especially the yukon gold as their skin is thinner than a Russet potato. However, you can cook then peel, as the peel will come off easily after pressure cooking.
Use whole milk or heavy cream for the creamiest potatoes, but skim milk and half and half will work just as well!
Creamy mashed potatoes in the Instant Pot are ready in ten minutes with this delicious, easy recipe!