Looking for a Classic Stuffing Recipe? My version is made with day old bread, vegetables, apples and mushrooms! Easy to make ahead of time too!
Serve this delicious stuffing for Thanksgiving (you'll even see it featured in my easy Crockpot Turkey and Stuffing recipe)! Add a side of homemade cranberry sauce for a complete meal.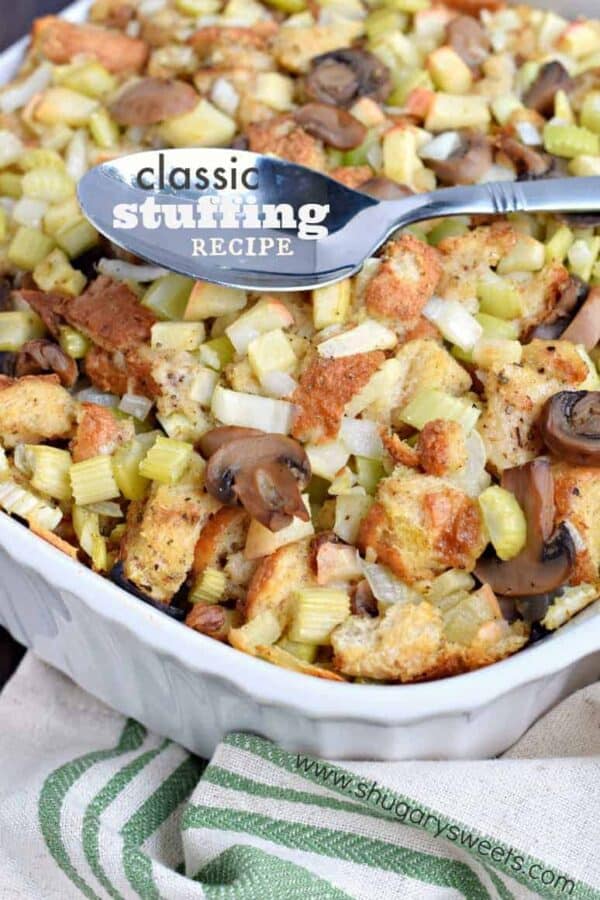 As Thanksgiving is approaching, I am trying to be more grateful and thankful for the good things in my life. It's so easy to take even the littlest things for granted.
A delicious Thanksgiving spread that includes this Easy Stuffing recipe is something to be thankful for!
Easy Instructions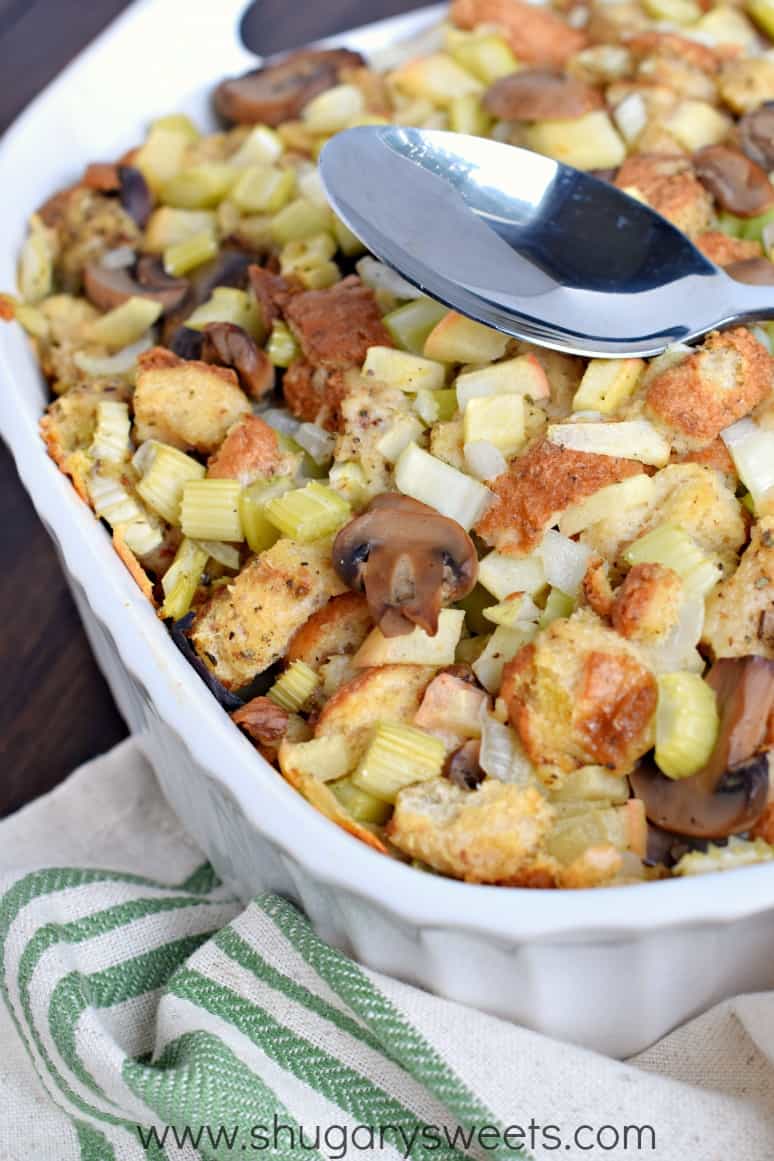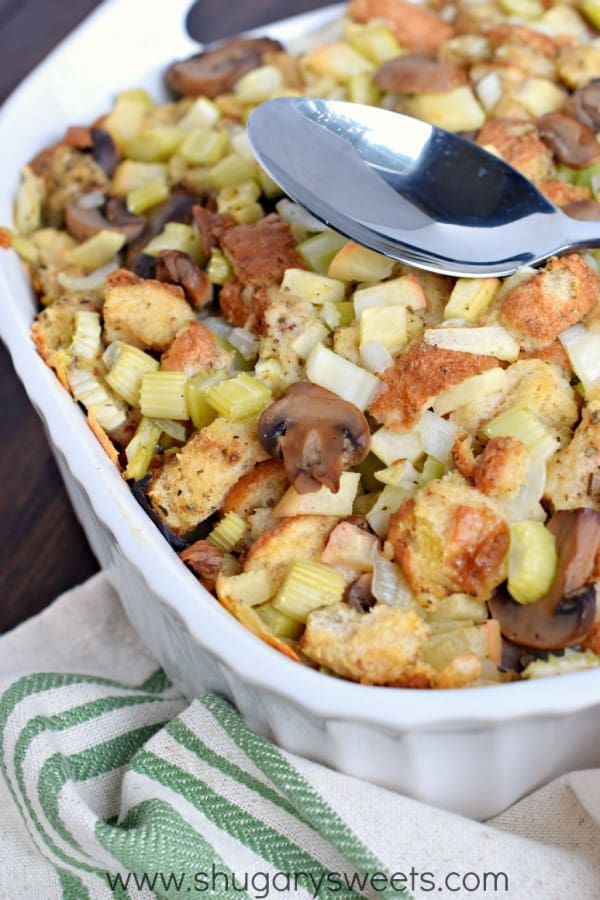 STEP 1: In a large mixing bowl, combine stale bread with egg, water, celery, onion, apples, mushrooms, and seasonings. Combine well.
STEP 2: Press into a 9-inch square baking dish (about 2-3 quart). Once you have all your stuffing in the dish, press it in firmly. If it seems EXTRA DRY, add a little bit of chicken broth or water over the top (2-3 Tbsp).
STEP 3: Cover stuffing with foil. Bake for 60 minutes in a 350 degree F oven. ENJOY.
Ingredient Notes
Bread. You will need approximately one loaf (1 lb) of bread. Preferably stale bread. I choose white or wheat bread (but even french bread and Italian bread would work). Dice ahead of time into large one-inch cubes. My preference would be to cut it the day before and leave on the counter overnight to get it slightly stale.
Vegetables. Celery, Onion and Apples should be cut into small pieces. I prefer the sliced mushrooms in a jar as they retain extra moisture and don't need to be precooked.
Seasoning. A combination of poultry seasoning, sage, salt and pepper is all you need for today's classic stuffing recipe. The flavor from the vegetables, bread, and fruit all combine to create a delicious side dish!
Don't forget to pour some of our turkey gravy over the top to serve!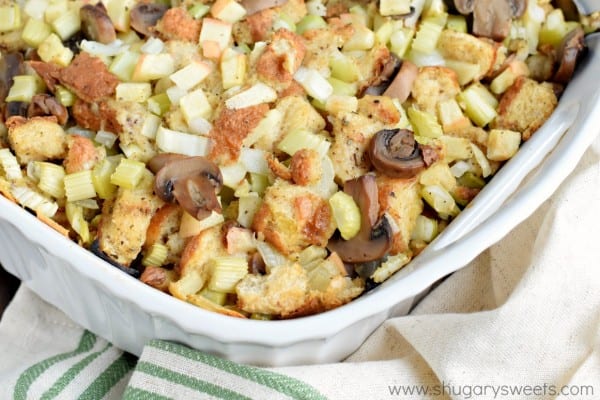 Can this turkey stuffing recipe be doubled
I get it. Sometimes over the holidays you find yourself serving a large crowd.
This recipe for classic stuffing will easily double. I would use a lasagna pan or 13×9 for a doubled batch of the dressing.
If using Corningware, such as a 5qt square dish, that is deeper, you may need to add more cooking time to adjust for the depth in the dish!
Can Stuffing be made ahead of time
Absolutely!
Holidays can be stressful enough, so do as much as you can before the big day. I usually try to have all my side dishes prepped and ready at least a day in advance, so there's no clean up or stress while family is over for dinner.
You can make this stuffing 24 hours ahead of time to keep things simple on the big day.
I suggest you take it out of the refrigerator at least an hour or two before putting into the oven. If it's still cold, add extra time to adjust for the chill.
Can this Stuffing Casserole be IN the turkey
I've never been a fan of stuffing my turkey with the dressing. I mean, I suppose that's where it gets it's name from, but to me, the flavor is off.
However, if you do stuff your turkey with this homemade dressing, make sure the center cooks to 165 degrees F.
What to serve with Classic Stuffing.
Stuffing goes great with anything, it's not just for Thanksgiving turkey dinners!
I will make a batch to serve with many easy dinners:
More Thanksgiving Recipes
Classic Stuffing recipe with apples, mushrooms, and much more! The perfect Thanksgiving side dish.