Crockpot Turkey Breasts and Stuffing is the perfect, fuss-free way to enjoy a Thanksgiving meal year round. You'll love this easy, juicy turkey breast recipe!
Whip up a few sides in the Instant Pot! Our readers love this Instant Pot Green Bean Casserole as well as Instant Pot Sweet Potatoes!
Why This Recipe is Best
This Crockpot Turkey Breast recipe is one of our favorites. I buy the turkey breast in the freezer section and we make this YEAR ROUND.
No time to prep a full size turkey, this one is an easy alternative!
Or maybe you have a smaller crowd, limited oven space, or just don't love as much turkey as other families.
The best part is that the stuffing cookies right on top, so it's literally ONE dirty dish.
This leaves you plenty of oven space for all your other favorite sides, like sweet potato casserole and mac and cheese!
How to Cook a Turkey Breast in a Crock Pot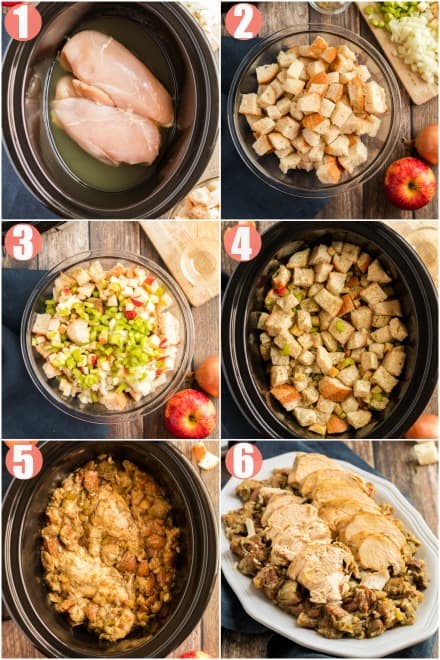 STEP 1: Lay THAWED turkey breasts in bottom of slow cooker. Pour chicken broth over turkey breasts.
STEP 2: Place cubed bread in a large bowl. We love using day old french bread for our homemade stuffing recipe!
STEP 3: Add apple, celery, onion, salt, poultry seasoning, sage, and black pepper to the bowl with bread cubes. Mix thoroughly.
STEP 4: Lightly press stuffing on top of the turkey breasts and broth in the slow cooker.
STEP 5: Cover and cook on low heat for 6 hours.
STEP 6: Remove stuffing and place on serving platter. Slice turkey breast and arrange over the dressing. ENJOY.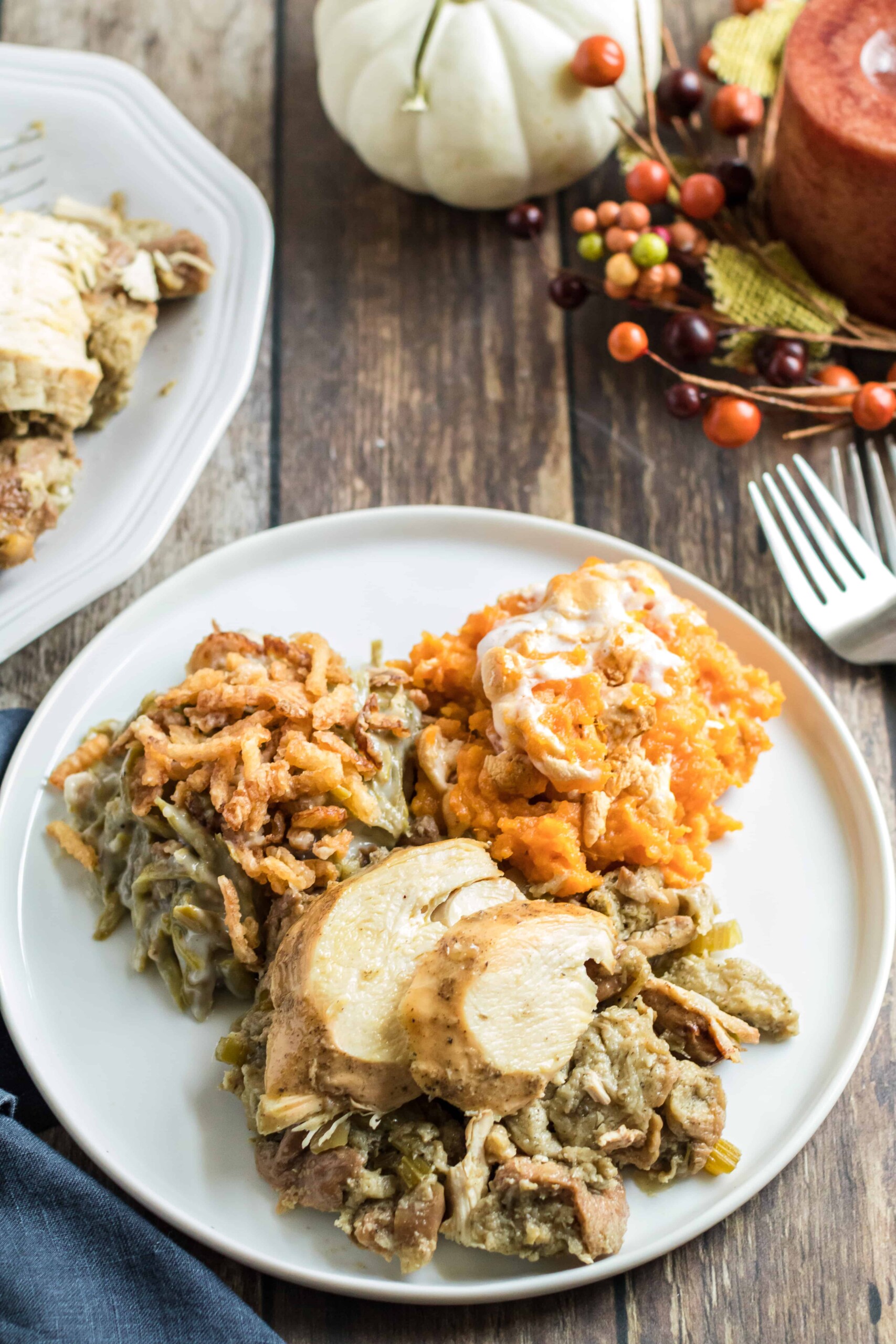 Tips and Tricks
Use a large oval slow cooker, as a round one won't be big enough!
Be sure you start with DEFROSTED turkey breast. Depending on the size of the breast, you may need to defrost in refrigerator for several days. Be prepared.
If you want to make a gravy, double the chicken broth in the recipe. When you remove the turkey and stuffing, thicken up the slurry of cornstarch and water. Add salt and pepper to taste.
You'll know the turkey breast is done cooking when it has reached an internal temperature of 165 degrees F.
If you haven't tried it, you can also make Turkey breast with gravy in the Instant Pot.
How much Turkey breast do I need per person?
It really depends on how many other side dishes you are serving.
I usually plan on 1 lb of turkey breast per person, this leaves plenty for leftovers. 
The nice thing about cooking turkey breast in the crockpot is you can add more turkey if needed. As long as you keep the crock pot closed while cooking, it can be very forgiving and not yield a dry, over cooked turkey.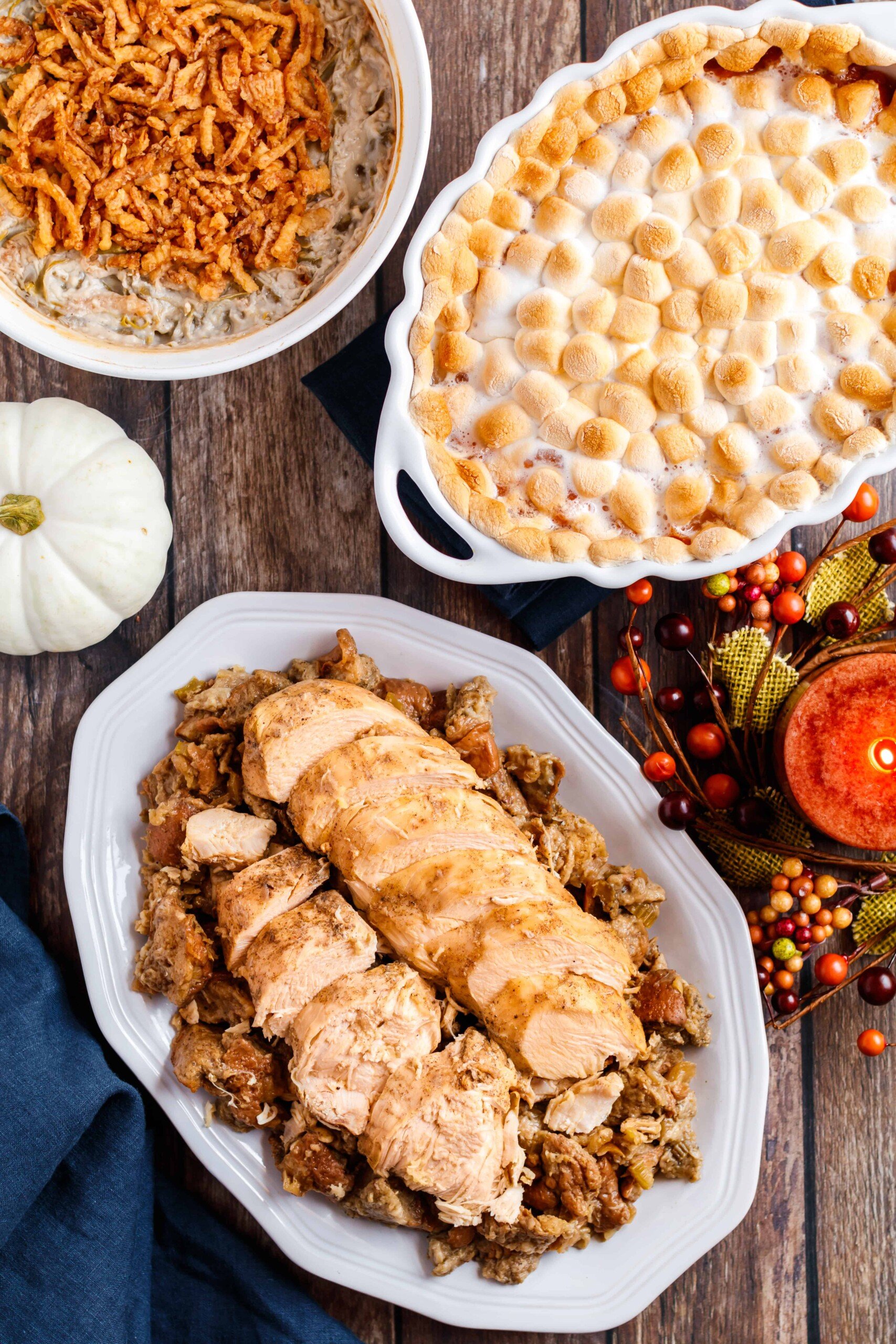 Serving Suggestions
Aside from the dressing already in the slow cooker, we love having these Baked Mashed Potatoes. Don't forget the Green Bean Casserole and the Corn Casserole!
A frozen Cranberry Salad is our go-to "jell-o" dish, and of course this Ritz cracker mac and cheese is a must!
For Thanksgiving, don't forget the Pumpkin Dump cake, this easy Pumpkin Cheesecake, and of course, these adorable Turkey Rice Krispie Treats!
Use up leftover turkey in these delicious Turkey Sliders or Turkey Noodle Soup!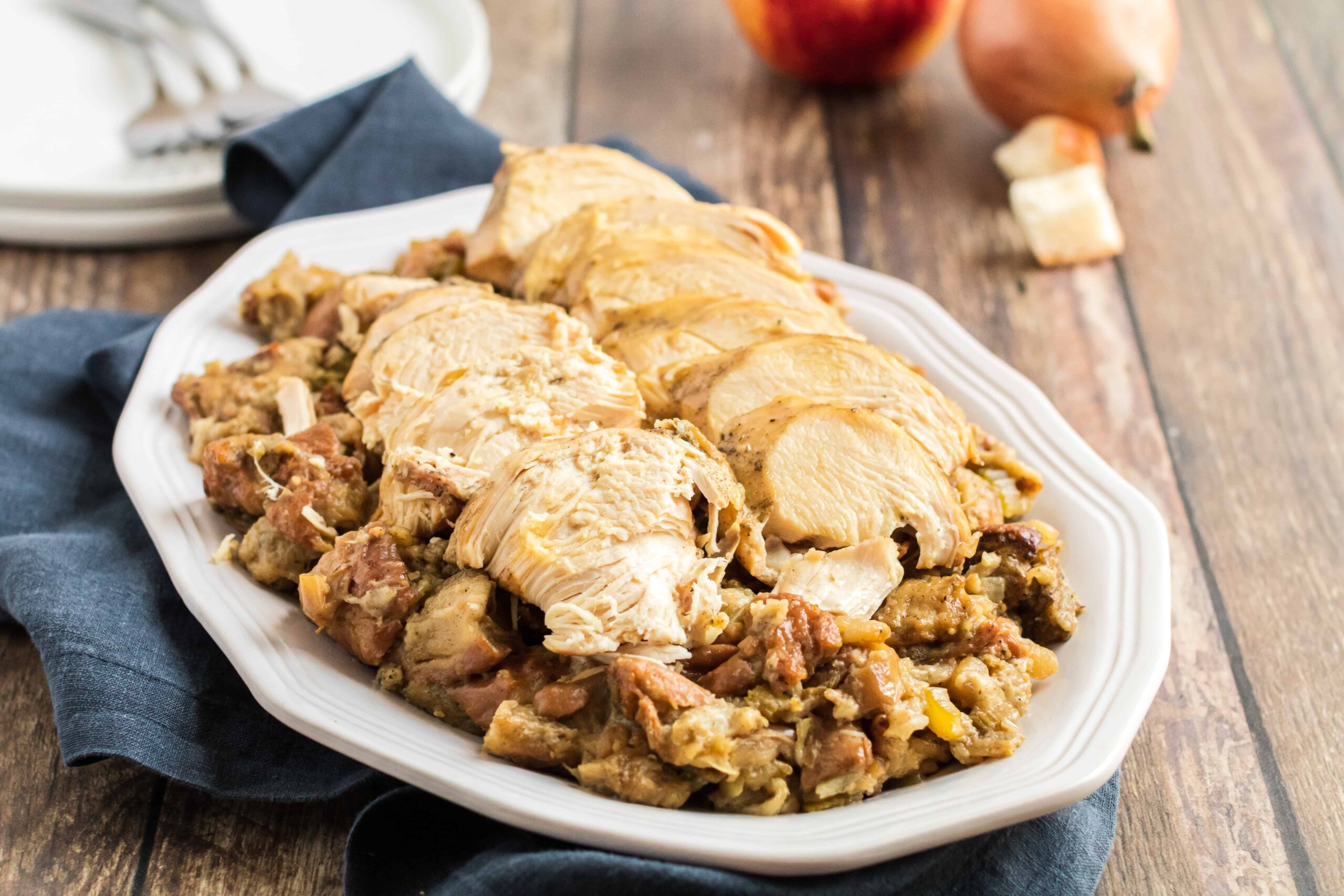 More Easy Recipes
Crockpot Turkey Breast and Stuffing is the perfect, fuss-free way to enjoy a Thanksgiving meal year round. You'll love this easy, juicy turkey breast recipe!