Easy Crockpot Chicken Fajitas recipe will be your dinner favorite. No marinade, no sauteed vegetables, the slow cooker seasons and tenders the chicken and peppers perfectly!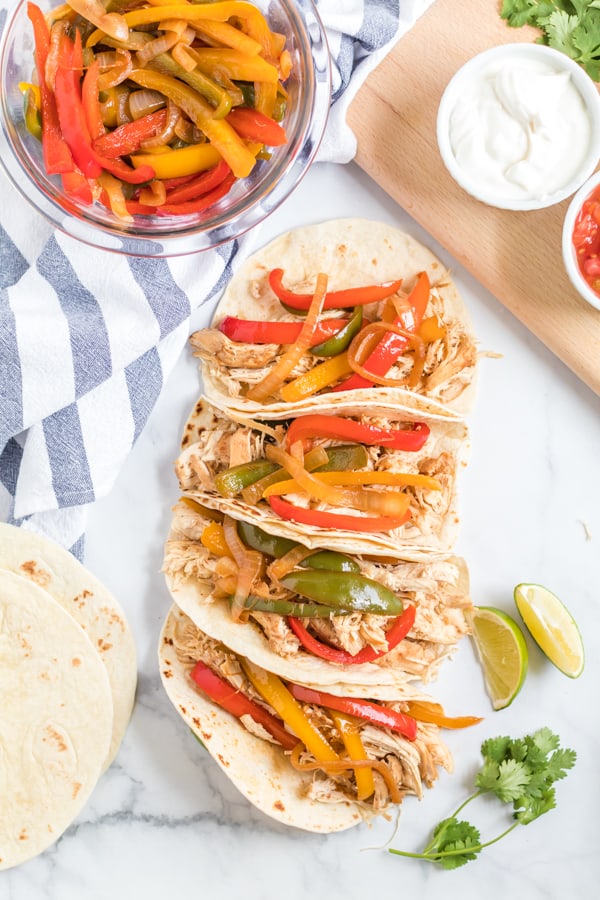 Why this Recipe Works
I love cooking in my crockpot. It's such a good feeling to look at the clock at 3pm and know that dinner is cooking itself.
With very little work in the morning we can have an awesome cinco de mayo dinner any evening of the year!
Today's Crockpot Fajitas recipe is a keeper at our house. We love it for many reasons, but mostly because it's seasoned perfectly and tastes amazing.
I love how easy it is. No marinating of the chicken needed. No sauteeing of the vegetables needed. Just a delicious, healthy dinner, that cooks while we work and play.
Ingredient Notes
Chicken. I usually use chicken breast for fajitas, while most slow cooker recipes I tend to lean towards the thighs. You choose what you love.
Vegetables. A trio of peppers and sliced onion are the star vegetables of fajitas. You can add others if you like.
Seasonings. A combination of chili powder, cumin, and kosher salt is really all you need for these tasty fajitas.
Chicken Broth. I like to use this when cooking with chicken breast. I enjoy the flavor and it keeps the chicken from drying out!
Lime Juice. Fresh squeezed lime juice during cooking adds a wonderful depth of flavor. Squeeze extra right before serving too.
Tortillas. Whether you choose flour or corn tortillas, just be sure to warm them up prior to eating!
ALL THE TOPPINGS. Here's where you can get creative. From pico de gallo, guacamole, sour cream, cheese, and more. You pick what your family would enjoy.
Step by Step Instructions
STEP 1: Add chicken to the bottom of a large crockpot.
STEP 2: Slice peppers and onions and place on top of the chicken in the slow cooker. Add chili powder, cumin and kosher salt.
STEP 3: Pour chicken broth over the top of the peppers and squeeze fresh lime juice to finish.
STEP 4: Cover and cook on low heat for 6 hours. Remove chicken and shred. Serve with toppings and tortillas.
PRO TIP: Add a squeeze of fresh lime juice right before serving.
Are Chicken Fajitas healthy?
Yes, I would think so.
Depending on how you serve chicken fajitas, they can be part of a healthy meal.
Each person can decide what "healthy" means. For me, a well rounded dinner with protein, fat, and vegetables is key.
Serve your chicken fajitas with greek yogurt instead of sour cream for an extra dose of protein!
Skip the tortilla and serve in a bowl with black beans or lettuce for a complete meal.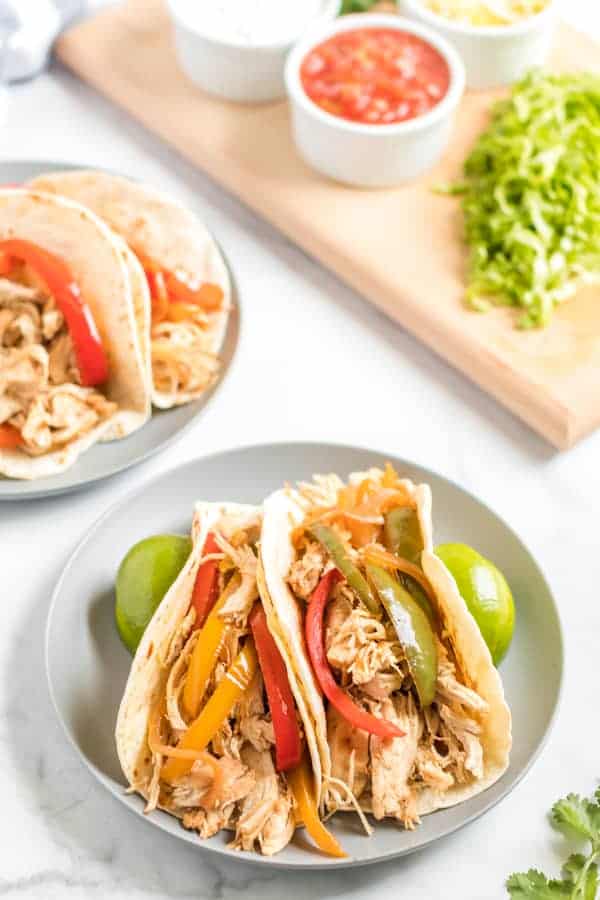 What to serve with Chicken Fajitas
Serve your fajitas with a side of cilantro lime rice and some fresh mango guacamole.
You can also make a batch of this easy salsa verde to drizzle on the fajitas or serve on the side with a big bowl of tortilla chips!
Tips for making Crockpot Fajitas
If you would rather have sliced chicken instead of shredded, remove from crockpot and slice on a diagonal. You may want to decrease your cooking time to 5 hours.
Want your peppers with a slight crisp? Add them in the last 30 minutes so they are colorful and crunchy.
Serve your chicken fajitas buffet style for a party with all your favorite toppings in bowls for guests to choose from.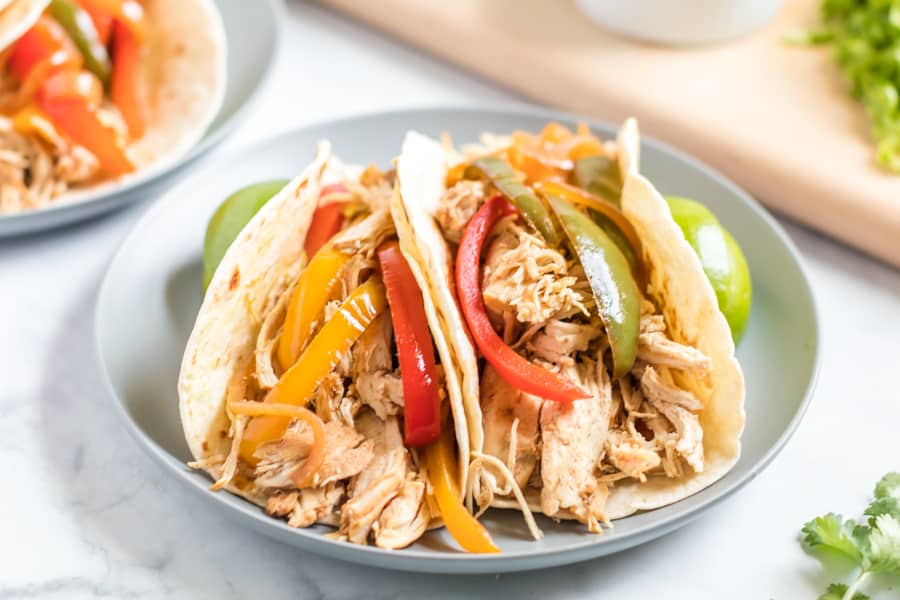 More Dinner Recipes:
PS. If you try this recipe, please leave a STAR rating in the recipe card below. I love your feedback! Connect with me on social media by following me on Instagram, Facebook, or Pinterest.
Recipe originally published March 16, 2011. Photos updated 2019.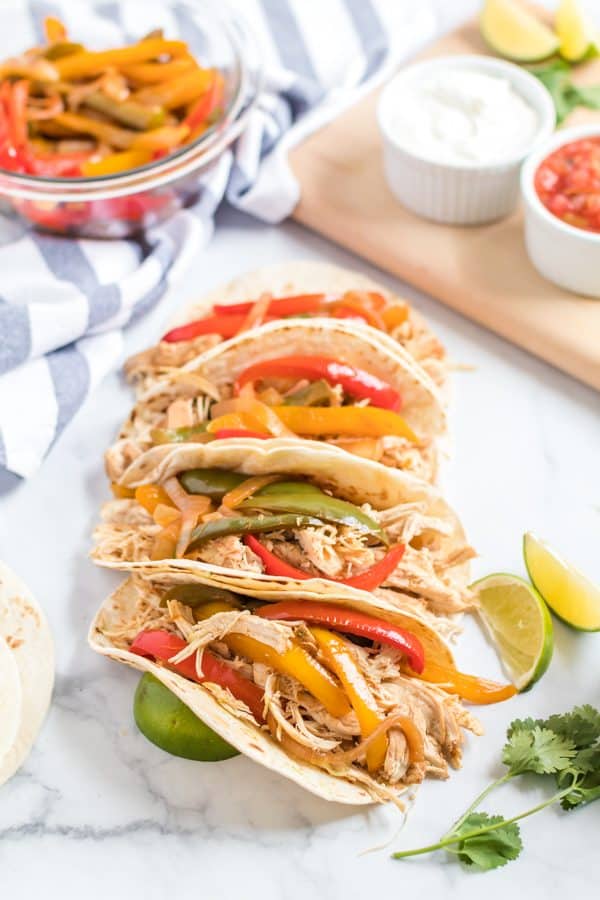 Easy Crockpot Chicken Fajitas recipe will be your dinner favorite. No marinade, no sauteed vegetables, the slow cooker seasons and tenders the chicken and peppers perfectly!