Creamy Italian Chicken Pasta recipe, packed with flavor from spinach, garlic, and sun dried tomatoes, your family will gobble this easy dinner right up!
Love easy chicken dinners? This Buffalo Chicken Pasta ranks as one of our reader's favorite recipes! And who can resist a plate of cheesy Chicken Tetrazzini??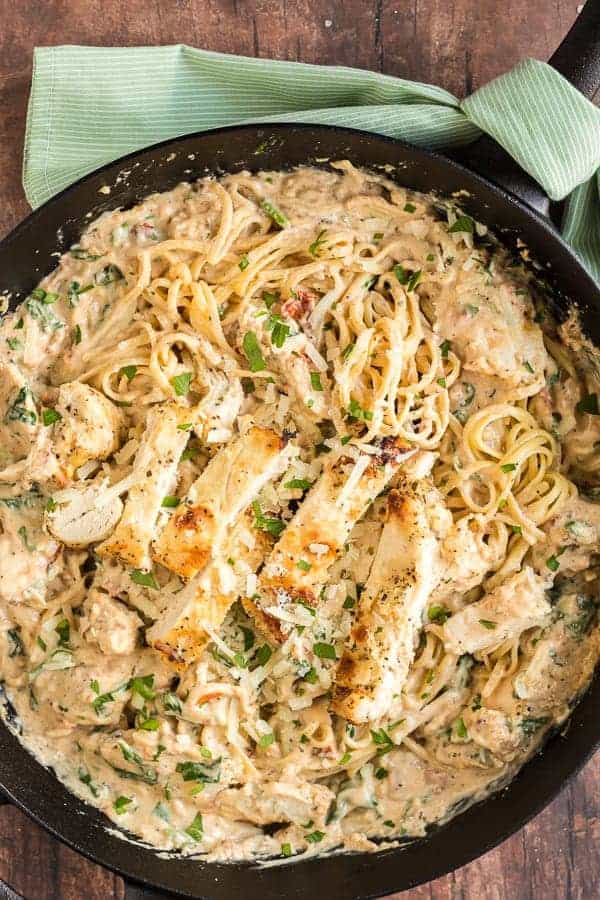 Why this Recipe is best
Much like my Tuscan Garlic Chicken Pasta recipe, you'll have tender chicken with a delicious, creamy tuscan sauce!
Restaurant quality, made at home!
Tender flavorful chicken
Creamy sauce
Made in a skillet for easy clean up!
Prep the Chicken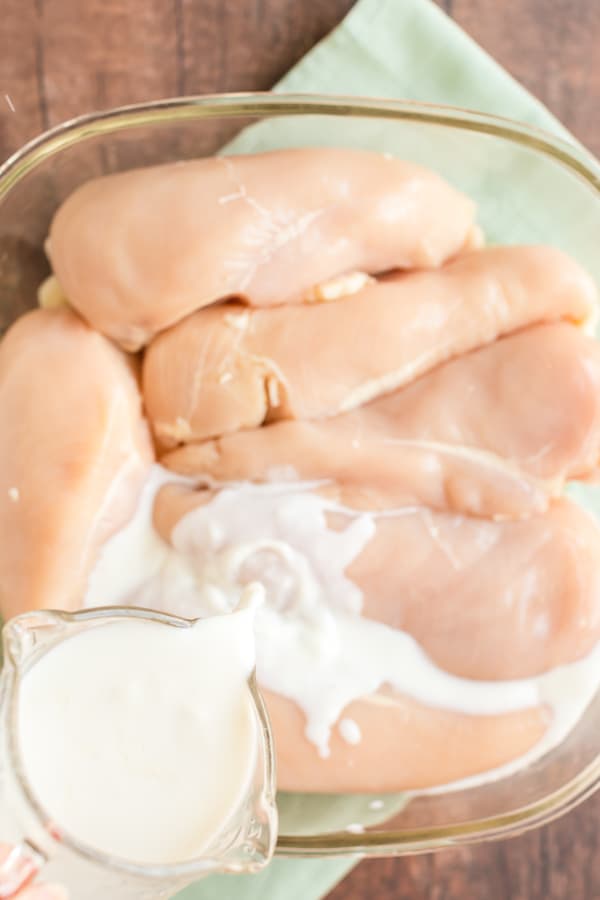 Place raw chicken breast into a bowl and pour milk and lemon juice over the top. Cover and refrigerate for 2-4 hours. You can also do this in the morning, so that it's ready at dinner time!
PRO TIP: Did you know that soaking the chicken in milk and lemon helps it become more tender for cooking?
Step by Step Instructions
The crust.
When ready to cook, create your Italian chicken crust. In a pie plate, or shallow dish, combine flour, salt, pepper, Italian seasoning, and powdered sugar.
Drain chicken from milk marinade and dip into the flour, coating evenly.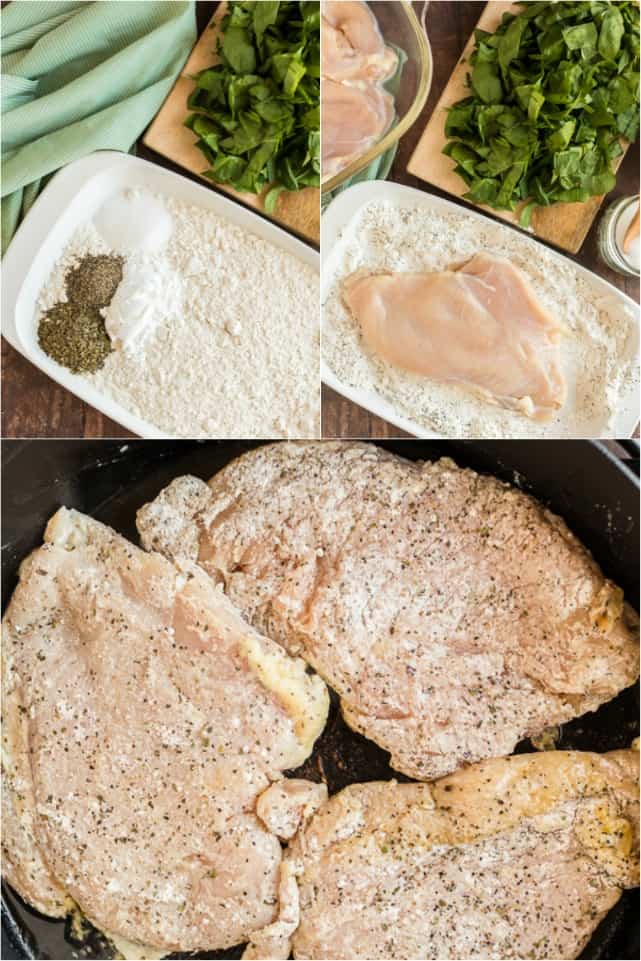 Heat a large skillet with olive oil over medium high heat. Place chicken strips in hot skillet for about 3 minutes on each side. Remove and place onto a foil lined baking sheet.
Bake the chicken.
Bake chicken in 350 degree oven for about 18-20 minutes.
PRO TIP: If you smash your chicken with a meat tenderizer before dipping in coating, this helps it become the same thickness throughout, resulting in more even cooking.
Make the pasta and sauce.
PRO TIP: Skip the additional olive oil and use the oil from the sun dried tomatoes instead. Adds a rich flavor to the sauce!
Sprinkle 1 Tablespoon cornstarch over the tomatoes, and mix thoroughly.
Add chicken broth, whisk until combined. Cook for about 5 minutes.
In a small bowl, mix remaining cornstarch with milk and whisk. Add to the broth and continue whisking while adding in the cream, spinach, salt, and pepper.
Turn heat to low and simmer until sauce thickens and spinach wilts. Add in parmesan cheese.
Stir and heat on low until chicken and noodles are done.
Serve in a large bowl and enjoy.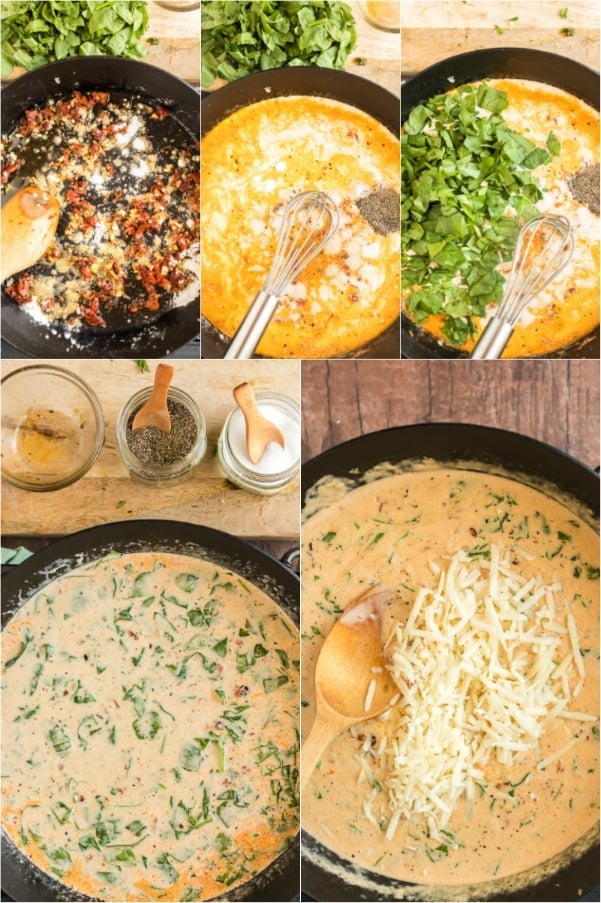 Serving Suggestions
This Garlic Bread is always a great side dish to pasta. Who doesn't love a fluffy, flavorful bread? Dinner rolls are great for sopping up that extra sauce.
This Italian Salad is loaded with fresh flavor and the homemade Italian Dressing is zesty and flavorful! The perfect pairing to your weeknight meal.
Looking for a fresh bowl of homemade applesauce for dinner tonight? This Instant Pot Applesauce recipe is super quick and easy!
Don't forget to finish the evening with a fresh batch of Rice Krispie Treats!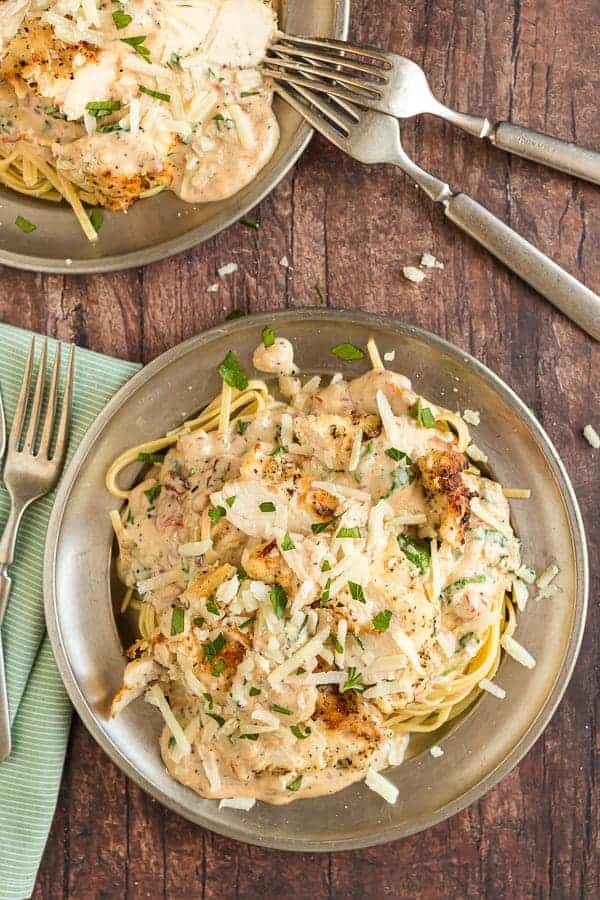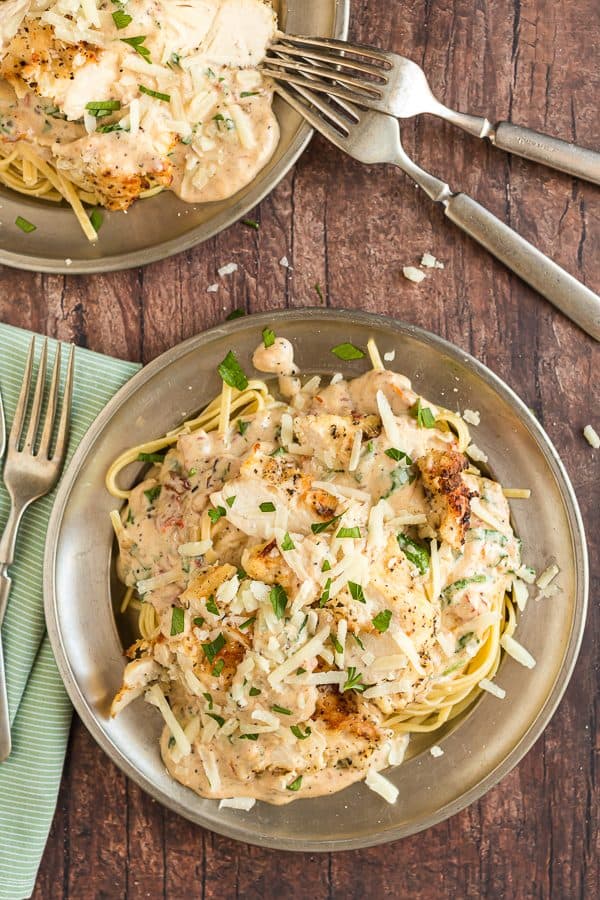 More Pasta Recipes
You'll love this tangy, Lemon Garlic Pasta as a side dish with your favorite chicken or fish! Or enjoy it as your main entree in under 30 minutes!
Cajun Sausage Pasta is a delicious 30 minute dinner recipe! Colorful, spicy, and easy to make, you'll want to put this dish on your menu!
Whether you're looking for an easy weeknight meal or a dish to share at a potluck, this Chicken Pesto Pasta is your delicious answer! Packed with flavor from the homemade walnut pesto, you'll love how tasty this easy dish is to eat!
Whip up this easy Instant Pot Spaghetti recipe packed with flavor and meatballs. Ready in minutes!
Creamy Italian Chicken Pasta recipe, packed with flavor from spinach, garlic, and sun dried tomatoes, your family will gobble this easy dinner right up!