Lemon Garlic Pasta is an easy recipe that's ready in 30 minutes! Serve this flavorful pasta as a side dish or main course topped with chicken or fish.
Love pasta? Our Creamy Italian Chicken Pasta is another delicious dish to add to your meal rotation. Pesto Pasta is another popular choice for the family dinner table.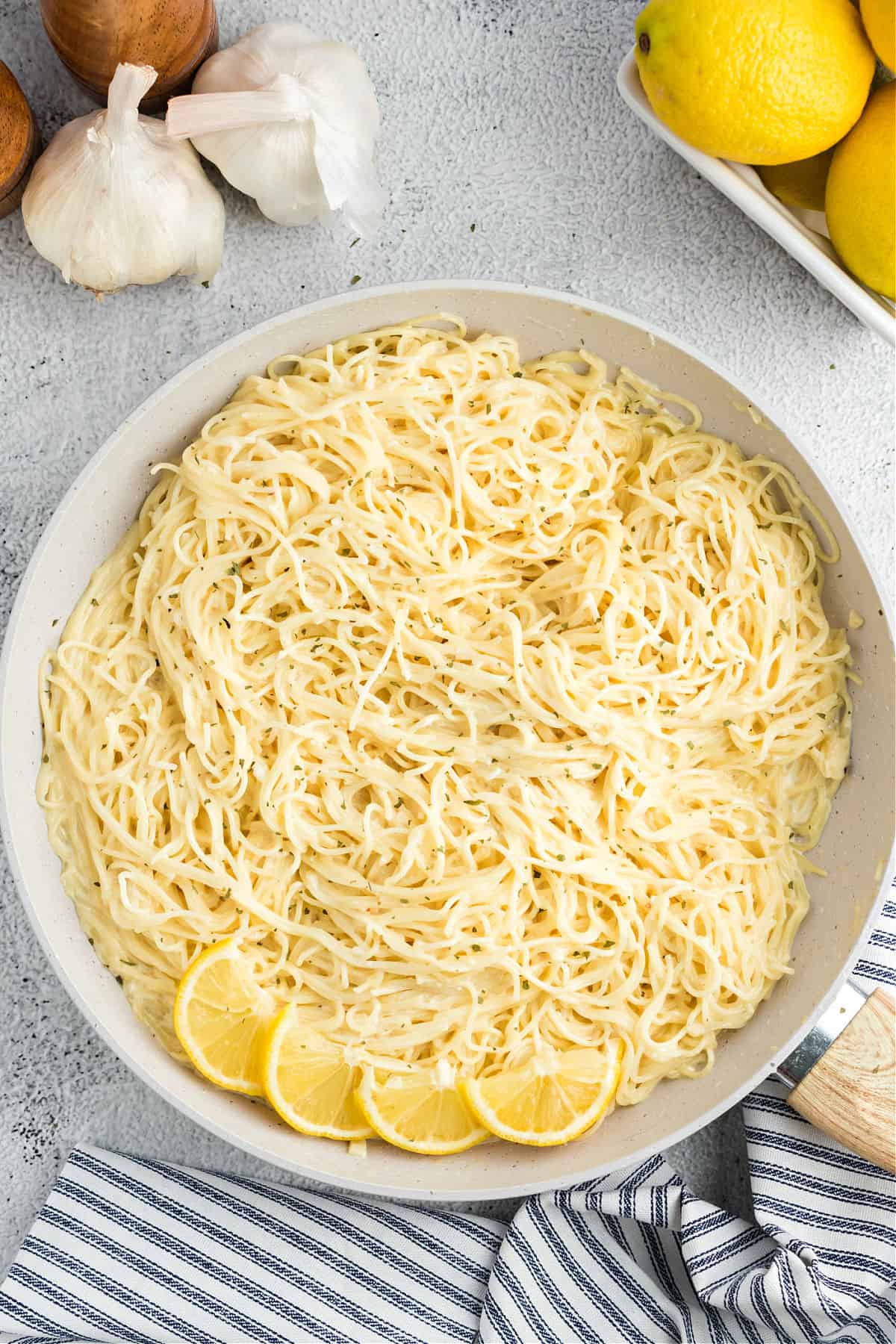 Why Make Lemon Pasta
I'm on the hunt for easy, delicious recipes that both vegetarians and carnivores enjoy. Today's Lemon Garlic Pasta did NOT disappoint.
This pasta has a creamy sauce, almost like an alfredo.
It's made with plenty of garlic–4 whole cloves!
A generous squeeze of lemon juice brightens up the flavors.
It is enjoyable on it's own, or serve it with some grilled chicken tenders. We love it with Parmesan Crusted Tilapia too.
This also would make a great side dish for your holiday ham dinner! Or pair with a Thanksgiving turkey for a feast anytime of year.
Ingredient Notes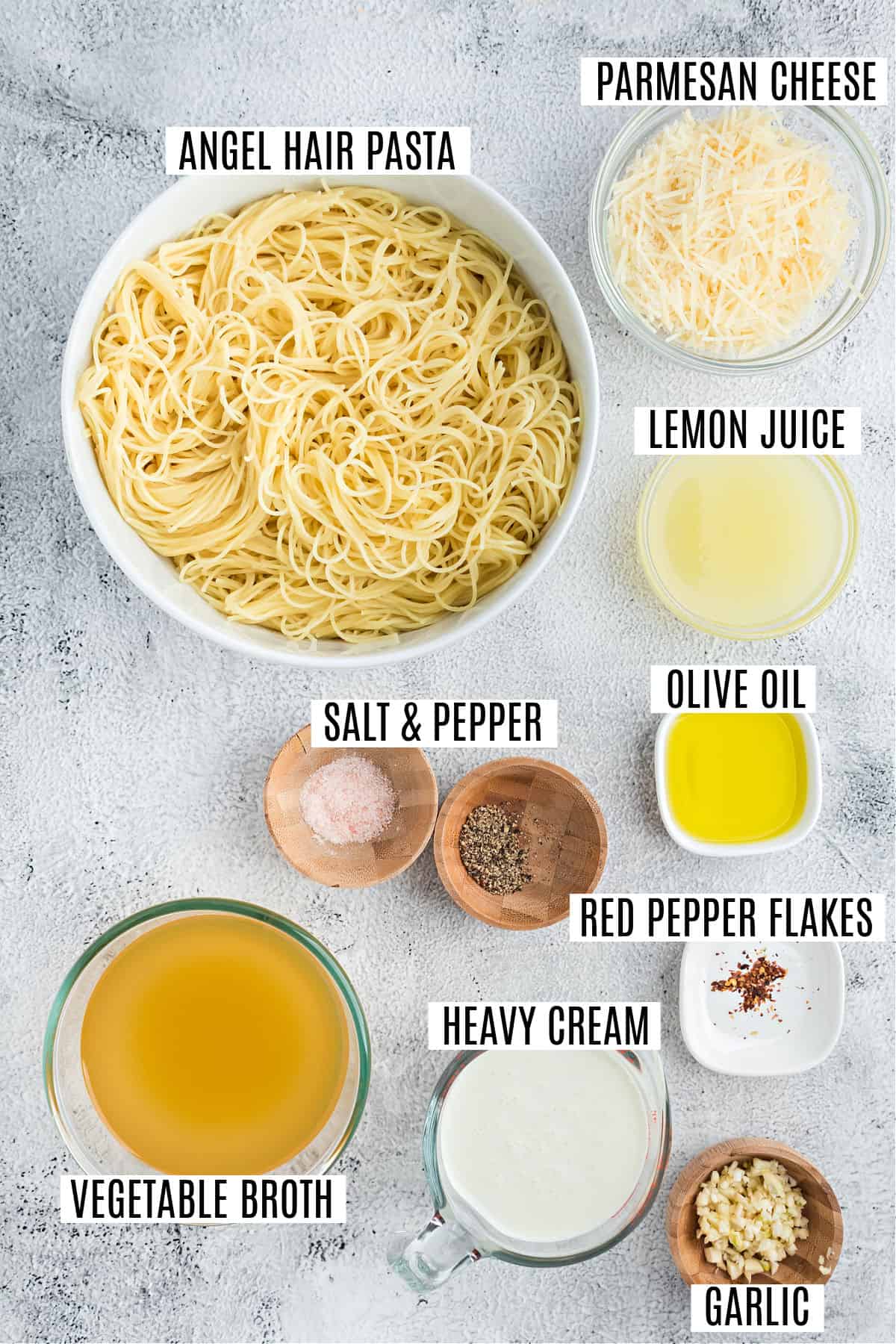 Pasta – We used angel hair but any shape of pasta can be used.
Garlic – This recipe uses fresh garlic cloves for ultimate garlicky flavor.
Lemon juice – Freshly squeezed is best. You will need two whole lemons to get enough juice for this recipe. Use our easy guide on how to zest a lemon (and juice a lemon) for best practices.
Vegetable broth and Heavy Cream come together to form the base for the creamy sauce.
Parmesan cheese – The tanginess of the cheese enhances the lemon flavor and adds even more richness to the sauce.
Red pepper flakes – A little spice gives the creamy hearty pasta dish an additional dimension of flavor that makes it even better!
Pasta Tips and Tricks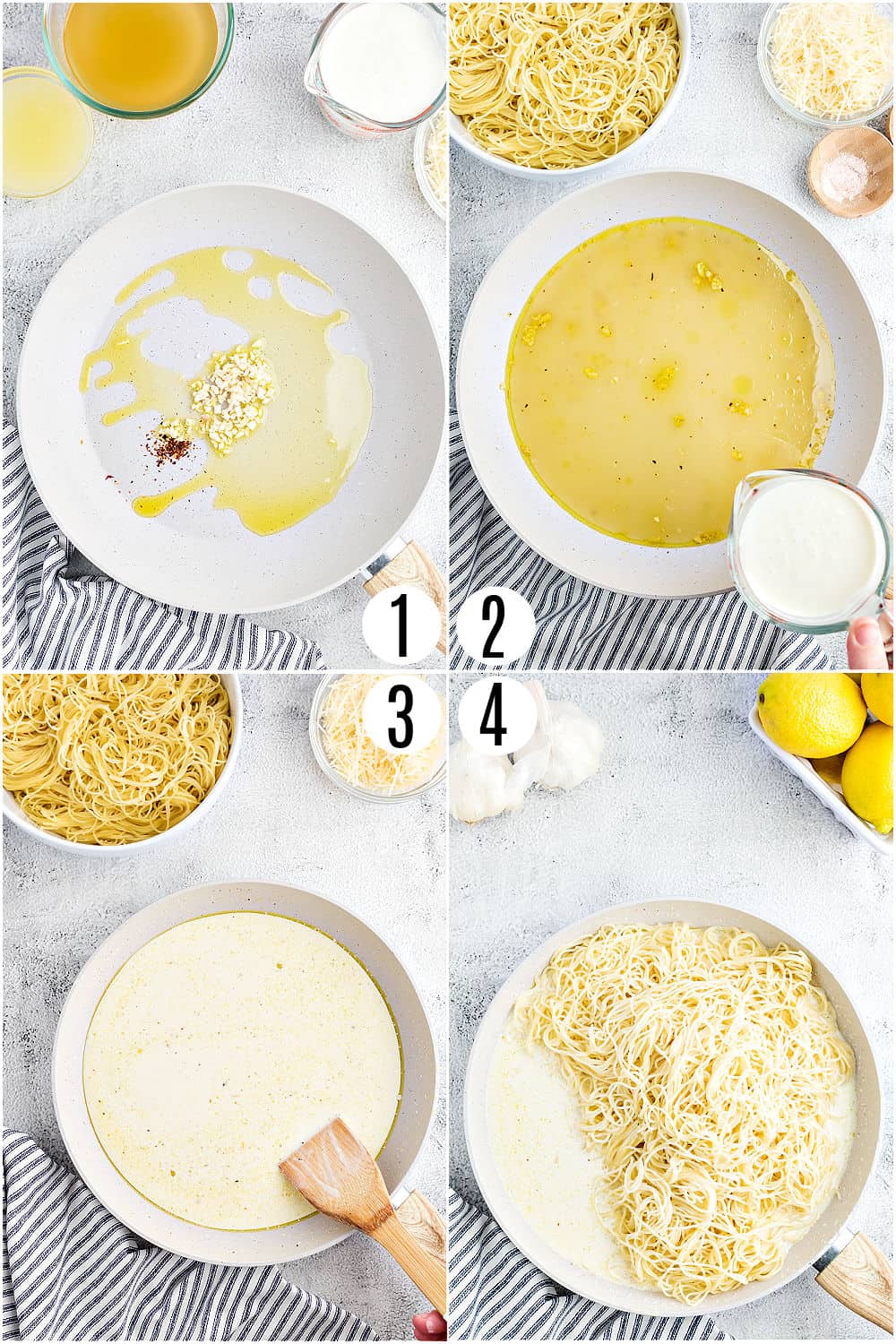 Use a big skillet to make the sauce in. Then, when the pasta is done cooking, you can pop it all into the skillet and serve from there! My favorite skillet is a 12-inch Stainless Steel version, so fantastic for so many recipes!
If you don't have vegetable stock (and you're not a vegetarian), chicken stock works great in this recipe as well!
Use a good parmesan cheese, preferably shredded (not grated). The tanginess of the cheese really shines in this pasta dish.
To add more or less "heat" adjust the amount of red pepper flakes. My family likes just a pinch, but if you enjoy things a bit spicier, add more!
When I'm out of fresh garlic, I always have a jar of chopped garlic in my refrigerator. Perfect in a recipe like this one. If you're using the garlic from a jar, you'll need about 2 teaspoons to equal 4 cloves of fresh garlic.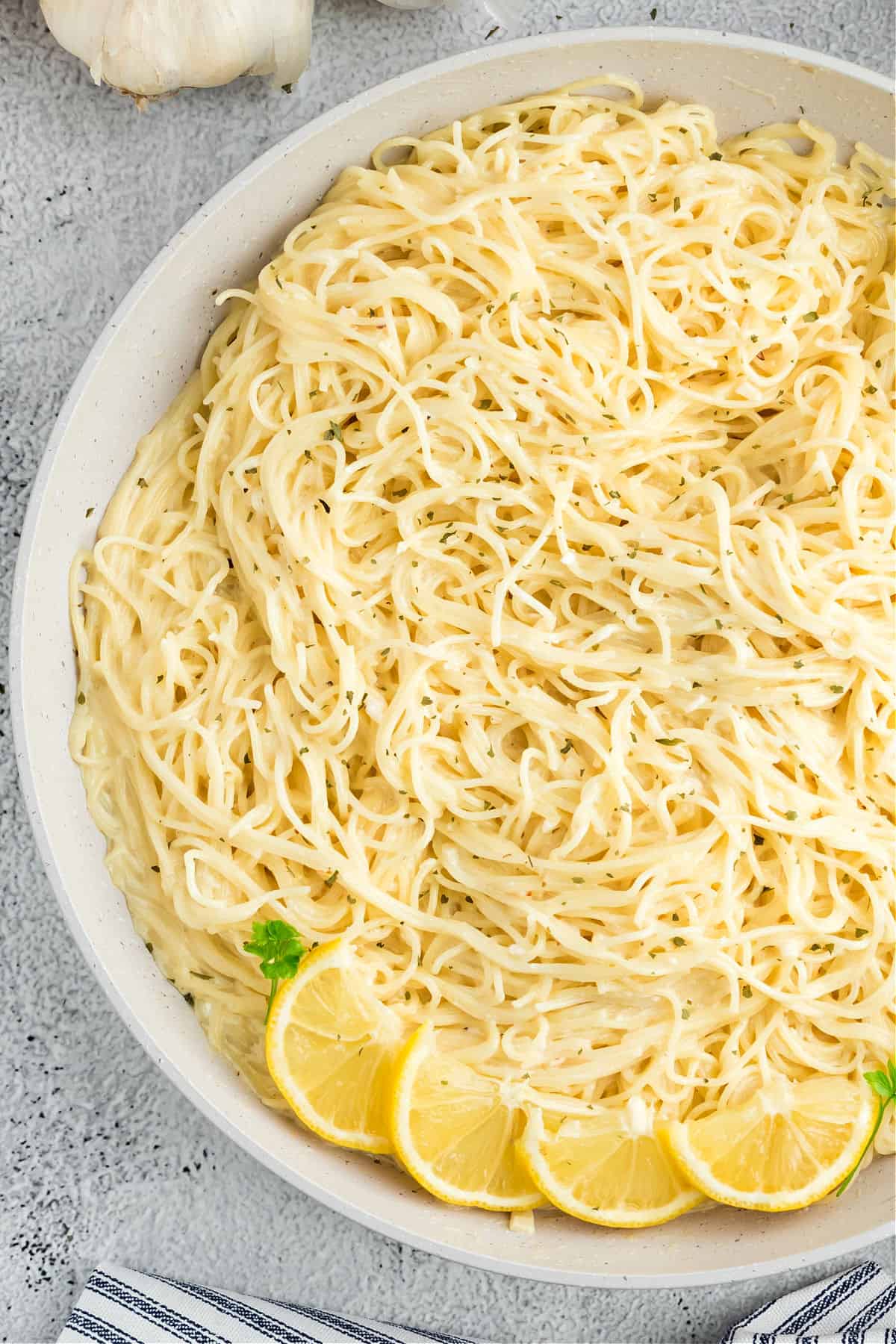 Recipe FAQs
How do I store leftover pasta?
Lemon Garlic Pasta should be stored in an airtight container in the refrigerator. Enjoy reheated within 3 -4 days.
What's the best way to reheat pasta with a creamy sauce?
If you've ever reheated creamy pasta before, you may have discovered the sauce can develop a sticky or gluey texture when reheated.
Thankfully there's an easy way to prevent this!
Sprinkle 1 -2 tbs of water over the pasta in a microwave safe dish. Cover with a paper towel and reheat until warmed through. Give it a good stir and enjoy.
Is this lemon garlic pasta vegetarian?
Yes, this pasta recipe is vegetarian, although not vegan because it contains lots of dairy! If you choose to add chicken or fish, the lemon garlic pasta would no longer be suitable for vegetarians.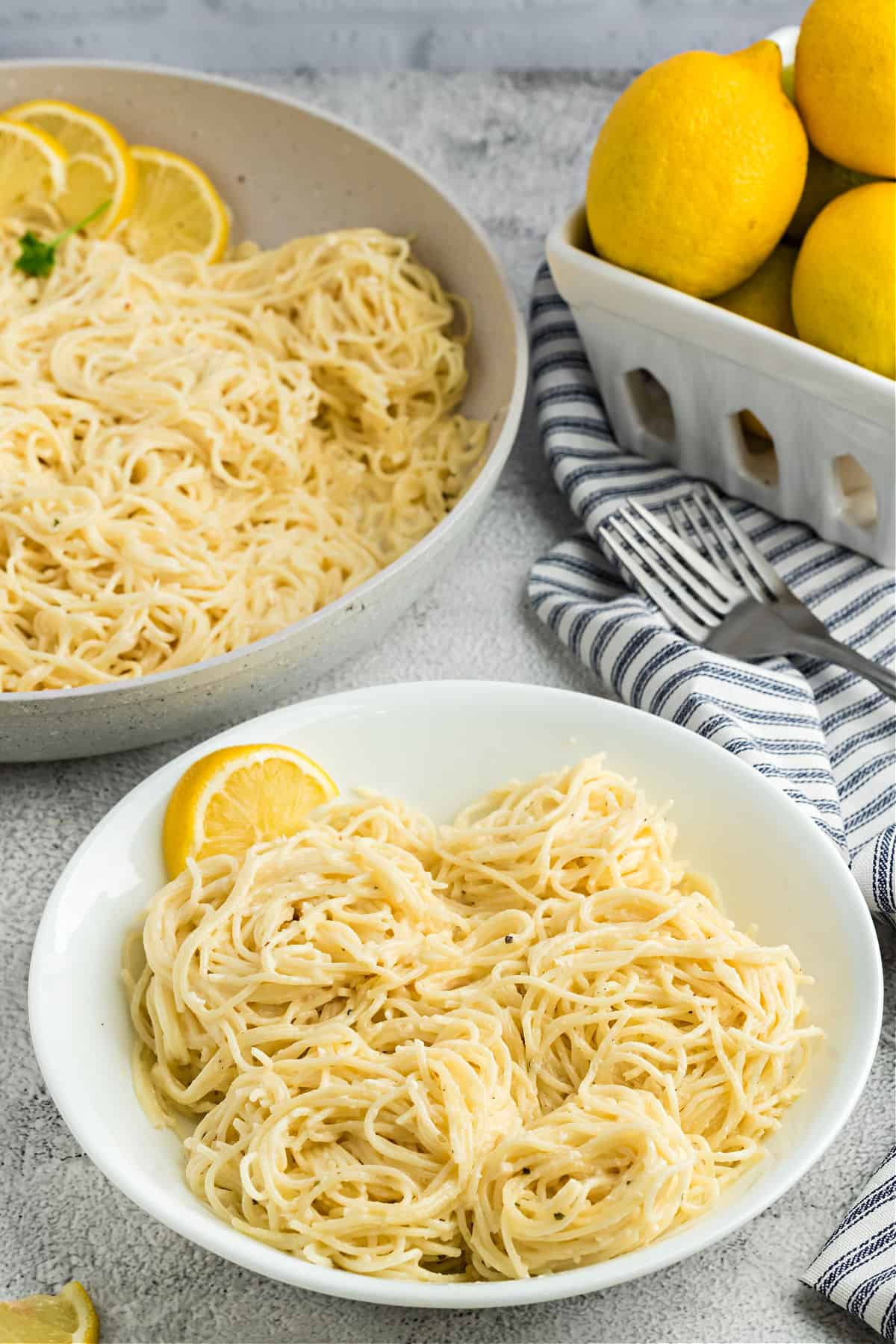 Creamy Lemon Garlic Pasta makes a delicious main course or side dish for any meal!