Looking for the perfect Tilapia recipe? This Parmesan Crusted Tilapia is the ideal combination of easy and impressive. Budget friendly, kid approved and down right delicious tilapia that anyone can make!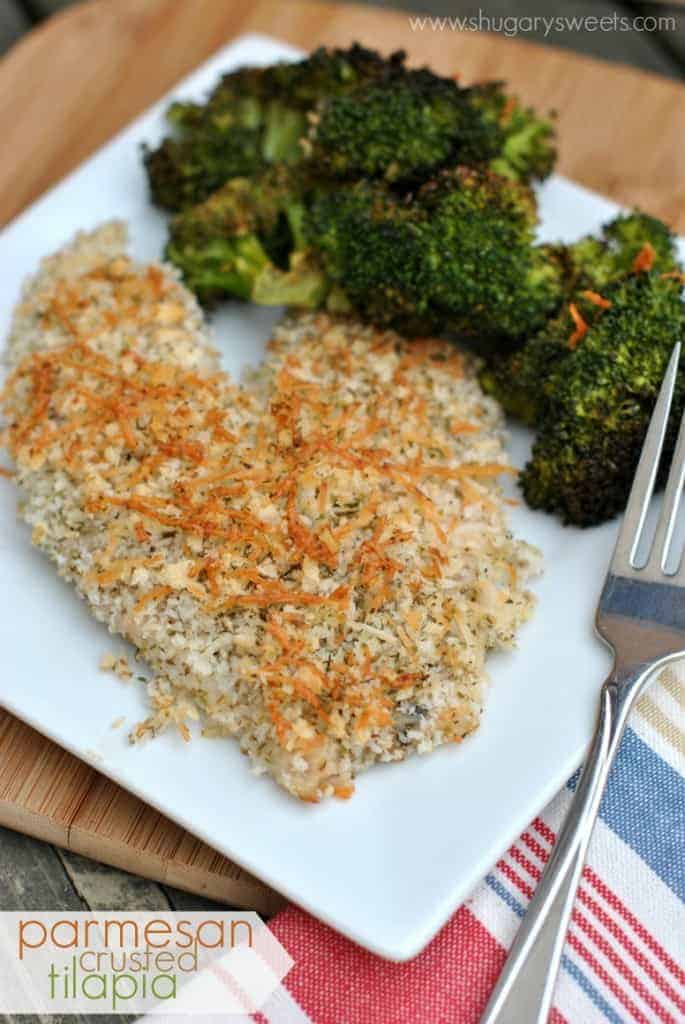 Why this Recipe Works
Parmesan Crusted Tilapia brings divergent tastes together! Tilapia is a budget friendly fish that holds up beautifully to all kinds of cooking methods.
I used to love fish sticks as a kid. (Who didn't?!) This crusted tilapia adds a delicious sophistication to the familiar battered fish taste. Kids who gobble up fish sticks won't bat an eye when you serve this Parmesan Crusted Tilapia instead!
If you love seafood but want to stretch your dollar, tilapia is an answer to prayer. With pantry friendly ingredients, this is a fish recipe you can make at a moment's notice.
Tilapia is also full of protein and good-for-you vitamins. But truth be told? I eat it for the taste.
Ingredient Notes
Tilapia. You'll need about 1.5 pounds of fresh fish filets.
Panko bread crumbs. These have a flakier consistency than other seasoned breadcrumbs. They make the tilapia extra flaky and light.
Parmesan cheese. Make sure to use freshly shredded parmesan. Do not parmesan from a shaker.
How to Cook Tilapia
For this recipe, you'll dip the tilapia filet in a bowl of egg whites first.
Then, dip the fish in a mixture of breadcrumbs, Parmesan cheese and Italian seasoning.
Place the Parmesan Crusted Tilapia filets on a baking sheet. Bake at 400 degrees until the fish flakes with a fork. This should take 12 to 14 minutes.
Tips and Tricks
Frozen tilapia. You can use frozen fish in this recipe. Just be sure to thaw it before hand.
Use fresh Parmesan. Buy blocks of Parmesan and grate it yourself for best flavor and texture.
Storing. Parmesan Crusted Tilapia is best enjoyed immediately after cooking.

Recipe FAQs
Can you freeze Parmesan Crusted Tilapia?
To make this a freezer meal, freeze the parmesan crusted tilapia BEFORE baking. When ready to cook, thaw the filets in the fridge and bake according to recipe instructions.
How do you make this in the air fryer?
I have not tested this recipe in the air fryer. If your air fryer has a baking setting, you can bake the tilapia at 400 F using either the baking pan or the air frying basket.
Can I substitute regular bread crumbs for panko bread crumbs?
I do not recommend substituting other bread crumbs for panko. Panko bread crumbs absorb more moisture to create a light and crispy coating on the tilapia.
You won't believe how easy is is to make an impressive Parmesan Crusted Tilapia!
If you love this parmesan crust, you may also love these Parmesan Oven Baked Pork Chops too!
Favorite Seafood Recipes