Looking for the perfect Tilapia recipe? This Parmesan Crusted Tilapia is not only delicious, but it's an easy, baked recipe too!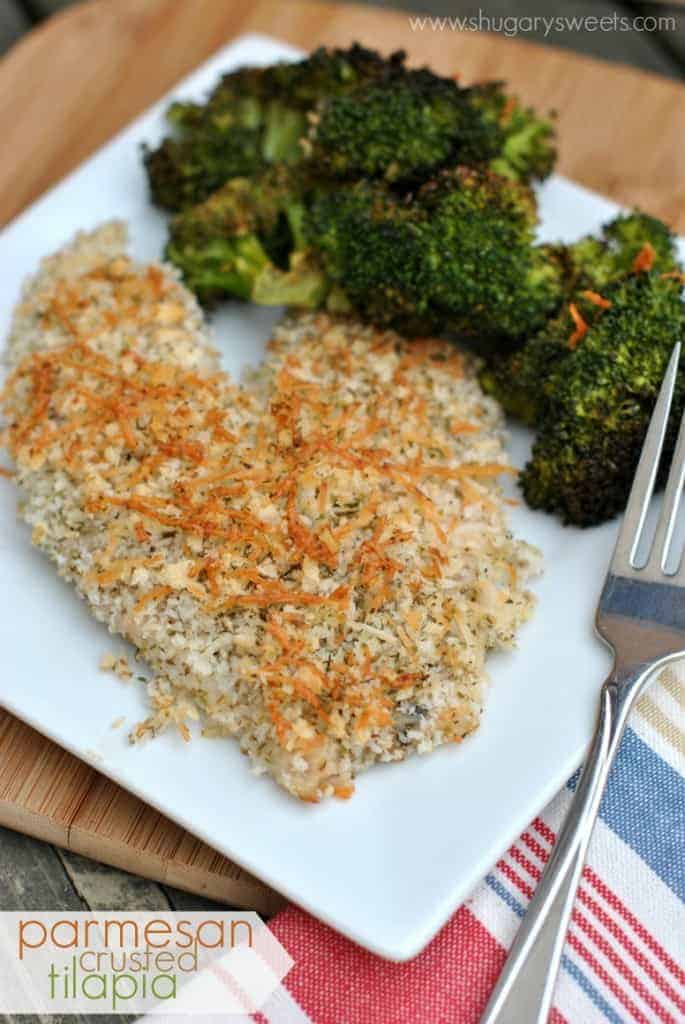 I'm getting a little more confident these days in my fish preparations. Yes. You read that right. Fish preparations. Such an odd sentence I wrote there….
Years ago making a fish dinner was an awful task. I never cooked it right, so I would end up buying some frozen prepped version (Gortons? hehe) and called it a meal.
But I can honestly say, I'm learning to love making fish. Tilapia and Salmon are usually our favorite varieties. And I'm very fortunate I know to have kids who will eat fish!
I mentioned earlier this week that I'm doing a 40 day lenten challenge of simplifying my home, by collection 40 bags of stuff (to donate or trash). So far it's going GREAT. Not sure if that's really a good thing or a bad thing, to know that my family has so much excess.
One of the other lenten challenges I am doing is 40 minutes of exercise for 40 days. This one is a bit trickier, obviously, cause it entails working out! Don't get me wrong, I don't mind exercising, I do it 3-4 times a week. But the challenge is to now do it 6 days a week. I'm quite the scheduler, and this is definitely interfering with my plans, haha!
But, in the long run, I know it's the least I can do to keep my body healthy.
Today's tilapia recipe is a bit lighter (yes, it's got cheese) but I baked it (not fried it)! Also, parmesan cheese provides about 11g protein and 1 g carbs. Not a bad ratio for this weight training girl! I've also learned that parmesan cheese is a low lactose cheese..which means it's friendly to our digestive system (enough about THAT)!
This "fish friday" recipe will keep you healthy and trim! ENJOY!
If you love this parmesan crust, you may also love these Parmesan Oven Baked Pork Chops too!
Connect with Shugary Sweets! Be sure to follow me on my social media, so you never miss a post!
Facebook | Twitter | Pinterest | instagram
Yield: Serves 5
Parmesan Crusted Tilapia
Ingredients
5 large tilapia fillets (about 1.5 lbs)
1 cup crunchy panko crumbs
1 cup shredded parmesan cheese
1 Tbsp Italian seasoning mix
1/2 tsp kosher salt
pinch of crushed red pepper
1 egg white
1 Tbsp water
Instructions
In a small shallow bowl, whisk egg white with water until frothy. Set aside.
In a second small shallow bowl, combine panko with parmesan cheese, Italian seasoning, salt and crushed red pepper.
Dip each piece of tilapia in whisked egg whites, then coat completely in parmesan crust.
Place on a foil lined baking sheet, repeat for remaining fillets.
Bake in a 400 degree oven for about 12-14 minutes, until fish flakes with fork. ENJOY
Notes
cooking time may vary depending on size/thickness of fish
Love Seafood? I've got some great recipes for you….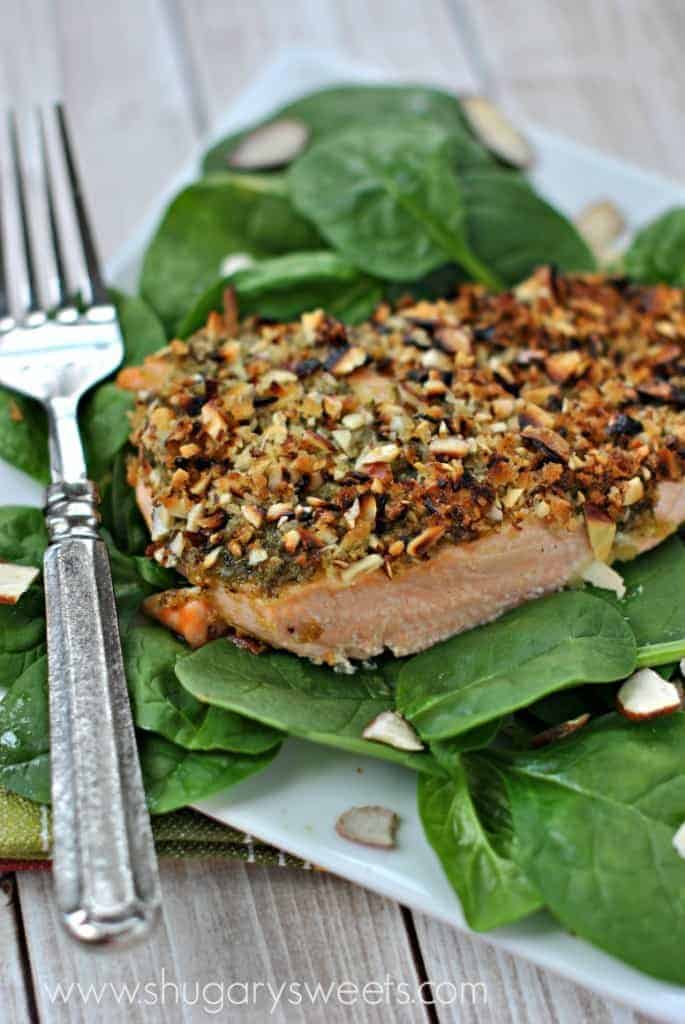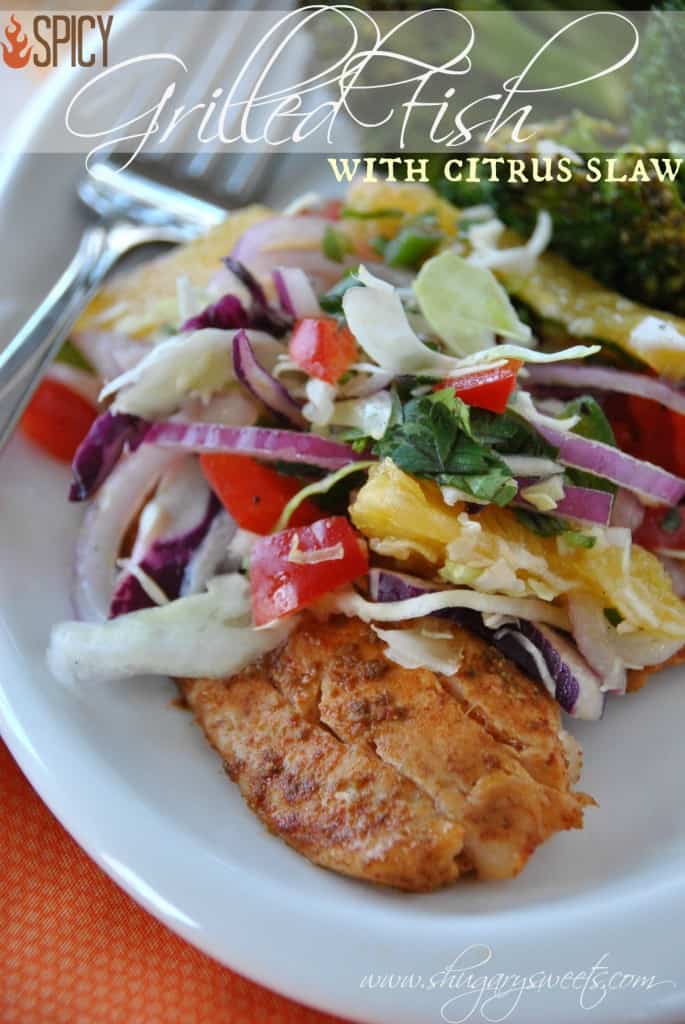 Spicy Grilled Tilapia with Citrus Slaw
Love Tilapia? Here are a few of my favorite recipes from my favorite blogs….