A delicious, heart healthy meal that not only is beautiful but tastes amazing. This Almond Pesto Salmon recipe uses fresh wholesome ingredients and is super easy to make!
Looking for more ideas for how to cook salmon? This Blackened Salmon Pasta Recipe is another winner!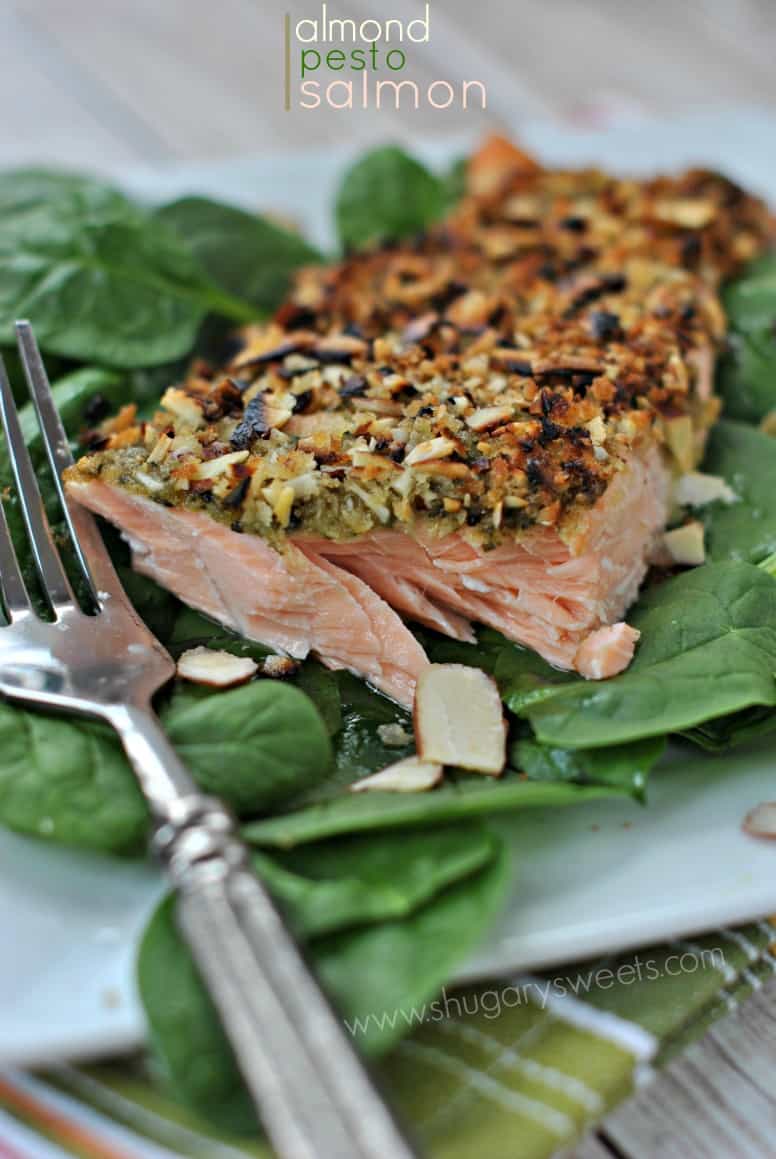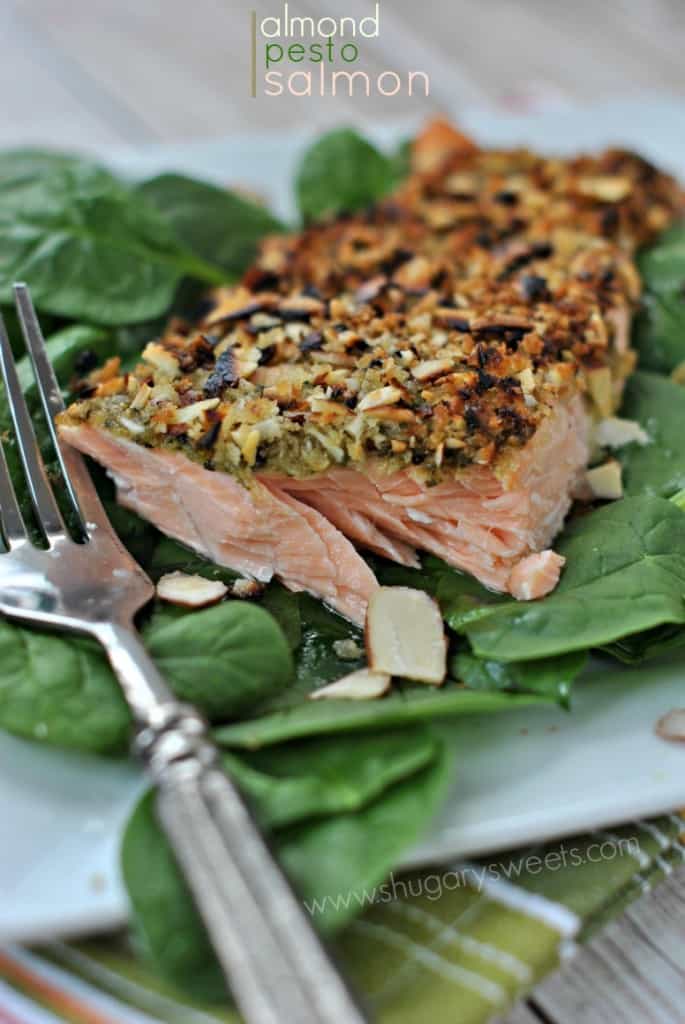 Why this Recipe Works
Almond Pesto Salmon is a 30 minute meal that looks and tastes like something from a gourmet restaurant. With heart healthy ingredients, you'll feel good about serving (and eating) this seafood dinner.
An almond bread crumb topping adds a delightfully crispy layer to the flaky salmon.
It's broiled with basil pesto for fresh summertime flavor.
Salmon cooks quickly so you can make this recipe any night of the week!
Ingredient Notes
Basil pesto. Use your favorite jar of store bought pesto or try this easy pesto recipe.
Salmon filets. Choose filets that are even in weight and thickness to ensure even cooking.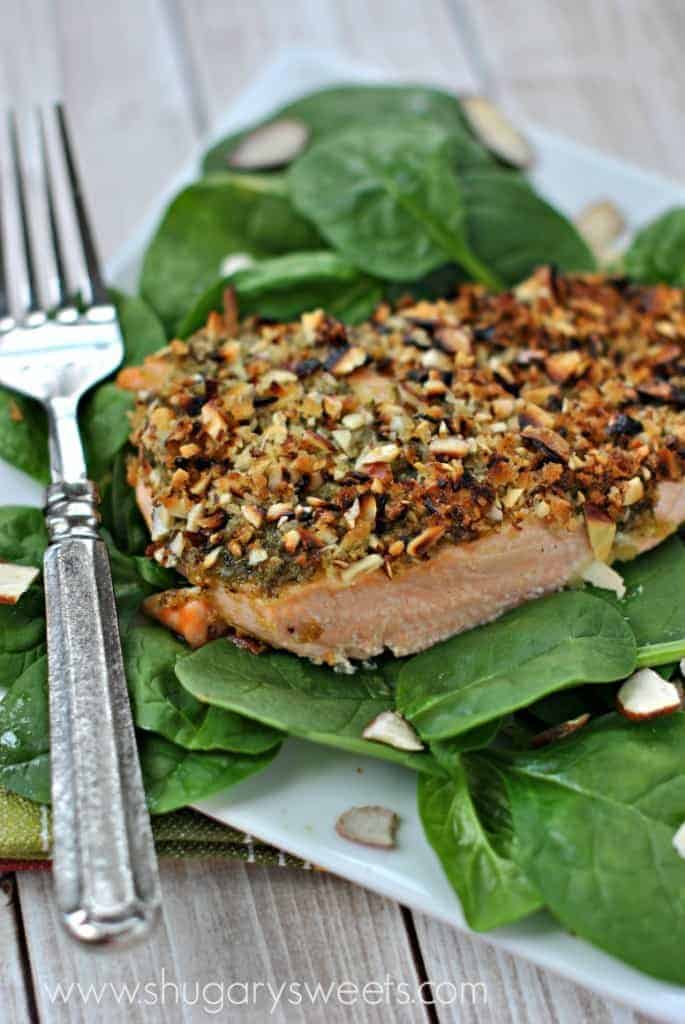 Add those nuts to some salmon fillets and a bed of spinach and you've got one amazing meal.
Easy Instructions
Turn on your oven's broiler. Combine sliced almonds with panko bread crumbs in a bowl.
Place your salmon filets on a foil lined baking sheet. Spread basil pesto evenly over the top of each filet.
Press a handful of the almond and breadcrumb mixture onto each piece of salmon. Lightly spray the tops with olive oil spray.
Place the baking sheet in the center rack of the oven. Broil salmon for 7 minutes.
Now, transfer the salon to the top rack to broil for another 2 minutes. Serve warm and enjoy.
Tips and Tricks
Salmon should flake easily with a fork when it's done cooking. You may need to add more or less broiling time depending on the size of your filets and your oven's broil temperature.
If your salmon has skin on it, place it on the baking sheet skin side down. You can also remove the skin from the salmon if preferred.
Almond Pesto Salmon is best enjoyed the same day it's made for freshness and crispiness!
Recipe FAQs
Can I use frozen salmon filets to make this recipe?
Yes, frozen salmon can be used. Thaw it in the fridge first!
I have a nut allergy. Can I make this without the almonds?
No, this recipe won't really work without the almond topping–and most basil pesto contains pine nuts making it not suitable for anyone avoiding nuts.
What goes well with Almond Pesto Salmon?
We serve this on a simple bed of spinach or other leafy greens for a light, healthy meal. This Cilantro Lime Rice would be a delicious side dish with the salmon too.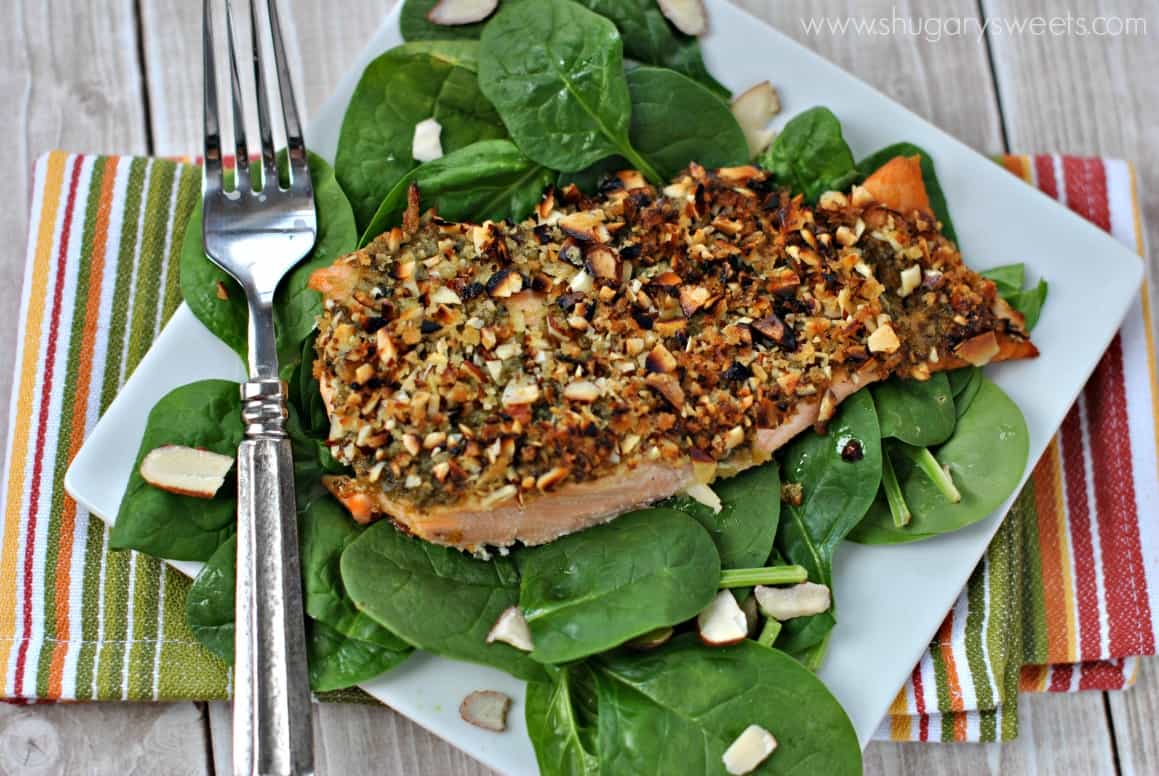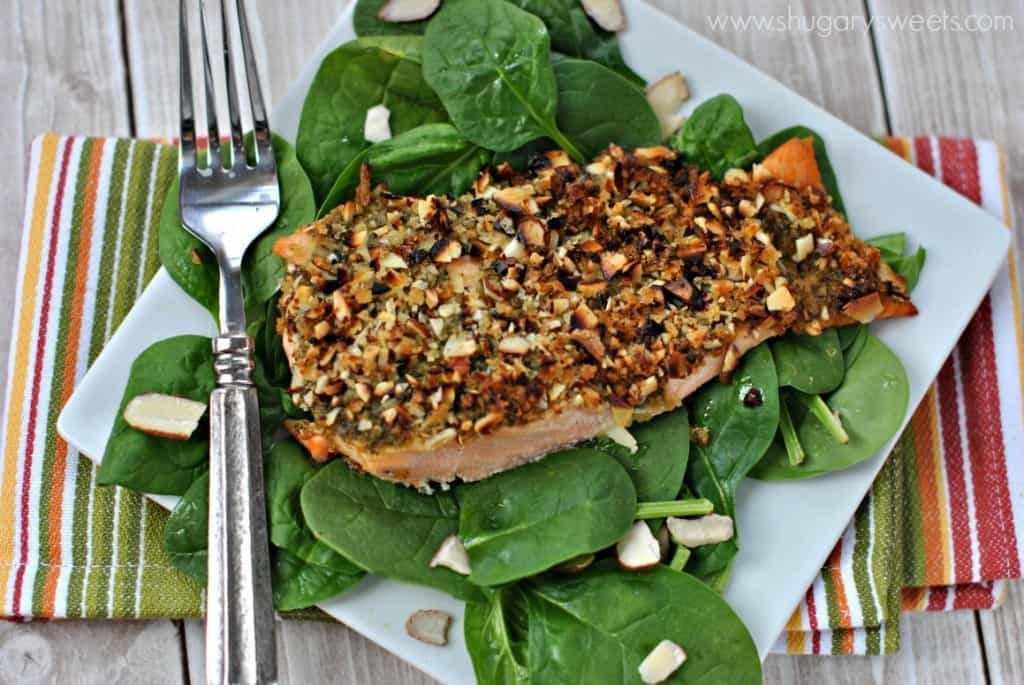 More Easy Dinner Recipes
It doesn't get any better than a meal that's as good for your body AND your taste buds. Flaky, heart healthy fish filets are at their best in this Crispy Almond Pesto Salmon recipe.