Easy, cheesy Baked Ravioli Lasagna Casserole Recipe. Serve up this comfort food for a quick, delicious weeknight dinner! Layered with cheese, frozen ravioli, and marinara sauce, this dinner is ready in minutes!
Love Italian dinners? Try the classic Baked Ziti recipe that readers rave about! Or give this easy Million Dollar Spaghetti recipe a try, and find out why it's so good.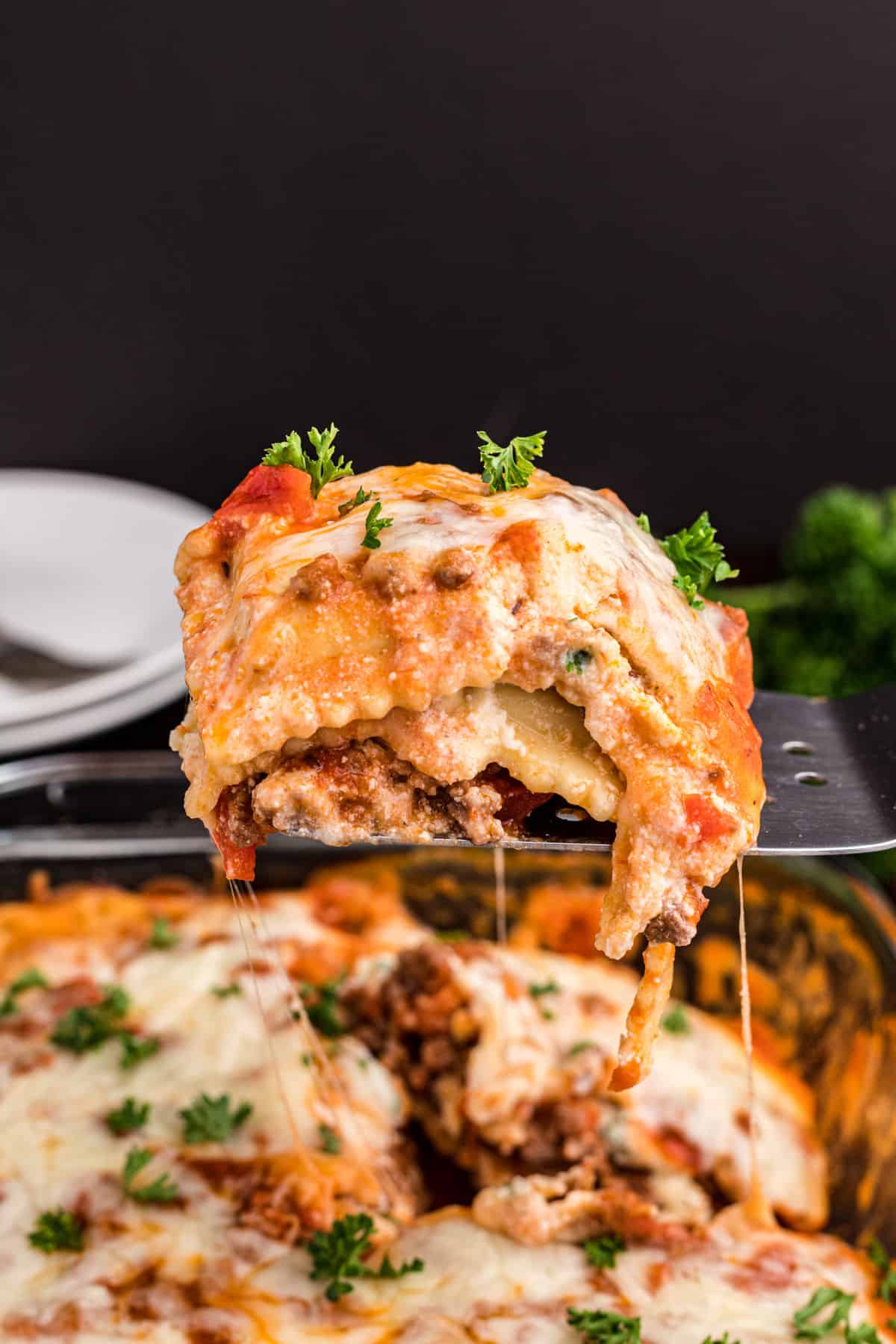 Dinner Shortcuts
Sometimes life calls for a dinner shortcut. Maybe you have it all together, and don't need shortcuts. Maybe not.
I find myself making spaghetti or chicken alfredo when life is crazy and I need a quick dinner. But, what I REALLY want is lasagna.
Cheesy, spinach and meat lasasgna. But even when made in the Instant Pot (like this quick lasagna recipe), there still isn't enough time in the evening…
Enter: easy, cheesy Ravioli Lasagna. Otherwise known as shortcut lasagna in our house!
Why ravioli lasagna you may ask
Simple. All the comfort food, with much less work. Plus, you can change up the flavor by using different noodles and sauce.
Cheese ravioli
Spinach ravioli
Artichoke ravioli
Alfredo sauce
Vodka sauce
Ingredient Notes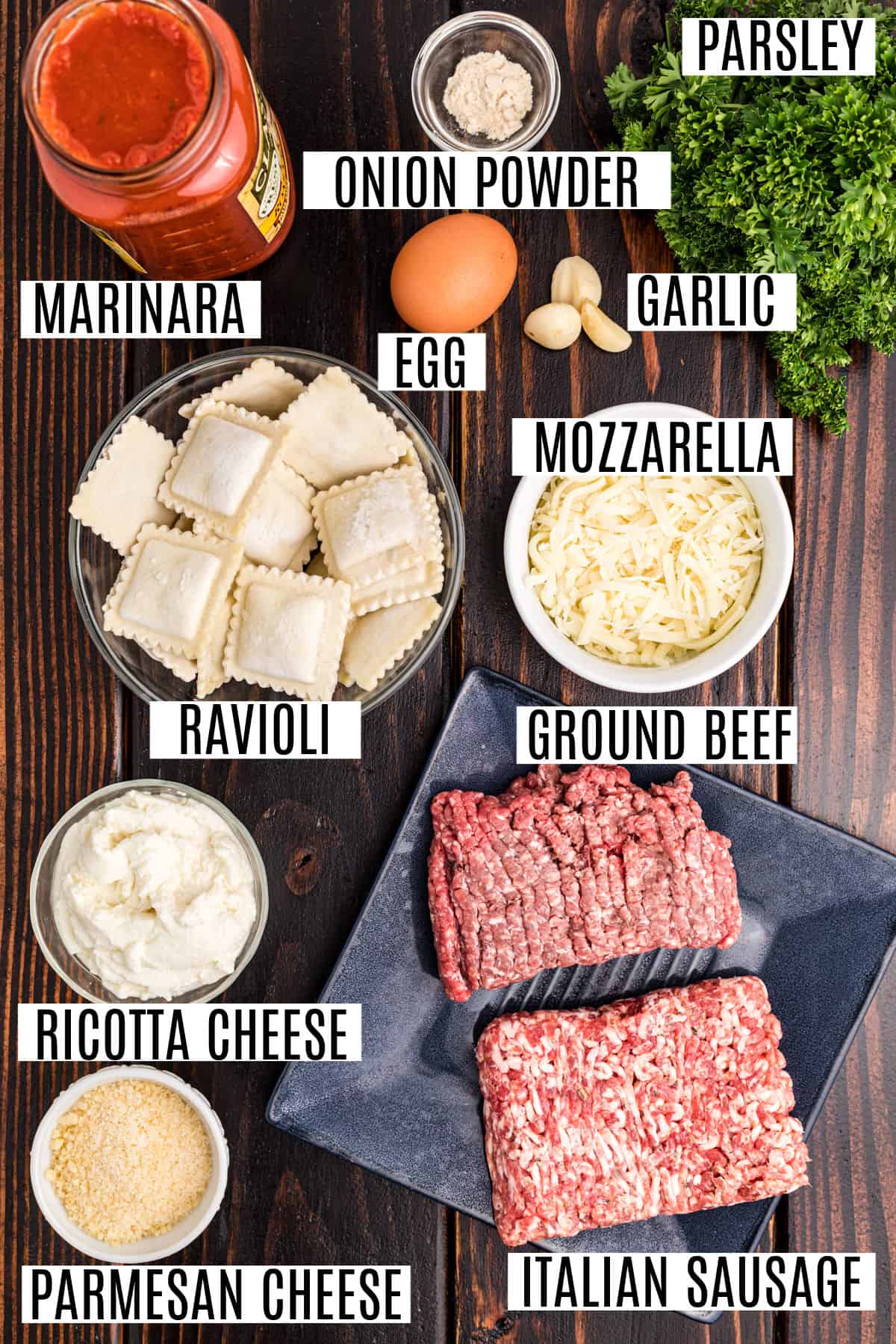 Today's recipe can be made with or without the ricotta filling.
Want to keep it simple? You can made this ravioli lasagna by layering 4 ingredients:
Marinara sauce (with meat in it)
Frozen Lasagna
Mozzarella cheese
Parmesan Cheese
Or, follow my recipe below by making it a little closer to the classic, with about an extra 5 minute step of mixing the ricotta cheese with an egg, parmesan, parsley, garlic, and onion powder.
I also cooked up some ground beef and Italian sausage to make it even more flavorful.
Go the extra step and use our homemade marinara sauce too!
Step by Step Instructions
STEP 1. Preheat the oven to 350 degrees F. Spray a 13×9-inch baking dish with non-stick cooking spray. Set aside.
STEP 2. Brown the ground beef and ground Italian sausage until browned, crumbling it as it cooks. Drain the grease from the pan. Add the marinara sauce
PRO TIP: Using the bulk Italian sausage WITH the ground beef adds a more authentic lasagna flavor. You can use just ground beef if you prefer.
STEP 3. In a small bowl, combine the ricotta, egg, parmesan cheese, parsley, garlic, and onion powder.
STEP 4. Assemble the casserole.
Spoon 1/3 of meat sauce in bottom of casserole dish
Top with a single layer of frozen ravioli
Spread 1/2 of the ricotta mixture over ravioli
Repeat sauce, ravioli, and ricotta
Finish with remaining sauce
Top with shredded mozzarella
STEP 5. Cover with foil and bake for 40 minutes. Remove foil and bake for an additional 10 minutes.
Remove from oven and sprinkle with fresh parsley. Let sit for about 5-10 minutes for serving.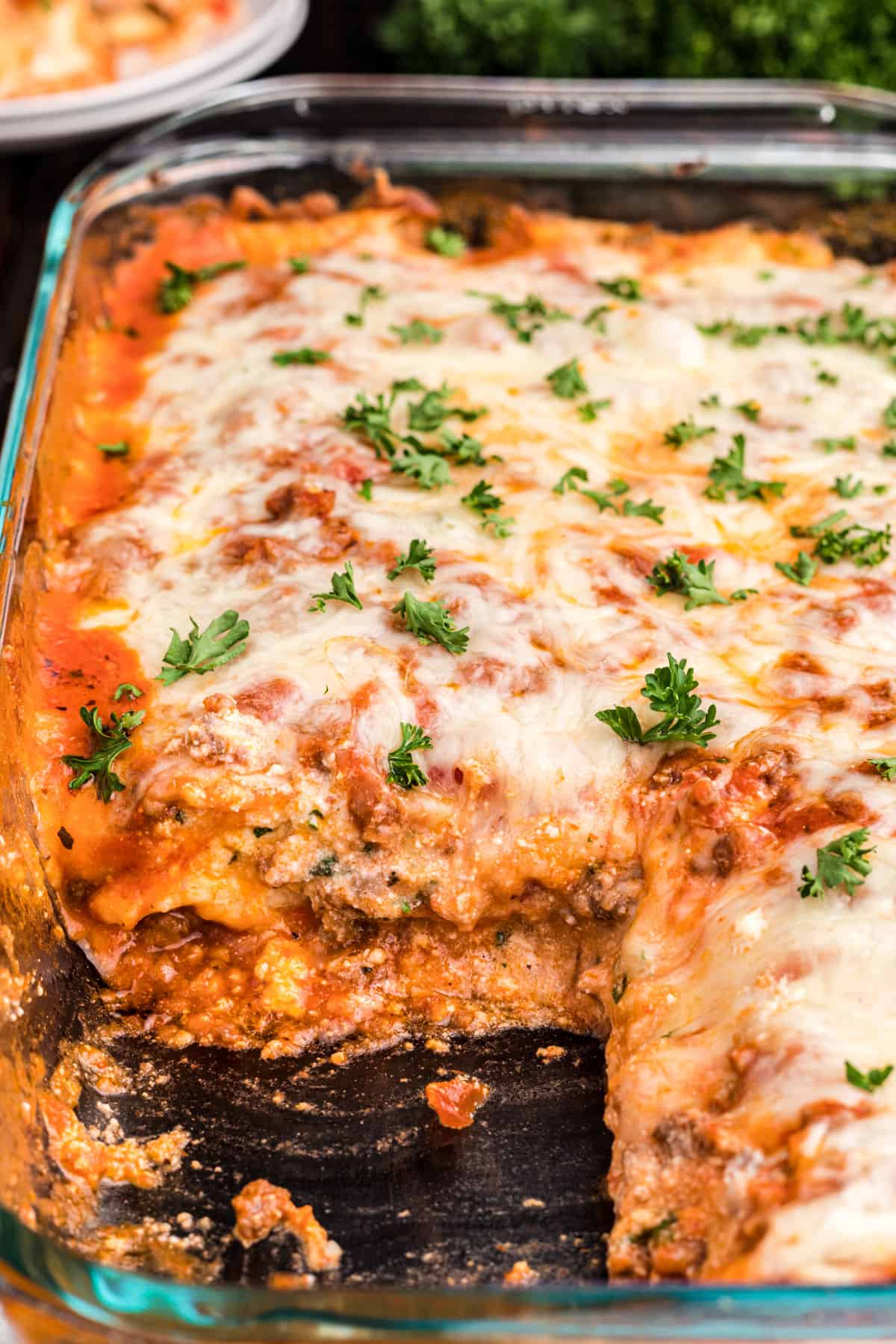 Recipe FAQs
Can you make Ravioli Lasagna in the crockpot?
Yes! First, cook the ground beef and sausage in a skillet until browned. Drain and mix with marinara sauce. In a slow cooker ladle half of the sauce into the bottom of a slow cooker. Top with half of frozen ravioli and half of the ricotta mixture. Repeat layers. Top with mozzarella cheese, cover and cook on high for 3 hours.
How do you reheat ravioli lasagna?
To reheat leftovers, cover with foil and bake in a 350 degree oven until heated through, about 20 minutes.
Can I use cottage cheese in place of ricotta?
Yes. Just swap in a 1:1 ratio.
Serving Suggestions
Complete your meal and serve a salad and bread with your lasagna.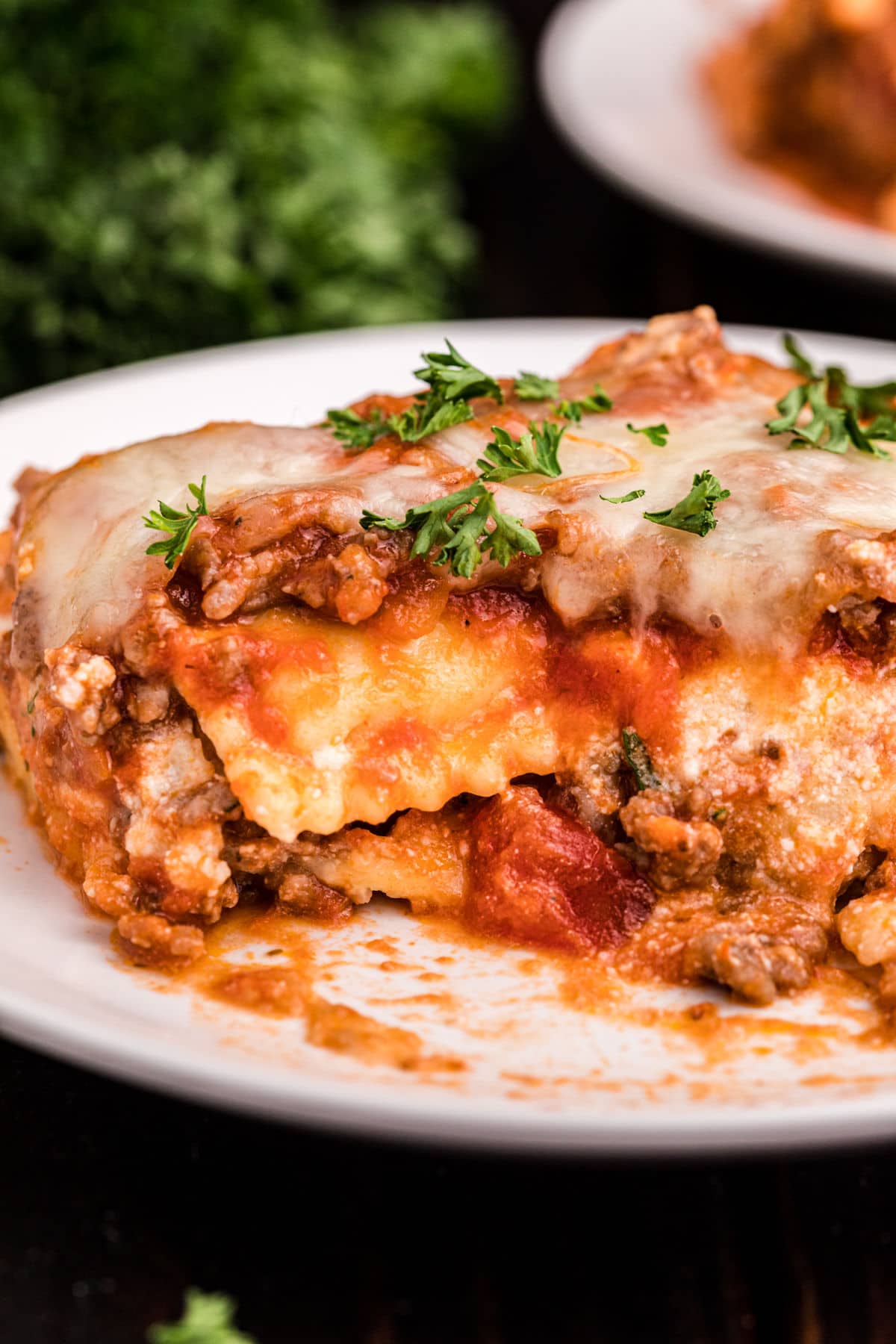 Easy, cheesy Baked Ravioli Lasagna Casserole Recipe. Serve up this comfort food for a quick, delicious weeknight dinner!