Hearty, delicious, and easy. This Instant Pot Lasagna recipe is perfect for weeknight dinners, but impressive enough for Sunday supper!
While I love cooking a traditional lasagna recipe, or lasagna soup, or Ravioli Lasagna, but, sometimes, especially on a weeknight, I need something a little easier!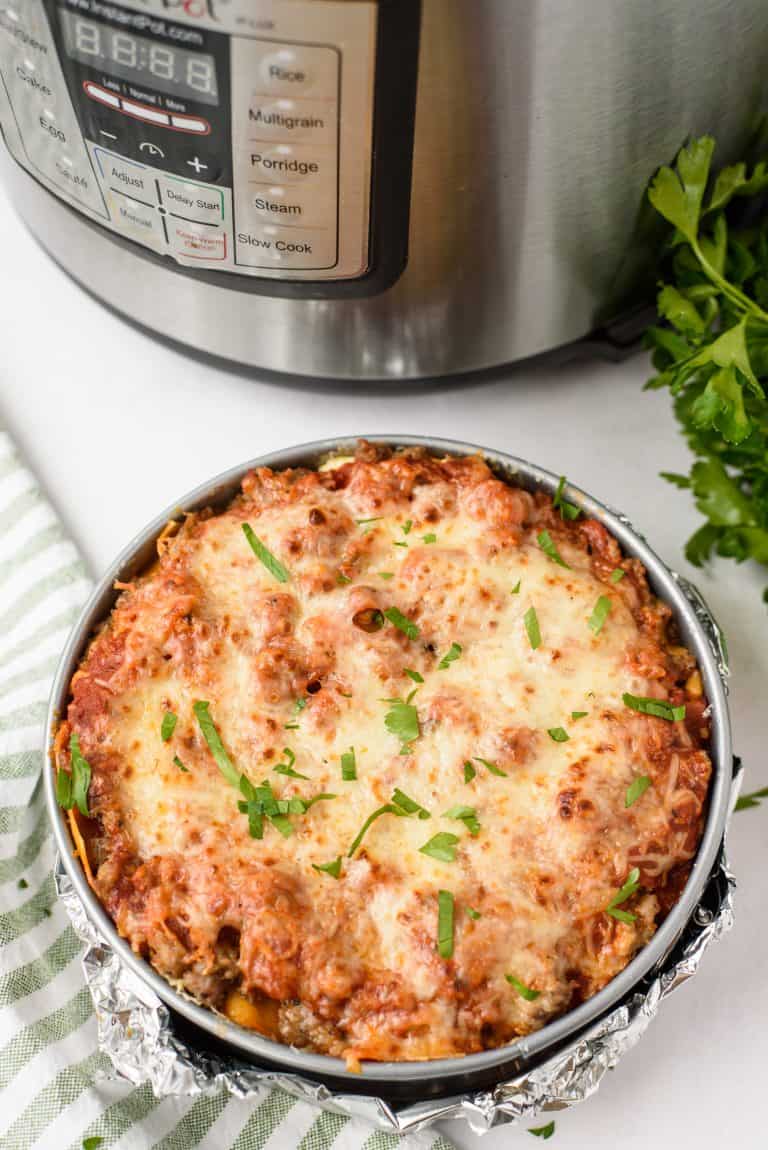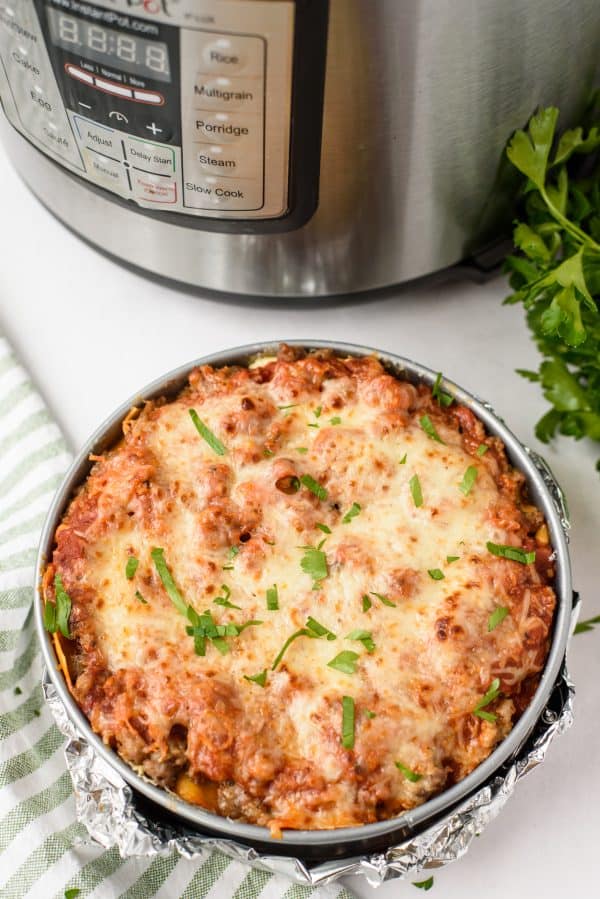 Why this Lasagna recipe WORKS?
Today's Instant Pot Lasagna is the answer. No longer is lasagna for the holidays only or Sunday Supper (although it certainly could be)!
Don't be alarmed at the ingredient list. While it is lengthy, it is probably all items you have on hand (well except maybe the ricotta cheese)
One pot cooking. You can brown your sausage or beef right in the Instant Pot (just make sure to wipe it out before pressure cooking)
FLAVOR. Using your favorite marinara sauce that has good flavor is a must. If it's a little bland, add extra garlic and Italian seasoning to the mixture.
Easy! Assembly of this lasagna takes about 15 minutes of prep time. And cooking in the Instant Pot is quick and easy too.

What you'll Need for Instant Pot Lasagna
TOOLS:
Instant Pot – I use the 6qt Duo in all my recipes! (<—-feel free to use my affiliate link)
Trivet– you can use the trivet that came with your Instant Pot, this silicone trivet works nicely too. OR, make a sling out of foil by folding a long piece of foil into thirds.
7-inch Springform Pan– You'll want to use a pan that fits into your pressure cooker! This 7-inch springform pan works well. I also have used this Fat Daddio's Cheesecake Pan, it has a "pushup bottom" instead of springform release. Both pans work great for Instant Pot Cheesecake too!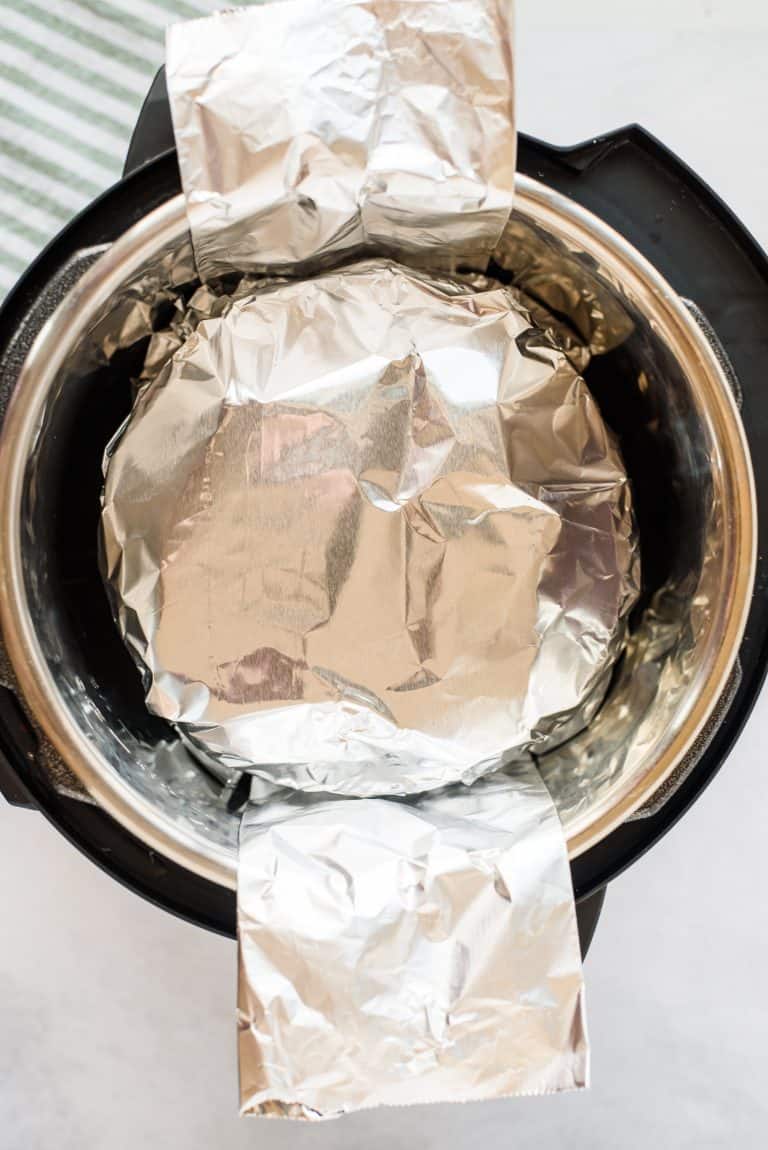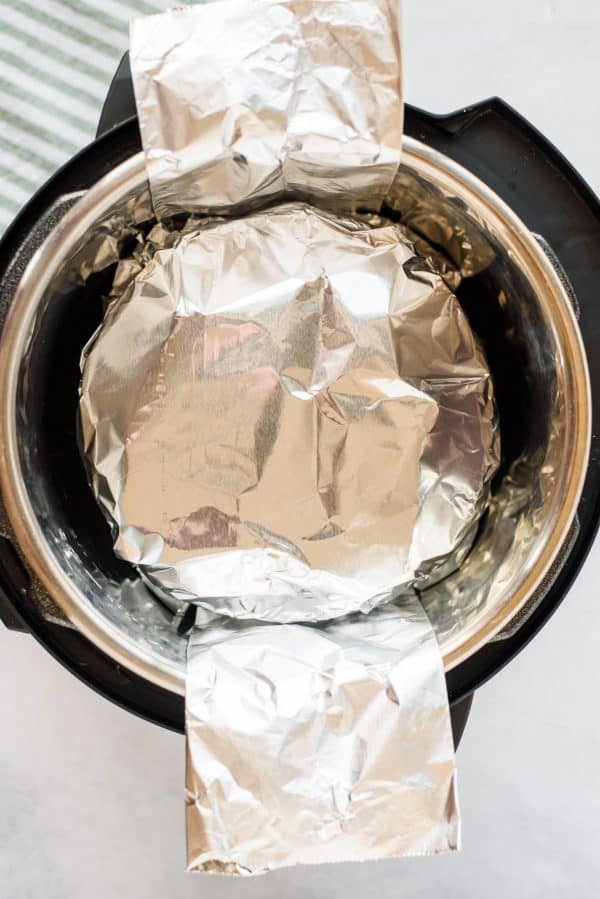 INGREDIENTS:
Meat: When it comes to pasta, I love using bulk Italian sausage to flavor the marinara. A combination of sausage and ground beef will also give great results!
Using the "SAUTE" function on the Instant Pot, you can cook your meat before assembling the lasagna. Be sure to wipe out the inside of the Instant Pot after browning the meat. You could also brown the sausage on the stove top instead.
Cheese: Lasagna is best when layered with cheese! Not only will you use mozzarella and parmesan cheese, but you'll make a mixture of ricotta cheese, spinach, egg, garlic, basil, salt, and pepper too that will layer into the dish.
For those of you who do not like ricotta cheese, you can substitute cottage cheese. If you like it creamy with no chunks, just pop it into a blender real quick!
Sauce: Store bought marinara or spaghetti sauce will work great with this recipe. Choose your favorite flavor!
Noodles: Lasagna gets it's name from the "flat noodle" used to layer in this pasta dinner.
One of my favorite aspects of this dish is that you can use the no-boil/oven ready lasagna noodles. There is enough sauce to cook them completely, and because it's pressure cooked, the moisture in the Instant Pot helps cook them too, without watering down the lasagna.
You CAN use regular lasagna noodles, but you will have to boil and cook them first (I haven't tried NOT cooking regular noodles).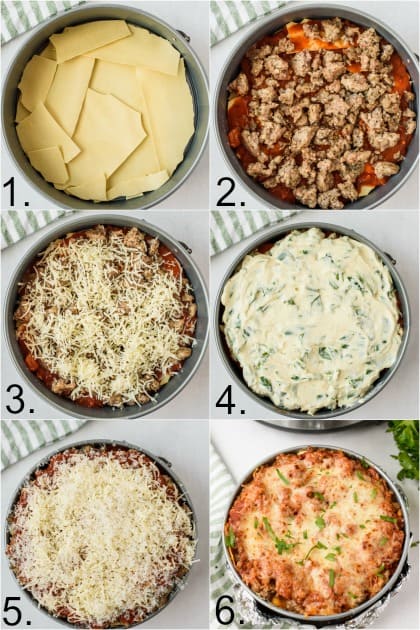 How to Make Lasagna in the Instant Pot
STEP 1. Cook the sausage. I cooked mine in the Instant Pot by using the "SAUTE" function. Brown like you normally would on the stove. When done, spoon meat to a paper towel lined plate and drain grease. Be sure to wipe the inside of the Instant Pot completely.
STEP 2. In a bowl, combine the ricotta cheese, fresh chopped spinach, egg, pressed garlic, fresh basil, salt, and pepper. Mix until combined. Set aside. Spray the bottom of springform pan with cooking spray.
STEP 3. Assemble and Layer.
Place a layer of noodles on the bottom of the pan. Use about 2-3 noodles, broken to fit.
Spoon 1/2 cup sauce over the noodles.
Top the sauce with HALF of the cooked sausage.
Sprinkle with 1/2 cup of shredded mozzarella cheese.
2-3 noodles, broken to fit.
1/2 cup sauce
ALL of the ricotta mixture
Remaining 2-3 noodles, broken to fit.
Remaining HALF of the cooked sausage.
1/2 cup sauce
1/2 cup mozzarella and all the parmesan cheese
STEP 4. Pressure Cook.
Add one cup of water to the bottom of the Instant Pot, and place the trivet in the bottom.
Cover the top of the springform pan completely with foil and lower into the Instant Pot to rest on the trivet.
Lock the lid in place, make sure the valve on top is set to "SEALING." Cook on HIGH PRESSURE for 25 minutes.
When cook time ends, allow to naturally release for 10 minutes, before opening the valve and releasing pressure.
Remove the pan using the sling and remove the foil over the pan. Allow lasagna to rest an additional 10 minute before removing the springform pan.
STEP 5. Slice and Serve.
After lasagna has rested, remove the springform pan.
Slice and serve. ENJOY.
**If you prefer a browned top, place under the broiler for a few minutes while still in pan.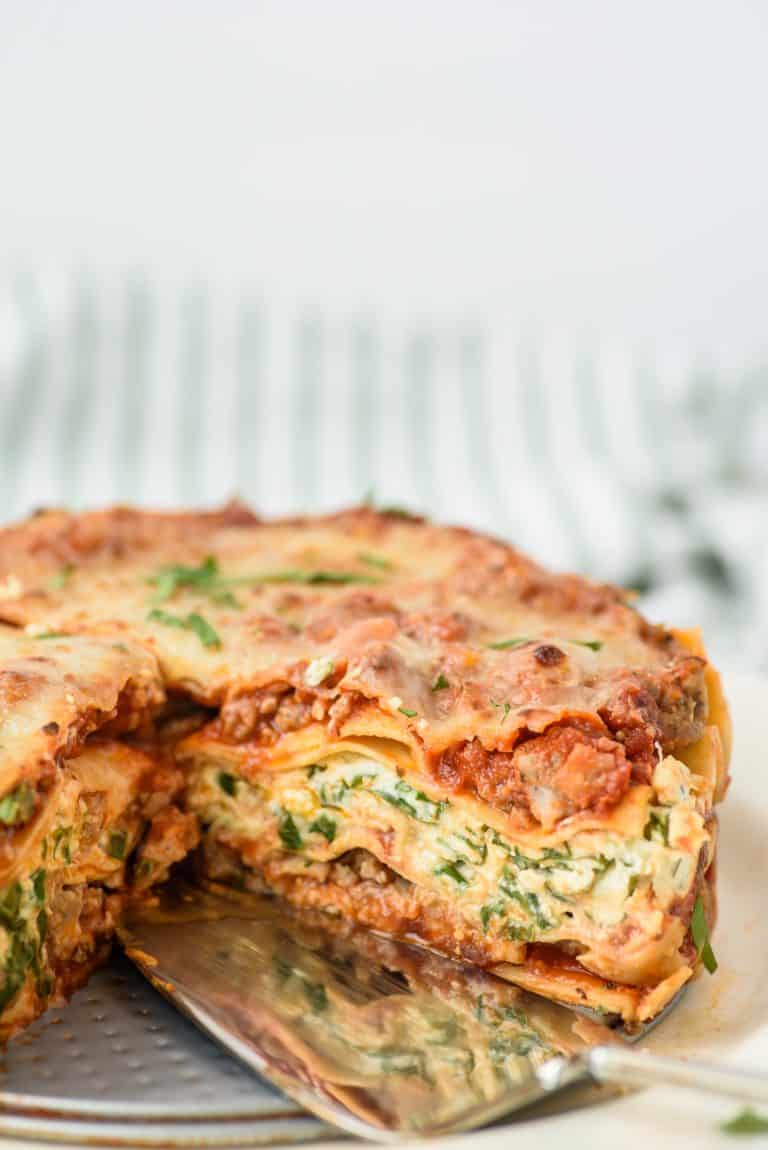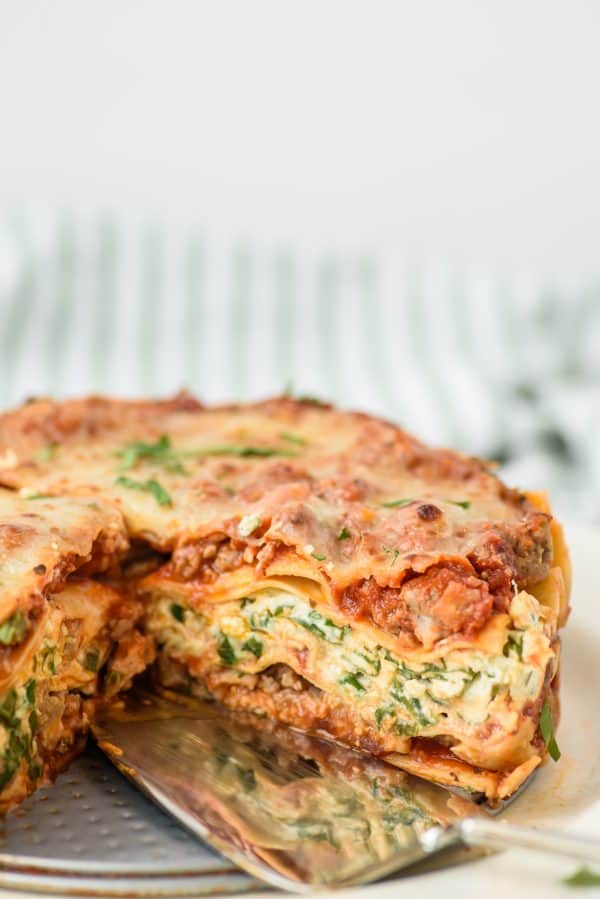 Can you freeze Instant Pot Lasagna
YES! There is a reason the frozen food section at the grocery store is stocked with lasagnas. They freeze well!
After cooking and cooling the lasagna, place in a freezer safe container or wrap completely in parchment paper then aluminum foil. If you have extra pans, you can even freeze IN the springform pan (wrapped in foil).
Thaw lasagna in refrigerator overnight. Heat in oven or microwave to serve.
What to Serve with Instant Pot Lasagna
Make this easy instant pot lasagna recipe and serve it with a big Italian Salad -like you would get at Olive Garden!
Don't forget the garlic knots.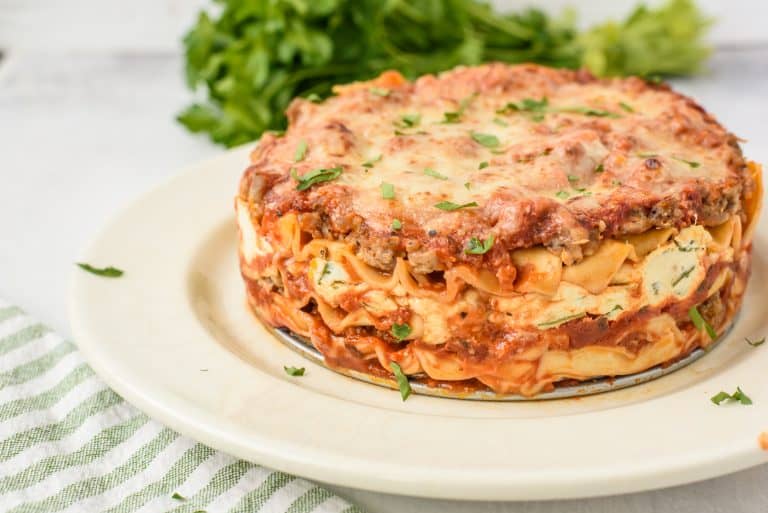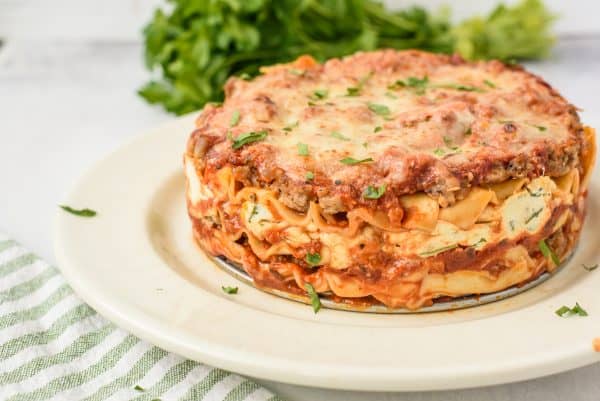 Hearty, delicious, and easy. This Instant Pot Lasagna recipe is perfect for weeknight dinners, but impressive enough for Sunday supper!