This Instant Pot Barbacoa Beef recipe is guaranteed to be the highlight of taco tuesdays! Serve this fork tender, smoky, spicy beef in a burrito bowl or on a tortilla!
Beef Barbacoa is one of my husband's favorite dinners. In addition to pot roast and chicken tetrazzini it's one of the top 3 recipes he requests!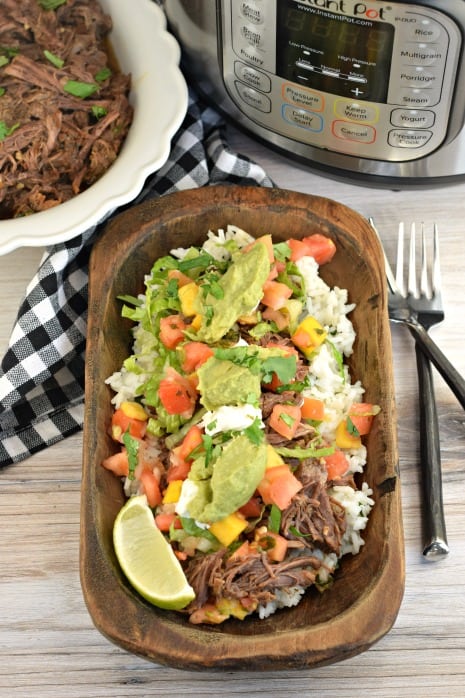 What is Barbacoa Beef?
While we love going to Chipotle to get some barbacoa burrito bowls, I learned years ago how to make copycat Chipotle beef barbacoa at home. This Slow Cooker Barbacoa recipe has been made by hundreds and loved by all.
It seemed only fitting with my new love for the Instant Pot that I would create a similar version, in less time!
Barbacoa is a tender roasted meat flavored with smoky chipotles in adobo sauce. Slow roasted gives more time for the flavors to mingle. However, we can speed up this process using an instant pot, and we don't lose any of the flavor!
The Instant Pot pressure cooks the meat, allowing the flavors to infuse quickly but easily. You'll get delicious results in a fraction of the time!
What you need for Instant Pot Barbacoa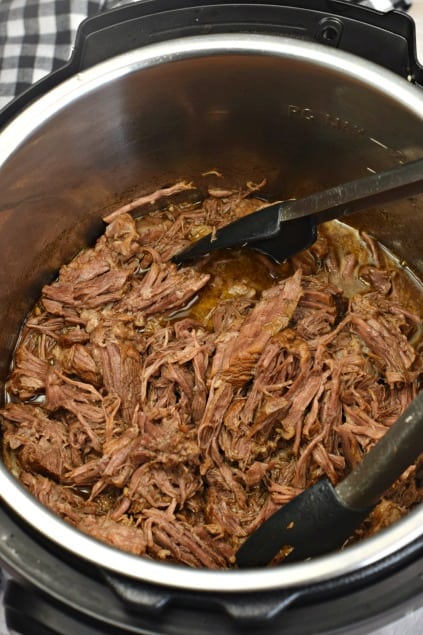 In addition to a 6 qt Instant Pot, I've got all the main ingredients listed that you'll need. Be sure to scroll down to the recipe card for measurements and complete directions!
Beef. For best results I use a chuck roast with plenty of marbling for Barbacoa. The strands of fat throughout the roast will break down and create a fork tender cut of beef!
I love to sear my meat in the Instant Pot, but to make sure it all fits, I cut my chuck roast into several large chunks. This allows for all the beef to cook evenly.
Chipotle in Adobo Sauce. For the smoky flavor you crave in barbacoa, use the sauce from your can of chipotles! If you prefer some heat, chop up some of the peppers and add them in too.
PRO TIP: To save the remaining peppers and sauce, spoon into an ice cube tray. Freeze, then pop cubes of sauce and peppers into a ziploc bag. Return to freezer and save for future use!
Seasonings. You'll need soy sauce, apple cider vinegar, cumin, onion powder, oregano, cloves, minced garlic, salt and pepper for today's recipe. This combo of liquid and seasoning makes a delicious base for the meat while coming to pressure!
Fresh Lime Juice. Not only do I add some in BEFORE it comes to pressure, but I love to squeeze fresh lime juice over my finished barbacoa beef as well. The pop of citrus flavor makes the spicy beef shine.
Beef Broth. In order to cook in a slow cooker you'll need 1 cup of liquid. I usually opt for beef bone broth, but regular beef broth or even water will work too.
Want a more flavorful dish? Try using a dark beer instead of the broth. YUM.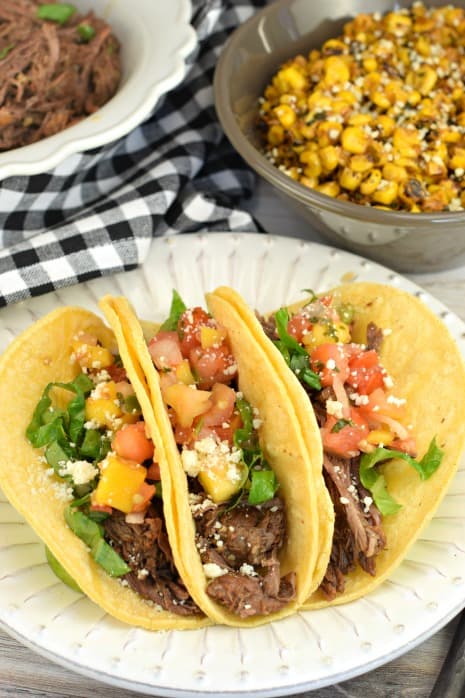 How to Make Barbacoa
STEP 1. Sear the beef.
Turn the Instant Pot on "saute" and add about 1 Tbsp of olive oil to the bottom of the pot. Cook chuck roast for several minutes on each side, until lightly browned. Remove from pot.
While on saute, add in beef broth and scrape the bits of meat off the bottom of the pan. This is called "deglazing." This will ensure you do not receive the "burn notice." Turn off.
STEP 2. Pressure cook.
Add the pressed garlic, soy sauce, apple cider vinegar, lime juice, chipotle in adobo sauce, cumin, onion powder, oregano, cloves, salt, and pepper to the beef broth in the pot. Give a quick stir.
Add the browned chuck roast to the mixture.
Secure the lid and make sure the valve is turned to sealing.
Select "high pressure" and cook time of 60 minutes. Instant Pot will take about 10-15 minutes to come to pressure before counting down the cook time.
When the cook time ends, allow it naturally release for 10 minutes (this means leave it alone)! After the ten minutes, do a quick release of the valve and open the pressure cooker.
STEP 3. Shred the beef.
Remove the meat and shred the beef on a cutting board. If you like your meat extra juicy, reserve the juices in the bottom of the instant pot to serve over the meat. Or, assemble your tacos and burrito bowls and discard the juice.
PRO TIP: I usually save the juice and store leftovers in the juices. This allows the meat to stay moist, especially when reheating.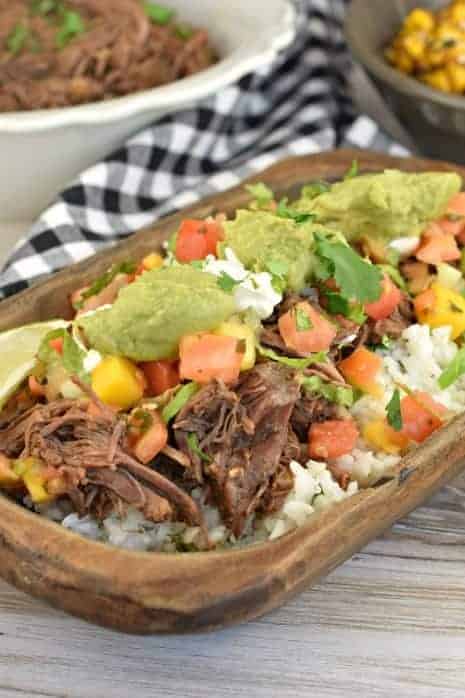 How to Serve Instant Pot Barbacoa Beef
Depending on your mood or taste buds, barbacoa beef can be served in many ways. Just like making taco meat or carnitas, you can serve barbacoa beef on a tortilla and eat like a taco!
It's also great served in a bowl, like you would get at Chipotle.
What to Serve with Barbacoa
Lettuce
Cotija cheese
Cilantro
Sour Cream or Greek Yogurt
Black Beans
Mexican Corn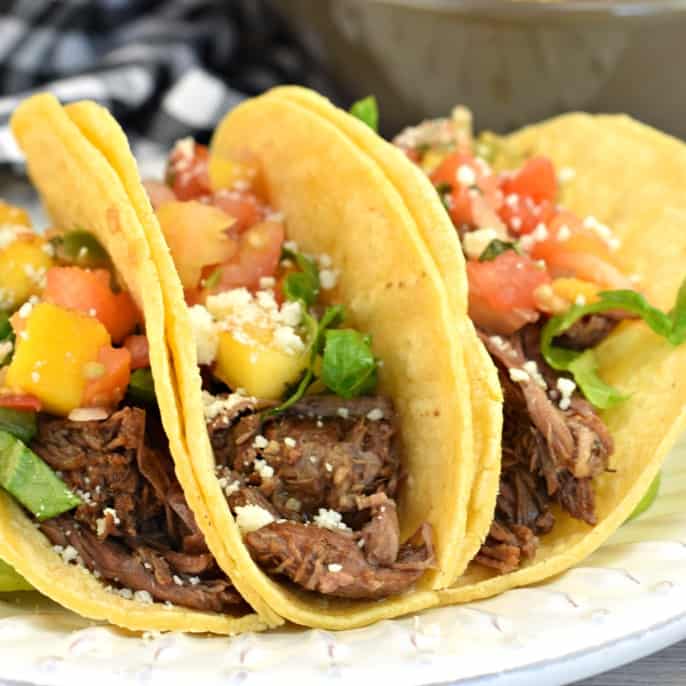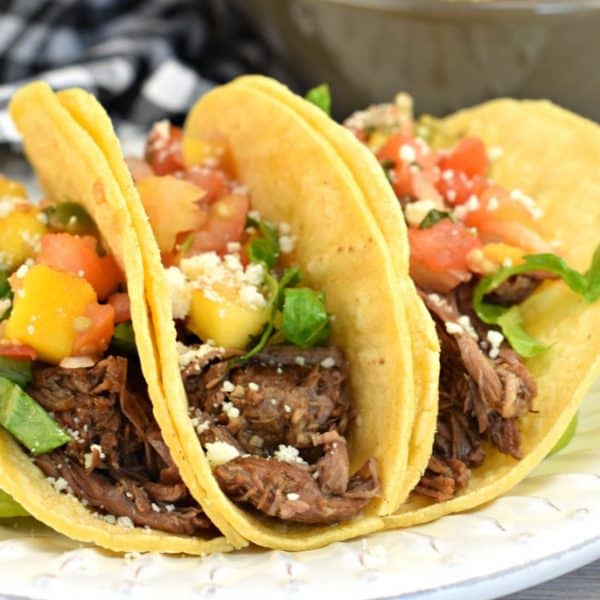 More Mexican Inspired Dinners
This Instant Pot Barbacoa Beef recipe is guaranteed to be the highlight of taco tuesdays! Serve this fork tender, smoky, spicy beef in a burrito bowl or on a tortilla!